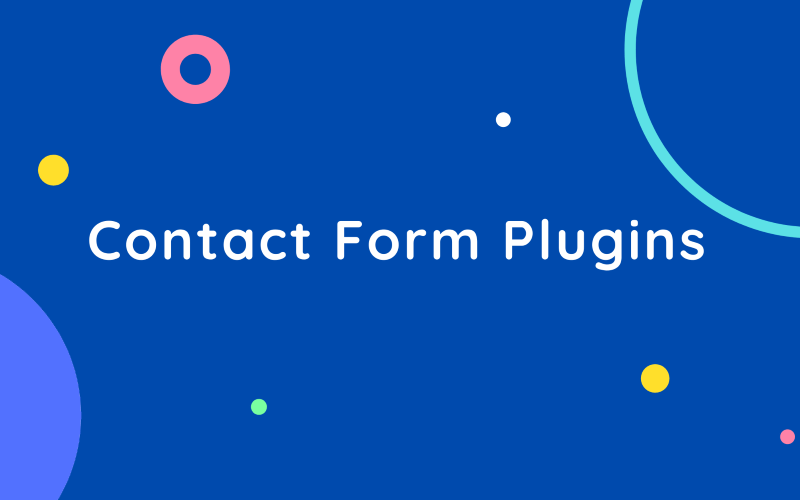 If you are a site owner then having a contact form on your site can help your website visitors reach out to you. A contact form can also help in getting outreach from potential advertisers. On a WordPress site, adding a contact form is a breeze thanks to free contact form plugins.
In this article, we will list some of the best free contact form plugins as well as premium form builders that are available for WordPress. Here are a few basic things that you would want a contact form plugin to do:
Offer an easy way to add a contact form allows visitors to submit name, email, subject and message.
Allow you to add advanced fields such as drop-down radio buttons etc.
Contact form should be able to e-mail the owner or a configured e-mail address whenever it receives new submission.
The plugin should also be able to change the "reply-to" field in the e-mail such that when you reply to these contact e-mails, you can directly e-mail the person who contacted you.
Storing of contact form messages and e-mail that we can refer to later.
Additionally, you may also want to take a look at these anti-spam plugins for WordPress that can block unwanted spam that you may start receiving after implementing a contact form on your site.
Best Free Contact Form Plugins
The official plugin repository of WordPress contains hundreds of plugins that offer to add a contact form on your site. However, we have selected the best of the best that are trusted by many WordPress users and have good features, reviews as well as support.
Do keep in mind that most of these free contact form plugins generally are limited and don't offer building advanced forms on your site. If you need a drag and drop form builder that can generate advance contact form then you can jump to the premium form builder plugins presented at the end of the article.
Lets begin with our list of best free WordPress plugins for adding contact forms on a website.
1. Contact Form 7

Contact Form 7 is one of the most popular and free WordPress plugins to add contact forms on your site. This plugin allows you to create contact forms with simple markup. It also has ajax-powered submitting, CAPTCHA as well as Akismet spam filtering support.
Many additional plugins on WordPress allows you to extend the feature set offered by Contact Form 7. For example, you can use Flamingo to save the submitted messages via contact forms in the database, or use Contact Form 7 – Conditional Fields to add conditional fields in your form.
2. Contact Form by WPForms

WPForms offers drag & drop form builder support to your WordPress site. With this plugin, you can create contact forms, feedback form, subscription forms, payment forms, and other types of forms for your site. You will also find pre-build form templates that allow you to insert pre-made forms easily.
There is also a pro version of this plugin that offers pro templates and conditional logic along with ability to create advanced field types such as date and time field.
3. Jetpack Suite (with Contact Form)

Jetpack is not just a contact form plugin but a complete suite of tools that offer features like backup, anti spam, malware scan, CDN, AMP, social, search, contact form, and integrations with Woo, Facebook, Instagram, Google.
If you have Jetpack already installed on your WordPress site then it is easier to just use Jetpack to get a simple contact form (read official guide). However, if you have advance needs involving customizing the form or changing the e-mail sent to your liking then you may need to resort to other form plugins listed in this article.
4. Formidable Form Builder

Formidable form builder offers another drag & drop support for building contact form, surveys, quizzes, registration form, payment forms etc. on your WordPress site. You can choose from pre-built templates or create totally custom forms from scratch with this plugin.
Formidable is a 100% GDPR-friendly form generator and allows you to turn off IP tracking or stop saving submissions entirely. You can also add a GDPR checkbox field to your lead forms and payment forms to collect consent. This plugin also offers seamless integrations with PayPal, Stripe, and Authorize.net allowing you to collect payment with your forms.
If you have the need to make more than just a contact form for your site, then Formidable Form Builder is a feature rich offering that you should explore.
5. Visual Form Builder

Visual Form Builder is a simple yet powerful form builder with visual controls. You can add fields in your form without writing any HTML, PHP or CSS code. Moreover, drag and drop re-ordering, anti-spam system, as well as saving of the entries are supported by this plugin.
You can also use this plugin to send email to multiple addresses, embed multiple forms in a single post or page or add advance fields such as date, currency, file upload etc.
6. Kali Forms

Kali Forms offers to be a user-friendly WordPress form plugin and allows you to easily add contact forms, payment forms, feedback forms and more to your website. With pre-designed templates and easy drag and drop builder, you can create a form on your site without touching the HTML.
With built-in Google reCAPTCHA support, this plugin also fights spam submissions for you. The plugin also offers block support for inserting forms in the Gutenberg editor.
7. WP Fluent Forms

WP Fluent Forms is another popular contact form plugin that offers user-friendly drag and drop form builder support for free in WordPress. The plugin offers multi-column contact form layout with smart conditional logic form fields. It also allows you to set conditional confirmation message to be displayed after the user submits the form.
The plugin has in-built support for spam protection with Google reCAPTCHA. It also has both client-side and server side data validation. You can also configure the form to redirect the user to a different URL of your choice after the form has been submitted. In pro addon, the plugin also offers integration with PayPal or Stripe, Zapier, Google Sheet, ConvertKit etc.
8. weForms WordPress Plugin
weForms offers support for multiple form templates, drag-&-drop live builder, submission listing, reCaptcha & more. It has support for 20+ custom fields and allows you to view a real-time preview of you form.
The plugin further has features such as form redirection, export/import, anti-spam and reCaptcha, Slack integrations for notifications etc.
9. FormCraft

FormCraft allows you to create gorgeous forms for your site using the drag-and-drop form builder. It has WYSIWYG form builder with extensive customization. Building responsive forms by default, the plugin allows you to support 8 field types including custom HTML.
For accessing conditional logic and advance form fields, you would need to upgrade to the premium version of the plugin. The premium version also allows you embedding popup forms, fly-in-forms and sticky-button forms on your site.
10. HTML Forms – WordPress Plugin

HTML Forms provides a more granular approach to contact form building on WordPress. It allows you to create your form in HTML thereby allowing you more power. However, if you are looking for a drag and drop interface then you must look elsewhere.
The main selling point of using this plugin is that you are not limited to the controls and feature set offered by the visual form builder plugins. Using HTML and CSS you are free to add any custom form fields in your form and just ensure that the input element has a name attribute. This plugin is more developer friendly and is a good choice if you want complete control over your contact forms.
Best Premium Contact Form Builder Plugins
When you are looking for premium support or advance integrations with services, you may have to look for a premium WordPress plugin that solves your need. Below we have picked the best premium contact form plugins offering best in class features and support. Link to plugins below are affiliate.
1. NEX-Forms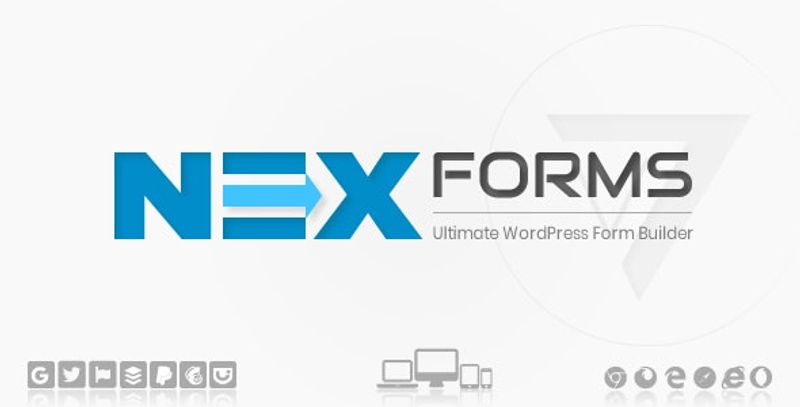 NEX-Forms is a premium WordPress Form Builder plugin that allows you to create simple as well as complex forms. With tons of add-ons and features NEX-Forms promises to be a complete form building solution.
With this plugin you can create advance forms such as interactive forms, multi-step forms, popup forms, surveys, slide-in forms and much more. The form has support for 30+ form fields and elements including image selection, star rating, date and time pickers, autocomplete, multi-file uploaders etc.
With conditional logic support, built-in anti-spam solution, autoresponders, pre-population of form fields, GDPR compliance, this form offers to be a complete solution for your form building needs.
2. Quform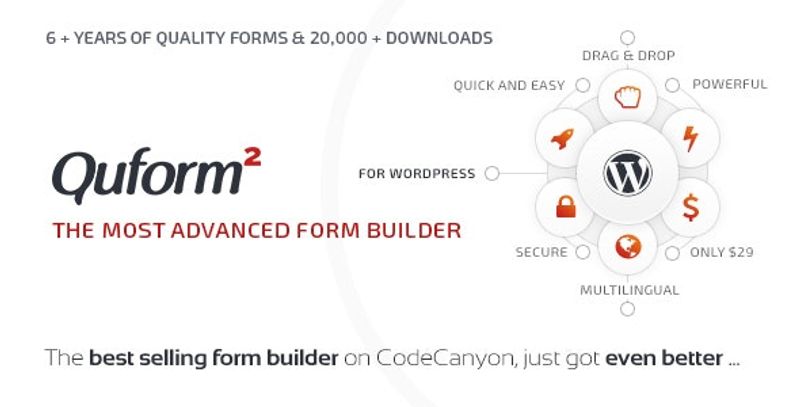 Quform is another premium and best selling form builder plugin that has plethora of features. The plugin offers features such as drag-and-drop support, 19+ element types, reCAPTCHA support, easy theming of forms, RTL support, exporting of entries to excel or CSV etc.
With premium plugin, you also get support from the technical team behind the plugin who may help you solve issues with integrating the plugin on your site.
3. eForm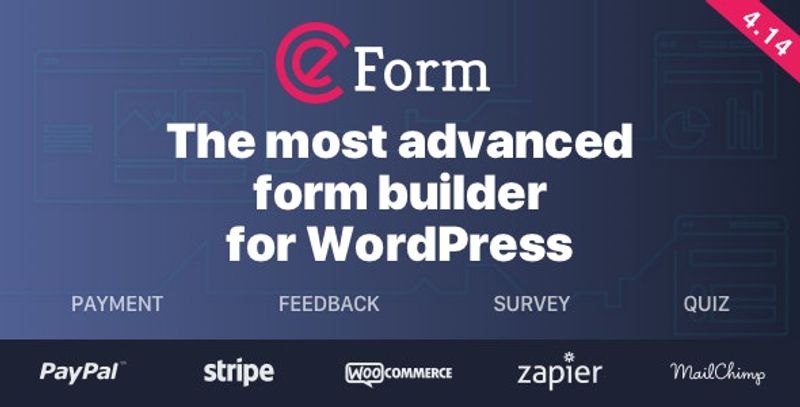 eForm is a premium WordPress form builder plugin with support for collecting payments via PayPal or Stripe. It has many third party integrations such as MailChimp, MailPoet, ConvertKit, mailerlite etc.
Moreover, this plugin allows you to easily accept guest blog submission from anyone on your site by offering a rich text submission experience. You can also use the plugin to create survey workflows and live quizzes.
4. MagicForm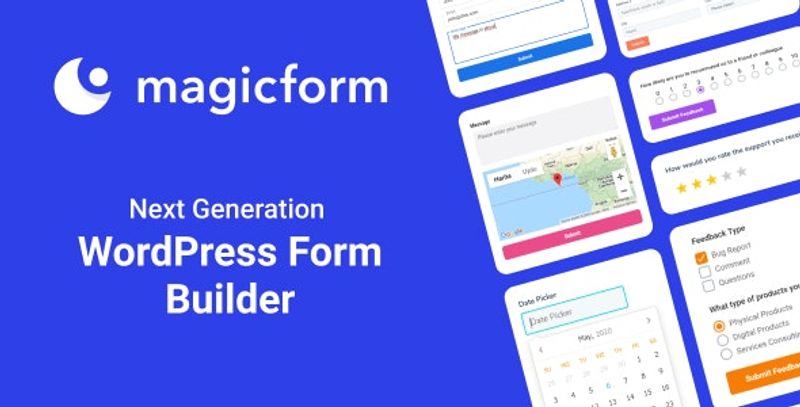 Magicform is a powerful WordPress form builder which has a nifty feature of create post from form submissions. It also offers PDF generation, CSV export, integration with Google Analytics and more.
You can easily integrate the plugin with PayPal or Stripe to collect payments using a form on your site. Magic form also has 7 different in-built themes which allows you to customize the look and feel of the forms as well as change color of labels and input fields to whatever color you like.
5. FormCraft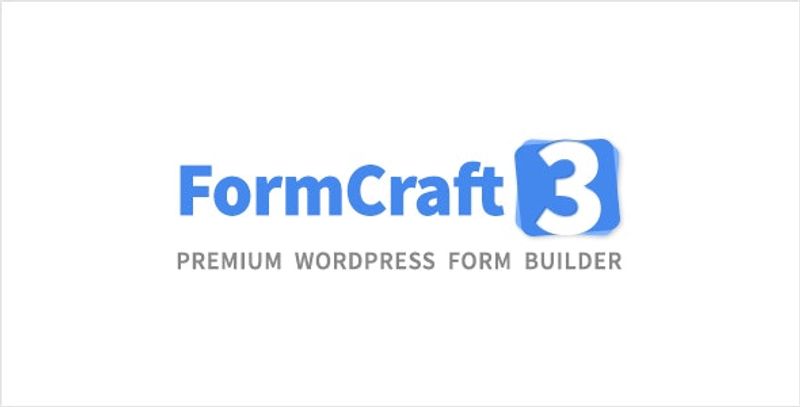 FormCraft is flexible & customizable drag & drop builder of forms on WordPress. It has a 10-day no-question asked refund policy which is good when it comes to premium plugins. With included templates and responsive design, you can easily create GDPR ready forms.
The plugin offers dozens of tutorials, search help topics with real life examples within the editor to help you get the desired result. Support for multi-site WordPress installation is also available with this plugin.
Few Words about Adding Contact Forms
Having a contact form on your site increases the trust of your customers. If you are running an e-commerce business or have a service, a contact form can be great way for customers to reach out with pre-sales query. For other sites too, a contact form can open doors to new possibilities such as advertising queries, website feedback etc.
Many a times a free plugin on the WordPress repository gets abandoned by its developers. WordPress will put out a message on the plugin page in such case and will let you know if it has not been updated recently. We hope to keep this list up-to-date.
Another good practice is to check the reviews and support forums of these plugins and see if users are facing any major blocking issues lately.
If you find any of the plugins listed above to be not working with your site, or are outdated (not updated for long) then do lets us know in comments.