Whether you're a business owner looking for flyers to promote your corporate Halloween event or are a design agency working on flyer design for your clients, you've come to the right place. In this post, we are treating you with a selection of Halloween flyer design templates to help you easily design a stunning poster or invitation.
These flyer design templates are fully customizable and are available for download in Photoshop (PSD) and/or Illustrator (AI, EPS) formats. These templates incorporate spooky images and illustrations with complementing Halloween fonts to create terrifyingly good designs.
From Halloween events and festivals to promoting parties, from minimal designs to vintage style event posters and flyers in watercolor look, these templates will cover all your creative themes for the Halloween. Customize a template that suits your requirement with the event details and you're ready to send it out to your printer. Read on!
Free Halloween Flyer Design Templates
To start with, we will take a look at completely free to download flyer templates for Halloween evens. All these templates come with free personal and/or commercial use license with attribution. Details of the fonts used in the designs are also provided with the download.
Realistic Halloween Flyer Vector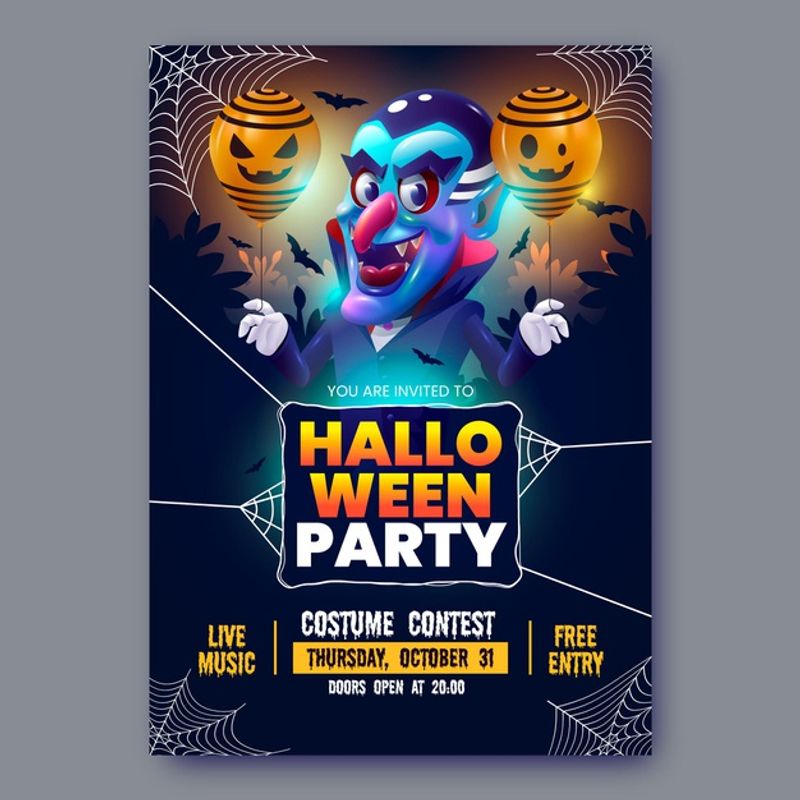 Design an eye-catching poster for your Halloween costume party using this realistic template design featuring colorful 3D dracula with balloons graphic and dripping text. Available for free download in vector AI and EPS formats.
Watercolor Halloween Pick-a-Boo Flyer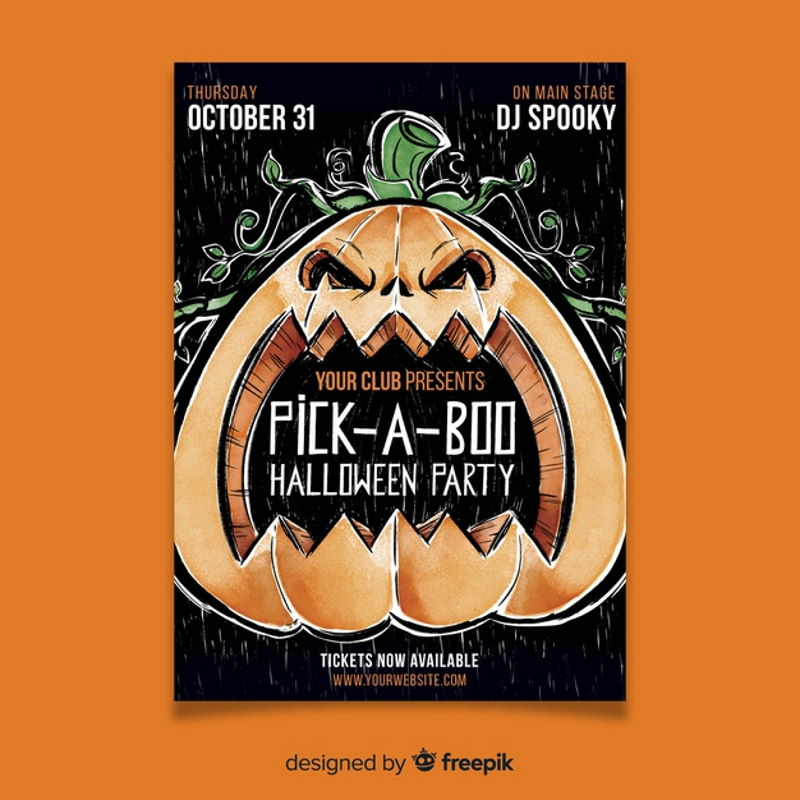 A spooky looking pumpkin takes the centerstage in this free Halloween flyer template with watercolor look. The printable template can be downloaded in EPS format.
Typography Halloween Invitation Card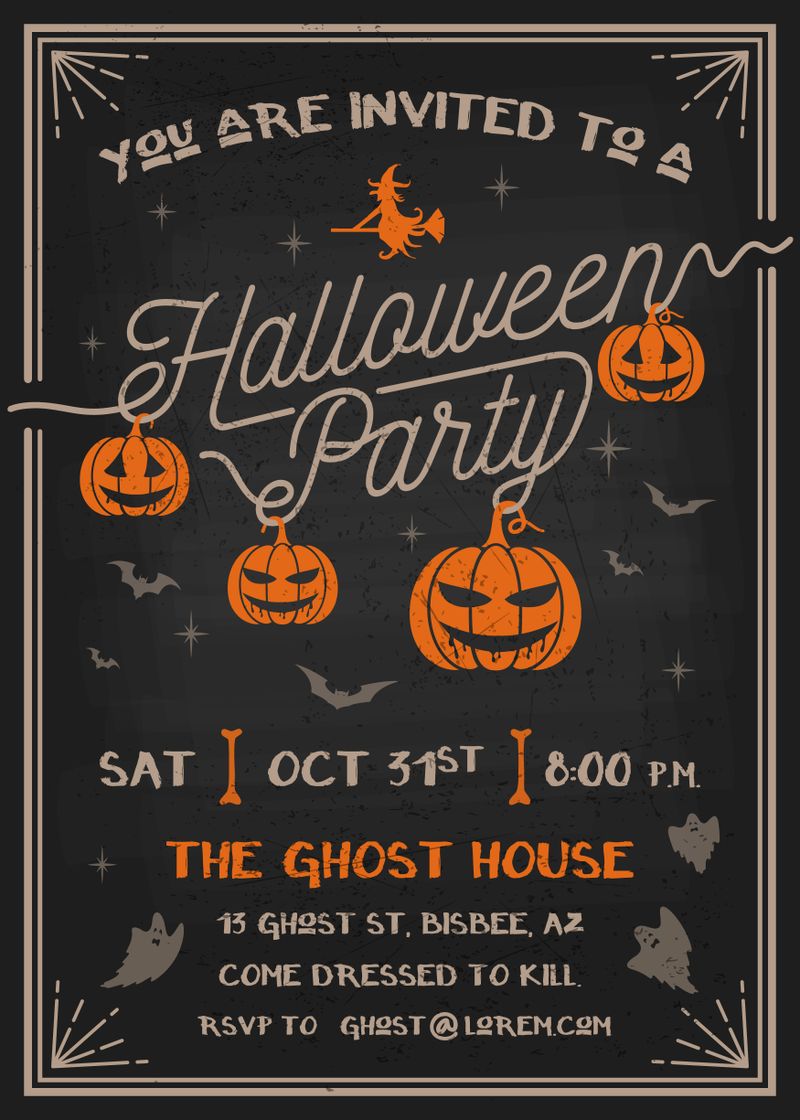 This free invitation card template utilizes a text heavy layout and a limited color palette in its design. Pumpkins intertwined with text and use of bones as separators to present the event related information add to the overall spooky theme of the template.
Halloween Flyer with Close-up Zombie Head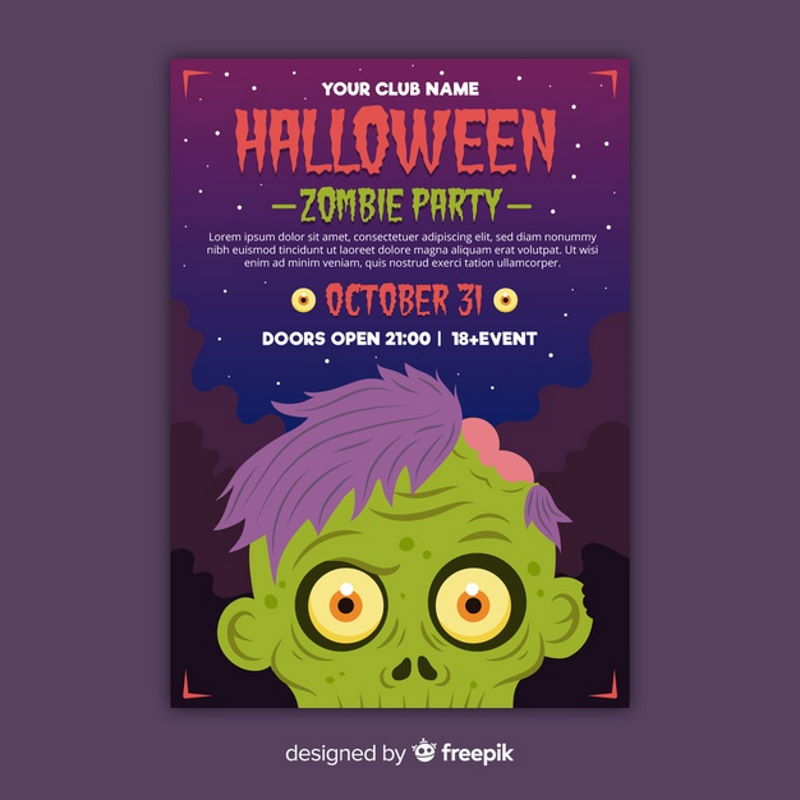 Make your zombie themed parties a success with this frightfully fun flyer design featuring an illustration of a creepy zombie head close-up. This is a print ready CMYK template available for free download in EPS vector format.
Free Halloween Flyers Bundle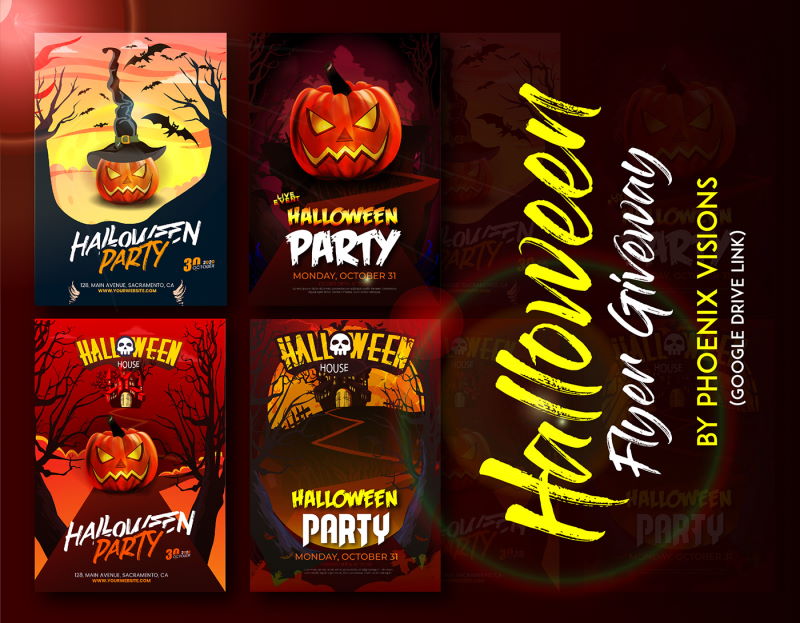 This is a set of four free Halloween flyer templates available in EPS format. All the designs have a scary atmosphere with the bats, pumpkins and haunted elements in the background, perfect for creating a terrifying promotional flyer.
Hand Drawn Halloween Poster with Skull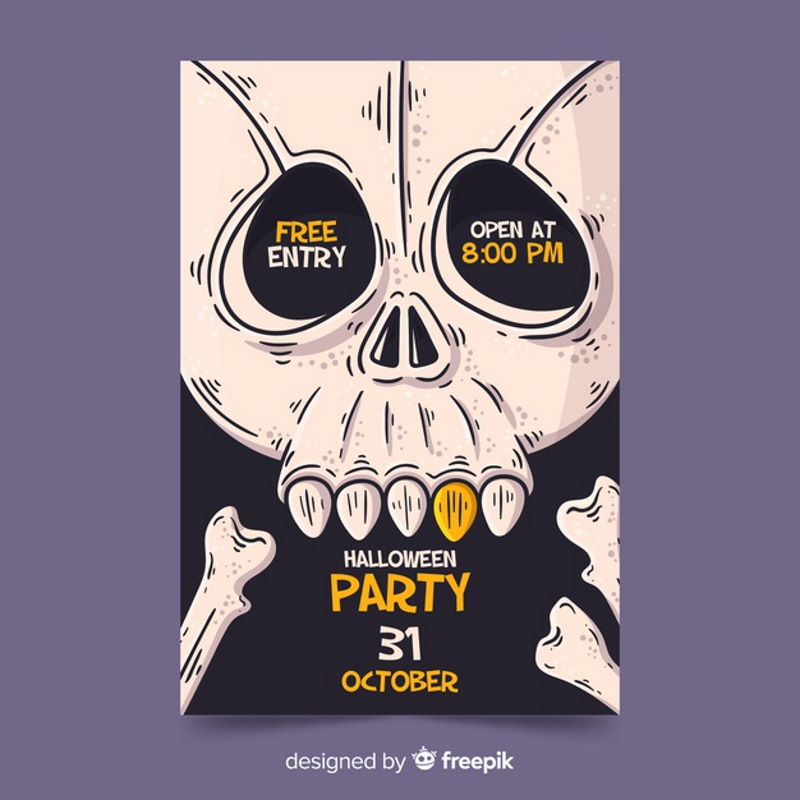 In case you want to add a hand-drawn look to your Halloween poster, this free vector template is for you. The flat design poster features a hand drawn skull and matching fonts in a clean minimal text layout.
Happy Halloween Poster with Haunted House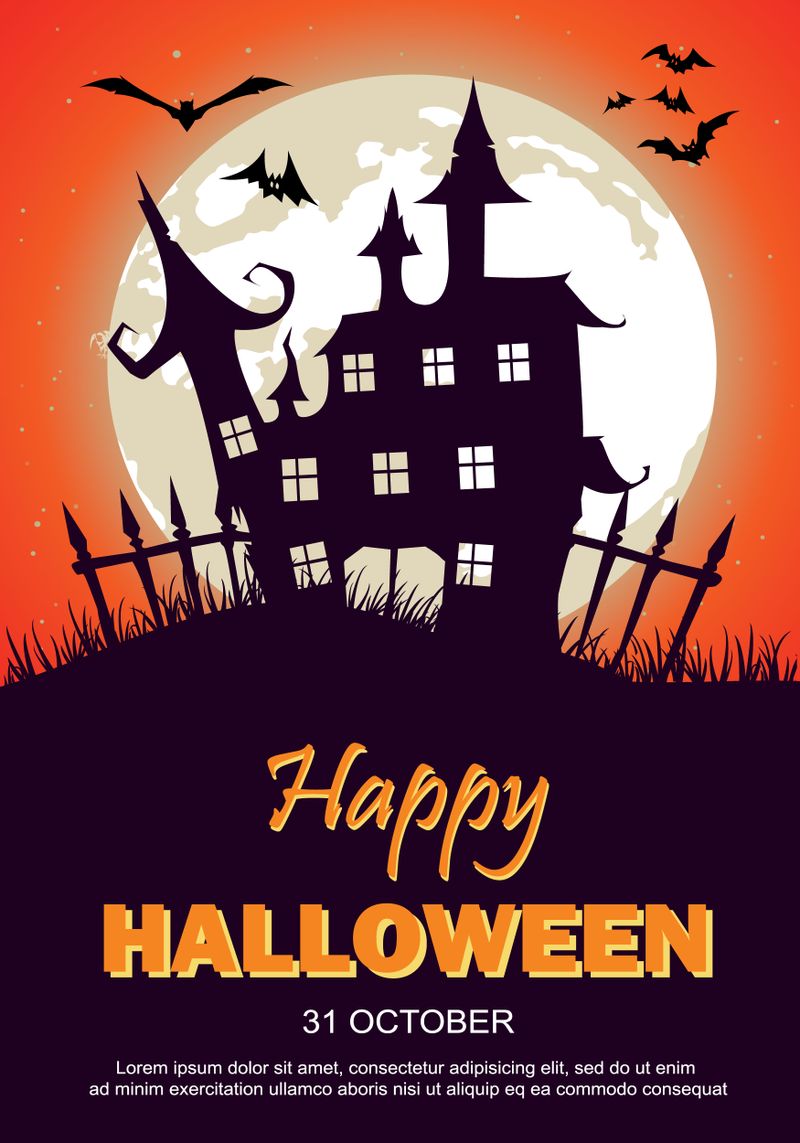 A free Happy Halloween poster vector template with moon and silhouettes of a haunted house and bats in the backdrop. Just edit the text to provide information about your Halloween event and you're ready for its promotion.
Cute Halloween Flyer with Pumpkins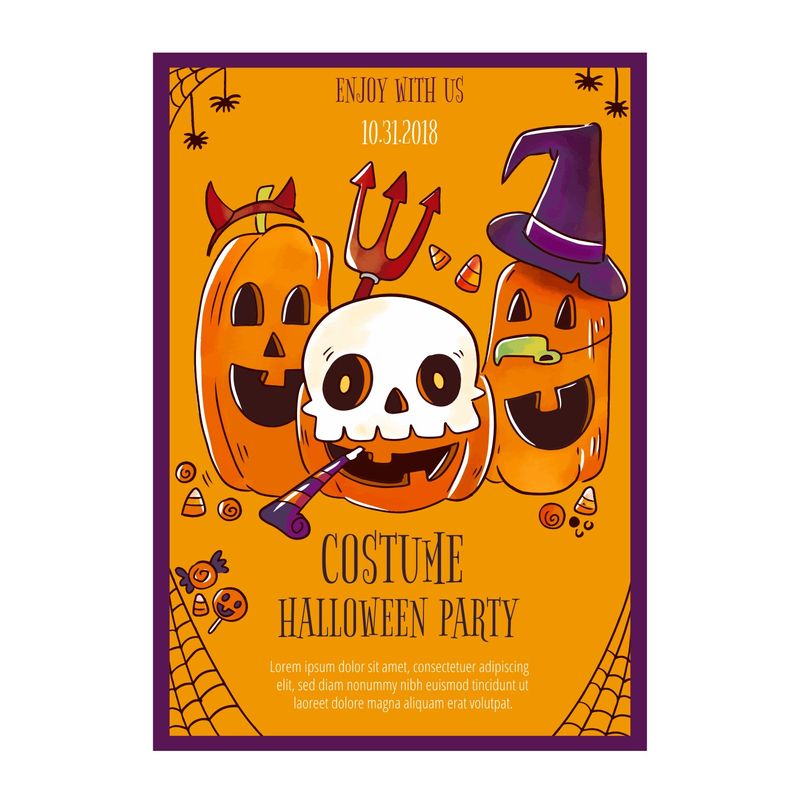 This flyer design with cute dressed-up pumpkins wearing witch hat, horns and skull mask is perfect for a shout out to Halloween costume party. Available for free download in vector EPS format.
Free Halloween Flyer PSD Templates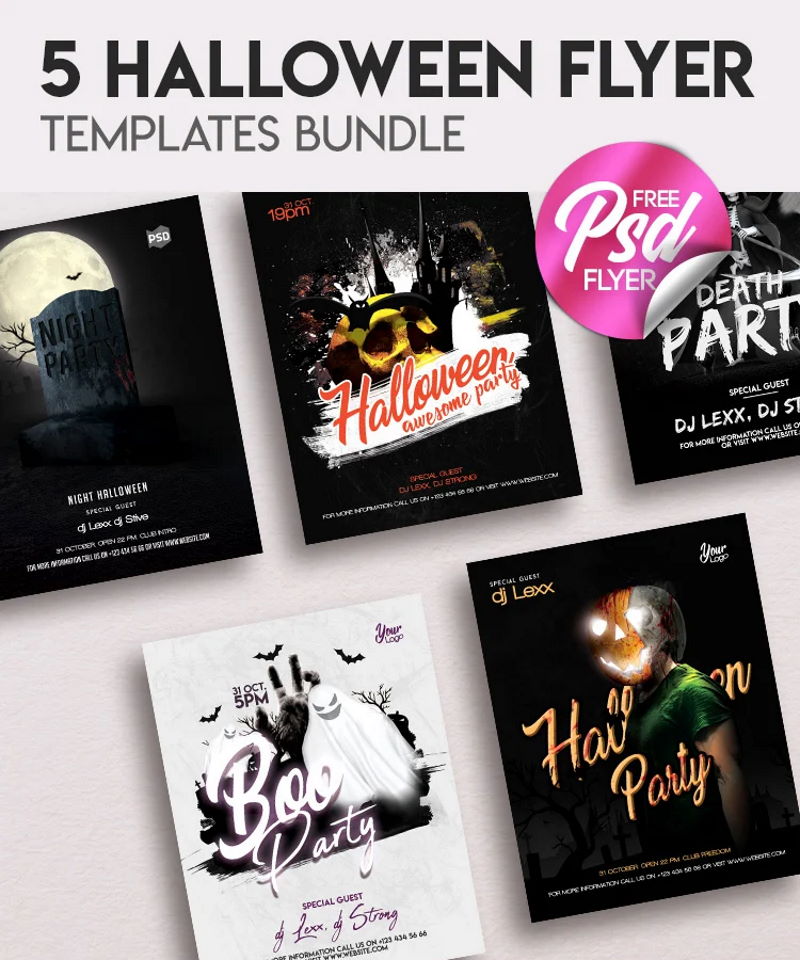 This is a bundle of free Halloween flyer PSD templates designed for promotion of different themed parties.
Printable Halloween PDF Posters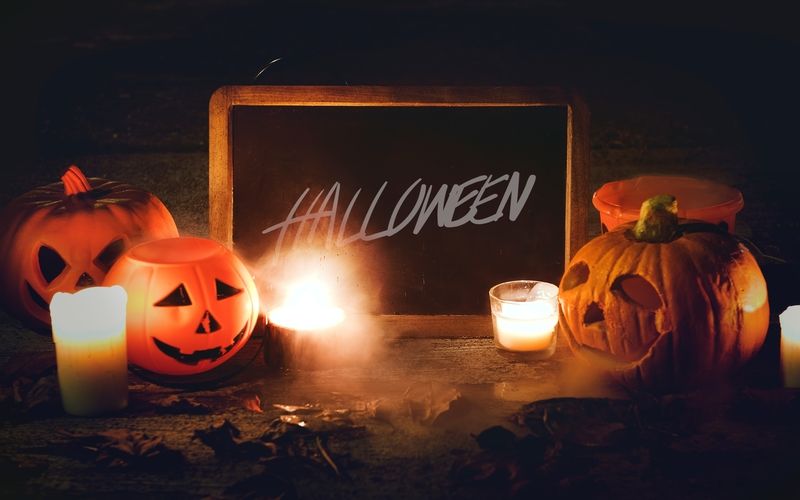 This freebie includes 5 print-ready Halloween posters in PDF format to decorate your home, workplace or even the classroom for the season. The posters include Halloween wishes, poems and welcoming messages for trick-or-treaters.
Premium Halloween Event Flyer Templates
Below, you will find some of the popular and trendy Halloween flyer templates from digital marketplaces such as Creative Market, TemplateMonster and GraphicRiver. Kindly note that the some of the links below are affiliate links.
Minimal White Halloween Flyer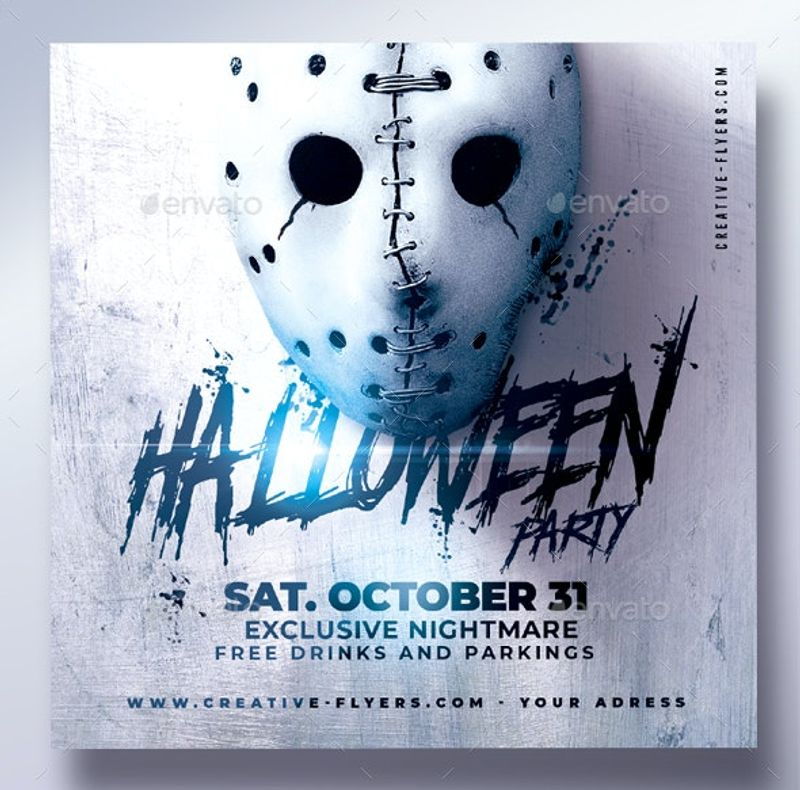 Send out your invites for a scary Halloween party to remember. This squarish 4×4 inches design template features a minimal white design with a scratched, grunge background and a haunting masked face. Created with Adobe Photoshop and very easy to edit and include your information.
Halloween Madness Flyer in Bright Colors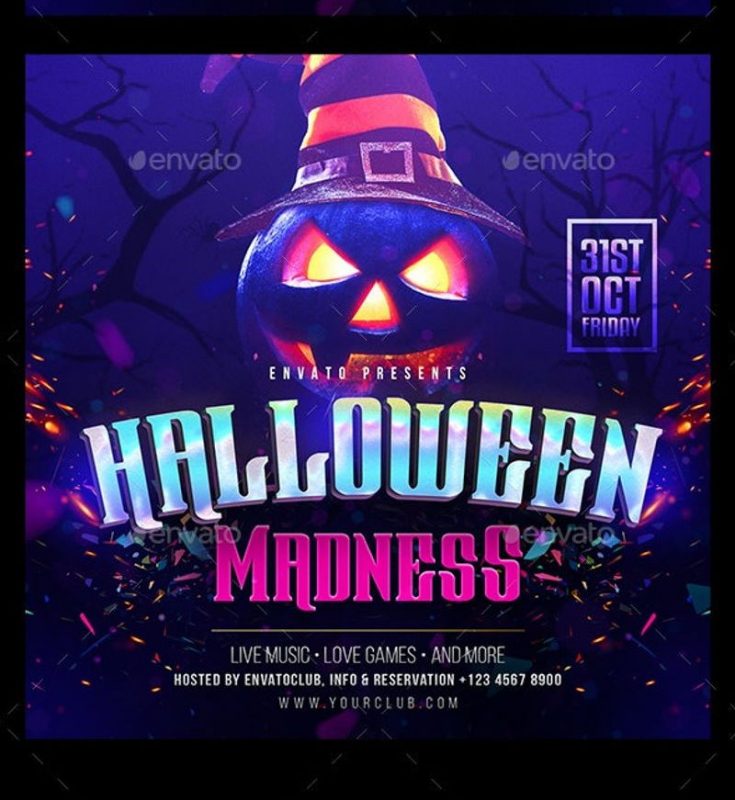 Make a bold impact with this colorful flyer. A bright color scheme with a devilish jack-o-lantern, spiders and holographic text make this design stand out. Ideal for Halloween night parties and club events, the template is available as 4×6″ PSD file in both RGB and CMYK color modes.
Halloween Night of Terror Flyer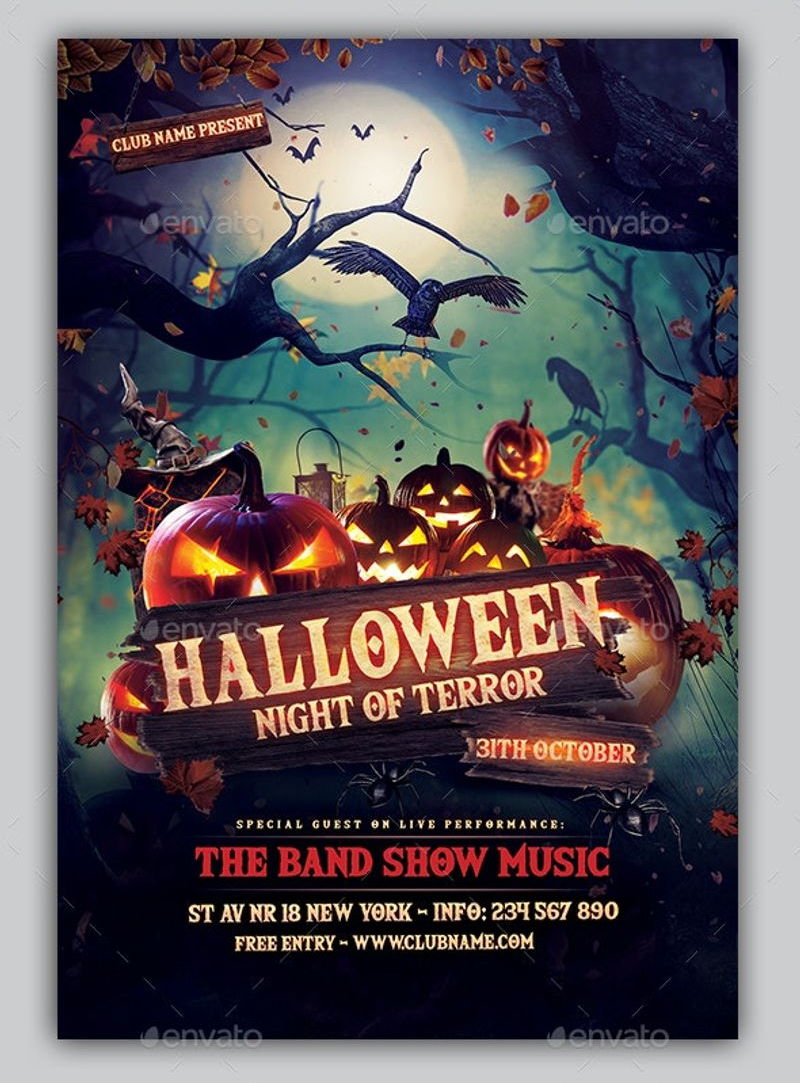 If you want to add an autumn theme to your Halloween posters, this poster will perfectly fit your needs. Available as layered PSD file that can be easily customized to include the details of your club party.
Halloween Party Vintage Flyer Corporate Identity Template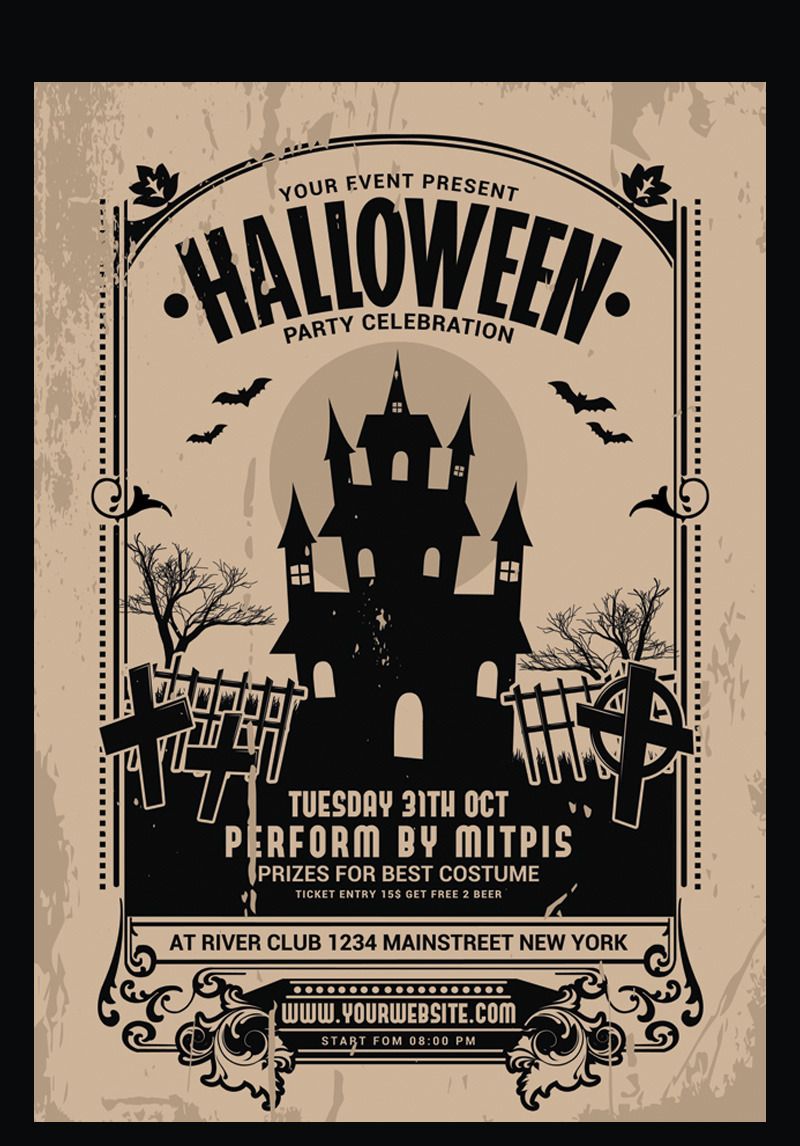 This vintage Halloween party celebration flyer with graveyard silhouette and ornate design elements is ideal for those looking for an aged worn out look for their flyer design. On purchase, you will get PSD template at 8.27×11.69 inches size with bleeds.
Halloween Night Party Corporate Identity Template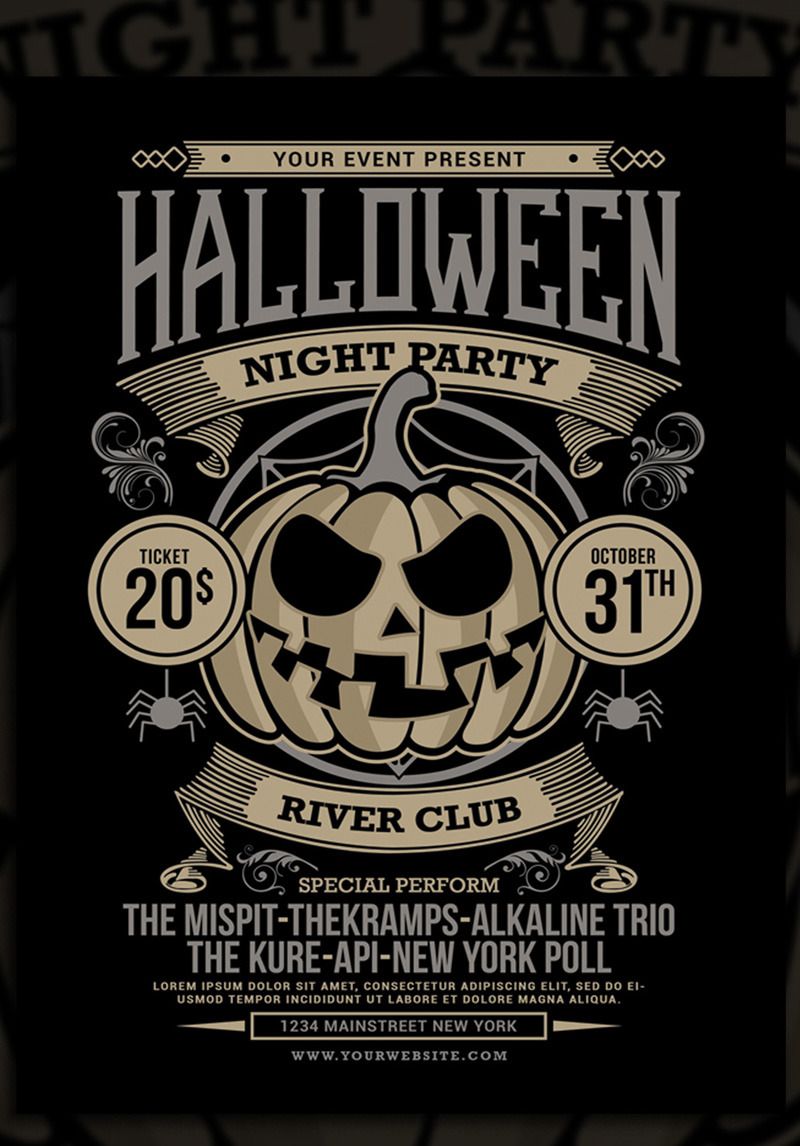 Create hipster design flyer for corporate parties with this template. It features a vintage theme design with limited use of colors, and you can easily customize this poster with your info. Available in PSD format.
Halloween Rock A4 Flyer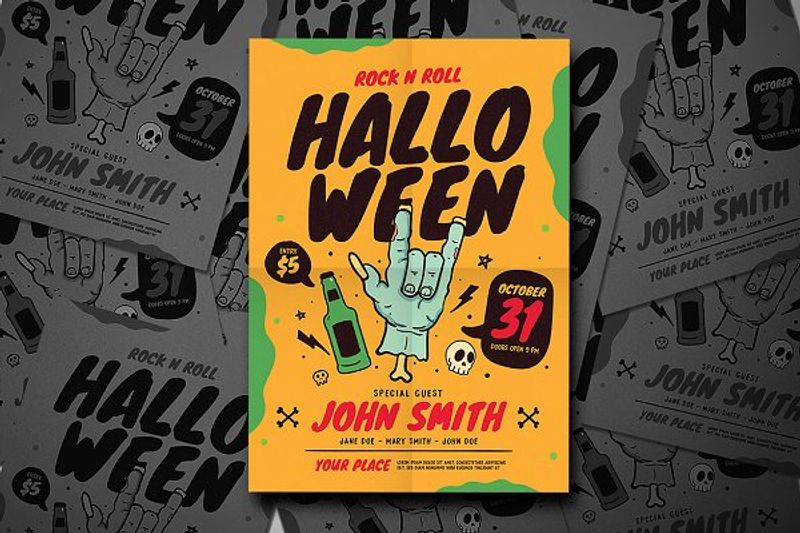 Rock your Halloween poster for musicals and parties with this flyer design template that creatively uses illustrations in its design. On purchasing, you'll get the template in both AI and PSD formats in standard A4 size.
Halloween Invitation Haunted House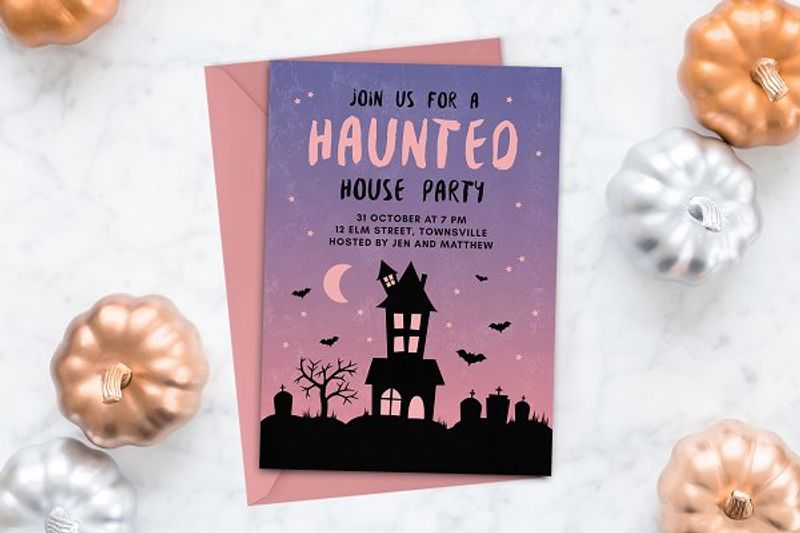 This invitation design with a quirky graveyard scene over a sunset background is perfect to use as an invitation, poster or sign for a haunted house theme party. Available in two printable sizes – 5 x 7 inch (North America) and A5 (Europe/International) in PSD, AI, EPS and PDF formats.
Scary Halloween Party Flyer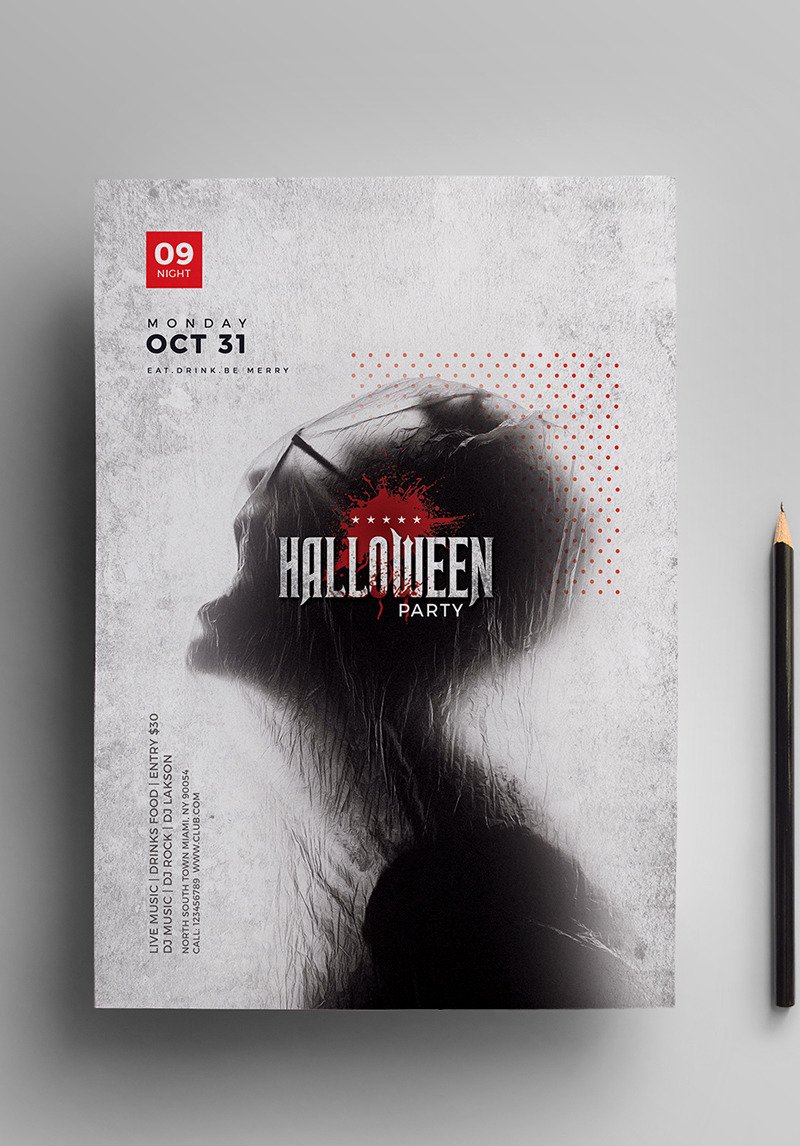 This Halloween party flyer is especially designed for those clubs who need to promote their Halloween night events in a funny yet spooky way. Compatible with Photoshop, help file is also included to help you with the customization.
Trick Or Treat Party Flyer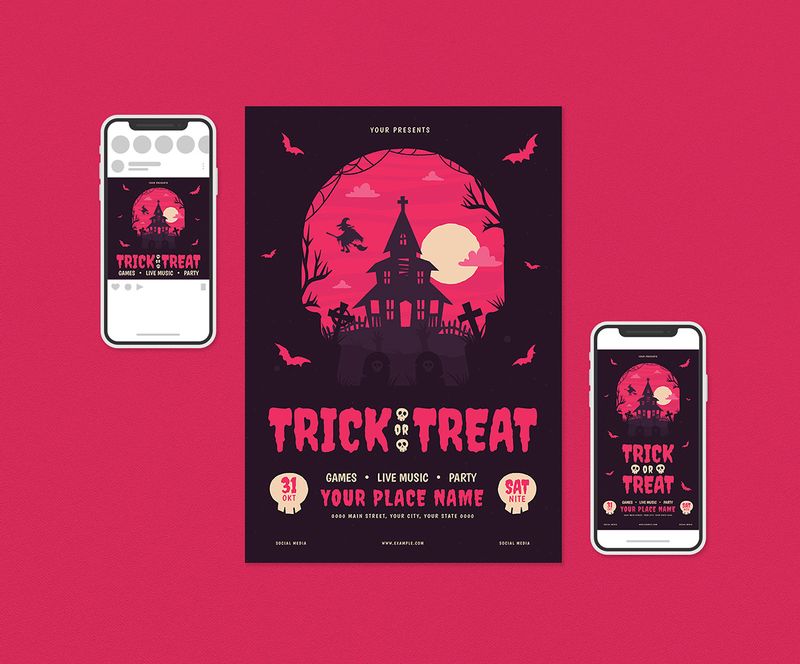 Promote your event on printed flyers as well as on social media with this Trick or Treat party flyer template. It comes with an A4 print-ready Photoshop template along with Instagram templates for both post (1080×1080 px) story (1080×1920 px).
Halloween Festival Flyer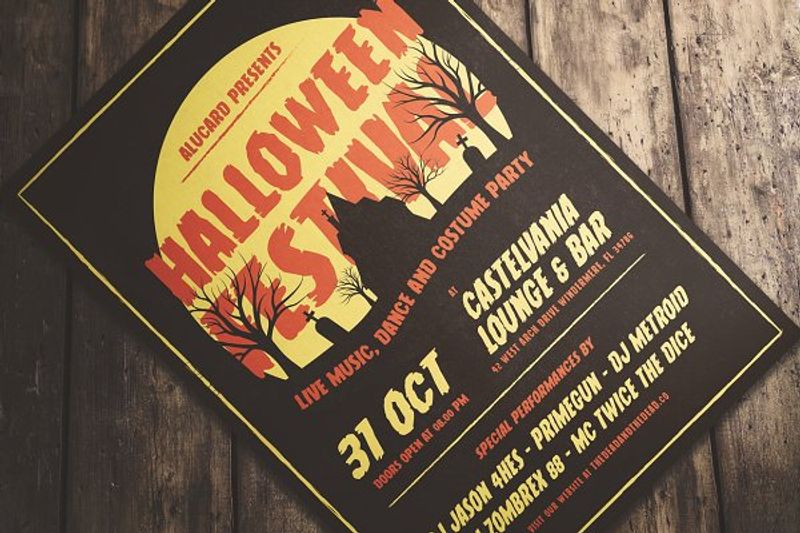 This premium Halloween print flyer template designed for promoting any event related to Halloween including Halloween festivals, musicals and concerts. On purchasing, you will get fully customizable 8.27×11.69″ Photoshop (PSD) and Illustrator (AI) files.
We hope you were able to find the right flyer design for your Halloween events and corporate parties. Do also check out these free horror fonts, Halloween icons and cool Halloween images that you might find useful for customizing your flyer designs and other Halloween themed designs.
Related: Free Halloween Backgrounds and Poster Templates
Do not forget to share this post on social media and spread the Halloween treat. Have a spooktacular Halloween!