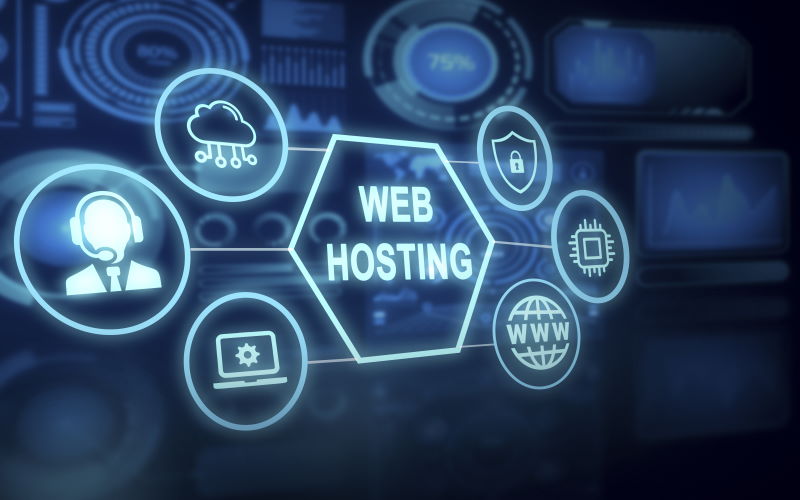 Whether you have a brick-and-mortar business that requires an online presence or you are in the process of launching a digital startup, the first step you'll need to take is to build a website. And, for that, you'll need web hosting services.
But with so many web hosting companies crowding the market, finding a reliable service provider that meets all of your needs might not be so easy or straightforward.
In this guide, you'll find more about the key free features a great web hosting service should offer for free – and some that might be worth paying extra for!
6 Free Features You Should Expect With Your Web Hosting Plan
When selecting a web hosting plan for your new website, you'll notice that some features will be offered for free with your chosen plans.
Below you'll find the most common ones (or the ones you should not compromise on!).
Disk (Storage) Space and Bandwidth
Disk space – also referred to as storage – and bandwidth represent the two essential services all web hosting plans will offer included in most plans.
The disk space or storage will allow you to store and collect all files that make up your website, alongside the user-generated data. While 5GB of disk space is enough for most websites, a growing number of web hosting companies today offer unlimited disk space.
On the other hand, enough bandwidth will support the transfer of your website's files and boost loading times. Your required bandwidth will depend on the type of pages on your website and the number of monthly visitors you'll be expecting.
High Uptime Standards and Website Speed
Other services that web hosting companies are now offering free of charge are high uptime and speed standards.
Uptime refers to the percentage of time in which your website is functioning and readily available to users. Any percentage greater than 99% is considered acceptable, but the closest you'll get to a hundred, the better!
When choosing a web hosting company, don't forget that a 4-second delay in page loading times can cause an 11% loss in page views and, according to estimations by Gartner, just one minute of downtime can cost a whopping $5,600!
Essential Security Features and Backup Systems
Your choice of a web host affects your website's SEO ranking – and in more than one way. Indeed, your web hosting service provider will impact the speed at which your website loads, as well as your user experience and website design.
But, even more importantly, the web hosting service you choose will provide you with different security features and backup systems, which will play a role in how trustworthy and secure search engines will deem your website to be.
Make sure to look for security features such as SSL certificates, automated malware scans, and a web application firewall (WAF).
Domain Names and Business or Custom Email Address
If you are just starting a website from scratch or you are looking to take your existing business online, you might consider looking into the benefits of a web hosting company that offers a free domain with an email hosting plan.
These plans represent a great "starter kit" for business owners and digital entrepreneurs looking to build a trustworthy and reputable online presence from the start.
Website Builder and Creator Space
If, today, building a website can be done by nearly everyone and without the need for programming skills it is thanks to the availability of website builders. Most web hosting plans will include basic website building features that will allow you to bring your website to life without the help of a professional web designer.
So, when choosing a web hosting platform, take into account their integrated website builder and review aspects such as ease of use, user-friendliness, and customizability.
Customer Support
Whether you are a serial website creator or you are approaching this world for the first time, the chances are that, at some point, you will face issues or obstacles. In this case, being able to count on a reliable customer service system can make all the difference.
Ideally, consider choosing a web hosting platform that provides, for free, a 24/7 live chat or customer support channel.
Add-On Feature That Might Be Worth Investing On
The features seen above are the essential ones you'll need to create and launch a website that stands a real chance of ranking in the SERP. However, some other paid-for add-on features can make your website creation experience all the more enjoyable.
Some of the ones worth investing in include:
Additional disk space and bandwidth
Premium uptime standards and customer support
Multiple email accounts
Multiple domains
Shell access
Access to the .htaccess files
SEO and marketing tools, such as Google AdWords
Additional applications and plug-ins to level up your website, including forums and bulletins
Integrations with other services
eCommerce tools
Website analytics
Social media sharing options
Ultimately, the type of web hosting you'll choose will impact the quality of your website, its chances of ranking on the first page of Google, and the experience it will deliver to users.
In turn, while you should keep an eye on your budget, you should not skimp on the paid features that can make it easier for you to build a scalable and successful online presence.
Cover Image by Freepik