Music and sound effects play a significant role in giving a game a character of its own. It is absolutely essential to have a great background score and SFX in order to make your games addictive. And good thing is that there are quite many sites that offer repositories of free background music, music loops and sound effects which can be used for developing commercial games.
In this post, we bring to you many sound effect sources that we believe will help you in getting the kind of audio you are looking for your game. Some of these sites offer royalty free sound effects that you can download and use in commercial games for free. While some require you to give attribution to the artist. Always make sure you read the terms and conditions regarding their usage before downloading music tracks or sound effects from these sites.
Good thing about these free sources is that you can use sound effects and music not only in games but in your video content, audio compositions, animations or even an app.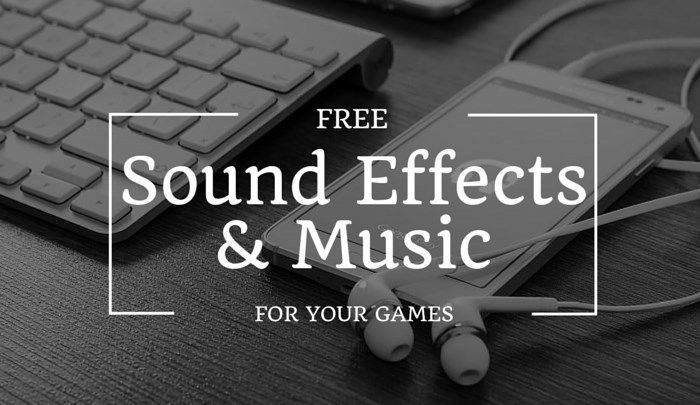 The sites listed below offer audio files in different formats including MP3, OGG, and uncompressed WAV. If you are planning to use MP3 files in your game, you may want to read our earlier post on MP3 licensing in games.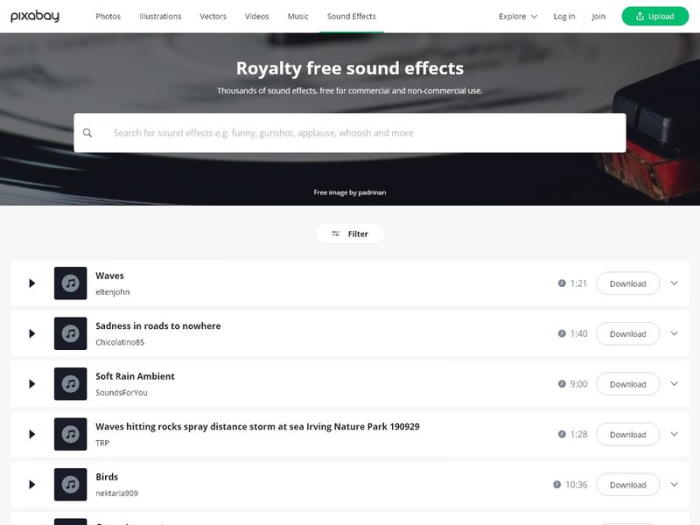 Pixabay is one of our top free image sites that we go to when we need images for our own work. They also have a huge library of free for commercial use sound effects you can use in your apps and games.
You would find sound effects under different categories such as nature, people, household and can be filtered by the duration of these audio clips. Along with royalty free sound effects, Pixabay also has a repository of free music you can use in your YouTube videos, vlogs and podcasts. No attribution is required, these music and sound effects are available for free download in MP3 format.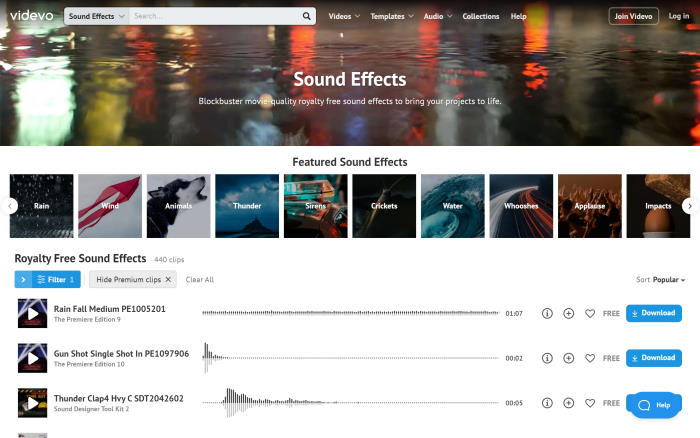 We have previously covered Videvo in our article on sites to download videos without watermark. They also offer free sound effects and stock music for use in video and audio projects. The sound effects listed on their site can be filtered to view only royalty free SFX, clicking on the title above will take you to this filtered list.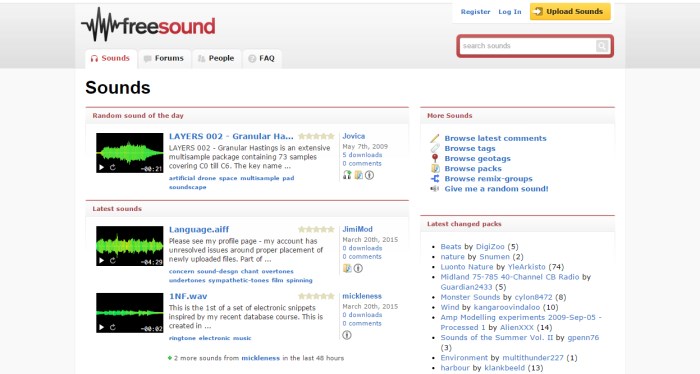 Freesound has a huge collection of sound effects, loopable audio snippets, and bleeps released under Creative Commons licenses. They support 4 file formats – .mp3, .flac or .fla, .ogg and .aiff/.wav. You can browse their collection by licenses, tags (suspense, terror, etc.) and file types, they also have featured sections for most downloaded sounds and latest sounds. If you like a particular sound effect, you can also browse sounds similar to it.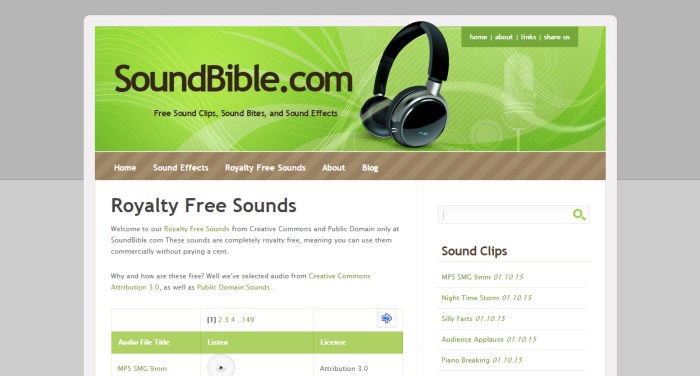 SoundBible offers royalty free sound effects that you can use commercially for free. Some of these sound clips may require you to provide attribution. These sound clips are available for download in either .wav or .mp3 format. You can easily browse these sounds by their tags. Some of the popular sound effects are, fight sounds, machine sounds, and laugh sounds.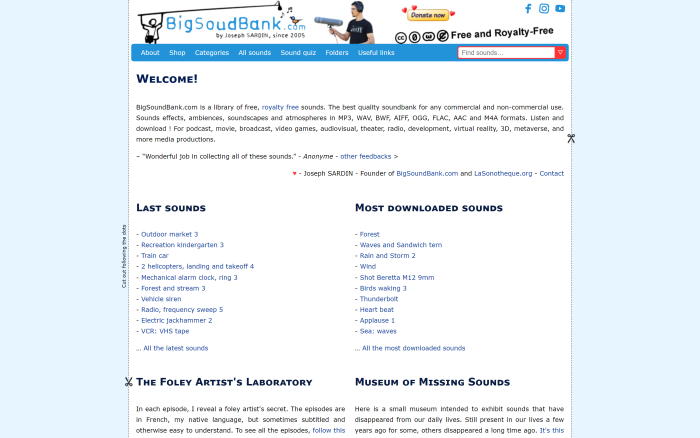 BigSoundBank is a library of free, royalty-free sounds for your commercial and personal projects such as broadcast, video games, audiovisual, theater, radio, development, virtual reality, 3D, metaverse, and more media productions.
Its collection of sound effects and soundscapes are available for free download in multiple formats including MP3, WAV, BWF, AIFF, OGG, FLAC, AAC and M4A. Licensed under public domain CC0 1.0 Universal license.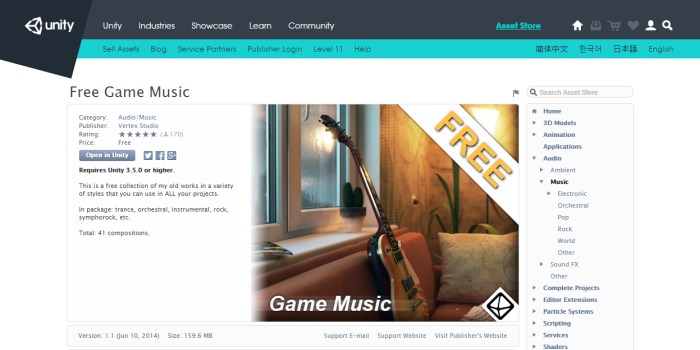 If you are a game developer, chances are that you are using Unity game engine and are familiar with its asset store. Unity asset store has a collection of free sound FX, music and ambient sounds. It also has a section of top free audio files. These free sounds can be downloaded within Unity only which itself is free for developing commercial games as well.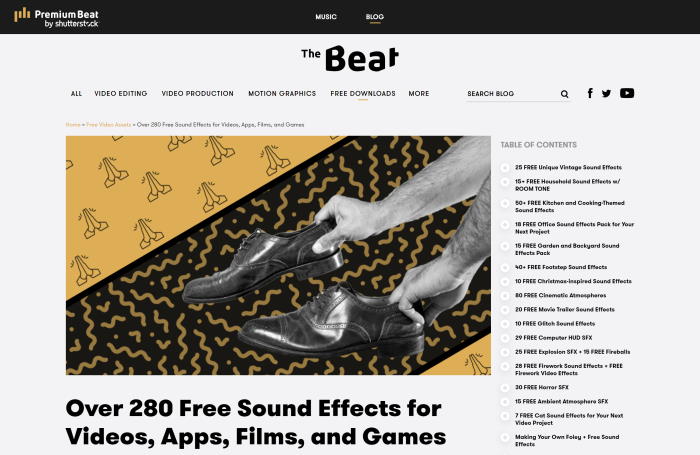 PremiumBeat by Shutterstock has released over 280 free sound effects and audio files you can use in any commercial or personal project for free. Downloadable in .wav format, you will get a range of different kinds of SFX such as vintage sound effects, office sound effects, cinematic atmospheres, glitch sound effects, horror SFX and more.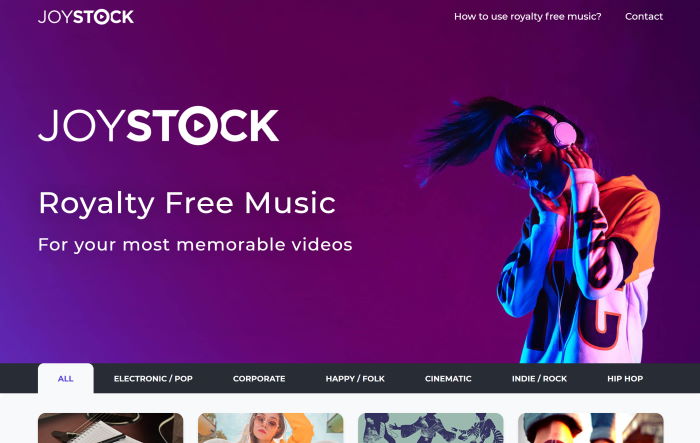 Joystock provides professional royalty free music for videos, advertising, and multimedia that you can download for free without the need to create an account. All of the music tracks spanning different genre including electronic, indie, and hip hop can be used for free on videos uploaded to YouTube and other video streaming platforms such as Vimeo, Facebook and Instagram.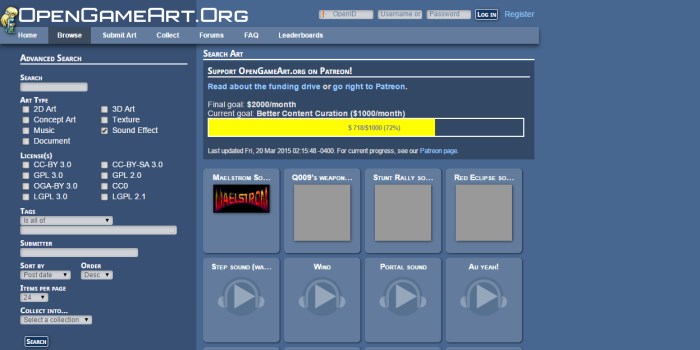 OpenGameArt is a repository of 2D and 3D game art, textures, music and sound effects for game development. It has a huge library of music and sound effects contributed by different artists. These audio files can be easily searched and filtered by licenses and tags.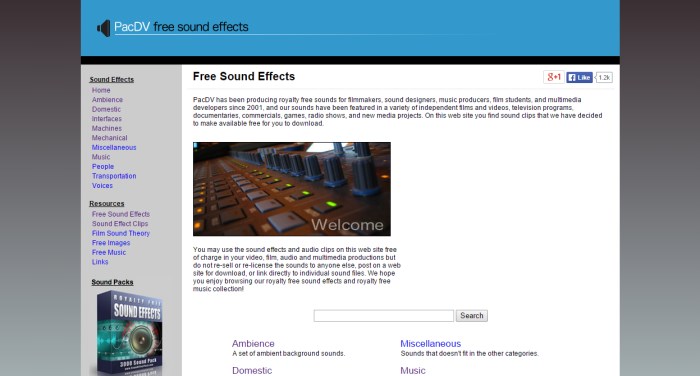 PacDV has a collection of royalty free sound effects and royalty free music. The sound effects are grouped under different categories like mechanical sound effects, ambient background sounds, human sound effects and music tracks. You can use the sound effects and audio clips free of charge in your multimedia productions and games.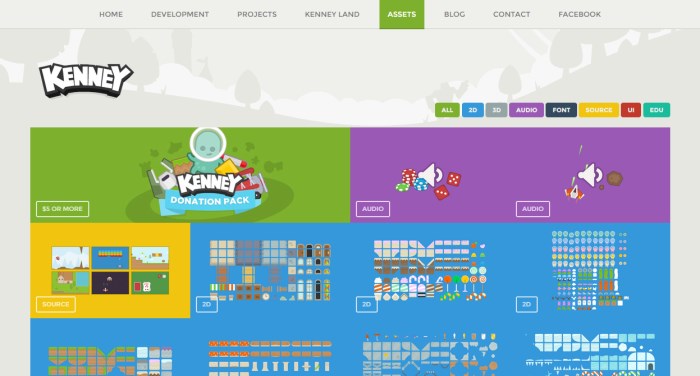 Kenney, a game designer, and developer, provides CC Zero licensed game resources on his site. These game assets also include audio files that are available in different packs like RPG audio, casino audio, music jingles and UI audio. I used one of his music jingles in my cross-platform game Spooky Planet.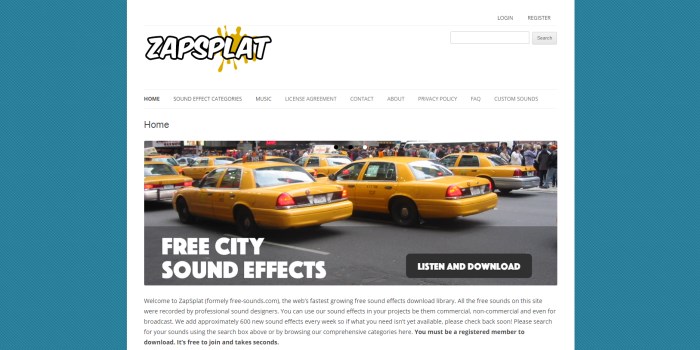 ZapSplat provides free sound effects that can be used in any non-commercial, commercial and broadcast production in exchange of attribution. You can browse their sound library by categories like animals, bells, cartoons, explosion, and household or you can keyword search according to your requirement. You need to register for a free account to download sounds from their site.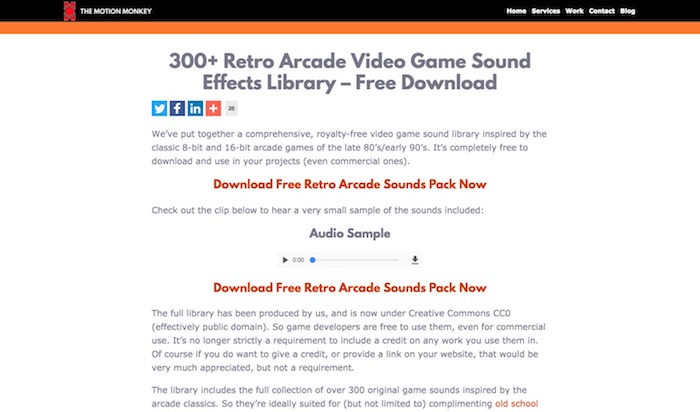 The Motion Monkey have a library of around 300+ retro sound effects inspired by the classic 8-bit and 16-bit arcade video games of the late 80's and early 90's that you can download for free in a single pack. The download contains sounds in uncompressed 24-bit wav, ogg and m4a audio formats that can be used in popular game development platforms/engines including HTML5, Unity and Gamemaker Studio.
Some of the sound types included in the pack are explosions, weapons, impacts, character sounds, vehicles, arcade style game sounds (game over, power up, bonus) and UI sounds. These retro sound effects are available for free download and use under Creative Commons CC0 (public domain) license.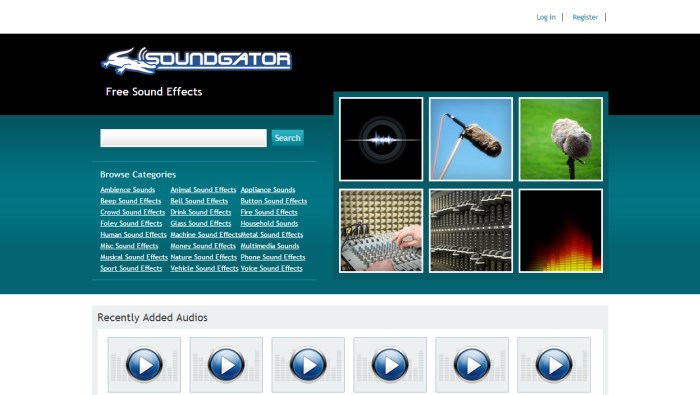 SoundGator offers free sound effects that you can download and use for your videos, presentations, apps and games. Sounds are put together under different categories like beep sound effects, vehicle sound effects, sport sound effects and many more for easy browsing.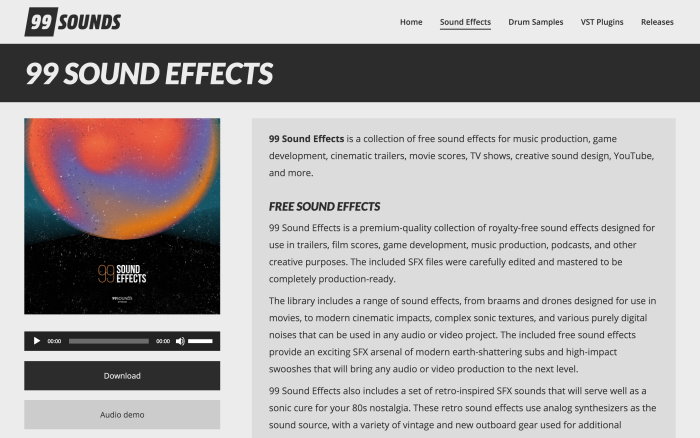 99Sounds is a library of royalty-free sound effects that you can download for free and use for music production, game development, creative sound design, and in YouTube content. It includes 99 sound effects in different categories including braams, downers, impacts, 80s retro sounds, short SFX, whoosh SFX and more. All audio content is provided as lossless 24-bit WAV files.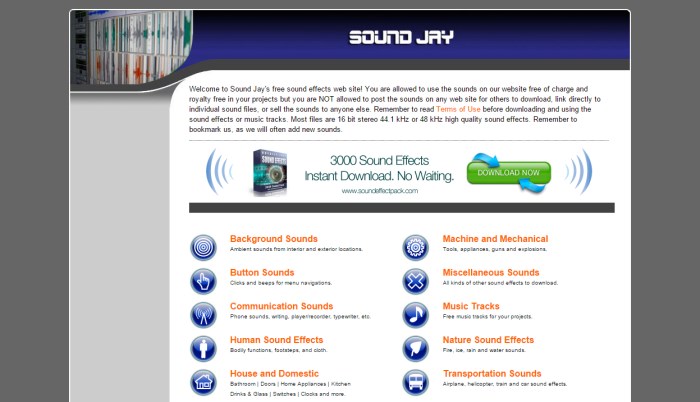 Sound Jay offers music and soundtracks that you can use in your games free of charge. Sound effects are available as both uncompressed .wav and .mp3 files. They are placed under different categories like button sounds and background sounds for easy browsing.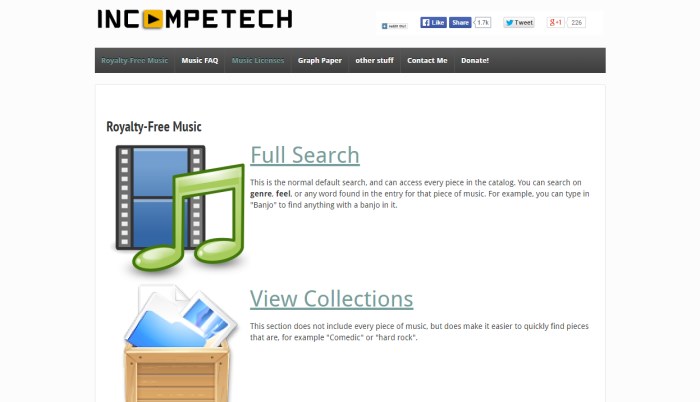 Incompetech has royalty free music tracks available under Creative Commons attribution license. You can search its music library by genre and feel.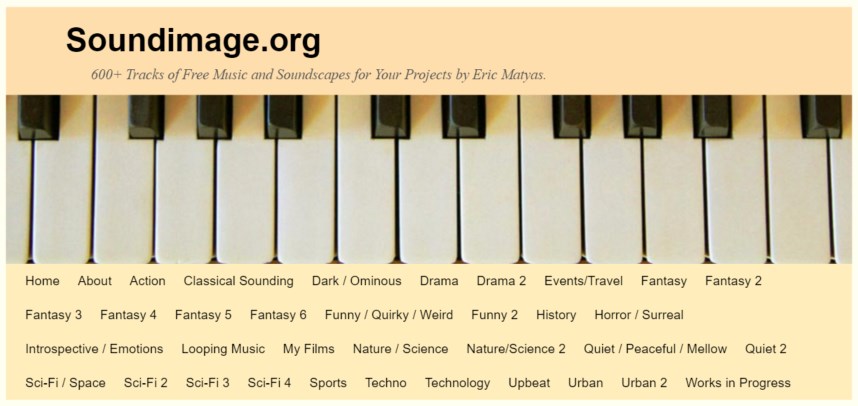 SoundImage.org provides 600+ tracks of free music and soundscapes that are free for developers to use. These sound effects are original work of Eric Matyas and are available in many popular genres such as Action, Fantasy, Classical, Dark, Drama, Horror, Sports, Urban, Techno, and Sci-Fi. All these music on SoundImage are free to use for both non-commercial projects as well as commercial projects. An attribution is required when you use them in your game development project.
Conclusion
We will be adding more websites that offer free sounds and keep this list growing. If you want to make a suggestion that we can add to this list, you are welcome to share it with us and our readers in the comments below. And do remember to share this post with your friends and followers, we would greatly appreciate it.
You may want to read our post on leaderboard service providers for integrating leaderboards in your games and have a look at these open source HTML5 games for some inspiration. We regularly share many free resources, fonts, icons and textures that can be of help for your game design.