Email newsletters are a great way to connect with regular and potential guests and to let them know about latest offers, deals and services. With our collection of professional hotel email templates, you will be able to create the best promotional emails for hotel newsletters and email marketing campaigns.
All the templates mentioned below are created with modern and responsive design (mobile friendly). The email templates are available as HTML templates as well as PSD files and are compatible with popular newsletter services such as StampReady, MailChimp & Campaign Monitor and WordPress plugins like Mailster (formerly MyMail). You will also find drag-and-drop newsletter builder in some of these templates and they allow you to easily customize the template design.
Let us go through the list and features of these professional hotel email marketing templates below. Do make sure to check out the demo of each of these newsletter templates for a complete preview:
Hotel – Responsive Email Template with Stampready Builder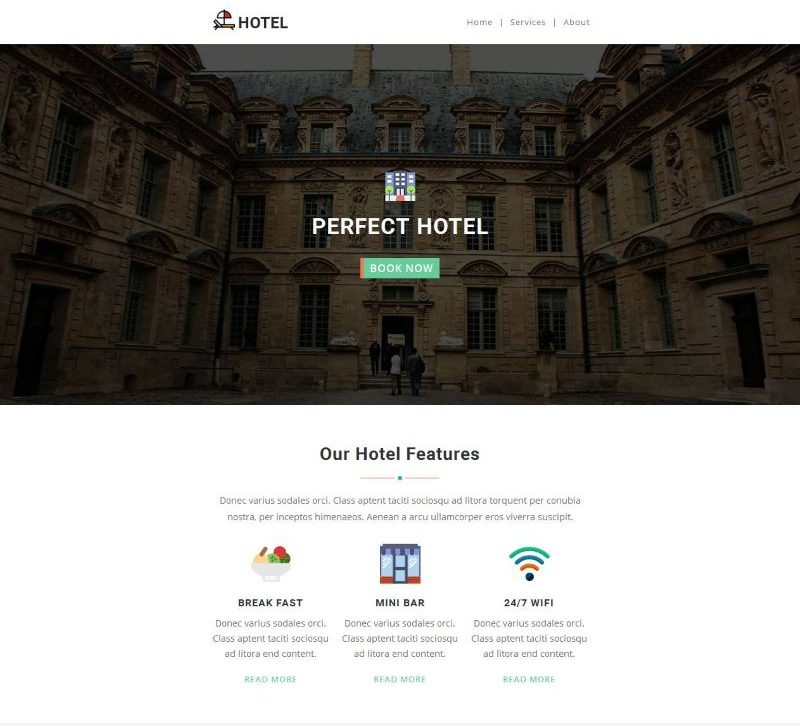 This is a modern and responsive email newsletter template for Hotels and other business entites. It is compatible with StampReady, MailChimp & Campaign Monitor. It offers 20+ useful drag-drop modules and has compatibility with all major browsers and email clients. It also offers StampReady drag-drop builder access.
---
Perfect Hotel Newsletter Template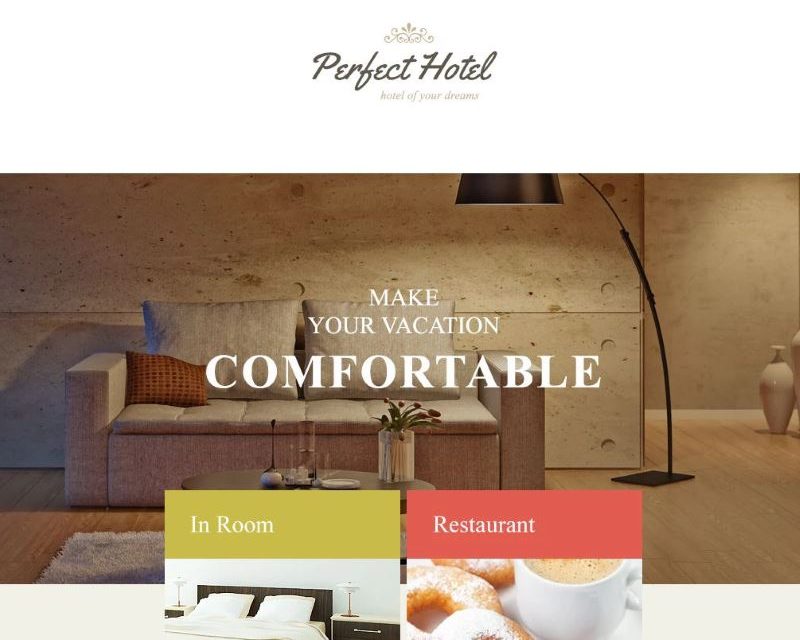 This premium responsive template has warm and friendly design perfect for hotel newsletters and email campaigns. The template is Mailchimp and Campaign Monitor ready and supports all major email clients. It includes fully layered PSD file as well as high definition royalty free stock photos which can be used in the email.
---
Grand Hotel Responsive Email Template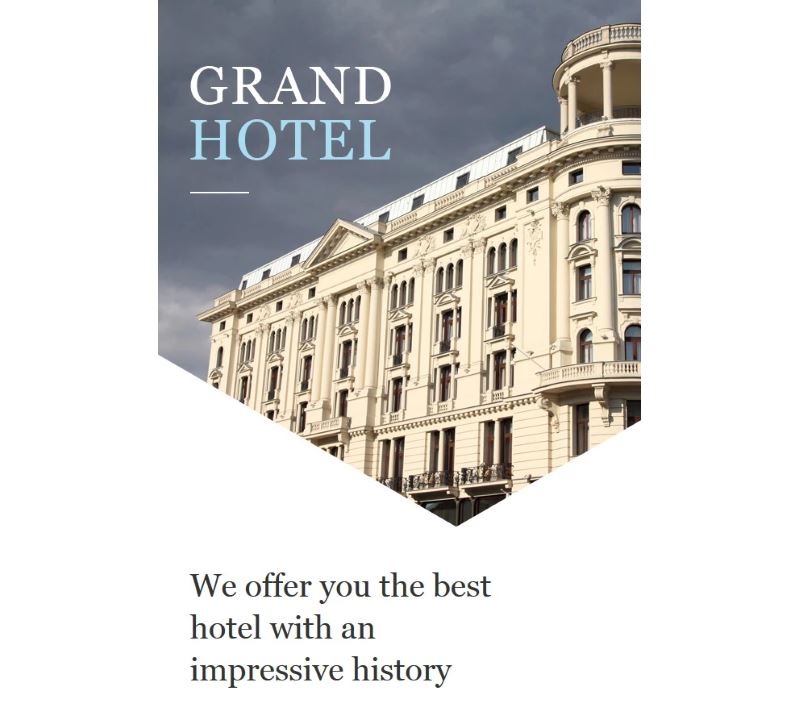 This is another great responsive email template for hotels which is compatible with newsletter services such as Mailchimp and Campaign Monitor. Included with the template are HTML email template as well as layered PSD file. Stock images are also provided with free life-time usage.
---
Royal – Responsive Email Template + Online Editor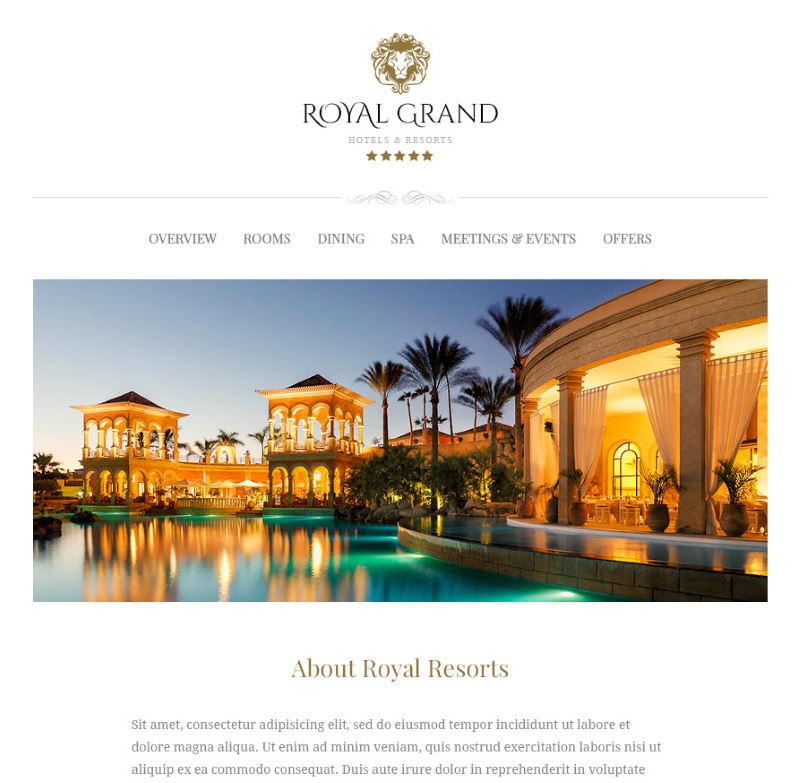 This is a responsive email template with drag and drop online editor. Included HTML templates are Mailchimp, Campaign Monitor and StampReady compatible. It offers unlimited color scheme using StampReady builder and has been tested with Litmus and Email on Acid. It includes PSD Photoshop File as well.
---
Appalache – Winter Tourism & Ski Resort Email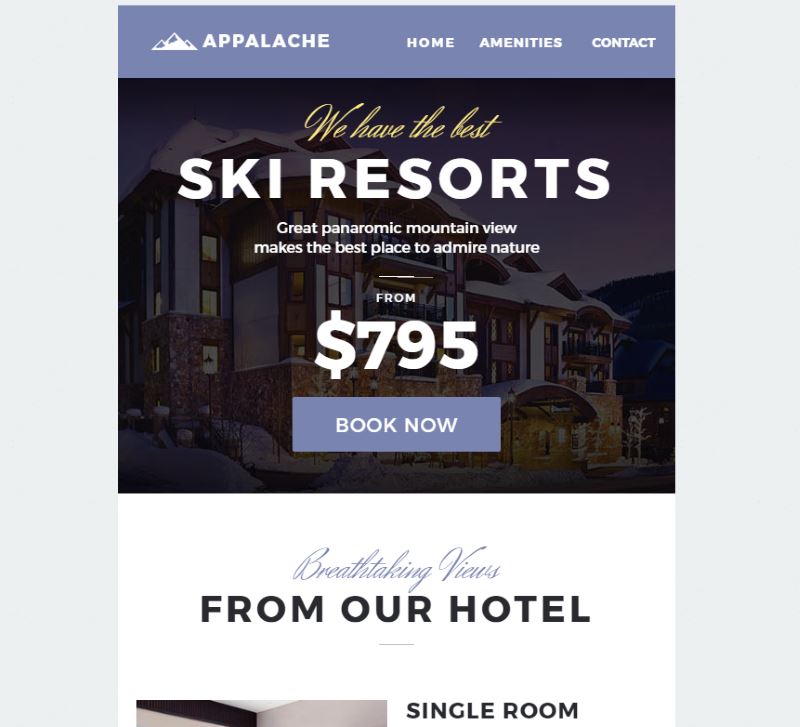 Appalache is a clean and simple Tourism & Ski Resort Email Template suitable for Travel Agencies, Tourism, Hotels, Ski Resorts, Companies, Holiday Packages, Tour Packages, Vacation Advertising, Hotel Promotion, as well as other Businesses. The template has background image support in all email platforms including Outlook and includes a drag and drop email builder. It also includes the PSD files along with the HTML email template.
---
Luxury Hotel Email Template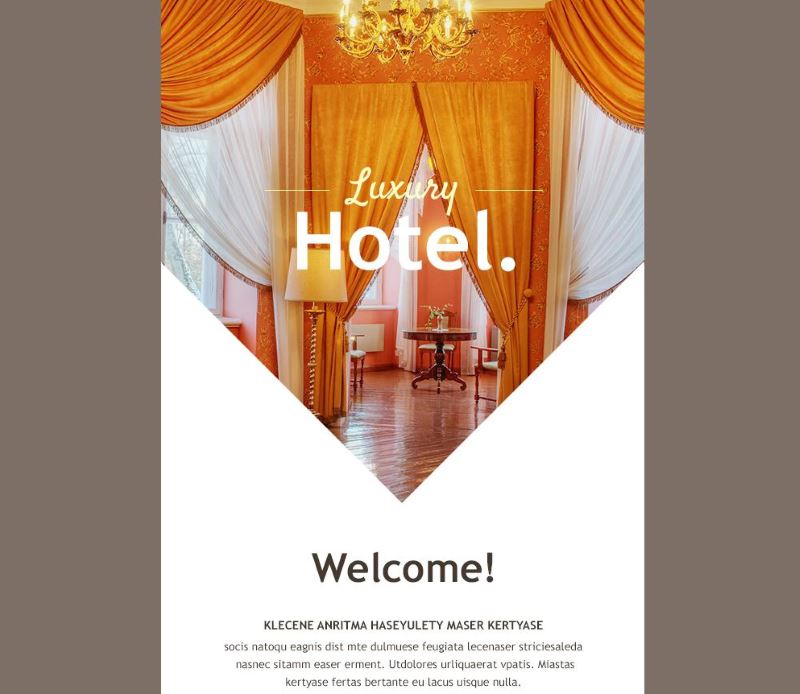 This is another fine MailChimp and Campiagn Monitor compatible email template for Hotels. It includes PSD files and high resolution stock photos. Give your emails a premium look with this email template.
---
Hotel Room Email Template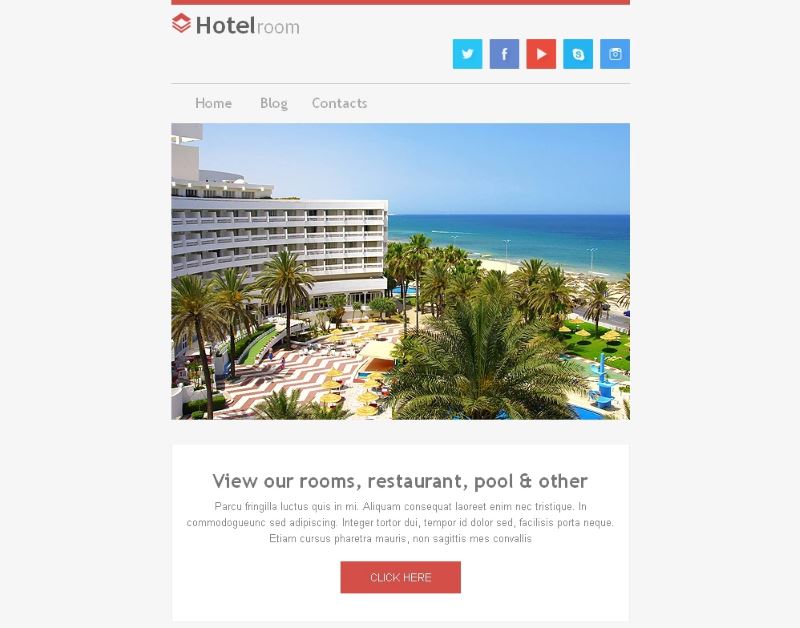 This is a clean and fresh email template perfect for featuring hotel services like restaurant and pool and inform the subscriber about latest deals. It includes support for displaying photo gallery, pricing tables, embedding video as well as customer testimonials. You get PSD as well as HTML email templates in the download.
---
Mountain Hotel Email Template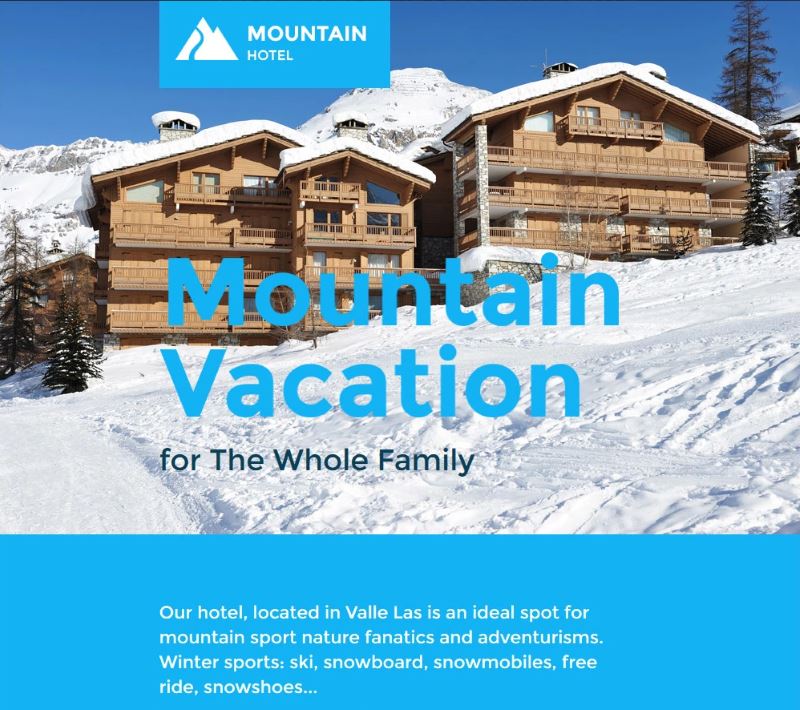 This is a modern and responsive email template suitable for mountain hotels and hotels in cold locations. It offers large typography and background images and compatibility with all major browsers as well as newsletter services. You get both PSD and HTML files for the template.
---
Minimal and Modern Hotel Email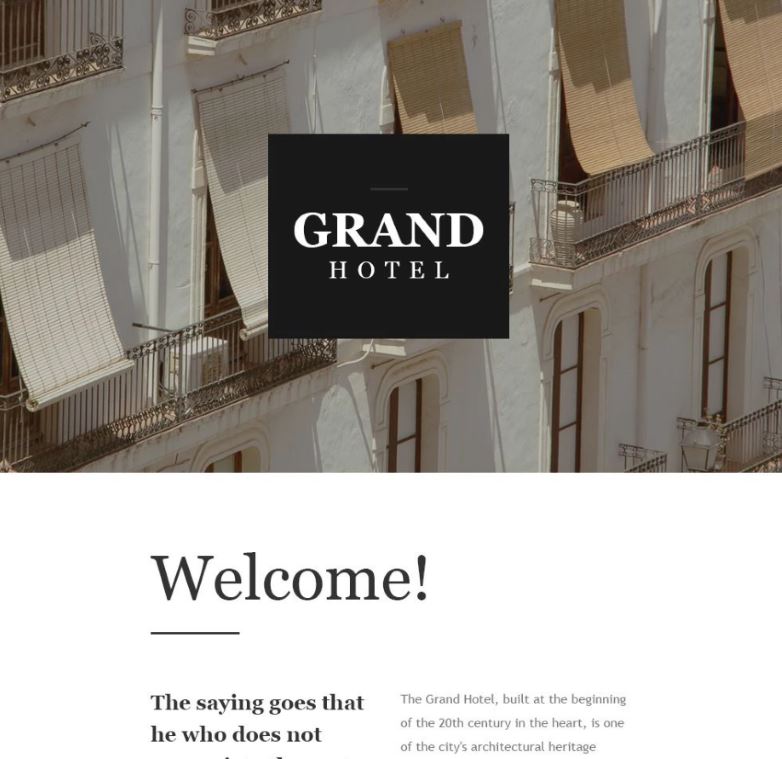 This is a minimal and modern design email template with responsive design. You get 24/7 free support with the template and stock images which are free to use for life. Download includes HTML email and PSD files.
---
HOLIDAY – Responsive Email Template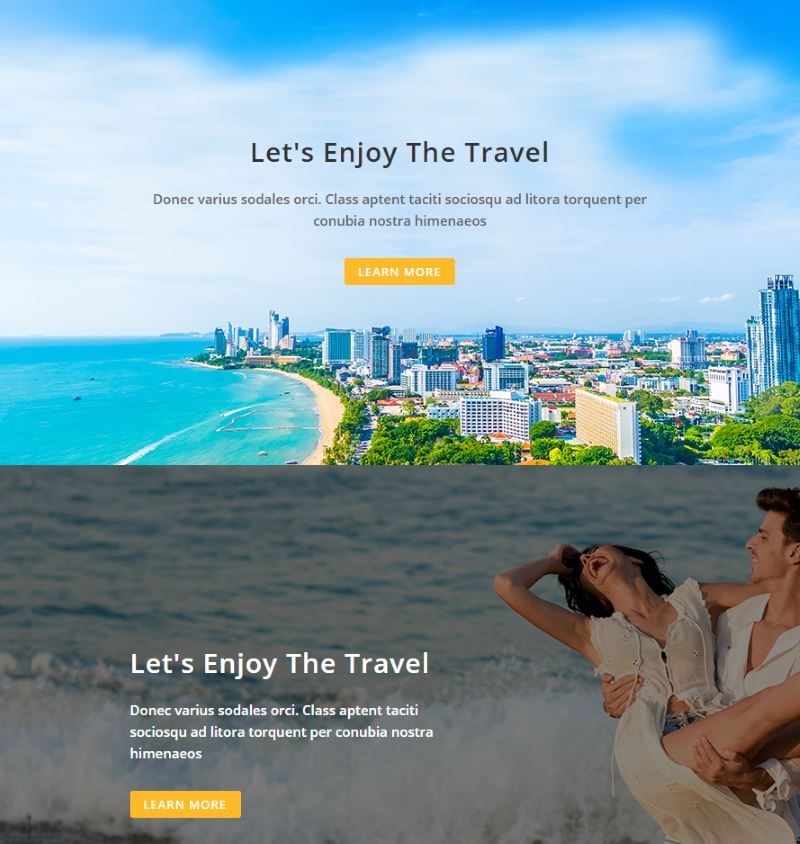 HOLIDAY is a responsive email template designed for Holiday, Hotel, Travel Agency, Reservation, Trip and other businesses. This Litmus tested template offers a drag-drop builder and has been tested in all major mail clients and browsers. The download comes with layered PSD files and help documentation. You also get post sales support.
---
Last Minute Multipurpose Hotel/Travel E-Newsletter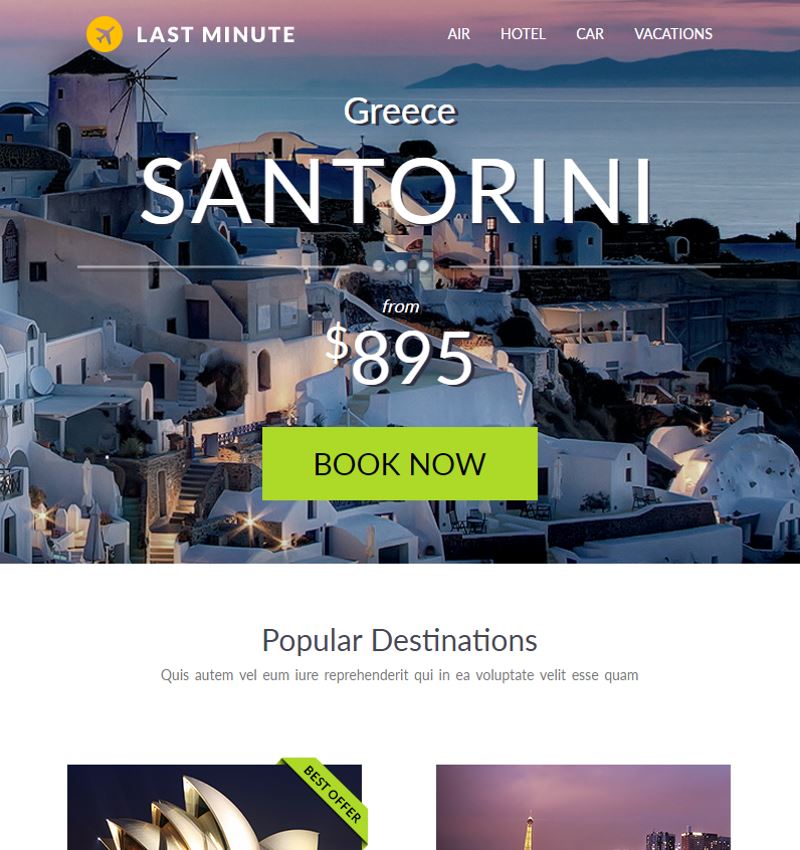 This is a perfect template for sending out last minute limited time deals and offers in email. This responsive newsletter template comes with 50+ modules suitable for hotel or travel emails. It offers 22 pre-defined email templates that you can easily customize the design and color as per your need. Along with a theme builder, it also includes 40+ travel and hotel icons.
---
ButaPest – Hotel E-newsletter Template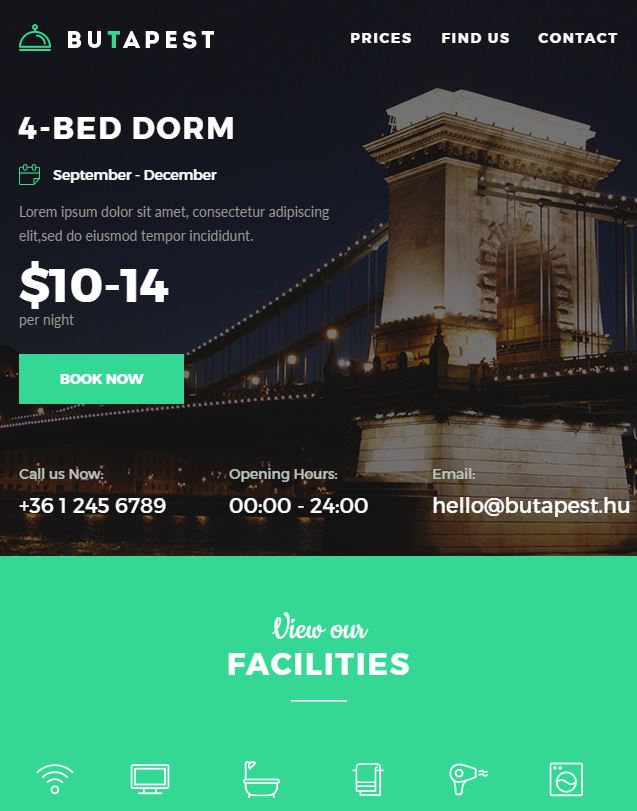 ButaPest is a e-commerce newsletter PSD and HTML template with online builder access. It is built for travel agencies, hotels, resorts and oher companies as well as e-commerce portals. The template is compatible with MailChimp, Campaign Monitor as well as Mailster WordPress plugin.
---
Travel and Hotel E-newsletter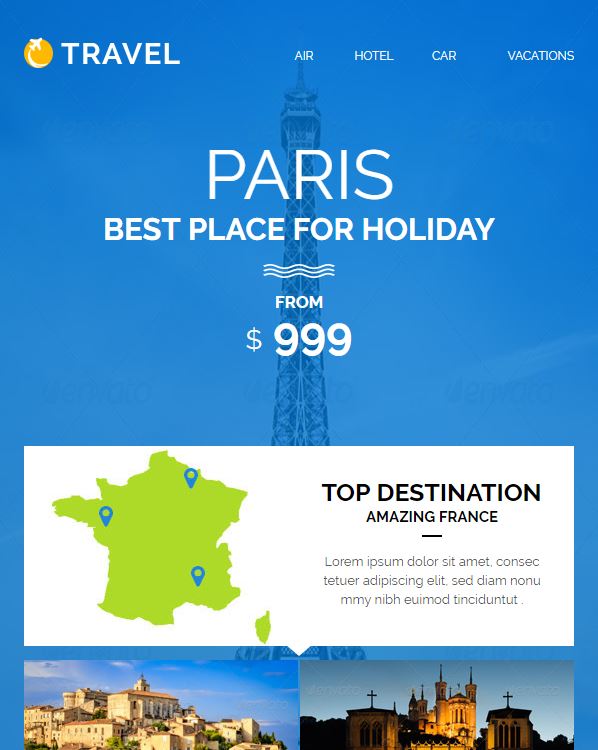 This travel and hotel newsletter template offers access to an online builder along with offering Mailchimp and Campaign Monitor ready templates. The templates have been tested on litmus.com and validated with W3C validations as well. PSD layered files are included with the template download.
---
Wayan – Resorts Email Templates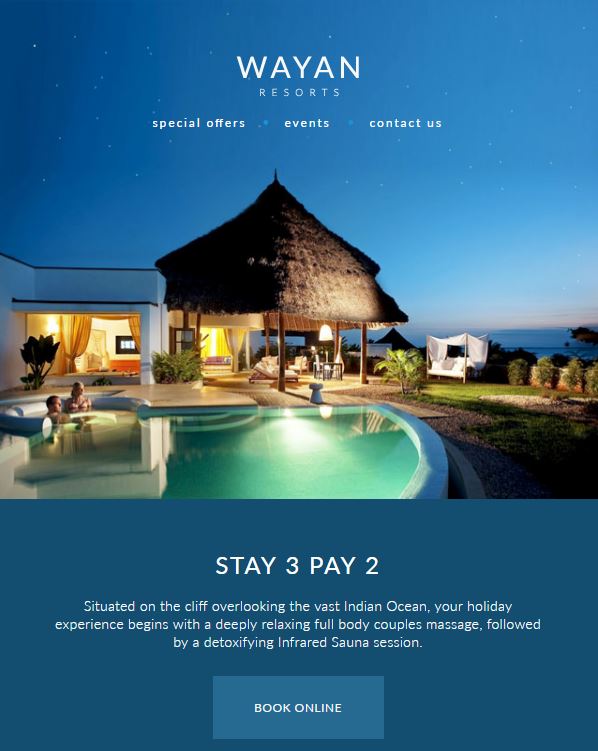 Wayan is an email newsletter template for resorts and for the traveling & hotel businesses. It offers modern responsive HTML template design along with access to an online builder for customizing the template. It has Mailchimp and Campaign Monitor ready templates too. All major email clients are supported and the download includes layered PSD file.
---
Vacation – Hotel and Travel Newsletter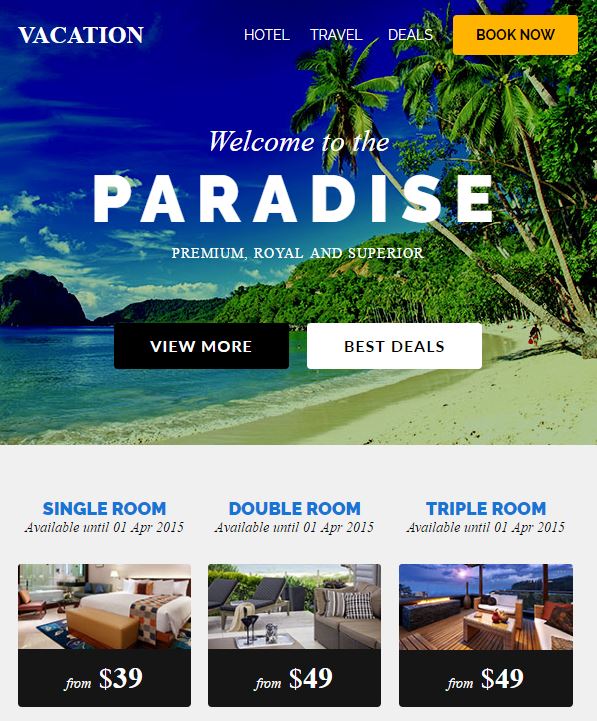 This vacation email template is well suited for vacation themed offers and price listing. The responsive email template can be customized using an online builder and offers 30+ modules such as weather forecast details, pricing table, user testimonial, contact info etc.
---
Booking Email Template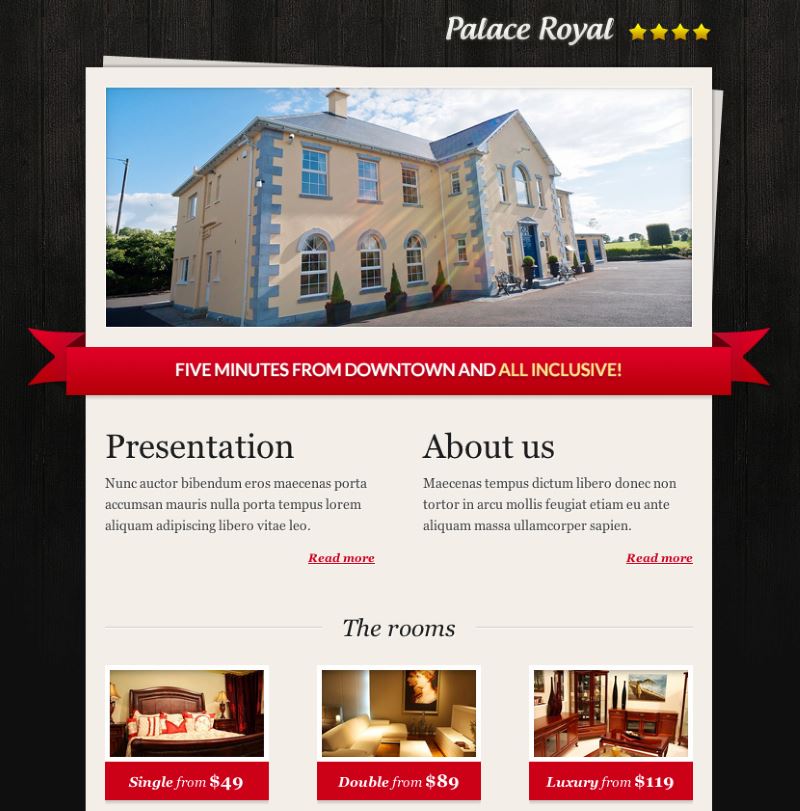 Booking is a flexible email template which uses simple blocks to form the layout and allows infinite possibilities for the design. It includes 20 ready-made designs in 2 different types of layouts (vertical and horizontal). Five color themes: Red, Blue, Green, Brown and Purple are offered by default along with layered PSD file. Footer contains social widgets to go along with contact information.
---
Travelesia Responsive Newsletter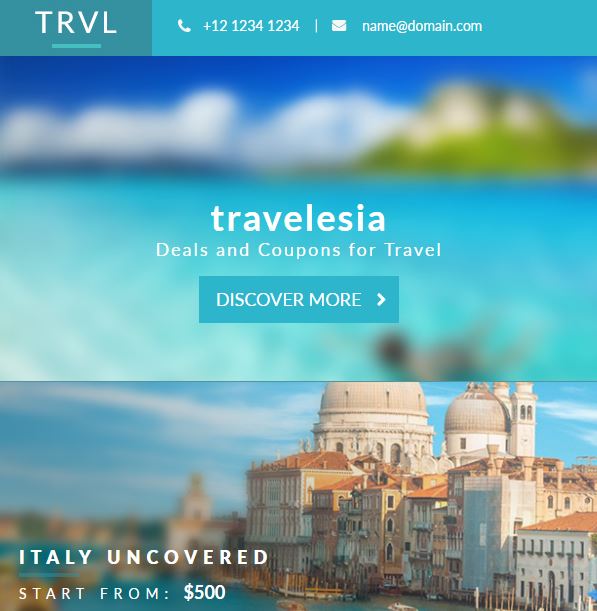 Travelesia is a modern email template for travel and hotel booking. It has minimal design along with full width background images which can be changed easily using the online builder. You also get PSD file along with well coded HTML email template.
---
Multimail – Responsive Email Set with Builder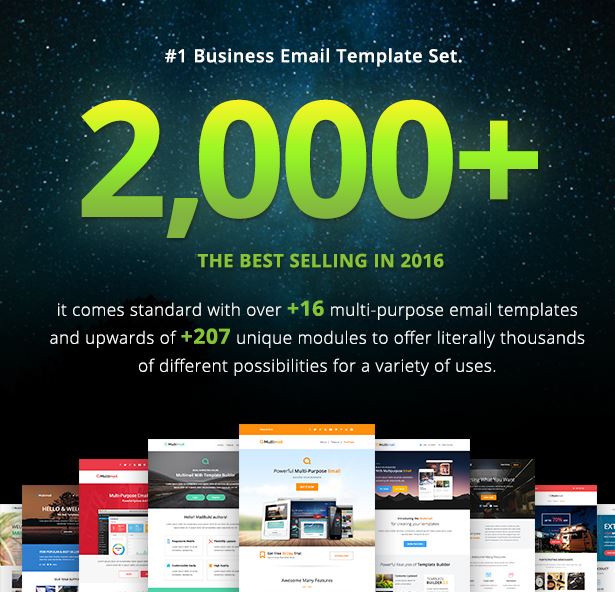 Multimail is one of the top selling business email template set which can be used for designing emails for multiple purpose. The set offers compatibility with all major mail service providers such as MailChimp, Contant Contact, GetResponse, Aweber, Mad Mimi, Active Campaign, Sendgrid etc. Template builder allows drag and drop of modules and easy changing of colors and text with WYSWYG editor.
Templates can be saved in the editor for accessing and exporting to HTML later. You can also send email template directly to your Mailchimp account using the email builder.
---
Koble – Business Email Set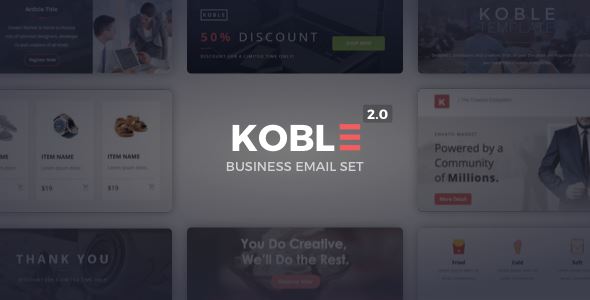 Koble is another extensive email set suitable for different business entities and professional services. It offers a template builder with 200+ unique modules and 27 pre-created templates to choose from. It also includes an invoice template for businesses. The templates have conversion centered design which works on all devices and email clients.
---
Market – Responsive Newsletter with Template Builder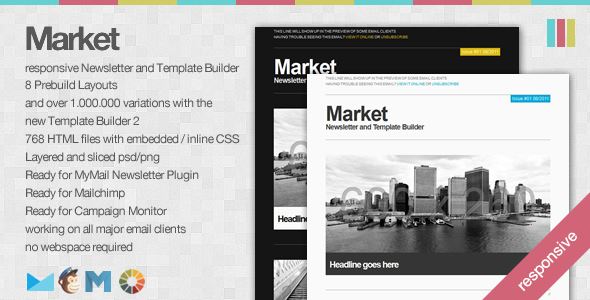 This is a responsive newsletter along with template builder offering 8 pre-built layouts and 24 color variations for creating business emails. It also includes all 24 variations as full layered PSD files.
---
We hope that you find our collection of these professional quality hotel email templates useful. As you may notice, we have included multi-purpose business email templates as well along with specific hotel, travel and holiday email templates. These templates are well-suited for reaching out to your customers, guests and subscribers with updates about latest services, news, hotel deals as well as for sending out communications regarding booking and receipts.