Static Websites are an easy way to build an online presence and Jekyll is one of the most popular static site builder with blogging support. In this article, we present a collection of the best Jekyll themes which are both free as well as premium and can be used to quickly create a portfolio website with a blog for yourself.
Our collection consists of the best free and open source Jekyll themes which are also found on GitHub. Some of the themes in our collection are also premium website templates for Jekyll and can be found on popular marketplaces like ThemeForest. All the themes presented here are responsive and high-quality.
There are many platforms, including GitHub pages, which offer free hosting for static sites and you may want to check them out for hosting your own sites. Let us begin our collection of best Jekyll themes:
1. Feeling Responsive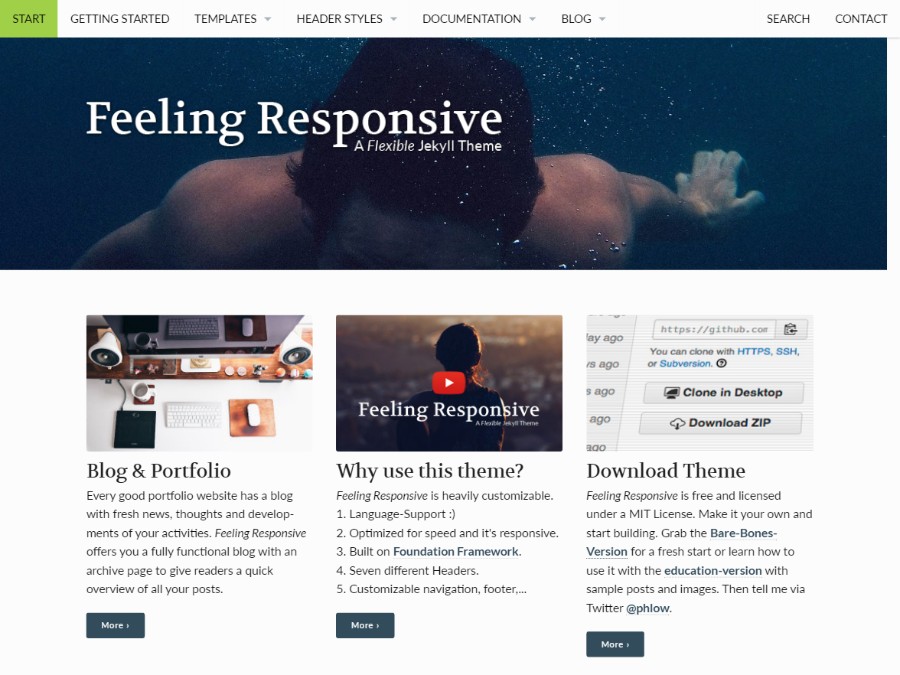 Feeling Responsive is a theme for Jekyll based on Foundation framework. It is completely responsive and has beautiful typography with a bright color palette. The theme is suitable for blogging as well as portfolio sites and has multi-language support. It offers 7 different header designs and customizable navigation menu, footer and other sections of site. The theme is MIT licensed and open source on GitHub.
2. Hashtag for Jekyll
Hashtag is a beautiful blog theme for Jekyll with minimal and elegant design. This responsive and retina ready premium theme offers support for media short-codes, author-bio, sharing buttons, sharing, comments, syntax highlighting and display of estimated reading duration. It has subtle on-scroll animations and parallax effect. Grab these feature packed Jekyll theme from ThemeForest.
3. Minimal Mistakes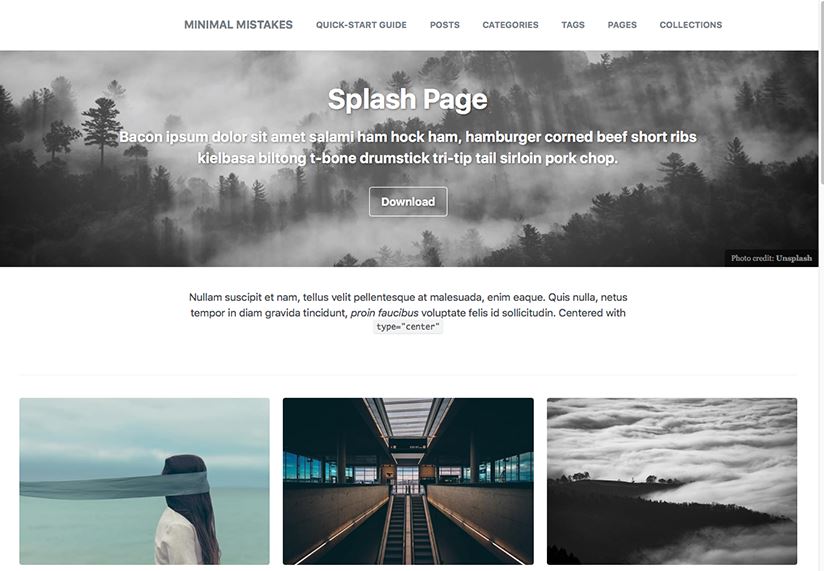 Minimal Mistakes is a flexible two-column Jekyll theme suitable for personal site, blog, or portfolio on GitHub pages or your own servers. The theme has layouts for single, archive and splash pages. It also has option for header images, sidebars, table of contents, galleries, related posts, breadcrumb links, and more. This SEO optimized theme comes with support for Twitter Cards and Open Graph data.
4. Writer – A minimal blog for Jekyll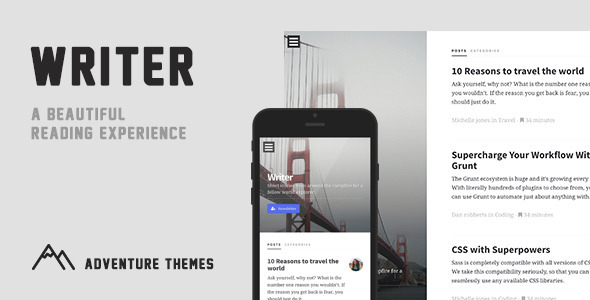 Writer is a premium and minimal blog theme for Jekyll which focuses on offering a beautiful reading experience. Writer has multiple home page layouts and post/page types along with other pages like category, author and contact. With responsive design and support for syntax highlighting, this customizable theme comes with complete set of documentation for its usage and installation instructions.
5. Frisco – App Promotion Theme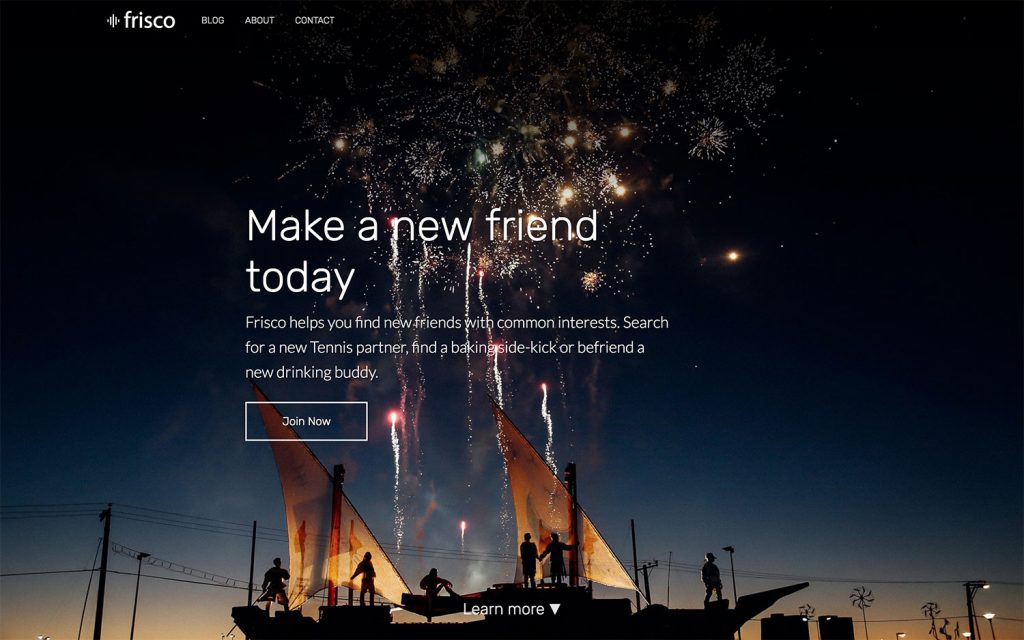 Frsico is an app promotion themed template for Jekyll by the CloudCannon team. The theme features contact form, blog with pagination, post category pages and has support for Disqus comments, author system, configurable footer, RSS/Atom feed, SEO tags and Google Analytics.
6. Urban – Web Agency Theme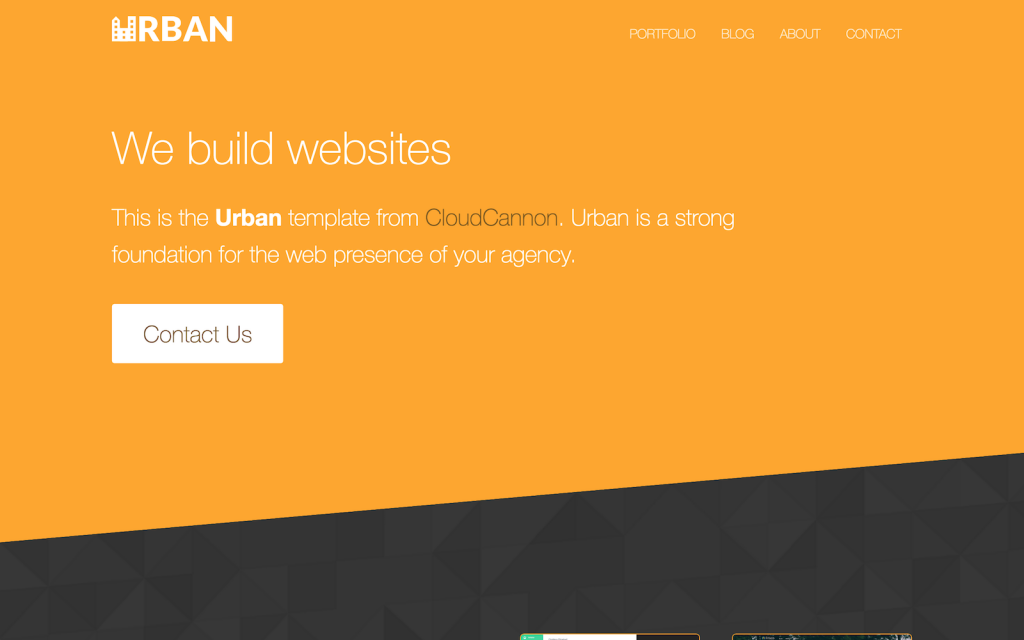 Urban is a responsive web agency theme for Jekyll with support for contact form, post comments, post feed, category archive, pagination and a lot more. This MIT licensed free theme is available on GitHub.
7. Hydra – Marketing Site Theme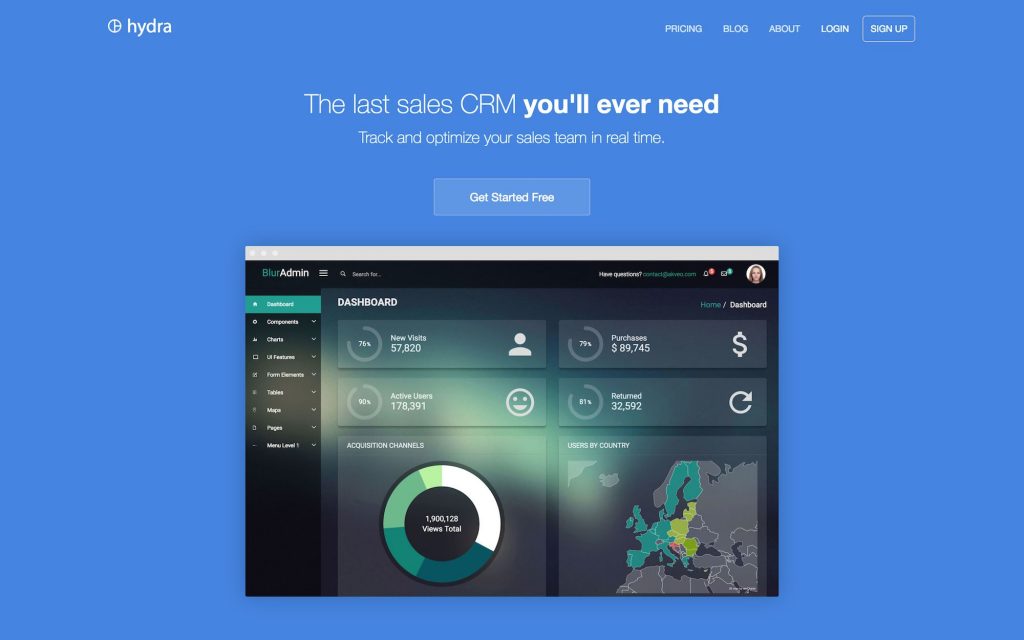 Hydra is a free marketing site theme for Jekyll built by the CloudCannon team and is MIT licensed. Similar to other Jekyll themes by CloudCannon, this theme also supports easy customization, category archives, responsive design, SEO tags and a lot more.
8. HPSTR Jekyll Theme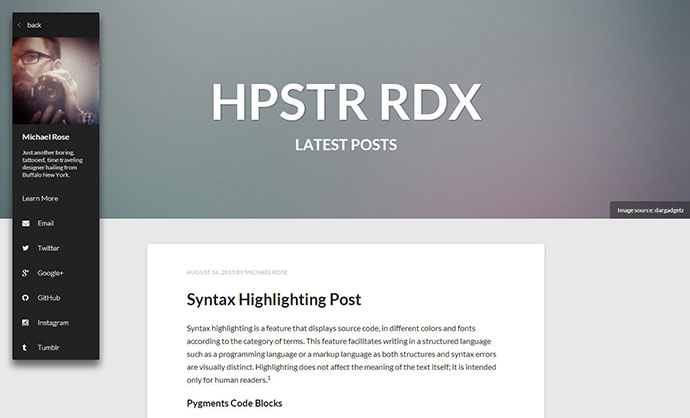 HPSTR is a modern and minimal responsive Jekyll theme compatible with Jekyll 3. It offers animated menu with support for drop-downs. You can have Disqus comments and social sharing links with your posts and Open Graph and Twitter Cards are also supported in this theme.
9. So Simple Theme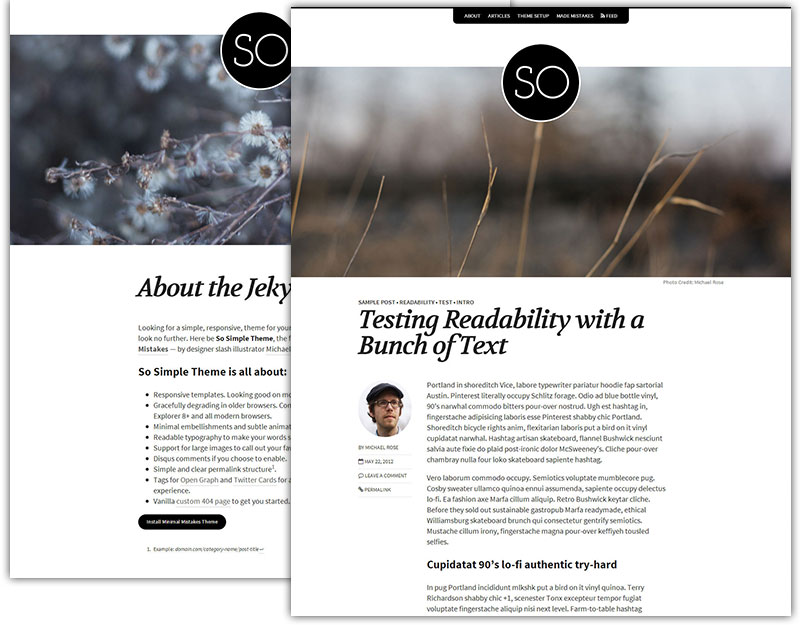 This is a simple and responsive blog theme for Jekyll and is compatible with Jekyll 3 and GitHub pages. It offers large feature images for posts and pages along with basic search capability and Disqus comments.
10. Squarebox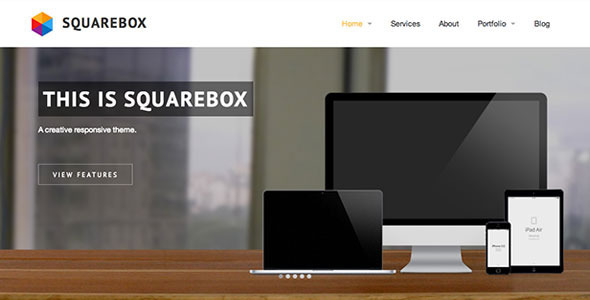 Squarebox is a premium and creative Jekyll theme suitable for websites of company, design studio, business or portfolio websites. The theme offers 2 home page designs and multiple page layouts. Built with the Foundation framework, this Jekyll theme has sticky navigation and retina ready icons.
11. Osum – Multi-Purpose Theme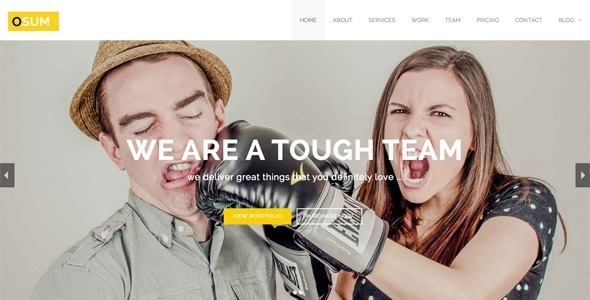 Osum is a creative responsive Jekyll theme available on ThemeForest and offers CSS3 animations, full width slider, portfolio and pricing table support along with multiple blog layouts.
12. Devoll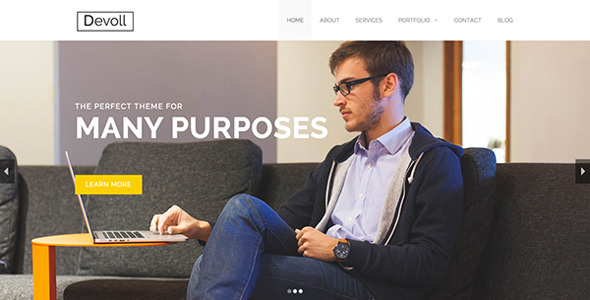 Devoll is another premium and responsive Jekyll theme which can be used for building portfolio websites of companies, agencies or professionals. Offering creative and clean design, this theme has parallax animations and sticky navigation. Multiple layouts are available in the theme for you to choose from.
13, Treat – Food Blog Theme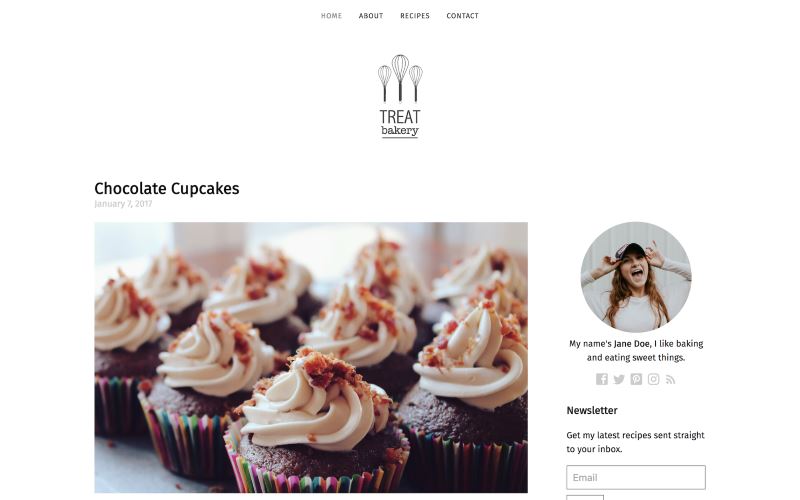 Treat is a free food/baking blog theme for Jekyll by the CloudCanon team. It offers pre-built pages for a food/cooking blog, support for share buttons, Disqus comments, social profile icons, a subscribe form and lot more.
14. Justice – Law Firm Theme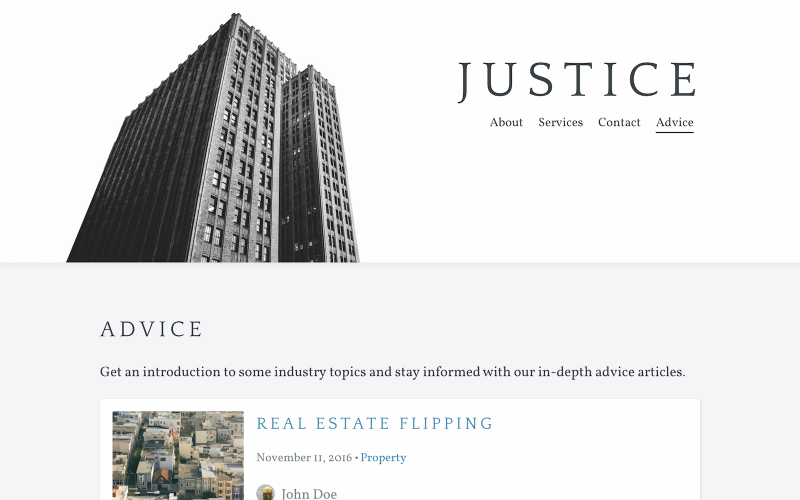 Justice is a Jekyll theme suitable for Law firms or businesses. It offers pre-built page templates for landing page, about and contact. It also supports blog with pagination, category archive, comment and RSS feed.
15. Cause – Non-Profit Theme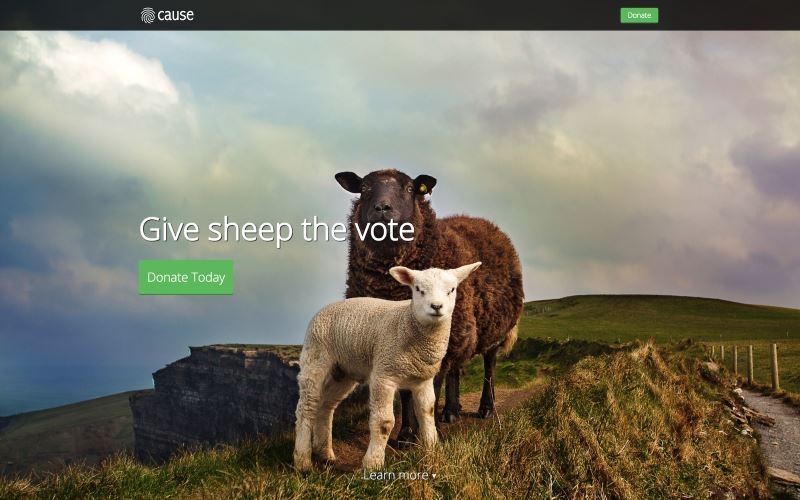 Cause is a Jekyll theme suitable for non-profit organizations or causes. It offers landing page template for a cause website along with widget for accepting donations. Updates about the cause can also be added using this theme.
16. Malt – Event Marketing Theme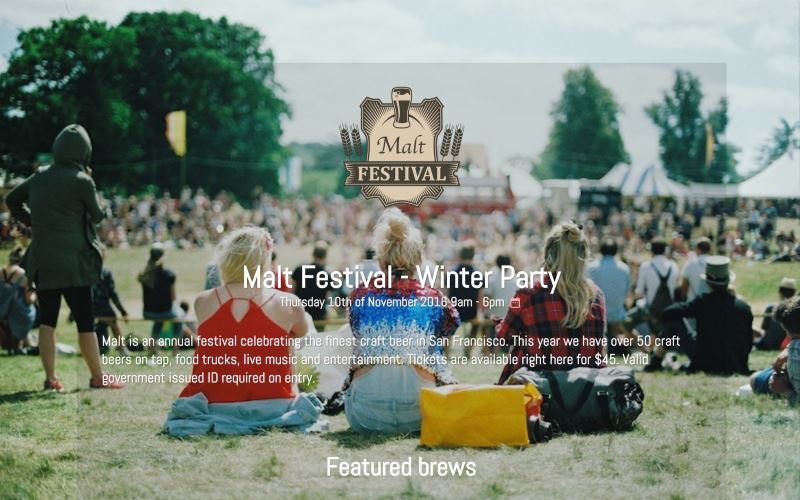 Malt is a Jekyll based event marketing template which comes with pre-built components such as photo gallery, location map and contact form. This MIT licensed Jekyll theme is available on GitHub.
How to use Jekyll Themes?
In order to use these themes, you will need to install Jekyll first. Kindly refer to the installation instruction on Jekyll website for doing so. Once you have installed Jekyll, you can download or clone any of the theme presented above and get started with adding your customization or writing posts. Use Jekyll's command line utility to build and test the site locally.
Once you are done with the changes you can deploy the built site to any web server including GitHub pages. See an extensive list of free hosting options for static sites.