Sneat is a developer-friendly & highly customizable template based on Bootstrap 5. If you're a developer looking for a Bootstrap 5 Admin Template enriched with features and a highly customizable look no further than Sneat. This open-source admin template is not just fast and easy to use, but highly scalable. Offering ultimate convenience and flexibility, you'll be able to build whatever application you want without any hassle.
Furthermore, you can use this one of the best Bootstrap admin templates to create eye-catching, high-quality, and high-performing web applications such as SaaS platforms, project management apps, e-commerce backends and CRM systems. Your apps will be completely responsive, ensuring they'll look stunning and function flawlessly on desktops, tablets, and mobile devices.
Preview of Sneat Admin Template
Find below a preview of the Sneat dashboard template, do check out the demo to see the complete dashboard design.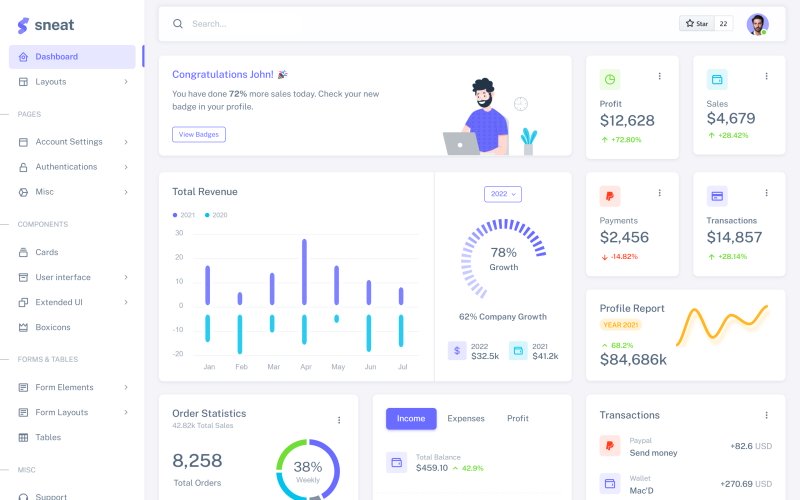 Features
Based on Bootstrap 5
Vertical layout
Dashboard
1 Chart Library
SASS Powered
Authentication Pages
Fully Responsive Layout
Organized Folder Structure
Clean & Commented Code
Download
You can download the Sneat free admin template using the button below. If the file comes as locked, kindly follow the instructions below.
License
This project is licensed under MIT License. To find out more, check: https://github.com/themeselection/sneat-html-admin-template-free#license-
More Admin Templates
We have an extensive collection of Admin Templates on our site and you can find them using the links below: