Microsoft offers a unique incentive program to Unity Developers for supporting the creation and launch of Unity games on Windows Phone and Windows Store. This incentive program offers free devices, Windows 8 Pro License, free ad impressions, technical support and more. As per Unity developer communication channel, Microsoft has extended this program through June 30, 2014 and has opened up eligibility to residents of Ukraine, Russia and South Korea as well.
This incentive program by Microsoft offers two level of benefits. The first level of benefit provides you with a free Dev Center account for Windows and Windows Phone stores, a free Windows 8 Pro license, 1 developer device (tablet or phone) and priority review for store promotion.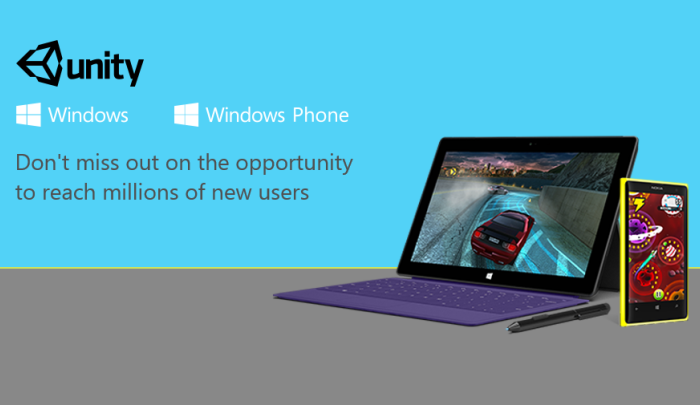 While the second level of benefit provides you with all the benefits of first level plus a million impressions ad package on Adduplex, 1 additional developer device (phone or tablet), feature placement on the made with Unity gallery and access to technical assistance.
The incentive program is on a selection basis with limited seats and in order to qualify, individuals or teams have to meet some basic criteria. These include having experience with shipping apps or games on mobile platforms with existing games having significant downloads, 3+ star ratings and having innovative content, differentiating your titles from other games in the same genre.
However as per the FAQ on the offer site, you can qualify even if you don't have an existing app or game published but have a great project idea in pipeline.
In order to apply please head to Microsoft's offer site at http://www.wpdevcenteroffers.com/
Read on to find more details about porting your existing Unity Games to Windows Phone and Windows 8 platform and to find some of the existing Games on Windows Platform which are made with Unity.
Porting Unity Games on Windows Platform
In order to make it easier to port your existing Unity games to Windows Platform or to develop a new game, Microsoft and Unity have made some handy getting started guides available which you can find below.
Porting Unity Games on Windows Phone
Porting Unity Games on Windows Store
Forum
Ask questions and discuss issues with fellow Windows Store and Windows Phone developers at Unity Windows Development Forum
Cross-platform games made with Unity
Unity has a showcase of games made with Unity for Windows Phone or Windows 8 platforms. Some of the games which are available on both Windows Phone and Windows Store along with being available on Android or iOS, are listed below:
SushiChop by Rogue Rocket Games
Temple Run: Brave by Imangi Studios
Drift Mania: Street Outlaws by Ratrod Studio
Hopefully, you got enough motivation to port your existing Unity games to the Windows Phone and Windows Store Platform. The Unity Windows Store add-on is included in the free version of Unity and available as a Pro add-on in Unity Pro. So any Unity developer can port their existing Games to Windows Store and Windows Phone 8 for free.