An average smartphone user spends about 2.5 hours using apps every day. There are more than 2.5 billion smartphone users in the world as of 2019. This shows the future of the mobile app market is bright and every organization is using mobile apps as a medium to connect to the world.
Developing a mobile app which can grow and get popular involves thorough testing. Mobile app testing is continuously evolving with new trends in app development. Although there are many challenges in testing a mobile app as there are many versions of OS being used, there are customizations by the OEMs and many other factors to consider. These issues can be resolved by using pCloudy for mobile app testing.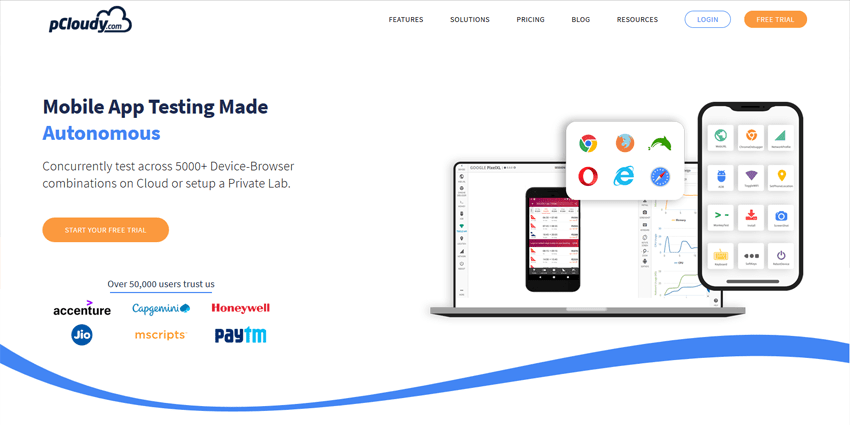 About pCloudy
pCloudy is a cloud-based mobile app testing platform with more than 5000 device browser combinations. This means you don't have to spend a huge amount to set up a device lab. You can perform manual and automated testing on multiple iOS and Android devices in pCloudy at any time from anywhere. Whether it's a web app, native, hybrid or a progressive web app, you can perform all kinds of mobile app testings and assure that your app is bug-free.
pCloudy is loaded with futuristic features which help users to deliver quality at speed. Let's get familiar with some of its key features.
FollowMe
It is a first of its kind solution that lets you perform the test in synchronous mode on one device that gets replicated on multiple devices.
Certifaya
It is an AI-powered automation testing bot which provides certification on a single click. All you need to do is upload the app and wait for the bot to deliver a deep comprehensive test report for the app. The bot runs crash test and does a sanity check on multiple devices.
Local Site Testing
Private servers are internal to your network, they have no public access which makes it difficult to test on a device on the cloud. Local Site Testing helps you to access your site on a staging server, or locally with pCloudy before it hits production.
Network Testing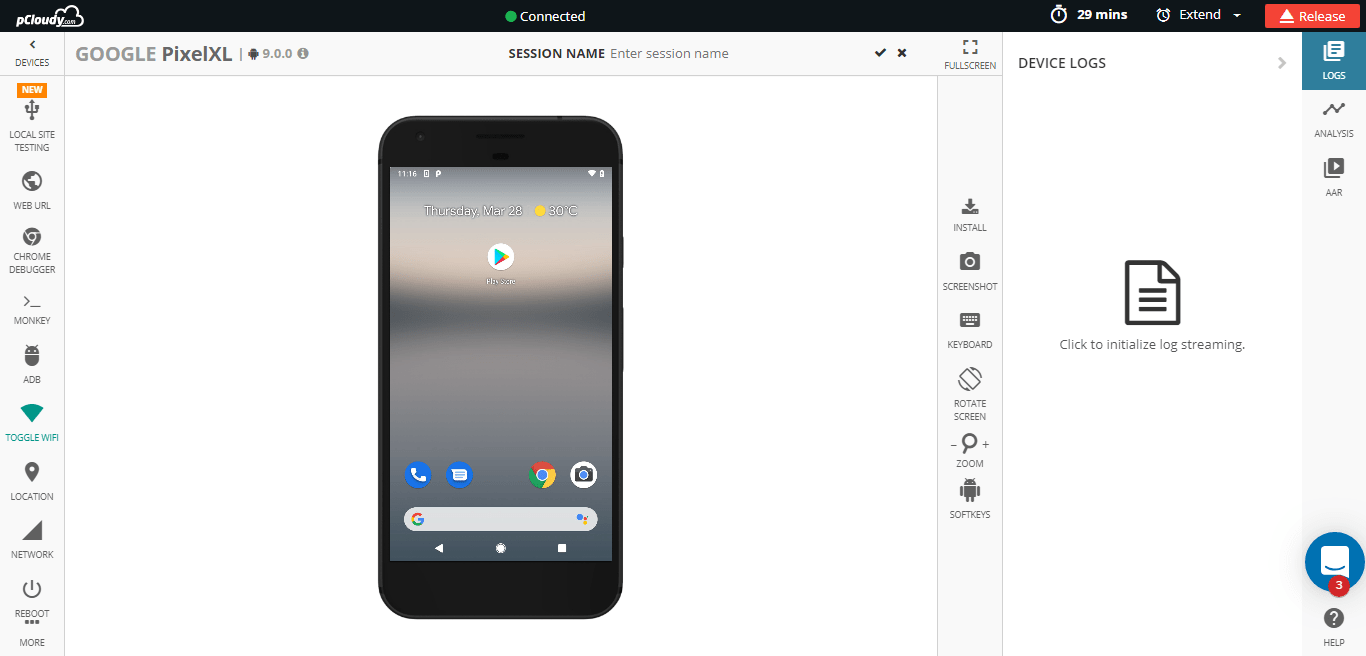 You can track app behavior on real networks and stimulate various network profiles. This will help you to prevent crashes and functional defects due to network-driven failure.
Functional testing
Select the devices from more than 5000 device browser combinations 20+ OS versions and 20+ screen sizes and find the critical functional issues on real devices.
Integration
pCloudy is integrated with the most popular testing frameworks and tools like Appium, Espresso, Calabash, Jenkins, Jira etc. These tools make it easier to perform testing of an app on pCloudy devices.
Solutions offered
pCloudy has three types of mobile device cloud offerings, Public Cloud, Private Cloud, and On-Premise Cloud.
Public cloud
In a public cloud, you can perform manual and automation tests directly from your browser. It allows users to test on a comprehensive list of real iOS and Android mobile devices and tablets.
Private cloud
The private cloud contains all of the important features available in our public cloud with added benefits of dedicated access, limitless device time, 24*7 support and an additional level of data security.
On-Premise Cloud
On-premise cloud allows you to create a Mobile App Testing Infrastructure within your organization premises. You can plug-in with your existing devices to the on-premise cloud and provide access to your geographically distributed teams
There is no limitation of the number of parallel logins or the scalability in terms of a number of devices that can be attached to the on-premise setup. pCloudy offer a zero-day installation plug and play setup within your premises. pCloudy appliances come pre-configured which can be installed on any rack.