Have you come across an inspiring picture or funny meme and want to save it to a safe place?
With so much cool and high-quality content on Insta, it's sure to occur to you at least once. And this begs the question of how to save Instagram photos? Anything is possible, and there is even more than one way to do it. See below more info about how to upload stunning images, amusing memes, etc., to your phone gallery/computer folder.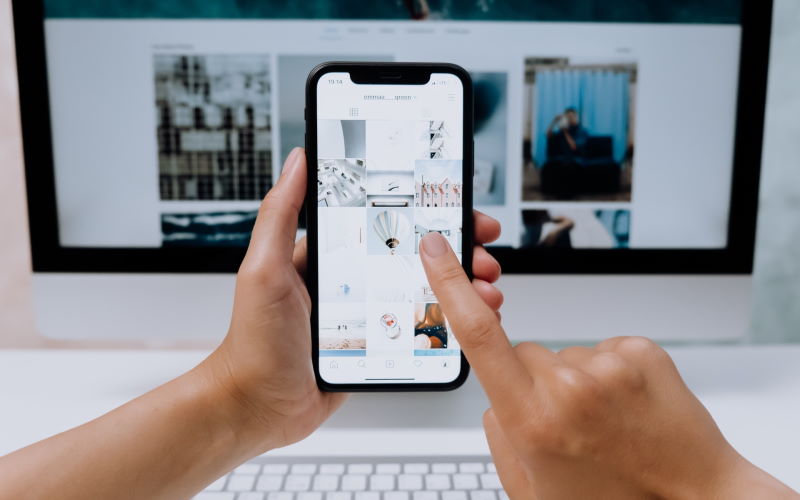 How to add an image into Insta "Saved" folder
With more than 1 billion Insta MAU (according to the HubSpot stats), no wonder the Instagram feed is constantly flooded with all sorts of pictures. So why not bookmark a pleasant or inspiring image? If you are happy with saving photos into the platform itself, you can get by with ordinary bookmarks.
After you come across a post, tap on the "checkbox" at the bottom right of the post.
To find the saved content, switch to the profile and then click on the "hamburger menu".
Press on the "Saved", and you'll see an uploaded image.
Tip: to access the photos quickly, create collections (albums) and name them. This way, you will have everything in its place, and you find the necessary content saved earlier in a flash.
How to save images taken with Instagram's camera into a phone gallery
If you use Instagram's built-in camera and take an excellent picture, it can be automatically sent to your phone's gallery.
Go to your profile to click on a "hamburger menu".
Pick out "Settings", then "Account", and "Original photos".
Activate the "Save Original Photos" feature.
Now every video or picture taken with an IG camera automatically will be uploaded into your gallery.
How to save Instagram photos into your device
As the Forbes article rightly points out, the standard feed is the first place to look for quality influencer content. Especially Instagram offers posts tailored to your interests and early queries.
The thing is, the feed is constantly being updated, and after three days, for example, a favorite post with a picture may already be "out of your sight". So it's better to save the picture on your phone or computer, so you don't lose it.
There are two commonly used ways to keep Instagram content: the traditional screenshot way or third-party tools that do not distort the image quality. But there is another tricky way to download images from the desktop version: using an image code.
Method 1. Image code changing
This way of image uploading operates from a computer. Thus, you may freely upload your favorite photo into a pc folder.
Choose an image you desire to keep from Insta.
Click on the "3 dots" icon and then "Go to post".
Right-click on the post and pick out "View page source".
Find ".jpg" (click on Ctrl+F and then enter ".jpg").
Copy the 1st link with ".jpg".
Insert the link into the new window of your browser and upload a photo by right-clicking on it.
Method 2. Third-party instrument usage
FastSave, Regrann — Android
Regrammer — iPhone
InstaOffline, InstaSave, DownloadGram — web savers.
Apps for mobiles should be installed, but online savers operate without installation.
To get images from IG with online savers:
Open a web-saver via a browser.
Go to Insta and copy a link of a pic you wish to upload (click on the "3 dots" line).
Return to the online downloader and insert the link into an input line.
Press a download button, and the pic will be saved on a device.
Screenshot? Yes, that might be the appropriate way to save images. But it has one problem: the quality of the uploaded picture will be much worse, and you will have a screenshot of the whole screen and not just the image you want.
You may also like: Best Instagram Templates for Posts and Stories