If you want to promote your business on social media, Instagram with more than 1 billion active users is a great place to start. But how do you make your content stand out on this popular photo and video sharing platform? This is where Instagram templates come in.
Instagram templates provide you with pre-made designs to help you easily create eye-catching content for your Instagram feed. In this post, we bring to you some of the best Instagram templates that are suited for both personal and business accounts. With these templates, you can create Instagram posts with a cohesive design theme that is consistent with your brand. You do not need to design your posts or stories from scratch, you just need to choose from the editable templates listed below. Customize it with your photos, text and color that reflect your brand and you are ready to post.
Our collection includes both free to download and premium templates for Instagram stories and posts and we have put them in different sections for easy browsing. Most of these templates are available for Photoshop and Illustrator while some can be edited in Canva as well. You will find Instagram templates for a range of different use cases such as for fashion and lifestyle bloggers, quote posts, online shops, new launches, travel agencies, content marketers and many more. Read on!
Free Instagram Templates for Stories & Posts
In this section, you will find completely free to download templates for Instagram posts and stories. All these templates come with free personal and/or commercial use license. You will find the link to download them below the preview image and description.
Free Fashion Sale Instagram Stories Templates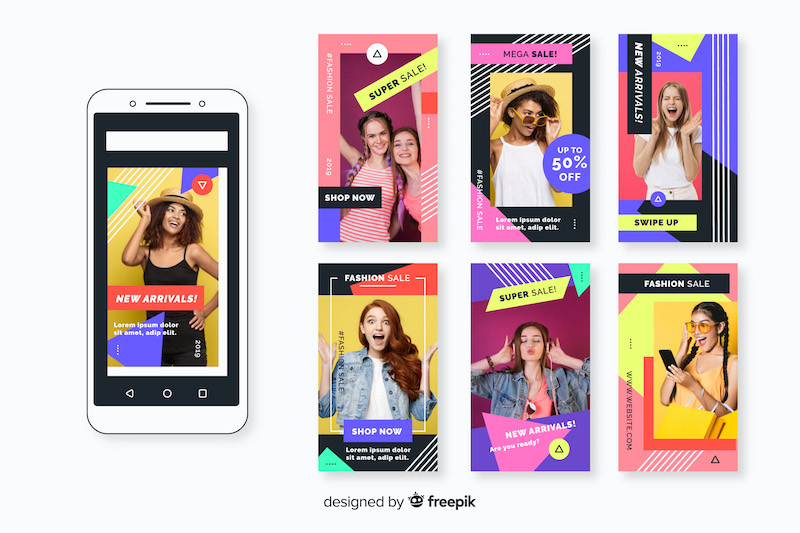 This freebie from our site offers 10 sale Instagram story templates that are perfect for apparel labels and fashion influencers to promote new arrivals, seasonal fashion sales and discounts such as summer and spring sales. These vector AI and EPS templates feature vibrant colors and background patterns and are fully editable and easy to customize.
Animated Instagram Stories Templates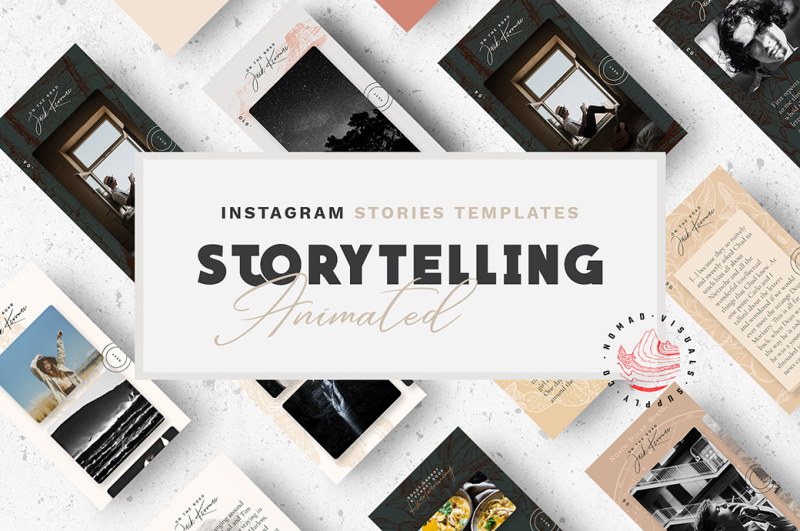 A set of 12 animated Instagram stories to present your images in stylish animated gallery carousels. Available to download for free as Photoshop (PSD) files with customizable text and images. Designed for bloggers, writers and creative storytellers who want to catch people's attention with their Insta-stories.
Free Quotes Instagram Stories PSD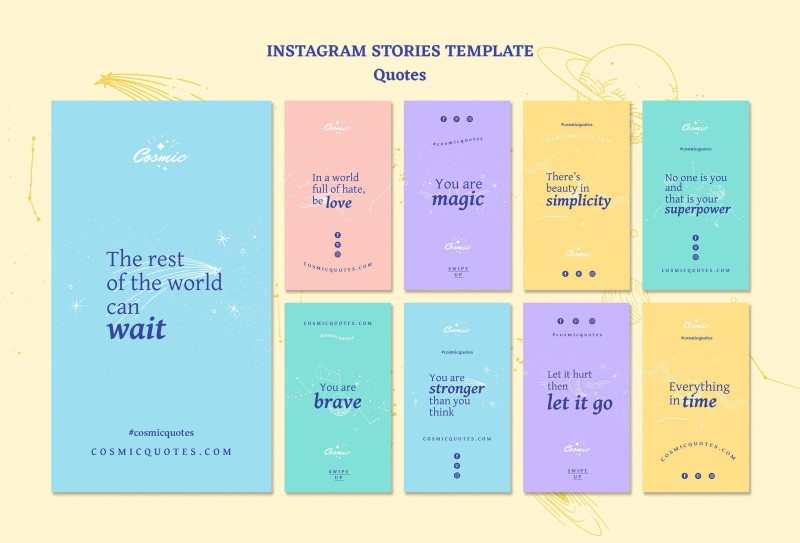 Quotes are quite popular on Instagram and they are a great way to keep your followers engaged and interested. If you want to convey your own words of wisdom, or share motivational quotes by famous personalities, this editable Instagram stories PSD template makes it easy. The design features bright, happy colors that reinforce a positive vibe. You may also want to check out these quote posters and letterings from our site.
Free Puzzle Instagram Template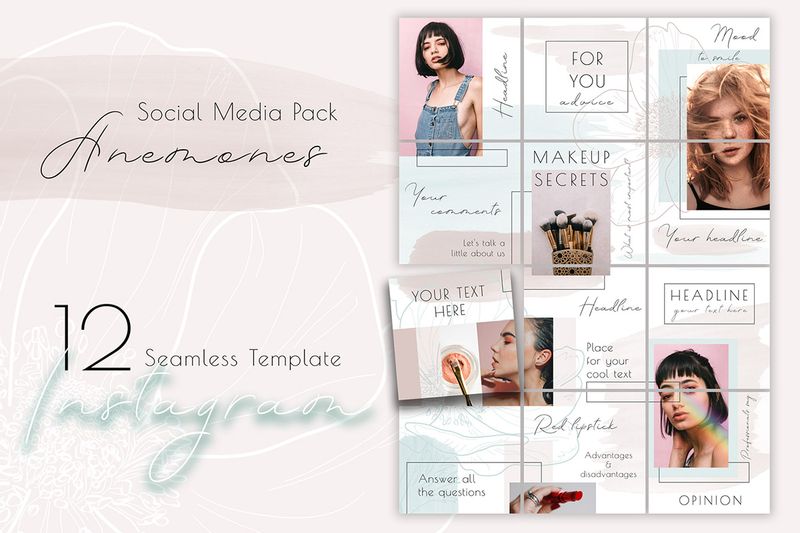 This free template for Instagram puzzle feed in an elegant soft color palette with floral elements and watercolor strokes is perfect if you want to present your Instagram posts in the trendy puzzle grid style. The download includes fully customizable and well organized PSD file at 300 dpi resolution.
Florence Free Animated Instagram Post Template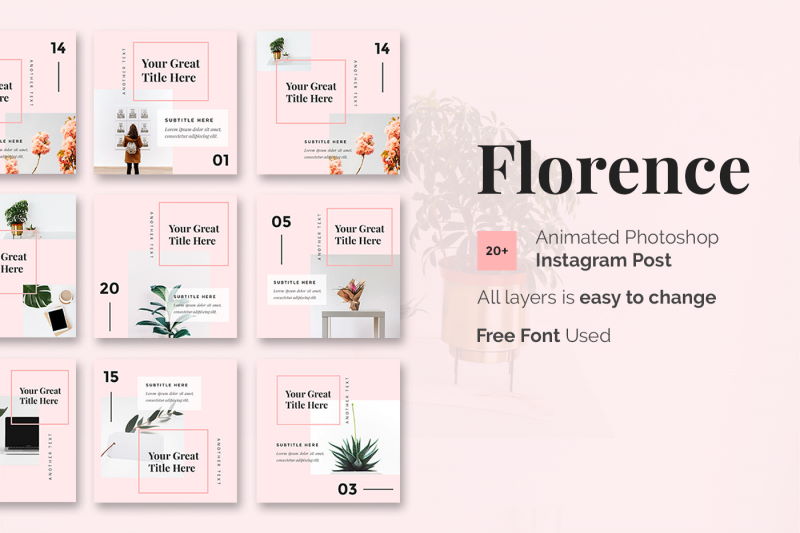 Make your Instagram posts more colorful and creative with this free animated Instagram posts template. With this easy to edit template, in just a few clicks, you can create ready to upload Instagram posts with subtle animations and impress your viewers to boost your product's promotion. The free version includes 5 PSD templates, you can also get its full version with 20 designs from Creative Market.
Stylish Instagram Story Pack Free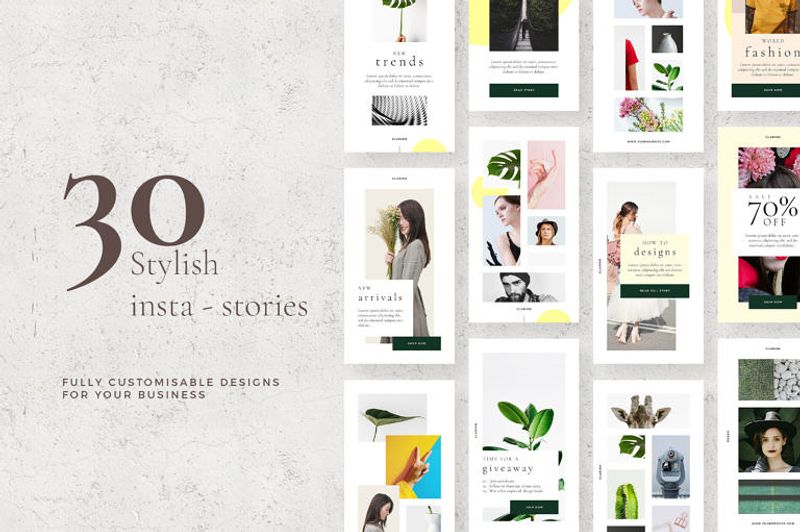 Give your Instagram account a boost and increase your brand engagement with this stylish and fresh stories pack. This free pack comes with 30 unique design templates for Photoshop. Simply drop your images, edit text and save to create beautiful stories to share with your followers.
Free Instagram Stories Canva Templates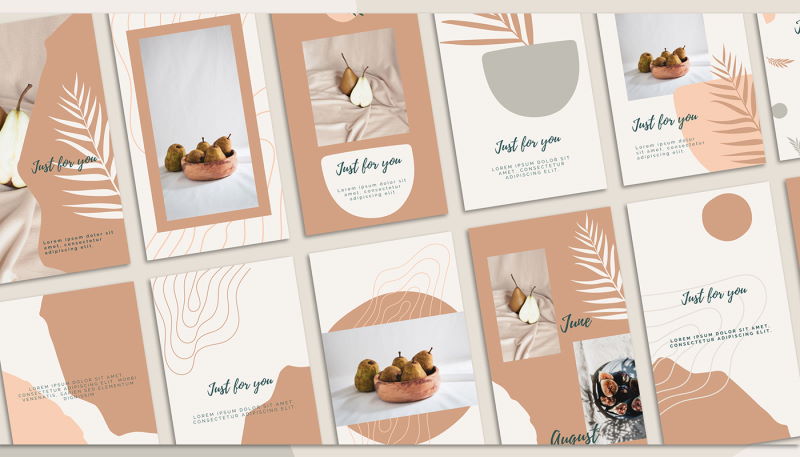 This free set of Instagram stories templates for Canva is perfect for the users of the free design tool. It comes with 12 customizable templates with a modern design, subtle color palette and organic shapes in the background.
Naturalyst Instagram Stories Pack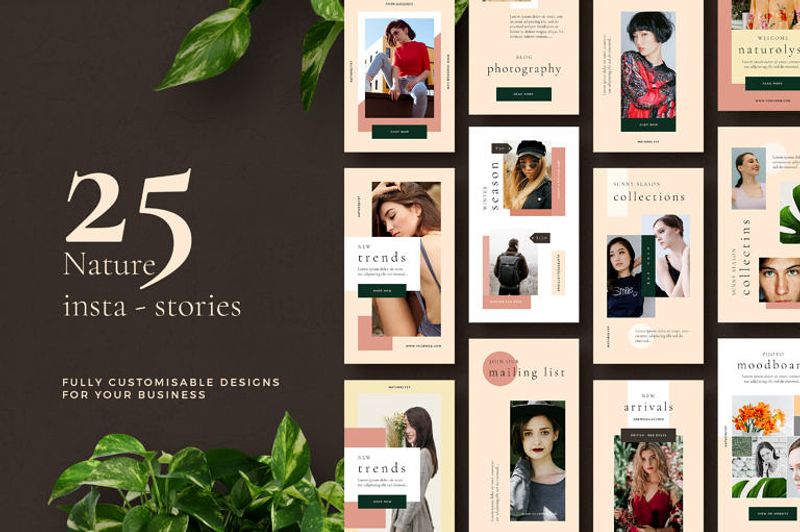 Naturalyst Insta-stories templates is designed for bloggers, fashion brands, lifestyle brands, magazines and creative businesses. With an earthy color palette and a classic, minimalist layout that puts your images in the spotlight, these editable PSD templates will help you create your own stunning brand content for the social media.
Black & White Instagram PSD Stories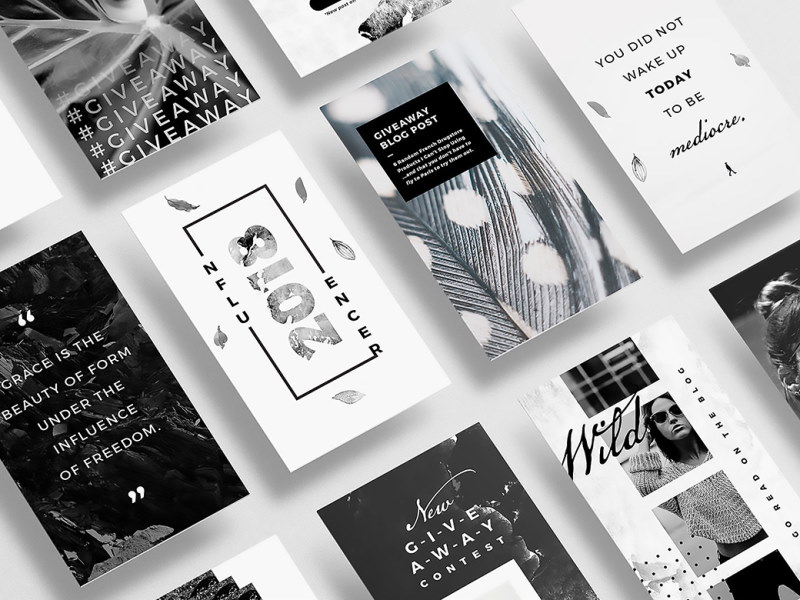 Perfect for fashion bloggers, influencers and apparel labels, the minimal black and white look of noir beauty templates are designed to grab attention and attract it to your Instagram page or store. On downloading, you will get PSD file with 15 ready to use stories templates that can be easily edited using smart objects.
Verbena Instagram Posts and Stories Templates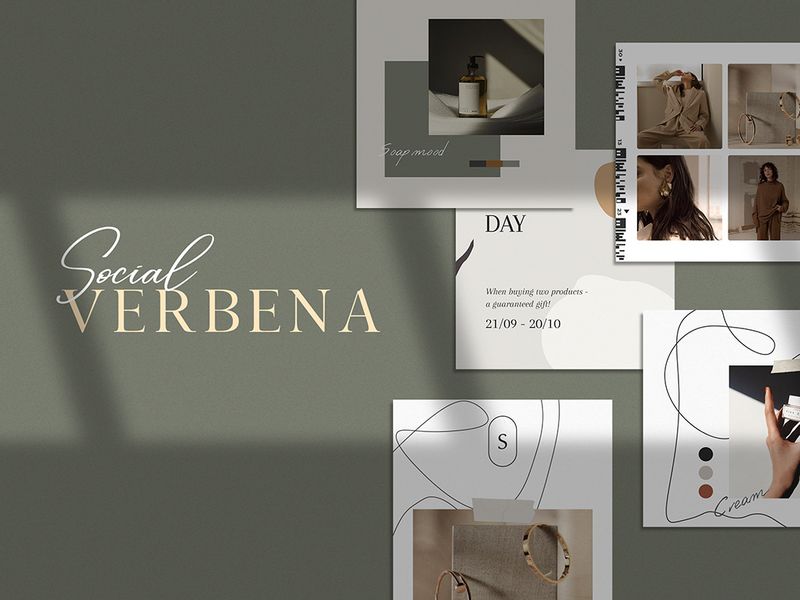 Verbena Instagram templates for Canva and Photoshop are a perfect combination of colors and textures to make your account stand out and attract more customers and subscribers. There are 18 stories and 18 post templates that are compatible with each other. Ready for you to use to promote a product or share a story with your followers.
Free Christmas Instagram Stories Templates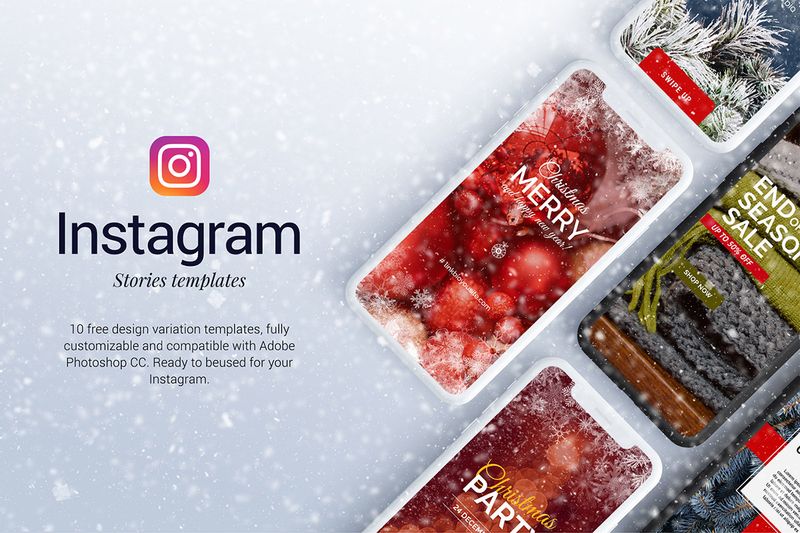 Make your Christmas holiday promotion on Instagram eye-catching with this free Christmas Instagram stories templates set. On downloading, you will get 10 design variations in PSD format that can be edited in Photoshop CC. You might also want to check out these Christmas fonts and Christmas images for customizing these templates.
Everyday Adventure – Free Multipurpose Instagram Templates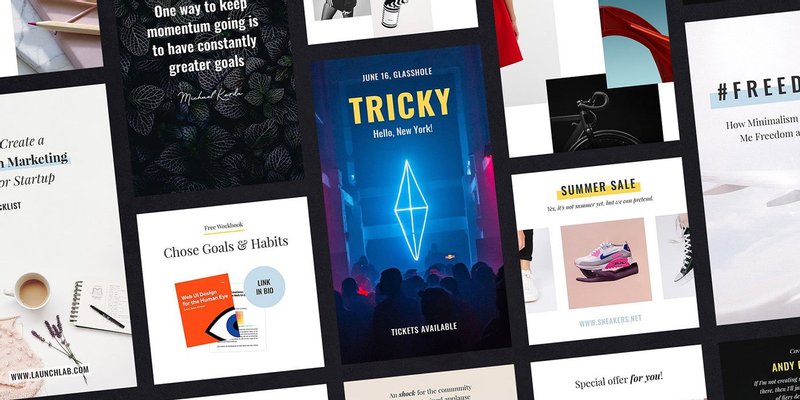 Everyday Adventure Collection is a set of free multipurpose Instagram templates suitable for store, lifestyle, business, traveling or blog. It includes 15 simple yet totally engaging Instagram templates for both posts and stories in Photoshop and Sketch formats.
Brown Instagram Stories Templates for Bloggers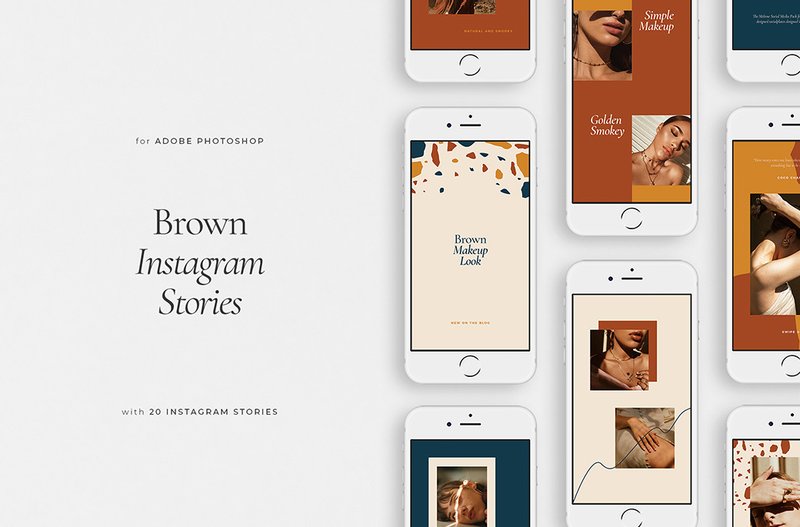 Featuring a stylish and warm color palette, this collection of 20 multi-purpose Instagram stories templates can be used in any type of blogging – fashion, travel, lifestyle, or reviews and personal posts. Available for free download in PSD format with smart layers for easy editing.
Free Urban Instagram Stories PSD Templates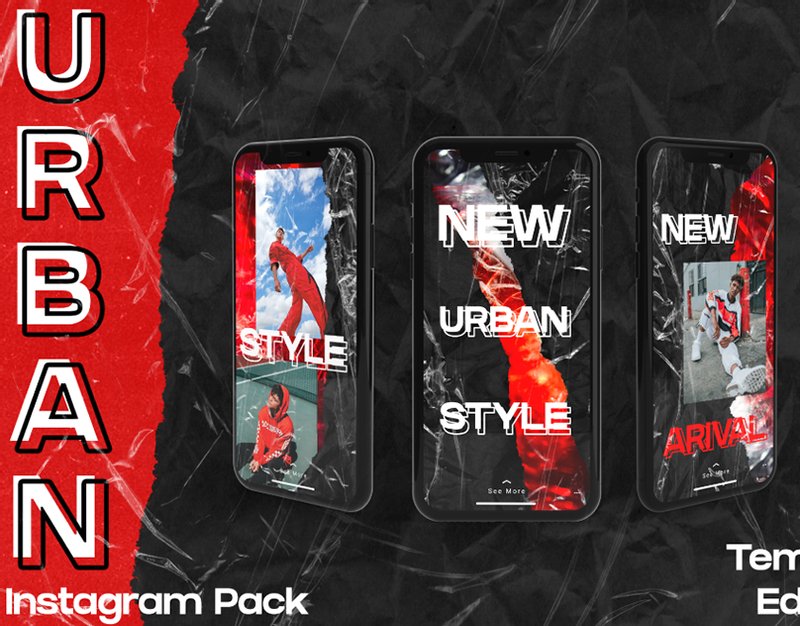 With trendy outline fonts, grungy textures, unique layout and bold colors, this set of urban Instagram Stories templates is bound to attract attention to your posts in users' Instagram feed. Free for personal & commercial use, this free template can be used to create cool Instagram stories.
Tanska – Free Instagram Mood Board Templates
Inspired by Scandinavian design aesthetic, this free set of Instagram moodboard templates for both posts and stories is perfect to showcase a lifestyle or traveling blog, fashion, digital or interior design content.
Premium Instagram Templates
Below, you will find some of the best selling and popular Instagram templates from digital marketplaces such as Creative Market and Envato. Many of these premium items offer huge bundles of templates for your content. Moreover if you are looking for a certain design style such as retro, vintage, neon or gradients, you will find some pretty cool templates below. Kindly note that the some of the links below are affiliate links.
Instagram Content Marketing Template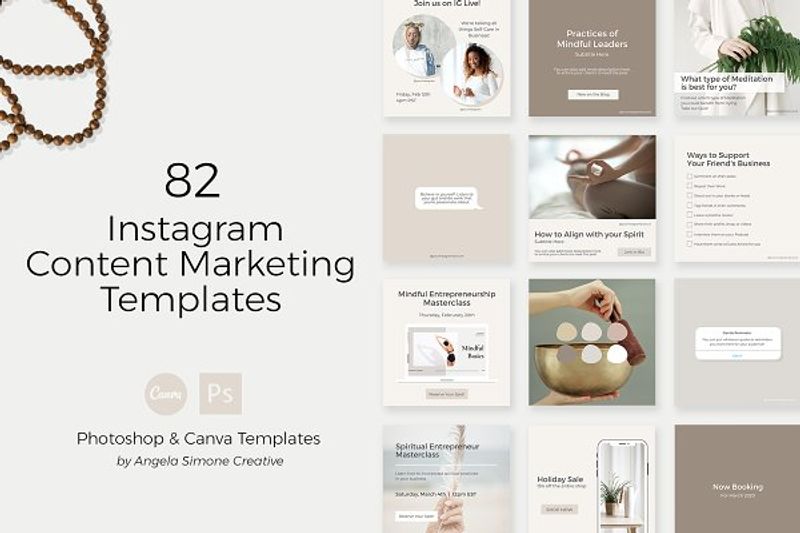 Made for entrepreneurs, social media managers, solopreneurs, small business owners, marketing agencies, and thought leaders, this Instagram content marketing template pack comes with 82 ready to use templates for Photoshop and Canva. Included are templates for content posts such as chat bubbles, flow charts, 5 tips list and more as well as promotional templates for podcasts and new blog posts.
Instagram Creator for Coach Canva & PSD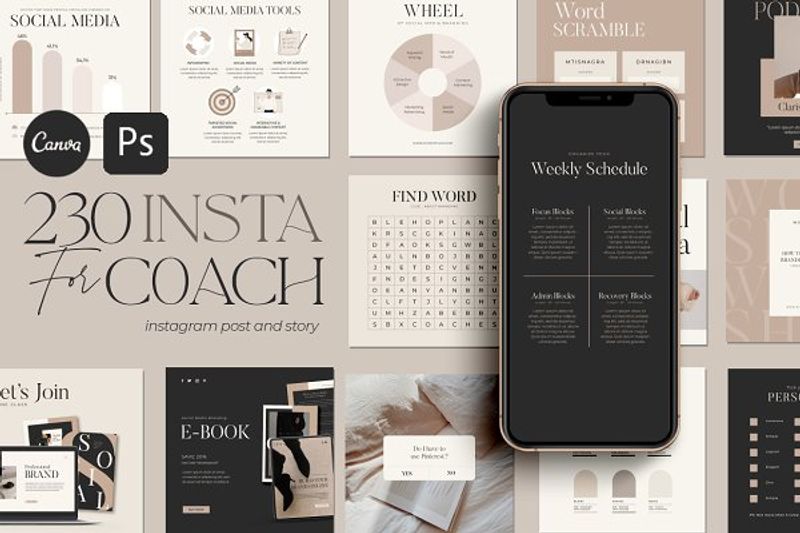 Looking to promote your e-course, live talk, e-book, webinar or online course on Instagram? This Instagram creator pack is perfect to engage your followers, and lead the traffic to your course, class, and profile. Included in the set are 230 PSD and Canva templates for posts and stories with fully editable text, colors and images.
Shape & Gradient Instagram Posts Templates PSD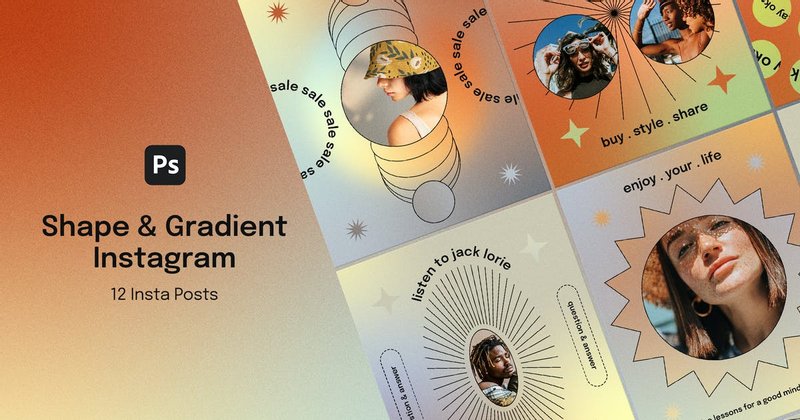 This bundle comes with a set of stylish banner templates for both Instagram and Facebook. Featuring a creative layout with retro gradient backgrounds and shapes, these templates are designed to give boost to your marketing on these social networks. There are 12 different template designs to choose from and you can customize them using Photoshop.
Retrowave 90s Instagram Templates
If you want to adopt the trendy retrowave style from 90s, this set of Instagram post templates is for you. Included are 9 post templates (1080×1080 px) in both PSD and AI formats that are fully customizable and editable
Related read: Best Retro Fonts
Duotone Instagram Post Templates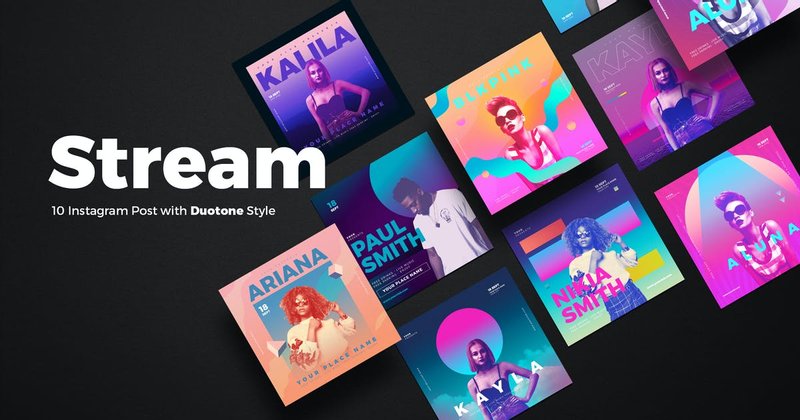 Featuring vibrant duotone gradients, these Instagram post templates are designed for promoting music, club and party events. Download includes 10 high resolution Photoshop files.
Creative Instagram Post Templates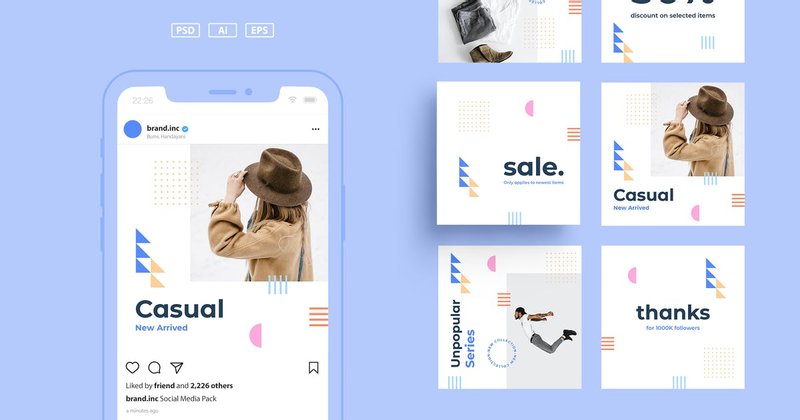 This set of creative Instagram templates is suited for those looking for a modern, light color themed look for their promotional posts. On downloading you will get the templates in PSD, AI and EPS formats with well organized layers, editable shapes and vectors, and easily editable colors.
1500+ Canva Ultimate Social Kit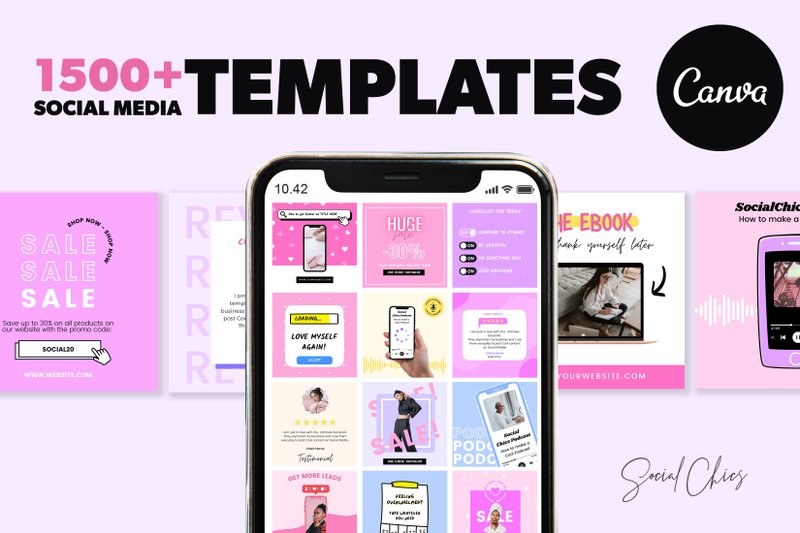 A huge bundle of over 1500 Canva templates for Instagram for both posts and stories. Included are hundreds of ready to use templates for podcast series, lead magnets, sales and promotion, testimonials, quotes, memes, charts & diagram and much more – everything that you need to create stunning and impactful visual content for your business.
Vintage Instagram Templates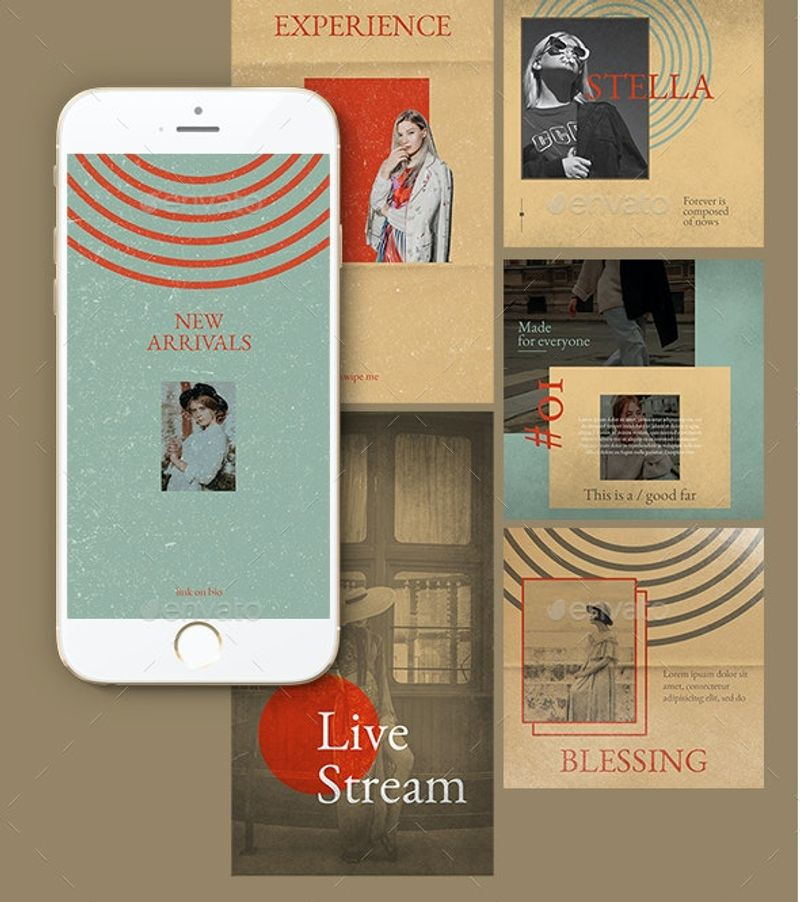 This set of vintage Instagram feed and story templates is ideal for those looking for an old school look for their Instagram content. On purchase, you will get 24 PSD templates – 18 post templates at 1200×1200 px size and 6 story templates at 1920×1080 px size. You may want to try out these vintage and retro fonts to customize these templates.
Puzzle Bundle Instagram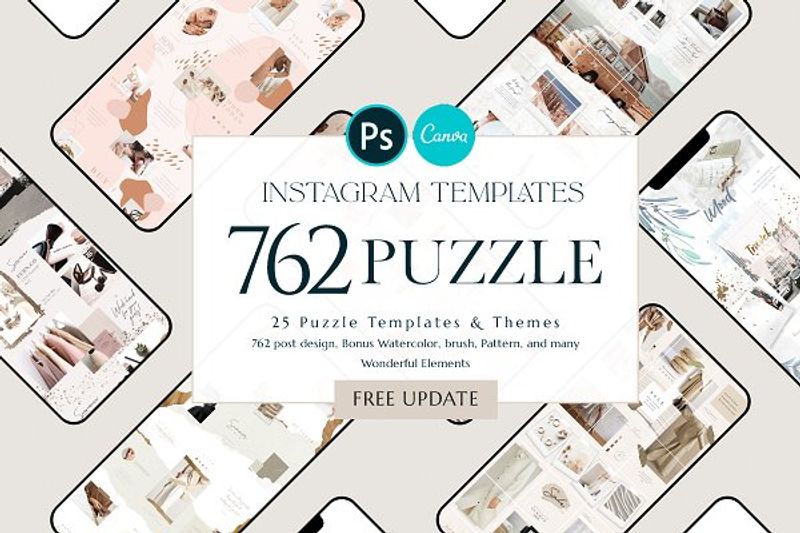 This is a huge bundle of 762 Instagram puzzle feed templates in 25 different themes including watercolor puzzle templates, minimal templates, colorful puzzle templates, Black Friday sale templates and many more. The templates are designed for both Photoshop and Canva editor.
Miminal Instagram Stories PSD Template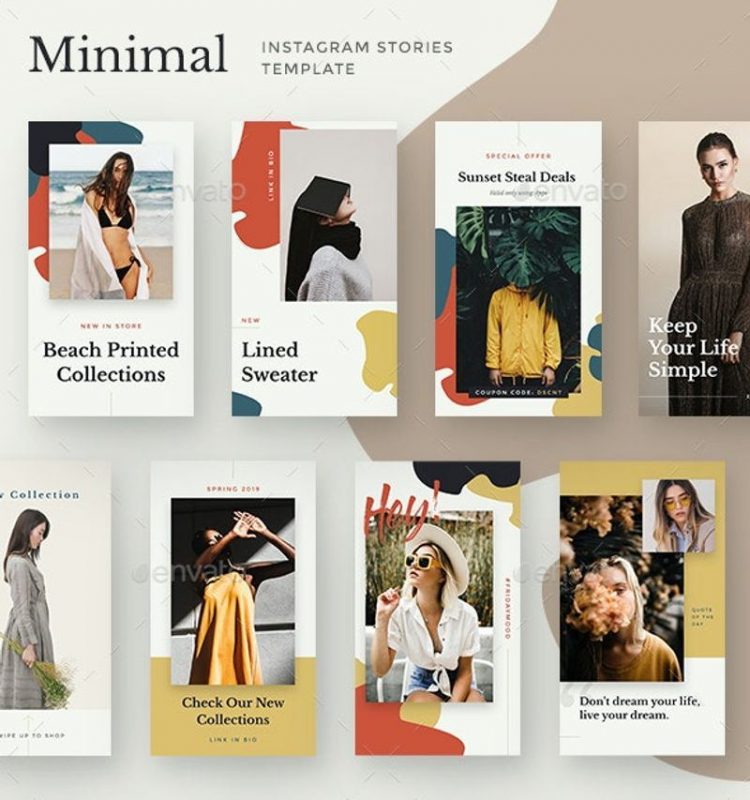 If you are a fan of minimalism, then you'll definitely love these simple yet stylish Instagram story templates. Bundled with eight elegant designs that are ideal for announcing a new product, advertising a sale or event, sharing quotes, or any other kind of promotional content. The download contains well-organised and fully customizable PSD files.
Instagram Editable Quotes Canva & PSD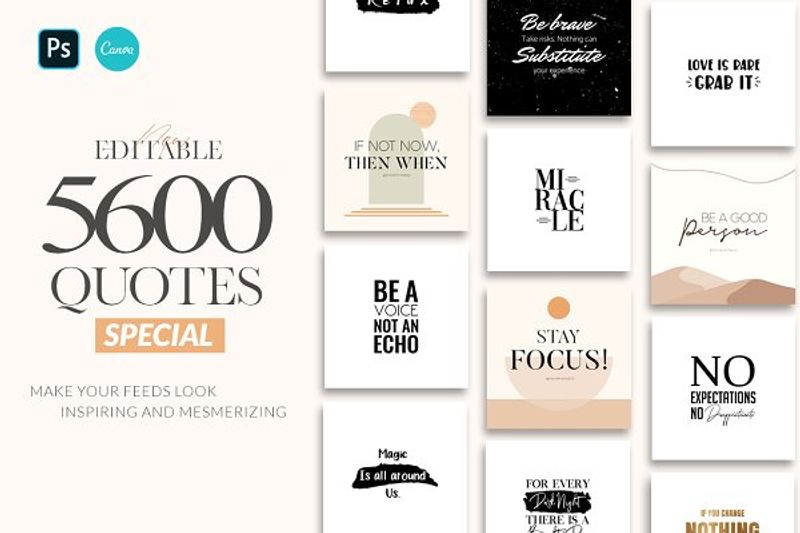 Looking to share adventure quotes, lifestyle quotes or, funny quotes and engage your followers on Instagram? This huge pack of 5600 templates with various categories of quotes and themes is made for you. Easy to edit in both Photoshop and Canva, with these elegant designs, you can make your feed look inspiring and mesmerizing at the same time!
Neon Instagram Posts & Stories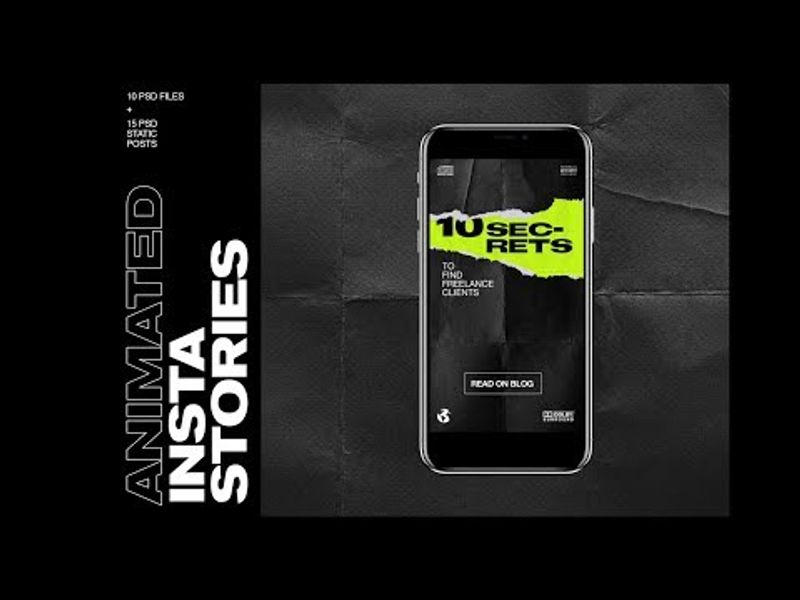 Neon effects are all the rage, and with these templates you can create trendy neon posts and animated stories with just a few clicks. Bold bright yellow-green color and animated elements will make your content more dynamic and impress your Instagram followers. Perfect for promoting your products, services or your own blog.
With these professionally designed templates for Instagram, you can give a refresh to your Instagram account. They are ideal for anyone who wants to save time and yet make a bold statement on the social platform. If you liked our collection of Instagram templates, do not forget to share this post on your social channels.
You may also want to check out these font collections and free image sites to help you with editing these templates. Happy Instagramming!