When building a landing page for a mobile app, it is necessary to select the design which is able to present the application's features prominently and is highly conversion optimized. In order to build a high quality app landing page, developers often choose templates built with Bootstrap, as it is easier to work with and helps in customizing the template as needed. In this article, we have selected some of the best free and premium mobile app landing page templates that are based on Bootstrap.
We have made sure to select the latest and best app landing page HTML templates built with Bootstrap. You will find templates built with both Bootstrap 5 as well as Bootstrap 4 in our collection. Both the versions of Bootstrap are quite popular for building websites and templates, you can read our article on Bootstrap 5 vs Bootstrap 4 to know more. Additionally, you can choose to go with Bootstrap UI Kits which offer unique and extensive building blocks for a website.
As expected, all these mobile app website templates are responsive and have modern designs. Most of the templates listed below are available for free download, while some of them are either premium or offer both free and paid version.
Awesome App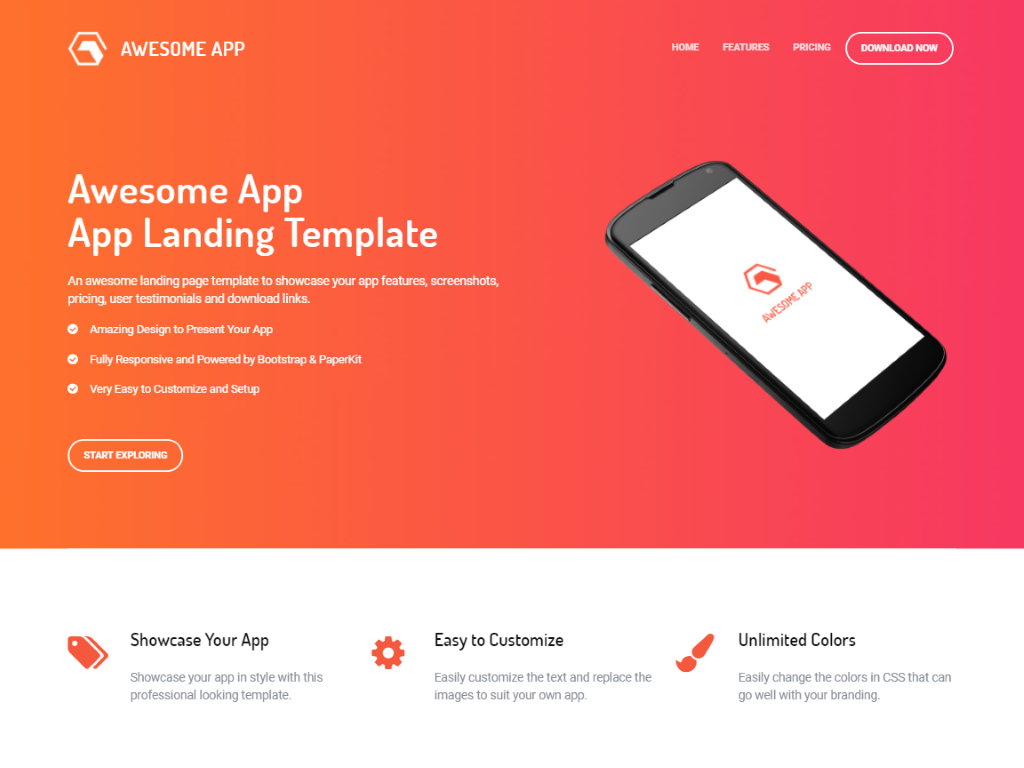 Built by TemplateFlip, Awesome App is a modern, responsive and conversion optimized app landing page template. The template has been built with Paper Kit 2 which is a UI Kit based on Bootstrap 4. The app landing page template has a glorious design and is well suited to showcase your app and its features. It also has sections for displaying app screenshots, pricing table, user testimonials/reviews as well as a download section which can contain links to app store downloads.
MDB Landing Page Templates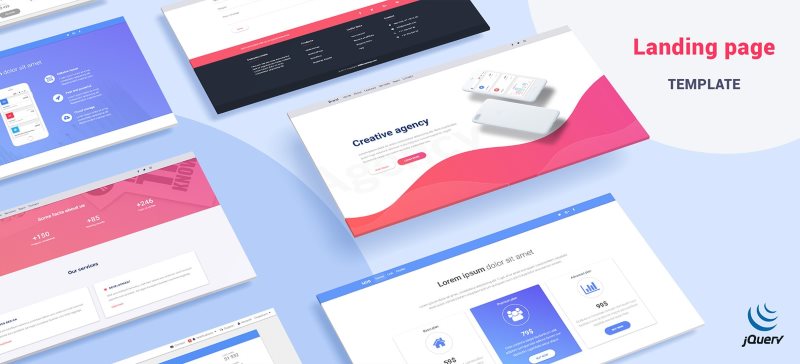 MDB is one of the most popular Material Design frameworks built with Bootstrap. MDB's landing page templates offer a Material Design feel as well as animations in its landing pages. This template pack contains landing pages for many different niche such as Agency, Podcaster, Event as well for Software and Apps. This template has been professionally built and you also get technical support if needed. This template is your best choice if you are looking to build an app landing page in Google's Material Design style.
Awesome Landing Page Free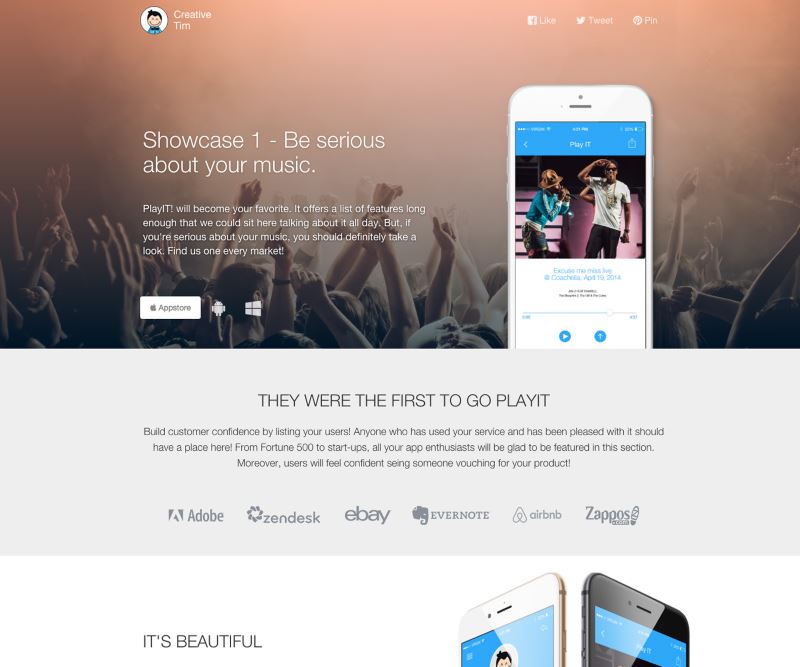 Awesome Landing Page by Creative Tim is another great choice when building a website for showcasing mobile apps. This modern design template is completely free to download and use and has been built with Bootstrap. You get different color theme options as well as multiple pre-built landing pages in the download. The template is also suitable for showcasing desktop apps or web apps.
Material App – Free Material Design App Landing Page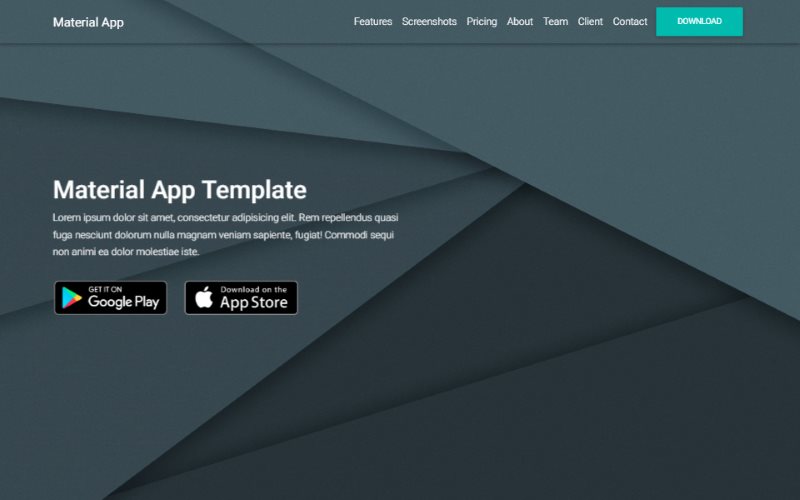 Material App is a free app landing page template built with material design using the MDB UI Kit and Bootstrap framework. The template has a clean material look and is ideal for creating conversion optimized landing page for any mobile app, software or service. It features a full screen background image with call to action buttons for downloading the app from app stores. The design includes all the essential sections including sections for showcasing your app's features, screenshots, pricing plan, about us, team members, customer testimonials and more.
Appie – Bootstrap App Landing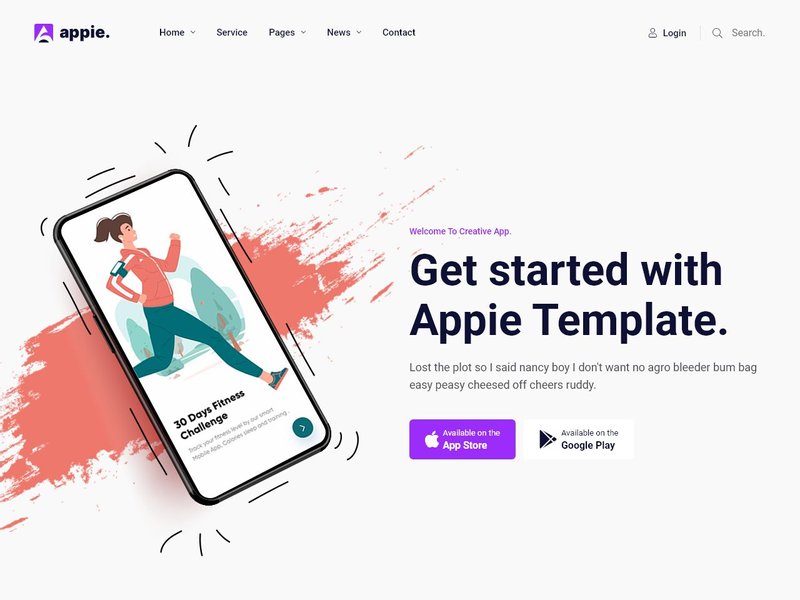 Appie is a premium app landing template built with Bootstrap. It comes with 10 homepage designs including a dark mode and 100+ sections to build landing pages for marketing mobile apps and software. All the landing page designs feature an attractive color palette, colorful icons, illustrations and subtle animations to catch visitor attention. The template also includes a converting email capturing form.
Appri – App Landing HTML5 Template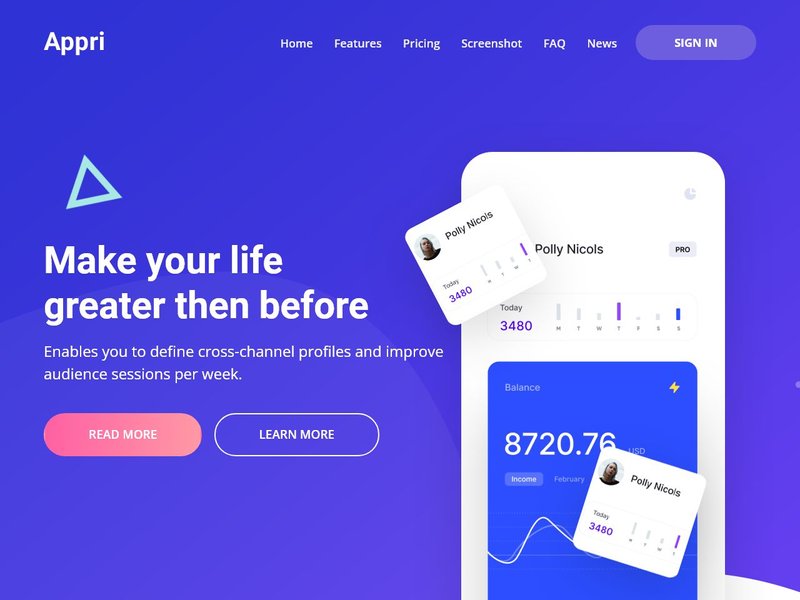 Appri is a Bootstrap based conversion optimized mobile app marketing website template. It offers 6 stunning home page designs and 70+ Page templates. The template has a modern, colorful UI with minimal mockups, animations and beautiful color palettes. This modern landing page template has detailed documentation to help you get started quickly.
Dazzle – Free Modern App Landing HTML Template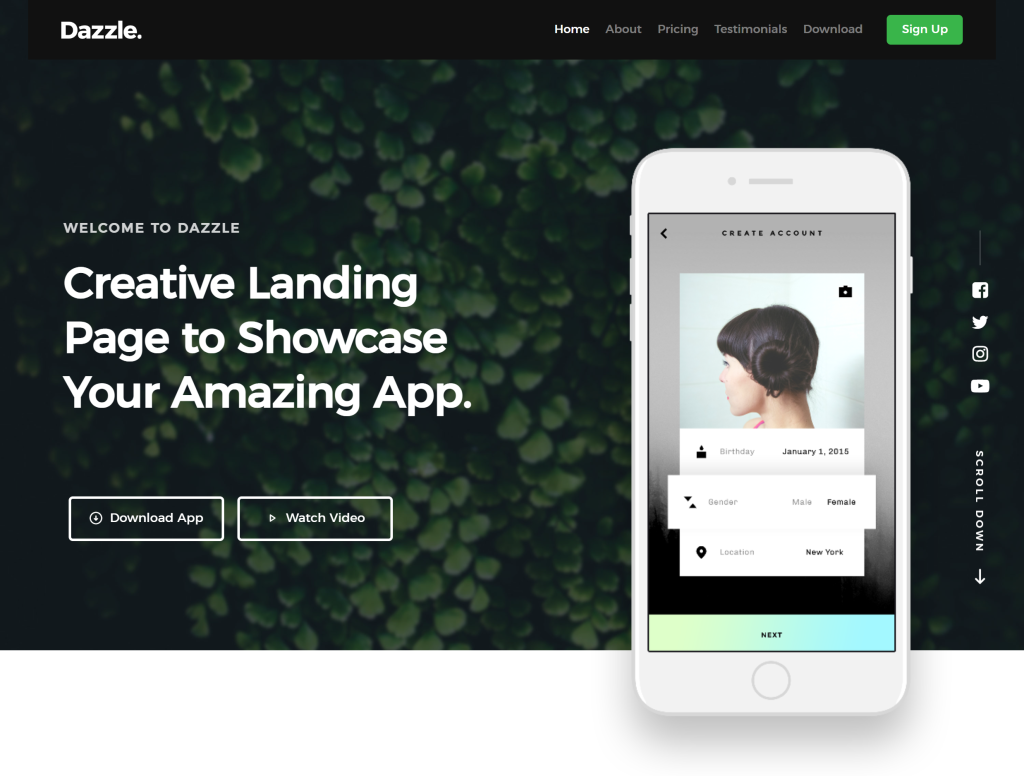 Dazzle is a clean and modern responsive template created for showcasing your software and mobile applications. The template features a fresh look with ghost buttons and parallax scrolling in the header along with "Watch Video" button that can show video in a popup. All the required sections that you would need to market an app like app features, screenshots and pricing are there. Dazzle comes with free personal and commercial use license with attribution. You can also download the source PSD file for free from here.
AppLand – Free App Landing Page Template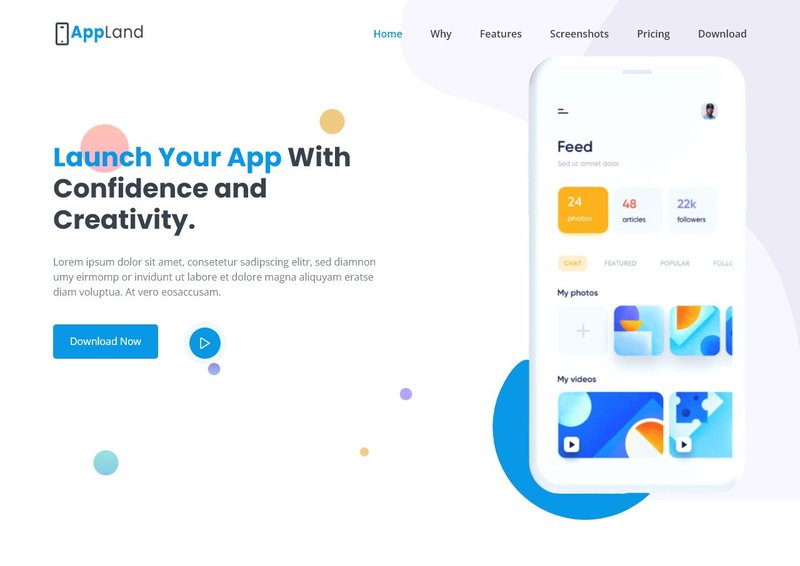 AppLand is a free creative app landing page template specially designed for app landing, software and SaaS landing pages. The template has an amazing design and all essential elements you need to launch a complete and impressive app landing page. Features include a stunning hero area with app screen mockup, CTA and watch video buttons, sections highlighting app features, about, app screenshot slider, testimonial carousel, pricing tables, rich-typography and peppy colors.
6. AppLayer – Free Medical App Landing Page Template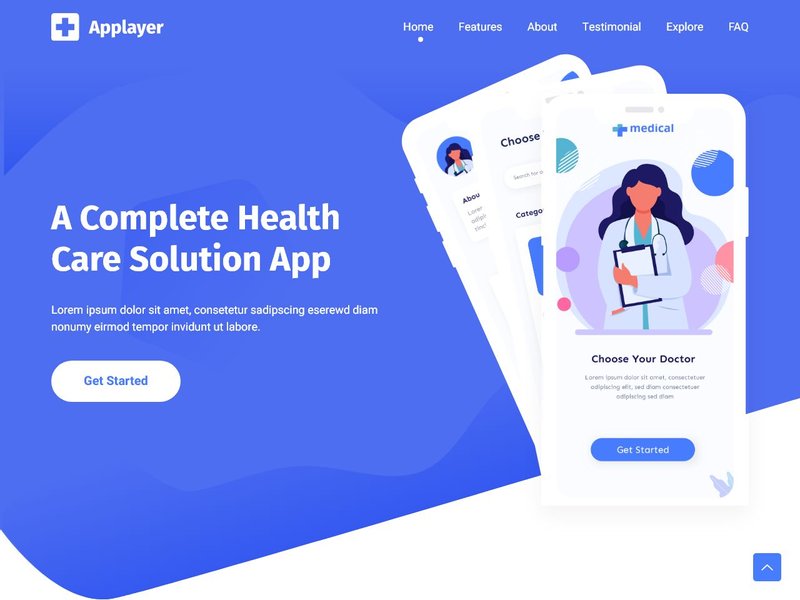 AppLayer is a free Bootstrap 5 based landing page template designed for creating landing page for health and medical apps. It comes with a modern & clean design with blue color palette suitable for health apps and everything you need to create a full-featured landing page for marketing your app.
Delivery – Home Delivery Free App Landing Page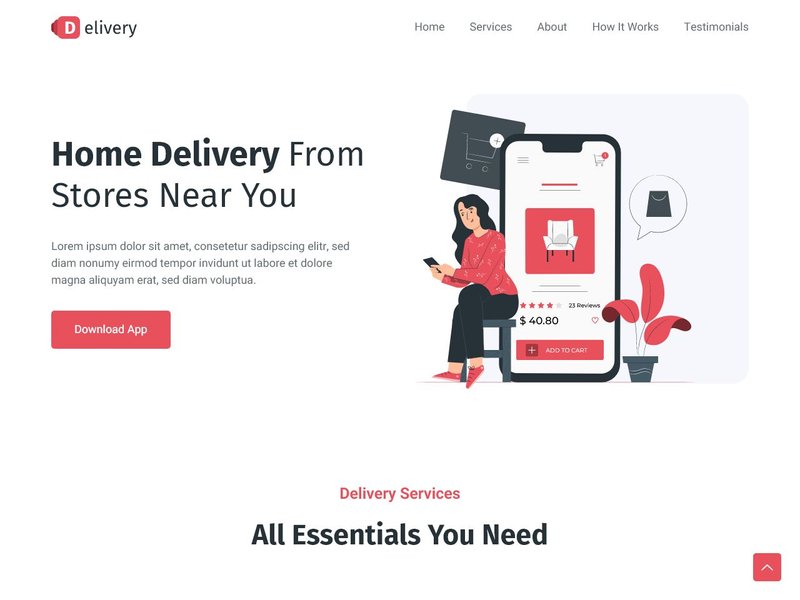 Delivery has been designed focusing on food, grocery or any other home delivery related app. This landing page template is based on Bootstrap 5 and HTML5. Delivery has all essential sections, engaging animations and illustrations, for creating an app landing that converts.
Small Apps – App/Sass Landing Page Template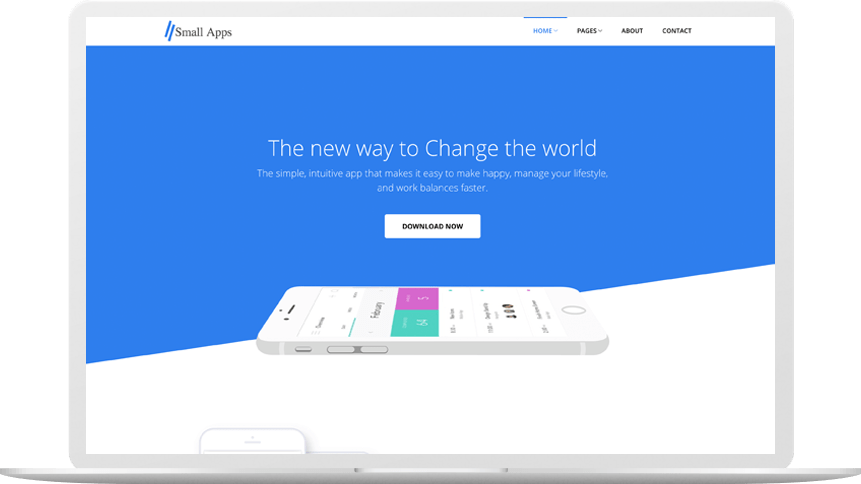 Small Apps is a clean and modern landing page template for apps or SASS products. Built with Bootstrap 4, this template has multiple demo pages which includes pages for teams, careers, blog archive, blog post, about page, privacy policy, FAQ, contact page and a lot more. Available for free download under MIT license from GitHub, this app landing page template is well suited for creating a complete website for your apps.
Morki – Premium App Landing Template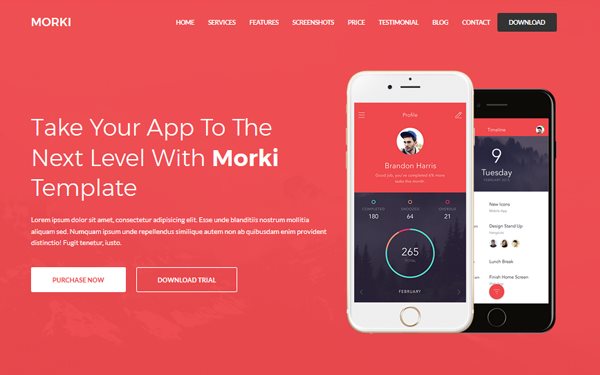 Morki is a premium landing page template suitable for promoting your mobile apps, saas applications, software, digital products or even e-books and magazines. The template offers 12 different color variations and has 20+ pre-designed pages which include shop, product details, team, coming soon, blog, blog details page and a lot more. The template is speed and SEO optimized and contains AJAX powered contact form.
Flatty – Free App Landing Page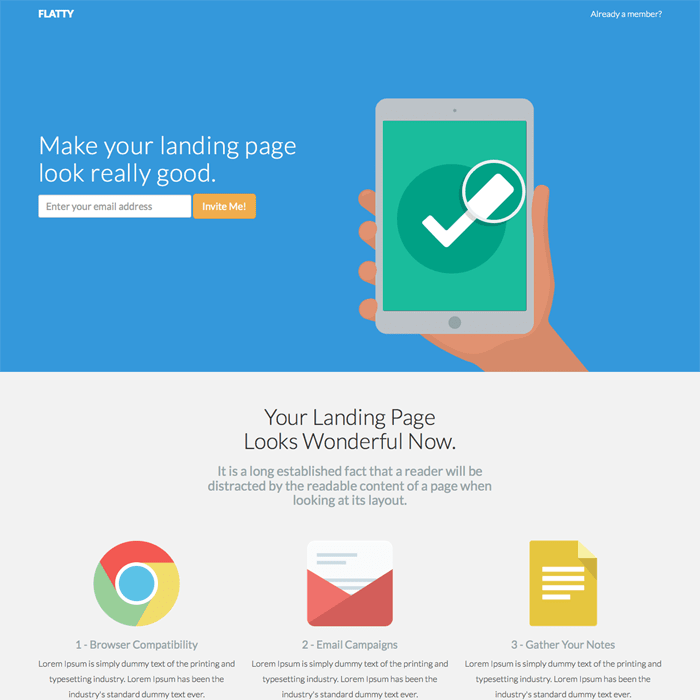 If you are a fan of flat UI design then this app landing page template called Flatty is perfect fit for your app's website. Utilizing the flat color scheme, this free app landing page template is lightweight and minimal.
When you have an app published in the app store or play store, it is necessary to create a landing page for it in order to allow your users to discover your app through other means such as Google search. Many popular apps have their landing pages which help them in acquiring more users as well as serve as a single destination for offering downloads in different app stores such as on iOS, Android and Windows.
Picking the right template for your app's website is key when you are building an app landing page. With our picks of Bootstrap app landing page templates, you are sure to get a responsive, well designed website for your app. Don't forget to take a look at these Bootstrap business templates and one page landing templates for more choices. In case you are looking for a WordPress website instead then take a look at these app showcase WordPress themes.