Wedding is a cherished life event. While the couple celebrates this magical day with their families and friends, these memorable moments are captured in wedding photographs. As a wedding photographer, you would want to design a beautiful wedding album for the happy couple to relive their special day for decades to come. And to achieve that, you need the right tools or in this case, the best Lightroom wedding presets.
These wedding Lightroom presets will speed-up your post processing workflow and save your time as you can retouch and enhance hundreds of photos with a single click. You can even customize the adjustments to optimize the effect to your preference. Whether your clients are looking for a boho look, retro look or a bright and airy look, the presets listed below will help you produce photos that look professional and consistent.
Our collection includes completely free to download Lightroom presets for Lightroom CC and Lightroom Classic, while some also include .DNG presets for Lightroom Mobile app and Photoshop action files. Read on and download the presets best suited to your needs.
1. Caramel Wedding – Free Mobile & Desktop Lightroom Preset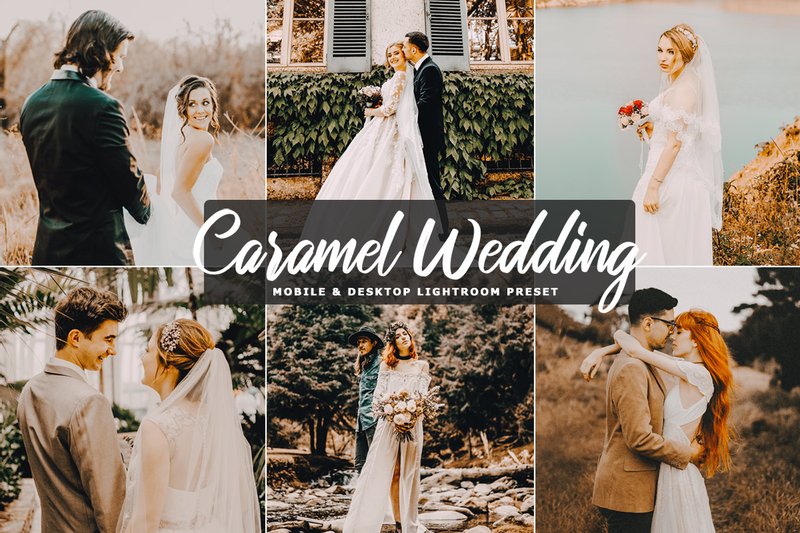 Caramel wedding preset lets you add a warm brown soft look with pastel tone to your wedding photos. The effect is easily adjustable to your preference. Free download also includes Photoshop action file along with mobile and desktop Lightroom presets. This beautiful free Lightroom preset is perfect for color-enhancing wedding, engagement and portrait photos.
2. 10 Free Wedding Lightroom Presets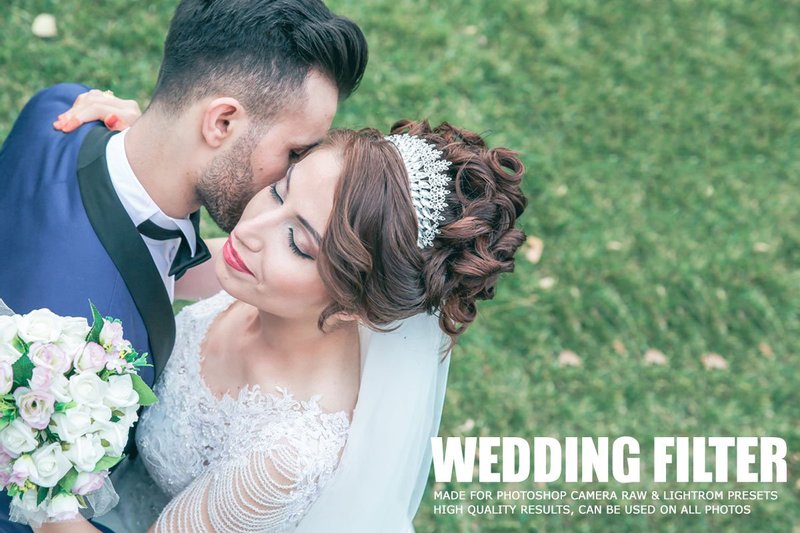 This is a set of 10 different presets for improving and enhancing the look of your wedding day photos in no time. These free presets are designed to work with both RAW and JPG images.
3. Boho Wedding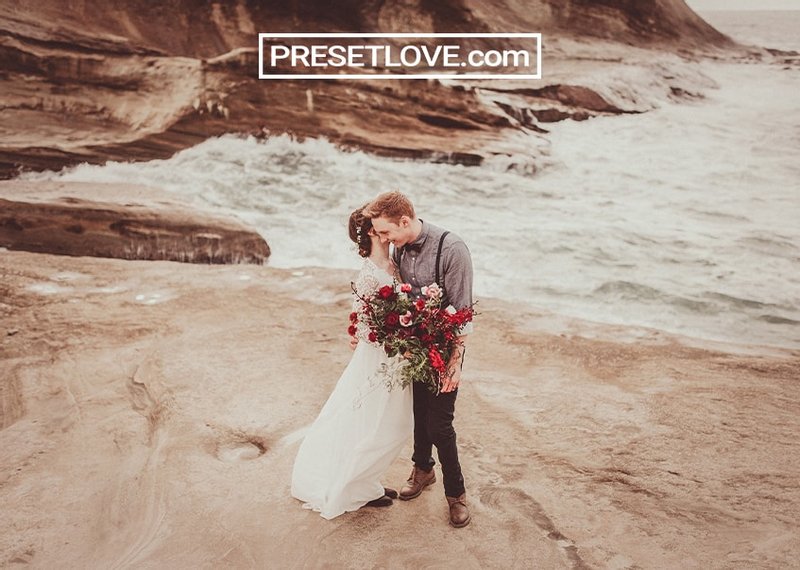 With Boho Wedding, you can add an artistic Boho look to your wedding photos. This free wedding lightroom preset for mobile and desktop is perfect to bring out the charm of a Bohemian-themed wedding setup. The preset adds a vintage copper filter to your photos for an elegant look and is best suited for outdoor, garden and diffused lighting scenes.
4. BeArt Free Wedding Photography Lightroom Presets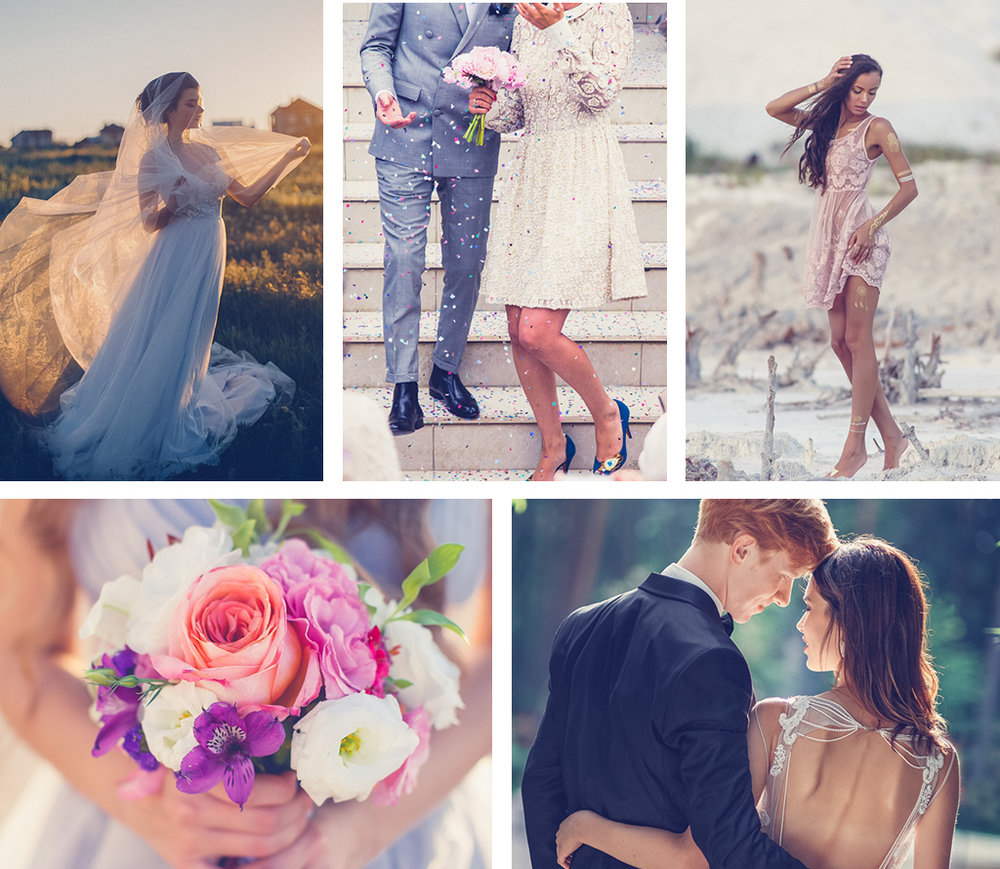 This is a pack of two free lightroom presets designed to add a beautiful pastel color grading effect to wedding photos. This preset is a great choice for wedding photography, couple photoshoots and portraits.
5. Florence & Handmade – Free Wedding Lightroom Presets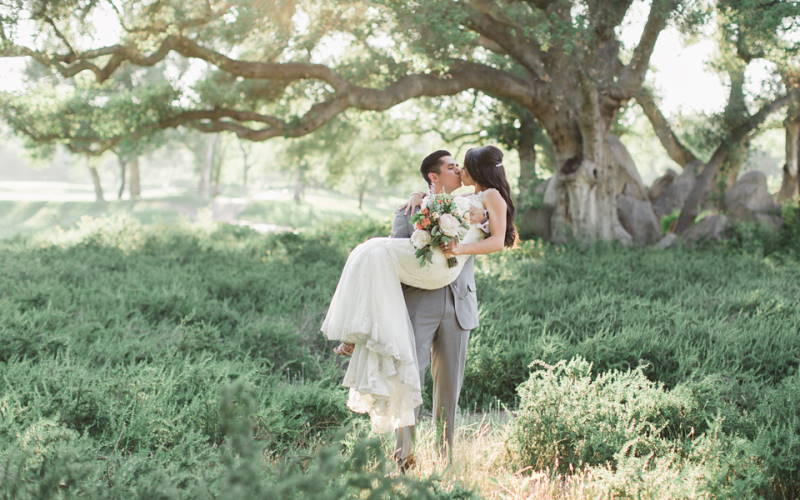 Florence and Handmade free wedding presets optimizes contrast and vibrance and will help you add a cozy vibe to your wedding photos and couple shoots. On downloading, you will get 2 Lightroom desktop presets.
6. 30 Free Lightroom Presets for Wedding & Portrait Photography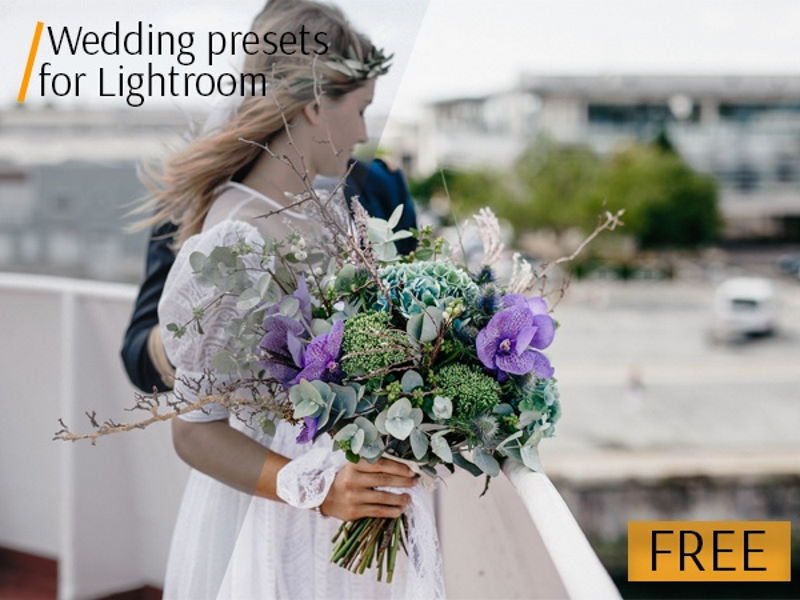 This freebie from our site offers 10 free wedding Lightroom presets, 10 free portrait and 10 free landscape presets. All these presets work with RAW and JPG images. With the wedding presets, you can apply a range of different effects including matte, soft vintage and black & white.
7. Bliss Free Lightroom Preset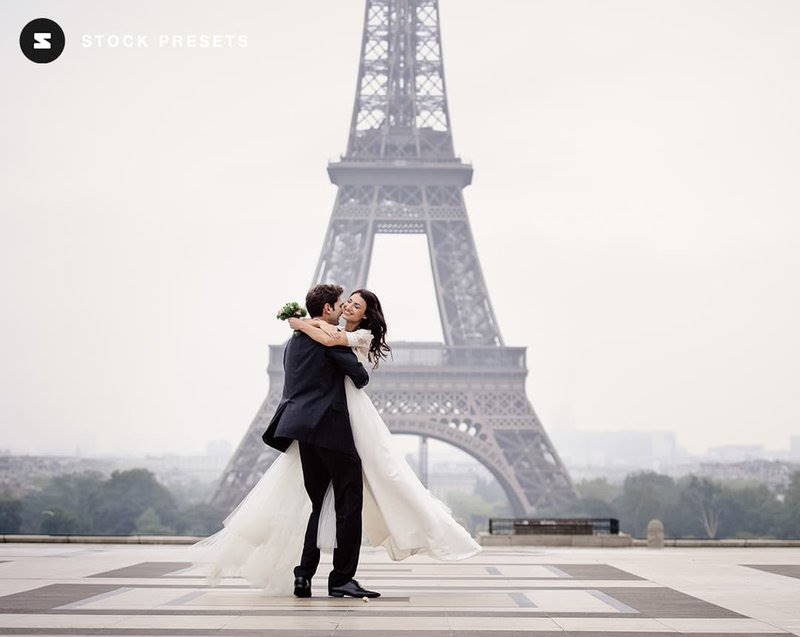 Bliss is a free Lightroom preset you can download and use to enhance the lighting conditions of a wedding photo. Subtle brightening effect gives an airy feel to an image and makes it more lively.
8. Anniversary – Free Lightroom Preset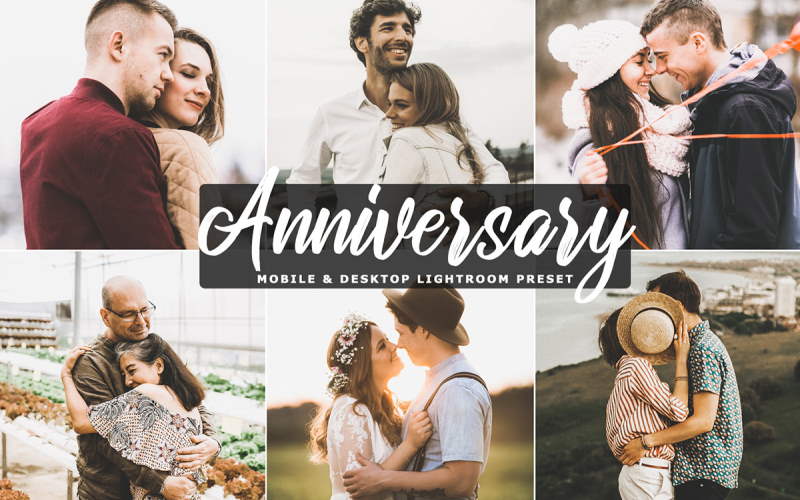 This is a free preset suitable for professional retouching of your wedding and anniversary photos. The preset adds beautiful color tones and a moody atmosphere to your photos. Available for free download for both Lightroom Desktop and Lightroom Mobile as well as a Photoshop action file.
9. Retro Wedding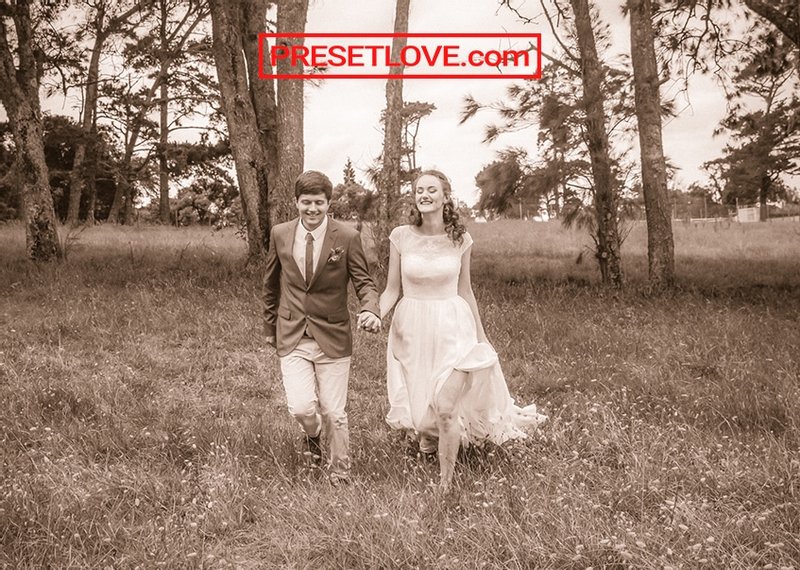 A creative preset to add nostalgic monochrome sepia tones to your wedding and engagement photos. If you are looking for a dreamy vintage look, the free retro wedding preset available for both desktop and mobile is a good choice.
10. Summer Wedding – Free Lightroom Preset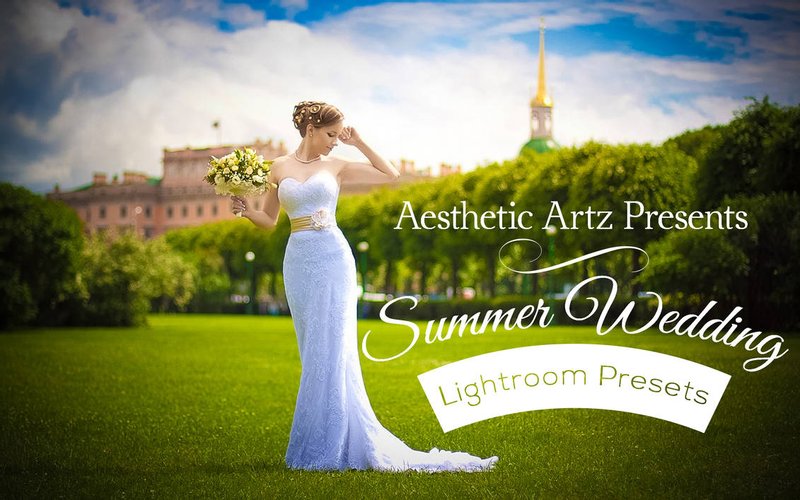 Summer wedding preset is a set of two different filters for optimizing summer-time outdoor wedding photos and producing stunning results.
11. Free Fall Wedding Mobile & Desktop Lightroom Presets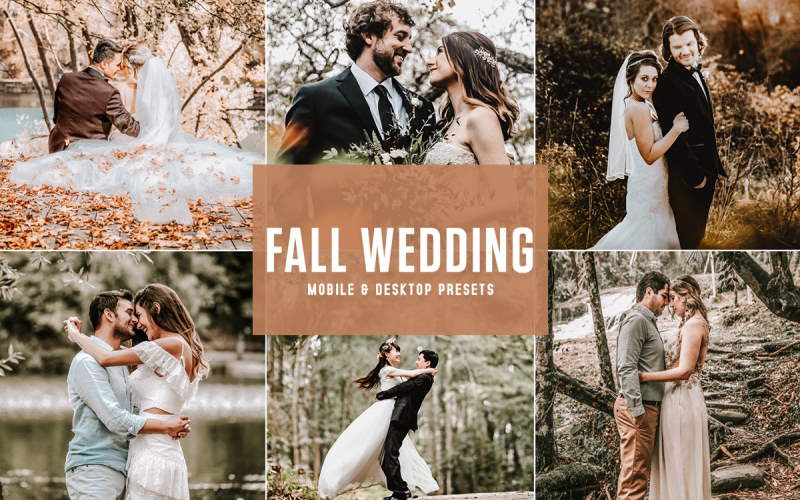 This free fall wedding preset will help you achieve stylish and professional photo edits. On downloading, you will get 2 Lightroom desktop and mobile presets, 1 Photoshop action and 2 Adobe Camera Raw presets.
12. Free Wedding Photography Lightroom Preset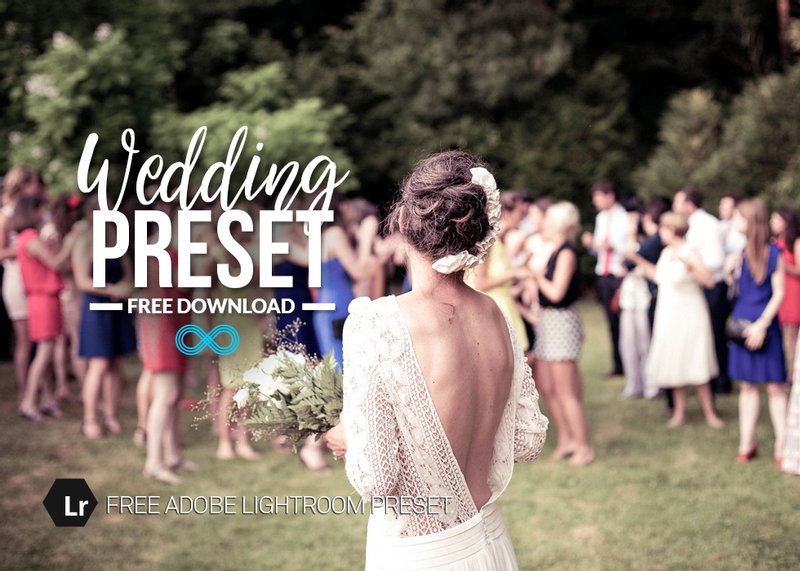 With this free Lightroom preset, you can give a dreamy look to your wedding photos. It plays on color temperature, vibrance and saturation as well as adds a lavender color tone to achieve this beautiful effect.
13. Elegant Wedding – Free Lightroom Preset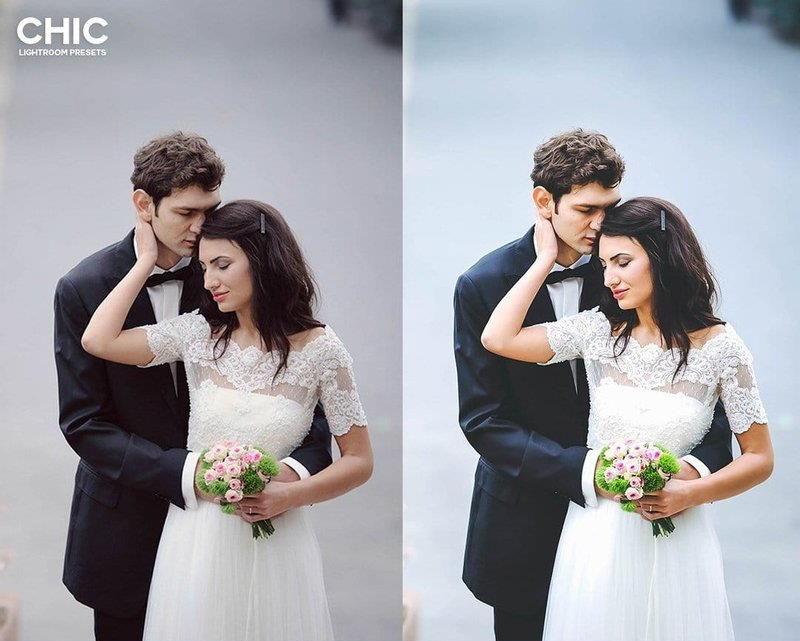 Elegant Wedding free preset will help you instantly brighten and enhance for getting chic wedding photos perfect for posting on social media and blog posts as well.
14. 5 Free Wedding Lightroom Presets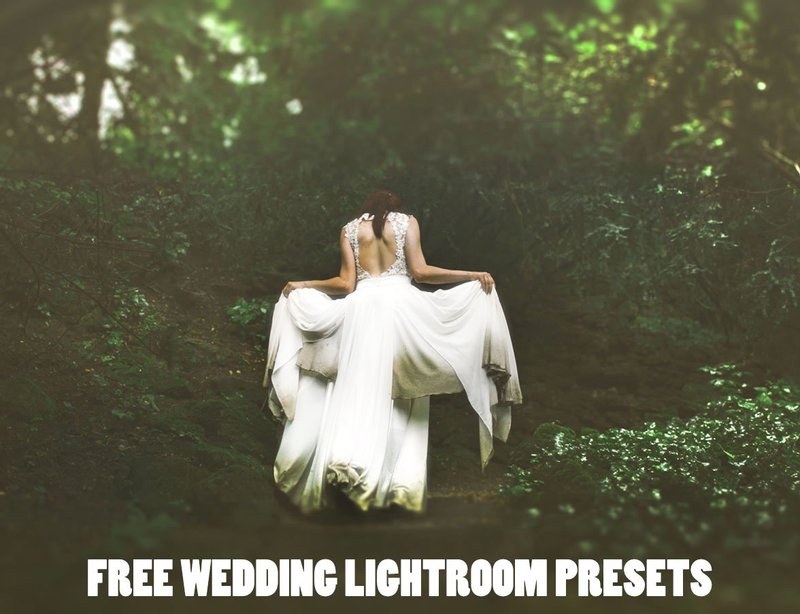 A set of 5 free wedding Lightroom presets to ease your editing workflow and make wedding photography more beautiful. Free for both personal and commercial use, these presets are compatible with Lightroom 4 and higher.
15. K&E Free Wedding Presets for Adobe Lightroom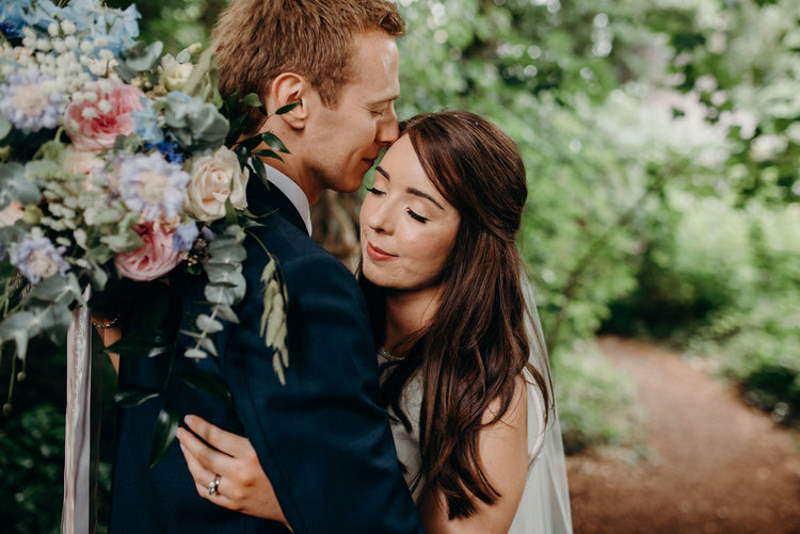 These presets are designed to give a warm boost to your photos and also add smooth contrast to skin tones for a beautiful and classic look. Free download includes 2 Lightroom presets.
These free wedding presets will increase your productivity and save post-production time, so you can focus more of your time in marketing and enhancing your portfolio. On that note, you may want to check out our collection of the best photography website templates to build your portfolio website and showcase your work.
Bonus: Premium Wedding Lightroom Presets
If you are a professional photographer or a studio, you may want to explore premium wedding presets as well. Available at an affordable pricing, these Lightroom presets bundle tons of effects in one set, allowing you to apply different pre-made adjustments on your clients' wedding photos before choosing the best preset fitting your requirement as well as lighting conditions. Check them out!
50 Wedding Portrait Presets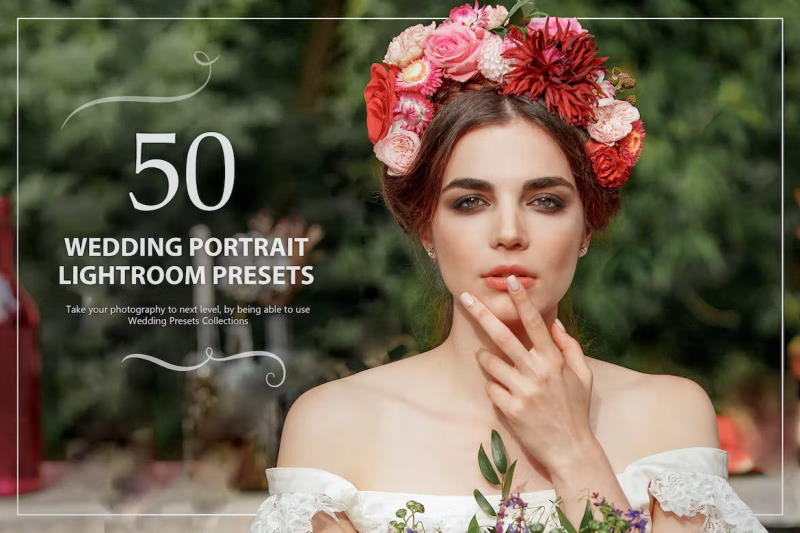 You can bring out the best in your bride and groom pics, couple photo shoots, wedding portraits and event photography with this bundle of Lightroom presets. There are 50 presets with unique effects and varied color combinations included in the download.
Rustic Wedding Presets for Lightroom & Photoshop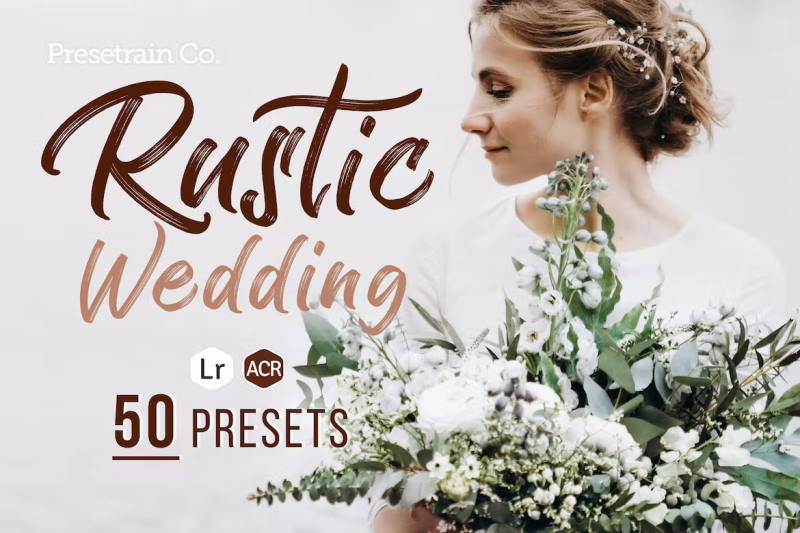 Rusting Wedding for Lightroom and Photoshop (via Camera Raw) is a collection of 50 presets for adding beautiful natural toning and authentic film inspired styles to your wedding photos. The presets are optimized to enhance photos shot in different lighting conditions and shooting settings.
Moody Wedding Lightroom Presets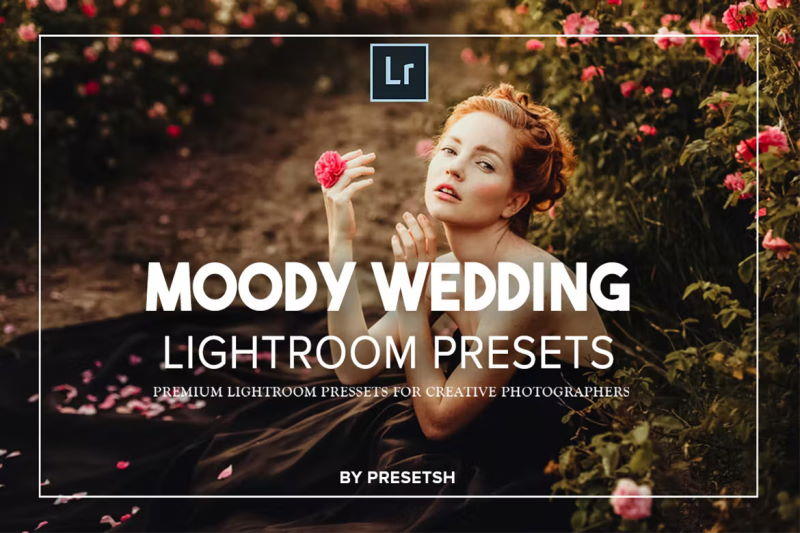 A set of 12 non-destructive subtle presets to apply a beautiful moody atmosphere to wedding photos. Perfect for posting on Instagram and highlighting on your portfolio. These presets work especially well for outdoor photos.
50 Warm Wedding Presets for Lightroom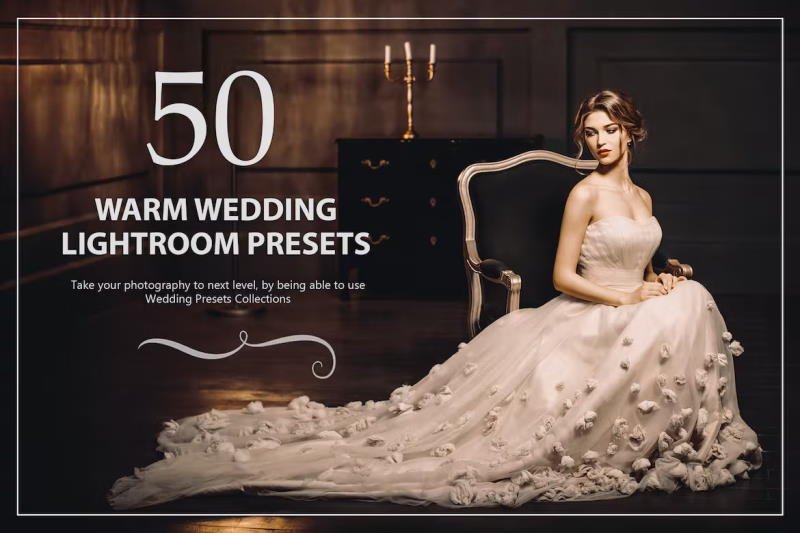 Another big set of Lightroom presets made for wedding and event photography. There are 50 presets perfect for adding an extra professional touch to your wedding photos.
Retro Wedding Presets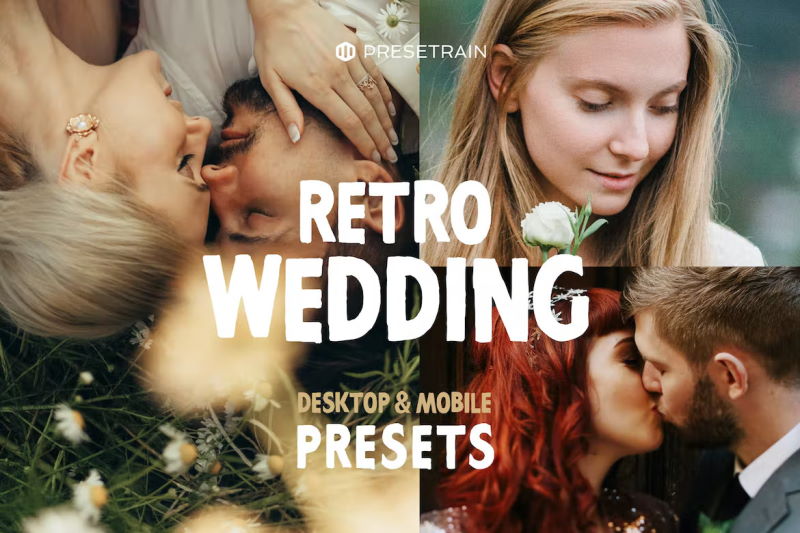 This collection of Lightroom presets will come in handy if you want to give a retro look and feel to your wedding photos. It comes with 10 different presets for adding warm retro and vintage effects to wedding imagery, portraits and pre-wedding couple photography. These are compatible with both Lightroom desktop and mobile apps.
50 Traditional Wedding Presets and LUTs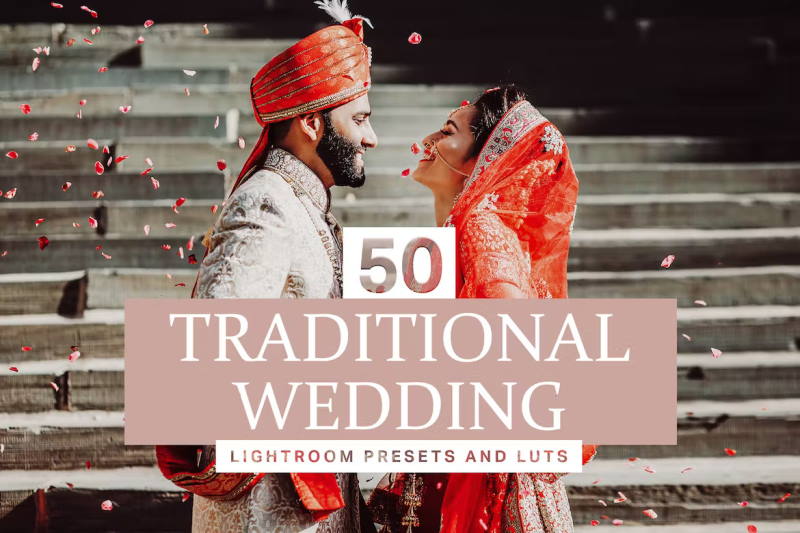 Made for weddings with vibrant colors and a colorful attire such as Indian weddings, Traditional Wedding bundles together 50 professional Lightroom presets for achieving different looks – airy, bohemian, chocolate, film and urban. You also get video LUTs that will help you achieve a consistent look between your photos and videos.
10 Black and White Wedding Lightroom Desktop & Mobile Presets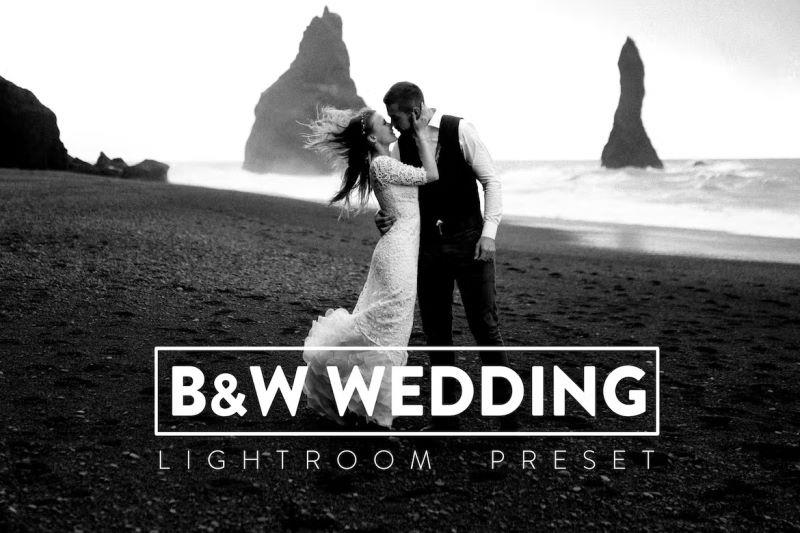 These Lightroom presets will help you add a timeless classic black and white matte look to your wedding photos. Included in the download are 10 presets for both Lightroom desktop and mobile.
Royal Wedding Photography Presets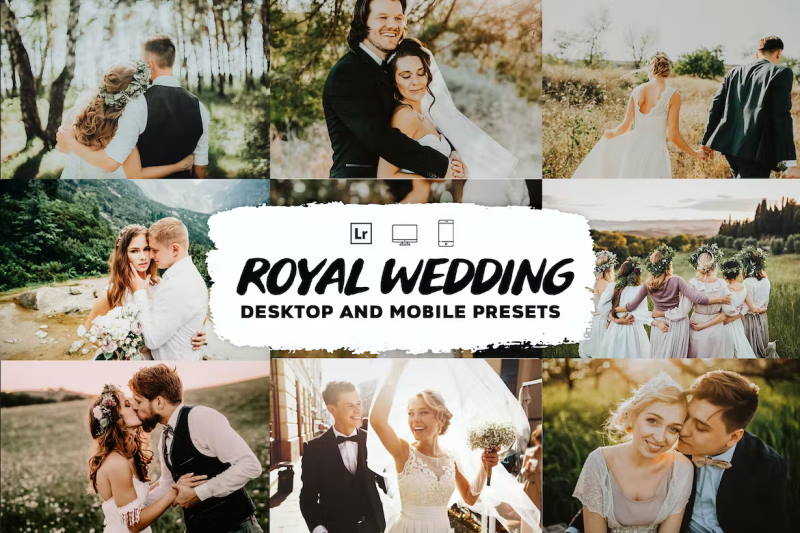 Royal Wedding is a collection of professional Lightroom presets to improve your editing efficiency. It comes with 30 presets with various effects including dreamy look and faded colors, soft color tones, film simulation and black & white.
Indie Wedding Presets for Lightroom and Photoshop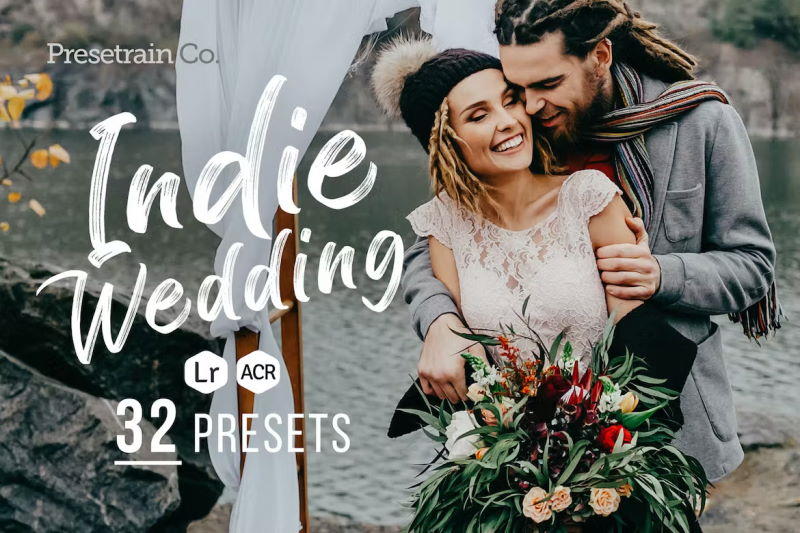 Designed to match different lighting, with Indie Wedding presets, you can achieve gorgeous results for wedding, portrait, family and event photography. There are 32 presets for instant professional retouching and enhancement of your wedding photos.
50 Pastel Wedding LUTs Pack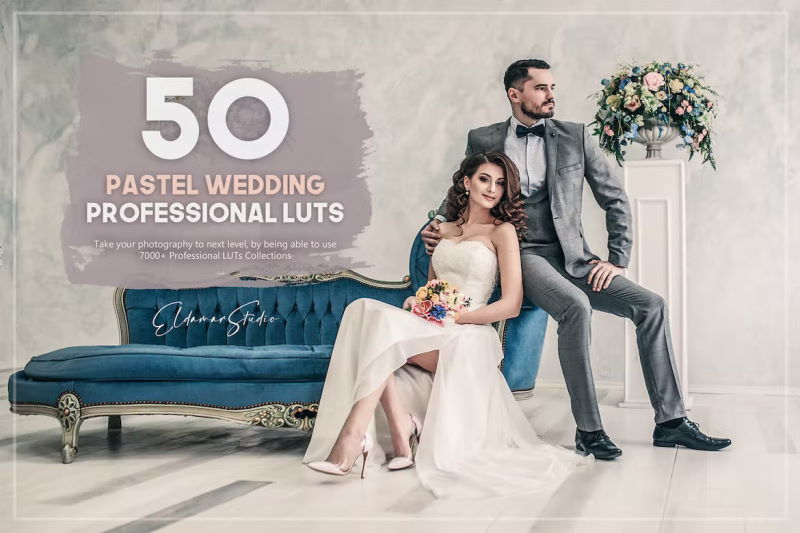 Add a pastel color grading to your wedding photos and videos using this bundle of 50 LUTs (Look up Tables) compatible with a wide range of editing software including Lightroom, Photoshop, Affinity Photo, After Effects, Premiere Pro, and Final Cut Pro.
More Wedding Resources
You might as well want to check out more wedding related design resources from our website: