Bootstrap is the preferred framework of professionals and web design agencies and is one of the most popular responsive CSS frameworks available. The latest revamped version Bootstrap 5 offers many changes over the previous version (Bootstrap 4) and looks promising. In this article, we present to you some of the best Bootstrap UI kits available for download in HTML & JavaScript as well as in PSD, and Sketch formats.
With the help of a UI kit or a design system, you can accelerate your web design and development process. If you are working with the Bootstrap framework for web design and development then you will find using a high-quality Bootstrap UI kits beneficial to power your own projects as they include many ready to use design blocks and components. We have picked UI kits which are quality yet free to download and the UI Kits that are best sellers at premium marketplaces and provides good support.
Let us look at the best Bootstrap based UI Kits below. You will find both Bootstrap 5 UI Kits as well as Bootstrap 4 UI Kits in the list. Many of these UI Kits also include a free version which you can download to try the kit before buying a premium license. We have listed some of the best designed and supported UI kits on the top.
Best Bootstrap UI Kits
1. Soft UI Design System (Premium Bootstrap 5 UI Kit, with Free Version)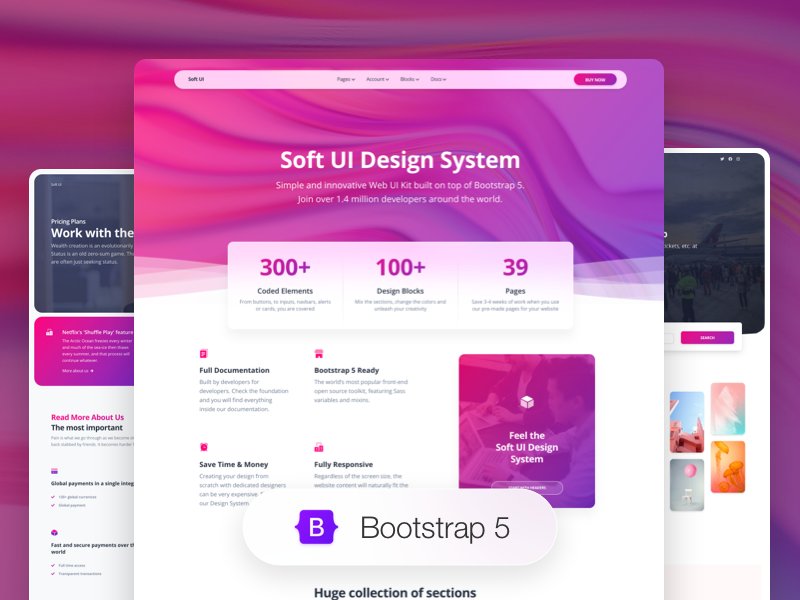 Soft UI Design System is a professionally made Bootstrap 5 UI Kit developed by the team at Creative Tim. It features 300+ of pre-built elements, 100+ design blocks and includes over 39 example pages. Based on the latest design trend of Glassmorphism, this UI kit is fully documented and is Bootstrap 5 compatible.
The UI Kit offers SAAS files which can be used to easily modify the included elements if needed. You get examples for pages like Signup, Sign-in, Forgot Password, 2FA Authentication and many more.
2. Fabrx UI Kit (Premium Bootstrap 5 UI Kit)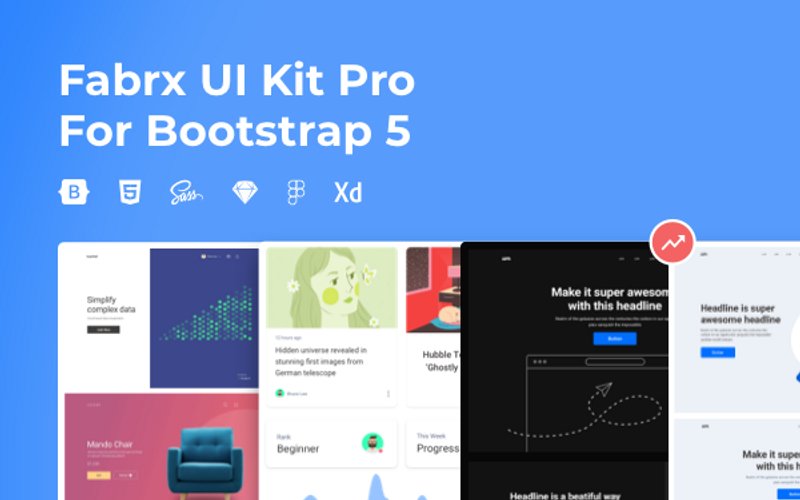 Fabrx UI Kit for Bootstrap 5 is a library of 250+ wireframes, 500+ components, and many ready made templates. The UI kit comes with fully coded HTML, CSS and SCSS files and you also get design files included for Sketch, Figma, and Adobe XD.
The UI kit supports for light as well as dark modes and provides lifetime free updates when you buy the license.
3. Lindy (Free Bootstrap 5 UI Kit)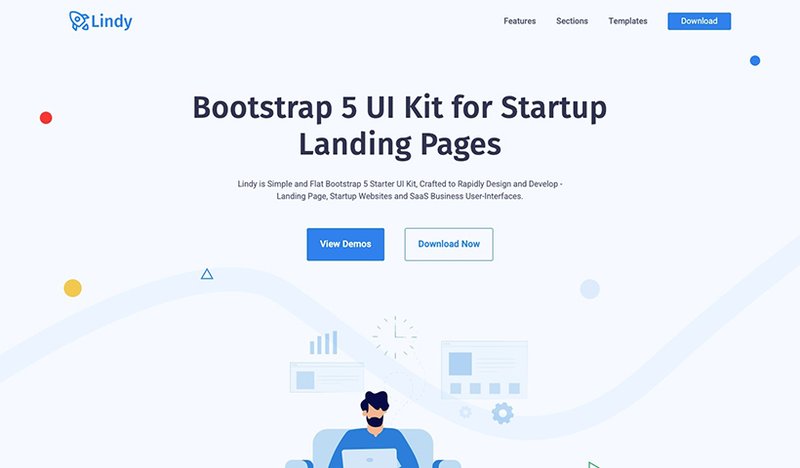 Lindy is Free Bootstrap 5 UI Kit designed for creating startup landing pages and multi-purpose websites. It has 200+ UI elements, 5 example templates and tons of sections included to help you to create landing pages.
This UI kit can be good for those looking for a free and simple starting point for a Bootstrap 5 UI kit that they want to customize and build upon themselves. The developers also offer a commercial license which you can buy when you need to build commercial sites such as for clients.
4. Paper Kit 2 (Free Bootstrap 4 UI Kit)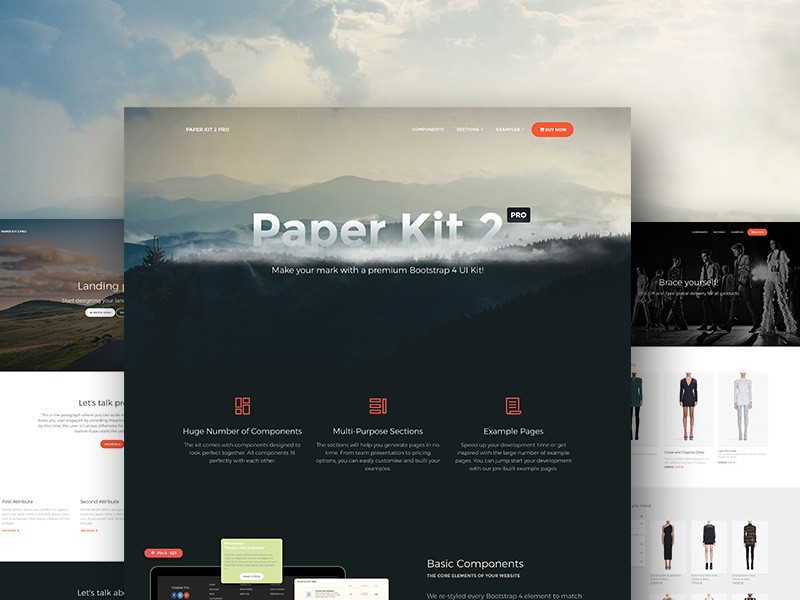 Paper Kit by Creative Tim is one of the most popular and professionally designed Bootstrap UI kit. With the launch of Paper Kit 2, this UI kit is now made available for Bootstrap 4. This premium UI kit offers huge number of components (1000+), sections as well as example pages. All the components and sections are designed to be responsive and includes transitions, shadows and colors such that it resembles pastel colors and papers.
With beautiful typography, font icons and thoughtful layouts, this UI kit certainly stands out from the rest and offers a comprehensive set of components required to build any kind of website such as portfolio, blog, landing pages or e-commerce. A lot of pre-built example pages are also included with the download which includes login, register, search, settings, about, e-commerce, product pages etc. You will also find tutorials in the download which will assist you in working with this UI kit.
You can also find a free version of this UI kit which offers limited amount of components and a few example pages.
5. Now UI Kit (Free Bootstrap 4 UI Kit)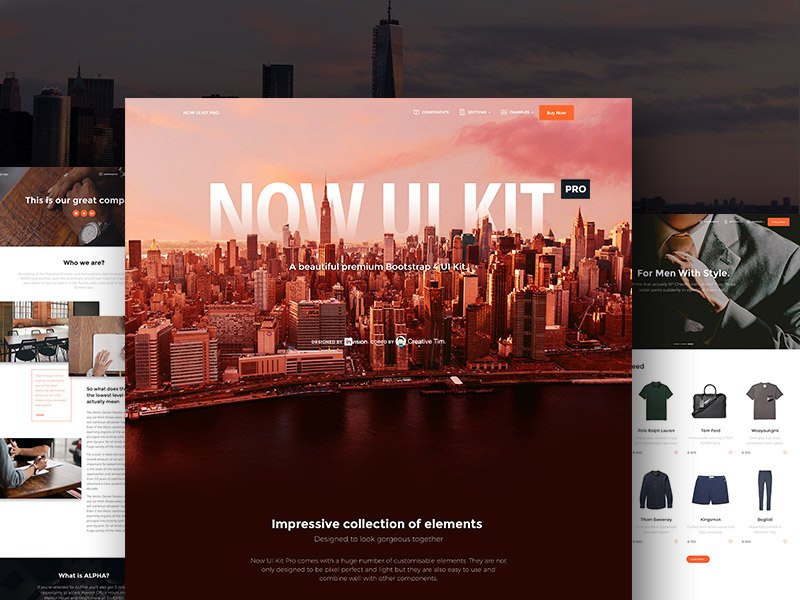 Now UI Kit is another premium and professionally designed Bootstrap 4 UI Kit provided collectively by Invision and Creative Tim. Now is available in PSD and Sketch formats downloadable from Invision. The Bootstrap 4 implementation of Now (by Inivision) is available as Now UI Kit by CreativeTim. It offers over 1000 components, 34 sections and 11 example pages.
This UI kit makes use of bold colors, beautiful typography, clear photography and spacious arrangements. Multiple example pages such as blog pages, blog post page, profile, contact us, product page etc. come pre-built with the template. You also get access to tutorials as well as SASS source files for working with the template.
A free version of this UI kit is also available with 50 components and 3 example pages.
6. Material Kit (Free Bootstrap 4 UI Kit)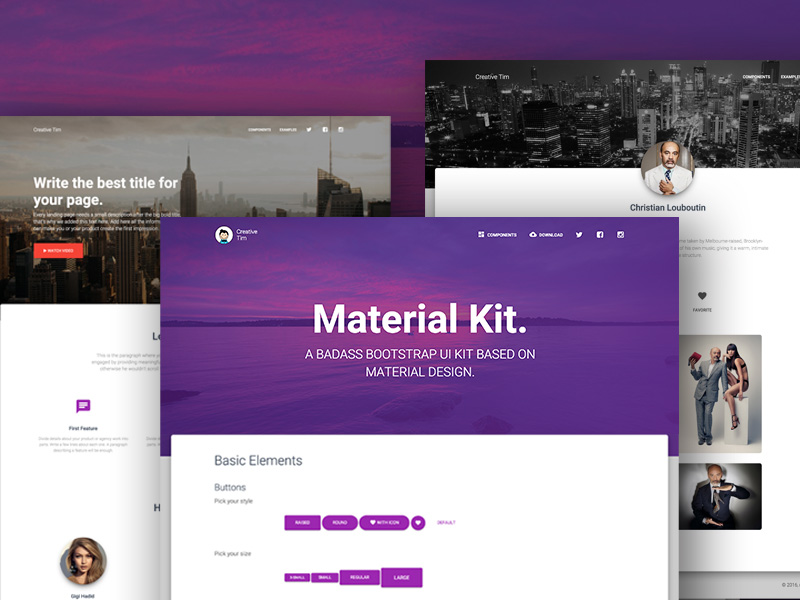 Material Kit is another Material design inspired UI Kit based on Bootstrap 4 made by Creative Tim. It has implementation of material concepts and provides easy to use and beautiful set of material design components. Along with the restyling of the Bootstrap elements with material design principles, you will find over 1000 components, 11 fully-coded example pages and 7 customized plugins which are helpful in designing your own web projects in material design. PSD files and SASS files are also included with the PRO version of this kit.
There is a basic version of Material Kit also available for free download which comes with 60 components, 3 example pages and 2 plugins.
7. Impact Design System For Bootstrap 4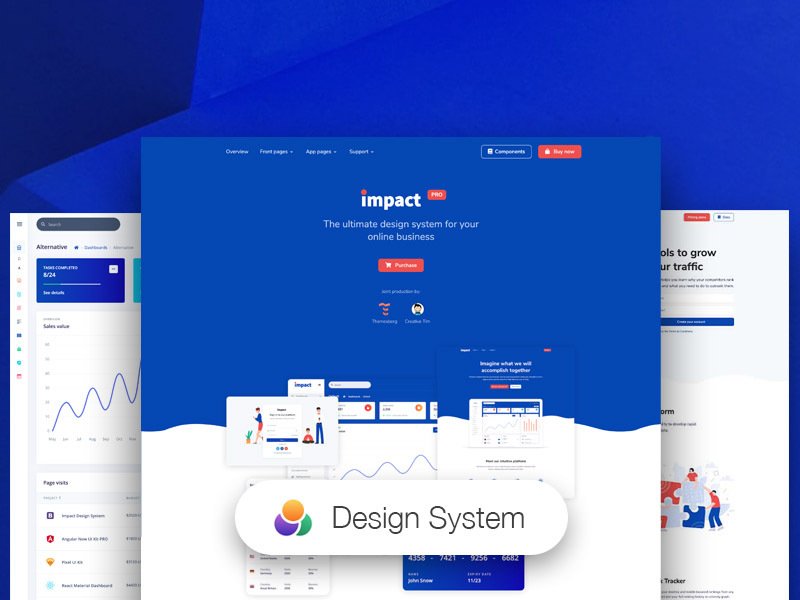 Impact Design System is a Bootstrap 4 based UI kit that has a modern and premium appeal to it's design. With this design kit, you will find over 1600 included components, 15 plugins and 45 included example pages. The example pages includes dashboard design, payment pages, dashboard as well as blog pages.
The premium version of the UI Kit includes access to all the code including SCSS files along with access to design files in Photoshop and Sketch format.
There is a free version also available for the Impact design system which offers 200 elements, 4 plugins and 9 example pages.
8. BLK Design for Bootstrap 4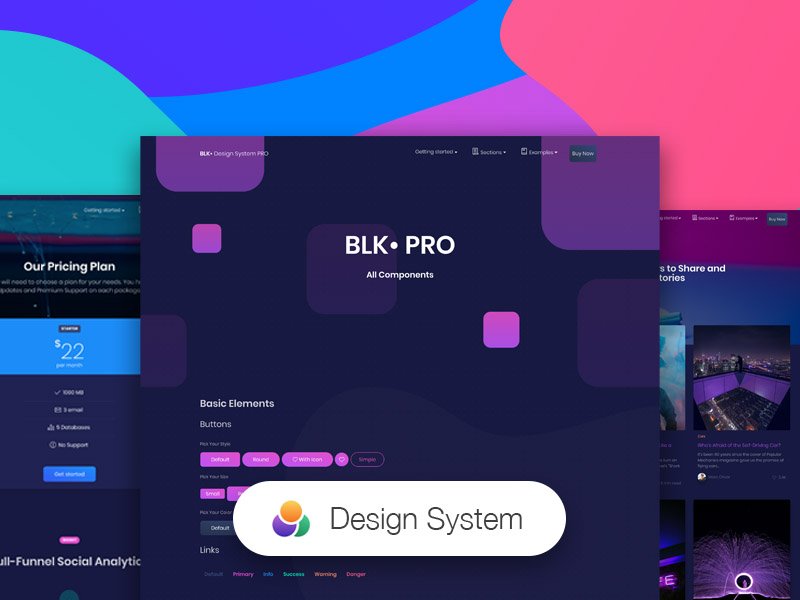 BLK Design System is a Bootstrap 4 based UI Kit which offers a darker theme design. It combines colors such that they are easy on the eye and able to offer beautiful typography along with graphics. It includes over 1100 components, 43 sections and 17 example pages that you can easily modify using the included SASS files.
This BLK Design System has prebuilt example pages for landing, pricing, about us, blog, e-commerce, profile and many more. You also get access to design files in Photoshop and Sketch format. Premium version also gets you support by the developers.
The free version of BLK design system offers 70 elements, 4 plugins and 3 example pages.
9. Get Sh*t Done Bootstrap UI KIT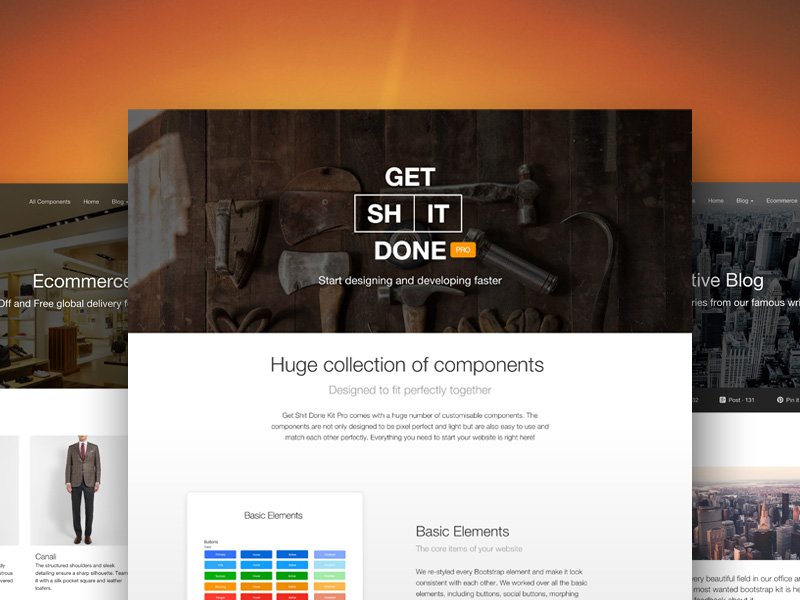 As the name suggest, this UI kit is meant for creative who want to build UI in no time. This Bootstrap based UI kit features a comprehensive set of elements that are vital to any project. Offering modern design with beautiful bright colors, the design kit has 8 pre-built pages and is fully documented for developers.
The free download of this kit provides a slightly tone down version with 22 elements and 1 example page.
10. Argon Design System for Bootstrap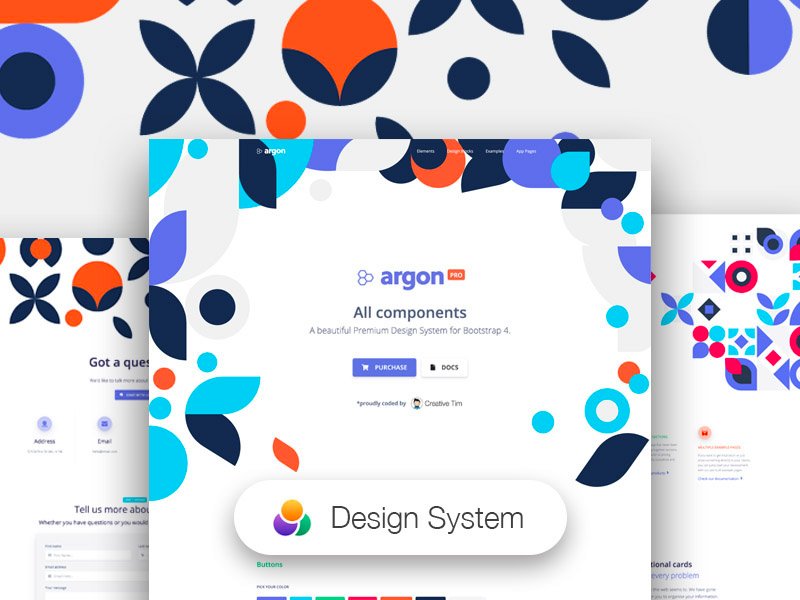 Argon Design System offers intuitive and easier to customize UI kit based on Bootstrap 4. The UI Kit includes free vector illustrations design by IRA Design and has spacious cards design with beautiful typography and graphics.
You get 1100 elements, 9 plugins and 17 example pages in the pro version along with access to Photoshop and Sketch files.
There is a free version also available which offers 100 elements, 3 plugins and 4 example pages.
11. Pixel Pro (Premium Bootstrap 4 UI Kit)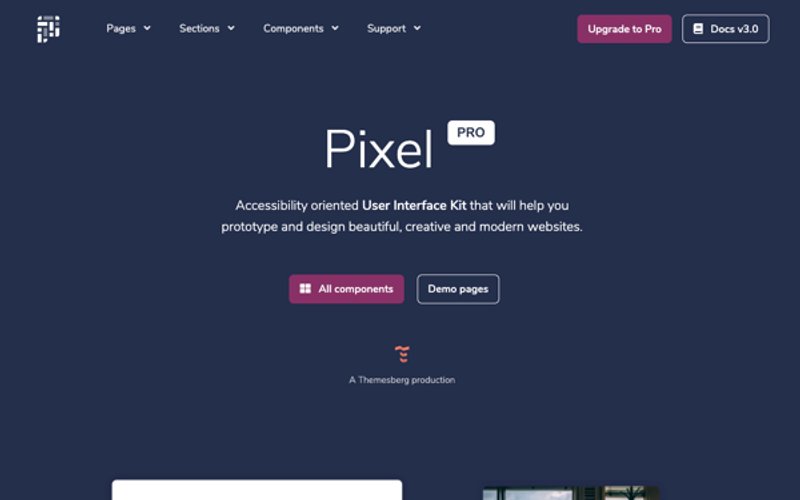 Pixel Pro is a premium Bootstrap 4 UI Kit featuring over 1000 standalone components, 50 sections and 17 hand-crafted pages. The UI kit includes creative rights to the included images and icons which means you have full right to use and distribute the included images, icons and fonts. It has gulp based build system which offers easy customization using the included SCSS files.
The UI Kit supports all modern browsers and has in-depth detailed Documentation with copy-paste snippets. You get 6 months of technical support when you purchase the license of this kit.
12. Soft UI – Neumorphism Style UI Kit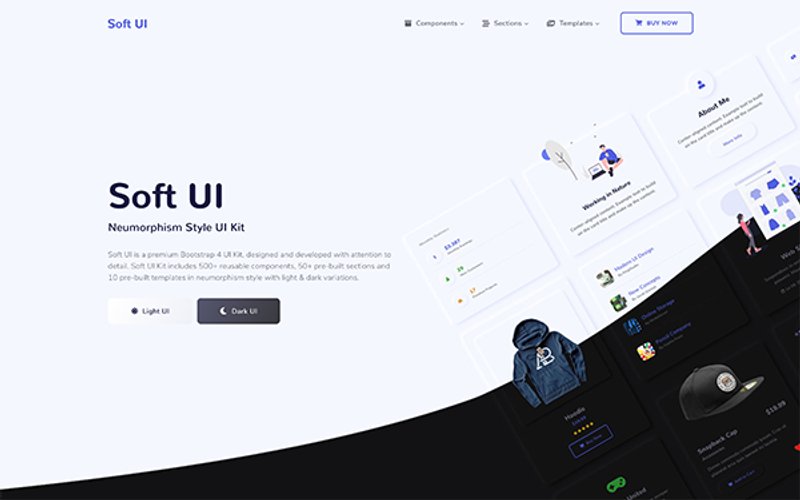 Soft UI is a Neumorphism based UI Kit designed using Bootstrap. This fully responsive, cross browser compatible and retina ready UI Kit is developed by King Studio who provide 24×7 support. You get 500+ reusable UI components, 50+ pre-built sections and 10 ready to use templates.
13. MDB UI Kit (Material Design Bootstrap UI Kit)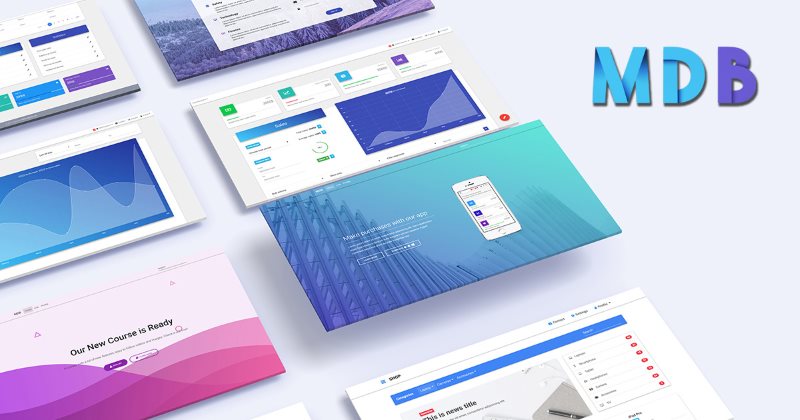 MD Bootstrap is a UI kit for Bootstrap with material design look and feel. Available for both Bootstrap 4 and Bootstrap 5, it offers 400+ Material style UI components, 600+ Material icons and 74 CSS animations in the free version. You will also find jQuery, Angular, React and Vue version for this UI Kit. There are many free templates as well as tutorials available for you to build websites with Bootstrap and Material Design.

If you are a business or enterprise, then this UI Kit includes a premium licensed version for each flavor of the UI Kit where you get access to 2000+ components, premium sections, plugins as well as premium support from the development team.
There are many other material design CSS frameworks available for use, however you will find MDB as your best choice to use in your web projects when you want the material look and feel.
14. Shards – (Free Bootstrap 4 UI Kit)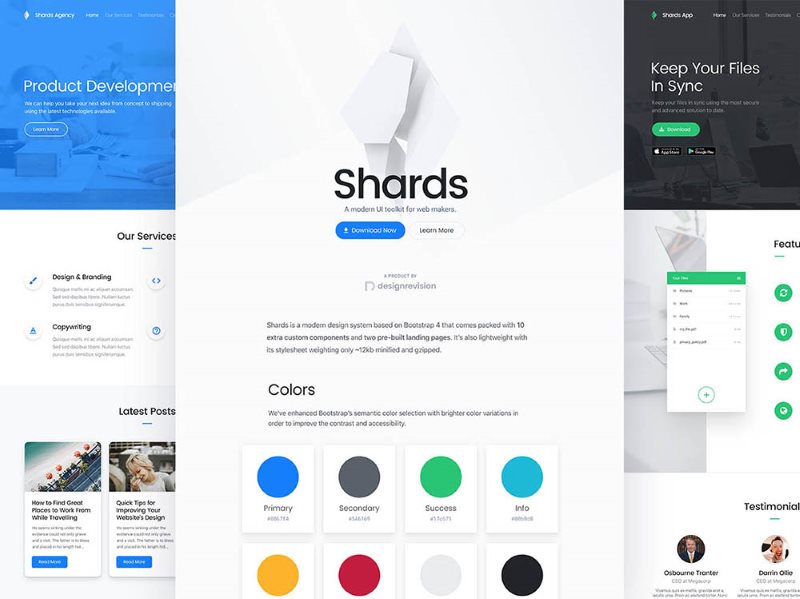 Shards is a free and modern UI toolkit for web makers based on the popular Bootstrap 4 framework. It has an elegant design, is responsive and is well documented. Shards comes packed with 10 extra custom components that help to cover almost any type of interface requirements and also 2 custom pre-built landing pages. The original Sketch and SCSS files are also included with the download. Shards UI toolkit is also open-source and available on GitHub.
15. Anchor – Free Bootstrap 4 SaaS UI Kit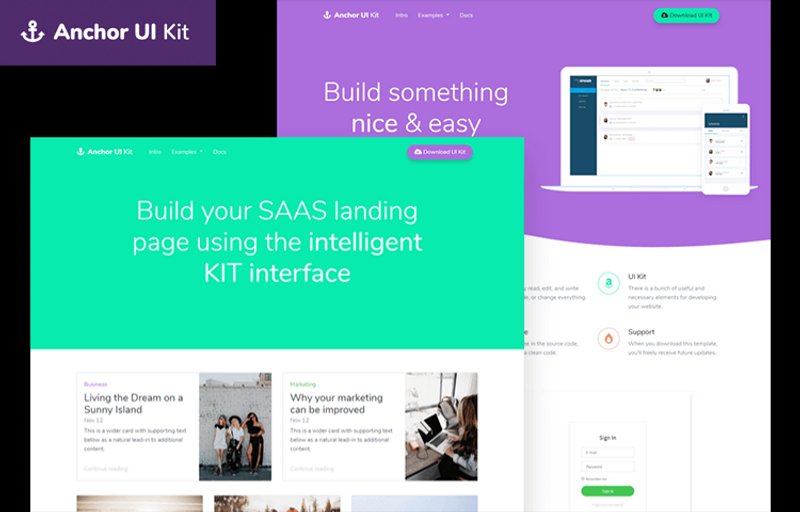 Anchor is a free Bootstrap UI kit with ready to use UI components that you can use to prepare your own website or template. This responsive and light UI kit includes Gulp script for easy customization and offers support from author too. It is free and provided under MIT license.
16. WrapKit Lite – Free Bootstrap 4 UI Kit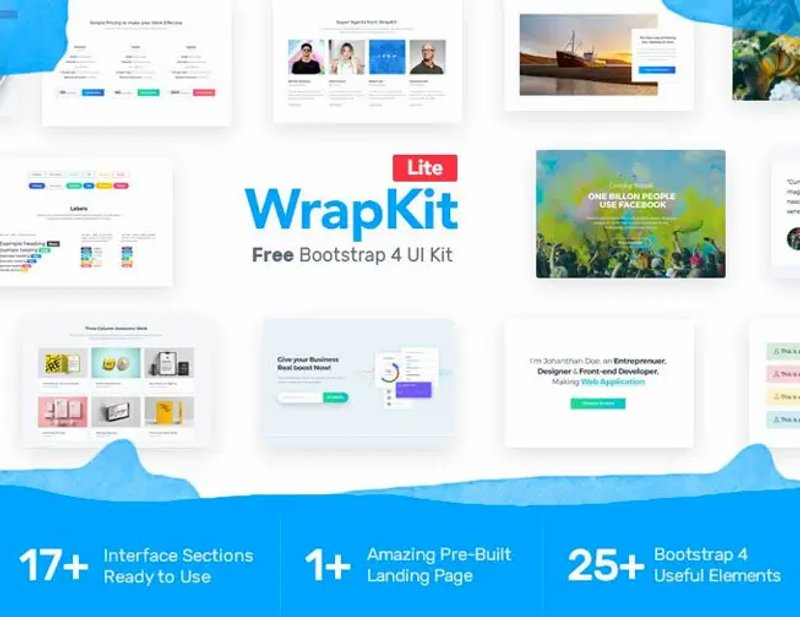 WrapKit Lite UI kit is a freebie by WrapPixel and offers 17+ ready to use interface design, 25+ Bootstrap 4 based elements and 1 pre-built landing page. It is a lighter version of the complete WrapKit listed below, and is available for free.
17. WrapKit Complete Bootstrap Web UI Kit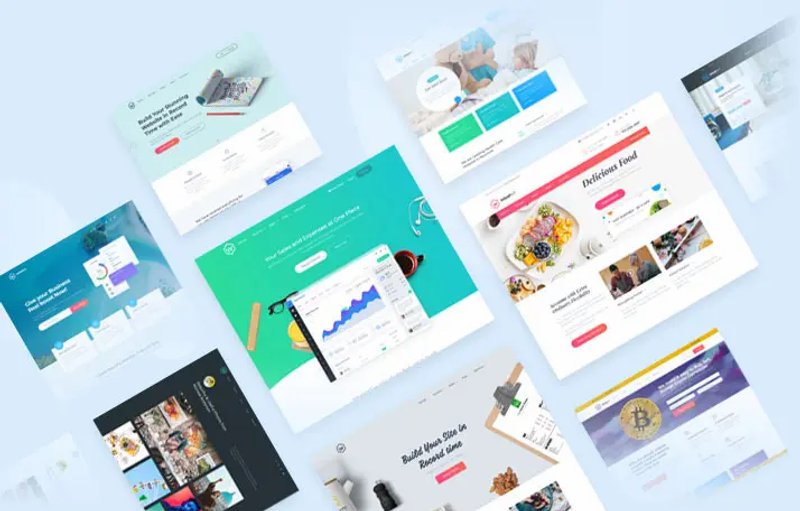 Based on Bootstrap 4, WrapKit Complete is a UI Kit that comes with 500+ useful elements & 23+ pre-built demos to kick-start your web development project. This Bootstrap toolkit includes animated CSS, speed optimization, gallery options as well as dedicated support.
18. Free Bootstrap 4 Startup UI Kit by Medialoot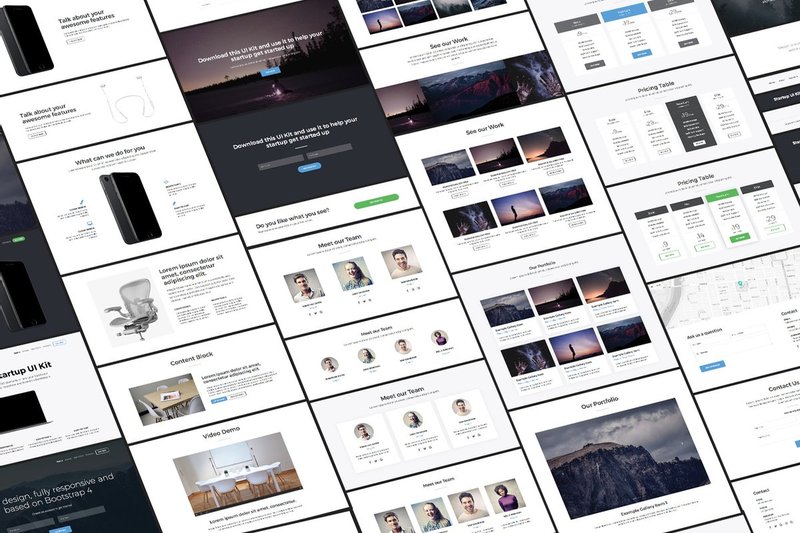 This is another free UI kit provided by Medialoot team. Based on Bootstrap 4, this UI kit will make it a breeze to build your own clean landing pages and help launch your startup. It includes 50 UI cards in 10 categories that you can mix and match to create your own unique layouts. While the free version requires attribution, you can download a premium version of this kit also with no-attribution requirements and support.
19. Helium UI Kit (Bootstrap 4)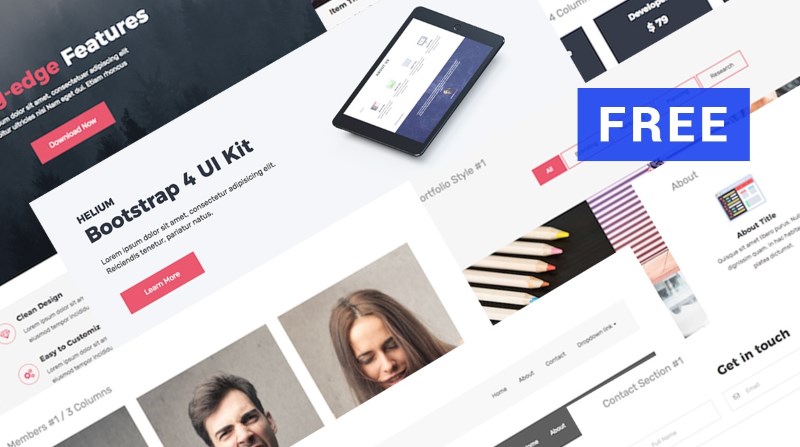 Helium is a free Bootstrap 4 UI Kit provided by UIdeck and comes with 100+ components and elements. Helium also includes add-ons such as Owl Carousel, Icon packs, form validator, maps etc. This UI Kit has a block-based code structure and each block is placed in separate HTML/CSS/Sass file to help you work with the UI Kit in easy and organized manner. You can download this UI Kit for free after providing your e-mail on the UIdeck website.
20. Startup UI Kit (Free Bootstrap 4 UI Kit)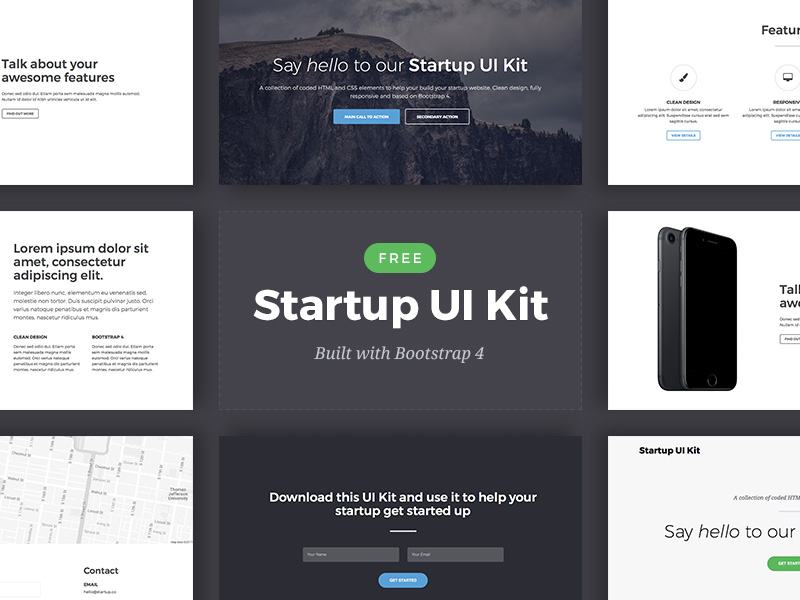 Startup UI Kit is another free and Bootstrap 4 based UI kit which offers 16 UI cards that you can mix and match to create your own unique layouts. This clean UI kit is good for creating landing pages and for launching startup websites. The free version is licensed to be used for personal use only though.
21. BS4Start – Bootstrap 4 UI / Starter Kit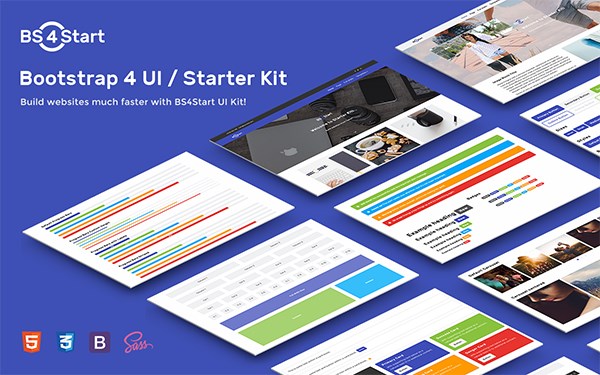 BS4Start is a premium responsive Bootstrap 4 UI Kit for building web-apps or websites using the Bootstrap 4 framework. It includes 6+ starter templates, 300+ UI components and is integrated with Font Awesome as well as material icons. SASS files are also provided with the download for easy customization.
22. Flatkit – Bootstrap 4 App UI Kit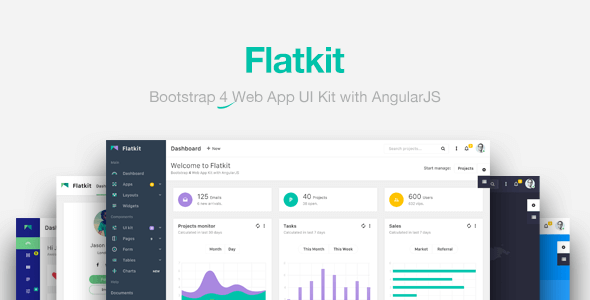 Flatkit is a Bootstrap 4 and AngularJS based web-app UI kit which can be used to build dashboards as well as other web apps. 6 pre-built layouts are provided with the UI kit and the build system is powered with Grunt to help the work flow of web developers. RTL support is also available for this kit.
23. Creative UI Kit (Free Bootstrap 4 UI Kit)
This is another Open Source project which is licensed under GPL and is built with Bootstrap 4. This creative UI kit is easy to work with and is built upon Bower, GulpJS and Sass.
24. Bootstrap 4 UI Kit for Sketch (Free)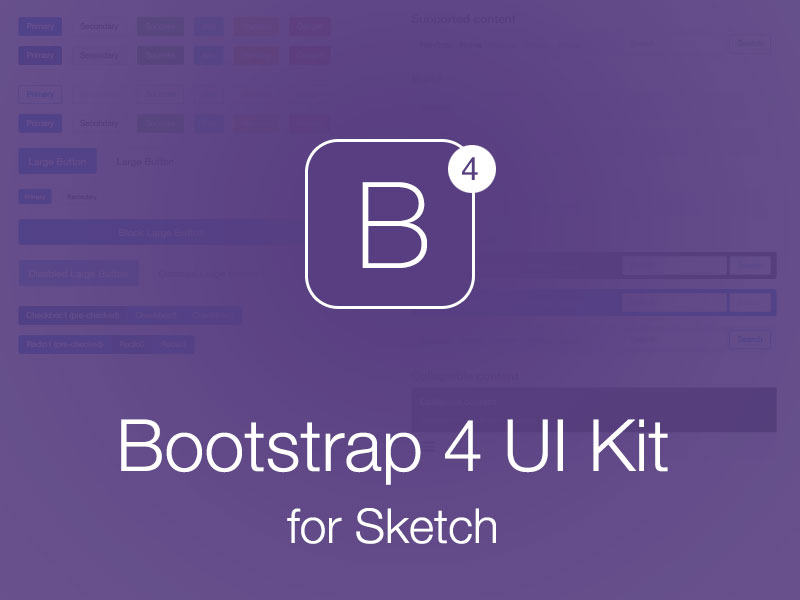 This is a Bootstrap 4 UIkit by ZTfer available as sketch file and offers Bootstrap elements and components in sketch format for UI designing and for creating Bootstrap 4 based mock-ups.
25. Bootstrap 4 GUI – Editable Vector File (Free)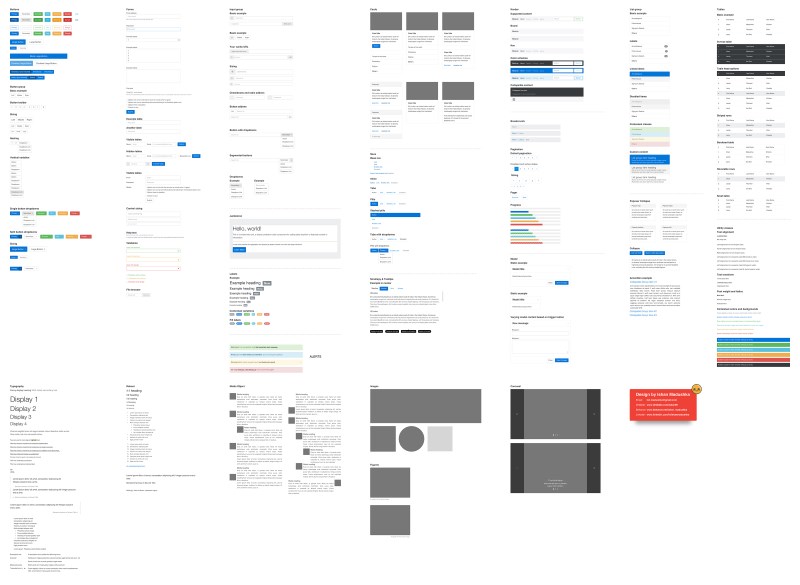 This is an editable Vector file in AI format containing Bootstrap 4 GUI and components.
How to choose the perfect Bootstrap UI Kit?
When choosing a Bootstrap UI Kit, you may want to keep the following points in mind. Depending on your use case, you can find a free UI Kit or a premium one with support.
1. Easy To Customize and Use
A bootstrap kit that is easy to customize and build upon is favorable as you would often want to override a few styles in your CSS. UI Kits that provide SCSS files along with an included build system on Gulp or any other build system should be preferred for this.
2. Full Documentation
While Bootstrap itself is well document, you would want the UI Kit built on top of it to also include it's own documentation as these UI kits generally override many default styles of the Bootstrap. Further these UI Kits also include custom plugins like slider, tables, color picker, drag and drop UI etc, which need to be documented properly. You will find MDB UI Kit to have great documentation in this regard.
3. Pre-built Example Pages
Having pre-built example pages makes it easier to adopt the UI Kit in your own design. The more example pages and sections that are included, the better. This should range from dashboard, ecommerce, account, team, blog etc. thus giving you a wide range of option to build in future.
4. License for Business or enterprise
If you are using the UI Kit for business or enterprise then you would want to see the availability of an enterprise or business license as these will come with better support and more permissive use-case such as building a SASS product. Our top ranked UI Kits will fulfil these license needs.
More Resources
Here are some more Bootstrap related resources that will help you in building your web design project. All the list include both free and premium options and are regularly updated:
Do you find our list useful? Have you started adopting Bootstrap 5 already for your projects or are still using Bootstrap 4? Do you find this collection of Bootstrap UI kits helpful? Did we miss any UI kit? Let us know in comments below.