One page website templates are ideal for creating single page websites for a product, app or business. Having content laid out in a top to bottom fashion with a vertical scroll is an ideal way to create landing pages and marketing pitches. In this article we have a collection some of the best and high quality one page website templates which are available for free download along with some popular and easy to customize premium one page templates.
While choosing a one page website template, it is essential to understand the framework on which the template is built upon. Since Bootstrap is one of the most popular and mobile first Web UI Framework, most of the templates we have picked here are built with Bootstrap. We have also tried to pick those single page website templates which don't rely on any framework and are built with plain HTML5 and CSS3, as in some case they can be easier to work with.
How to Choose the Perfect One Page Template for your Website
When it comes to choosing the perfect one page template suitable for your own website, you would have to keep the following three things in mind:
What is the template built with?
If it is made with popular frameworks such as Bootstrap then it would be easy to extend it and change its looks.
What is the license of the template?
Most of free templates come with attribution required license such as CC3. In such cases you are required to give a link-back to the original author of the template. If you are developing a commercial website, giving a link back to the theme author in footer of every page may not be a viable option. In such case you should always lean towards premium one page website templates we listed above.
How are you going to get support if something goes wrong?
When you choose to invest your time or money into a template, you would like to have a good support channel to ask for solutions when something go wrong. Generally, the free themes have a GitHub page where you can open an issue and the template author can reply. It is always a good idea to check how responsive the authors are for the issues that were reported. In case of premium theme, you generally receive support for at least a few months or longer.
These one page website templates generally have a menu at the top of the page and allow gradual animation while scrolling down to next sections. We have also included open source templates which have their source code available on GitHub, in such case you will find the link to their GitHub repository on the download button.
One Page Website Templates
Since we have collected some amazing free as well as premium one page website templates, we have clearly marked the free ones for you to easily distinguish them. Premium templates are picked from some of the most popular one page templates available on ThemeForest, TemplateMonster and Creative Tim and they may contain affiliate links.
Start Simple (Free)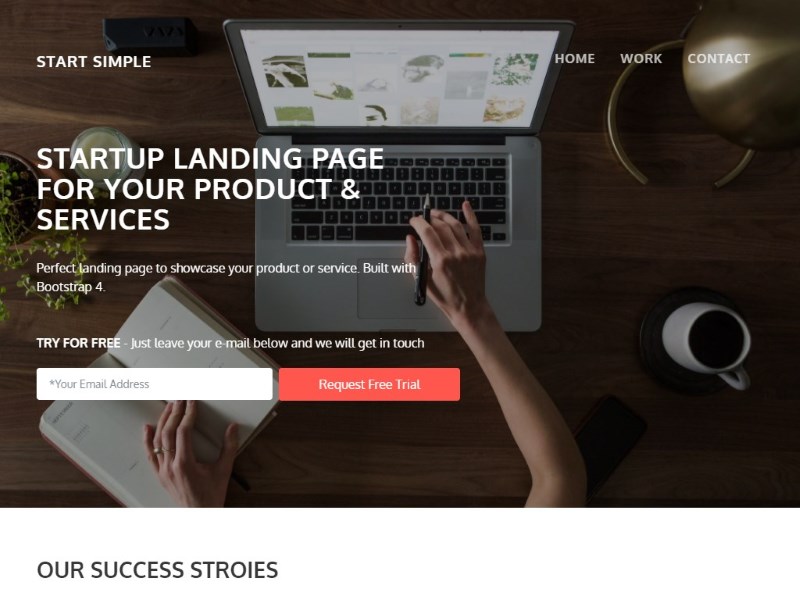 Start Simple is a free landing page template for startups, small business and agencies built on Bootstrap 4. This template features parallax scrolling in header, responsive animated slider for user testimonial section and a contact form.
---
Rubik Presentation Page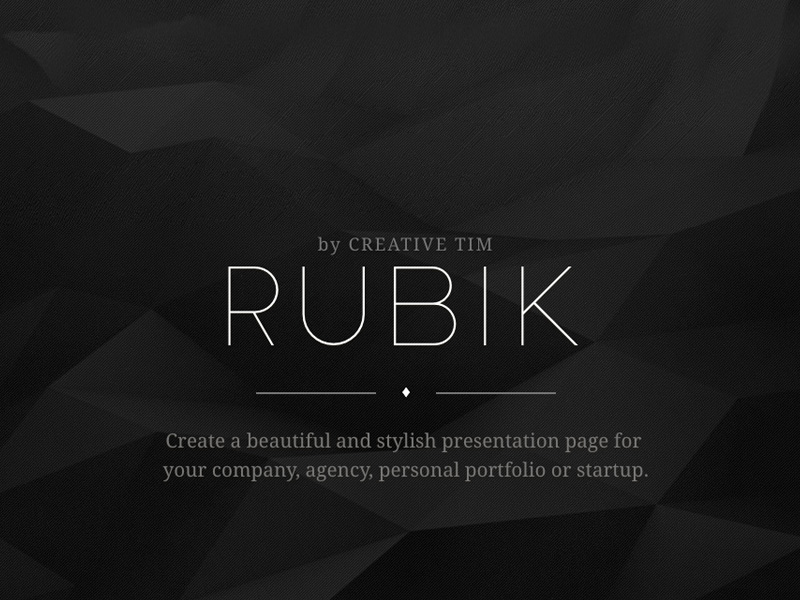 Rubik is a premium one page website template which can be used to create beautiful and stylish presentation page (landing page) for company, agency, startup or for personal portfolio. Built with Bootstrap, this website template offers 47 handcrafted components suitable for landing pages such as portfolio, team profile, contact form, google map and many more. 4 pre-built example pages are included for Agency, Company, Startup and Portfolio website.
---
Awesome App (Free)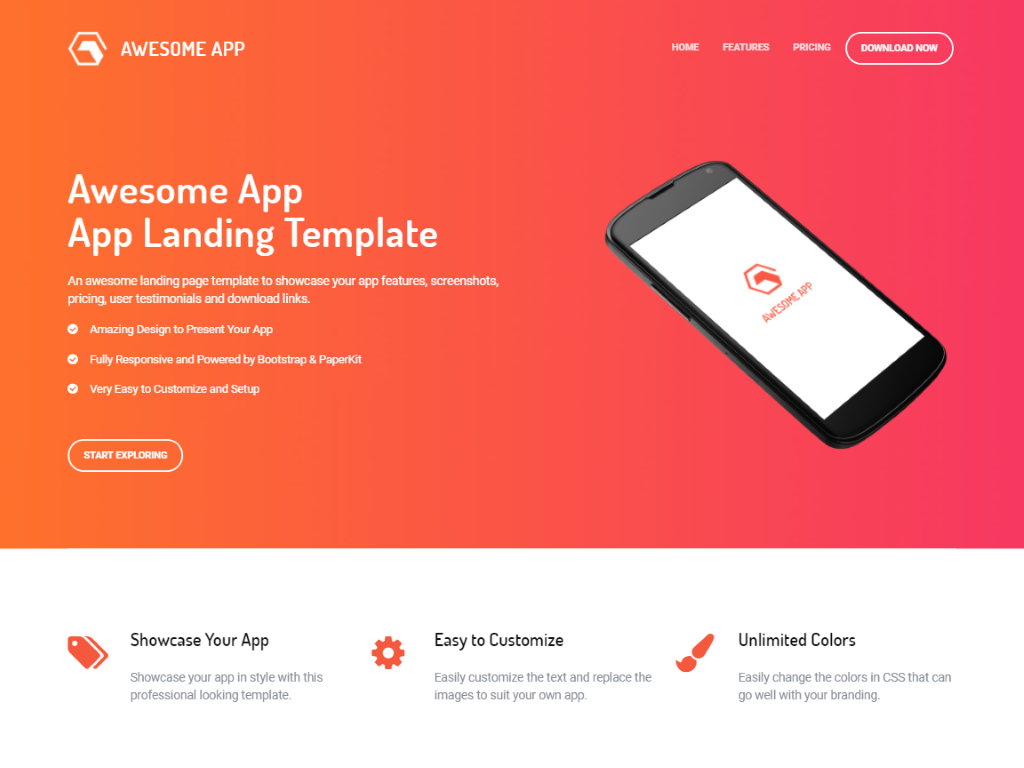 Awesome app is a free one page website template for creating websites and landing pages for smartphone apps. This template is built with Bootstrap 4 and Paper Kit 2. It features creatively designed app landing page with attractive gradient color scheme. There are sections for showcasing app features, app screenshots, user testimonial, app download links etc.
---
Creative – One page Bootstrap template (Free)
Creative is a one page Bootstrap theme for creatives, small businesses, and other multipurpose uses. The theme includes a number of rich features and plugins that you can use as a great boilerplate for your next Bootstrap based project. This unique, modern design template has full page image header banner with vertically centered content.
It is fully responsive template with custom fixed navigation menu and scrolling animations. LESS files are included with the template for deeper customization options. You can find the source code of this template on GitHub.
---
Agency – One page portfolio template (Free)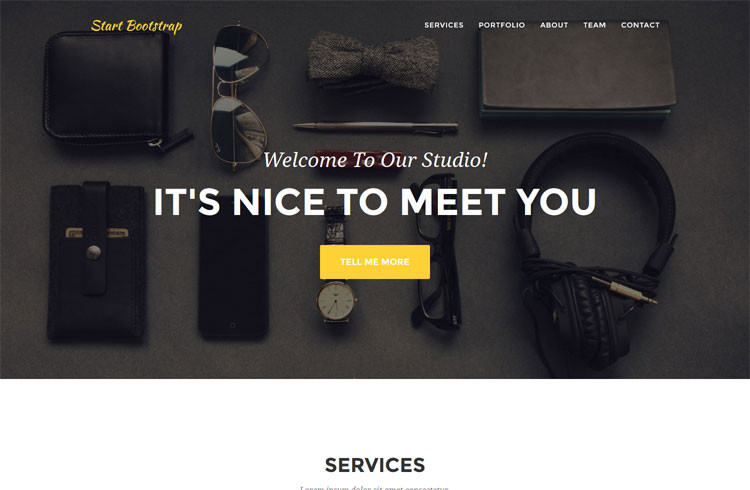 Agency is a stylish, one page Bootstrap theme for agencies and small businesses. The design of Agency is based off of the Golden PSD Theme by Mathavan Jaya. You can download the PSD verison of this theme at FreebiesXpress.com.
This fully responsive template contains custom collapsing navigation with active classes, smooth page scrolling, and responsive fallback styling. Services section contains CSS only circle icons by Font Awesome. Portfolio grid has modal window popup previews for portfolio item details. About section contains a responsive timeline and Team member section has circle profile images with social media links. It also has a working PHP contact form with validation.
---
Start – Responsive One Page Template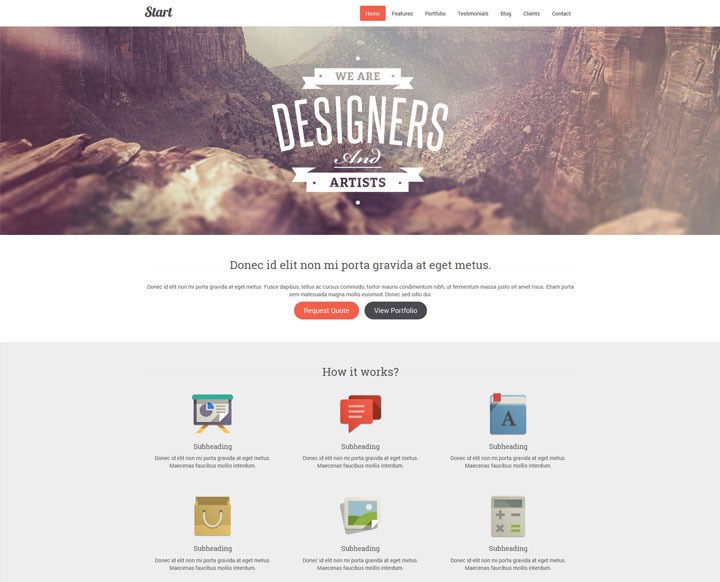 Start is a premium responsive one page website template with flat trendy design. It contains 9 sections: Jumbotron, Call to action, Features, Portfolio, Pricing Table, Team, Blog, Contact, Clients with smooth one page navigation.
The template is based on Bootstrap 3 and uses Google Roboto Slab and Roboto fonts.
---
Creative CV – One Page Resume Template built with Bootstrap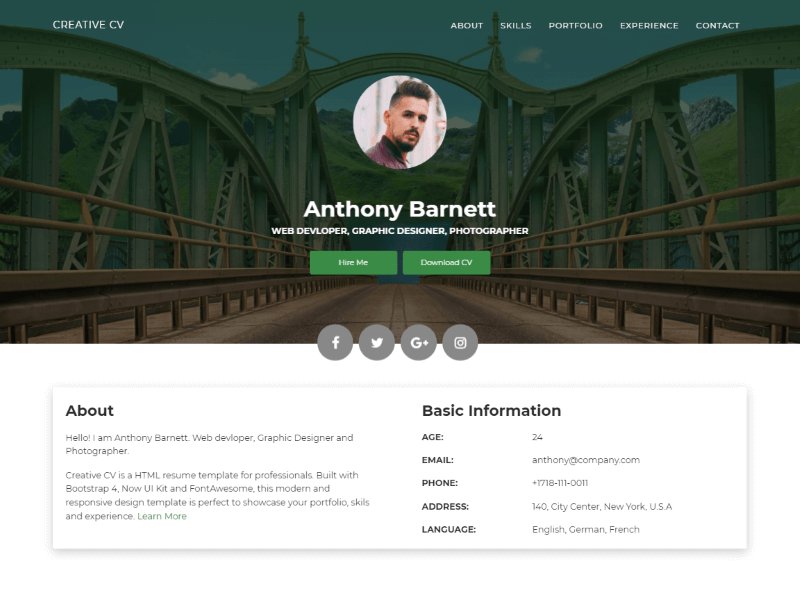 Creative CV is a professionally designed one page resume HTML template available for free download. It has been built with Bootstrap and Now UI Kit. This modern design and responsive template is perfect to showcase your Bio, skills, portfolio, work experience, education and references. You can easily edit, customize and extend the template as per your needs and is perfect for creating a website featuring your resume or portfolio.
---
Single Page Website Template in Flat Design (Free)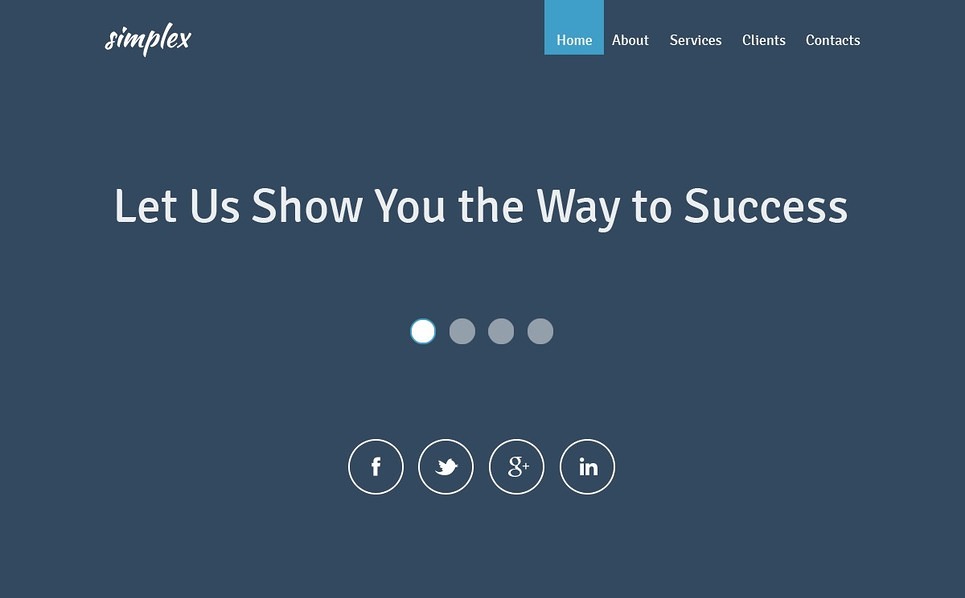 This is a flat, simple and effective free single page website template for business site. The theme features soft colors, simple forms, neat typography – the key ideas of flat design. Single page layout facilitates the visitors' interaction with the site, making the scroll up and down smooth and easy. Downloading source files is free.
---
Cardio – One Page Gym/Fitness Website Template (Free)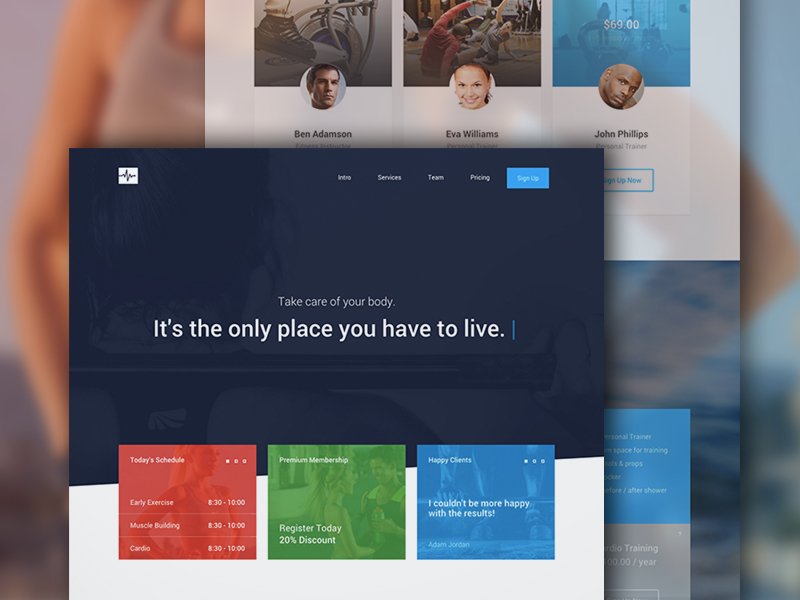 Cardio is a clean and modern one page website template built with Bootstrap. The responsive HTML template has a gym related theme but can be easily fitted to any kind of content. The template comes with a smooth page navigation and some subtle transition effects. The design is very clean and spacious with a fresh color theme and solid typography.
You can download the corresponding PSD file from Behance project page.
---
Walk & Ride – One Page App Website Template (Free)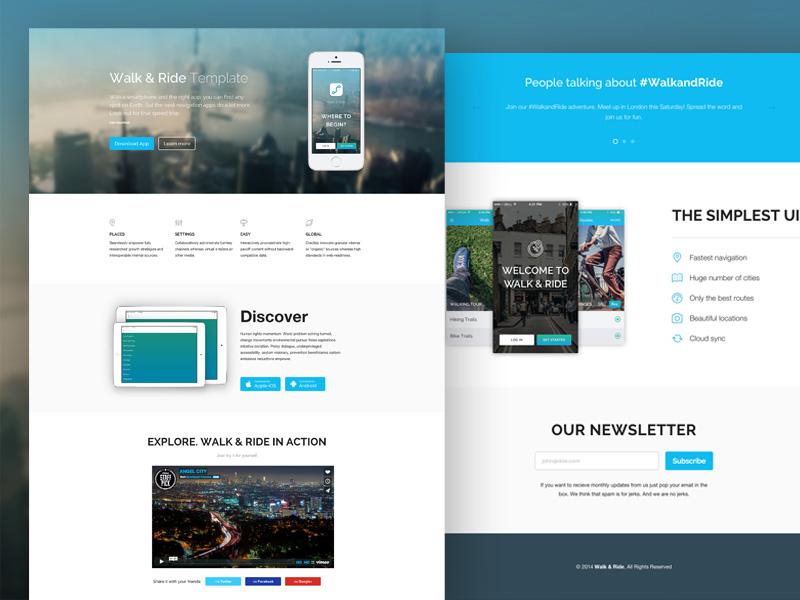 Walk & Ride is a clean and modern template with a pixel-perfect design and balanced typography made by Pixel Buddha. It is especially fitting for promoting a mobile app but you can easily adapt it to fit any purpose.
The responsive one page website template comes with Sass files and some JavaScript libraries for ensuring cross-browser compatibility. You can easily extend it and build upon it to customize the template for your needs.
---
Zen – Multipurpose One Page Template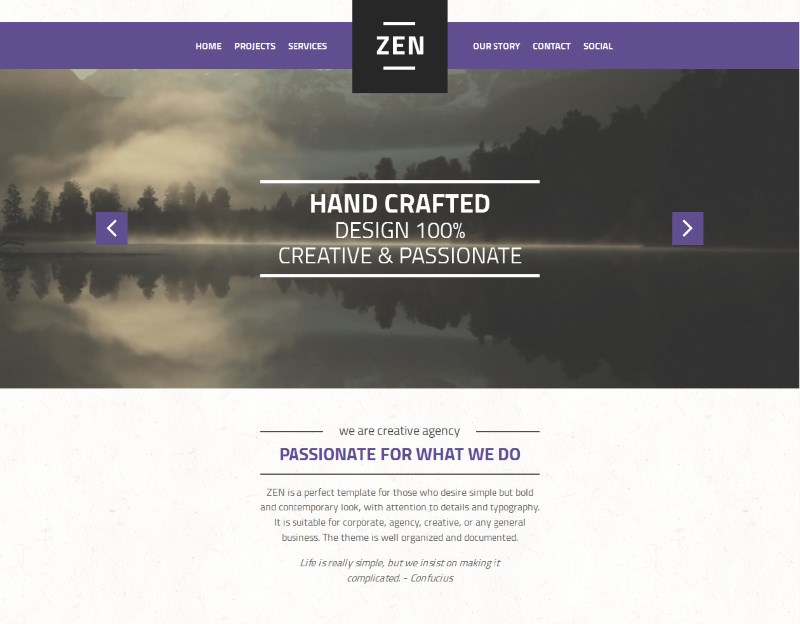 ZEN is multi-purpose one page template perfect for those who desire simple but bold and contemporary look, with attention to details and typography. It is suitable for corporate, agency, creative, or any general business.
ZEN comes in 3 predefined colors green, blue and purple and different background options including slideshow, parallax and video. It includes easy to follow instructions on how to setup and edit this template for our own website.
---
Awesome Landing Page (Free)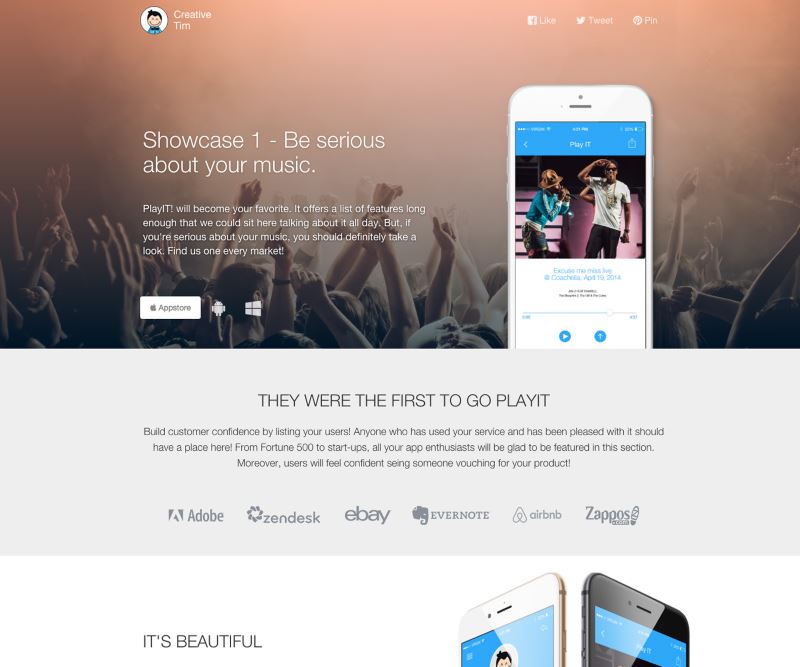 This is a free one page website template build with Bootstrap and offer three different design in 5 different color schemes. The template includes 15 handcrafted components and 2 customized plugins. It also offers social sharing buttons for easily sharing the landing page on social networks like Facebook, Twitter and Pinterest.
---
Halcyon Days – One Page Portfolio Template (Free)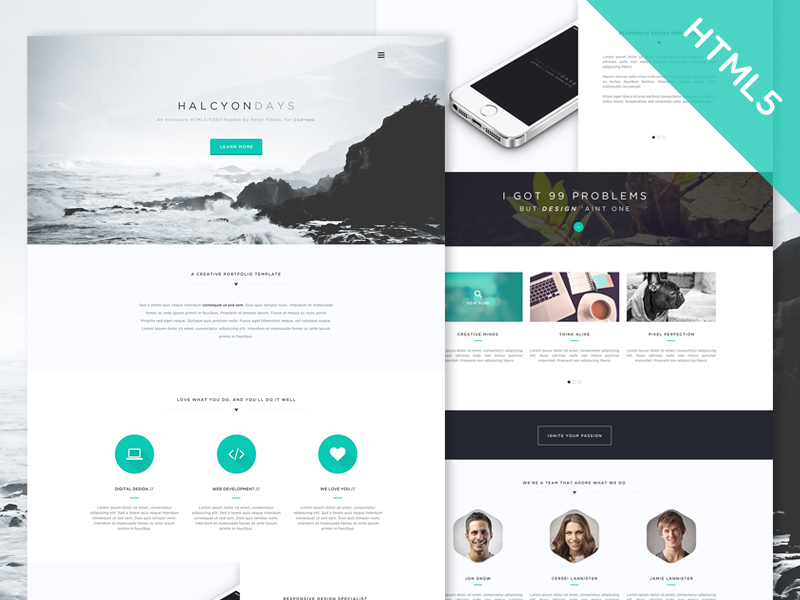 Halcyon Days is a modern and stylish HTML5/CSS3 template with a pixel-perfect design and smooth effects. It's especially fitting for a portfolio or start-up website, but it's also very versatile and can be used for many other projects.
The responsive template is made with the latest web technologies and it's build with Bootstrap, jQuery FlexSlider, Smooth Scroll, jQuery Waypoints and Animate.css.
---
Real Estate Responsive Landing Page Template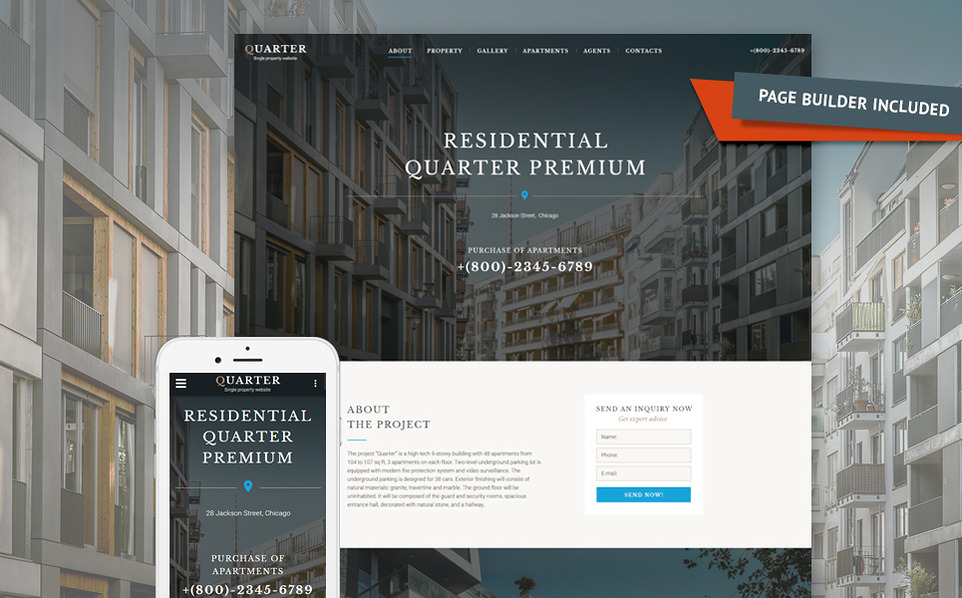 This simple and modern real estate landing page template will be a good choice promoting your real estate services. Create your perfect landing page using the integrated drag and drop builder, multiple navigation types and dozens of features and elements included into the template package.
---
Grayscale – Multipurpose one page template (Free)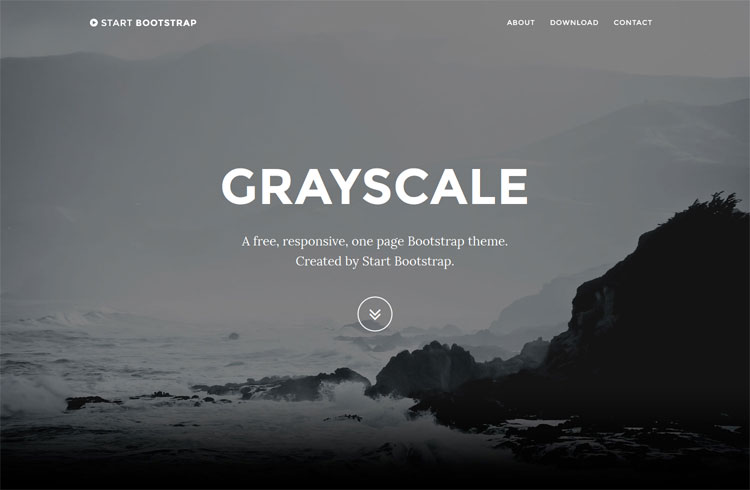 Grayscale is a multipurpose, one page website theme featuring a dark layout along with smooth scrolling page animations. It has fixed top navigation that collapses on scroll and uses scrollspy to highlights active page sections.
Google Maps API integration with a custom Google Maps skin is available with this template. Find it source code on GitHub at the download button below.
---
Element – Flexible One Page Template

Element is a multi-functional one page HTML template, suitable for company portfolio, showing your web or mobile app or simply a short brief. It's responsive and looks great on phones and tablets and most of all it's highly customizable.
There are 5 version of this templates included with the download: Default portfolio template, Mobile app template, Web app template, White label template and a Flat template.
---
Freelancer – One page portfolio template (Free)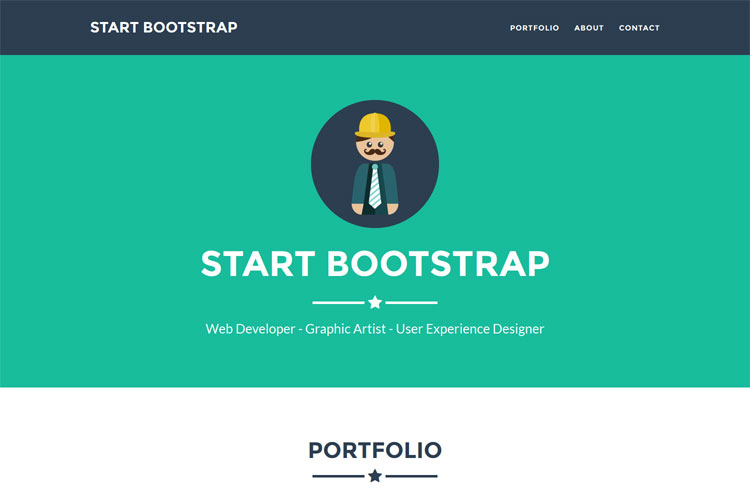 Freelancer is a one page Bootstrap portfolio theme for freelancers. This theme is built using the Flatly theme by Bootswatch. This template also features fixed top navigation that collapses on scroll and uses scrollspy to highlights active menu item. It has Mobile friendly contact form with floating form labels and easy to edit PHP file.
LESS files and compiled CSS are included with the template. Download the source code of this template from GItHub link provided below.
---
Forkio – Responsive Bootstrap website template (Free)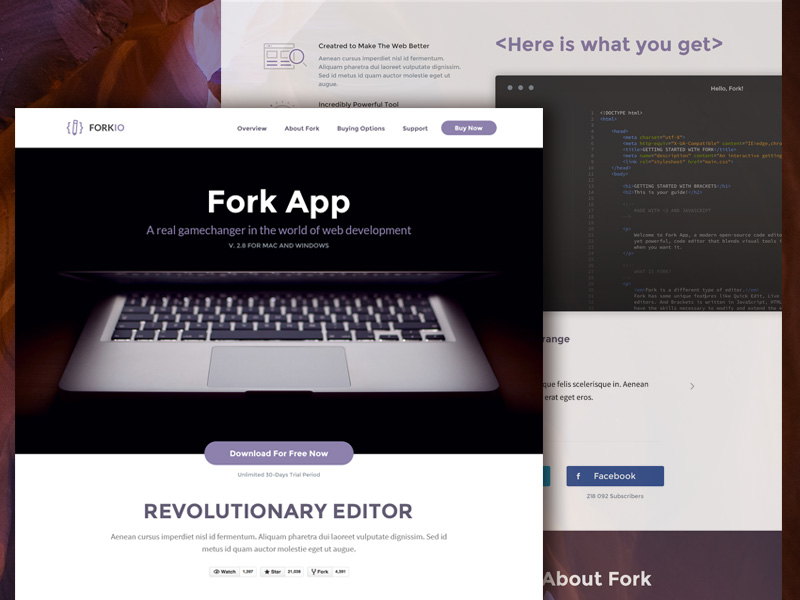 Forkio is a responsive Bootstrap website template made by the folks from Pixel Buddha and PSD2HTML. The elegant one-page design is perfect for web dev, apps or software related projects.
The responsive HTML one-page template is built with Bootstrap and comes with SCSS and PSD files. It works really well for app or start-up themes but can easily be adjusted for any kind of content. It's a great template to get started quickly with your project.
---
Unique – Parallax One Page Template

Unique is a parallax one page template with smooth animations. It is ideal for a personal or agency portfolio. With its full-screen photo slider, catchy contact form and clean overall layout, this would be a stand out way of telling your story.
---
Business Responsive One Page Template
This is a responsive one page template for business websites. It has google map integration, cross browser compatibility, detailed documentation, valid HTML5 code and includes PSD files.
---
Landing page template (Free)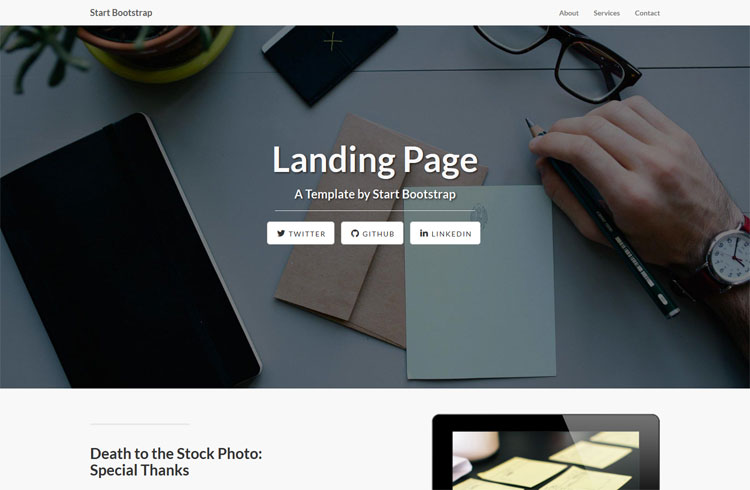 This is a simple, elegant, and beautifully responsive landing page theme for Bootstrap 3 websites. It has fixed top navigation menu and custom social buttons using Font Awesome icons. It features call to action button with a full page width background image.
This MIT licensed template is available on GitHub will full code as open source.
---
Sedna- Versatile one page website template (Free)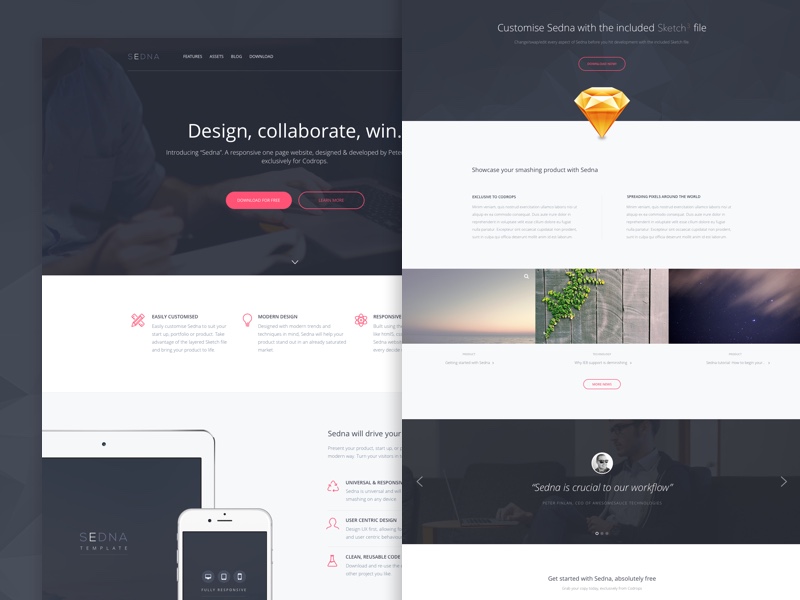 Sedna is a carefully crafted HTML5 one page website template that comes with some lovely, smooth effects. It's sophisticated design makes for a fitting template usable for many different scenarios. It's coded with user-friendliness and re-usability in mind, so that you can fine tune Sedna for your own project.
As a bonus, this template also includes Sketch file of the design that you can experiment with and use as a base for your design projects.
---
Boxify- Modern HTML5/CSS3 website template (Free)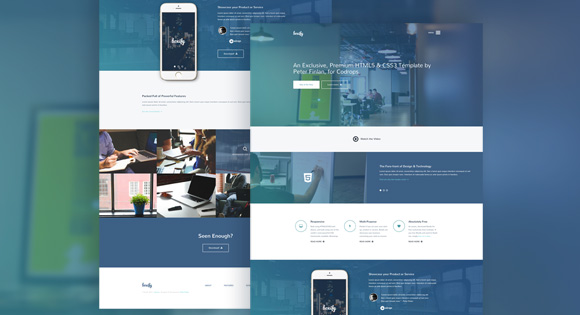 Boxify is a stylish HTML5/CSS3 template that was carefully crafted and enhanced with some smooth effects and animations. It's fitting for any type of portfolio or start-up website, but it's very flexible and can be used for many other projects.
The responsive template is made with the freshest web technologies and it's build with Bootstrap, Flickity, fancyBox, jQuery Waypoints, Animate.css.
---
Single Page App Landing Page Template (Free)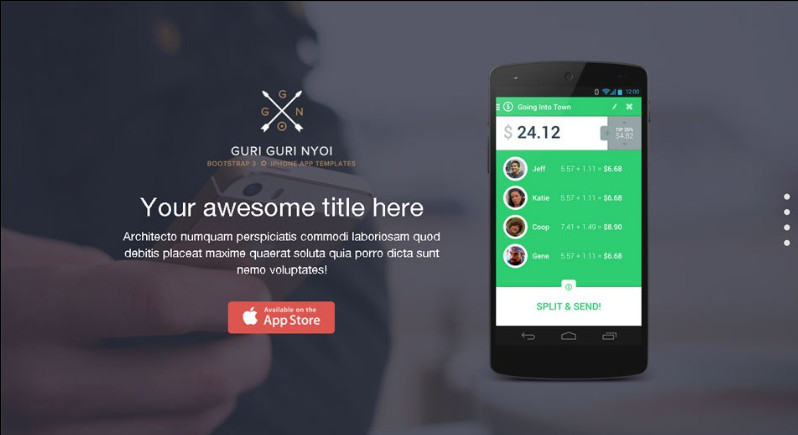 This is a free bootstrap 3 single page template for showcasing your new awesome iPhone Apps. The template from CSS author has simple design, minimalist look, easy to customize design and includes Sign Up and Sign In page. Responsive design looks great on mobile, tablets, large desktops. HTML is validated with HTML 5 validator.
---
Landing Zero (Free)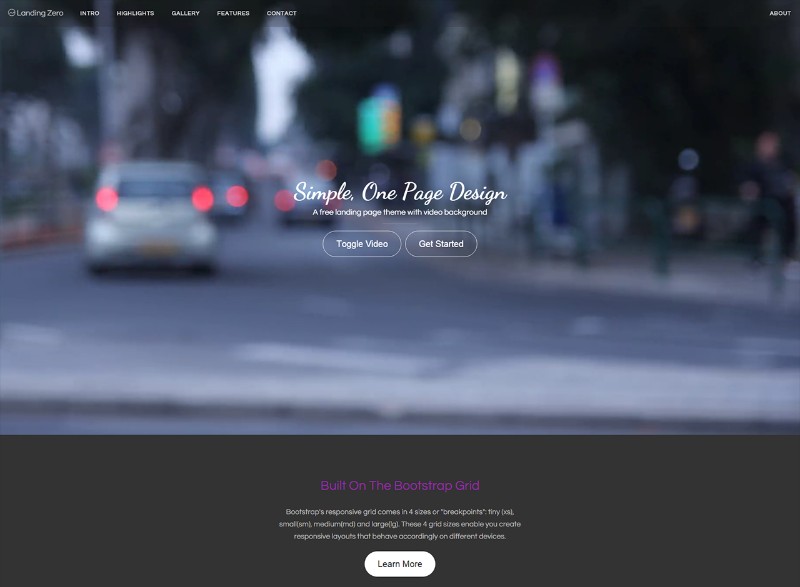 Landing Zero is a Bootstrap landing page theme with a full-screen video background. This single-page Bootstrap template has a sleek dark/grey color scheme, accent color and smooth scrolling.
There are vertical content sections with subtle animations that are activated when scrolled into view. Also included is a gallery with modals that work nicely to showcase your work portfolio. Other features include a contact form, email subscribe form, multi-column footer.
---
ENDLESS – One Page Template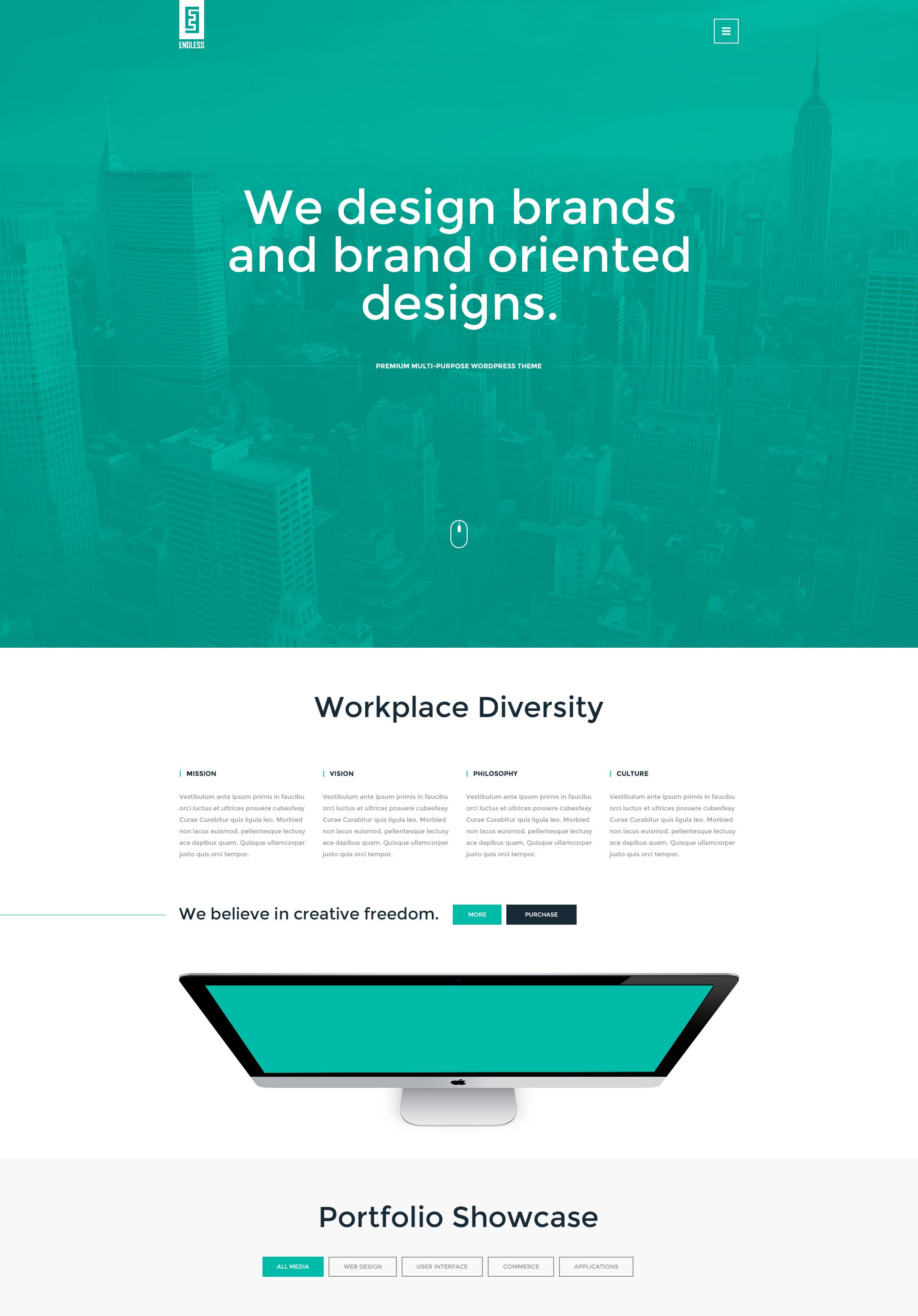 ENDLESS is a one page template designed for small and medium size businesses and is best for companies which are thinking of reaching their customers using Out of the Box design approach. The template is loaded with pre-defined layouts representing different business categories such as Hospital & Medicals, Fitness & Gym, Food & Chef, Construction & Real-estate, Non-profit & Law Firm, Fashion & Style and Entertainment & Dance.
The layout is based on Bootstrap 3 Grid and it contains retina ready graphics. Organized PSD files are included with the download.
---
One Page Material Design Template (Free)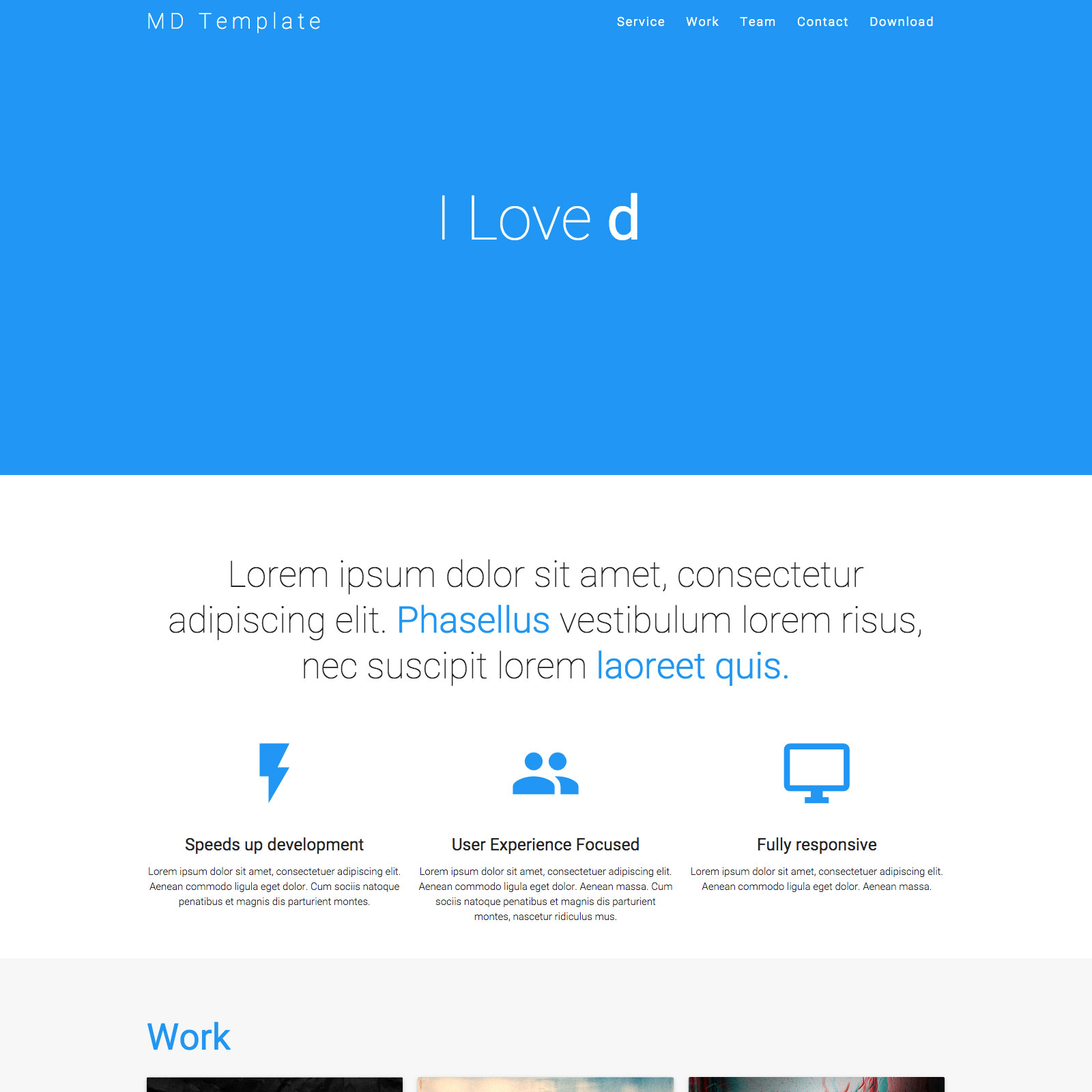 Material Design One page template is fully responsive and free to use. This HTML template is based on Materialize, a material design CSS Framework. The template includes styles for several sections including work, team, and a nice big header.
The source code for this template is available on GitHub and is available under WTFPL license. Find the link to GitHub page on Download button below.
---
RedMarket (Free)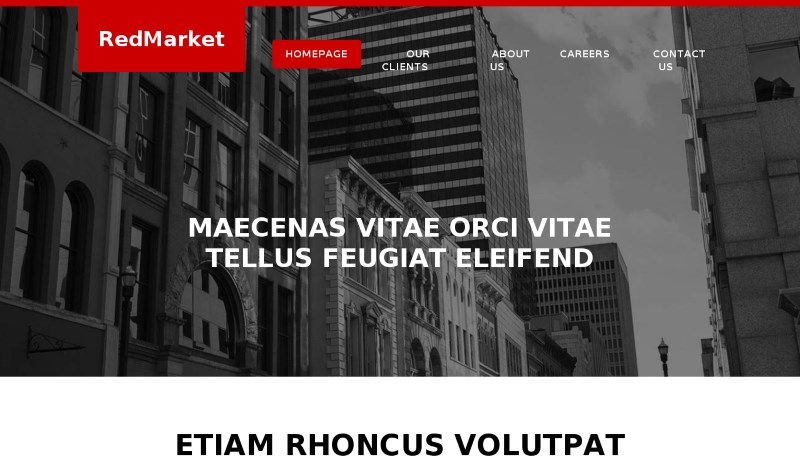 RedMarket is a free, fully standards-compliant CSS template designed by Templated. The photos in this template are from Fotogrph. This free template is released under the Creative Commons Attribution license, so you're pretty much free to do whatever you want with it (even use it commercially) provided you give them credit for it.
---
Strata (Free)
Strata by Templated is a beautiful, clean minimal one page template with a large left "Medium" style image sidebar. The sidebar contains a heading and social links. The sidebar is fixed, but has a subtle parallax effect as the user scrolls. The page content is an intro section, image grid with lightbox and contact form.
This free template is released under the Creative Commons Attribution license.
---
Marco – One Page Theme (Free)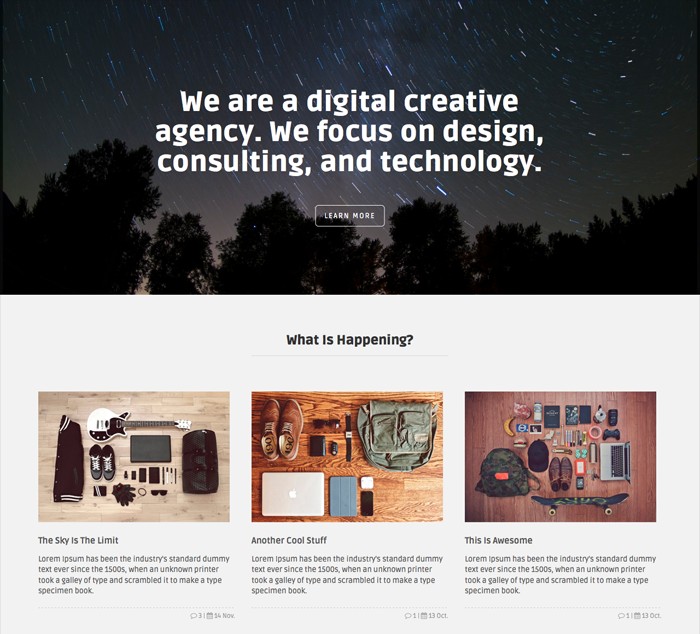 Marco is a stylish one-page Bootstrap theme that is ideal for freelancers or design agencies wanting to show their work. Uses FontAwesome 4.0.3 & Animation.css. It is a high-contrast dark and light theme with alternating vertically sections.
---
Transit – One Page Design (Free)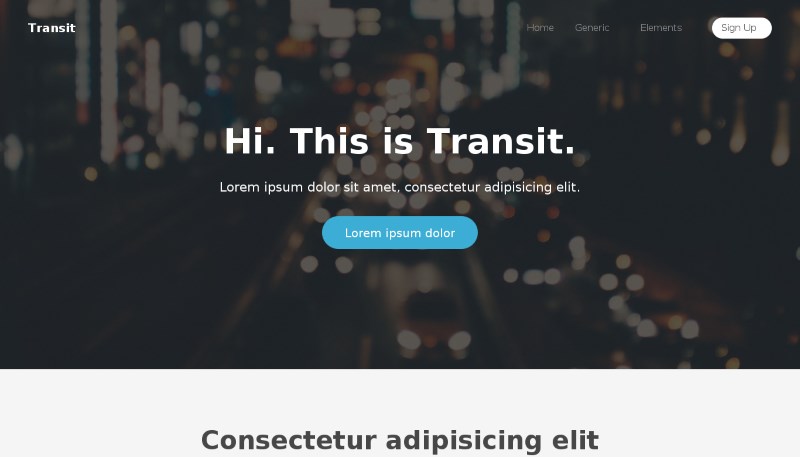 Transit is simple, one-page responsive template with a neutral color-palette and a clean style. It features a full screen background image header, with floating navbar and centered jumbotro.
There is a simple card style row to highlight featured, and user quotes placeholder so it works great as landing or app launch page. It has a large multi-column footer, contact form, social icons and responsive menu that collapse to a hamburger icon on smaller devices like tablets and smartphones.
---
Business Responsive Landing Page Template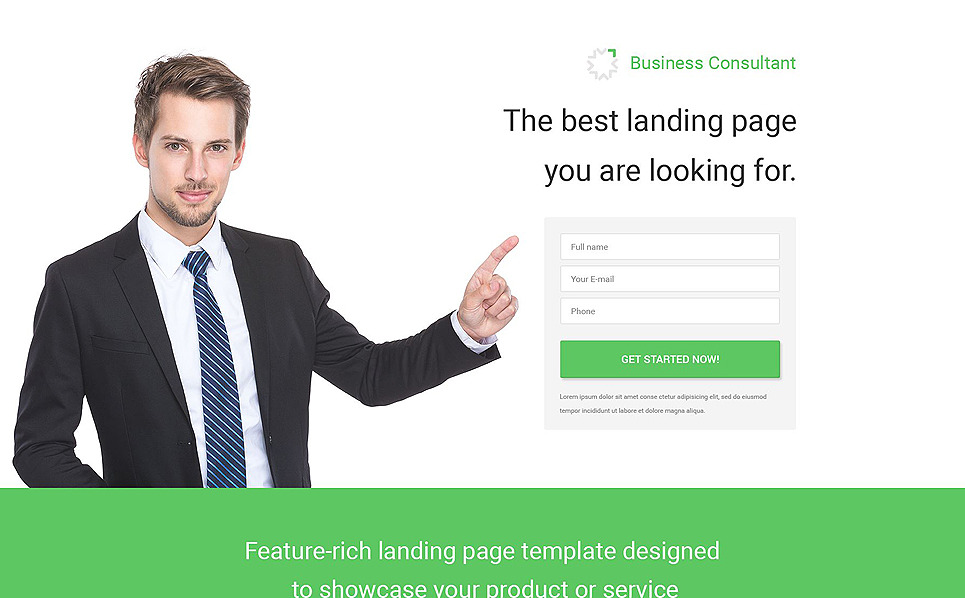 This business responsive landing page template is ideal for creating rich landing page websites designed to showcase your product or service.
With 100% responsive design, this clean template includes contact form, subtle animations, testimonial section, pricing table, frequently asked questions (FAQ) section, subscribe by email form, embedded Video and much more.
---
Just One Page Template (Free)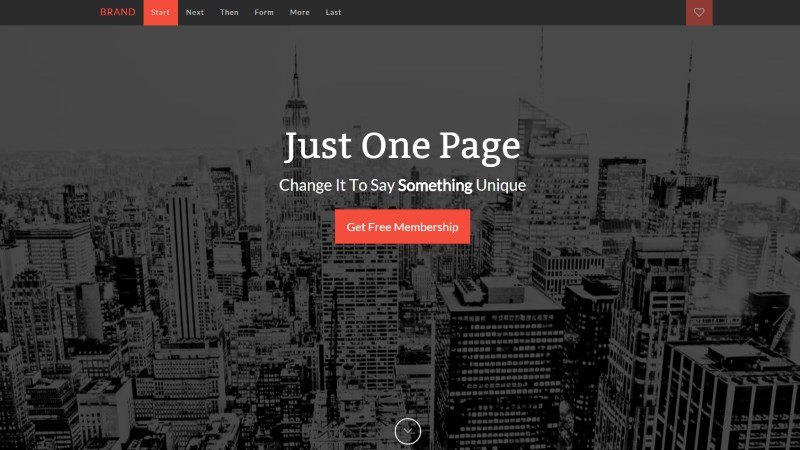 Just one page is a modern, responsive one-page template with top navbar and full height, vertically centered sections. Google fonts Lato and Bitter are used in this one page template design. This template has subtle animations, a contact form, multi-column footer and login modal.
Source Code is available on CodePly, you can find the link below.
---
DEVAID – Free Bootstrap One Page Template for Developers (Free)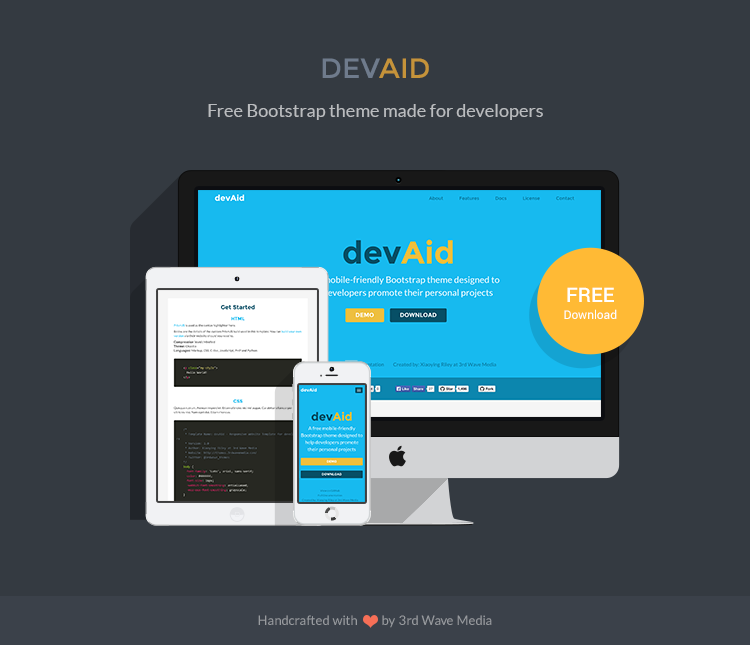 devAid is a free Bootstrap one page template designed to help developers promote their personal projects. It comes with 4 colour schemes. The source LESS files are included so you can easily make styling customization.
---
MonsterBundle Landing Page Template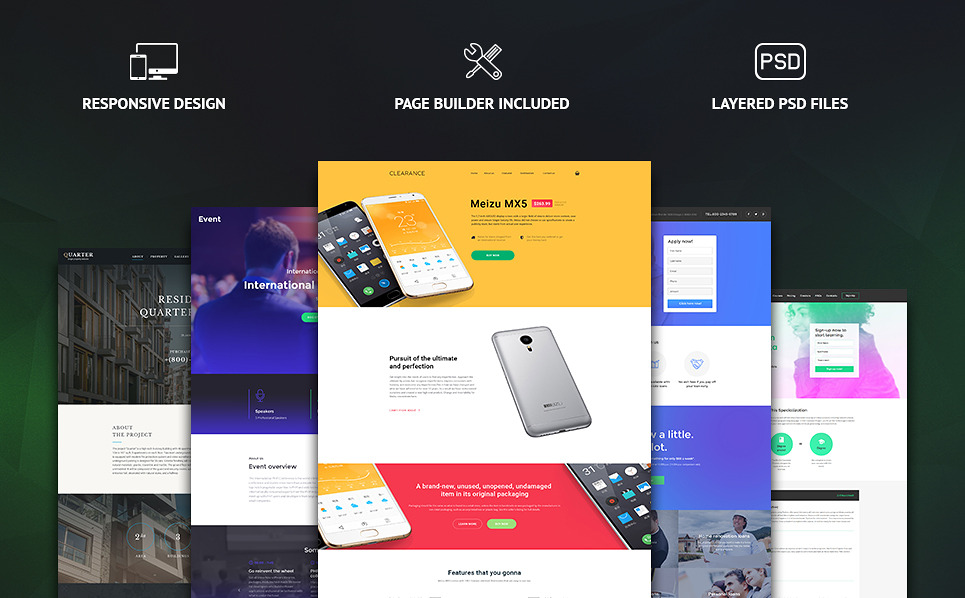 MonsterBundle is a complete landing page solution that comes with 5 pre-designed pages for various purposes which includes single product landing page, mortgage and loan, event planner, single property and landing page for online course.
This fully-featured landing page template includes drag and drop page builder with tons of ready-made content blocks, multiple navigation types and customization tools . It helps you create desired landing page on your own within just a few minutes with minimum efforts.
Each template page is fully responsive and easily adapts to any screen resolution. You get truly flexible theme covered by 24/7 friendly and effective support.
---
How do you like our collection of these free and premium one page website templates? We have attempted to highlight some of the best designed one page templates in our collection. Do let us know if you want us to include any other one page template in our list. Before you go make sure to check out some great mobile friendly HTML templates, Bootstrap admin templates and Material design HTML templates on our site.