It's evident that the importance of responsive web design has increased tremendously. If you are a Web Designer or Web Developer looking forward to build responsive websites for your clients and for yourself then look no further. We have compiled some of the very useful tools for building a responsive website.
A responsive websites adapts to every screen size and our collection of these web design tools will not only help you build such sites but also test them. We have included tools which cover almost every aspect of responsive design site such as responsive text, responsive images, responsive videos, responsive sliders, responsive menus and much more.
Free Responsive Web Design Tools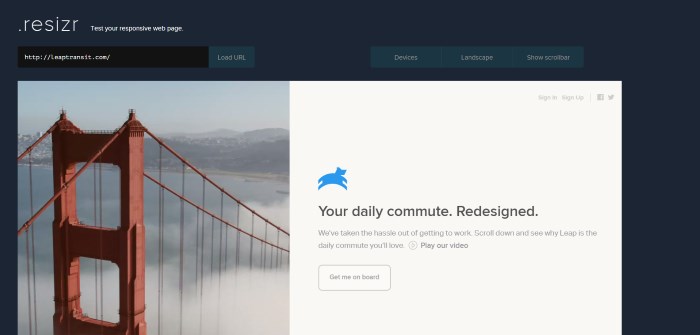 Resizr is for testing the responsive nature of your projects. There are hundreds of different tablet and smart phone screen sizes available these days and unless you work in a large studio you are unlikely to have many of these to hand.
This app emulates the different screen sizes showing you how your site will appear across many of the most popular devices.
---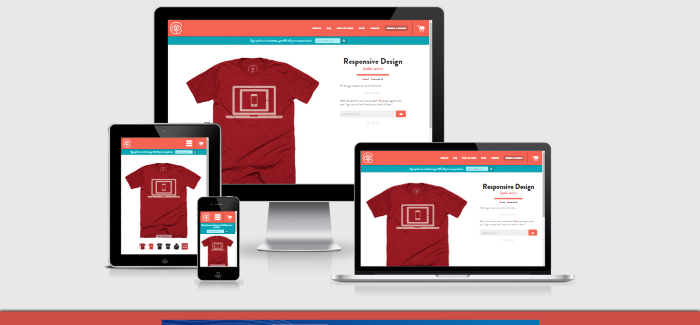 Show off how responsive design looks across different browsers easily with this 4 in 1 viewport tool. See how your site looks on desktop, laptop, ipad & iphone. This is not a tool for testing, it is really important that you do that on real devices. This instead is a tool for quick screenshots and to visually allow people to "get" what you mean in client meetings.
---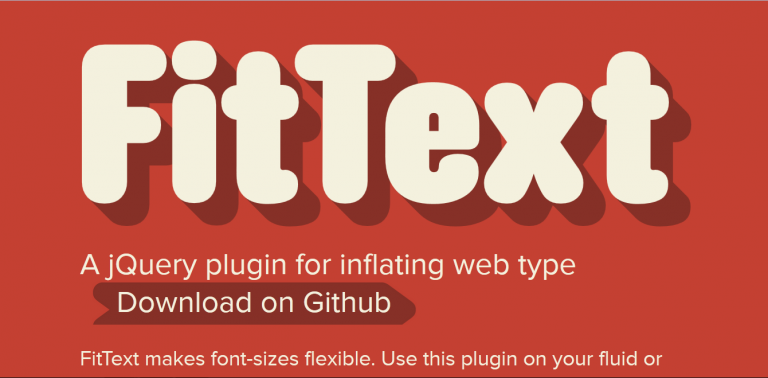 FitText is a jQuery plugin for inflating web type. It makes font-sizes flexible. Use this plugin on your fluid or responsive layout to achieve scalable headlines that fill the width of a parent element.
---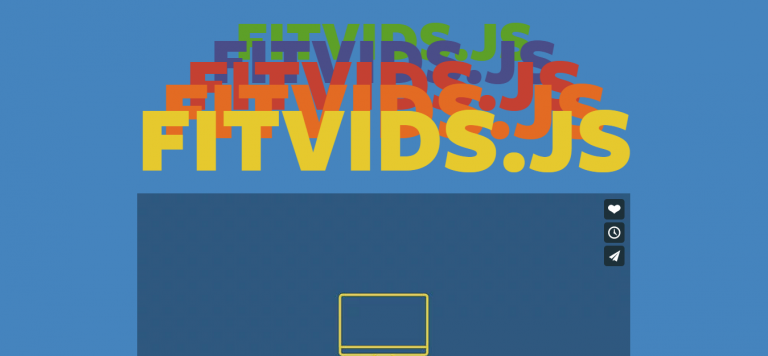 FitVid.js is a lightweight, easy-to-use jQuery plugin for fluid width video embeds. FitVids automates the Intrinsic Ratio Method by Thierry Koblentz to achieve fluid width videos in your responsive web design.
---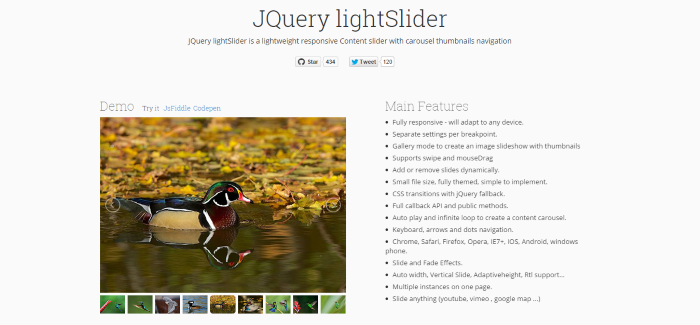 JQuery lightSlider is a lightweight responsive Content slider with carousel thumbnails navigation. It supports swipe and mouseDrag and can be used to slide anything: images, youtube, vimeo , google maps, etc.
---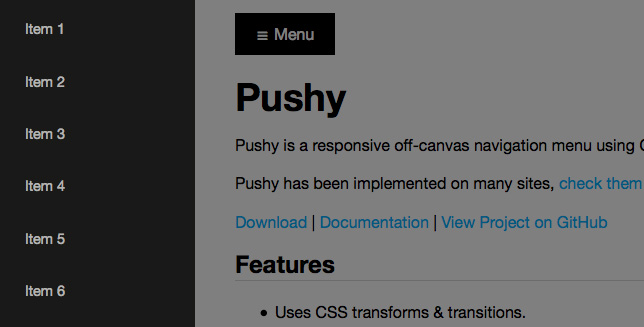 Pushy is a responsive off-canvas navigation menu using CSS transforms & transitions. This project was inspired by the off-canvas navigation menu seen on Medium.
---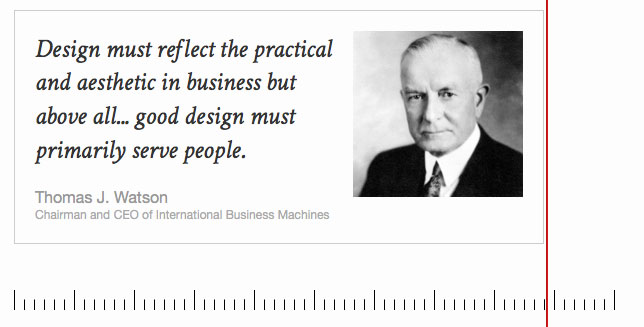 Responsive elements makes it possible for any element to adapt and respond to the area they occupy. It's a tiny javascript library that you can drop into your projects today.
---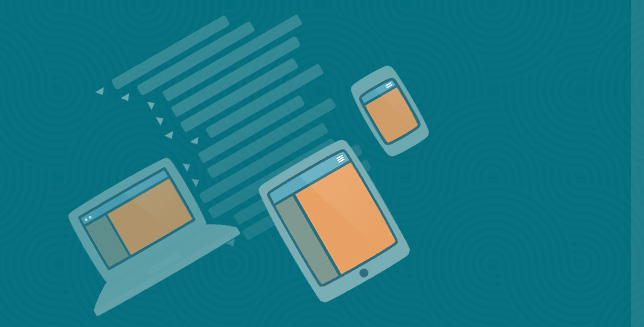 Mobify.js is a library for improving responsive sites by providing responsive images, JS/CSS optimization, Adaptive Templating and more. Mobify.js also provides a Capturing API for manipulating the DOM before any resources have loaded, giving developers the ability to enable the listed features above without changing any backend markup.
---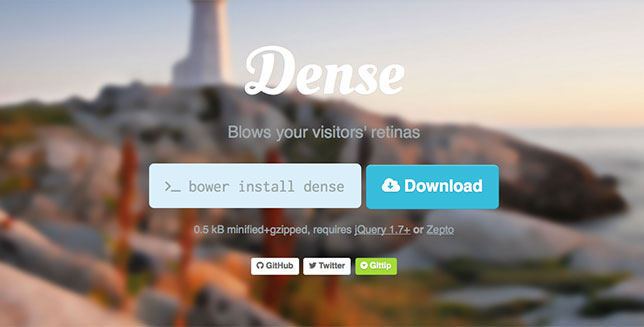 Dense is a jQuery plugin that offers an easy way to serve device pixel ratio aware images, bringing in retina support to your website. Clear the blurry, images be crisp.
---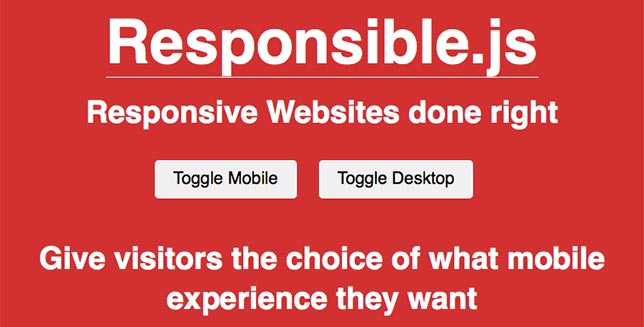 Responsible.js gives visitors the choice of what mobile experience they want. Adds Toggle for mobile to desktop switching without page reloads.
---
Suggest Responsive Web Design Tools
Know of great free responsive web design tools that we may have missed? Why not leave a comment about them and how it makes your life as a web designer easier. We also have great collection of free responsive WordPress themes and Tumblr themes, so do check them out too.