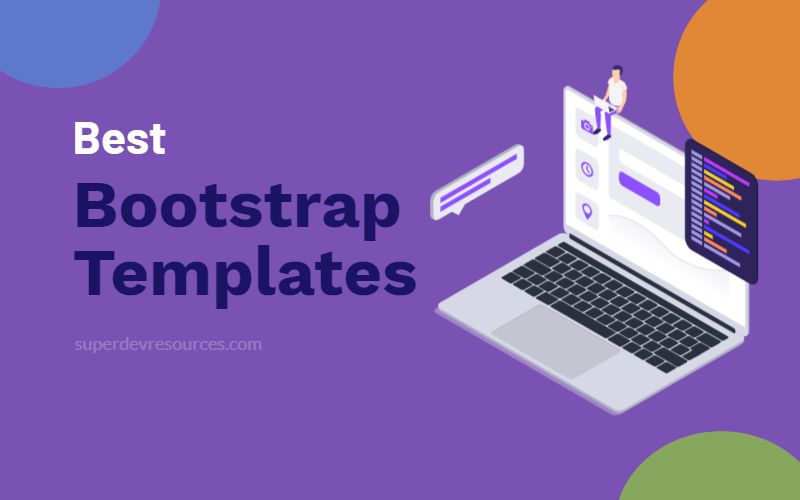 Bootstrap is one of the most popular responsive web design frameworks. Bootstrap enables front-end developers to get started quickly with building responsive websites due to its standard patterns, tools, components and customization. With the latest release of Bootstrap 5, we see many new features over Bootstrap 4 that makes it an easy choice for professional developers and enterprise who care for customization, accessibility and support for RTL.
Find here a collection of some of the most popular Bootstrap Templates that are available for free download. These templates are high-quality and allow you to convert them into a real website with ease. We have also included a few premium top selling Bootstrap HTML templates and official Bootstrap themes at the end to give you additional options.
If you build a website with the default Bootstrap theme or template then the chances of your website looking like another bootstrap website are pretty high. In order to stand out from the crowd, while still utilizing the power of Bootstrap framework, you can start from one of the great looking and free Bootstrap templates listed below. There are also many Bootstrap UI Kits also available for you. Also, you can check these free Bootstrap WordPress themes if you are a WordPress user.
Free Bootstrap Templates
Find below our collection of some of the best templates built with Bootstrap 4 as well as Bootstrap 5, that are available for free download.
1. Free Coming Soon Bootstrap Template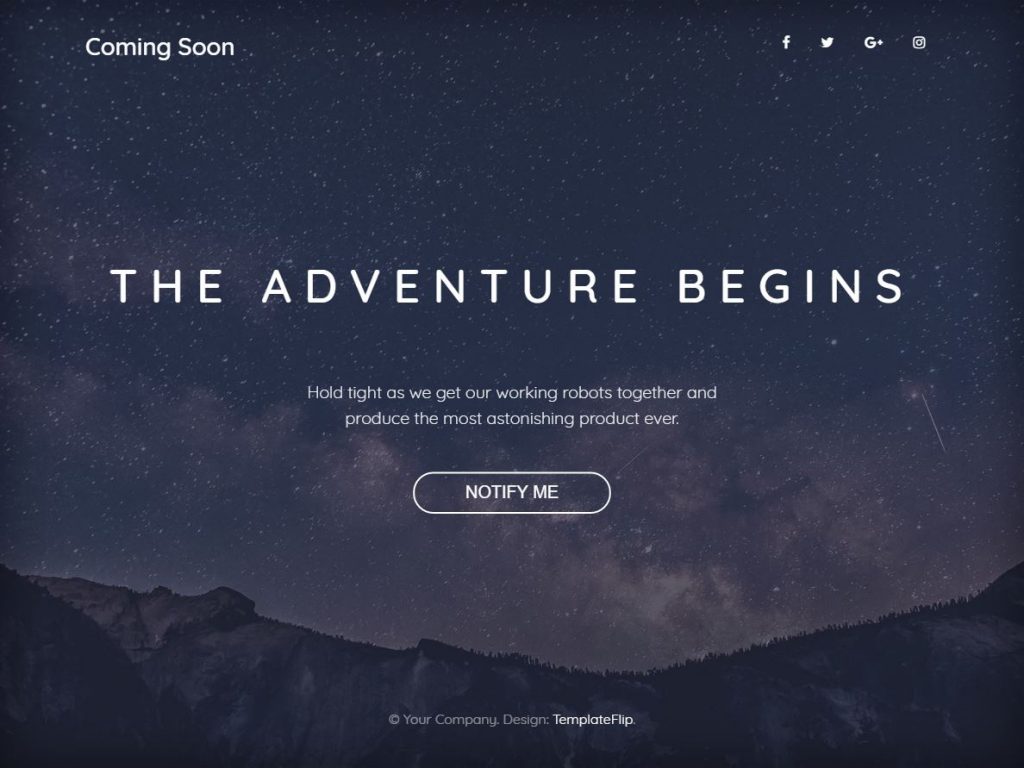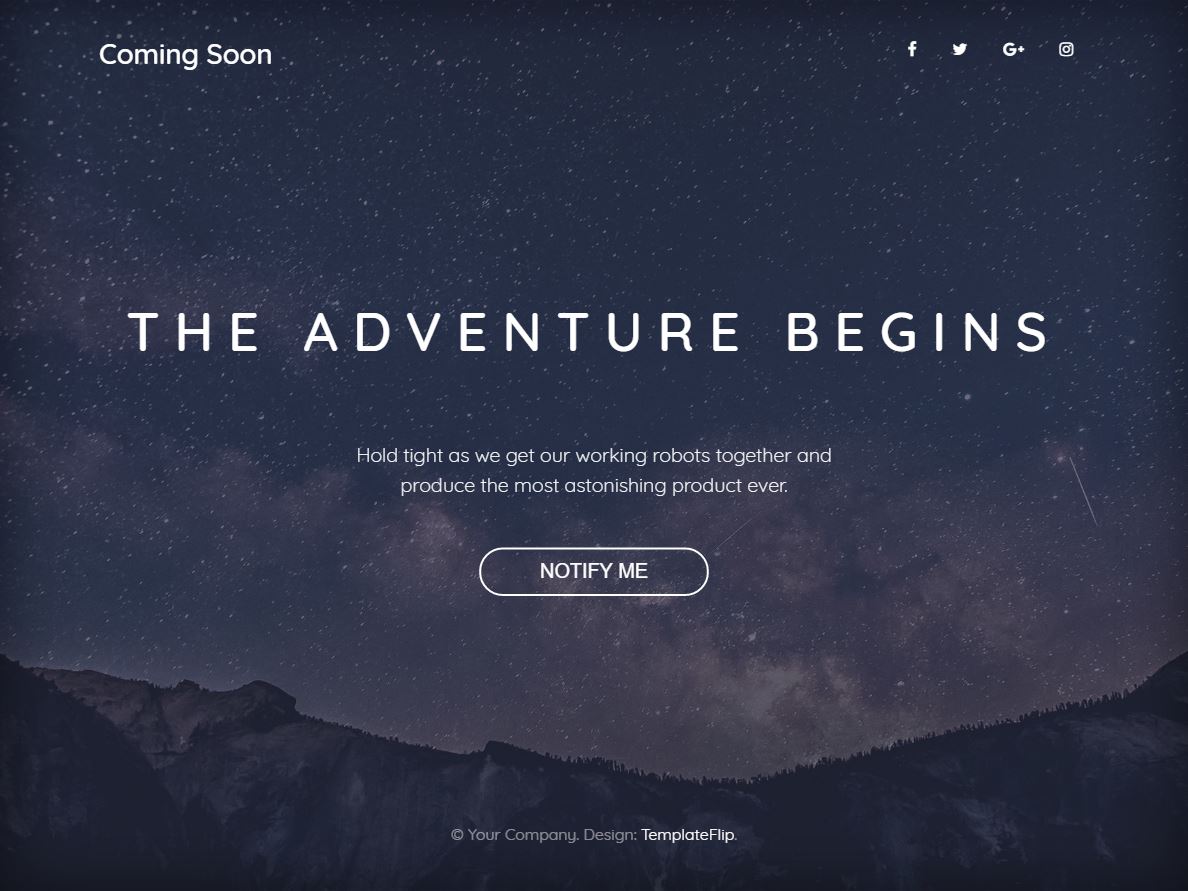 This Bootstrap 4 based coming soon template has been built by TemplateFlip. It features a full page background image along with modern typography, and Font Awesome social icons. An e-mail subscription modal dialog is included in the template which gets displayed upon clicking the "Notify Me" call-to-action button. The template is completely free under CCA3 license and can be used for personal as well as commercial projects.
Also See: Best Coming Soon HTML Templates
2. Free Material Landing Bootstrap Template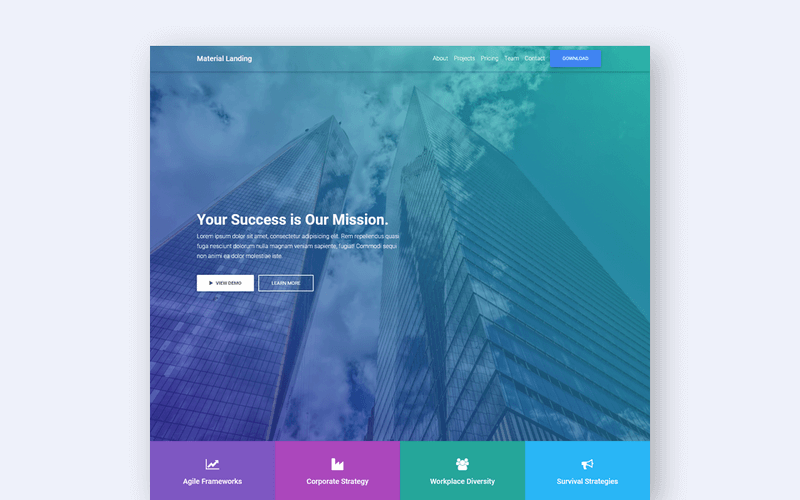 Material Landing is a free material design landing page template built with the MDB UI Kit and Bootstrap 4 framework. It has a clean material look which is ideal for creating conversion optimized landing page for a product or website of an agency or a company. Built by TemplateFlip, the template has sections designed in material design for displaying product/company's features, best projects, pricing plan as well as team members. Eye-catching animations are played upon scrolling the landing page.
Also See: Material Design HTML5 Templates
3. Free App Landing Bootstrap Website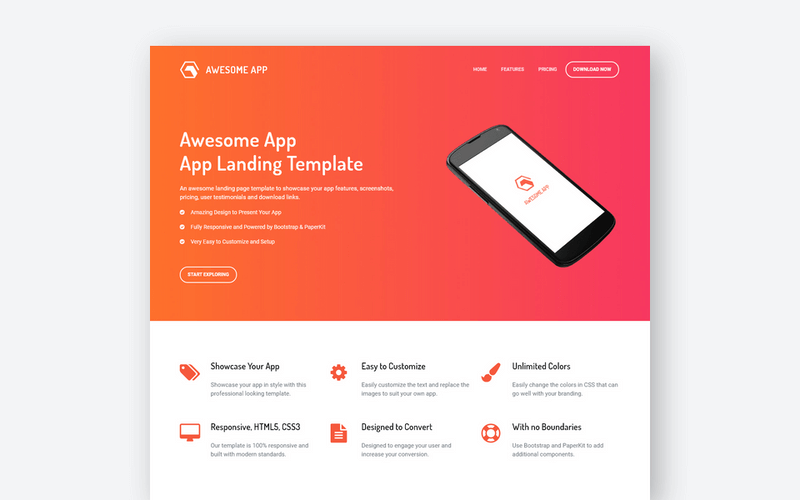 Awesome app is a free one page website template built with Bootstrap 4 and PaperKit 2. It is suitable for creating websites and landing pages of smartphone apps as well as software or products. This template has been developed by TemplateFlip.com and it features a creatively designed landing page in gorgeous gradient color scheme. The template has are sections for showcasing app features, app screenshots, user testimonial, app download links etc. and is easily customizable and extendable.
Also See: App Landing Page Templates
4. Gaia Bootstrap Template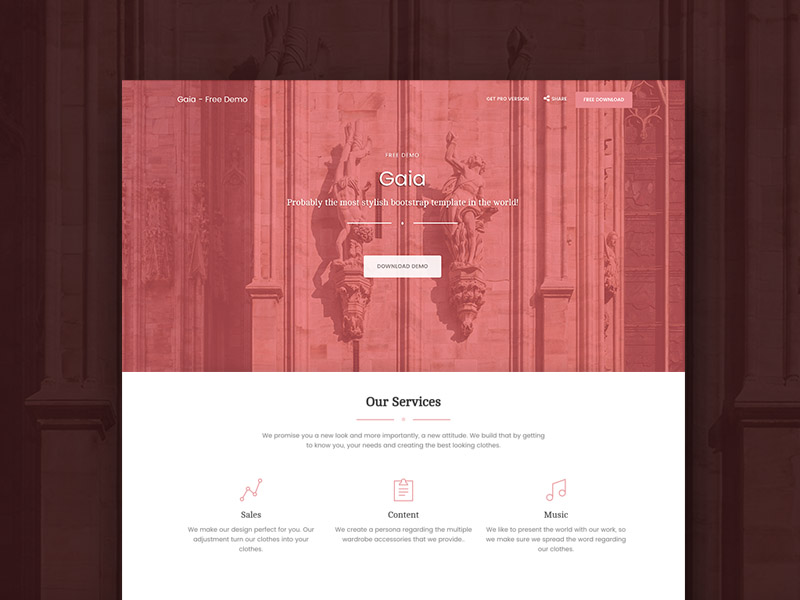 Gaia is a multi-page Bootstrap template built for professional websites and blogs. It offers clean and modern design along with custom built components and example pages. You can download the basic version of the template for free which is MIT licensed. Another option is to upgrade to the Pro Version which offers additional components, plugins, and example pages.
5. Free Digital Agency Bootstrap Template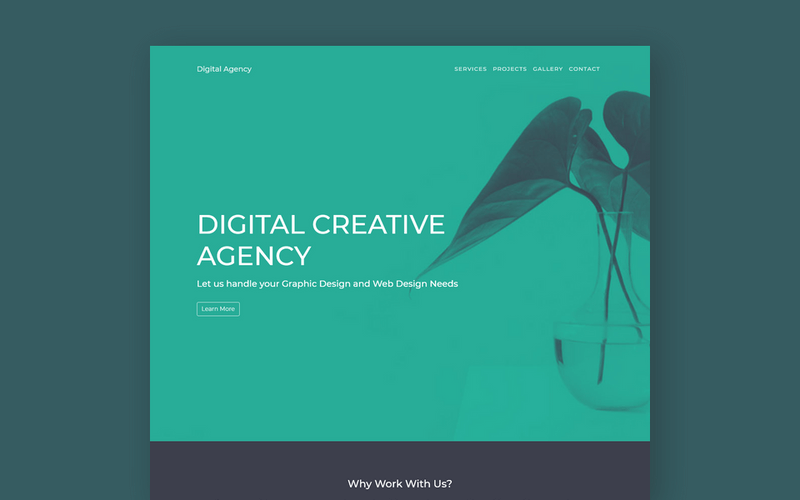 Digital Agency is a free Bootstrap 4 template for creating websites and landing pages for digital agencies, marketing agencies, design agencies or for any other product and services. This fully responsive website template is easily customizable and has eye catching animations that get played on user scroll.
6. Free Creative Agency Bootstrap Template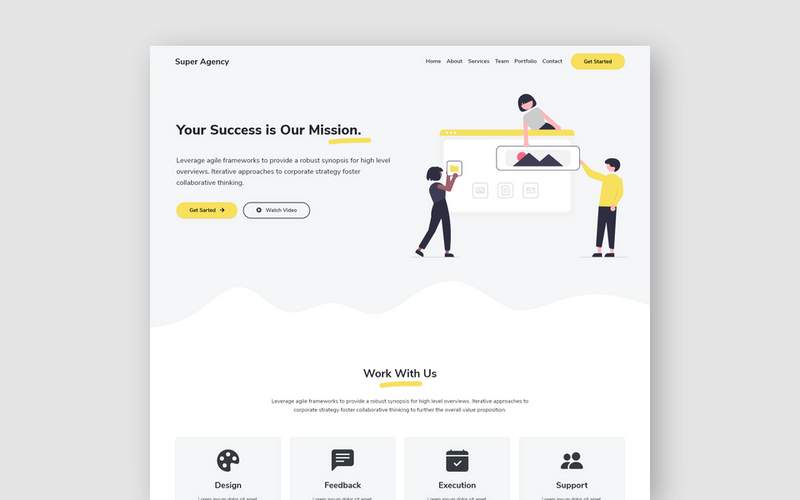 Built with Bootstrap 5, this is a agency website template suitable with vibrant color scheme, SVG illustrations and sleek on-scroll animations. The template features working contact form using a no-code service. There any many sections included in the template such as work, services, team, portfolio, client testimonials and more.
Also See: Creative Digital Agency Website Templates
7. Awesome Landing Page Bootstrap Template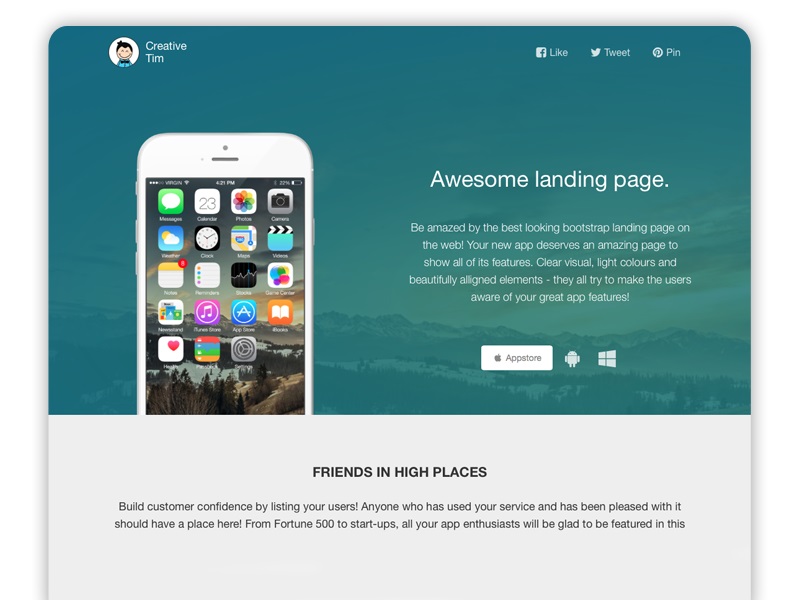 This is a free landing page template built with Bootstrap by the designers at Creative Tim. It comes with 5 beautiful and bright colors and offers clear, light and simple design. This Bootstrap template can be used for showcasing an app or a product. The template is MIT licensed and completely free to download.
8. Free Startup & Small Business Bootstrap Template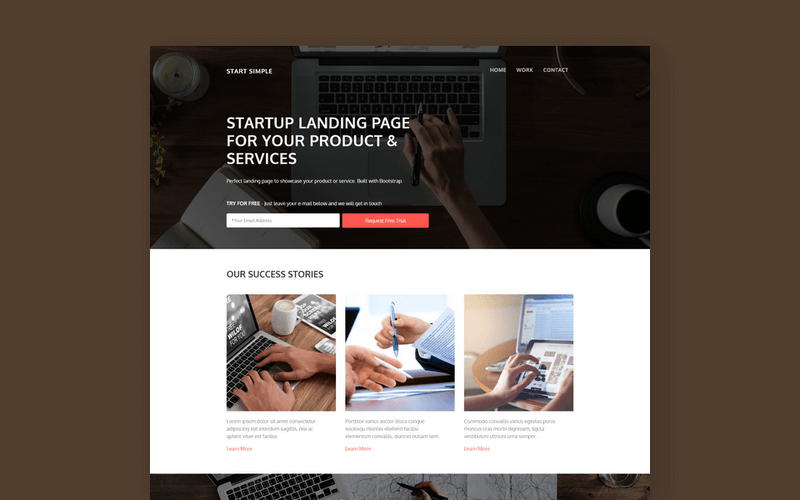 Start Simple is a another free landing page templates for startups and small business built by TemplateFlip. The template is based on Bootstrap 4 and features parallax scrolling in header and responsive animated slider for user testimonial section.
Also See: Best Business Bootstrap Templates
9. Free Material Design App Landing Template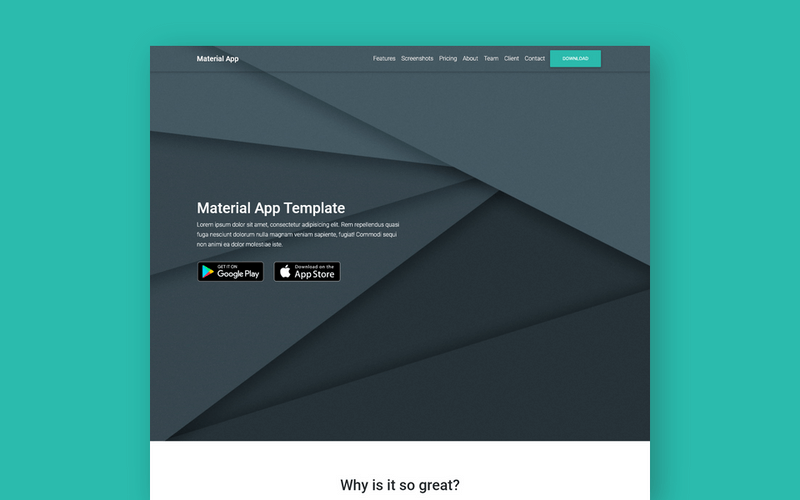 Material App is a free app landing page template built with material design using the MDB UI Kit and Bootstrap framework. It has a clean material look which is ideal for creating conversion optimized landing page for an app, software or a service.
10. Free Photography Bootstrap Template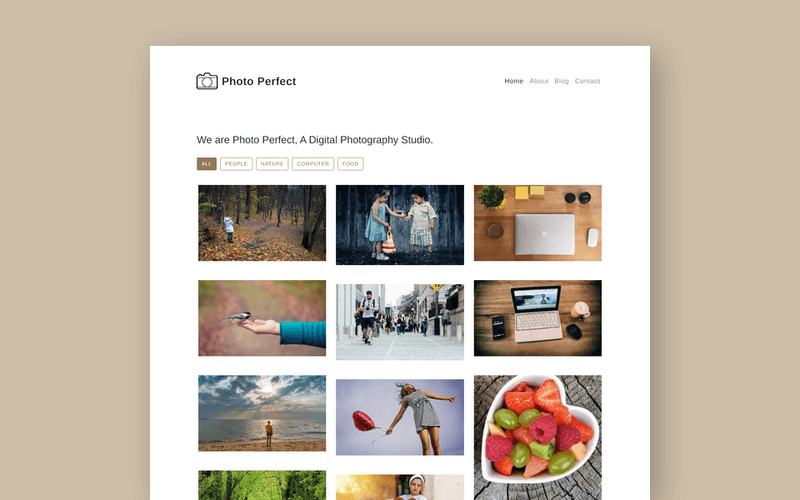 Photo Perfect is a website template suitable for photography agency or studios. It features a minimal design with a photo gallery on homepage. It also has templates for blog, about and contact pages. This template is built with Bootstrap 4 by TemplateFlip.
11. Free Bootstrap Resume Template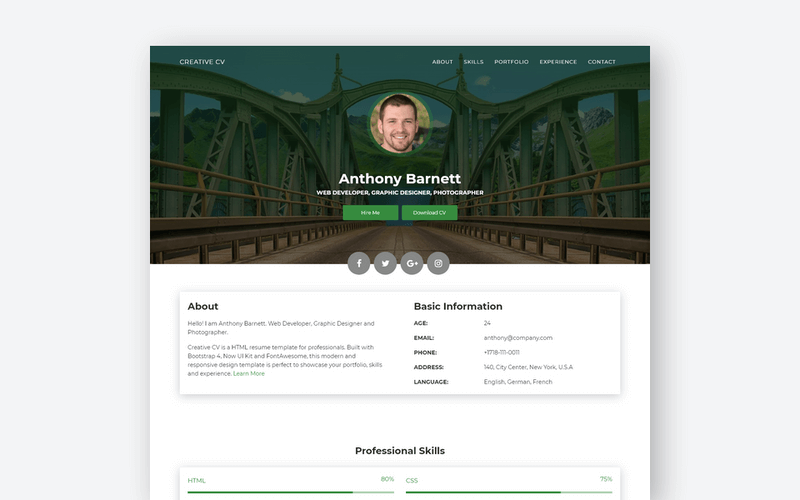 Creative CV is a professional design resume/CV HTML template built with Bootstrap 4 and Now UI Kit. This modern and responsive design template is perfect to showcase your portfolio, skills and experience. It is also easy to edit, customize and extend as per your needs.
Also See: Best Resume Website Templates
12. Material Design Resume Template (Bootstrap)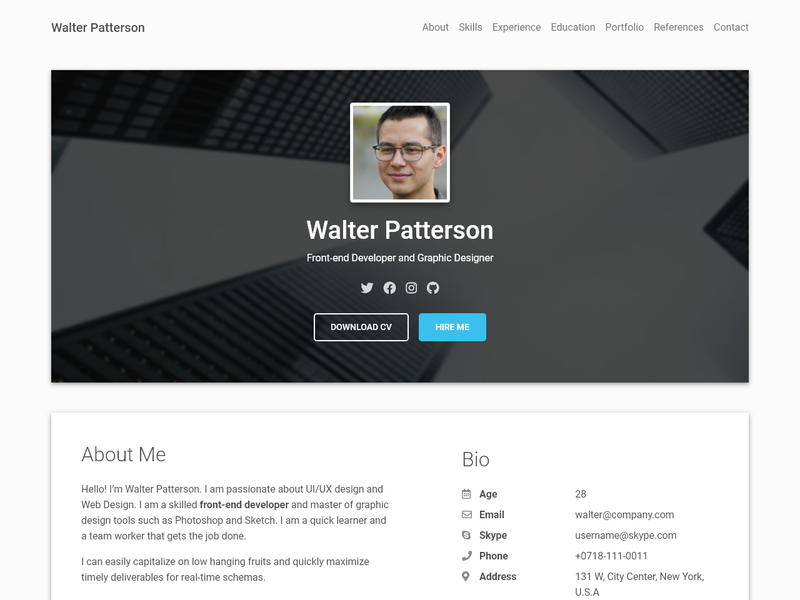 This is our pick from professional material design resume templates that has all the section you need when creating your online portfolio or CV. It is a responsive design resume website template that has been built with MDB UI Kit. This template has clean material look with subtle animations and shadows. It has sections for your skills, experience, projects, reference and contact. You can also export this HTML template as PDF or take physical copy print simply using your web browser.
Also See: Material Design Resume Template
13. Free Bootstrap Portfolio Template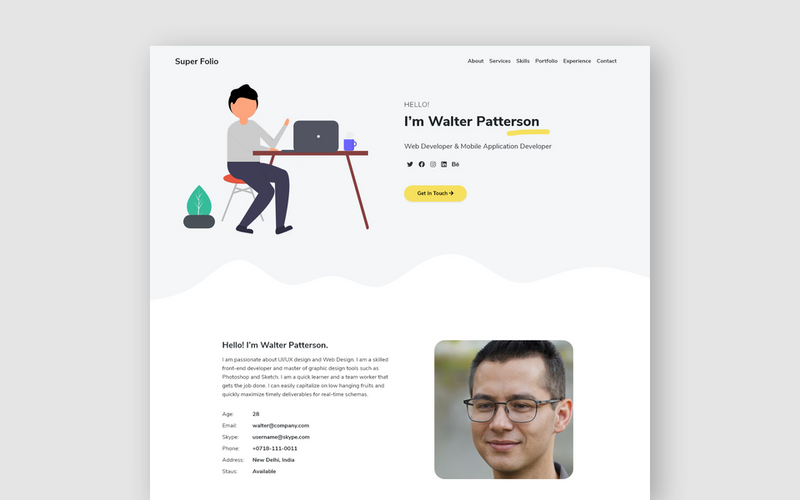 Super Folio is a free portfolio template built with Bootstrap 5. It offers bright and modern color scheme as well as typography. You get multiple sections to showcase your Bio, services, portfolio projects and client testimonial. Contact form and social icons are also provided with this website template. It is fully responsive and has in-built on-scroll animations.
14. Free Bootstrap Resume Template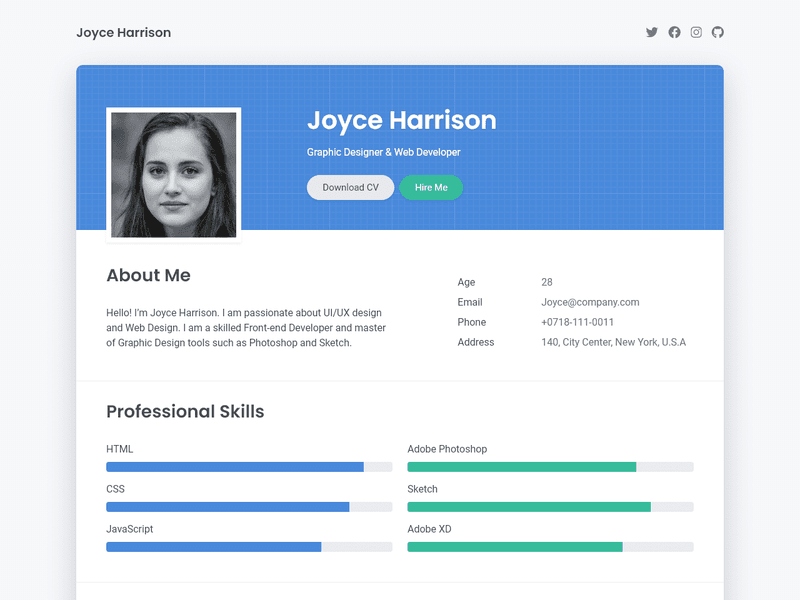 Right Resume is sleek and elegantly designed responsive and free resume website template. It has been built by TemplateFlip with Bootstrap 5. This template allows you showcase your skills, work experience as well as education. It has subtle animations as well as timeline view to display your profile. You can easily edit the template as per your needs. What's more, you also get a print stylesheet included in the template that allows you to take PDF or physical prints using your web browser.
15. Free Wedding Website Template (Bootstrap)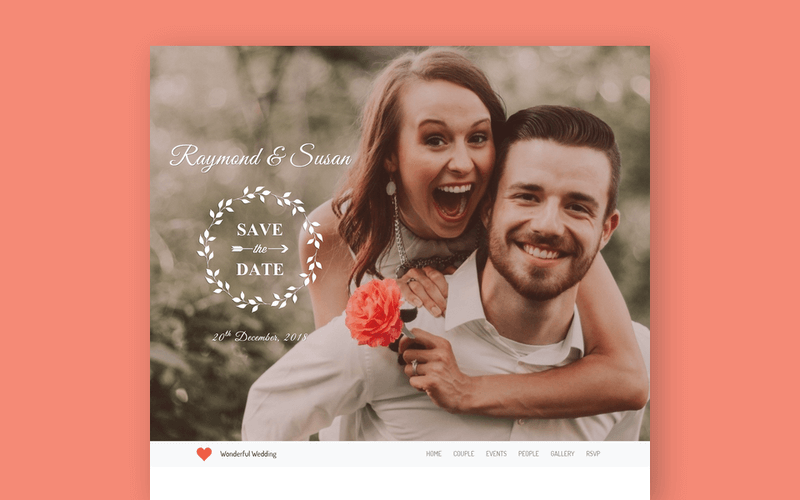 Wonderful Wedding is an elegantly designed wedding website template based on Bootstrap 4 framework. This wedding template is fully responsive. You can easily edit and customize the template in order to add your own photos, dates and event details.
Also See: Best Wedding Website Templates
16. Landing Zero Bootstrap Template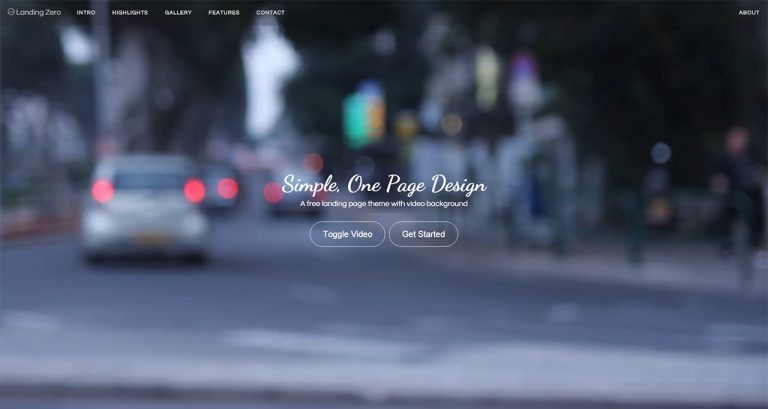 This single-page Bootstrap template comes with a full-screen video background, has a sleek dark/gray color scheme, accent color, and smooth scrolling. There are vertical content sections with subtle animations that are activated when scrolled into view. Also included is a gallery with modals that work nicely to showcase your work portfolio. Other features include a contact form, email subscribe form, multi-column footer.
17. Free Bootstrap Medical Template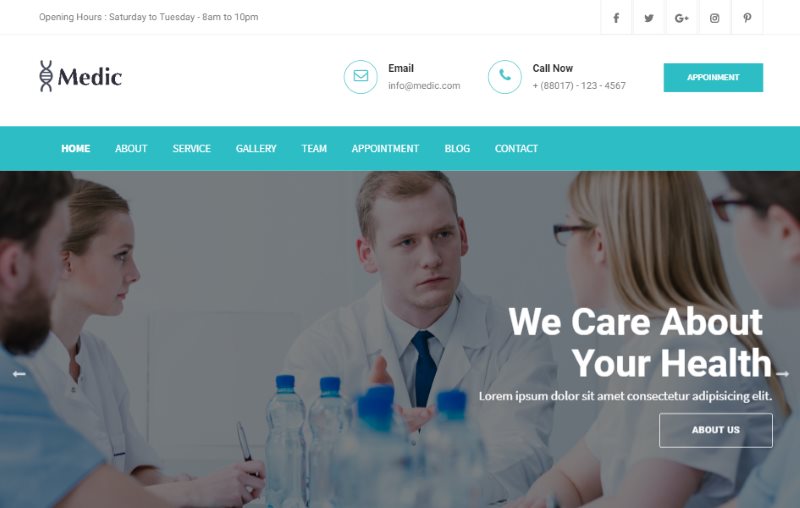 The Medic template can be used for any health clinic, dentist, private doctor, or surgeon website. The design is clean and fresh, and the layout is completely responsive. It implements multiple elements and sections, there are eight pre-made pages in total.
18. Free Cryptocurrency Bootstrap Template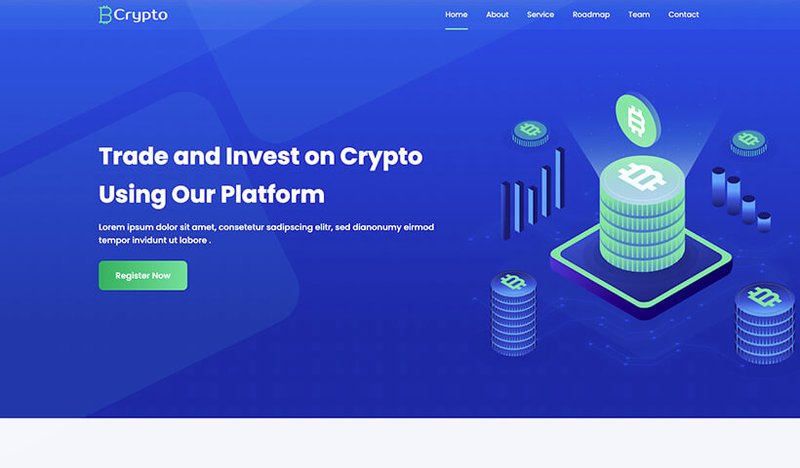 Crypto is a free Bootstrap 5 based web template for cryptocurrency and blockchain related websites. This fully responsive design template has been designed for crypto startup and business doing initial icon offering (ICO). If you want a website template to represent your blockchain business then you will find all essential elements and features to do so.
Also See: Best Cryptocurrency Website Templates
19. Free Bootstrap Material Admin Template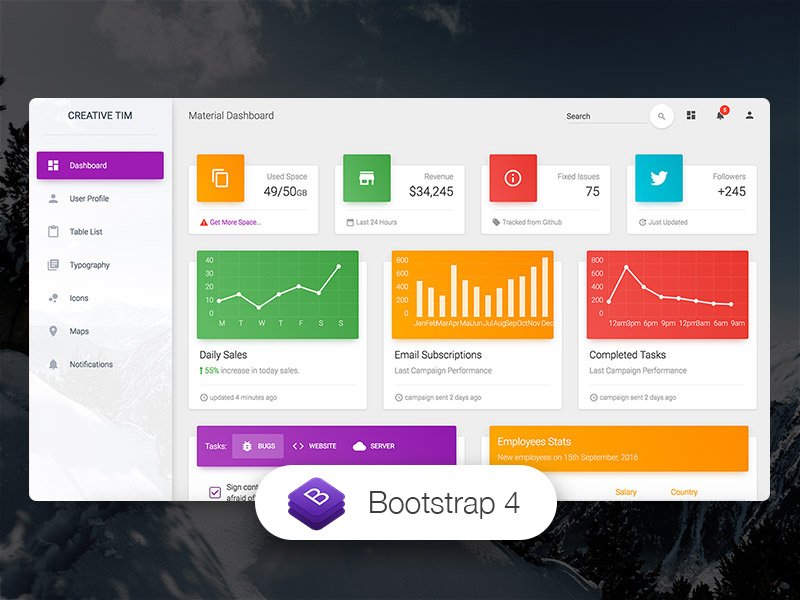 This is a free material design admin template built with Bootstrap 4. It has many pre-built components, example pages and good documentation. The free version is completely free Bootstrap admin template with MIT license and code on GitHub. You also get option to upgrade to pro version which offers extra components, features and supoport.
Also See: Material Design Admin Templates
20. Argon Free Admin Bootstrap Template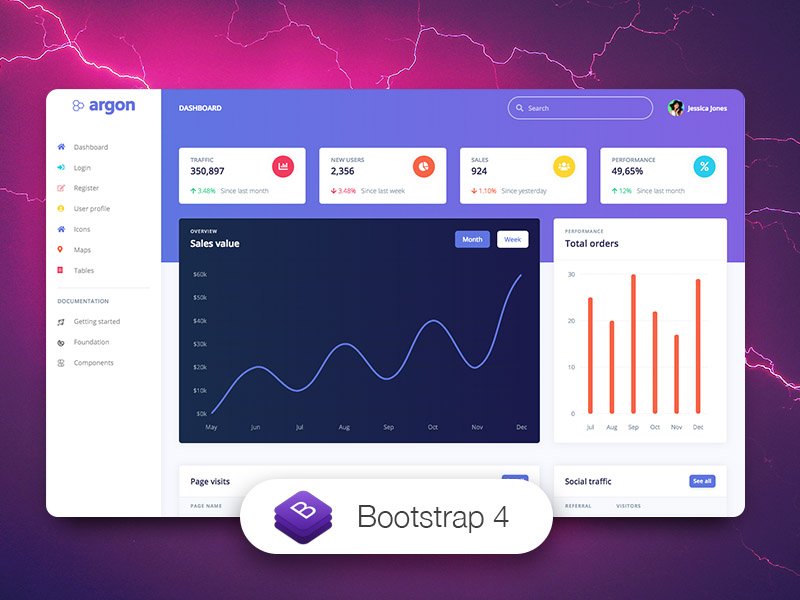 Argon is another well built and free Bootstrap admin template that offers many components and pages out of the box. The free download has over 100 elements, 4 plugins and 6 example pages included. It also has a premium version with over 200 components, 16 plugins and 25 included pre-built pages.
Also See: Best Bootstrap Admin Dashboard Templates
21. Free Black Dashboard with Bootstrap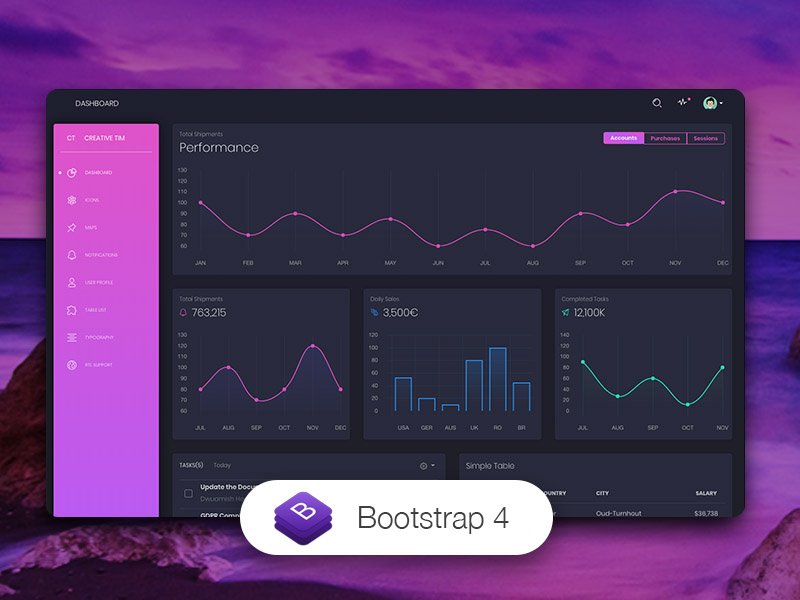 If you are building a dashboard with dark theme then this is one of the best free template for building it with Bootstrap. It combines colors in a dark mode that are easy on the eye and has spacious cards, beautiful typography, and graphics. The template is complete free under MIT license.
22. Free Paper Dashboard Bootstrap Admin Template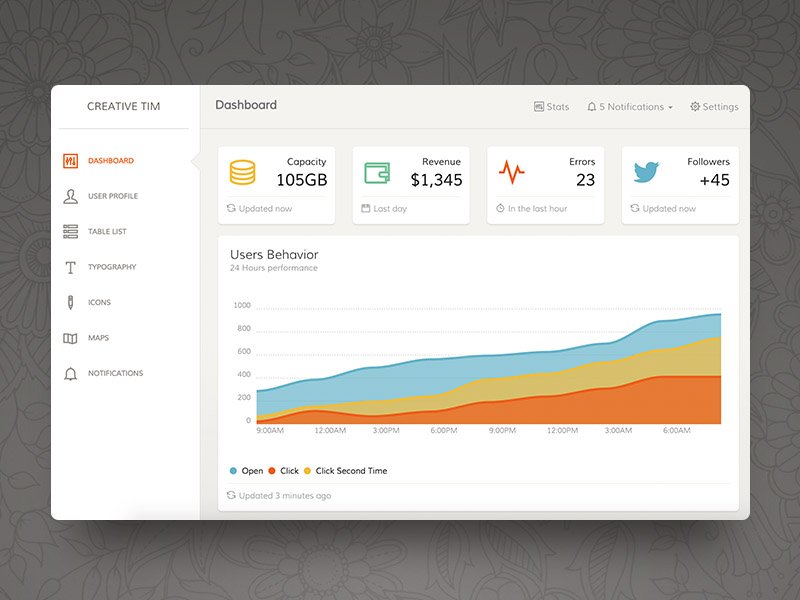 This is a very popular and free Bootstrap admin template with clean paper looks. It offers cool dashboard graphics such as statistics and charts, dashboard sidebar menu and a lot more. Upgrading to the premium version gets you even more pre-built dashboard components and pages.
Premium Bootstrap Templates
While we have a covered an exhaustive list of free Bootstrap templates above, we feel that our post couldn't be complete without these excellent and best selling Bootstrap templates on premium marketplaces. Apart from offering a highly customizable and professional design, these templates also enjoy premium support from their makers and are thus highly recommended by us. (Please note that these links are affiliate links)
1. Fluid – Animated Coming Soon Template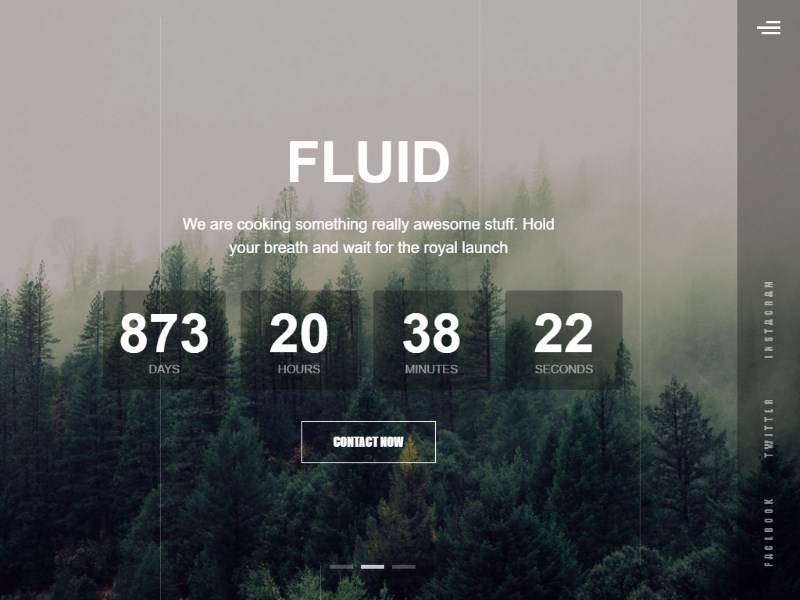 Fluid is a premium animated coming soon template built with Bootstrap 4. It offers four different variations: Image background, video background, background slider and minimal layout. Animations are powered by CSS3 and PSD of the template is also provided with the download.
2. Rubik Presentation Page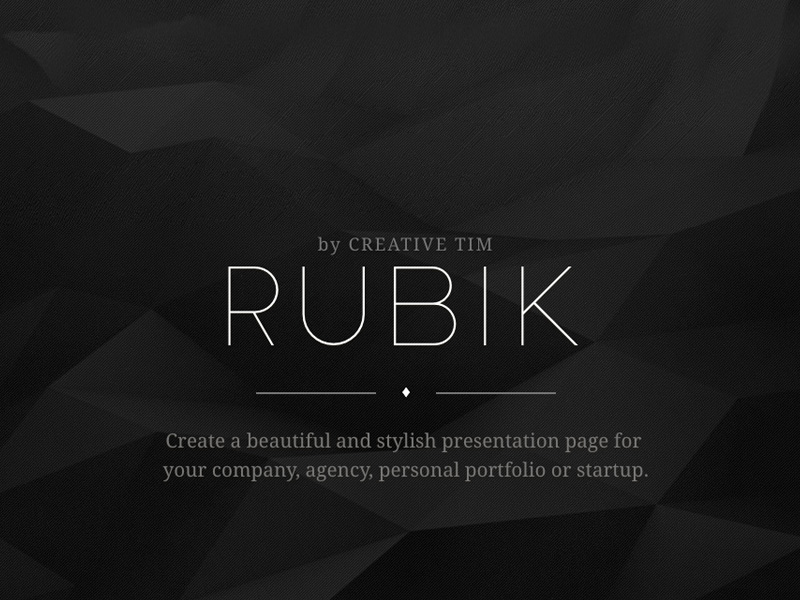 Rubik is a premium one page website template which can be used to create beautiful and stylish landing page for company, agency, startup. Built with Bootstrap, this website template has 47 handcrafted components suitable for landing pages such as portfolio, team profile, contact form, Google maps and many more. 4 pre-built example pages are included to get you started with building websites for agency, company, startup or a portfolio website.
3. Soft UI Dashboard – Premium Bootstrap Dashboard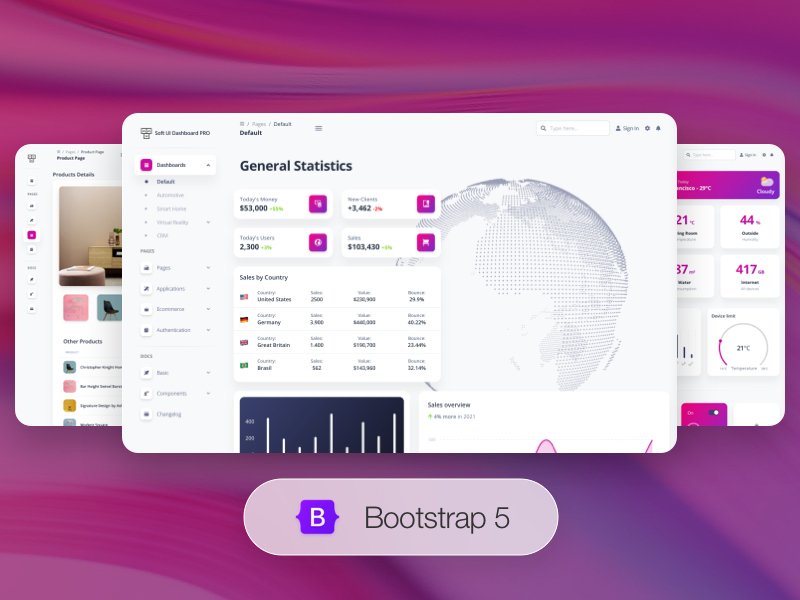 Soft UI Dashboard is premium Bootstrap 5 dashboard template with hundreds of elements, design blocks and multiple pages. It has many examples for pages like sign-in, profile, dashboard stats and so on. You can download a free version of the template too which can help you check it out before you go for the premium version which includes support.
4. Inspinia – Bootstrap Admin Template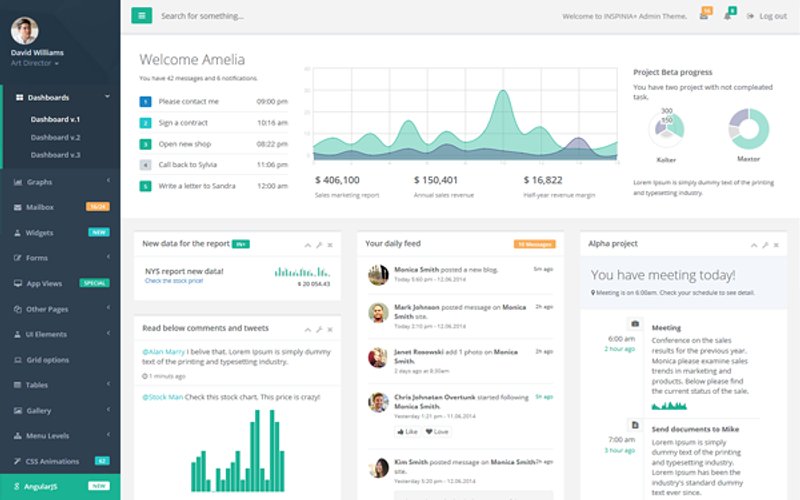 INSPINIA Admin Theme is a dashboard template with flat design concept. It is fully responsive admin dashboard template built with Bootstrap 4 Framework, HTML5, CSS3 and JavaScript. You also get full documentation and PSD files for implementing your dashboard project.
5. Unify – Multipurpose Bootstrap Template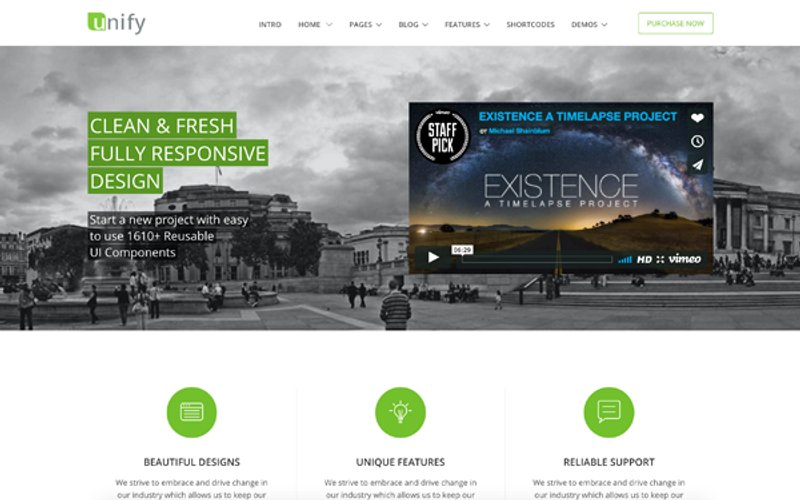 Unify is a beautiful and fully responsive Bootstrap 4 Template for any type of creative professionals, startups and established business. It allows you built any size of high quality web products, thanks to massive 250+ short-code pages which includes over 1750 reusable UI Components.
6. SmartAdmin – Responsive Bootstrap WebApp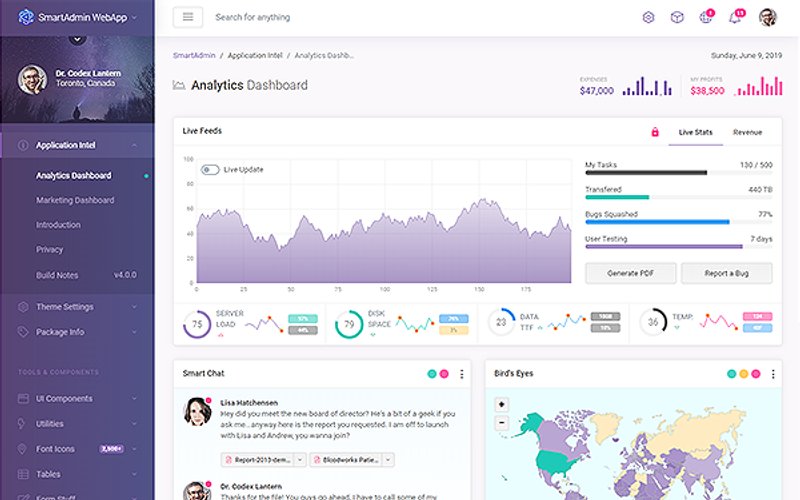 SmartAdmin is a Bootstrap4 based WebApp and admin dashboard template that offers options of multiple layouts as well as dark and light mode. You get a mobile-ready dashboard template with support of 7500+ icons and infinite skins using Gulp build commands and SCSS variables.
7. Mombo – Startup Agency and SaaS Template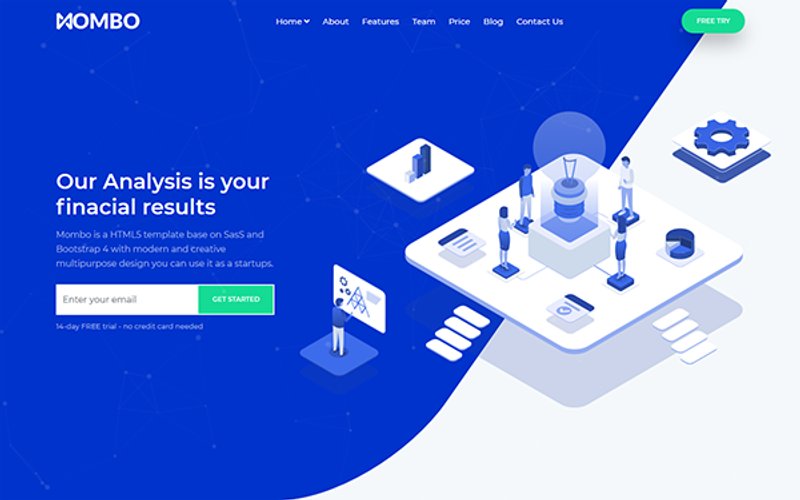 Mombo is a responsive, professional, and multipurpose SaaS (software-as-a-service) and startup landing template. Built with Bootstrap 5, this template has 17 home page options, working contact form and many more features.
8. Flone – Minimal eCommerce Bootstrap Template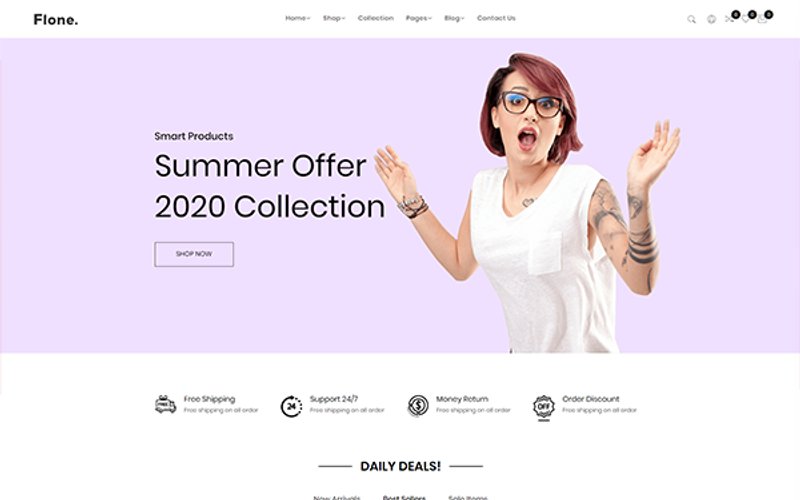 Flone is a Bootstrap website template suitable for building eCommerce site of any kind of business. You can sell Fashion Products, Men Fashion, Women Fashion, Kids Products and any other merchandise using this ecommerce template.
9. ShopApp – eCommerce Bootstrap 5 Template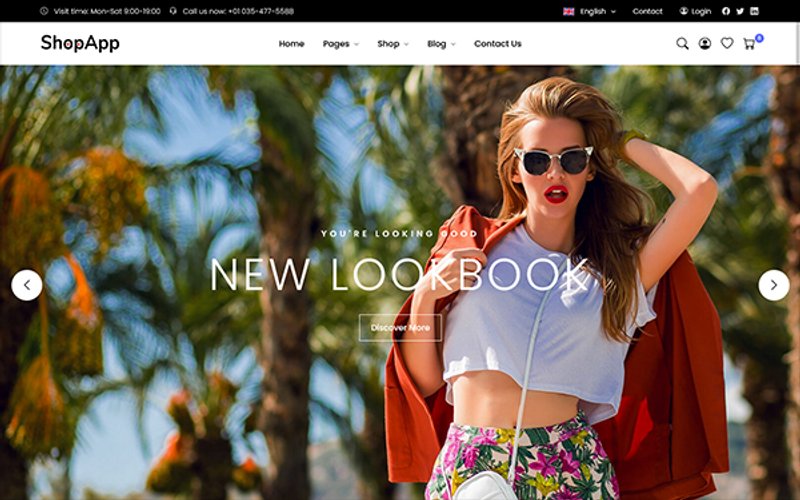 ShopApp is a Bootstrap 5 based clean and minimal eCommerce template. With fully responsive design and easy to customize code, you also get premium support from the developers.
10. Assan – Multipurpose Bootstrap Template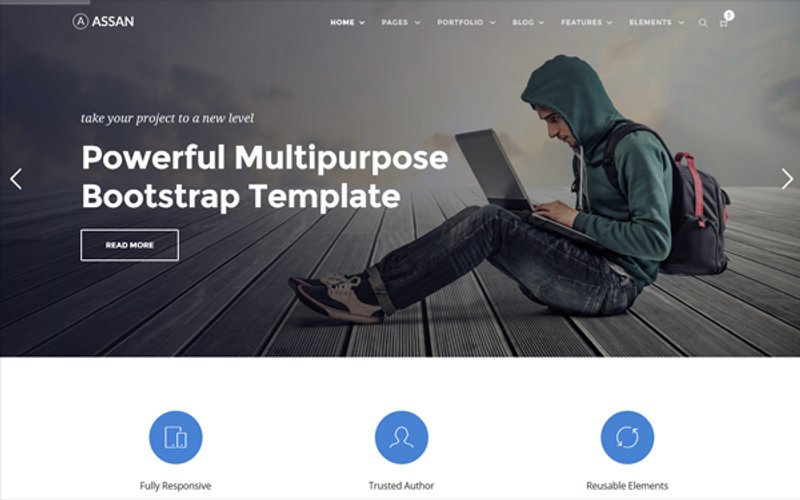 Assan is multipurpose template based on Bootstrap5. It is fully flexible with 500+ reusable components and 12+ landing niche pages. You also get 4 different color themes and support for Gulp based build system.
11. Mediseba – Medical and Healthcare Template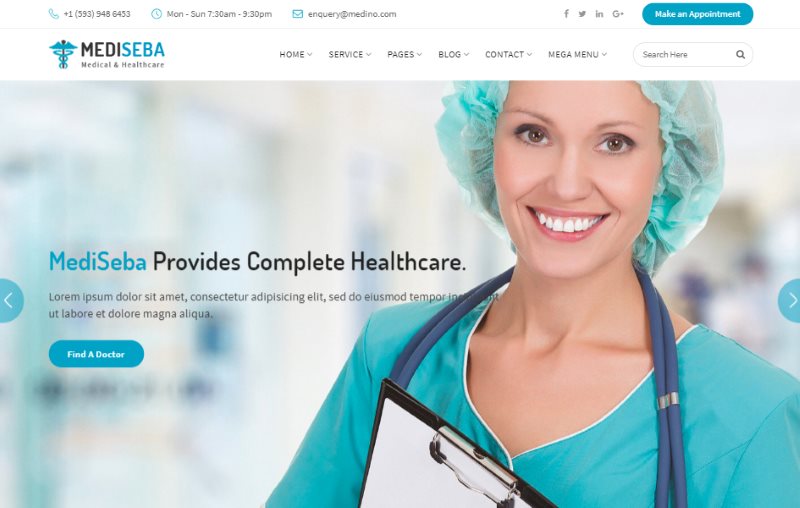 Mediseba – Medical & Healthcare is a modern, clean & minimalist template which is made with Bootstrap 4 & Sass language. This template is suitable for Medical, Hospital, Clinic, Health Care, Doctors, Surgeons, Dentists and many more sites.
12. Jobster – Job Board Bootstrap Template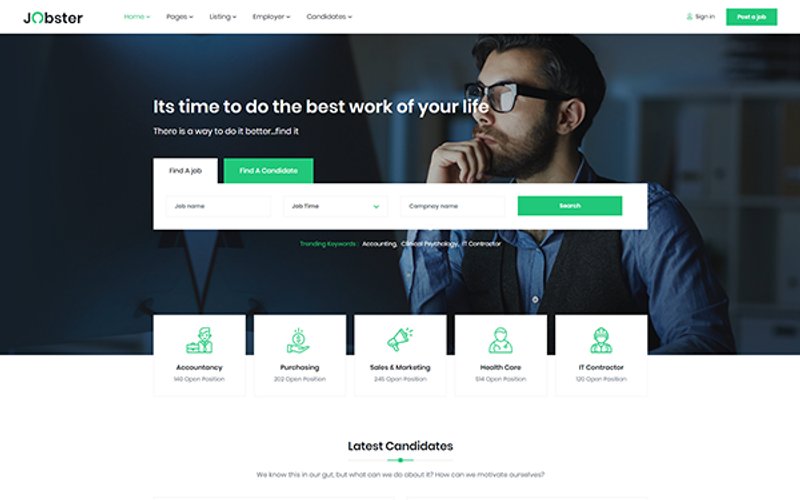 Jobster is a Job board web templates built on Bootstrap 4. It is suitable for an job board business and include all features that you will need to attract candidates and employers.
Also See: Best Job Portal Templates
13. Canvas – Multi-Purpose Bootstrap Template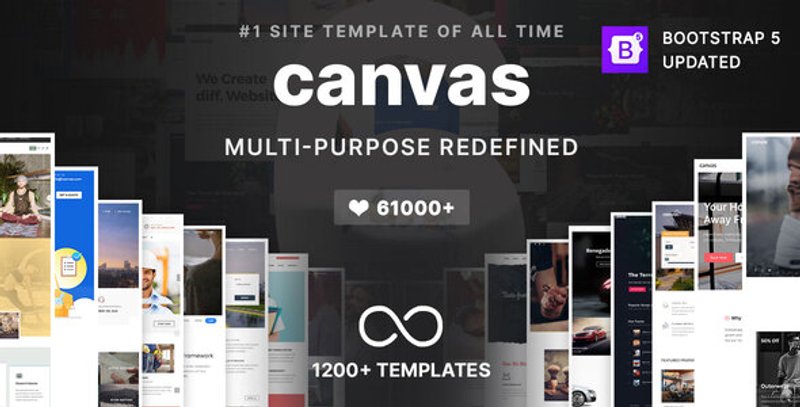 Canvas is a powerful Bootstrap based multi-purpose template with support for multi-page and one page websites. With over 1200 templates included in this kit, you can build almost any website for corporates, business as well as personal portfolios.
14. Deski – Saas & Software Template with Bootstrap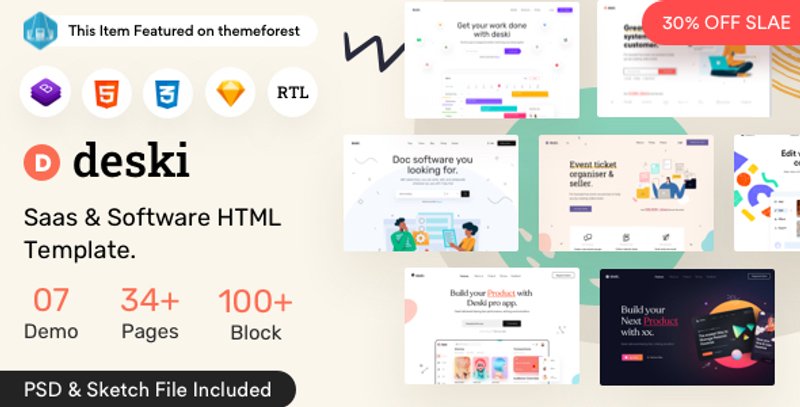 Deski is a modern and responsive Bootstrap 4 based HTML template that fits all kinds of business website, event website, SAAS website, SEO, Agency, IT Services, Portfolio and many more.
15. Metronic – Bootstrap Admin Theme
Metronic is a Bootstrap admin theme with support for Vue.js, React, Angular as well as Laravel. It offers over 150 fully function pages and 20+ widgets that are fast to load and optimized for every device screen.
Bootstrap Templates in the coming years
Bootstrap is undoubtedly the most popular web design framework. New features like support for flexbox, move to SASS from LESS and easier customization support has been added and we are sure to see even more traction for Bootstrap based themes, templates and websites. With Bootstrap, it is also easy build a static website using static site generators and host them on free static hosting options.
If you are a web designer/developer or a web agency looking to build a website then choosing to start with a Bootstrap template is still the best option, given the community around Bootstrap. There are also some great option available in form of Bootstrap UI Kits that can be used to create websites of multiple-niches.
We will continue to cover popular and newly released Bootstrap templates, so do make sure to follow us on Twitter.
If you would like to add any other free/premium bootstrap template that we may have missed, then please do contact us.