In this post, we bring to you a collection of high quality, free branding mockup templates that you can use to showcase your logos and business identity designs in realistic settings.
The mockups presented here are available for free download as Photoshop (PSD) files that can be easily edited using smart objects to insert your own designs. These templates include mock-ups for essential stationery items such as business cards, letterheads, and envelopes that can be used for presenting your brand design for any kind of product or business. Some mock-up scenes also have additional themed items and they provide a better cohesive layout for showcasing brand design for specific businesses such as photography, craft or restaurant.
All the branding identity mockups in this collection are free to use in personal and/or commercial projects. Read on for a preview and link to download pages for these free branding mockup PSD templates.
Free Stationery and Branding Mockups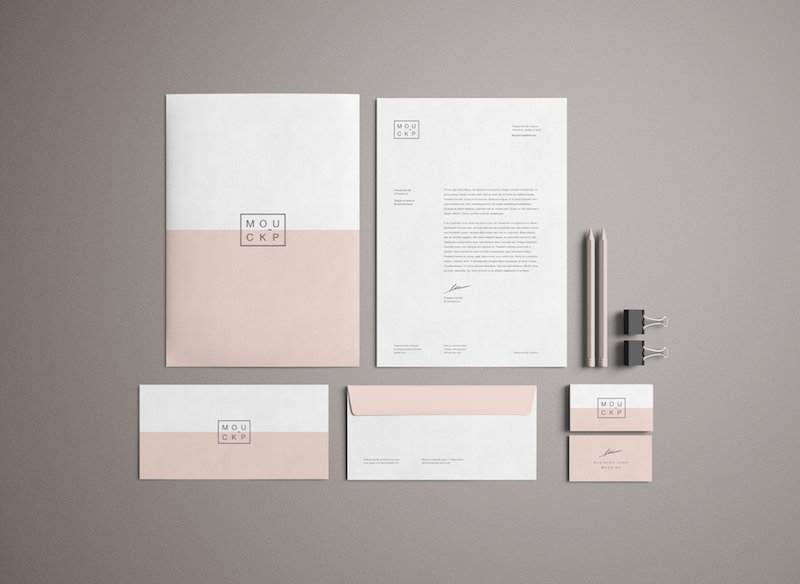 This free Photoshop file includes mockups for stationery items in 15 different layouts and perspective views. It comes with 4 artistic photo filters to choose from and a light layer that can be used to control the global light intensity by changing its opacity.
All the mockup scenes are well organized into separate folders and also have separate light and shadow layers that provide you full control over them. You can easily place your own designs using smart objects.
Carno – Free Branding Mockup PSD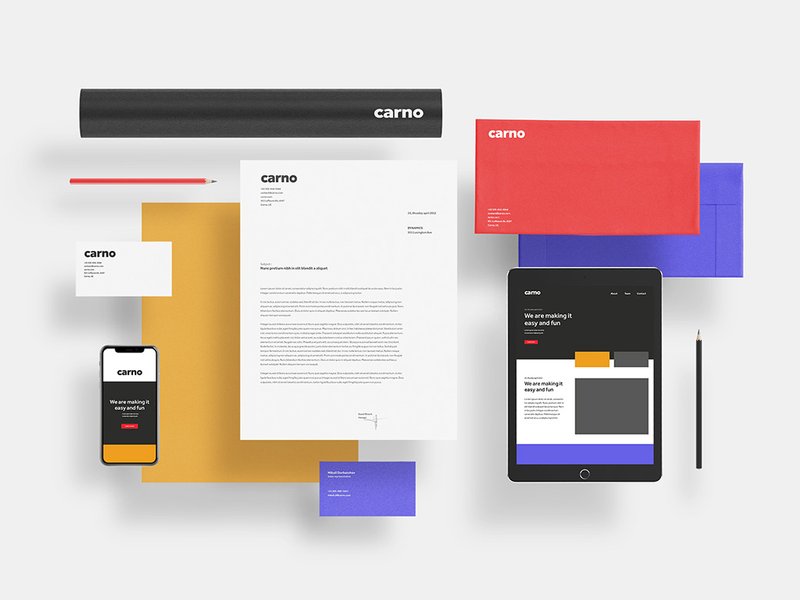 Carno brings all the popular means of branding presentation in one scene – Letterheads, envelopes, stationery, smartphone, and tablet floating over the background. The mockup template is available for free download in PSD format, all the objects are movable and customizable.
Free Stationery Branding & Identity Mockups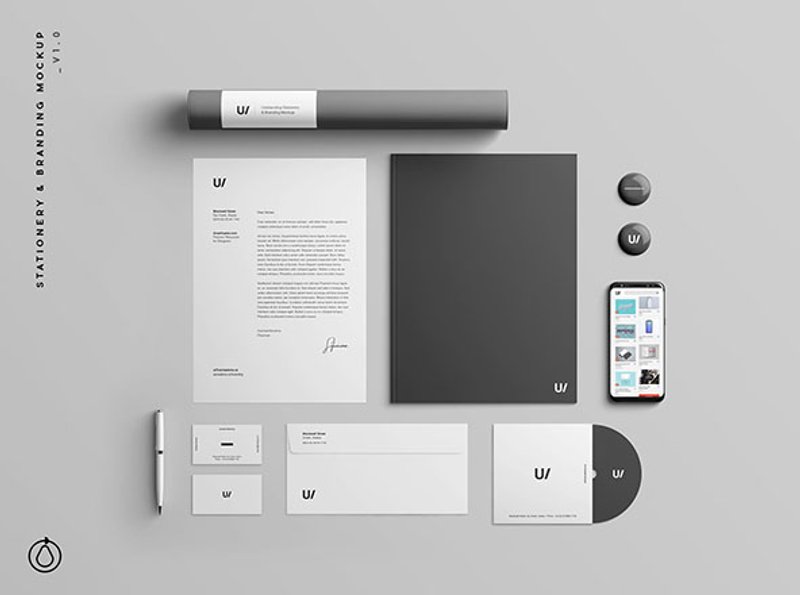 A modern, fully customizable stationery and identity branding Photoshop mockup that is free to download and use. The pack contains 7 different arrangements of the stationery items including perspective, flat and floating views. It comes with a selection of photo filters that can be easily applied. You can also adjust the details such as shadows, lights and highlights to your liking.
Free Standing Branding Stationery Mockup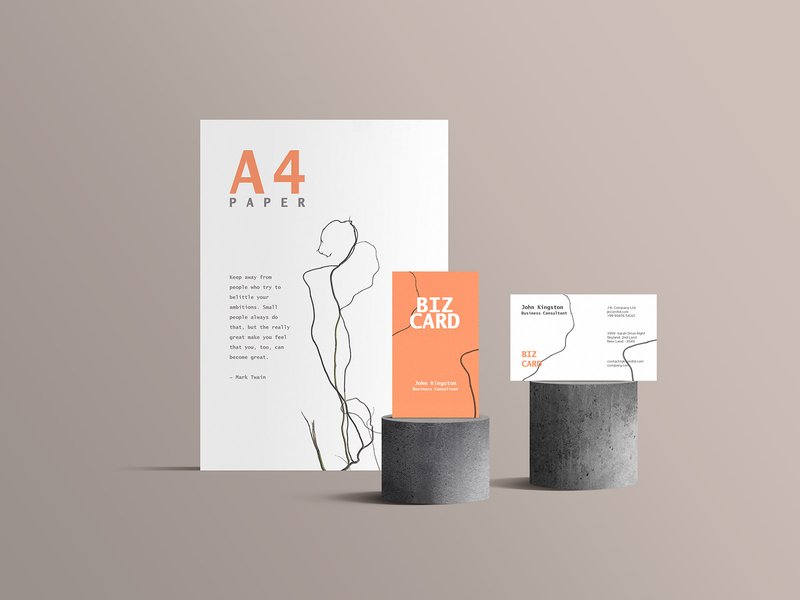 Free set of standing branding stationery PSD mockup that allows you to easily edit and add and showcase your own branding design to your client. The elements in the mockup include A4 letterhead, vertical business card and horizontal business card.
Free Dark Branding Mockup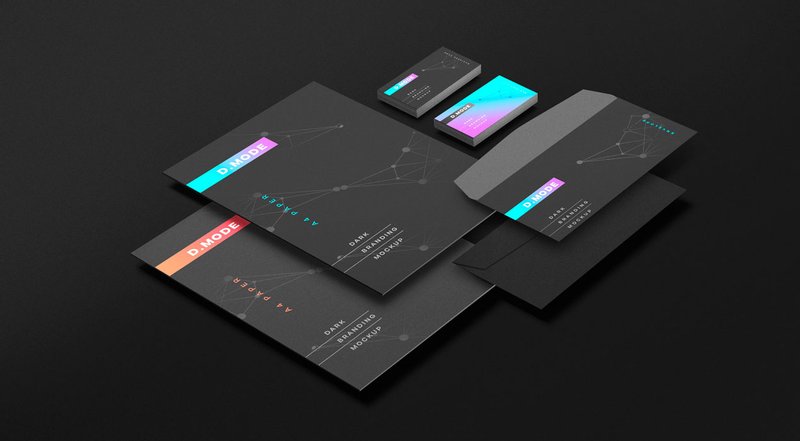 Free high-resolution dark branding PSD mockup featuring stationery items like A4 papers, envelopes and business cards. It comes with finely organized smart-object layers that makes it easy to add your own relevant design.
Flat 2D Branding and Identity Free Mockup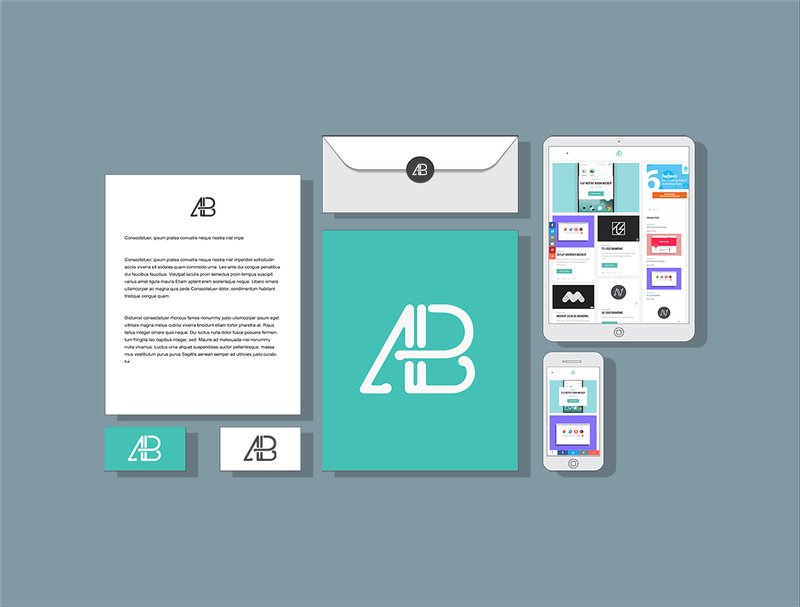 Flat 2D branding and identity mockup available for free download in PSD format. Along with printable stationery such as business card, letterhead and envelope, the mockup also has mobile and tablet screens to showcase online logo and website design to your clients.
Free Ebony & Ivory Identity MockUps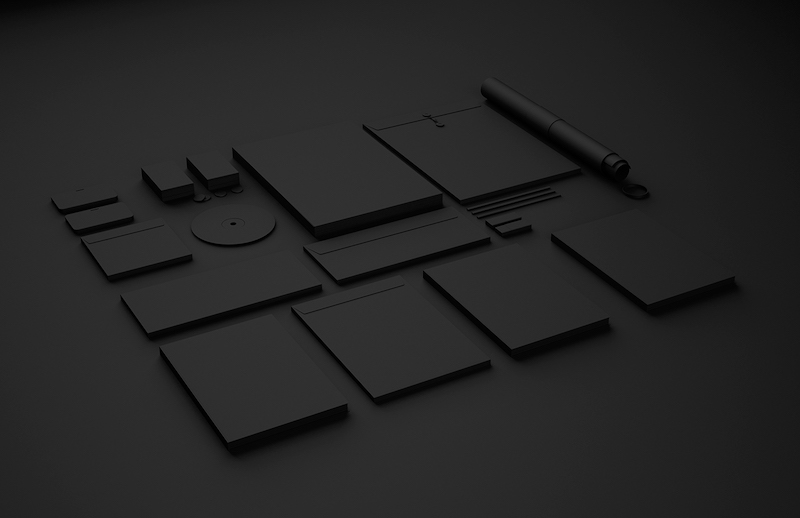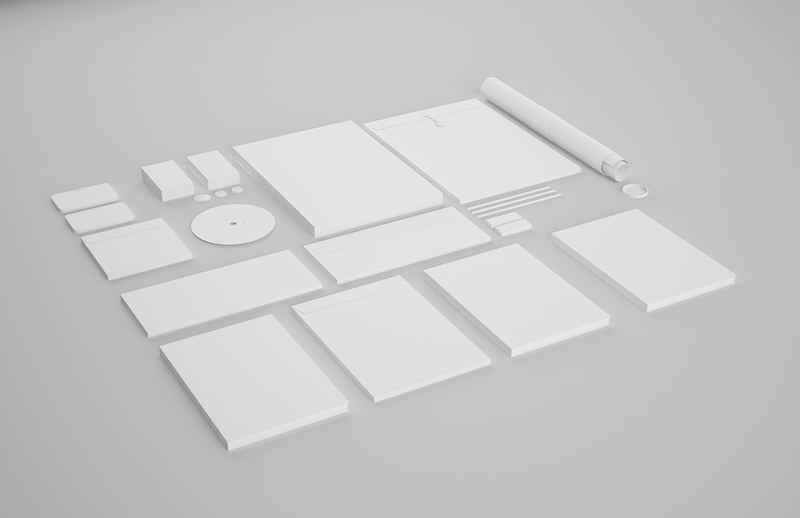 Ebony & Ivory is a series of clean and simple identity mockups with 22 PSD files that are available for free download. It includes different arrangements of the stationery items such as business cards, envelopes, A4 letterhead, CD and tube paper in perspective views as well as full scenes with all the items together in both top-down and perspective views (as seen in above images).
Branding/Identity MockUp Free PSD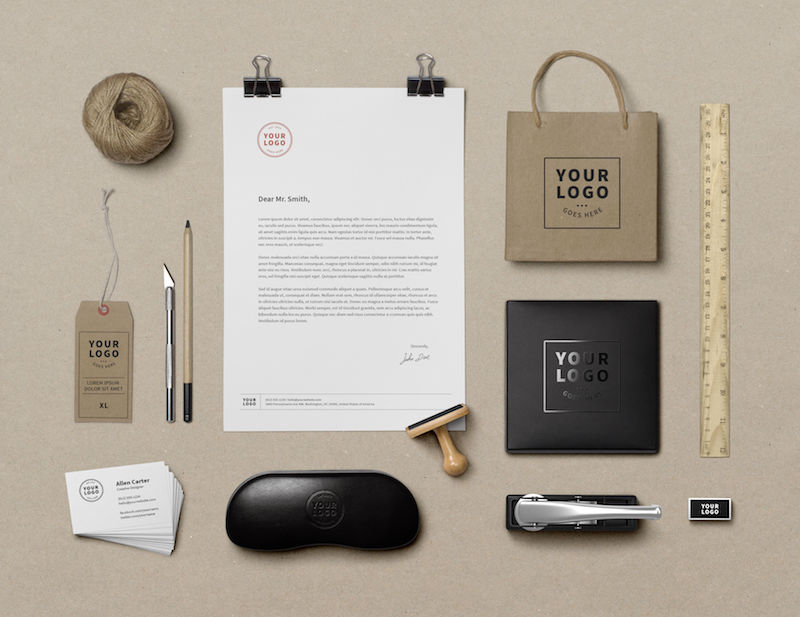 A ball of twine, cutter, eraser and wooden ruler give this template a crafty feel, ideal to present the logo of a hand-made products brand or a clothing brand. All the elements are laid out over a paper textured background that is also included with the download.
Free Branding Stationery MockUp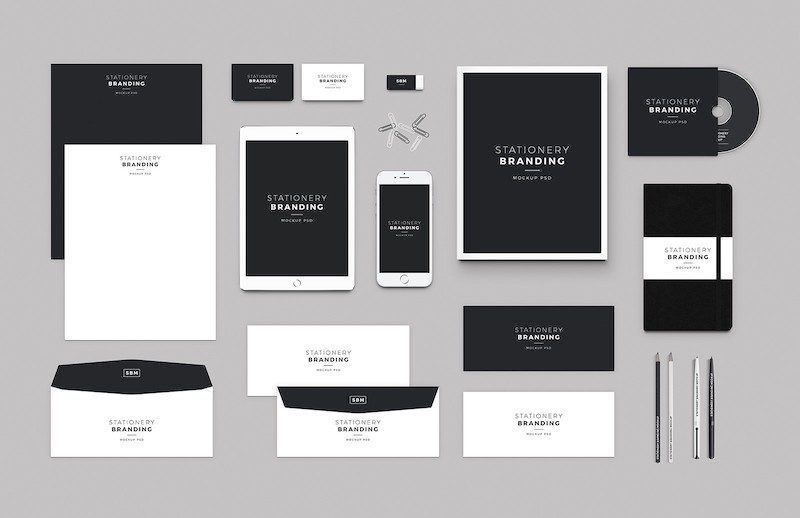 This free stationery branding template includes high quality PSD mockups for letterhead, phone, business card, postcard and presentation folder mockup that can be edited via smart objects to add logo or other artworks and present your design.
Free Photography Branding MockUp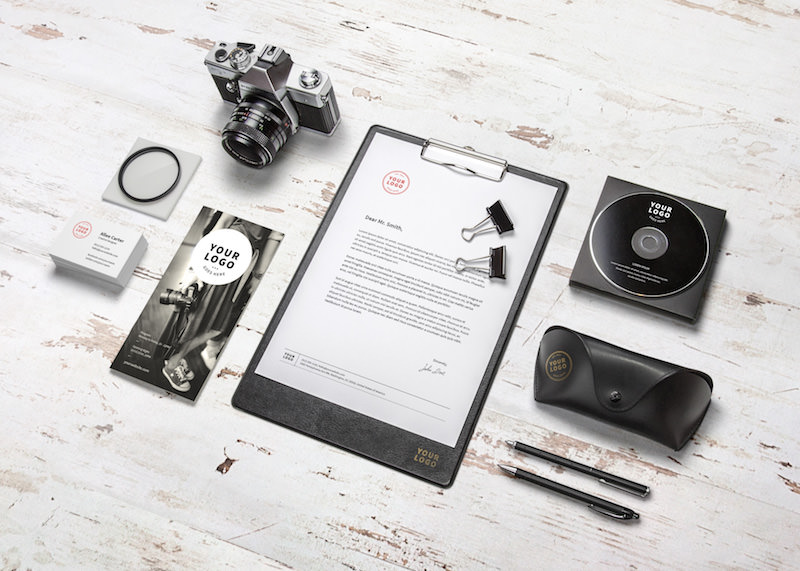 With its old school camera and worn, aged background this free PSD template is a great resource for mocking up photography related branding projects with vintage aesthetics.
Free Powderblue Stationery Mockup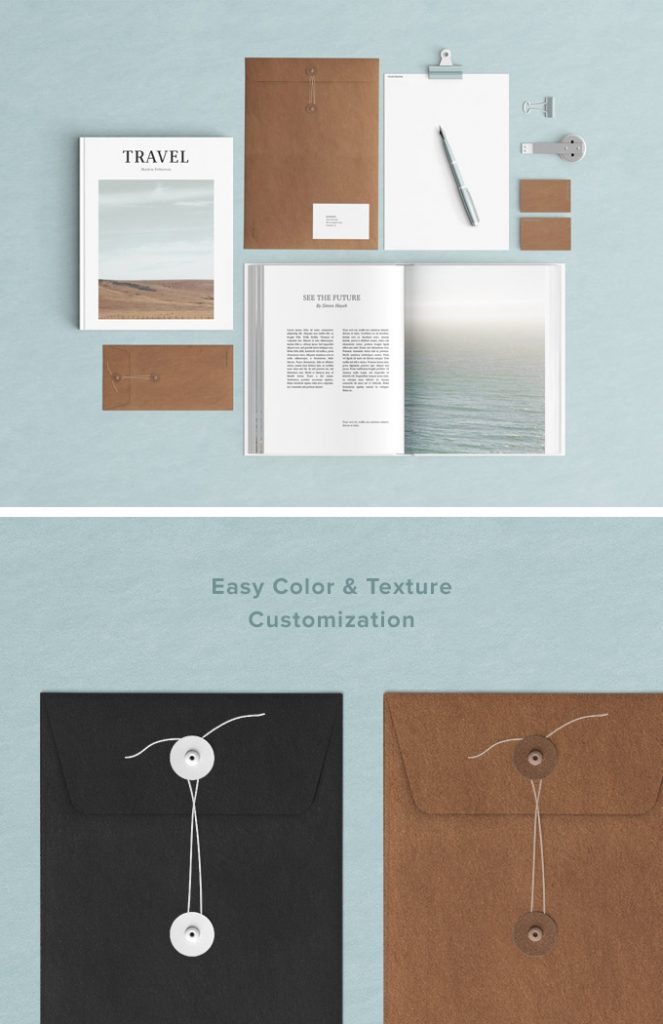 A high-resolution 7000×4200, 300 dpi PSD mockup template of business card, book, A4 letterhead with clamp and envelopes (C4 and C6 sizes) placed on a soft powder blue textured background. Content, colors and textures can be easily customized.
Free Corporate Identity MockUp Templates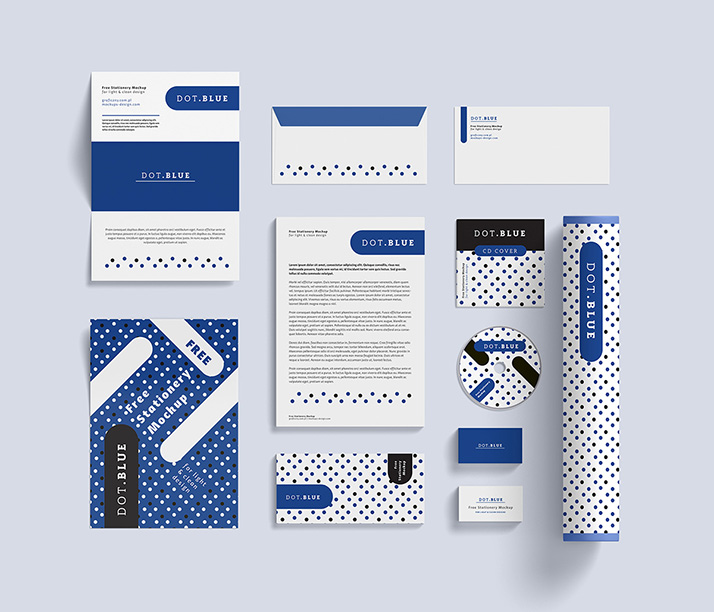 Free for commercial use Photoshop templates to mock-up corporate identity design projects. Includes fully customizable mockup scenes in 3 views with perspective as well as top shots.
Free Restaurant and Bar Branding MockUps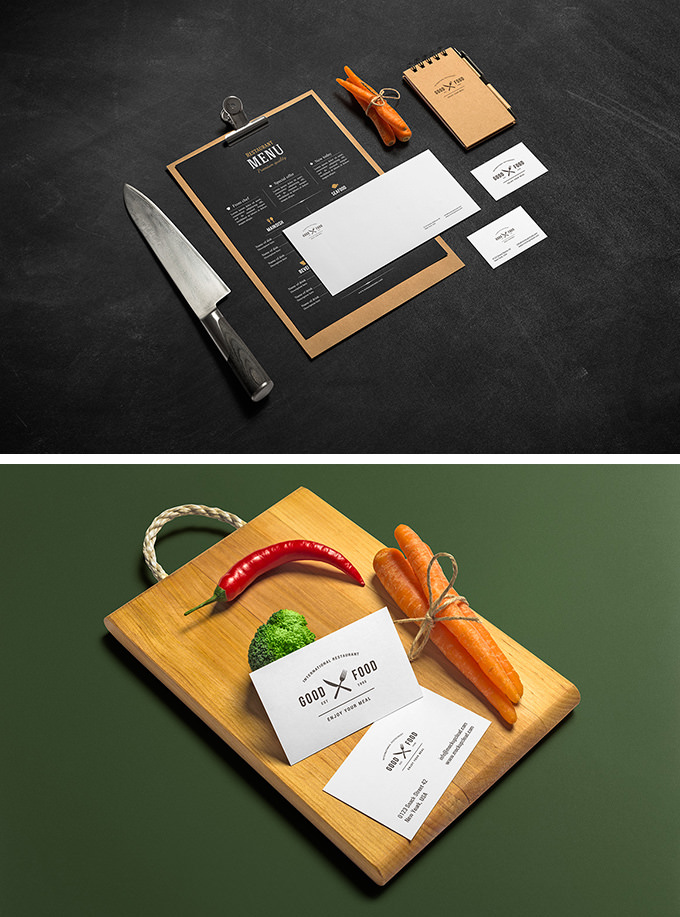 This is a set of 2 restaurant themed mock-up scenes based on professional photographs. One template includes mockups for menu, business card, envelope and notepad while the other PSD file displays business card placed over a wooden cutting board. Perfect for restaurant and food related branding presentation.
Free Business Stationery MockUp Design PSD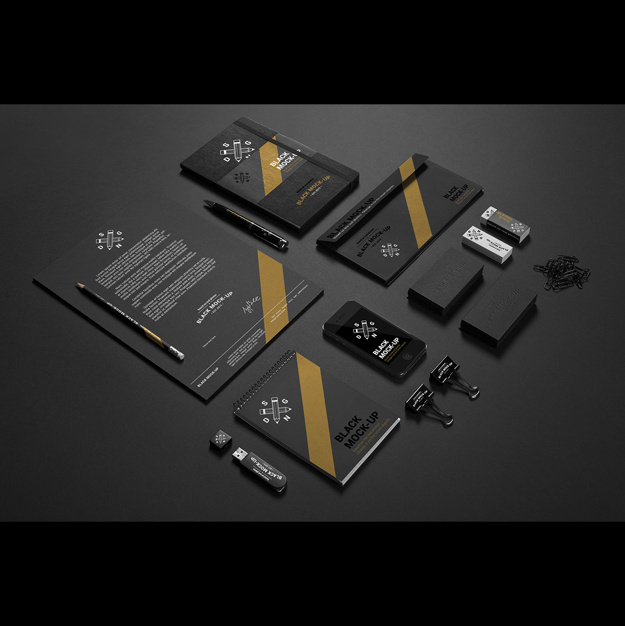 A dark themed mockup of business stationery to help you create a professional presentation for your branding and identity design work. Available for free download from Freepik.
Free Craft Stationery Branding PSD Mockups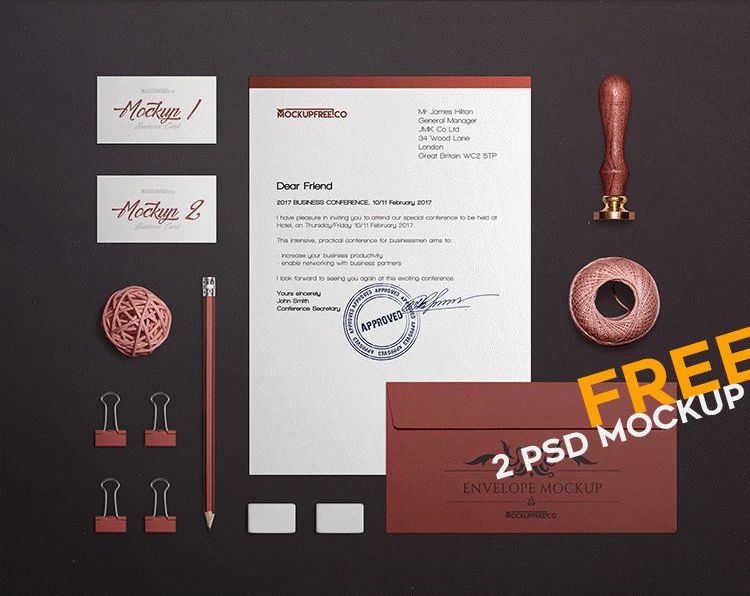 2 high-detailed photorealistic presentation mockups of stationery that will complement the branding and logo of a craft related product or business.
Free Floral Stationery Branding PSD Mock Up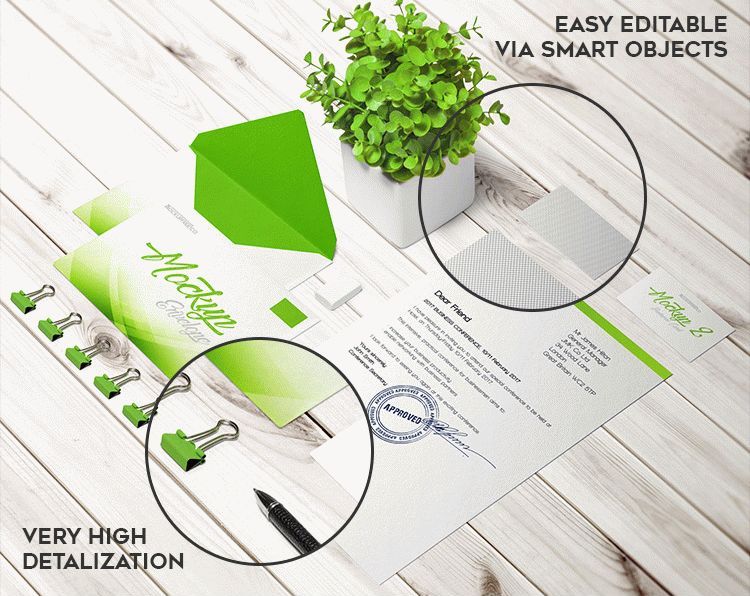 Wooden background and green color scheme give this template an earthy, organic feel. Download includes two free smart-object ready PSD mockups to present your ideas or promote your brand/label.
Free Identity Branding Mockup Scenes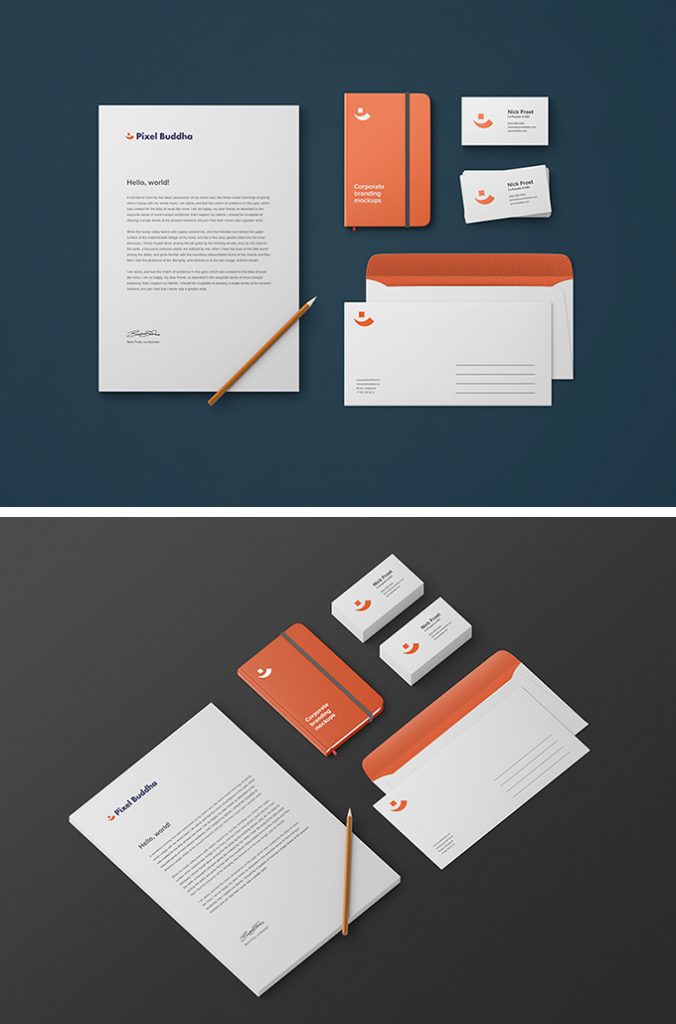 A set of two minimal mock-up scenes with generic branding elements – business card, letterhead, notebook and envelope, in top and perspective views. The PSD files can be easily customized via smart layers to create impressive looking mockups.
Free Business Card, A4 Letterhead & Envelope MockUps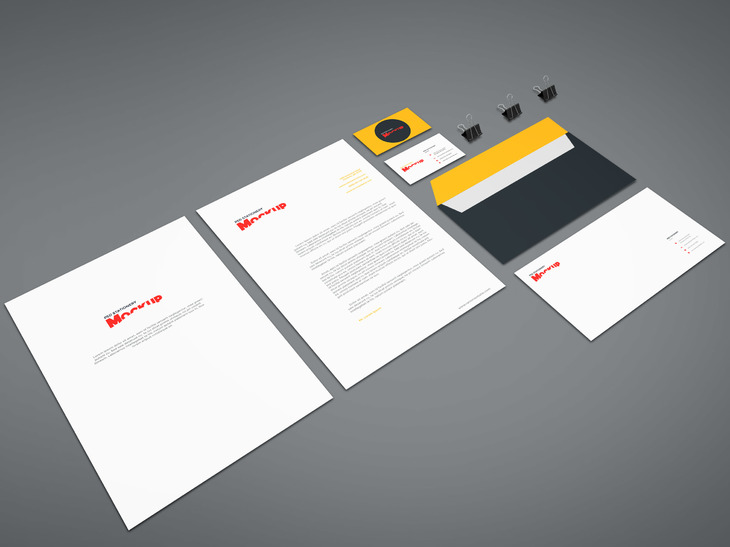 This free Photoshop file contains mockups for business card, envelope, and A4 memorandum that are put in separate layers and can be easily moved and arranged. Using smart objects, you can paste-in your designs and display them on these essential stationery items.
Black Gold Stationery MockUps PSD Free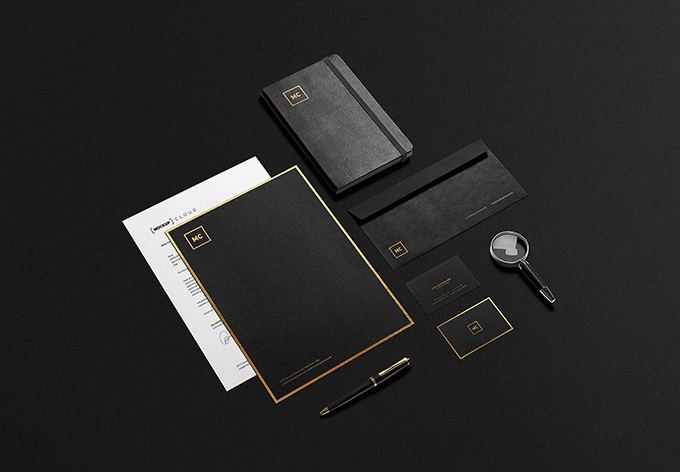 This branding mockup set includes two layouts, one that you see above and another with only business card and card holder. Black and gold color scheme lends this template a luxurious look that would supplement a premium brand design. Download also includes 4 high-resolution background textures.
Free Identity Mock-up PSD Template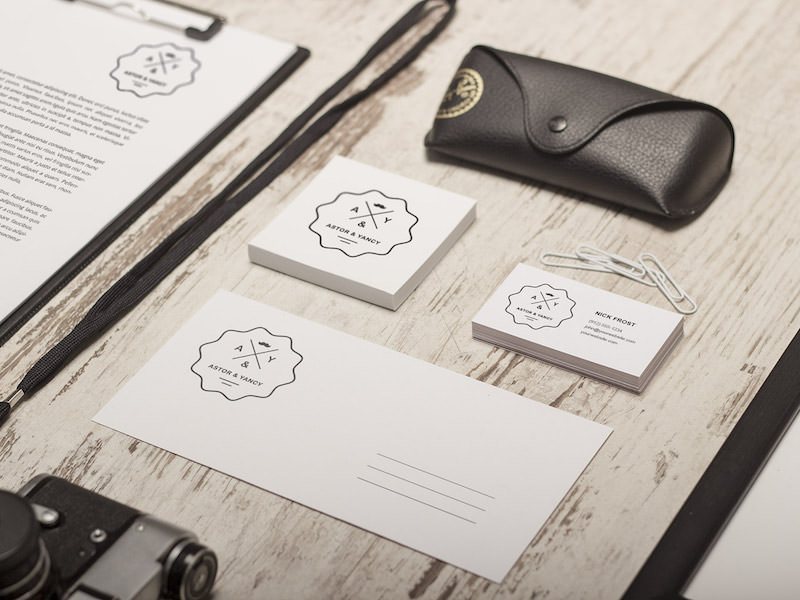 A retro themed template best suited to present minimalist designs.
Conclusion
Branding and identity design projects include not only designing a logo but also the printable stationery, brochures and website among others. With the pre-made templates listed above, you can create quick mockups of how your designs would look on a range of printed products and make your ideas more recognizable when presenting them to your clients or listing them on your portfolio website. If you liked our collection of free branding mockups, do not forget to share it with your fellow designers.
More Resources for Brand Design Projects
You may also find these resources useful for your branding and business identity design projects: