Designing business cards is an essential part of a branding project. Previously, we had put together a list of printable business card templates to help you create great looking business cards with ease. And in this post, we present to you a collection of high quality business card mockups that you can download for free and professionally showcase your logo and business card designs.
All the mockups listed below have been designed in Photoshop and are available for download in PSD format. Every mockup contains smart object layers that you can simply edit by double clicking and pasting in your own design. Other elements and details such as background color, texture, shadows and lighting are customizable and can be tailored to suit your needs.
These business card PSD mockups come with a variety of different angles and arrangements of business cards like stacked, vertical, floating, etc. to give you plenty of options to choose from. You can use them to depict your design being printed on different materials such as card stock, recycled paper or plastic and even emulate popular imprinting methods including foil stamping, letterpress, and embossing.
All the business card mockups in this post are free to use in personal and/or commercial projects. Read on for a preview and download links for these free business card PSD mockup templates.
Hi-Resolution Business Card Mockup (Free)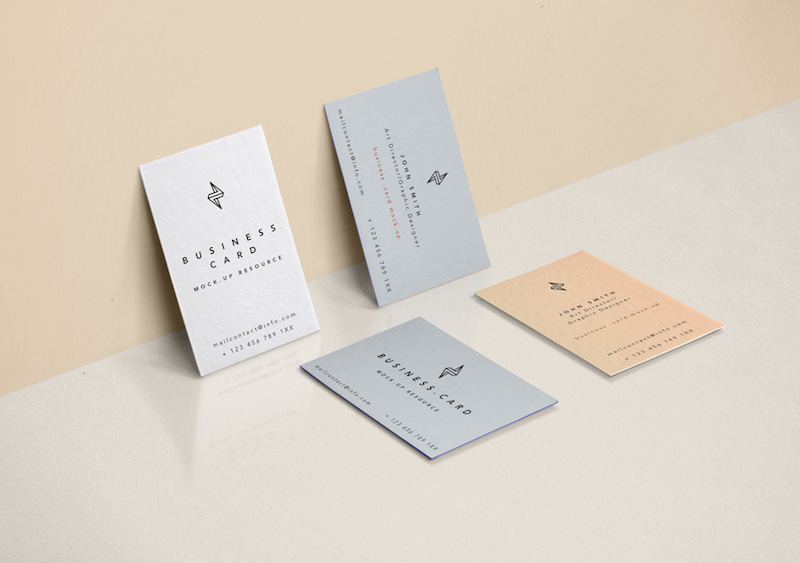 This mock-up scene depicts two business cards placed vertically against a wall and two cards lying flat on a textured surface with realistic reflections and shadows.
This template is ideal for showcasing horizontal as well as vertical card designs as can be seen in the image above. The textured background is also supplied with the free download.
Letterpress Business Cards PSD Mockup (Free)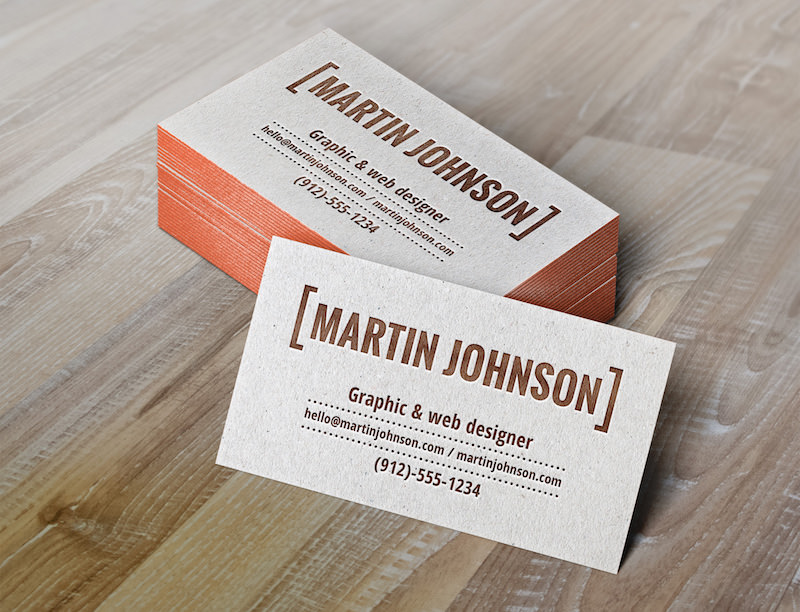 Free Photoshop mockup template with a stack of business cards placed over a wooden surface. Perfect to present your card designs with a feel of letterpress printing effects. The wooden background seen in the above image is also included with the download.
3 Business Card MockUp Scenes (Free)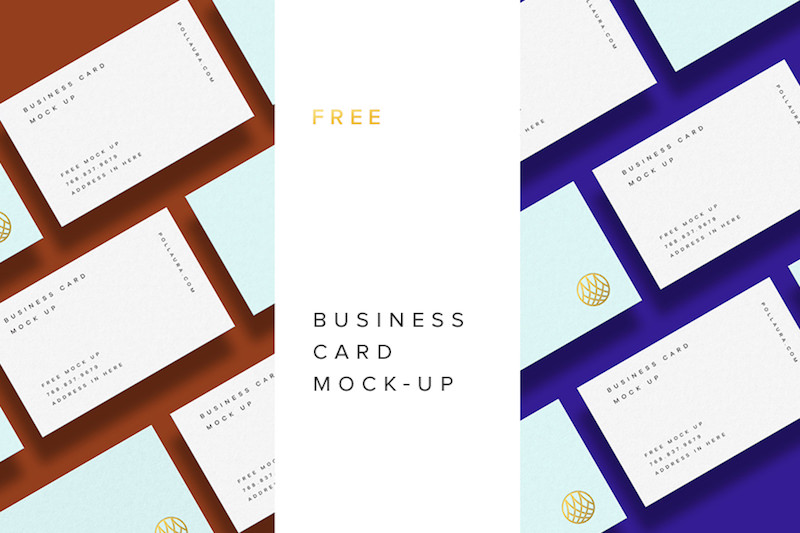 This is a set of free basic stationery mockups. There are 3 different layouts with business cards – Two top views at different angles and one perspective view. A poster mockup and a letterhead closeup are also supplied. All these mockups are available as separate PSD files.
Background colors and textures can be easily changed. Embossed and letter pressed text styles are included in the mockup along with silver and gold foil textures that you can use to emulate hot foil stamping effects.
6 Business Cards MockUp PSD Templates (Free)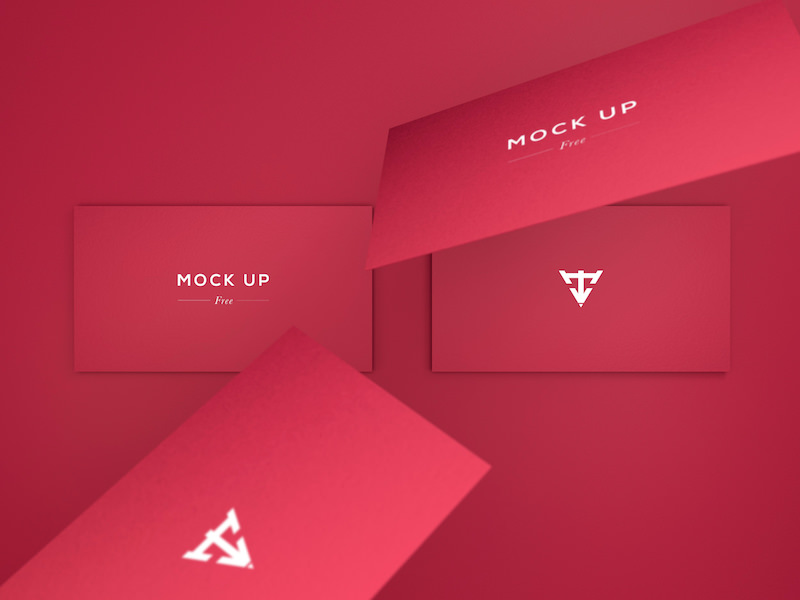 A set of 6 free mockups with different arrangement settings to present your business card designs in a colorful way. Delivered as layered PSD files. Free for personal and commercial use.
Stack of Business Cards MockUp (Free)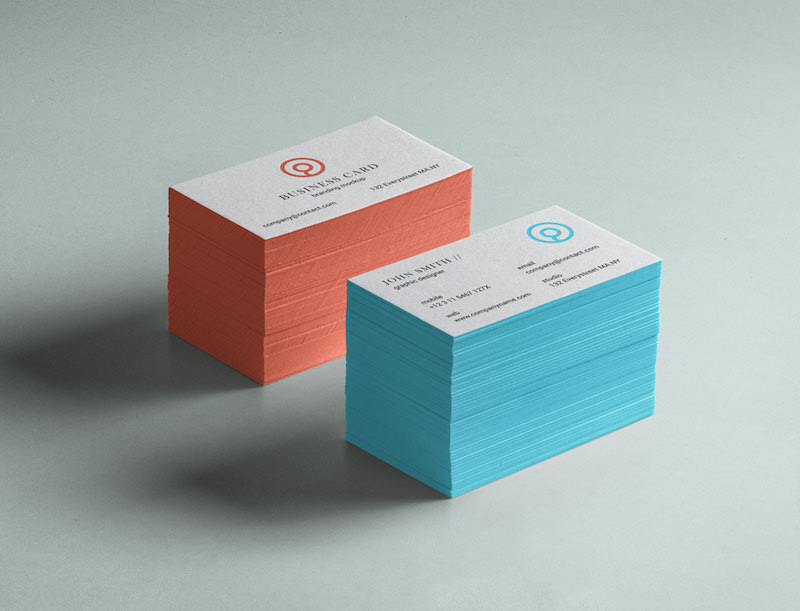 Free showcase mockup of stacked business cards with side color to present both front and back card designs.
Elegant Business Card Presentation Mockup (Free)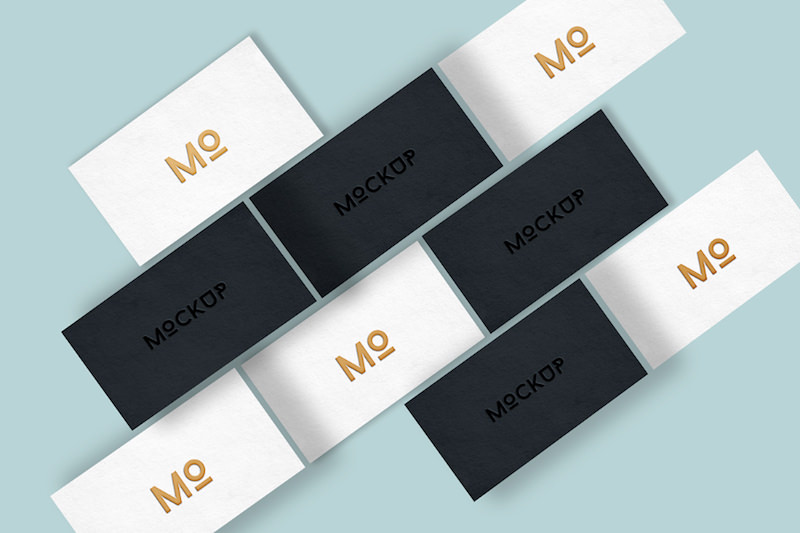 An elegant looking mockup for top-view of business cards with letterpress effect. Suitable to present your logo and business card designs.
8 Clean Business Card Mockups (Free)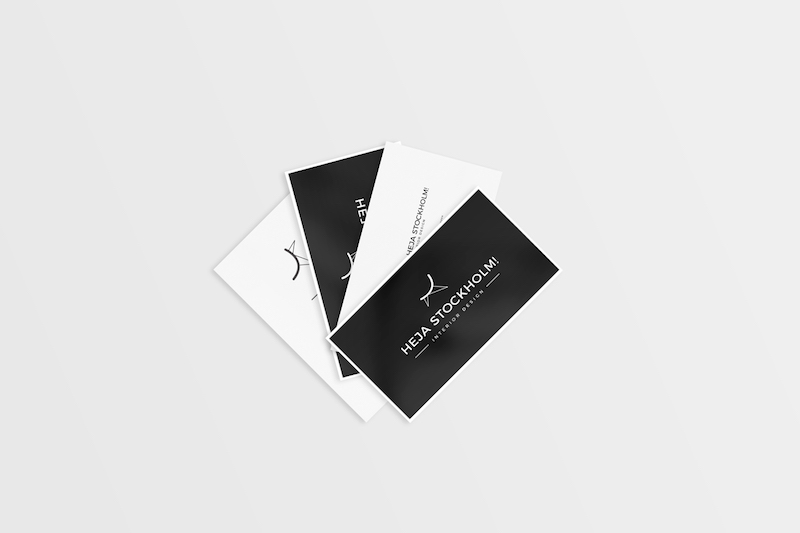 Using this set of photo-based mockups you can showcase your business card designs in a minimal setting with grey background. The free download includes 8 PSD files each with different arrangements of business cards.
You can easily place your designs using smart objects. Cards, shadows and reflections, all the objects are fully layered and placed in different groups that can be moved and modified according to your need.
Cards on a Clip Mockup (Free)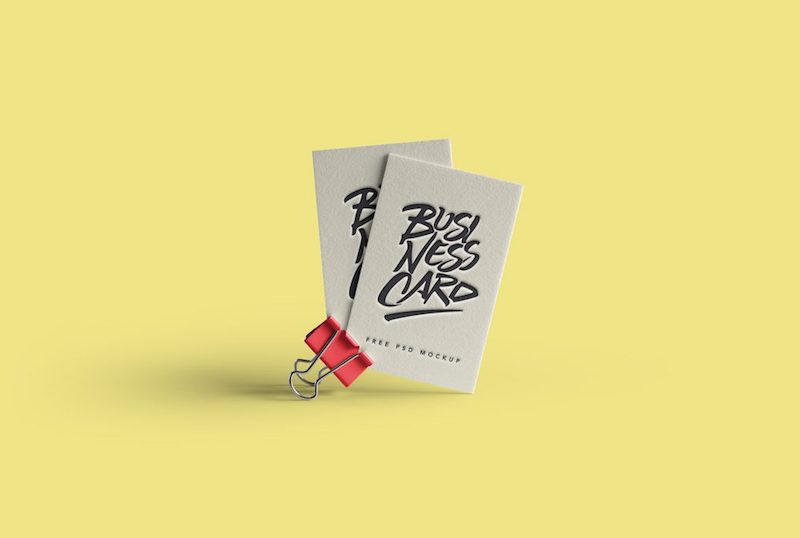 A unique mockup of business cards held with a paper clip. The Photoshop template is smart object ready, clip and background colors can be easily modified.
Vertical Business Card Mockup Template (Free)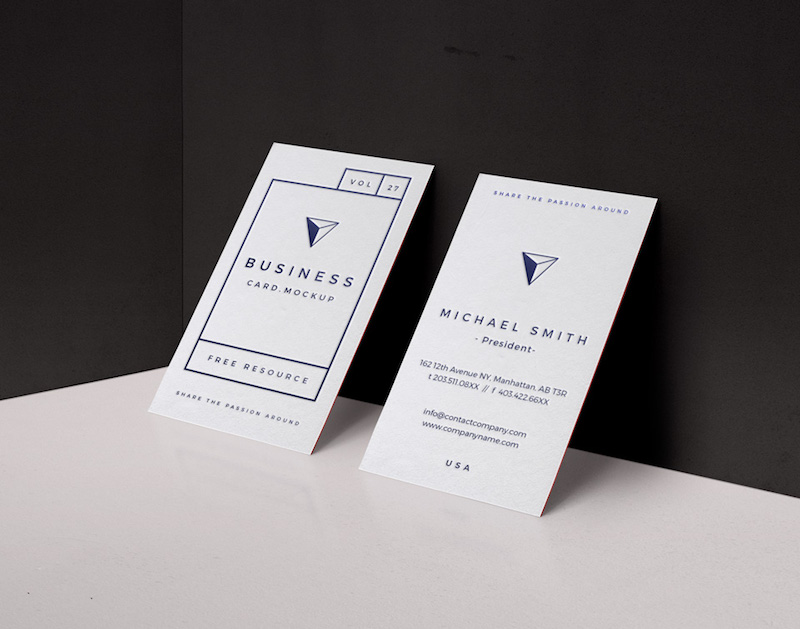 Free presentation mock-up perfect to display vertical business card designs.
Perspective Business Cards Mockup (Free)
A free PSD mock-up of business cards in perspective view. The template has the back and front sides of business cards placed side-by-side along with a stack of cards in the middle with realistic shadows. You just need to place your designs inside the smart layers to create a great presentation.
Floating Business Cards MockUp (Free)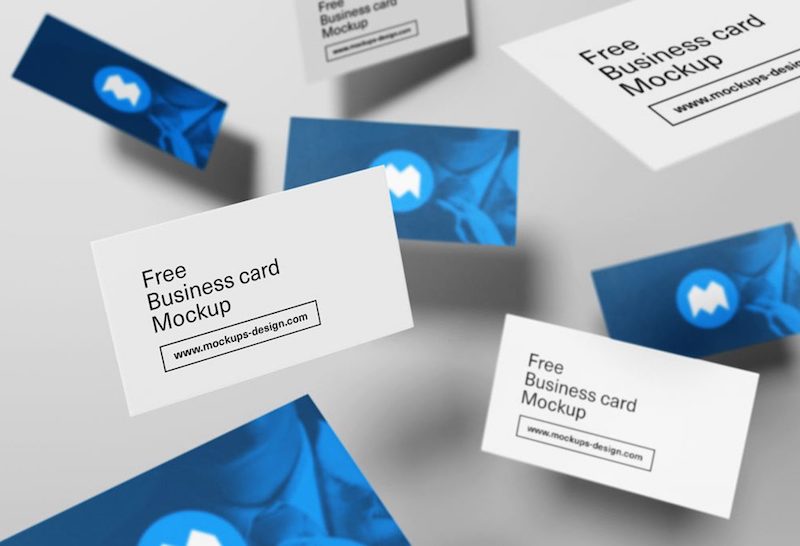 Showcase your designs in style with this mockup of gravity defying flying and floating business cards. The PSD file includes two smart object layers for card front and back sides.
Business Cards with Box Mockup (Free)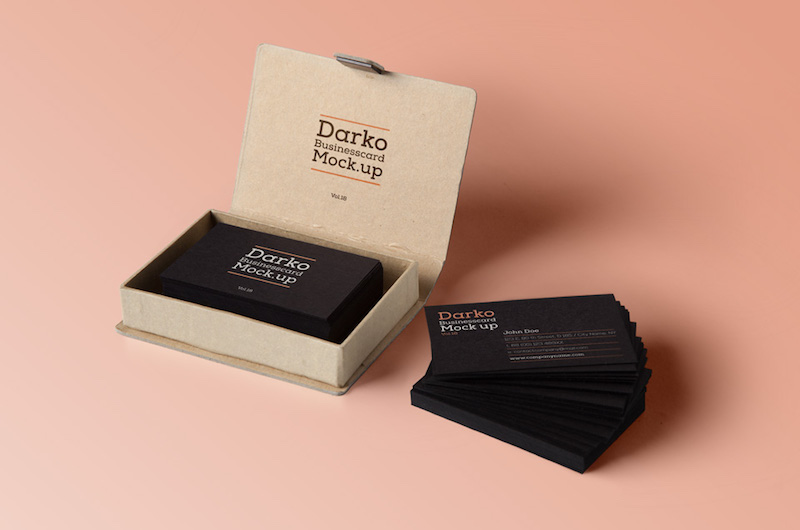 Photorealistic mockup of stacks of business cards along with their cardboard box packaging. Ideal to present dark themed business card designs.
Scattered Business Cards Mock-up (Free)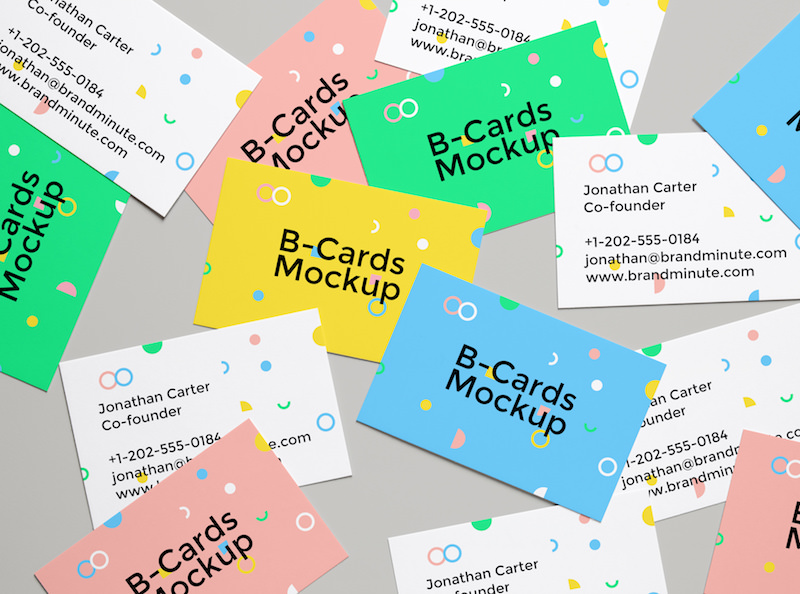 A free presentation mockup with top view of business cards scattered across the background to showcase your designs in an informal, fun way.
Floral Business Card MockUp PSD (Free)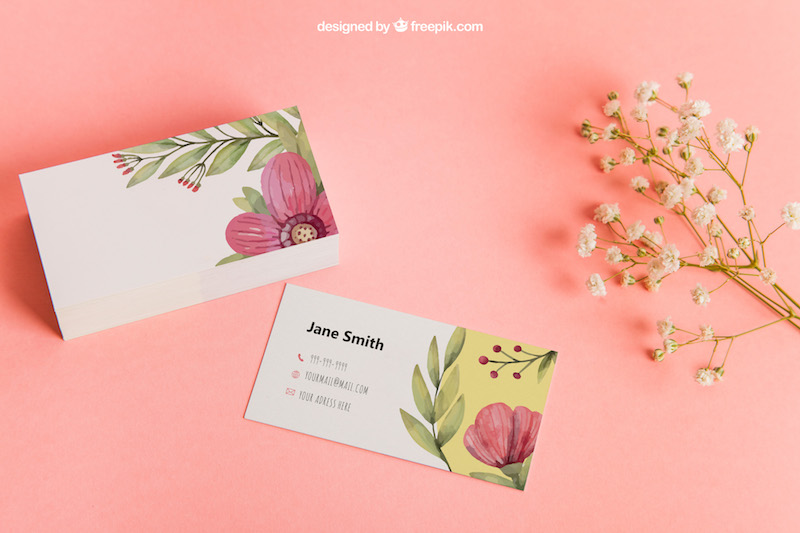 With a soft color scheme and flower stalks in the background, this mockup-scene is fitting for showcasing elegant, floral based business card designs.
Hand Holding Business Card MockUp (Free)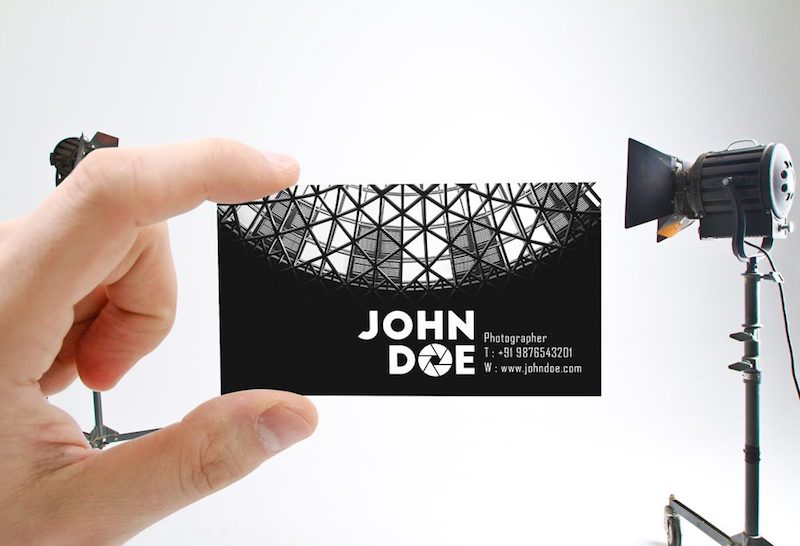 This free PSD template contains a close-up of a business card held by a male hand with studio scene in the background. The mock-up template is ideal to present photography related logo and business card designs.
Perspective Visiting Cards MockUp (Free)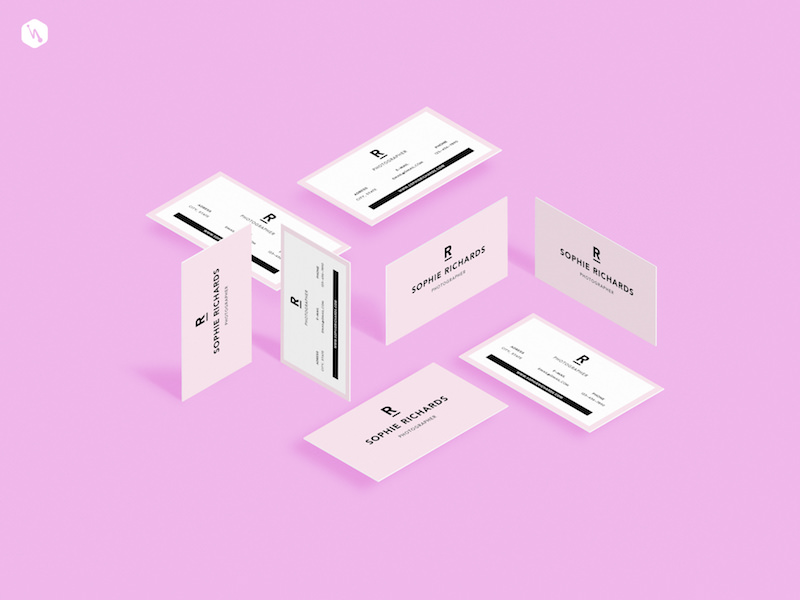 An interesting layout with different perspectives to display your visiting card designs in more detail. Available for free download in PSD format.
Translucent Business Card PSD Mockup (Free)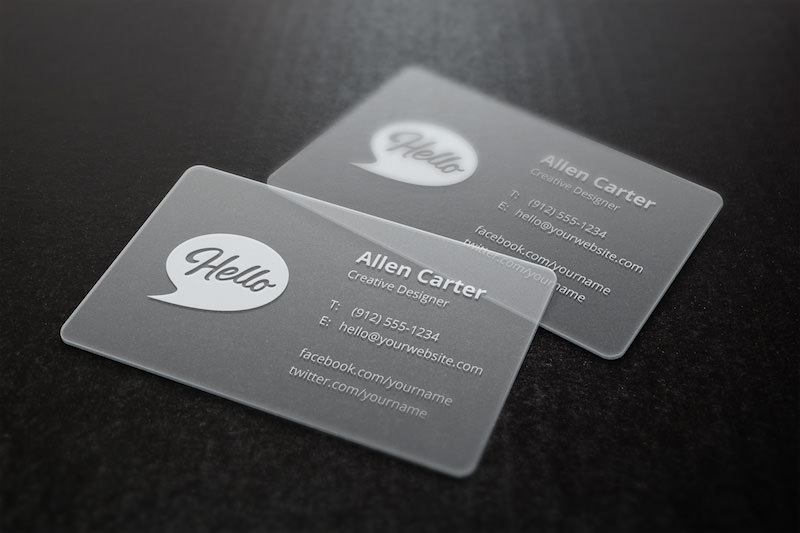 A high-detailed mockup to depict your business card designs printed on translucent plastic. With separate shadow layers, smart filters to modify depth of field effect and smart layers to place your own designs, the PSD file can be easily edited. The dark textured background is also included with the free download.
Business Card with Cutout Mockup (Free)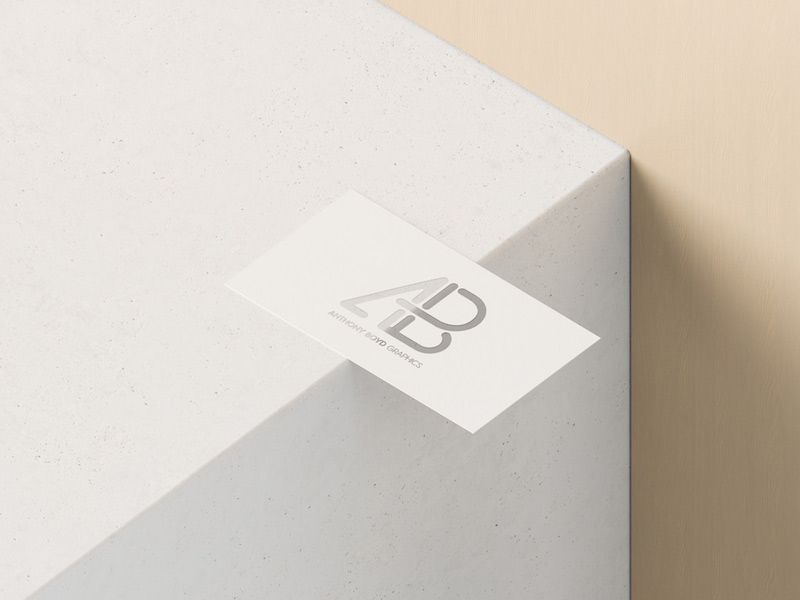 A high-resolution PSD mockup of a business card with cut-out look. Use this realistically rendered mockup to showcase your logo on a business card with a cutout effect applied to it. Dimension of this mockup are 5000×3750 px at 300 DPI.
Business Card Printed on Recycled Paper Mockup (Free)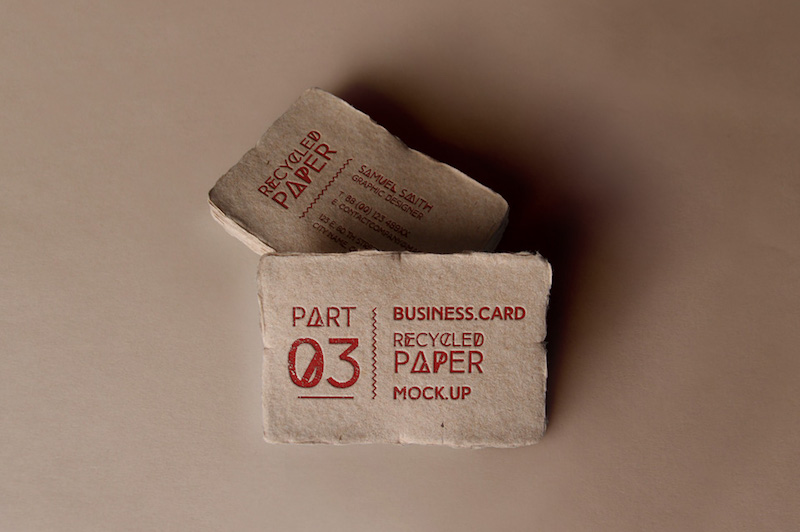 A high-detailed mockup to depict how your business card design will look when printed on recycled paper. The brown texture background is also included with the free download.
Business Card Foil Mockup (Free)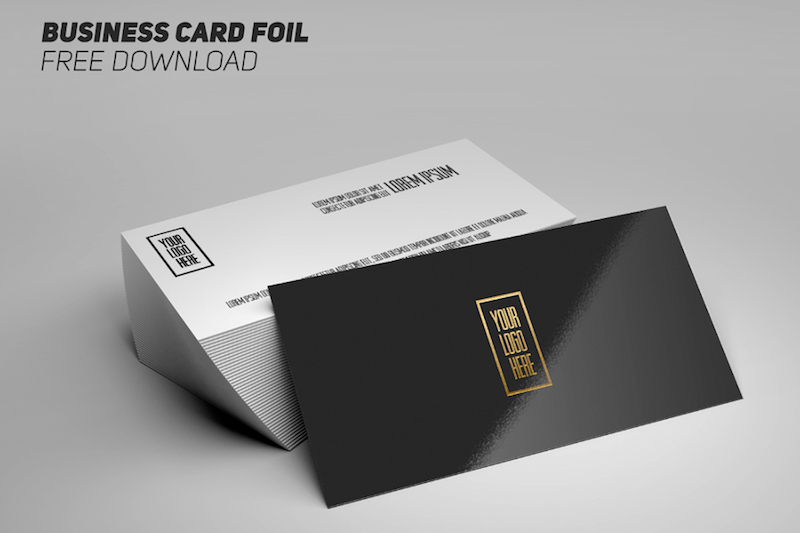 Present your business card designs, logo and branding realistically with this free template. Included are 3 foil color variant – Gold, Silver and Hot Pink to mockup foil effects. PSD smart objects to place your designs will make your work faster.
With these pre-made mockup templates, you can speed up your workflow for presenting your work to your clients or on your portfolio site.
If you're working on a business card design project, you might find these articles useful: