AdminKit is a free and open-source Bootstrap 5 admin dashboard template, featuring hundreds of UI components, forms, tables, charts and icons. With AdminKit, you can create your next Bootstrap based project even faster than before. It can be used to create a SaaS based interface, administrator dashboard, or anything you want to build on the web using the most popular CSS framework, Bootstrap. AdminKit helps your team in moving faster and saving development costs.
Preview of AdminKit Bootstrap Template
Find below a preview of the AdminKit dashboard template, do check out the demo to see the complete dashboard design.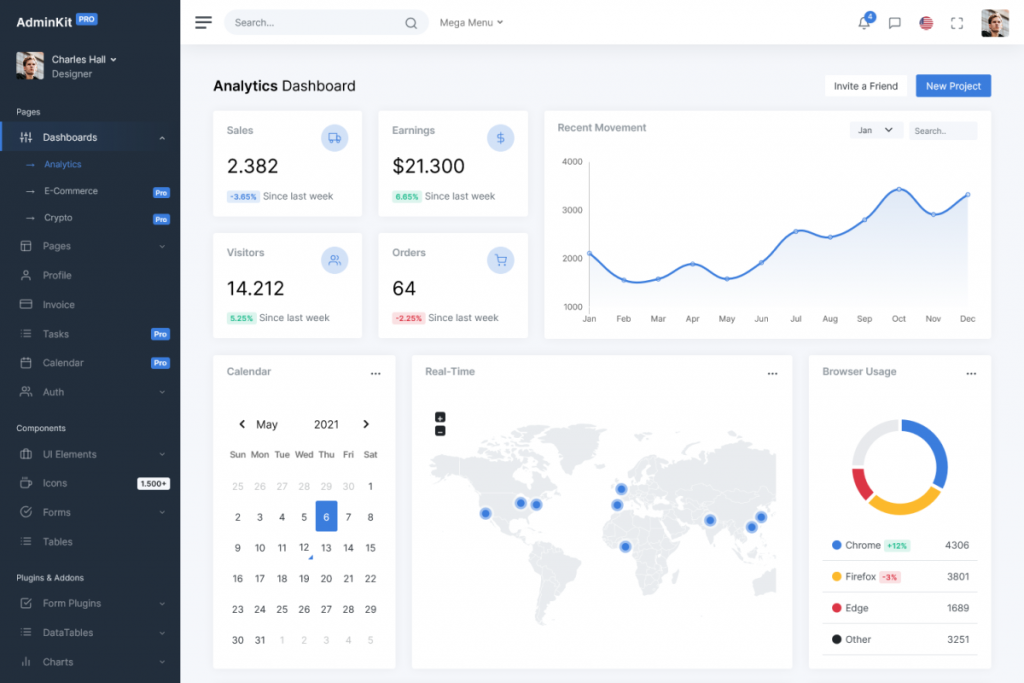 Features
Built with Bootstrap 5: Built on top of the latest version of Bootstrap 5 and HTML5, which means – robust, responsive and easy to customize.
Customizable: AdminKit is built using the latest tools and provides an easy way to customize the color schemes, layout, fonts, etc.
Fully responsive: With mobile, tablet & desktop support it doesn't matter what device you're using. AdminKit is responsive in all browsers.
Lifetime updates: From time to time you'll receive an update containing new components, improvements and bugfixes.
Download
You can download the AdminKit template using the button below. Upon downloading the template, you'll find the following files:
Source files (/src/)
HTML (/static)
CSS (/dist/css)
JS (/dist/js)
Images (/dist/img)
License
This project is licensed under MIT License. To find out more, check: https://github.com/adminkit/adminkit/blob/dev/LICENSE
More Admin Templates
We have an extensive collection of Admin Templates on our site and you can find them using the links below: