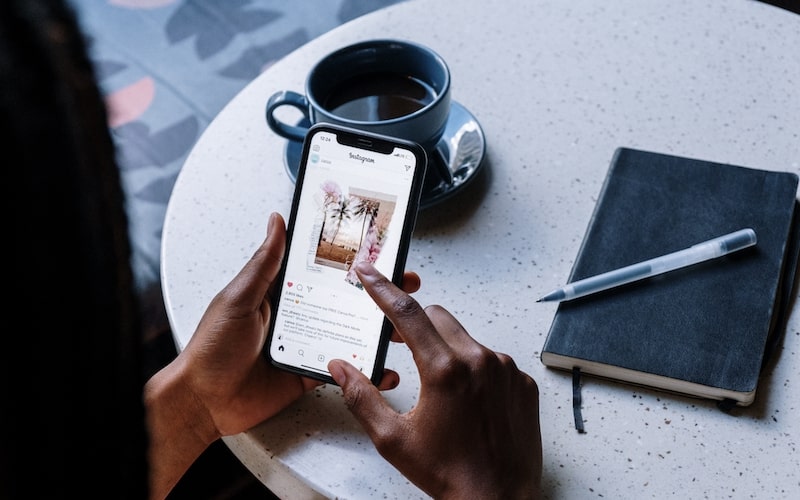 You could pour your heart and soul into creating the "perfect" Instagram post, but your competitors can still get more likes and shares.
What are you missing?
What mistakes do you make that can keep your Instagram marketing efforts from succeeding?
How can you avoid these pitfalls?
Fortunately, you won't need a crystal ball to get some answers.
This guide covers six social media marketing mistakes that can hurt your business, specifically on Instagram.
1. Posting content without a strategy
Regularly posting on Instagram can help your brand maintain continuous engagement with your followers.
It also allows you to establish a solid online presence, drive website traffic, increase brand awareness, and sell more products.
However, you'll have to go beyond posting content daily to engage your Instagram followers effectively.
You need a solid strategy to optimize your engagement efforts and, in turn, meet your Instagram marketing goals.
Create a strategic IG marketing plan to guide and shape your initiatives.
For instance, part of your plan can be using various content types, such as including the top poll questions to ask on Instagram to your Stories and Reels to boost audience engagement.
Simplify and streamline your IG marketing strategy implementation using reliable social media management platforms.
Vista Social's modern platform offers a content calendar to help you plan and organize your IG posts easily.
Then, schedule your content for auto-publishing with the platform's post scheduling tools.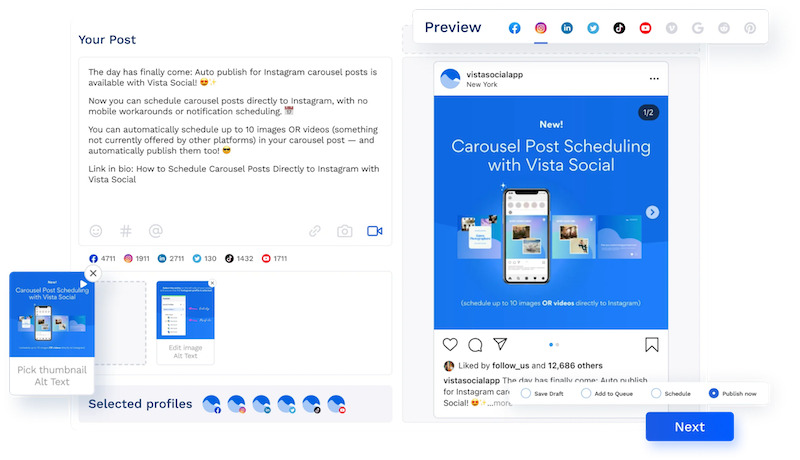 You won't need to manually publish your social media content on Instagram, Facebook, Twitter, and other social networks, saving you tons of work hours and energy.
You can schedule your IG carousel posts, Reels, and Stories from the platform.
Supercharge your posting strategy, including your product marketing on Instagram, with a sophisticated, all-in-one social media management platform.
2. Failing to use tracked links for attribution
Instagram marketing can help you drive traffic to your online store or business website.
However, if you're not tracking the link clicks from Instagram, you might have a hard time determining whether your IG campaigns and marketing efforts are succeeding.
To help check and prove your Instagram marketing's Return on Investment (ROI), monitor each link click from your IG posts, Reels, Stories, Shops, and bio.
Ensure the links have tracking parameters attached. Doing so allows you to credit your business results to your Instagram marketing initiatives.
Besides using tracked links from your Instagram posts for attribution, develop a solid content tracking strategy to help determine your content's performance.
You'll know which posts get engagement and drive your expected results. It can help you optimize your Instagram content and marketing strategies.
Also, analyze your Instagram content's performance against your objectives to assess if you're meeting your targets.
Use handy goal-setting software to stay on top of your objectives and targets. It makes it easier to align your IG content and strategies with your overall marketing and business goals.
3. Going crazy with hashtags
Hashtags can help turn your Instagram marketing efforts into a success or sink them.
After all, using the right amount of hashtags can help Instagram users find your content, but adding too much can make your post look like spam.
While you can include as many as 30 hashtags in your IG posts, try not to get too carried away.
Achieve a good balance between branded and searchable hashtags. Only include the most relevant and brand-related hashtags in your posts.
GoPro's Instagram post below is a classic example of keeping branded and searchable hashtags to a minimum.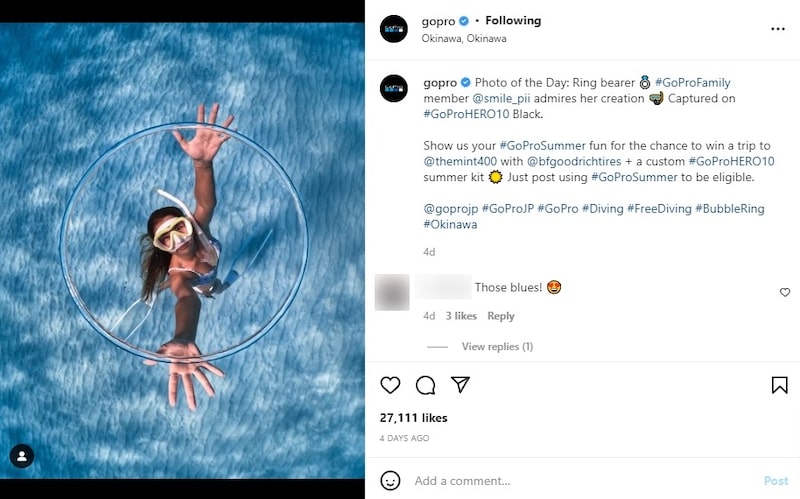 Experiment with the number of hashtags to find the optimal number that works best for each post and your business.
Use social media management tools and modern content distribution software with hashtag suggestion features to help you find the best hashtags to include in your IG posts.
4. Sticking to a traditional strategy
Instagram evolves and shifts quickly.
What IG marketing strategy works for your business now might not work well in a few months.
If you don't want to get left behind by your competitors, keep up with the revolving door that is Instagram and tweak your marketing approach accordingly.
One way to do this effectively is to regularly experiment and test the following:
Your posting frequency
Your posting times
Your caption length
The number of hashtags (and hashtag types)
Content pillars and themes
Your content formats and types
Determining your business's best IG strategy isn't an exact science.
Your best bet is to test and experiment on one variable for (at least) five posts or within two to three weeks, depending on what gives you more data before tweaking anything.
It can help ensure your current Instagram marketing strategy works for your business.
5. Not interacting with your audience
The word "social" in social media platforms is there for a reason.
That said, you should socialize and interact with your followers on social media networks.
You'll miss opportunities to boost your engagement rate and build a community and loyal following if you don't.
Foster genuine connections with your audience by interacting with them.
Talk to your followers, respond to comments, join conversations, and initiate engaging activities.
To answer common customer queries, you can host Question and Answer (Q&A) sessions on Instagram live or Stories.
For example, if you run an online marketing agency, address customer questions about the difference between SEO and digital marketing via an Ask Me Anything (AMA) IG Story.
It's an excellent strategy to share valuable content, connect with your audience better, and draw more attention to your brand.
It can also help humanize your brand and create a positive experience with your audience, which is always great for boosting engagement.
Try to keep your conversations casual and fun.
Netflix does this well by responding with a simple IKR!!!!! (I Know, Right) to an Instagram user's comment on its post.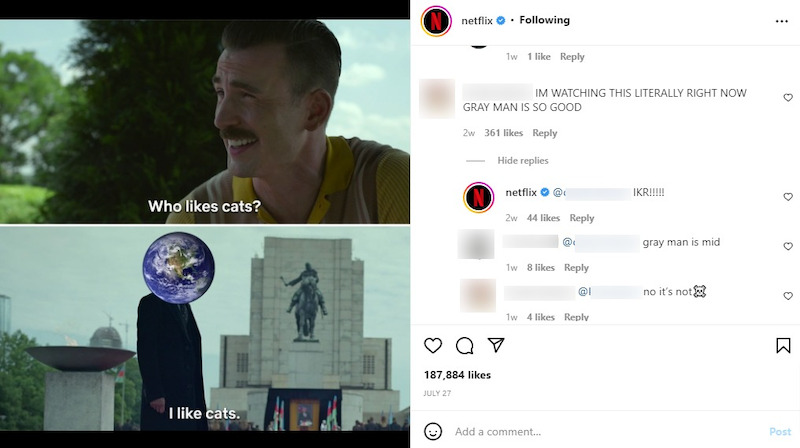 A simple comment, a like, or an emoji can go a long way in helping you interact with your audience, boost engagement, and build trust with potential customers.
6. Ignoring analytics
A common and major mistake you (and most marketers) can make is to ignore your Instagram marketing data (or not make the most of it).
Instagram offers comprehensive analytics and insights at per-post and overall account levels.
You can leverage these to review your data and know the aspects of your Instagram marketing efforts that work well (and don't work well).
You'll learn which content drives your expected results, including how and why they're performing well, so you can focus on them.
Leverage built-in Instagram analytics tools to gain valuable insights to help improve and optimize your IG marketing efforts.
Avoid the common pitfalls of Instagram marketing
Turn the odds in your favor.
Learn the typical Instagram marketing mistakes you can make and implement the best tactics to avoid (and address) them.
Stick to best practices, refine your strategy, and use the best-fitting tools to step up your Instagram marketing game.
You're less likely to make the same errors a lot of marketers and business owners make, increasing your chances of achieving Instagram marketing success.
You may also like: Best Instagram Templates for Free Download (& Premium)
Cover Image Source: Pixabay