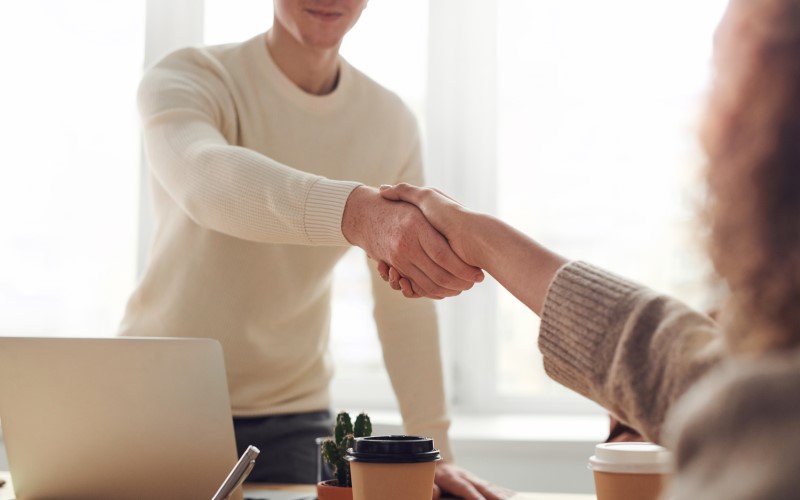 Every student has a moment when they think about getting a job. For some, this may be the first job; for others, the second or third. But when combining it with studies, extracurricular activities, and social life, it can be challenging. And one of the main obstacles is finding the time for the interview.
In this article, we'll share practical advice for university students on successfully interviewing, what documents you need, and where to look for work.
Interview tips for college students
College student interviews are similar to other interviews with qualifying professionals. The main difference is that students are usually looking for a part-time job as they are still studying. However, the upcoming meeting makes the students very nervous. Therefore, we suggest that you familiarize with interview tips for students and gain energy and confidence.
1. Prepare your job application documents
To find a good job, you need to create a resume and cover letter that grabs the recruiter's attention. Since there can be many candidates for one position, you need to know how to write the documentation correctly.
Whatever the type of resume, it should include information about your skills, experience, education, possible certifications, and personal contacts.
A cover letter is more of a way to impress a recruiter. The document should tell why you want to get this position, what benefits the company will gain by hiring you, and examples of specific skills or relevant experience that meets the vacancy requirements.
Bring a copy of your resume and cover letter to your interview. It's also advisable to ask your HR manager what other documents to take with you to your interview—for example, your high school diploma or birth certificate. Taking this small step can save you an awkward situation during the interview.
2. Plan when you schedule your interview
When planning your interview, you should make sure you have enough time to get to your appointment. Especially if you have classes that day.
If you are going to go straight after or during class, let your interviewer know. If necessary, you can ask your professor to let you go a few minutes earlier so that you can get to your interview on time. Just don't wait until the last moment to inform the teacher.
3. Research the company
You should study the details of the company before going there. You can explore their official website, check social media (LinkedIn, Twitter, Instagram, Facebook), and read company and employee reviews.
This familiarity with the company can help you define the company's culture and prepare for possible questions.
4. Match the company dress code
As mentioned in the previous point, study the company's corporate policies and see what clothes employees wear. Many employers prefer business style, but some do not limit their employees in clothing choice. If you are looking to get a job at a law firm, then most likely, the employees wear business suits, so if you come in beach shorts and flip-flops, there is a high probability that you will be refused employment.
Clothes must be prepared in advance, and make sure that they are not wrinkled.
5. Make sure you have recruiter contacts
Some things are uncontrollable, and every situation is different. Something can happen on the way to the interview, or you could be urgently detained at the university. In such cases, you should always call the hiring manager and tell them that you will be late or not coming.
6. Make sure you know the exact location of the interview
You shouldn't be late for an interview, so be sure you know exactly where it is taking place and how to get there in advance. If you are not sure or do not know the area well, then come early or a day before the interview to find the building.
It is considered good form to come for an interview (in the interviewer's office) 5-10 minutes before the appointed time.
7. Rehearse your interview
Practice will help you prepare for your big day. You can ask a family or friend to act as the interviewer or use a mirror. This trick can help calm your nerves and better prepare for unexpected or difficult questions. You can find questions online. There are general interview questions for most jobs and specific questions for a particular career.
General questions include:
What has been your most significant achievement at college?
What goals have you set for yourself for the next five years?
Why are you the right person for this job?
What are your strengths and weaknesses?
Please tell us about yourself.
How much time can you devote to this work?
What are your salary expectations?
Tell me about a tough challenge you had to overcome.
Tell me about a time you had to make a difficult decision; how did you go about this?
8. Get a good night's sleep before your interview
Makeup can't completely hide your dark circles and fatigue. Thus, the employer may get the wrong impression of you, and it will serve as one of the reasons for refusing to receive the position. Getting enough sleep also improves your concentration, cognitive ability, and ability to cope with stressful situations.
9. Don't forget about meals
Eating healthy food will help you regain strength and boost your energy during the interview. A hearty breakfast or lunch can help you focus and free your mind of stress. But it is important not to overeat and give up fatty and very sweet foods for this day.
10. Turn your phone on silent
If you are not the CEO of a large company, your phone should be on silent mode during important meetings. This advice is not a whim. First, the phone can be a distraction, which will show you as a person unable to concentrate on one thing for a long time. Secondly, the recruiter may not like your call melody or may consider the interruption as rude, which may be the reason for the refusal. Quite a strange reason, but it does exist. Therefore, just turn the phone on silent mode and put it in your bag or pocket during the interview.
11. Don't bring food to the interview
It is unprofessional to bring food and drinks to the interview site. Crumbs, the smell of food, or accidental coffee spills will all work against you. You should schedule your snack time so that you finish eating everything on time. The exception is water.
12. Remember to be polite, honest, and professional
After arriving at the meeting, you should kindly greet the HR manager, show interest and proactiveness during the interview. Be positive, outgoing, and smile. Your back should be straight but relaxed. Answer the questions as accurately as possible, and do not evade the answer.
Final Words
Employment is a long process, but you shouldn't be afraid of it. Many employees went through interviews, and each of them eventually found the exact job they wanted. Just follow all or a few of the job tips you like, and you will succeed, too!
Don't forget to look at these remote job boards and resume HTML templates that can help you land your next dream job.