Now UI Kit is one of the most promising Bootstrap 4 UI kits with beautiful cross-platform UI, featuring over 50 elements and 3 pre-built page templates. This responsive and modern UI kit has been designed by Invision and developed by Creative Tim. Creative Tim has provided us with the latest version of Now UI Kit to be downloaded for free by SDR readers.
As the Now UI Kit is built on Bootstrap 4, you can easily import it into your exiting Bootstrap based projects or start a new one leveraging your existing knowledge of Bootstrap. Most of the Bootstrap elements have been redesigned in this UI Kit and additional components have been added for the ease of designing modern pages.
The kit also comes packed with 3 pre-built example pages to show you how to use the components. You can find demo of these example pages below:
You can find component documentation of this UI Kit online as well as in the downloaded package. If you are interested in the PSD and Sketch formats of this UI kit then they are downloadable from Invision.
Preview of Now UI Kit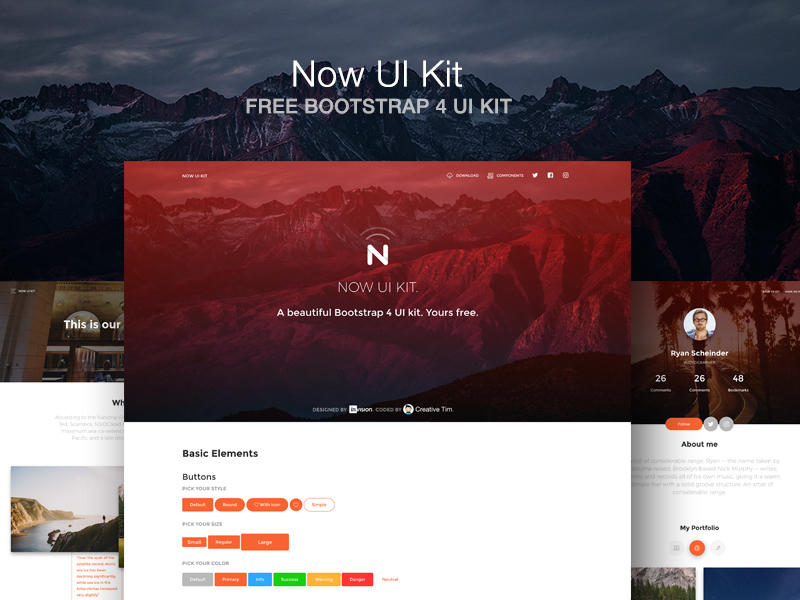 Download Now UI Kit
License
This free UI Kit is available under MIT license.
Now UI Kit Pro
While the free version of NOW UI Kit has 50 components and 3 example pages, you can opt to get the Pro version which has over 1000 components and 11 example pages. Learn more about Now UI Kit Pro.