There are dozens of admin template packs released every day, but let's be honest, most of them are missing the balance between functionality and high-quality design. Getting an admin dashboard interface right is a matter of having a clear understanding of both functional requirements from a web developer's point of view and also how each component should be visually designed in order to not only look good, but also keep its functional properties.
Shards Dashboard Pro by DesignRevision gets both points right, and then more. In this post we will take a look at this premium Bootstrap 4 admin dashboard template pack and will also give a special discount coupon (see at the end) for our readers.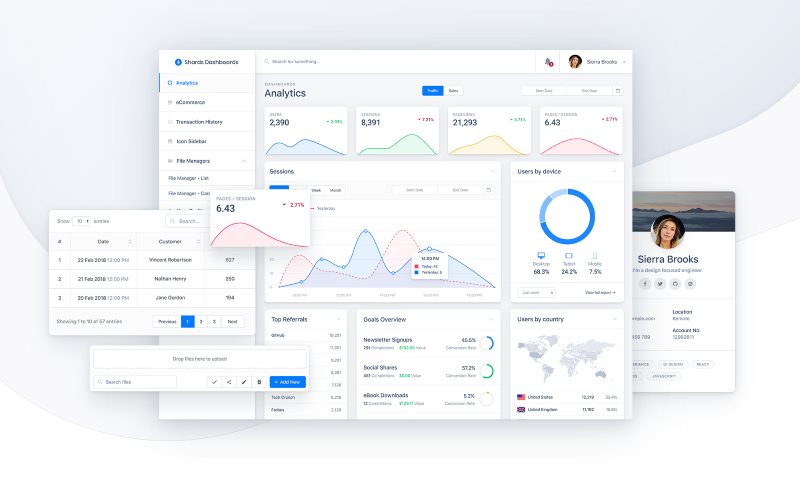 What is Shards Dashboard Pro?
Shards Dashboard Pro is a premium collection of high-quality templates and components
crafted by DesignRevision using Shards UI kit which a free Bootstrap 4 UI Kit from the same team. The entire toolkit is based on the final version of Bootstrap 4 and this means that you'll get all the benefits from the most popular front-end CSS framework and a beautiful design system that not only looks good, but also performs well.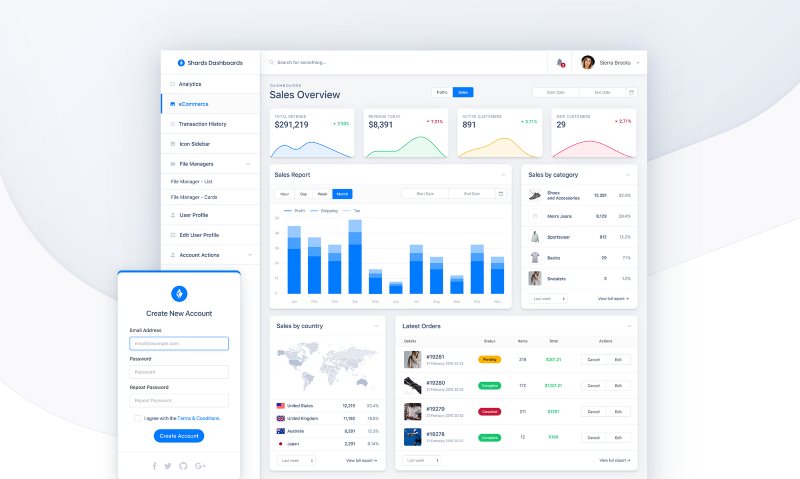 How does it stand out?
Right out of the box it features a stunning, modern design with excellent typography, spacing and smooth transitions. It's packed with templates and custom components designed for various use cases. Whether you're building an application's dashboard focused on user metrics and analytics, an eCommerce application's admin panel or a file manager, Shards Dashboard Pro has your back.
Each component and template is highly modular and well organized with the ability to adjust to various use cases. This means that you can easily swap or change a component to fit your own needs just by changing a few lines of code. Not only that, but all templates are fully responsive and adapt to various viewport sizes without any adjustment from your end. The team spent a lot of time testing it on multiple devices and making sure everything behaves properly.
Usually, in similar products that try to solve multiple problems, the most critical issue is that they bloat your project with unnecessary code. That's not the case with Shards Dashboard Pro. The team has done a really great job at optimizing the entire kit to weight less than 24KB minified and gzipped. What's even better is that you can optimize it even more
depending on what you choose to keep!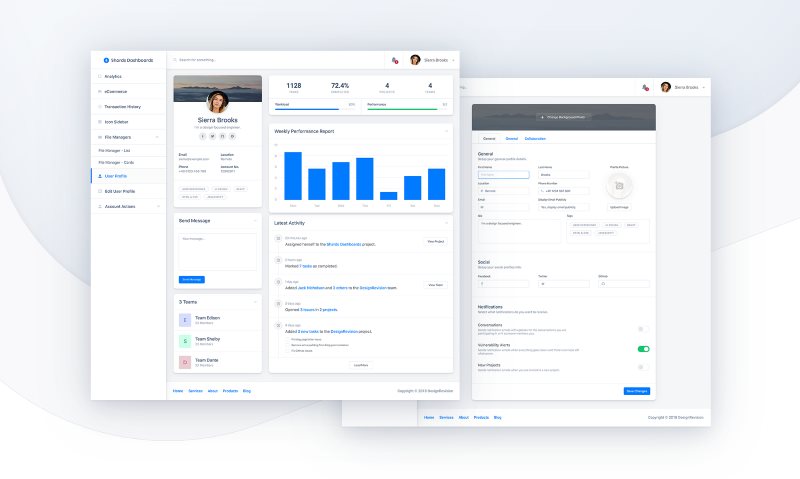 Plugin Support & Customization
Shards Dashboard Pro ships with the original SCSS file and also the Sketch files (in Standard Plus and Exclusive packages) so you can get your feet wet and customize the kit to your own needs. You'd prefer a different accent color? Don't worry, just change it inside the source files and re-compile the entire template pack. Or maybe you'd like some component a little bit more spaced out, you can do that too.
Shards Dashboard Pro provides support for 6 popular JavaScript plugins:
What's really great about this is that you can include only what you need. The kit is so well organized that you can optimize your project and keep only what's essential to avoid a
bloated structure.
But that's not all
The team has put a lot of effort in providing a clear and solid documentation so you can start building great admin dashboards in no time. Also, every purchase of Shards Dashboard Pro comes with 12 months of updates and access to premium support. Not sure how to use the kit? Don't worry, just ask the support team and they'll put you on the right track.
Special Discount
The DesignRevision team has prepared a special discount for all SDR readers. Just make sure you use the SDR20 coupon during checkout to get an extra 20% off the existing discounted price on all package plans available.