Thinking about developing an app for your business website? But, do you know how to code? Not everyone is aware of coding but that shouldn't stop you from creating your own app for your customers. There did exist a time when web-app development was just for the skilled programmers and development professionals. However, with the advancement in technology and the development of several tools, you can now build a professional looking, fully functional and user-friendly app.
There are many tools available for the non-techy users to setup their blog or web apps. In this article, we would look at a few best web application frameworks that would enable people with absolutely no prior knowledge of programming to create user-friendly web applications.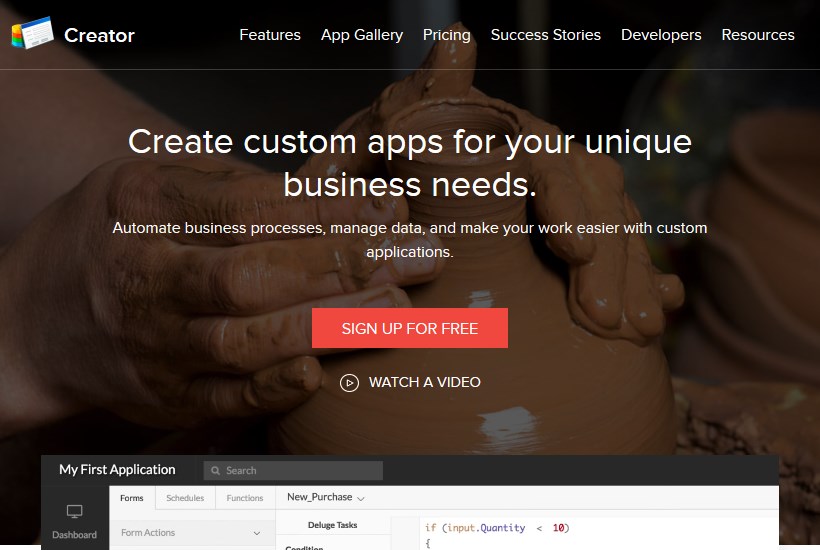 With Zoho Creator, it becomes really easy to develop applications as it requires minimal effort. As a non-programmer, you would get the option of dragging and dropping the pre-built code snippets into your layout so as to use the scripting language. This means that you wouldn't need to understand or remember any codes.
If you wish to make your app even more amazing, you could put in a bit more effort and make use of Deluge. It is an inbuilt scripting language that can be used to inject things like sending automatic texts or emails, scheduling certain actions and much more into your web app.
Bizness Apps is one of the most popular web app creators that would allow you to create a user-friendly mobile application for your business in a quick and affordable way. The great thing about the tool is the fact that you do not need to have any technical expertise for it. Be it a real estate business, manufacturing companies, legal service provider, spas, sports, restaurants, non-profit organizations or anything else, this tool is ideal for all kinds of businesses.
This is especially suitable for start-ups or small businesses that do not have a big budget to hire developers. Mobile shopping cart, one-touch dialing, GPS directions, push notifications, custom email forms, image galleries are a few of its attractive features. With an easy-to-use CMS, you would be able to develop and personalize your iOS and Android web application.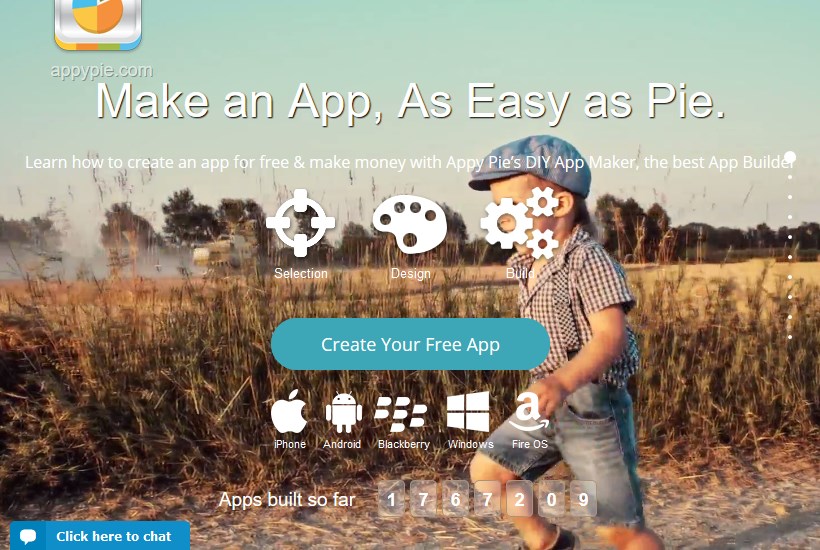 Once you create an account and sign in, you would be able to see a link that says, 'Create a new app'. Begin by selecting a category and entering a name for your app. Based on the category that you choose, you would be presented with default background images which can, of course, be changed later. Once done, you would then be able to style your app just as you would like it, add pages to it or even change the navigation.
To customize the look of your app, click on the tab that says, 'Style & Navigation'. Once you are happy with the changes that you have made and with the look and feel of your app, click on the publish tab. You might be able to test the app on the phone or might be able to publish it on an app store depending on the subscription plan that you have chosen. Also, based on the subscription plan, you would receive additional features like ads, push notifications etc. In order to publish your app on the Google play store or the Apple app store, you would be required to have a developer account.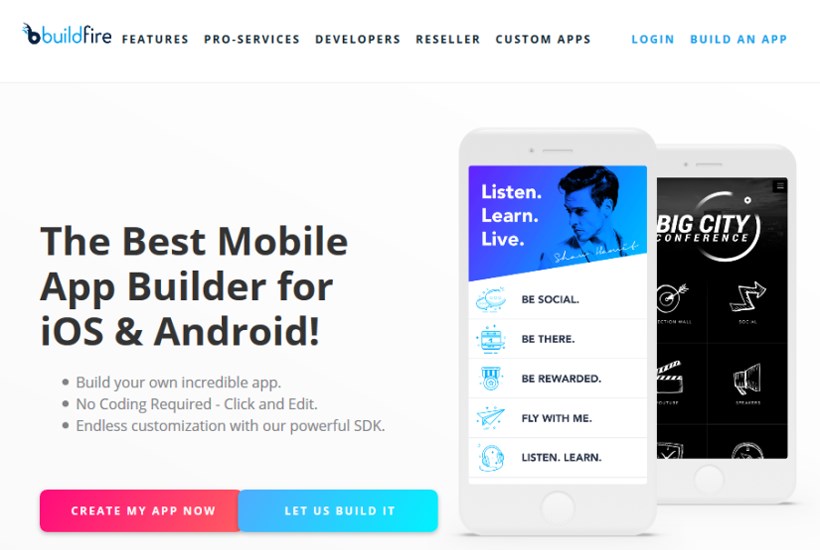 It is one of the most incredible App Builders for iOS & Android. With no coding required, users can simply just click and edit their ideas and provide endless customizations to their app design. After choosing the app template, all you would be required to do is customize it in a feature-rich manner and then publish it for your customers.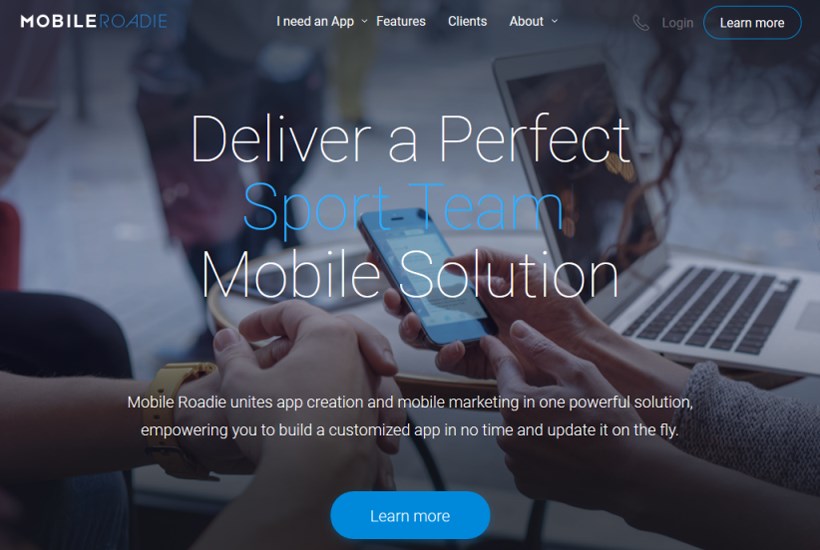 Mobile Roadie is an amazing mobile app creator which enables users to design business-related mobile applications for the Android and iOS platforms. In fact, most of the popular companies use this tool to create mobile apps. But, why is it so? It is because the tool offers a wide array of advanced features that can enable you to create a professional looking business app for various mobile platforms. Be it any kind of business, with the help of this app maker, you would be able to create robust apps. Location maps, individualized messages, new updates, push notifications, mobile marketing tools and chat options are some of its exciting features.
Other than that, you would also get the chance to add photo uploading through Flickr, Instagram, Facebook etc. Audios can also be imported from iTunes, SoundCloud etc.
This is one of the most popular and amazing visual content management system tools that allows users to create hundreds of pages speedily. To begin, you would have to let Webflow know regarding the kind of content that you wish to create. It could be anything from recipes, blog posts, portfolio pieces to anything that you want. After this, you would be able to customize the structure of the site accordingly. If you aren't so creative, there are a few pre-existing templates available that you can choose from.
You could design one template for blog posts and then that design would apply automatically to each item that you would label as blog posts. This feature is especially beneficial if you are looking to launch your mobile-app soon as you would be able to design pages quite quickly. Also, when your app has been published and is live, you would still be able to write and edit directly on the live website. This way the site would update itself automatically. The simple design navigation and easy User Interface makes this website builder a favourable option.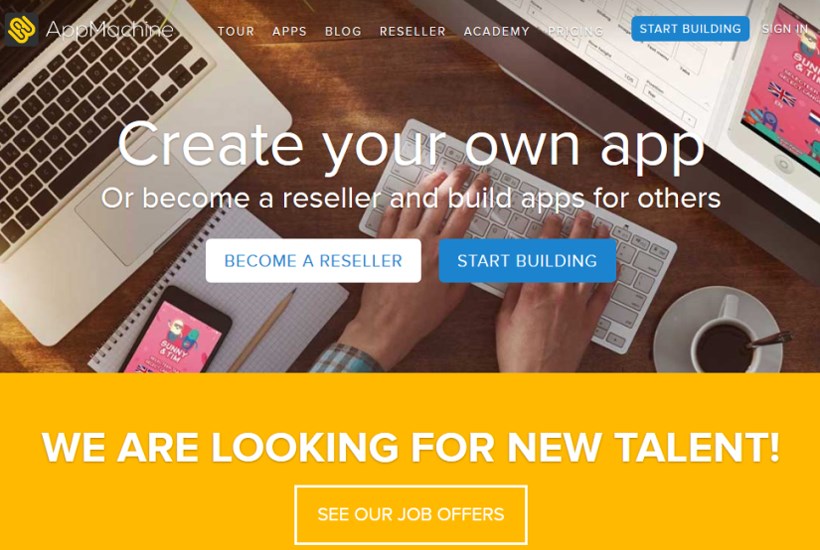 AppMachine is a fantastic web-app framework that has been designed especially for the people who do not have much knowledge about coding or programming. This tool would give you the chance to design beautiful and interactive app for your business. The app, however, is not completely free. You can sign in, create the app for free but in order to publish the app, you would be required to pay for their services. With this tool, creating an app is done easily by scanning your site and then uploading the content onto the iOS, Android and Windows app.
With AppMachine, you get the chance to choose from the basic or the advanced features for your app. Basic features would be to include videos, pictures, analytics, social media accounts, contact information and other similar features. Advanced features, on the other hand, would allow you to include e-store, custom coding, web services so as to enable connections to the external data sources.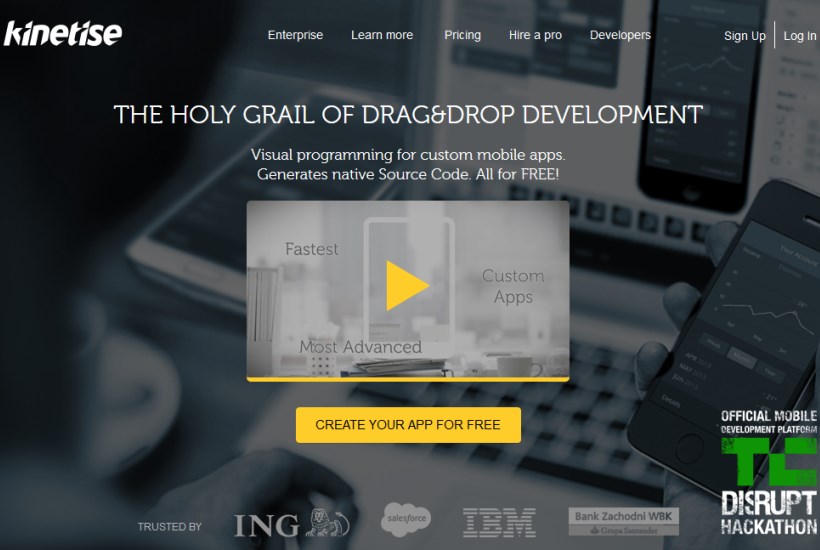 The tagline for this easy app development framework says, "The Holy Grail of Drag & Drop Development" which is quite an interesting one. With this builder, you can create some of the fastest and most advanced custom apps. The platform lets you incorporate features like Incidents Tacker, Expense Tracker, Corporate Chat, Employee directory. Some of the app types that you can create with Kinetise are Taxi apps, corporate business apps, Food booking apps etc.
Other than the ones mentioned above, you could also opt for Appsbar, Taplytics, or CloudPress. Most people end up putting off building an app because they do not know how to code. However, with the tools mentioned above, we hope that you can take advantage of the tools to build a user-friendly app. Choose an ideal tool for building your site, be confident and go ahead to build a web app for your business.