Icons are an essential element of eCommerce website and mobile app design. In this post, we bring to you these great sets of free ecommerce icons and shopping icons you can choose from for using on your own online store. These icon packs cover all major aspects of eCommerce, including shopping cart icons, icons for shopping categories, discount stickers, barcode icons, shipping icons, icons for customer support and many more that are needed for designing interfaces of eCommerce websites and mobile applications.
These icon sets offer icons in different styles – colored, flat, long shadow icons, minimal outline icons and more. You will also find icons for payment methods and credit & debit cards that will help you enhance user experience while designing checkout pages of ecommerce sites and apps.
All these icons are available for free download and are allowed to use in your personal and/or commercial projects. Some of them may require an attribution in return. With the comprehensive icon sets listed below, you can illustrate every step of online shopping experience and improve the usability for your customers and users. Just choose one from these sets and add them to your web and mobile app UI design.
250 Free eCommerce Icons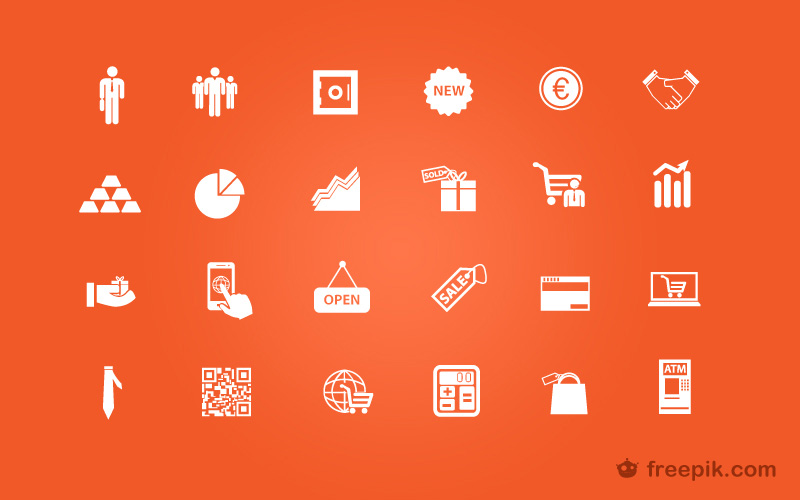 This freebie by WooThemes is a huge set of 250 retina ready ecommerce flavoured icons. Available in AI, EPS, PNG in 3 sizes – 32 px, 64 px and 128 px as well as in .ttf and .svg font files. In this set you will find icons for discount badges with variations, banners, announcements, currencies and more.
70 eCommerce and Shopping Icons (AI, EPS & PSD)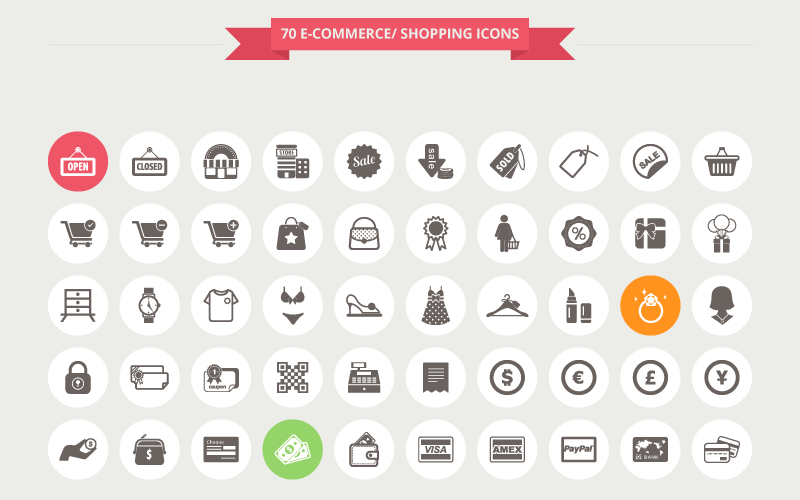 A comprehensive set of icons available in two styles, icons with light background and icons with dark background. Examples of the icons included are shopping cart, icons for payment methods, delivery icons, icons for price tag, sale stickers and many more.
The icon set by Speckyboy can be downloaded in PSD and AI & EPS vector formats.
50 E-Commerce Icons in Flat and Long Tailed Shadow Style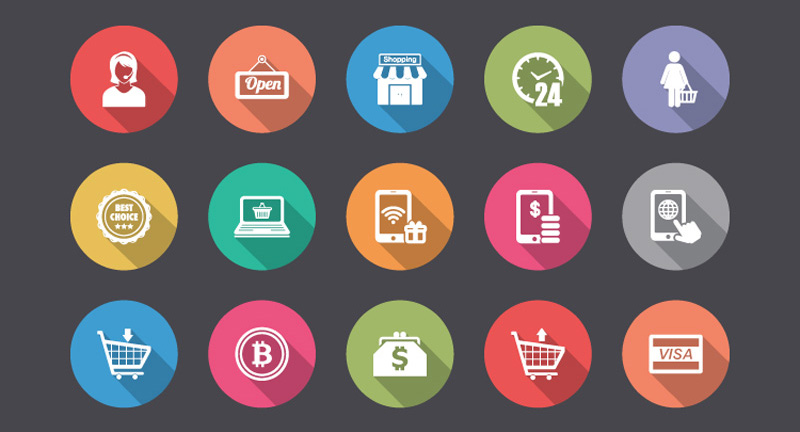 These colorful, circular ecommerce icons with flat long shadows will complement your flat website designs and apps. This icon set by Oneextrapixel is available for free download as PSD, AI & EPS files.
Responsive eCommerce Icon Set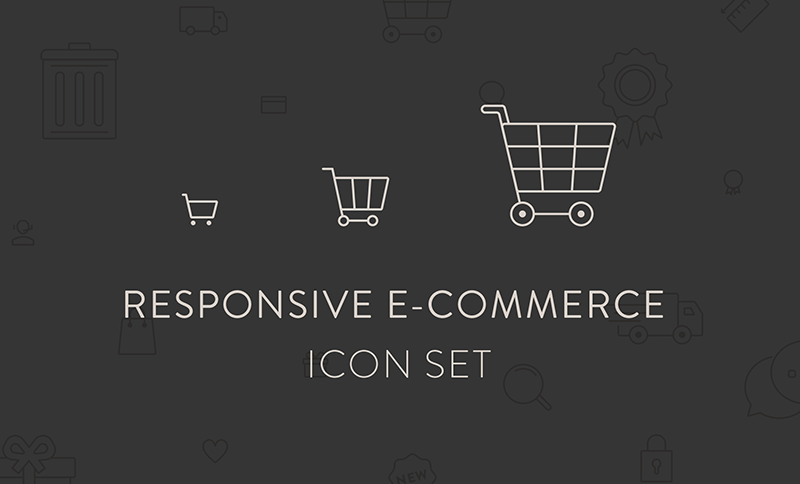 Responsive eCommerce Icon Set, by Plug and Play, includes all of the essential icons you'll need for your ecommerce website in three different sizes – 64×64 px for desktop, 32×32 px for tablet, and 16×16 px for mobile devices.
Available in JPG, PNG, AI, EPS, and SVG formats. Example icons included in this set are, icons for basket, chopping cart, best seller, size guide and customer support.
54 E-Commerce Icons PSD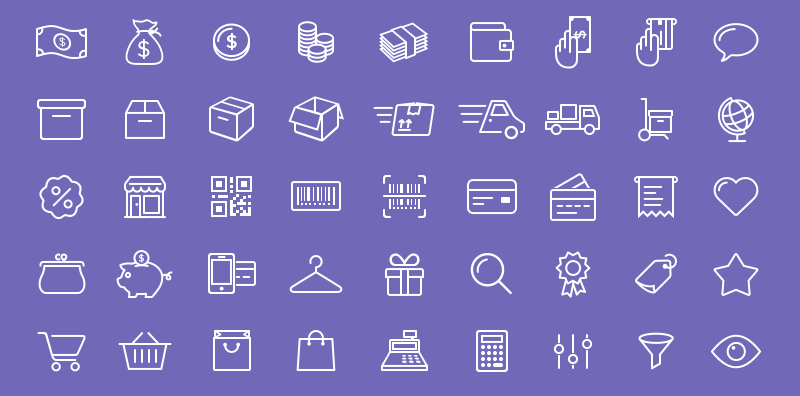 This ecommerce icon pack contains 54 minimal line icons packaged in an organised PSD file. Designed by Virgil Pana, these icons are made up of vector shapes and are fully scalable.
Ecommerce Vector Icon Set – AI, SVG & EPS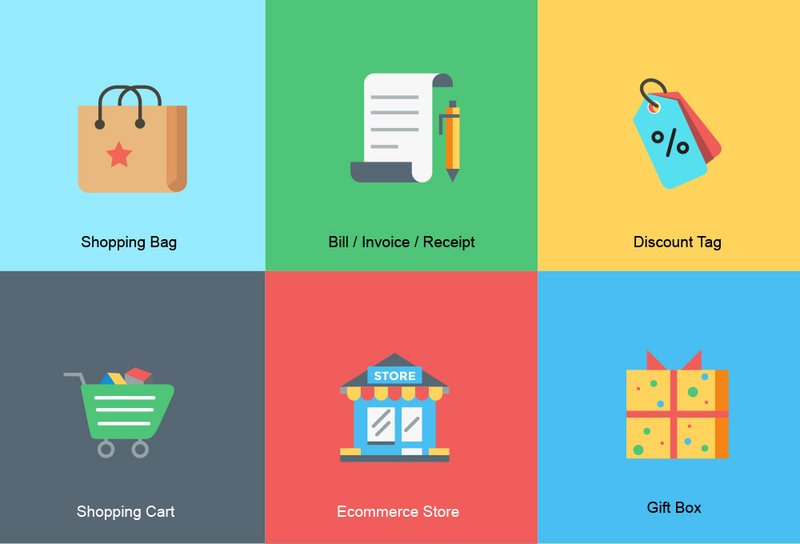 A free set of 18 colorful flat ecommerce vector based icons that are fully scalable. Available for free download in AI, EPS, SVG, PDF formats on GraphicsFuel.
Free E-Commerce Icon Pack SVG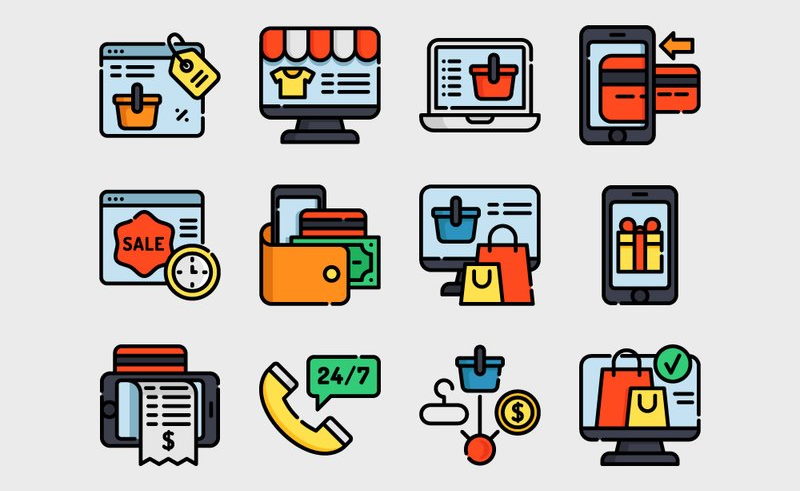 Illustrate the shopping experience on your website or app with this colorful e-commerce icon set from Flaticon. Each of these detailed icons comes in three different color styles – flat, lineal and lineal color, is 100% resizable, to fit in a mobile app or a billboard on the highway. Icons are supplied in SVG and PNG formats.
Flat eCommerce Icon SVG & PNG Set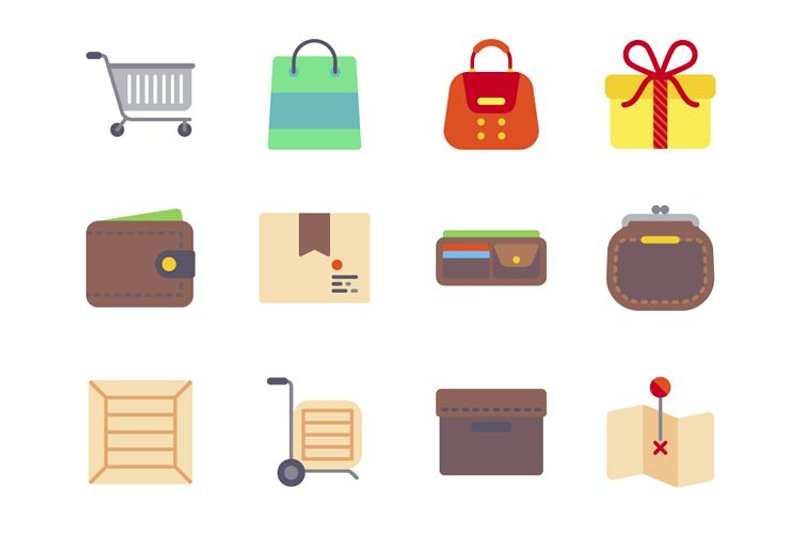 Designed in flat-style, you get 50 free icons designed by Freepik covering all major areas of eCommerce, including shopping cart and basket status icons, payment methods icons, delivery icons, shopping category icons, and much more. The icons come in SVG and PNG formats and you can freely use them in both your commercial and personal projects.
45 Outline E-commerce Icons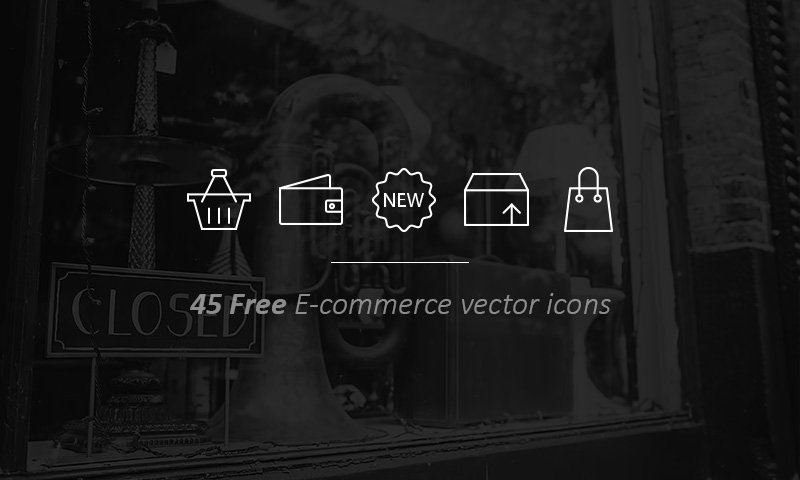 Courtesy of Dreamstale, this is a set of 45 free vector outline e-commerce icons. These thin and pixel perfect icons are perfect for modern and minimal e-commerce websites, online shops or mobile apps. Icons come in AI, EPS and transparent PNG formats.
E-commerce & Navigation Vector Icons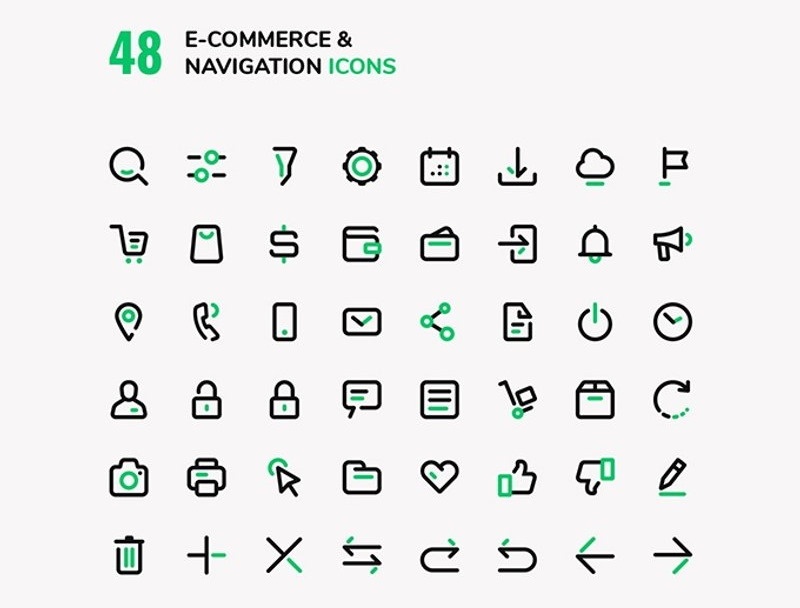 These free icons from Pixelbuddha are made with minimalism in mind and are suitable for iOS, Android and web. Download them for free in multiple formats including AI, EPS, PNG, PSD, SKETCH, SVG.
40 Free Ecommerce Icons – PSD & Ai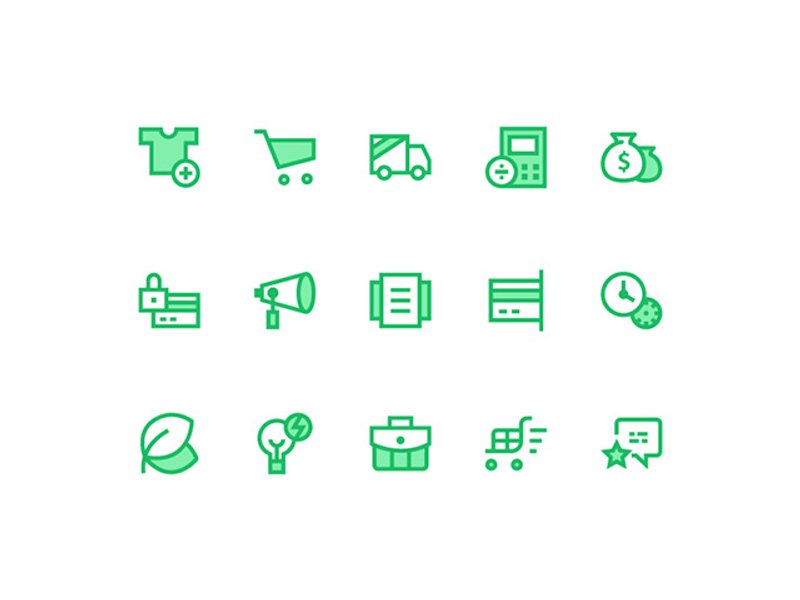 Released by icon designer Pavel Kozlov, this is a set of 40 free ecommerce colored icons featuring a simple style. On downloading you'll get icons in PSD and AI formats.
Flat & Stroke eCommerce Icon Set (SVG & PNG)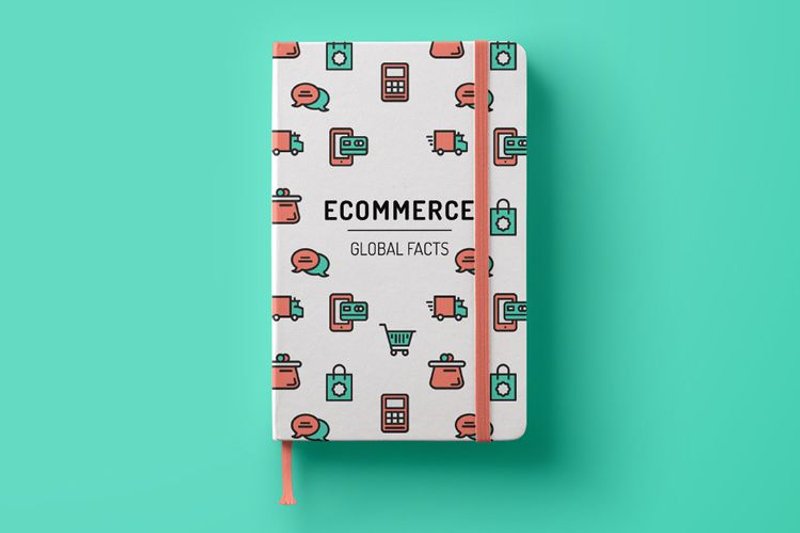 These icons from Speckyboy will surely help in improving the usability of an eCommerce website or mobile app. Designed in a flat as well as stroke styles, this free icon set comes with 50 beautifully designed icons that cover all of the critical areas of eCommerce. The icons are available in SVG and PNG formats.
Outline Vector Ecommerce Icons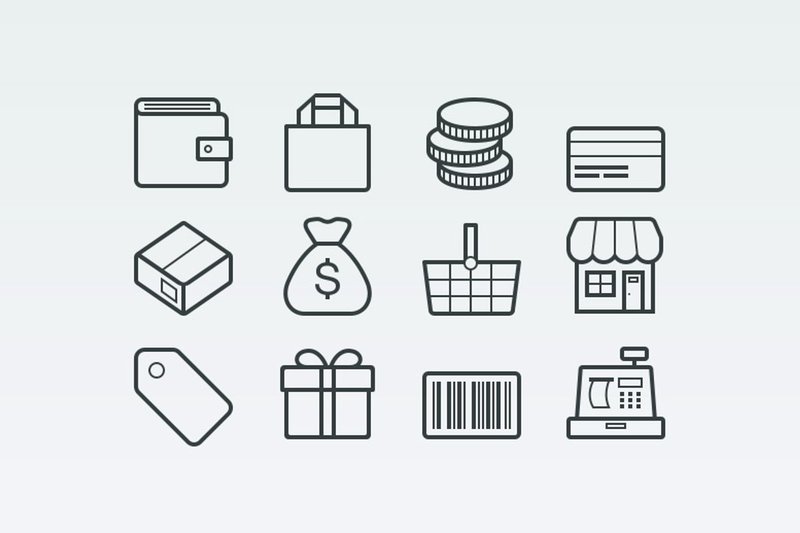 This is a pack of 15 free outlined vector icons for ecommerce and shopping. These scalable vectors from Medialoot include online store related icons such as money, a store front, shopping bag and cart, sale tag, barcode and cash register. Icons are provided in PSD, AI, EPS, and SVG formats.
Free Line Shopping Icons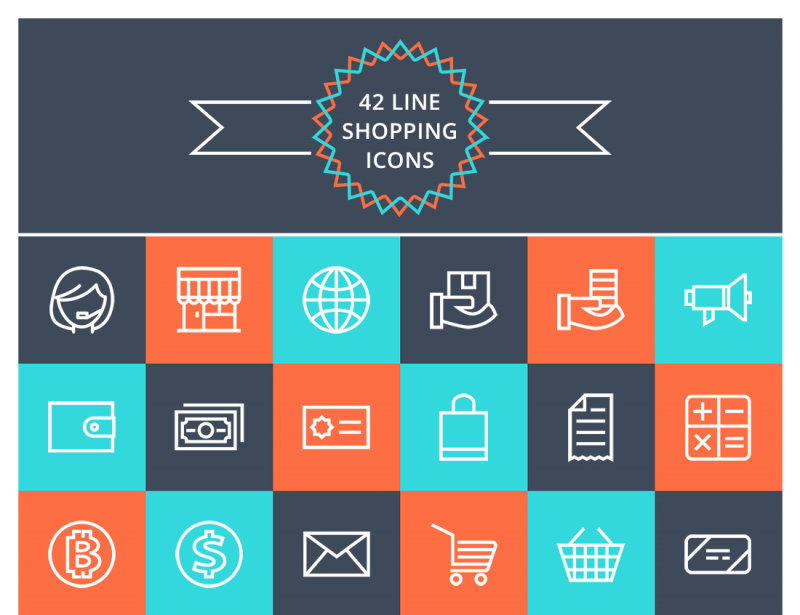 A set of 42 free thin line style icons from FreeVectors. Download includes PNG, PSD, AI and EPS files.
Free Finance Icons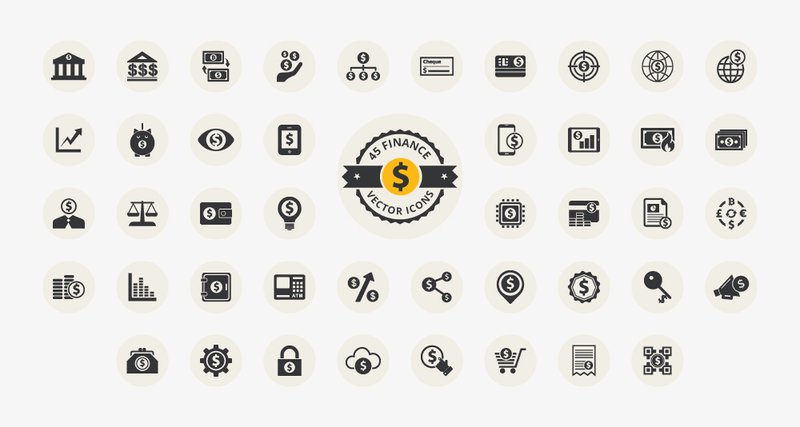 A great set of 45 finance icons that you can download for free. The icons are all available in the .PNG, .PSD, .AI, and .EPS formats. You can use them when building an app, a website, a brochure, or anything else that needs to fit in the finance niche.
36 Free Shopping Icons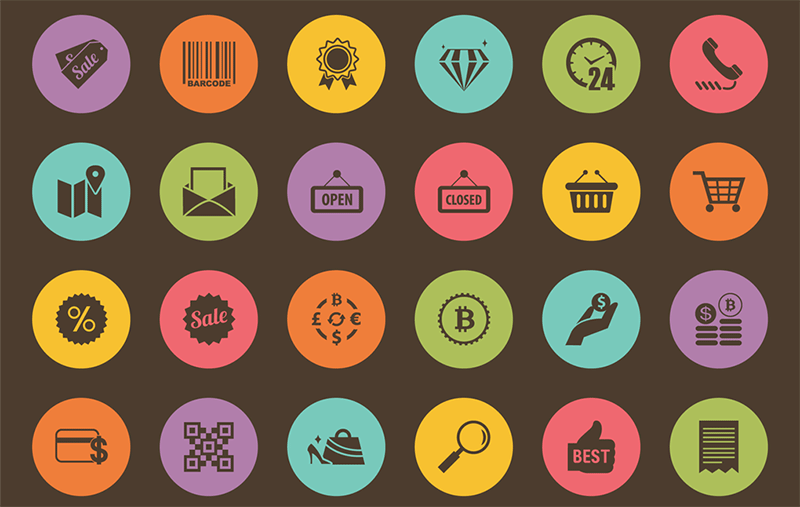 A set of 36 colourful, flat shopping icons by GraphBerry. This icon pack can be downloaded in PSD, AI, EPS and PNG formats.
Mini Cards: 15 Credit/Debit Card Icons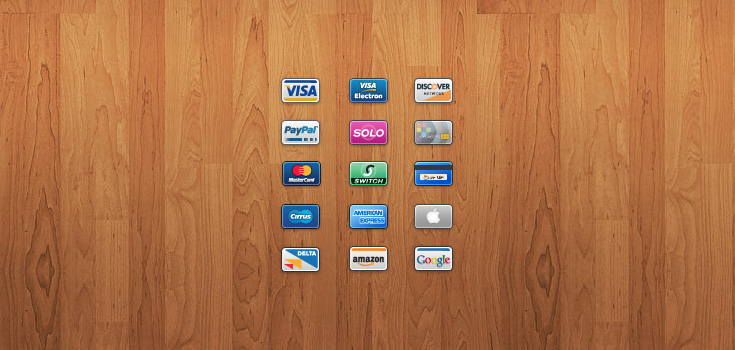 Free set of credit and debit card icons that you can add to checkout pages of your ecommerce sites and mobile apps. This freebie by Premium Pixels can be downloaded in PSD format.
40 eCommerce Vector Icons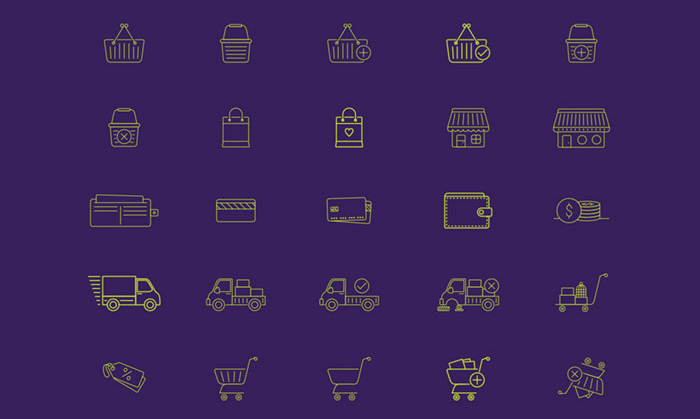 This freebie by Dreamstale is a collection of 40 detailed outline icons related to ecommerce. Downloadable zip archive includes Illustrator AI, EPS and PDF files. You can change icon colors and adjust stroke width and use in eCommerce websites, apps, prints or any kind of project.
Ecommerce Icons by Icons8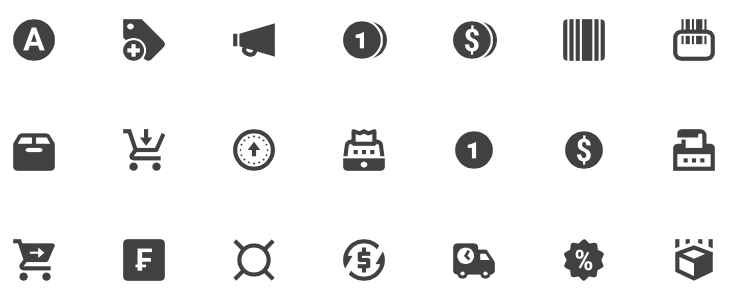 Icons8 offer ecommerce icons in a range of different styles iOS, Windows 10, Material, Outline gradient, doodles, fluent design and many more. All these styles have icons for bank cards, billing, buy and sell, delivery, online shopping, product type, payment systems including PayPal and Stripe, and much more.
Perfect to use in the interface of your online web store or mobile app or any other graphic design project. The icons are free to download in PNG format in sizes of 64px and 96px, you can also choose to go with their subscription if you need SVG icons.
80+ Free Vector Flat Shopping Line Icon Set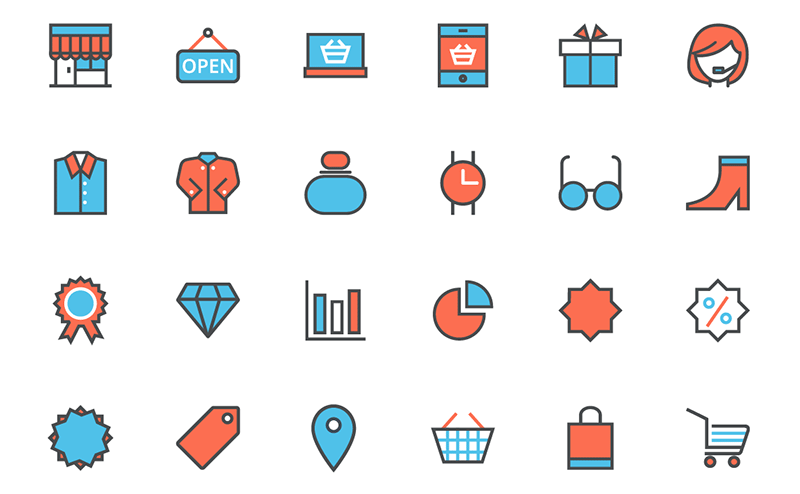 Courtesy DesignBolts, this icon set has shopping icons in two styles – coloured icons merging outlined and flat styles and no-fill stroke icons. You can download them in AI, EPS and 1024 px PNG formats for using in your eCommerce based projects.
Conclusion
Icons play an important role in the usability of an ecommerce website, they help your users navigate through your store efficiently. If you pick a professionally designed icon set, they sure will help you gain user's trust.
Do not forget to take a look at our free icon collections where we regularly cover different icon sets that you can use in app or web design work. Did not find the icons you needed? Check out these sites that offer free icons.
Suggested reading: