Serif fonts are characterized by small lines (serifs) attached to the end of a letter or symbol. They are psychologically associated with reliability, respect and tradition and make great font combinations when used together with Sans Serif fonts.
Similar to our earlier post on best free Sans Serif fonts, today we have brought for you some of the best free Serif fonts you can use in your web and app design. And like previous time, these serif fonts have also been selected on the basis of their popularity in the recent times on top font resources sites like Google Fonts, Font Squirrel and dafont.com.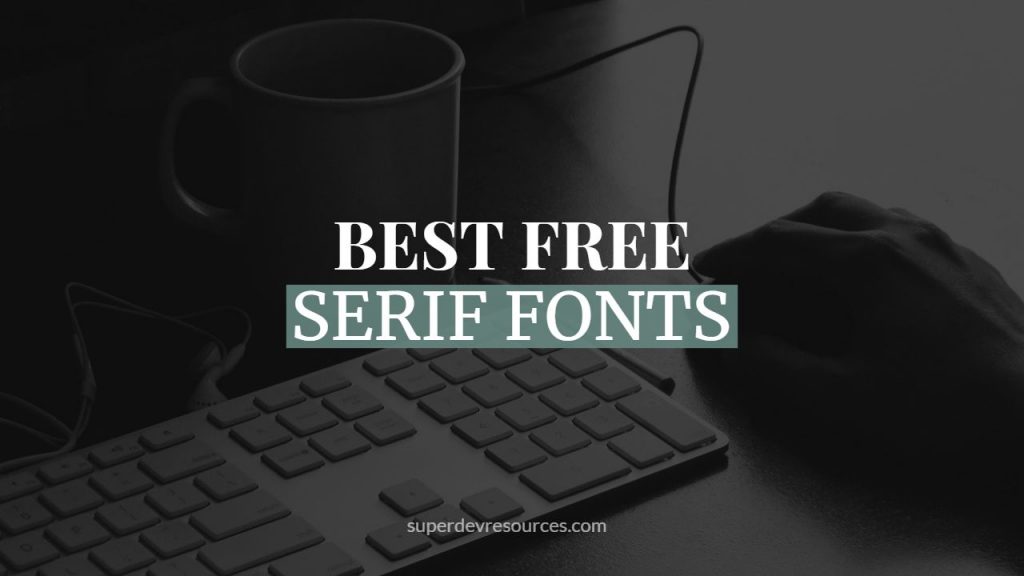 Some of these fonts have a sans serif version too and we have included their names as well in the post. Read on to know more about these fonts, their sans serif versions (if any) and the download links from Font Squirrel for use in apps, games and graphic design projects. All these fonts are also available on Google Fonts from where you can embed them in your websites.
1. Droid Serif
Droid Serif font by Steve Matteson is designed for comfortable reading on screen. It features slightly condensed letterforms to maximize the amount of text displayed on small screens and complements its companion Droid Sans, one of the popular sans serif fonts. Droid Serif font comes in two weights: regular and bold.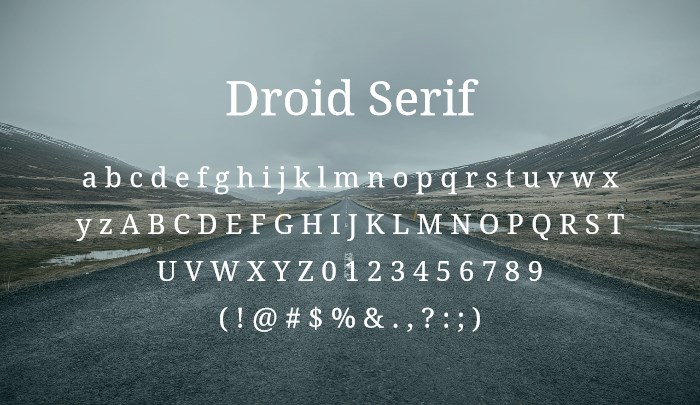 2. Lora
Lora is a well-balanced contemporary serif font with roots in calligraphy. Designed by Cyreal, Lora conveys the mood of a modern-day story, or an art essay. It is optimised for screen appearance, and works equally well in print and has two variants for weight.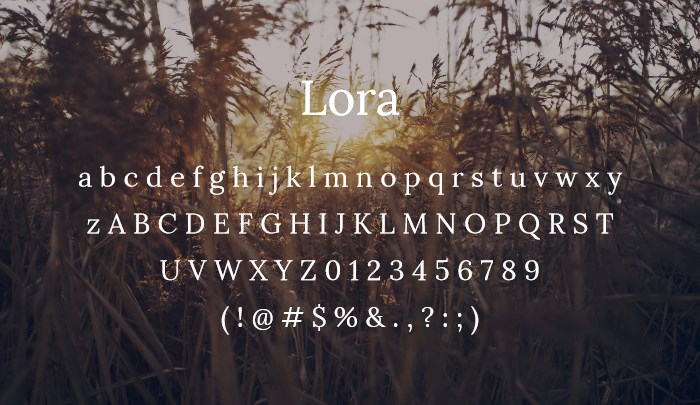 3. Arvo
Arvo is a geometric slab-serif typeface family suited for screen and print. The font has been designed by Anton Koovit and includes two weights and their corresponding italic styles.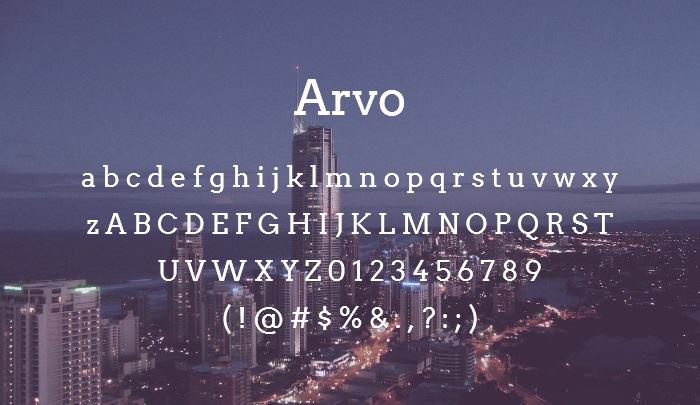 4. Bitter
Bitter, a contemporary slab serif typeface, is specially designed for comfortably reading on any computer or device. Designed by Huerta Tipográfica, the font includes three styles: normal, normal italic and bold.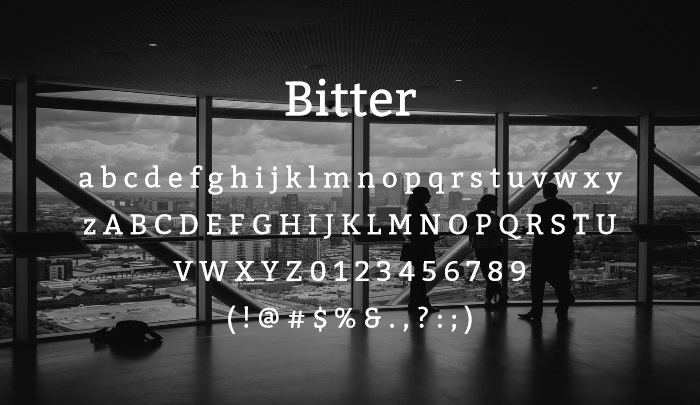 5. Merriweather
Designed by Eben Sorkin, Merriweather is a serif font created for on-screen reading. It is a work in progress project and as of now it comes in four weights plus accompanying italics. It has a sans serif version, Merriweather Sans which closely harmonizes with this serif family.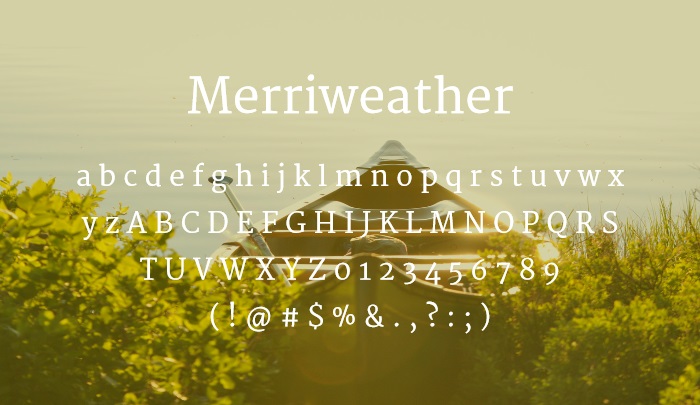 6. PT Serif
Designed by Alexandra Korolkova, Olga Umpeleva and Vladimir Yefimov, PT Serif is a transitional serif typeface. It includes Western, Central European and Cyrillic code pages, plus the characters of every title language in the Russian Federation which makes it a unique and very important tool for modern digital communications. Designed for use together with PT Sans, the font family comes in three major variations: normal, narrow and caption.
7. Rokkitt
Rokkitt, by Vernon Adams, is inspired by the type forms of a number of distinctive geometric slab serifs, sometimes called 'Egyptians', of the late nineteenth and early to mid twentieth century. The font is primarily designed as a display font for headings and headlines and comes in two weights.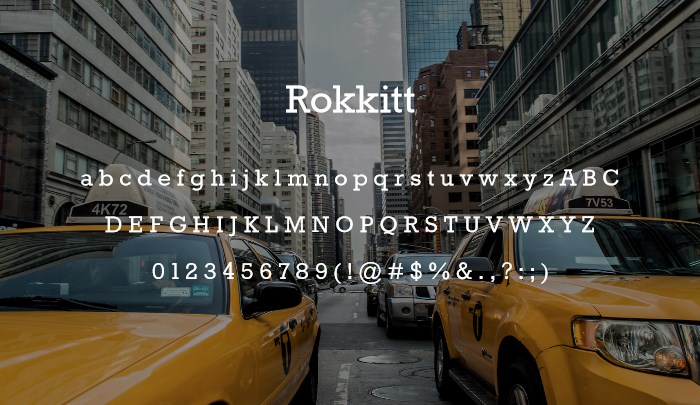 8. Vollkorn
Vollkorn is a serif font designed by Friedrich Althausen. It has a bouncing and healthy look and has two variants for weight plus corresponding italic styles.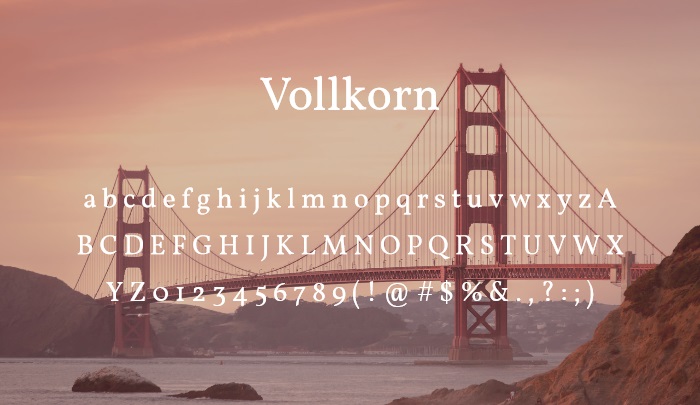 9. Roboto Slab
Roboto Slab is a slab serif font designed by Christian Robertson. The typeface comes in four weights. Roboto Slab can be used alongside Roboto, a popular free sans serif font.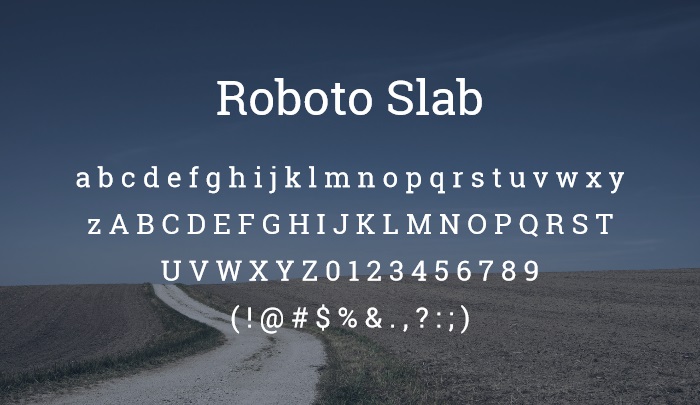 10. Alegreya
Alegreya is an award winning typeface, chosen as one of 53 "Fonts of the Decade" by ATypI in its Letter2 competition. Designed by Juan Pablo del Peral, the font is available in three weights and features beautiful italics and strong bold weights. Alegreya font family also has a sans serif version, Alegreya Sans.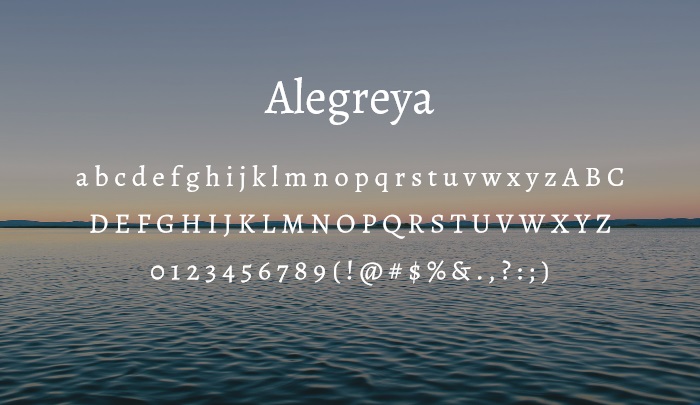 How do you find this collection of free serif fonts? Did we miss your favorite serif fonts? Let us know in the comments below along with the projects where you might have used them in. Your comments are always welcome.