In this post we have brought for you a collection of the best free and responsive Tumblr themes for 2022. These themes are optimized to look good on any browser and are fully responsive, they will adapt to all screen sizes – desktops, tablets and mobiles. From one-column and two-column Tumblr themes to themes with infinite scroll, from themes with clean layout to themes with large hero images, our collection offers you a variety of responsive Tumblr themes to choose from according to your requirements.
With search engines emphasizing on mobile friendly sites, it is wise to update your website or blog theme and make it responsive if you haven't done yet! Or else your site will lose its search ranking. Whether it's your own Tumblog or your client's Tumblr site, you can use themes from our list to make them responsive and mobile-friendly.
Free Responsive Tumblr Themes
Clicking on the theme name or demo screenshot will take you to the theme detail page where you can view their demo and download the ones you like. Do checkout their demo to see the themes in action.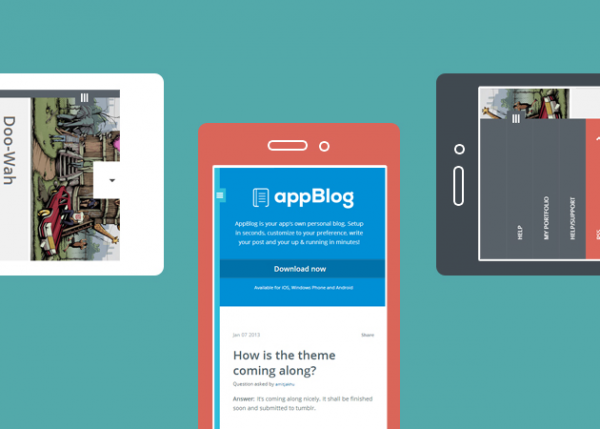 AppBlog theme was designed for a developer in mind. Setup your AppBlog and have your first post up within minutes. If you have developed a script or app and you want to easily keep your users up to date without all the hassle, then AppBlog will bring the simplicity to your blogging.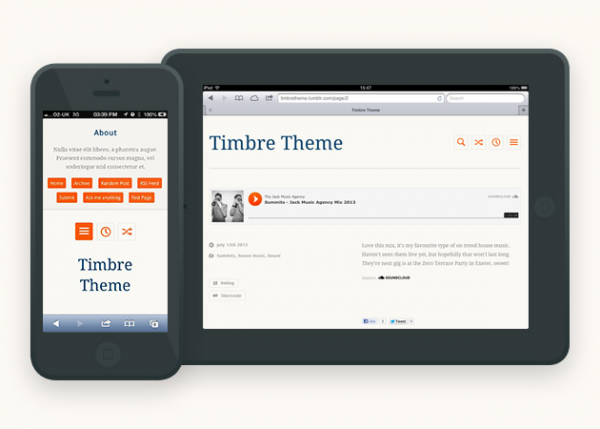 Timbre is a free fully responsive Tumblr theme focused on beautiful typography and complete clarity.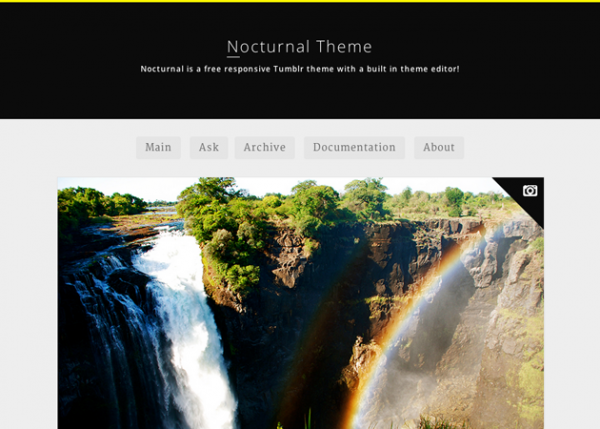 Nocturnal is a responsive free Tumblr theme with a built in Theme Editor. With Nocturnal, you have the ability to customize the look of your site to any way you see fit. Nocturnal features built in theme editor options for changing the look and feel of your site, to adding further personalization to your website.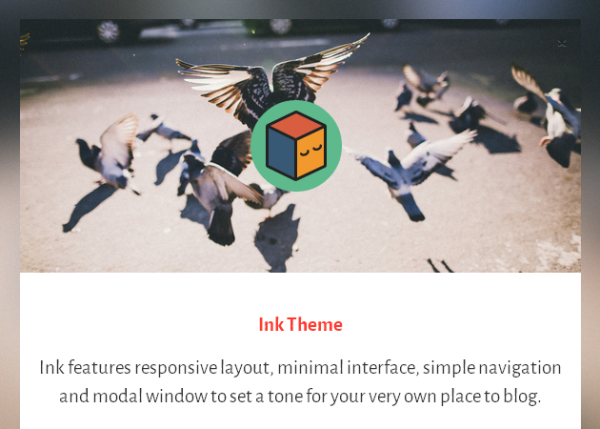 Ink is well designed and extremely focused on content tumblr theme. It's perfect for bloggers. Ink features responsive layout, minimal interface, simple navigation and modal window to set a tone for your very own place to blog.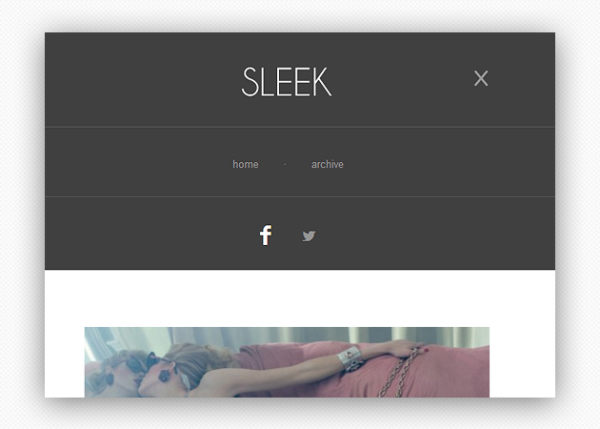 Sleek is clean, skinny layout that looks good on any mobile device. It also supports social media and disqus comments.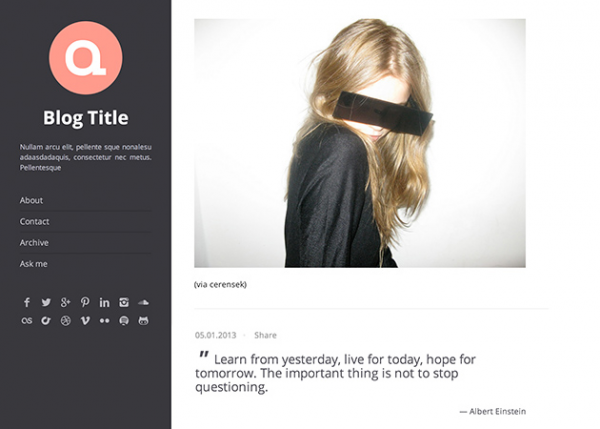 Oka is a two-column responsive Tumblr theme with Social Media support. You can even add your own logo to the side bar.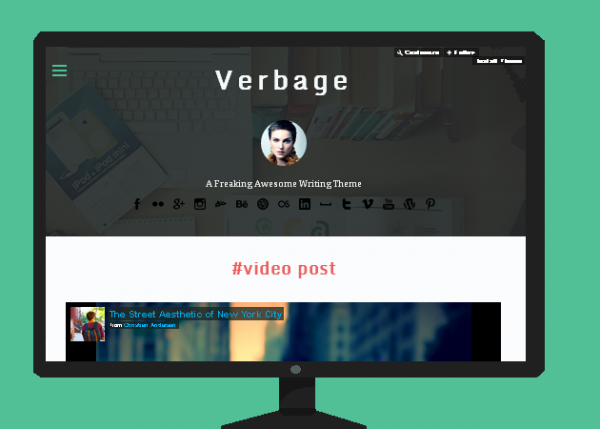 Verbage is a minimal, clean theme for the serious writer. Thought has been carefully placed on the information presented on the index page and permapage so the reader is not drawn to tags or note counts-but what's really important-your awesome thoughts.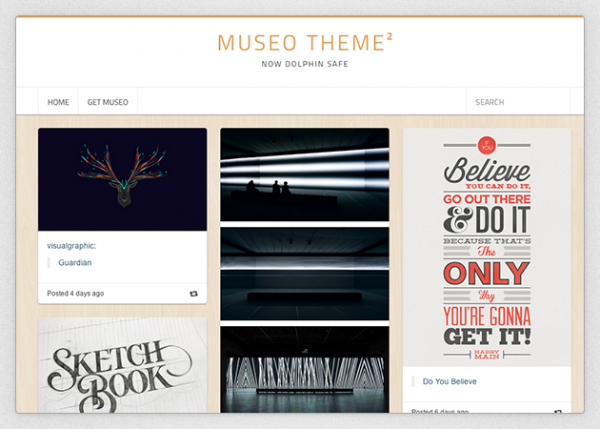 Museo is a hand-crafted theme designed for bloggers that love posting media and crave a responsive multi-column design with lots of room for custom adjustments and additions.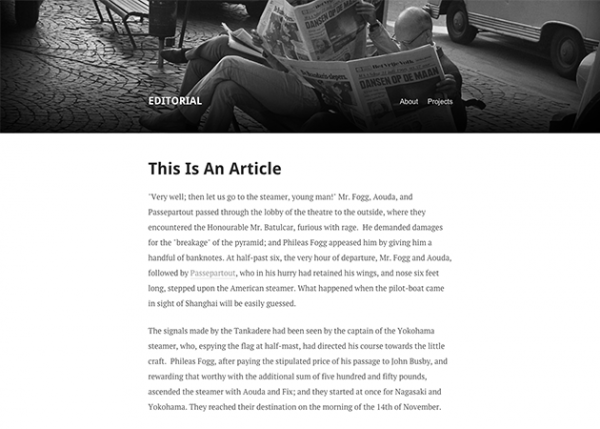 Editorial is a minimal theme focused on beautiful, readable content. The design emphasizes high contrast and large typography to make reading more enjoyable. It's the perfect canvas for anyone with something to say.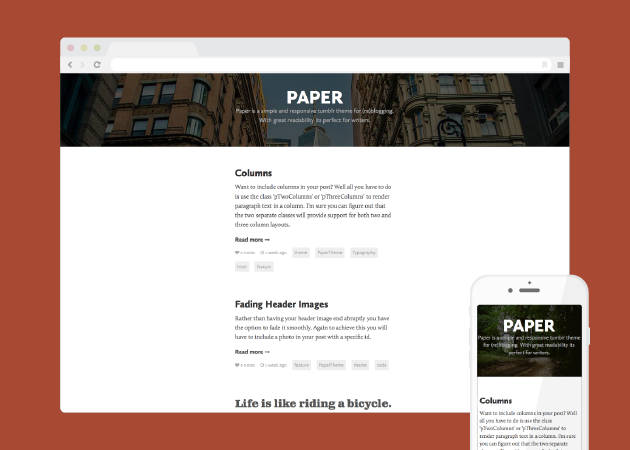 Paper is a free responsive Tumblr theme built with simplicity and performance in mind. With its modern typography, Paper offers great readability and is perfect for writers. The theme comes with option to customize header background and image, easy to change fonts, Instagram feed integration, Disqus comments, option to display recent posts, sleek animations and more.
More Tumblr Themes
If you have any suggestion on any free & responsive Tumblr theme that we can include in our list, feel free to leave a comment with link to the demo/download page of the theme.
You might also want to check out these collections of Tumblr themes from our site:
Looking for WordPress themes? You can check our post that has a collection of high-quality and free responsive WordPress themes.