In this post we bring to you a collection of Tumblr themes for photographers and photobloggers. Showcase your beautiful photographs, and let them shine through these stunning photography portfolio Tumblr themes.
We have picked up themes that offer a variety of different features like grid layout, full screen layout, infinite scrolling, single column theme, multi column post display, and much more. From clean minimal Tumblr themes for displaying your photosets to themes designed for photo blogging, we're sure this collection has the perfect theme for your needs.
Whether you are a professional photographer who wants to build a portfolio website or are a casual photographer looking to set up an online photo gallery, these Tumblr photo album and photo blog themes will give an impressive, professional look to your site.
Best Free Tumblr Photography Themes
The themes presented below are completely free to download from Tumblr themes directory. Links to preview and download these free Tumblr themes are provided with each theme where you can find more details.
Stacked – Free Photo Gallery Theme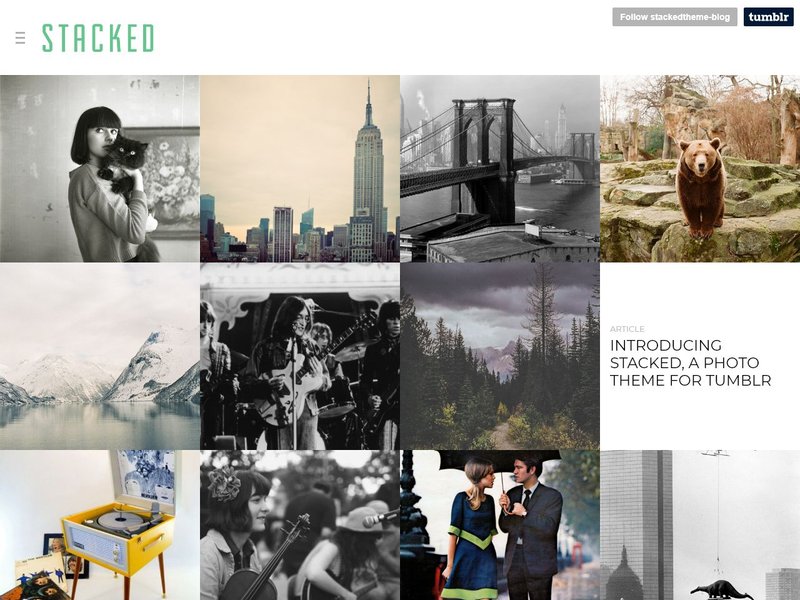 Stacked is a simple, clean and stunning photo theme that supports two layout modes – grid and masonry as well as integration with other photo sharing websites such as Instagram and Flickr. The theme comes with responsive design and plenty of customisation options. Other features include infinite scroll or "load more" button and social icons.
Acme – Responsive Photography Theme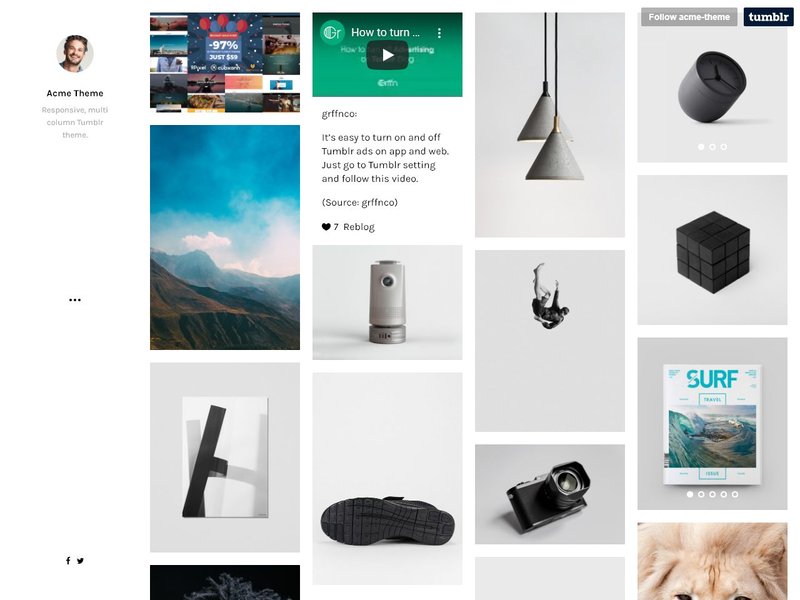 Acme features a responsive, multi-column grid layout married with a sleek, minimal design. Ideal for those looking for a Pinterest style look for their Tumblr photography blog. Acme comes with support for animated slideshow for photoset posts, social media support and endless scrolling.
Wallstocker – Clean Portfolio Tumblr Theme
A simple and clean portfolio Tumblr theme, Wallstocker supports basic usability such as mobile / tablet support by responsive web design, and has enhanced functions to meet various needs, such as changing the blog title to a logo image and selecting the menu list design.
ArtFolio – Free Elegant Portfolio Theme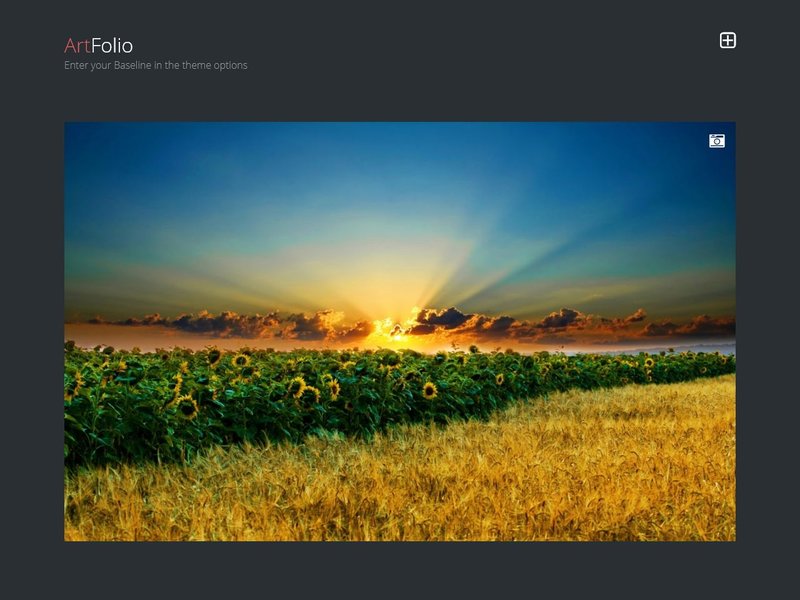 Another free portfolio theme, ArtFolio is built for photographers and bloggers who want to benefit from a search engine optimized theme. The theme is designed to make your photos and their captions shine, your photosets will turn into true photo stories and your text posts will benefit from an automatic rich text styling.
It also enables you to geotag your posts and show a map extracted from Google Maps for your photos and photoset posts which is quite convenient if you are a traveler. ArtFolio is packed with over 60 options so that you may customize the fonts and colors to your liking
Chronicle – Photoblogging Tumblr Theme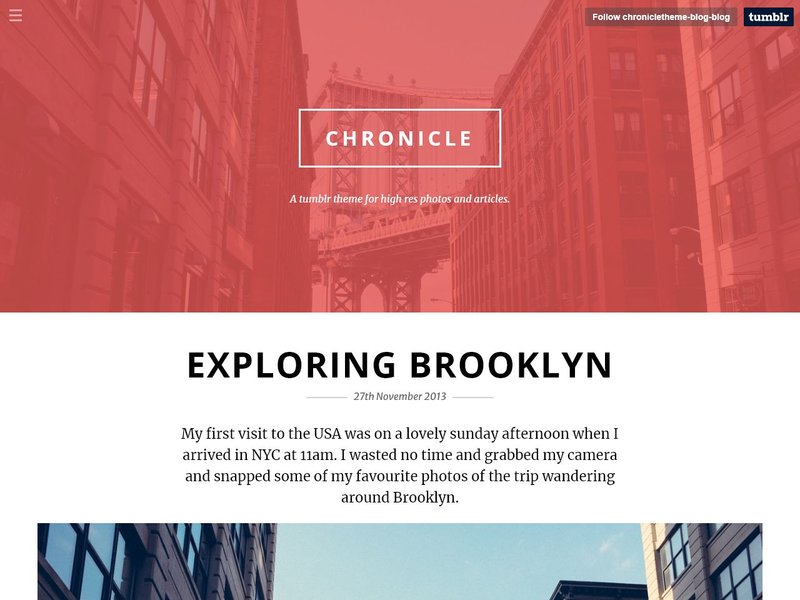 Chronicle is a free Tumblr theme built for high resolution photos and articles. You can set titles for your photoset posts and even include an intro paragraph. The theme is responsive and has many customization options for typography and colors.
Ten Toes – Modern Photo Grid Tumblr Theme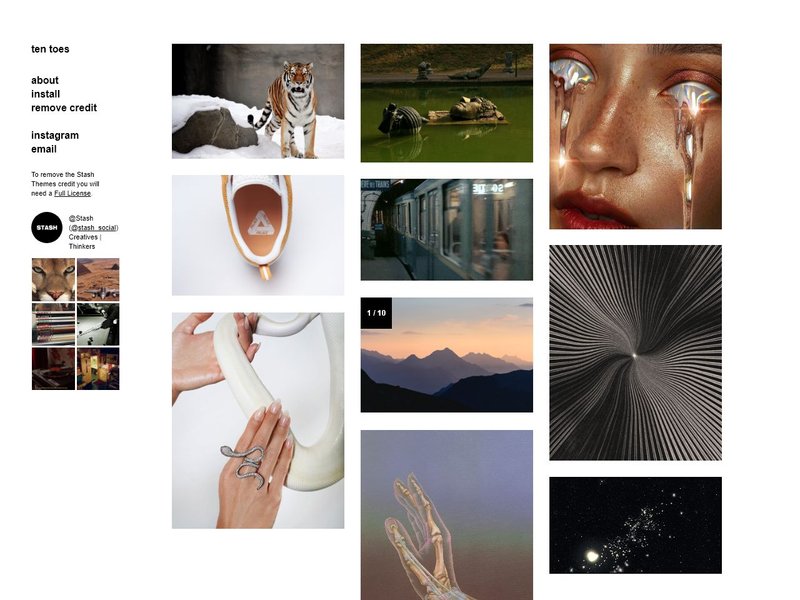 Showcase your photos, designs, and inspirations on a minimal modern grid layout with Ten Toes, a free photography Tumblr theme. It comes with support for full-screen image or video banner (Youtube/Vimeo), infinite scroll, Instagram feed, Customizable sidebar and Google font support.
Astoria – Free Photography Tumblr Theme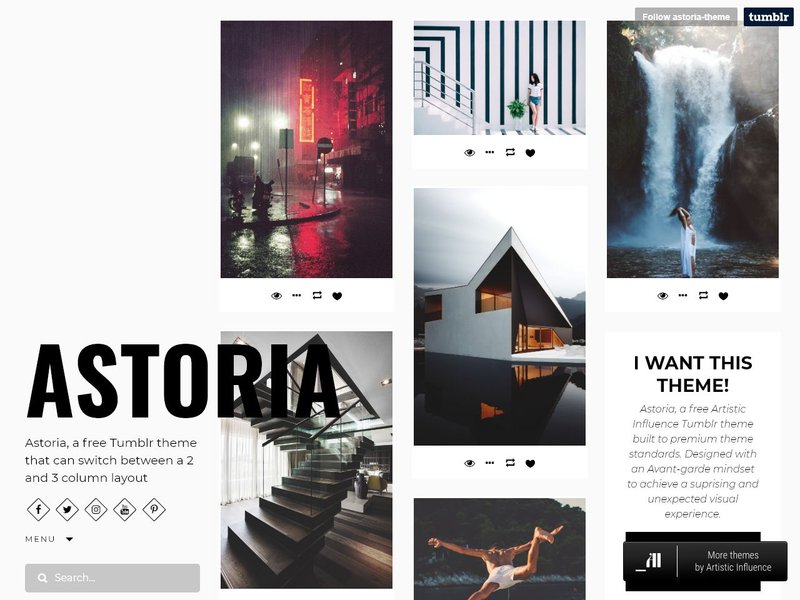 Astoria, a free artistic influence theme designed with an Avant-garde mindset with certain offbeat elements such as overflowing text to give a surprising and unexpected visual experience.
Astoria comes with many features including social feeds, multi-column layout with 2 or 3 column support, and a responsive design. While for the most parts Astoria is clean and minimal but it does include features that allow you to flash things up including adding header background image and changeable colours for most elements through the design.
Emma – Minimal Tumblr Theme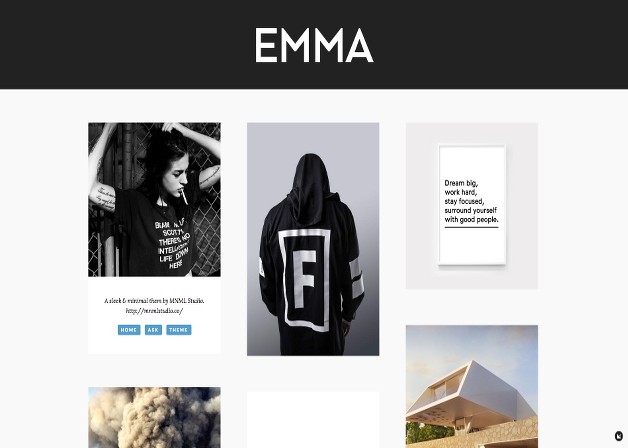 Emma is a sleek and minimal Tumblr theme with flowing grid perfect for photographers and photo bloggers. It comes with Disqus comments integration, Google analytics, customizable fonts and color options.
Syndex – Mood Board Tumblr Theme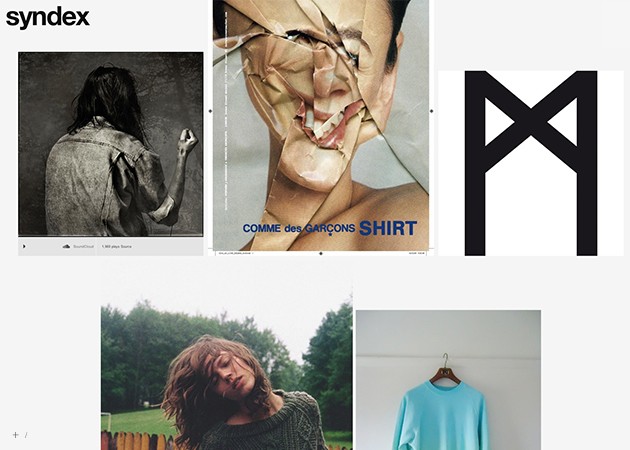 Syndex is an uncompromising, highly functional mood board. Nothing stands in the way of your media and viewers. Theme features include built-in infinite scroll, click on images to view them in lightbox and enlarge them.
Sejuk – 3 Column Tumblr Theme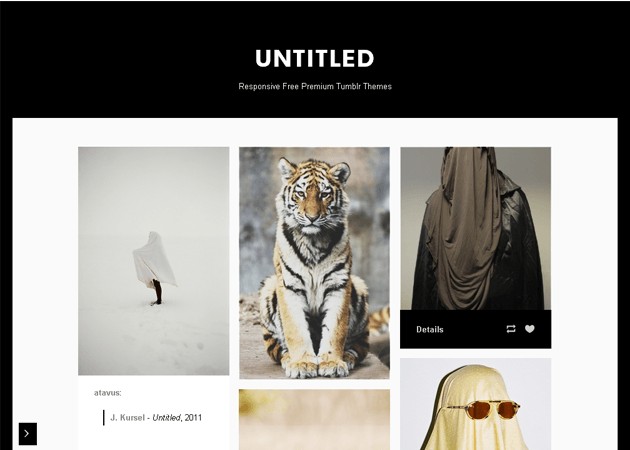 Sejuk is a simple and minimal of 3 column Tumblr theme with header and sidebar menu includes soft scrolling, masonry style, manual mode infinite scroll, animation transition, social sharing and much more.
Retrospective – Photoblog Theme for Tumblr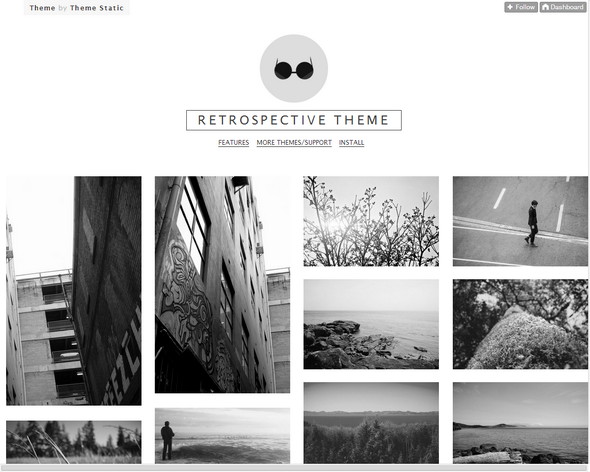 Retrospective is a grid style theme made for beautiful photo blogs, designed with a hint of retro.
Premium Tumblr Themes for Photographers
Below you will find a curated list of premium Tumblr photography themes from ThemeForest and Creative Market. If you are looking for extensive customization options and technical support then you should go for paid themes over free themes. Please note that some of the links to these premium themes are affiliate links.
Albero – Photography Tumblr Theme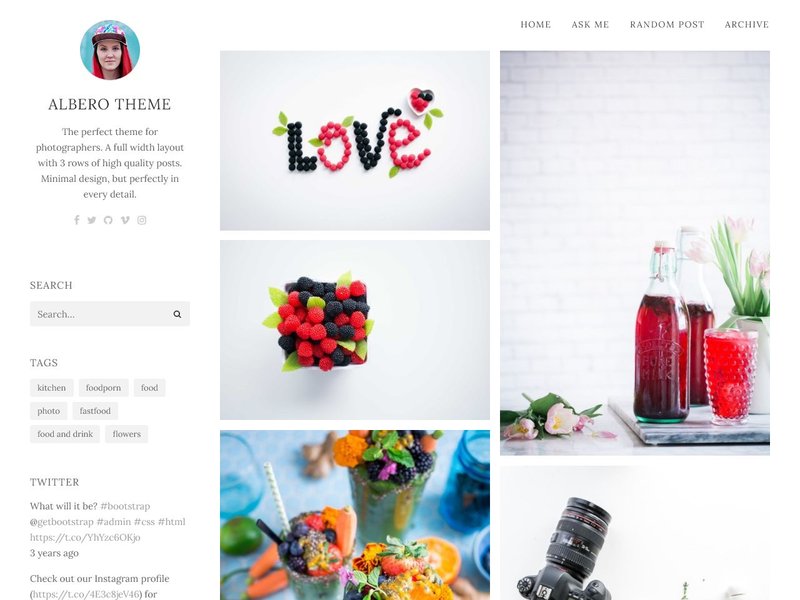 With a minimalistic design, yet perfect in every detail, Albero Tumblr theme is ideal for displaying your gorgeous photos in a full width 3 column grid layout. The theme is responsive, retina ready, designed to display all of Tumblr's post types, supports Google Analytics, Disqus comments, Google fonts and is also multilingual with translation in 13 languages.
Floro – Tumblr Photo Theme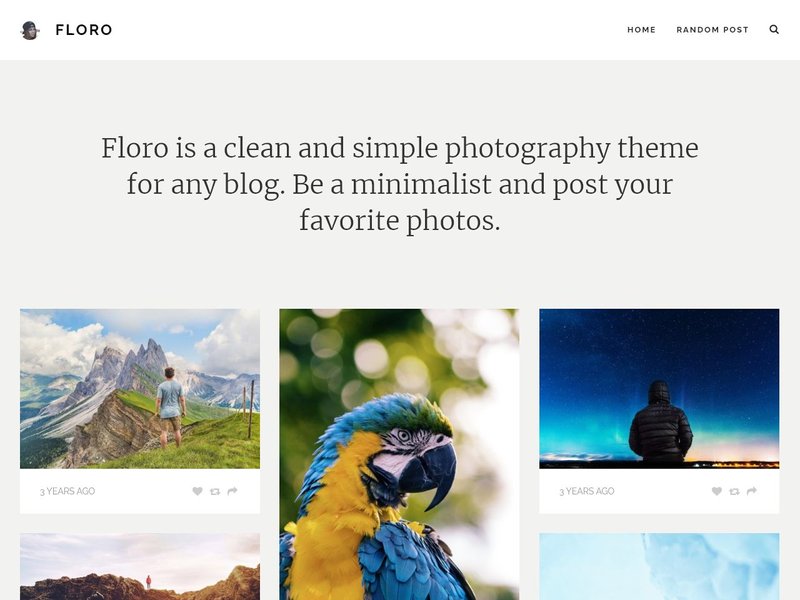 Floro is a clean and simple photography theme for those looking for minimal design for posting their photos on Tumblr. Floro supports Google Analytics, Google fonts, and also features an elegant social sharing widget in the footer of each post to allow visitors to quickly and easily like, re-blog, and share your posts on Twitter, Facebook, and Pinterest.
Monobloc – Modern Portfolio Tumblr Theme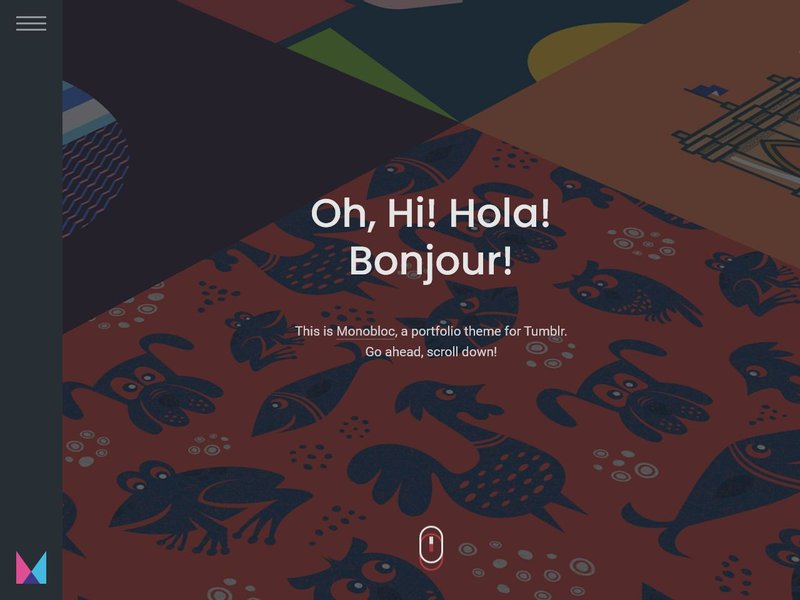 Monobloc is a modern and slick Portfolio Theme for Tumblr aimed at creative folks such as photographers, designers, illustrators, and video artists. Main features include several built-in color schemes, Ajax powered, portfolio expander, filterable portfolio grid via tags, three pagination styles: Standard, Click to Load More, and Endless Scrolling and much more.
Florence – Responsive Gallery Theme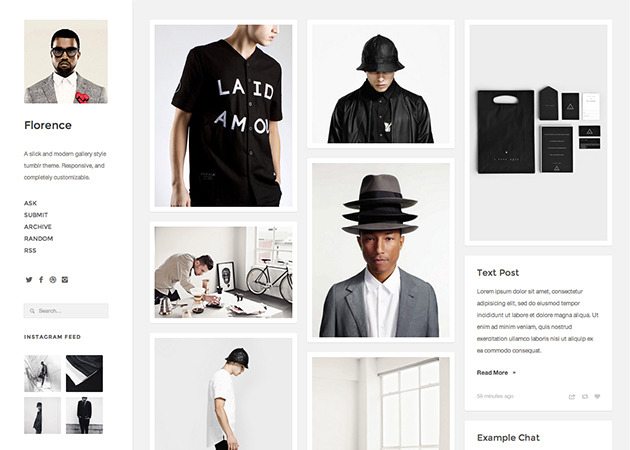 A slick and modern gallery style tumblr theme. Responsive, and completely customizable, Florence is the perfect for those looking for a photo album theme.
The theme is extremely customizable with over 50 customize options, is mobile ready and looks good on mobile and tablet supports all post types, Disqus comments integration and Google analytics.
Glue – Responsive Fullscreen Grid Theme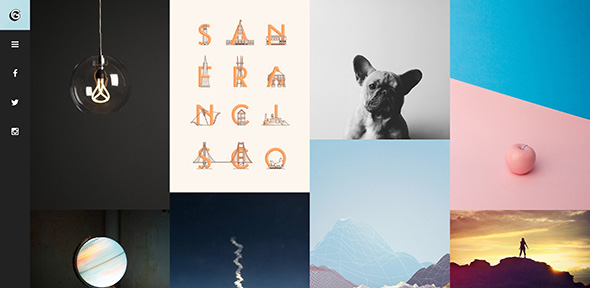 Glue, a content-focused tumblr theme. It's sidebar slides into focus when it is needed. This theme includes lots of features and is designed for easy customisation.
Glue features a clean and responsive design, which will look good across your devices!
Luomo – A Responsive & Expressive Tumblr Theme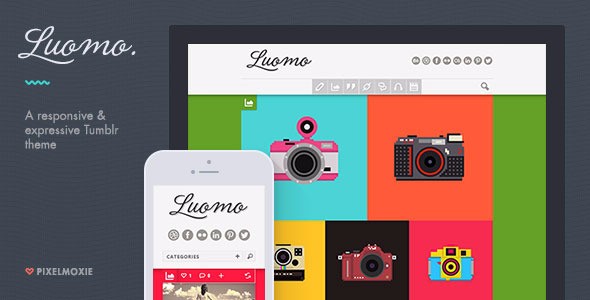 Luomo is a responsive and expressive theme for Tumblr, designed to display your media in grand style. Luomo gives you complete control over your blog's color palette, allowing you to tailor background and text color for each post, to complement your content. Your content will look awesome in any device!
Depth of Field – Fullscreen Photography Portfolio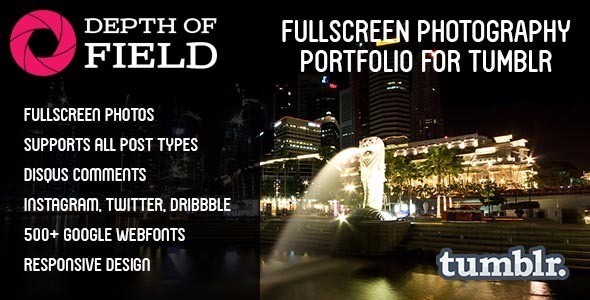 Depth of Field is a fullscreen responsive photography theme for Tumblr. It's a great way for photographers to showcase their portfolio in a breathtaking way.
This theme enables you to display your latest Instagram photos, Dribbble shots and tweets, as well as a number of popular social media links. The popular Disqus commenting system is integrated and you have the option to choose from over 500 fonts from the Google webfont library.
Photographica – Portfolio Tumblr Theme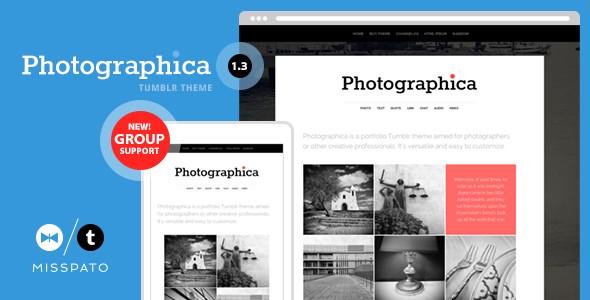 Photographica is a portfolio Tumblr theme aimed for photographers and other creative professionals. It's versatile and easy to customize.
Gradiente Photography Theme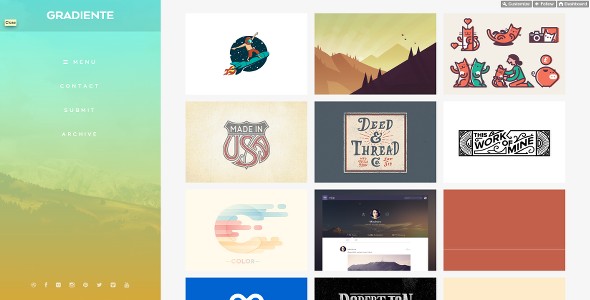 Gradiente photography theme has a full-screen width grid layout with sidebar. A clean, minimal theme that is made for photographers, it offers responsive design, integration with Google Analytics, and more.
Amanra – Responsive Grid Photography Tumblr Theme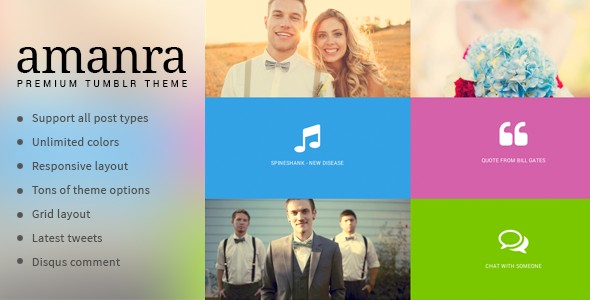 Amanra is a slick and eye-catching Photography & Portfolio Tumblr theme to showcase your best work. It is feature rich, the theme is responsive and it is powered by Isotope grid layout for the homepage.
The theme comes with lots of options to help you get started.
Aperture – Full Width Theme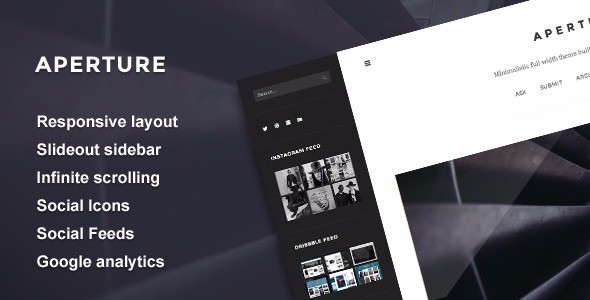 Aperture is minimalistic full width theme built for photographers and writers. This theme is fully responsive, features integration with Instagram and Dribbble feeds, supports Google Analytics and Disqus comments among other features.
Gridify – Fullsceen Grid Theme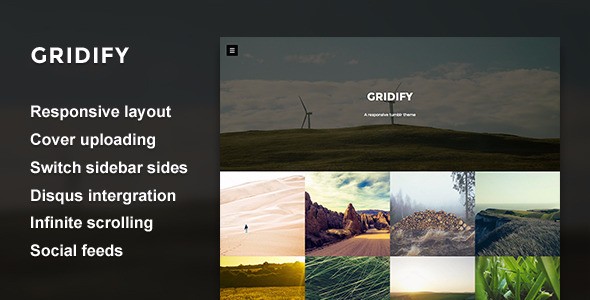 Gridify is built with over 60 customize options, including over 20 adjustable fonts, custom cover upload and a responsive full width layout. Its grid layout is perfect to build your photo gallery.
Spring – Two Column Portfolio Tumblr Theme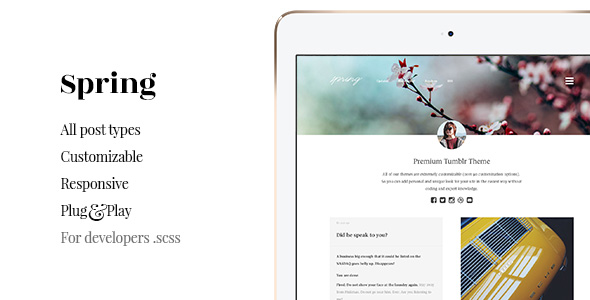 Spring is a two-column Tumblr theme for photographers and designers. The theme is versatile and responsive, perfect for all types of content.
It is retina ready, mobile responsive, supports infinite scrolling and is cross browser compatible.
Objective – Photo Grid Theme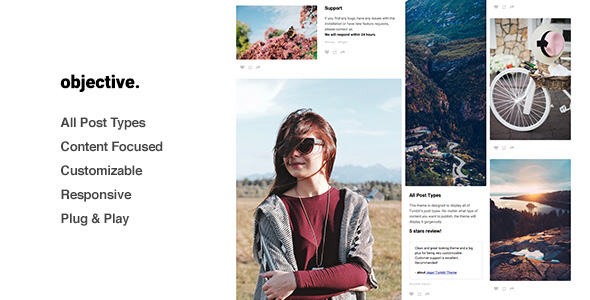 Objective is a grid-based, 4-column premium theme for Tumblr. Ideal for photographers who want to build own portfolio and creative people.
If you know any high quality Tumblr photography or photo gallery theme that can be included in this post, then please leave a comment with the link to the demo/download page of the theme. And if you want to feature your own Tumblr theme in this list, you can also contact us with your request.
You might as well want to check out these WordPress photography themes and photography website HTML templates if you are exploring different options available for setting up your photography website.
More Tumblr Themes
In the end, we leave you with more collections of Tumblr themes from our site: