In this post we bring to you a collection of Tumblr themes for photographers and photobloggers. Showcase your beautiful photographs, and let them shine through these stunning photography portfolio themes.
We have picked up themes that offer a variety of different features like grid layout, full screen layout, infinite scrolling, single column theme, multi column post display and more. From clean minimal Tumblr themes to the trending Material Design inspired Tumblr photography theme, we're sure this collection has the perfect theme for your needs.
Whether you are a professional photographer who wants to build a portfolio website or are a casual photographer looking to set up an online photo gallery, the Tumblr photo album and photo blog themes below will give an impressive, professional look to your site.
Free Tumblr Photography Themes
These themes are completely free to download. Links to preview and to download these free Tumblr themes are provided with each theme.
1. Maximize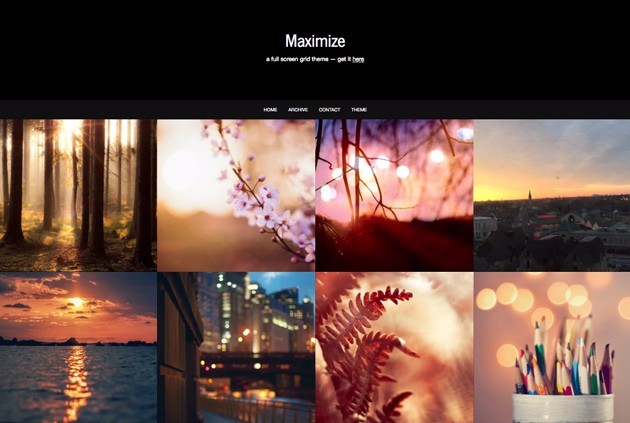 Maximize is a full-screen grid theme for photo galleries. It can adapt to fill any screen: phones, tablets, laptop screens, and even large desktop monitors.
It has a lightbox feature, letting you view full-size photos and play videos without loading a new page. Theme features include infinite scrolling and zoom effect on hover.
2. Emma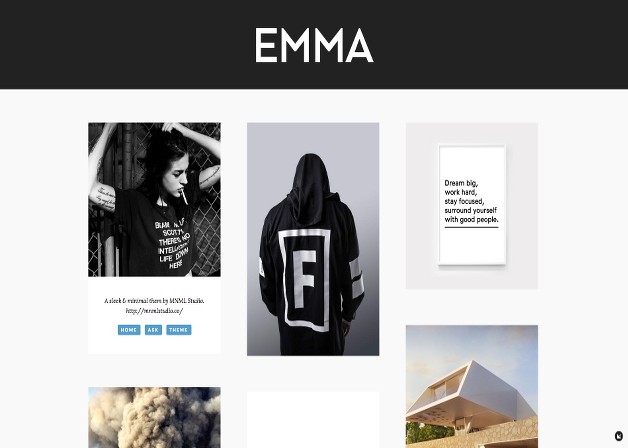 Emma is a sleek and minimal Tumblr theme with flowing grid perfect for photo bloggers. It comes with Disqus comments integration, Google analytics, customizable fonts and color options.
3. Nitsef Photography Theme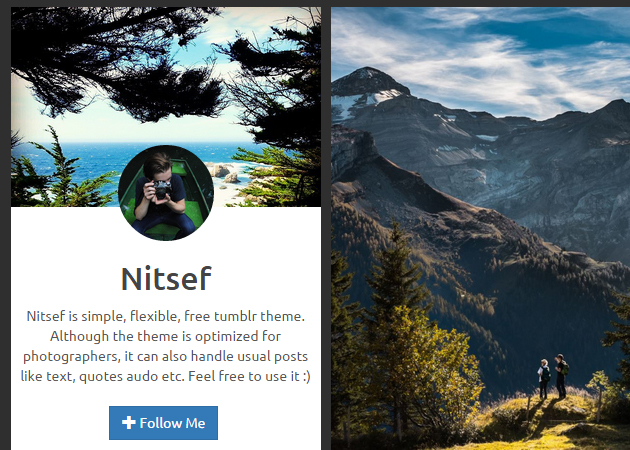 Nitsef is simple, flexible, free responsive Tumblr theme in Material Design colors. Optimized for photographers, it comes with features like custom colors, Disqus integration and localization.
4. Impulse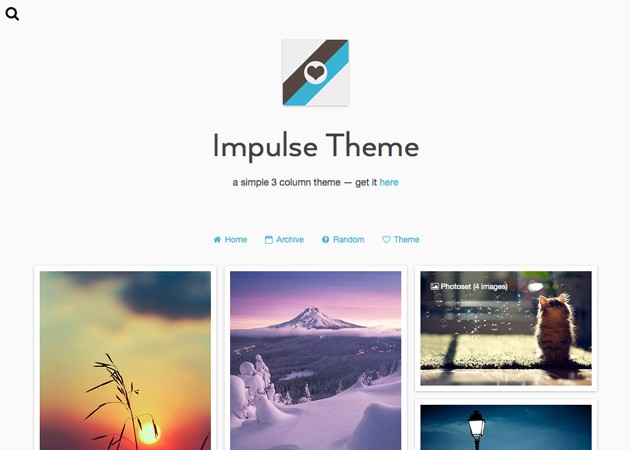 Impulse is a simple three-column Tumblr theme for photography. It's a cool theme for showing off lots of images. It implements Tumblr's new Global Appearance Options, so the customizations you make carry over to the mobile app version of your blog.
Theme options include choice between serif or sans-serif for post text, show or hide photo and video captions and more.
5. Wicked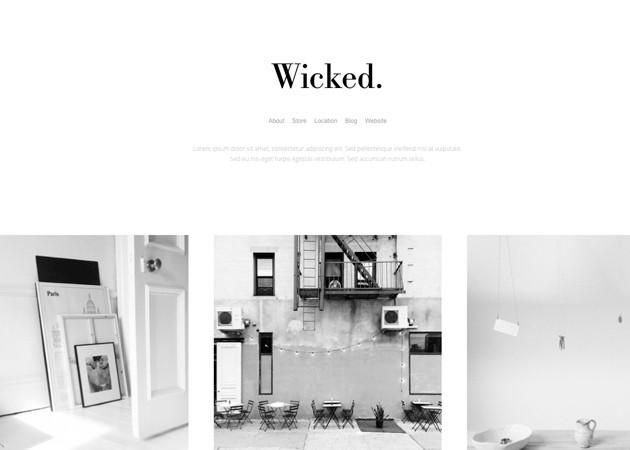 Wicked is a clean and minimal photography theme for any blog. You can use the infinite scroll option to make your blogging smoother or paginate it to keep track of your posts.
This theme is compatible with most major browsers, including Safari, Chrome, Firefox, Opera, and Internet Explorer and is responsive to every device.
6. Syndex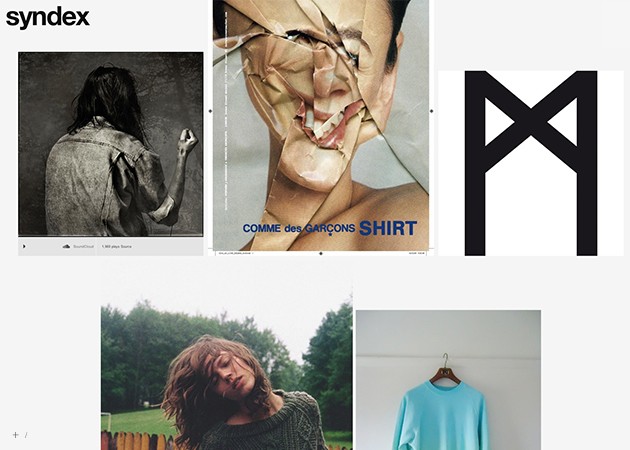 Syndex is an uncompromising, highly functional mood board. Nothing stands in the way of your media and viewers. Theme features include built-in infinite scroll, click on images to view them in lightbox and enlarge them.
7. Copycat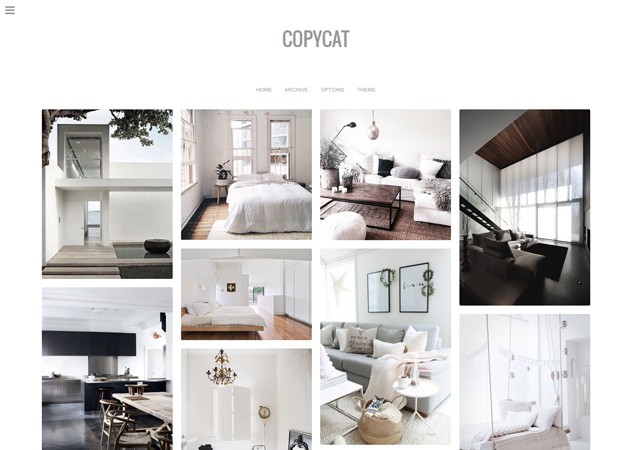 Copycat is a powerful responsive grid theme perfect to showcase your amazing photos. The number of columns adapts to the user's screen, and you can choose the maximum number of columns shown (up to 5). It also supports Retina and High-DPI displays.
The theme supports mobile devices, so you will see a one column layout on phones and two columns on tablets. Theme features include customizable transparency levels for post and header backgrounds, easy integration for Google Analytics and Disqus Comments, customizable colors and more.
8. Sejuk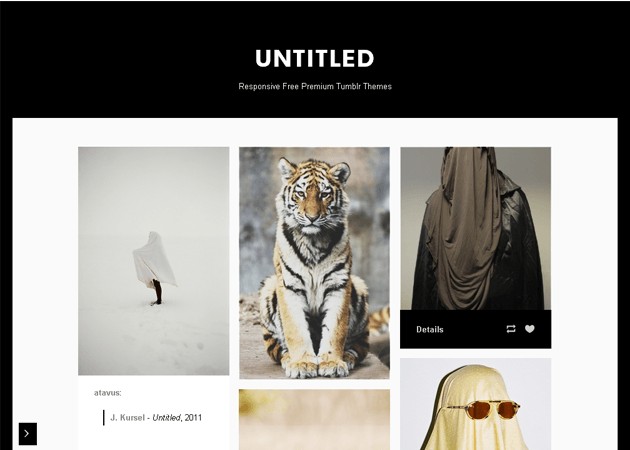 Sejuk is a simple and minimal of 3 column Tumblr theme with header and sidebar menu includes soft scrolling, masonry style, manual mode infinite scroll, animation transition, social sharing and much more.
9. Retrospective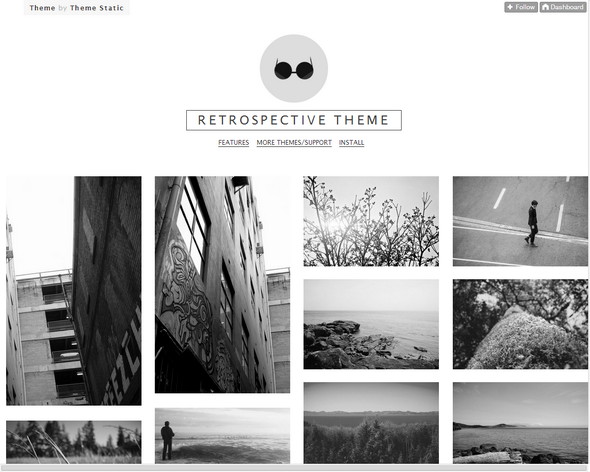 Retrospective is a grid style theme made for beautiful photo blogs, designed with a hint of retro.
10. Alchemist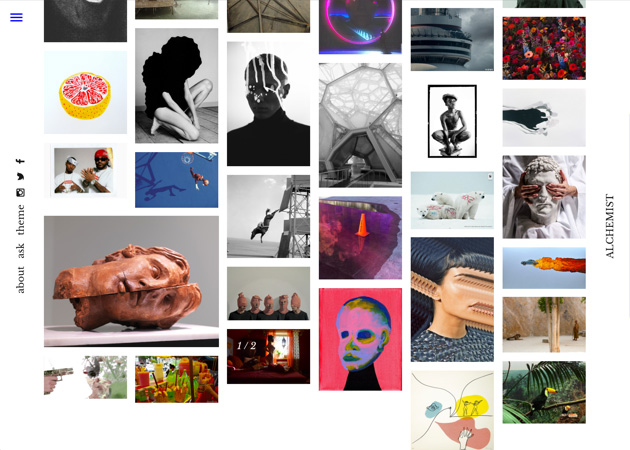 Alchemist is a photo gallery on steroids. It's designed for blogs with lots of content, it's highly customisable to match your style.
It has been crafted with speed in mind so that your posts quickly show up with minimal waiting times and viewing of images in big without having to refresh.
11. Wonder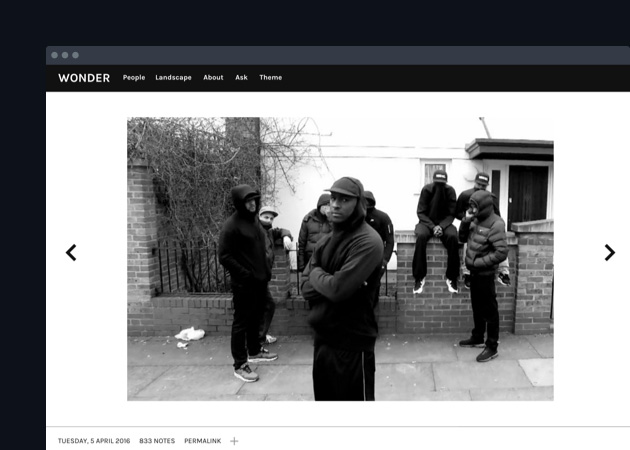 Wonder is a sleek photo gallery showcasing your Tumblr photo posts with flair. The perfect tool for photographers.
Modern design and subtle animations – it will provide your users an incredible experience with easy browsing between photos and quick reblog and share options directly from homepage.
Premium Tumblr Themes for Photographers
Below you will find a curated list of premium Tumblr photography themes from ThemeForest. If you are looking for extensive customization options and technical support then you should go for paid themes over free themes. Please note that some of the links to these premium themes are affiliate links.
1. Luomo – A Responsive & Expressive Tumblr Theme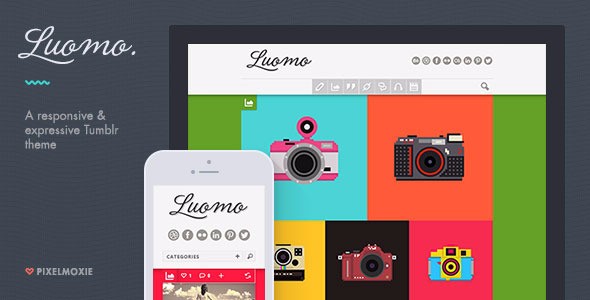 Luomo is a responsive and expressive theme for Tumblr, designed to display your media in grand style. Luomo gives you complete control over your blog's color palette, allowing you to tailor background and text color for each post, to complement your content. Your content will look awesome in any device!
2. Depth of Field – Fullscreen Photography Portfolio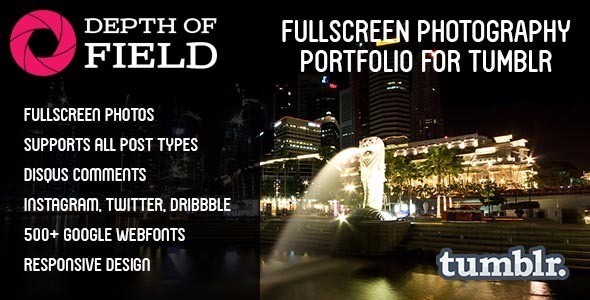 Depth of Field is a fullscreen responsive photography theme for Tumblr. It's a great way for photographers to showcase their portfolio in a breathtaking way.
This theme enables you to display your latest Instagram photos, Dribbble shots and tweets, as well as a number of popular social media links. The popular Disqus commenting system is integrated and you have the option to choose from over 500 fonts from the Google webfont library.
3. Photographica – Portfolio Tumblr Theme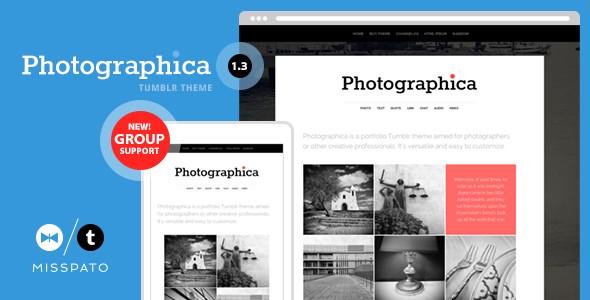 Photographica is a portfolio Tumblr theme aimed for photographers and other creative professionals. It's versatile and easy to customize.
4. Gallera – Photo Gallery/Portfolio Theme for Tumblr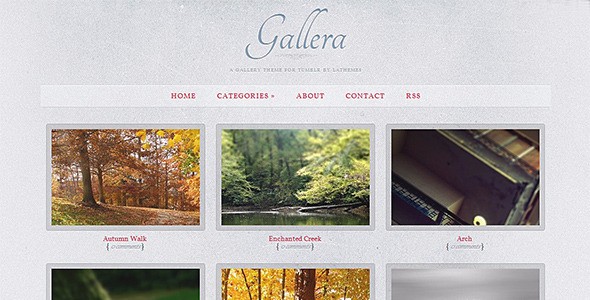 Gallera is a clean and elegant gallery theme with subtle grunge background texture and custom typography. It's best suited for photographers, artists and designers who want to showcase their work in the best possible way, but can be used as a web gallery or any other site where images take central part.
5. Fotogenik – Photography Tumblr Theme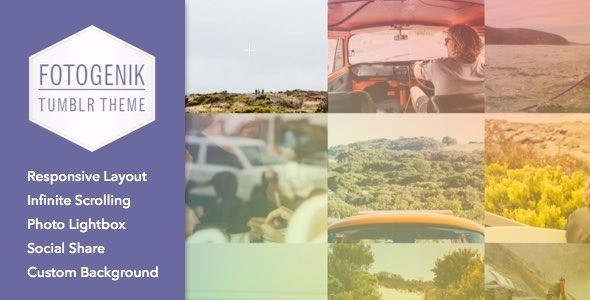 Fotogenik is a minimalistic tumblr theme for photographers and anyone seeking a clean grid-based tumblr theme. Showcase your photography with a template that matches your style. Customize background-images, colors, fonts, and even layout.
6. Gradiente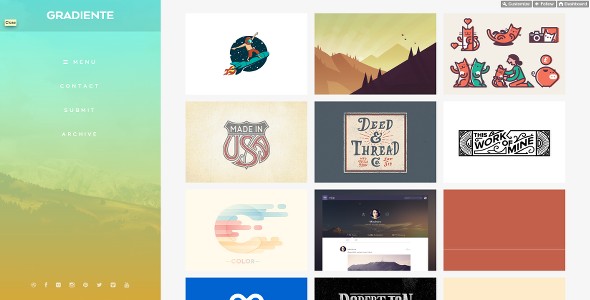 Gradiente photography theme has a full-screen width grid layout with sidebar. A clean, minimal theme that is made for photographers, it offers responsive design, integration with Google Analytics, and more.
7. Amanra – Responsive Grid Photography Tumblr Theme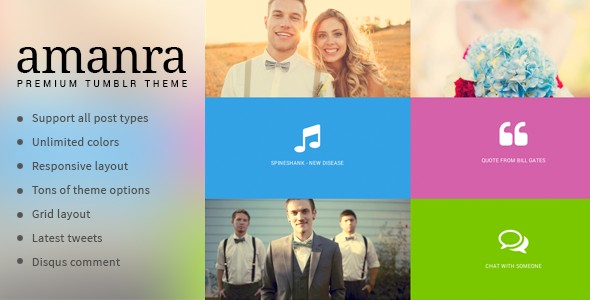 Amanra is a slick and eye-catching Photography & Portfolio Tumblr theme to showcase your best work. It is feature rich, the theme is responsive and it is powered by Isotope grid layout for the homepage.
The theme comes with lots of options to help you get started.
8. Aperture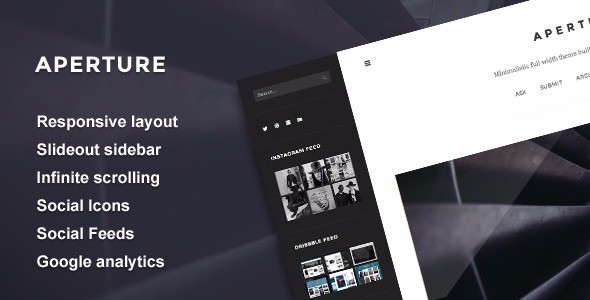 Aperture is minimalistic full width theme built for photographers and writers. This theme is fully responsive, features integration with Instagram and Dribbble feeds, supports Google Analytics and Disqus comments among other features.
9. Photosnappr – a Tumblr Theme for Photographer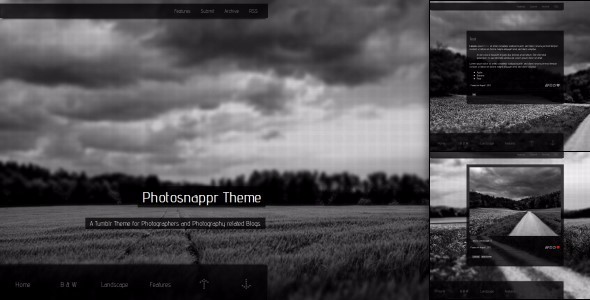 Photosnappr is a Tumblr theme for photographers and photography related blogs. It supports up to 12 background images, 500+ Google fonts and is Disqus ready.
10. Gridify – Fullsceen Grid Theme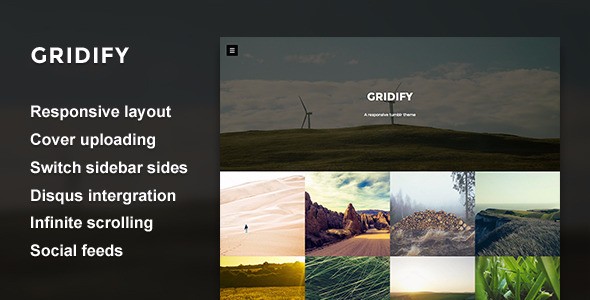 Gridify is built with over 60 customize options, including over 20 adjustable fonts, custom cover upload and a responsive full width layout. Its grid layout is perfect to build your photo gallery.
11. Florence – Responsive Gallery Theme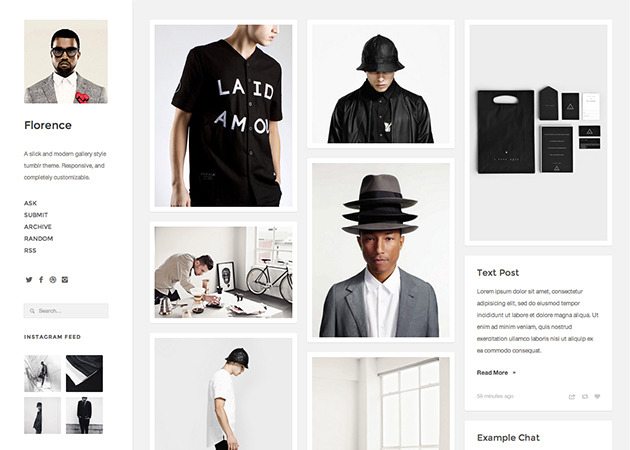 A slick and modern gallery style tumblr theme. Responsive, and completely customizable, Florence is the perfect for those looking for a photo album theme.
The theme is extremely customizable with over 50 customize options, is mobile ready and looks good on mobile and tablet supports all post types, Disqus comments integration and Google analytics.
12. Glue – Responsive Fullscreen Grid Theme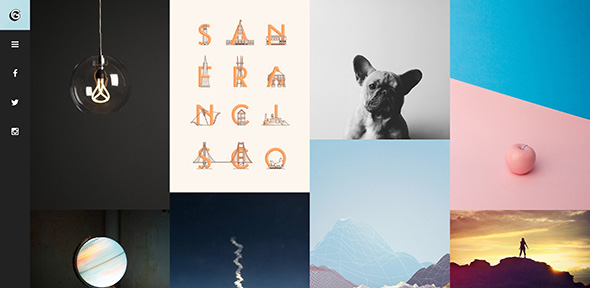 Glue, a content-focused tumblr theme. It's sidebar slides into focus when it is needed. This theme includes lots of features and is designed for easy customisation.
Glue features a clean and responsive design, which will look good across your devices!
13. Spring – Two Column Portfolio Tumblr Theme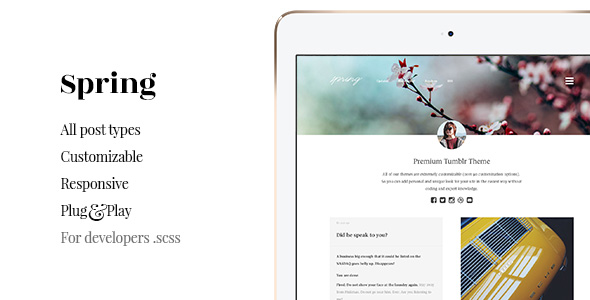 Spring is a two-column Tumblr theme for photographers and designers. The theme is versatile and responsive, perfect for all types of content.
It is retina ready, mobile responsive, supports infinite scrolling and is cross browser compatible.
14. Objective – Photo Grid Theme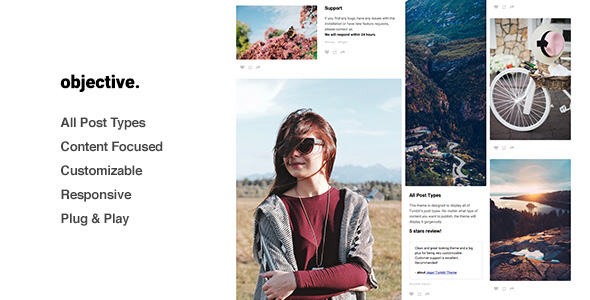 Objective is a grid-based, 4-column premium theme for Tumblr. Ideal for photographers who want to build own portfolio and creative people.
You may also want to read these:
If you know any high quality Tumblr photography and photo gallery theme that can be included in this post, then please leave a comment with the link to the demo/download page of the theme. And if you want to feature your own Tumblr theme in this list, you can also contact us with your request.