In this post, we have compiled a list of minimal Tumblr themes for writers and bloggers. All these Tumblr themes are content focused and will provide a great clutter-free reading experience to your visitors similar to the reading experience of Medium blogging platform.
We have picked these themes based on their clean and spacious layouts that provide content enough breathing space and their emphasis on typography which makes reading an enjoyable experience.
Most of the themes below have single column layouts and are optimized to present text heavy posts in a well designed way. For those who love writing long form text, you will find some great options to choose for customizing the appearance of your Tumblr blog.
However, if you're planning to start a photo blog and are searching for Tumblr themes with multi column grid layouts to display your photos, then you might want to check out our collection of Tumblr themes for photographers and photobloggers.
This collection includes both free to install and premium Tumblr themes and we've put them in separate sections for easy browsing.
Free Minimal Tumblr Themes for Writers
The themes listed below are completely free to download from official Tumblr theme directory. Links to preview and to download these Tumblr themes are provided with each theme. Do checkout their demo to see the themes in action.
Simplify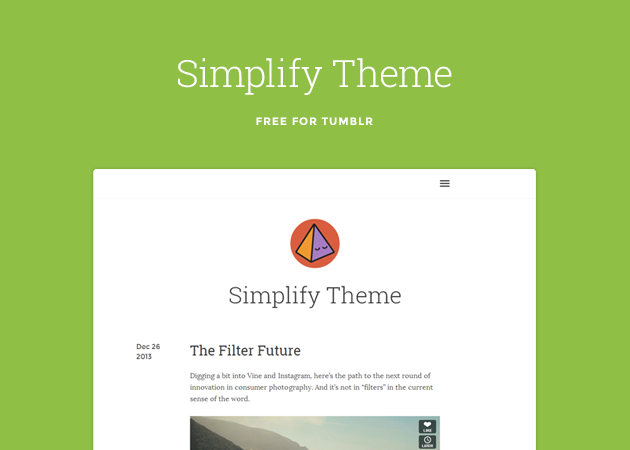 Simplify is a minimal Tumblr theme designed with focus on content and menu navigation. It has a clean layout with plenty of whitespace to keep the reader's attention on content. Features include sticky navigation, integration with Disqus comments, Google Analytics, multiple navigation options and a unique night mode for an optimal reading experience during night time.
---
Paper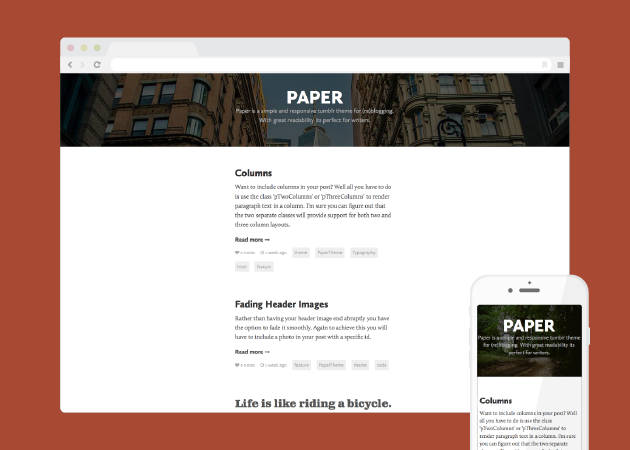 Paper is a free responsive Tumblr theme built with simplicity and performance in mind. With its modern typography, Paper offers great readability and is perfect for writers. The theme comes with option to customize header background and image, easy to change fonts, Instagram feed integration, Disqus comments, option to display recent posts, sleek animations and more.
---
Editorial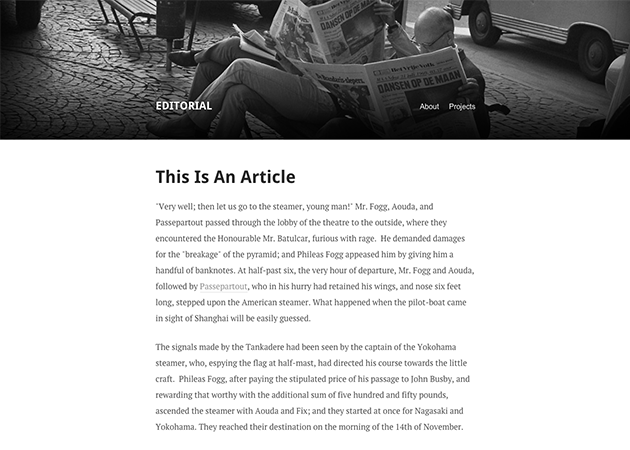 Editorial is a minimal Tumblr theme focused on readable content. Its simple one column layout and large typography makes reading an enjoyable experience. Features include custom colors, custom images, and localization.
---
Ashley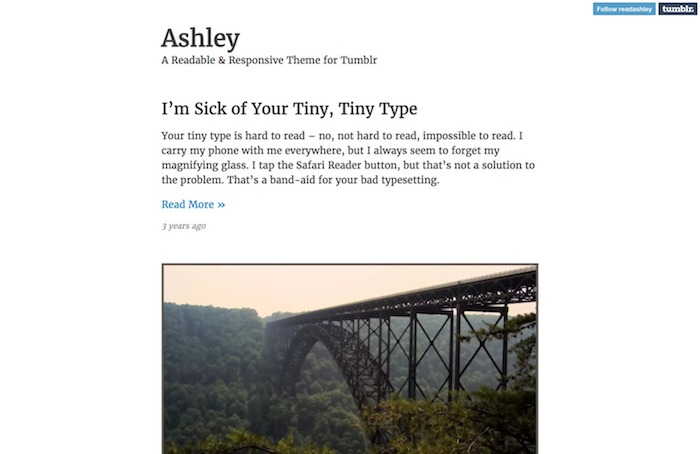 Ashley has an ultra minimal look to it. It emphasizes on large font size in headers as well as body text for easy reading. With its clean and simple layout, it's perfect for text heavy posts. The theme is completely responsive, supports Google web fonts (the default font used is Gentium Book), custom colors, images and tags.
---
simpleTEXT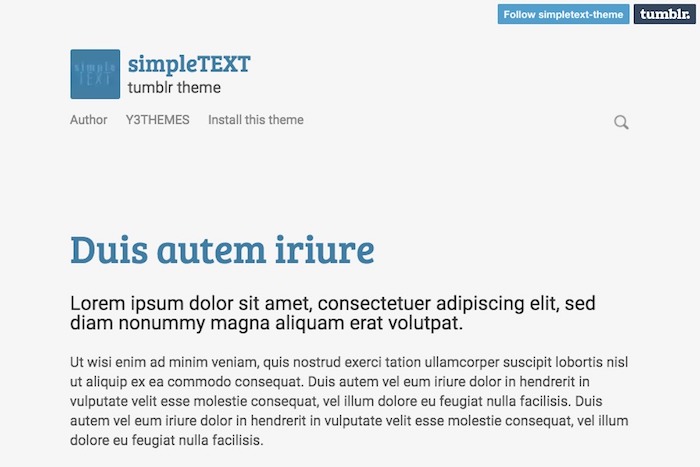 simpleText is a clean, minimalistic Tumblr theme mostly for text blogs. It comes with a lot of customization options, support for Google analytics, Google fonts, integration with Disqus comments and infinite scrolling option as well.
---
Verbage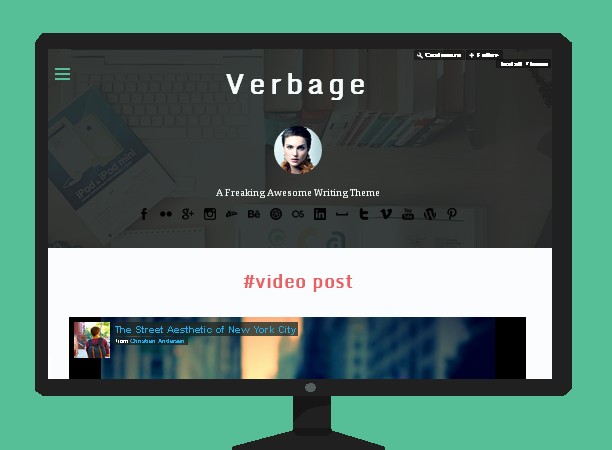 Verbage is a single column theme with a clean look. The theme features a large header area and provides option to change colors and images in header as well as footer sections. Other features include integration with Google analytics, Google fonts and social icons. Verbage also supports infinite scrolling.
---
Whiting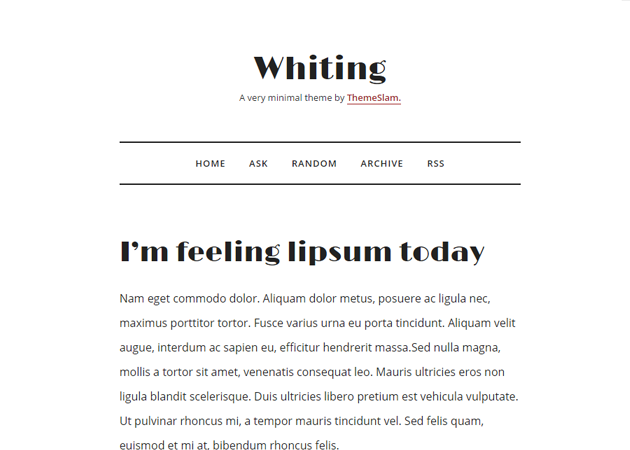 Whiting is an extremely minimal Tumblr theme optimized to display correctly on all devices. It features a clean single column layout that makes reading content distraction free.
---
Thinker Theme for Writers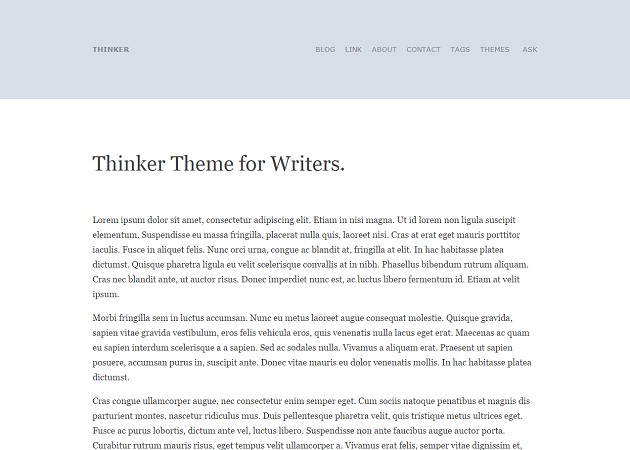 Thinker is a light weight theme designed for writers and readers to focus on content. It supports all post types and high resolution photos. The theme comes with many customization options including changing column width, title and body fonts, header and footer color schemes. Other features include support for infinite scrolling, sticky header and back to top button.
---
Ink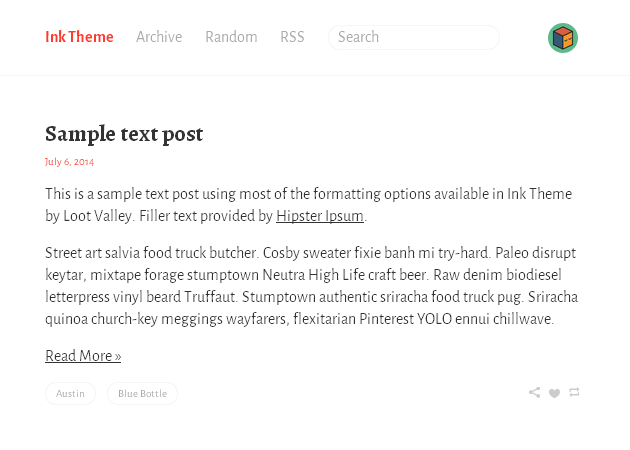 Ink is a content focused theme designed for bloggers and writers. Created with mobile devices in mind, Ink has a responsive layout. Its minimal interface and simple navigations will give readers a clutter free reading experience. Features include modal window, integration with social platforms like Facebook, Twitter, Instagram, Flickr and more, support for Google fonts and Disqus comments.
---
Royal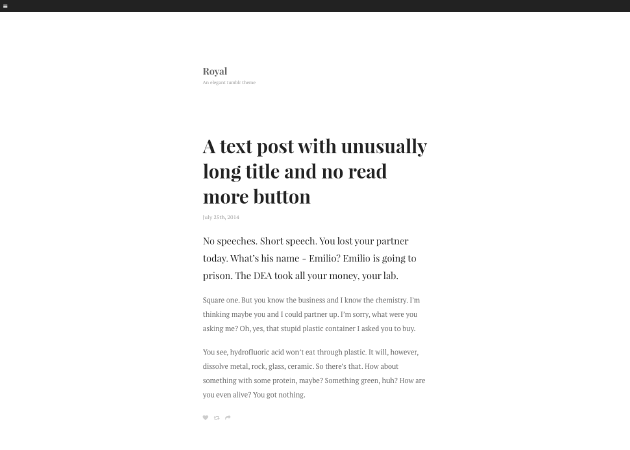 An ultra minimal template for Tumblr, Royal keeps content to the front whether it's text or media. The theme sports lots of whitespace in its layout, is fully responsive and supports Google web fonts and Disqus comments.
---
Premium Minimal Tumblr Themes
Below you will find some popular premium Tumblr themes from ThemeForest with clean layout and good typography. Please note that some of these may contain our affiliate links.
Memoir Tumblr Theme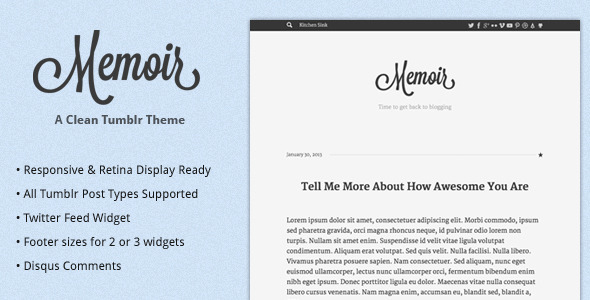 Memoir is a premium Tumblr theme that features awesome typography. A single column theme with minimal layout, Memoir is fully responsive and retina display ready. Features include responsive footer (2 or 3 widgets), Twitter feed widget, Blogs I Follow widget, social media icons and Disqus comments integration.
---
Penoolis – Responsive Tumblr Blog Theme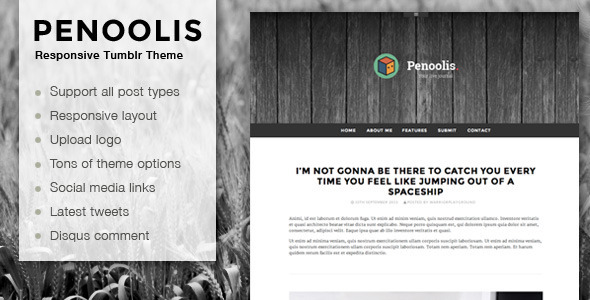 Penoolis is designed for bloggers and writers who like a simple, clean and spacious layout for their blogs. This theme supports all post types, AJAX pagination, Disqus comments, integration with Google Analytics and social media links.
---
Agantuka – A Tumblr Theme for Writers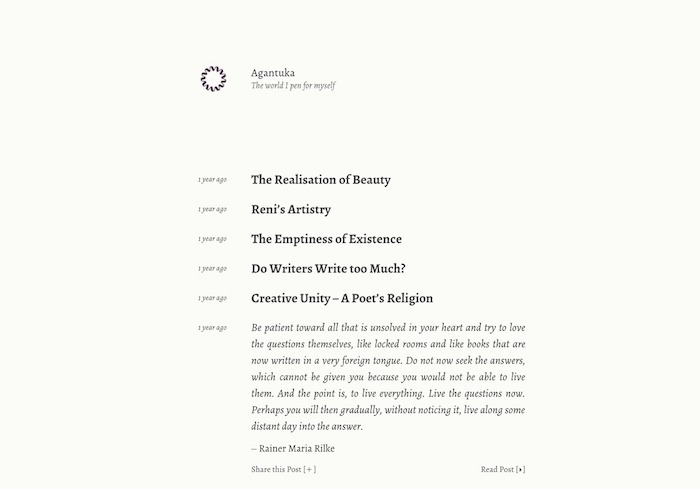 A minimalistic looking Tumblr theme for writers, Agantuka features a narrow width single column layout. It supports infinite scroll and subtle animations on scrolling.
Other features include support for pull quotes and block quotes, color customizations, social sharing buttons and Disqus comment integration for better engagement with readers.
---
Basic – One Column, Blogging Tumblr Theme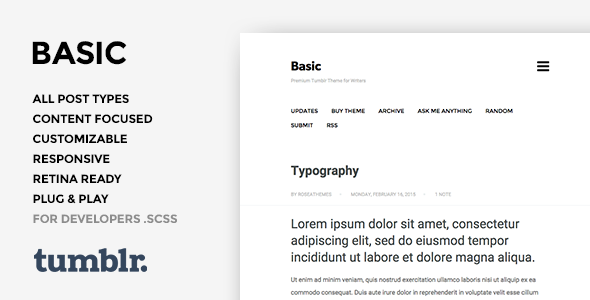 Basic is a minimalistic, single column and clean premium Tumblr theme. The theme is retina ready, fully responsive and can be easily customized to suit your needs. All Tumblr's post types are supported and it's suitable to run any kind of blog.
---
Zakeea-A | Clean and Simple Tumblr Blog Theme
Zakee-A is a content focused Tumblr theme for bloggers. The theme comes with a simple and clean layout that makes reading content easier to read.
You can easily change the colors on the theme easily without having to touch any line of codes. It features responsive layout, latest Tweets, social media profile links and Disqus comment integration. Zakee-A is also suitable for programmers and developers who like to blog and write code snippets because the theme codes with a syntax highlighter.
More Tumblr Themes
The minimal Tumblr themes listed above are designed to provide both good reading as well writing experience. Other post types such as images, videos and quotes are also supported. If you are looking to refresh your Tumblr blog to give it a clean, minimal look, these themes will give you some good options to choose from.
In the end, we leave you with more collections of Tumblr themes from our site:
In case, you are a WordPress user and want to give your WordPress blog a minimalistic look, you may want to check out our collection of minimal WordPress themes.