Bootstrap 4 is available as the next version of the most popular CSS framework. This revamped version of Bootstrap offers many changes over the previous version and looks promising. Here, we present to you some of the best Bootstrap 4 UI kits available for download in PSD, HTML and Sketch formats.
While Bootstrap 4 is still new, many web designers and developers have started adopting it in their web design. With the help of a Web UI kit, you can accelerate your web design and development process. If you are willing to work with the latest Bootstrap 4 version then you will find below high-quality Bootstrap 4 UI kits which you can use in your own projects. We have made sure to pick UI kits which are available for free download as well as those that are best sellers at premium marketplaces.
Let us look at the Bootstrap 4 based UI Kits below:
Shards – Bootstrap 4 Web UI Kit (Free)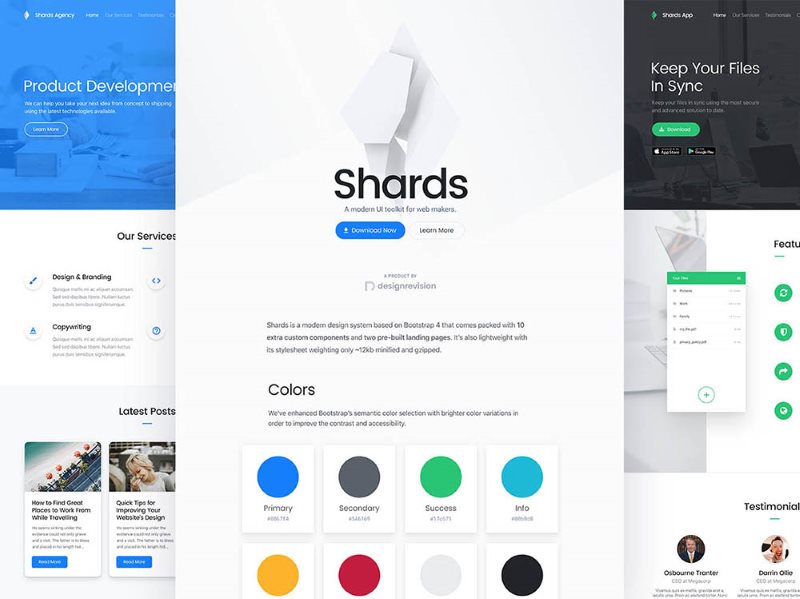 Shards is a free and modern UI toolkit for web makers based on the popular Bootstrap 4 framework. It has an elegant design, is responsive and is well documented. Shards comes packed with 10 extra custom components that help to cover almost any type of interface requirements and also 2 custom pre-built landing pages. The original Sketch and SCSS files are also included with the download. Shards UI toolkit is also open-source and available on GitHub.
Material Design for Bootstrap 4 (Free & Premium)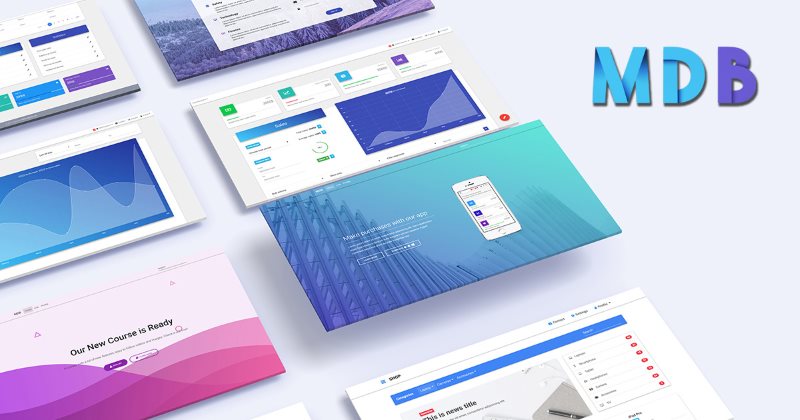 MD Bootstrap is a professionally implemented UI kit for Bootstrap with material design look and feel. Built upon Bootstrap 4, it offers 400+ Material style UI components, 600+ Material icons and 74 CSS animations in the free version. They have JQuery, Angular, React and Vue version for their UI Kit. On the site you will also find free templates and tutorials to build websites with Bootstrap 4 and Material Design. There are premium versions available for each flavor of the UI Kit which gives you access to 2000+ components, premium sections, plugins as well as premium support.
If you are interested in Material design, then you may want to take a look at these Material design themes for Bootstrap for use in your Web projects.
Paper Kit 2 (Free & Premium)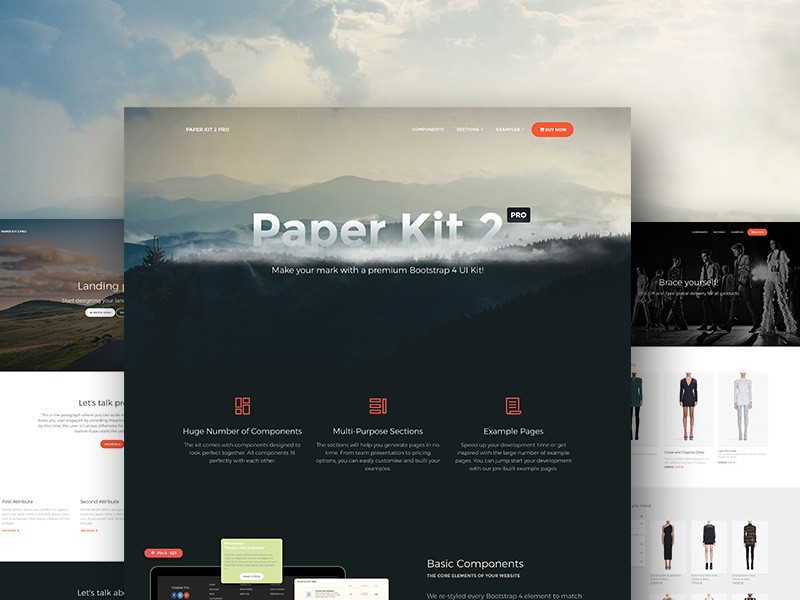 Paper Kit by Creative Tim is one of the most popular and professionally designed Bootstrap UI kit. With the launch of Paper Kit 2, this UI kit is now made available for Bootstrap 4. This premium UI kit offers huge number of components (1000+), sections as well as example pages. All the components and sections are designed to be responsive and includes transitions, shadows and colors such that it resembles pastel colors and papers.
With beautiful typography, font icons and thoughtful layouts, this UI kit certainly stands out from the rest and offers a comprehensive set of components required to build any kind of website such as portfolio, blog, landing pages or e-commerce. A lot of pre-built example pages are also included with the download which includes login, register, search, settings, about, e-commerce, product pages etc. You will also find tutorials in the download which will assist you in working with this UI kit.
You can also find a free version of this UI kit which offers limited amount of components and a few example pages.
Now UI Kit (Free & Premium)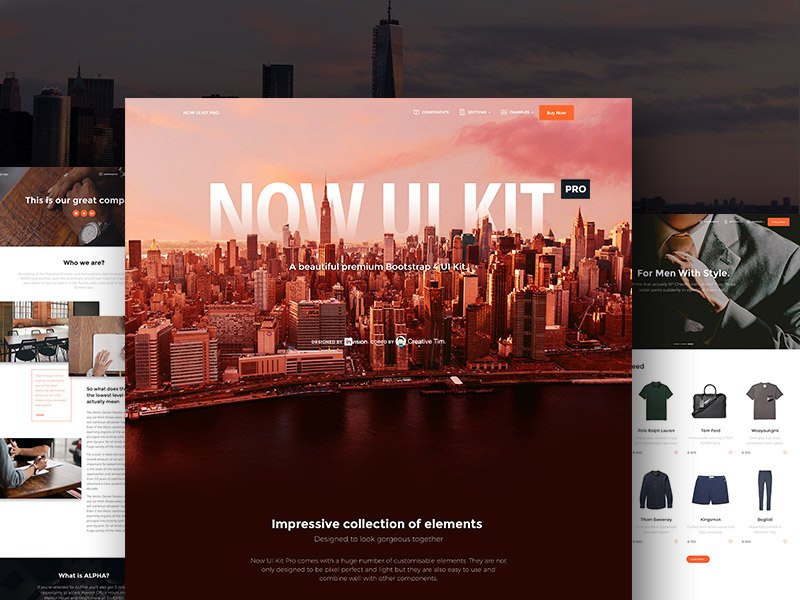 Now UI Kit is another premium and professionally designed Bootstrap 4 UI Kit provided collectively by Invision and Creative Tim. Now is available in PSD and Sketch formats downloadable from Invision. The Bootstrap 4 implementation of Now (by Inivision) is available as Now UI Kit by CreativeTim. It offers  over 1000 components, 34 sections and 11 example pages.
This UI kit makes use of bold colors, beautiful typography, clear photography and spacious arrangements. Multiple example pages such as blog pages, blog post page, profile, contact us, product page etc. come pre-built with the template. You also get access to tutorials as well as SASS source files for working with the template.
A free version of this UI kit is also available with 50 components and 3 example pages.
Material Kit (Free & Premium)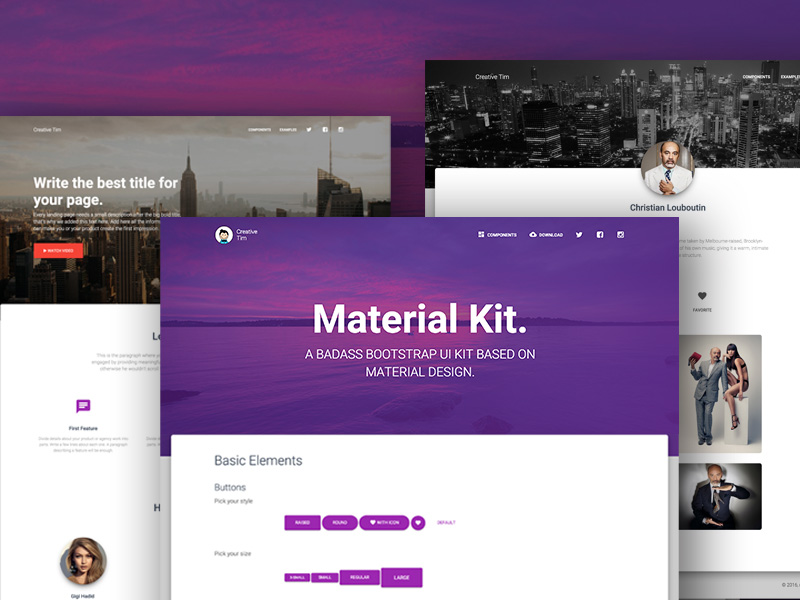 Material Kit is another Material design inspired UI Kit based on Bootstrap 4 made by Creative Tim. It has implementation of material concepts and provides easy to use and beautiful set of material design components. Along with the restyling of the Bootstrap elements with material design principles, you will find over 1000 components, 11 fully-coded example pages and 7 customized plugins which are helpful in designing your own web projects in material design. PSD files and SASS files are also included with the PRO version of this kit.
There is a basic version of Material Kit also available for free download which comes with 60 components, 3 example pages and 2 plugins.
Helium UI Kit (Free)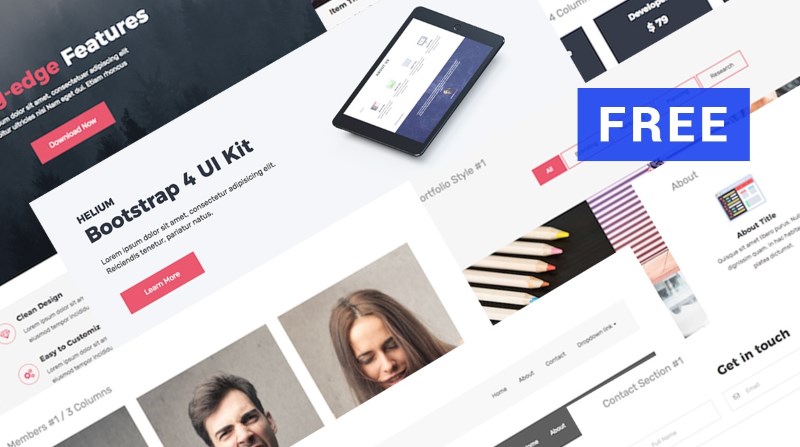 Helium is a free Bootstrap 4 UI Kit provided by UIdeck and comes with 100+ components and elements. Helium also includes add-ons such as Owl Carousel, Icon packs, form validator, maps etc. This UI Kit has a block-based code structure and each block is placed in separate HTML/CSS/Sass file to help you work with the UI Kit in easy and organized manner. You can download this UI Kit for free after providing your e-mail on the UIdeck website.
Startup UI Kit (Free)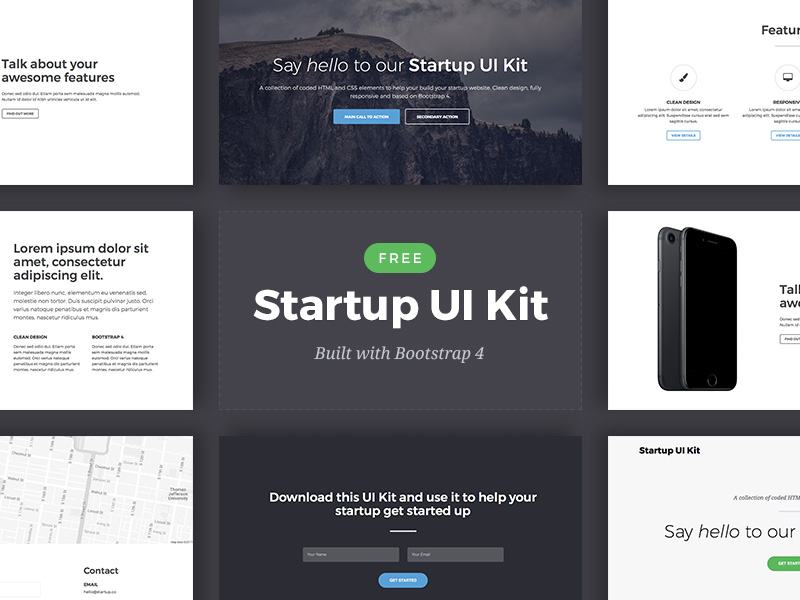 Startup UI Kit is another free and Bootstrap 4 based UI kit which offers 16 UI cards that you can mix and match to create your own unique layouts. This clean UI kit is good for creating landing pages and for launching startup websites. The free version is licensed to be used for personal use only though.
BS4Start – Bootstrap 4 UI / Starter Kit (Premium)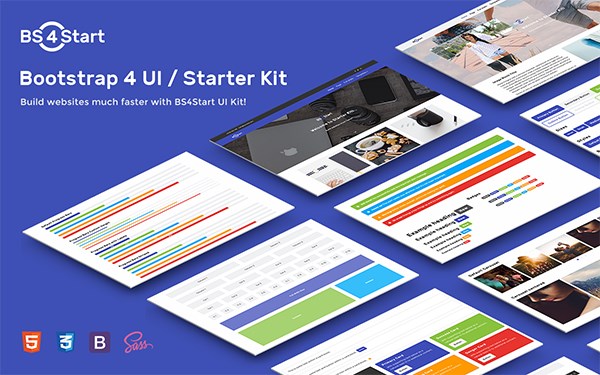 BS4Start is a premium responsive Bootstrap 4 UI Kit for building web-apps or websites using the Bootstrap 4 framework. It includes 6+ starter templates, 300+ UI components and is integrated with Font Awesome as well as material icons. SASS files are also provided with the download for easy customization.
Cascade – Modern Bootstrap 4 Skin & UI Kit (Premium)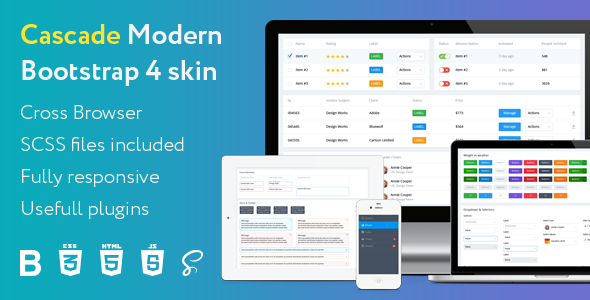 Cascade is a modern Bootstrap 4 skin which offers a responsive and multipurpose skin template with huge collection of UI Components. It is easy to use and can be customized using the included SCSS files. Apart from re-skinned default Bootstrap components, Cascade UI Kit also includes lots of extra components to help you build modern responsive websites and applications.
Marino – Bootstrap 4 Dashboard UI Kit (Premium)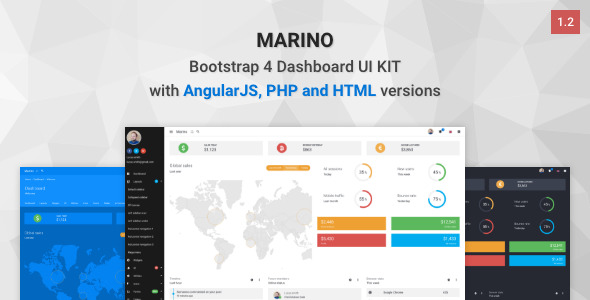 Bootstrap is an ideal choice for building Dashboards and with this Bootstrap 4 based Dashboard UI kit, you will be able to build responsive admin dashboards. Marino is a premium dashboard UI kit built on top of Bootstrap 4 and offers AngularJS, PHP as well as HTML versions. It has 9 different layouts, 23 color schemes and more than 150 html files with custom build components and widgets.
If you're interested in building dashboards then there are many other Bootstrap Admin Dashboard templates that you may be interested in.
Flatkit – App UI Kit (Premium)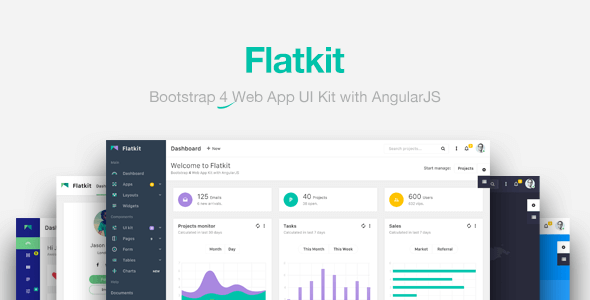 Flatkit is a Bootstrap 4 and AngularJS based web-app UI kit which can be used to build dashboards as well as other web apps. 6 pre-built layouts are provided with the UI kit and the build system is powered with Grunt to help the work flow of web developers. RTL support is also available for this kit.
One UI Kit (Free)
This is a minimal UI kit for Bootstrap 4 which is open source under MIT license and available on GitHub. A sketch file is also provided with the kit. Gulp is used for running the build system and you can easily customize the SCSS files and rebuild the UI kit.
Bootstrap 4 Creative UI Kit (Free)
This is another Open Source project which is licensed under GPL and is built with Bootstrap 4. This creative UI kit is easy to work with and is built upon Bower, GulpJS and Sass.
Bootstrap 4 UI Kit for Sketch (Free)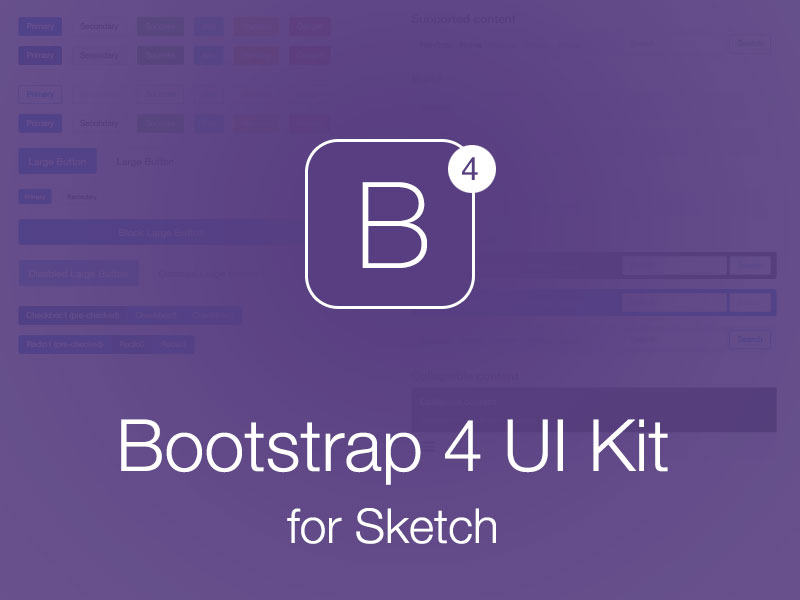 This is a Bootstrap 4 UIkit by ZTfer available as sketch file and offers Bootstrap elements and components in sketch format for UI designing and for creating Bootstrap 4 based mock-ups.
Bootstrap 4 GUI – Editable Vector File (Free)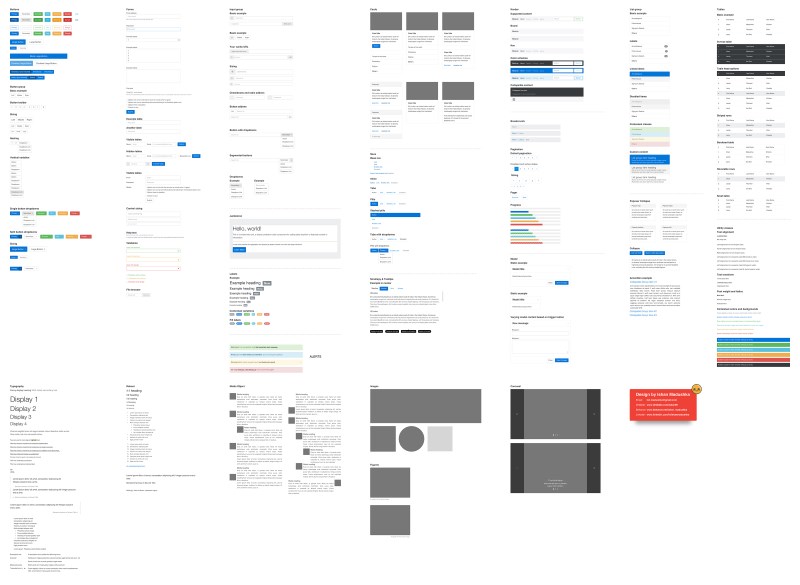 This is an editable Vector file in AI format containing Bootstrap 4 GUI and components.
Have you started adopting Bootstrap 4 already for your projects or are still using Bootstrap 3? Do you find this collection of Bootstrap 4 UI kits helpful? Did we miss any UI kit? Let us know in comments below.