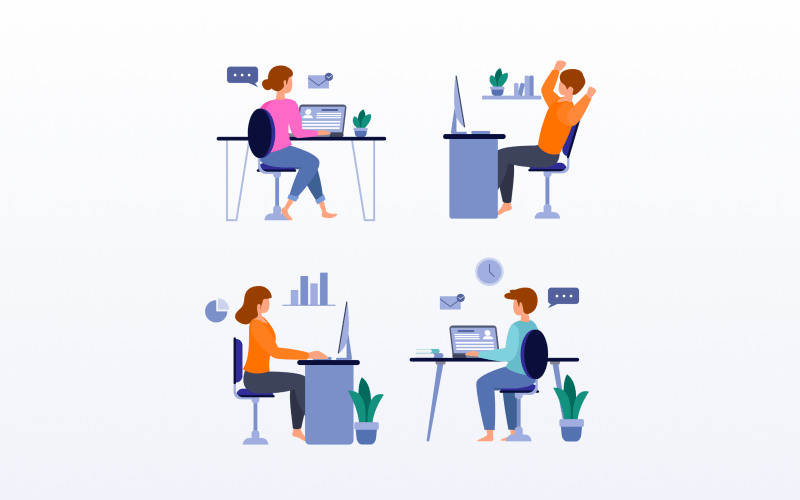 Are you working remotely or hiring remote workers? If yes, you are a part of a large and global trend that is about to expand in the next few years. In the US alone, the share of remote workers increased rapidly by whole 44% due to the COVID-19 situation. And the dynamics are similar in other quarantined locations.
Although some of the large-scale international companies still insist on their staffers' relocation, more and more organizations (especially the smaller-scale ones) increasingly hire remote professionals.
Why Remote is so Attractive to Companies Globally?
We must say that, pandemic-stimulated statistics aside, working with distant specialists is quite highly beneficial: you get access to the top talents of your industry and organize business processes more efficiently with:
Streamlined performance – workers that feel independent and relaxed in the comfortable personal environment of their home are less distracted, more available, free from post-office fatigue, and utterly flexible in their overall productivity rates.
Boosted engagement – coming from the above point, it's easier for remote specialists to focus on specific tasks or work aspects and be better involved with the workflow on a regular basis.
Lower workforce retention – due to the global pandemic situation and personal desires, the vast majority of potential and existing employees crave that flexibility of remote, preferring companies that provide such options over those setting time management guidelines and schedule restrictions (44% of employees would even rather earn less and drop their current job to work on a flexible schedule).
Cut costs & higher profits – with remote recruitment, the company's business management can forget about the cumbersome, costly tasks of organizing an office workspace with all the required hardware and conveniences, paying the office rent/insurance and covering travel reimbursement, which allows saving up to $11,000 per remote worker annually.
All in all, with remote opportunities, your employees are likely to feel happier and you'll have higher chances of attracting youngsters to your company because:
People grow tired from the constant close monitoring by management and easily get irritated by daily, staff-packed office routines, which can seriously undermine individual productivity and spawn numerous expensive mistakes due to fatigue and discontent. Alternatively, employees tend to experience over 80% less stress when working remotely.
Younger specialists are more prone to adopt a freelance work approach, which means that they prefer staying remote and more autonomous, working on a flexible schedule rather than following a fixed routine, and communicating via mobile gadgets. According to statistics, Generation Z workers (18-22) make up half of all remote workforce in the US (53%) while millennials make up about 40% and Generation X covers 31%.
However, managing a remote team might be tricky. Let's take a look through some handy recommendations on how to organize the workflow if you all can't get together in one room.
9 Tips on Organizing Remote Collaborations
Depending on the scale of your business and the size of your staff, you may require to implement and maintain different initiatives to different extents in order to keep your remote performance smooth and profitable.
Use remote-focused software. Corporate communication solutions like Zoom, GoToMeeting, JoinMe, as well as enterprise applications like Slack, and tasking managers like Zoho Projects and Trello are among the top versatile, efficient, and highly available tools to adjust remote performance. Make sure everyone in your staff is tech-savvy with the tools they use.
Log all the plans and discussions. Every videoconference or call dedicated to project updates, brainstorming, and other discussions should be summarized and logged. All conference participants should then get a list of summarized goals or updates from the management. This should save your staff from misinterpretations, arguments, and forgetfulness.
Set measurable goals. Everyone should understand how many products they need to produce or sell daily, how much time should it take to create or sell one product, what are the measurable characteristics of this product, and so on. Measurable goals are also essential for maintaining performance statistics and reporting.
Create templates for each project. A template should contain the following information: what are the essence and the goal of the project? Who is responsible for it and what are the duties of each person? When is the deadline? What is the budget? And other project-defining specifics that set the stage for every other work sprint.
Compile checklists. To monitor the progress of each project, fragment large tasks into several small steps, each with its separate measurable goals. As soon as a task is finished, tick the corresponding box. The subsequent approach should help keep the workflow smooth and logical.
Don't postpone checking progress. Rather than checking the results at the end of the week, go through reports and milestones at the end of each day — or, if it's not possible due to the difference of the schedules, at least 3 times per week.
Organize training. Provide opportunities for your team to grow and develop. This will increase their loyalty due to an individualized approach and, of course, their output due to newly acquired knowledge and honed practical skills.
Be transparent and share industry news. This creates a meaningful sense of belonging and team members don't feel isolated. Everyone in the company should be on the same page – from owners and top management to project managers and specialists.
If possible, implement an office-day occasionally. As much as we are focused on the remote specifics right now, it's still good to get to know each other face to face. Plus, your team will feel more responsible and motivated after talking to the boss in person.
And now, the most sensitive issue: is it acceptable to work from home? In theory — yes, if the corporate culture of the employer is not as strict as in large global companies. But in practice, it's often wiser to use a coworking space.
First, it makes people more organized and motivated. They distract less and deliver a better output.
Second, Wi-Fi in coworking spaces is always powerful and stable.
Third, if a member of the team has technical problems, they can promptly ask for the professional assistance of the IT team.
Fourthly, if you are living in different time zones, some people might find it inconvenient to work from home because their kids or flatmates would be sleeping.
Before hiring a new person, you should ask them where they prefer to work from. If they work from home, ask them if they might consider switching to coworking. If they do, consider paying them a bigger salary that will cover at least a part of their expenses.
Conclusion
Organizing productive collaboration of a remote team is significantly different from managing staffers who are physically present in the office. Just make sure to
see that everyone has the necessary software and knows how to use it;
set measurable goals;
summarize all the important information in written form;
assess the progress of each project daily;
These simple guidelines are the pillars of remote work interaction and good productivity. The rest is about keeping your approach consistent and learning on your own progress in setting up an efficient remote workflow.
Related Read: Best Remote Job Boards