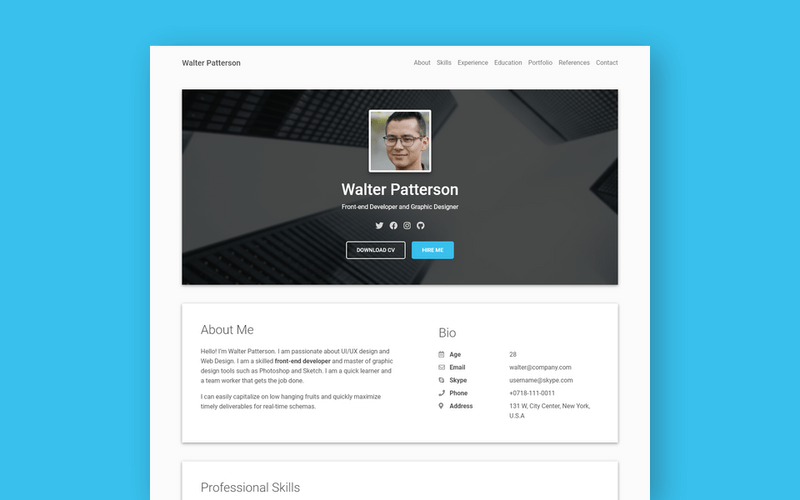 When you are building yourself an online presence (which is a must in today's age), you need a professional website which can highlight your skills, experience and projects that you have completed. If you are looking for such a professional resume template that can be used to build yourself a landing page then we have just the right thing for you. A Material design resume template that can be easily customized for your own profile.
Having a resume website is a great idea to not only reach out to potential employers, but also to highlight your work and keeping it up-to-date with your social media links and contact form. We have a great list of HTML resume templates that you can use, including a few material design resume templates. However, in this post, you can download this material resume HTML template completely free.
When you download this free resume template, all you need to do is to update the HTML and fill in all your data, bio, work experience, projects etc. Then simply choose one of the free static hosting sites such as GitHub and host the template (HTML, CSS, JS and images). You will have a portfolio online in minutes. What's more, you can even configure the contact form and start receiving contacts for free right in your email.
The template also includes print styles, which means you also get to print your up-to-date resume website anytime to generate a resume PDF that you can share with recruiters. Just check the print instruction provided on the resume template page and you will be able to take a print out easily.
This resume template is completely responsive and fits perfectly on different screen sizes. Do make sure to see the demo which shows how it will look on different screens. The resume template has animated skill bars, on-scroll smooth animations and professional looking timeline view. Replacing the placeholder images and adding more social icons is also easy. Google map has also been embedded (not shown in preview image, check demo) which you can update for your own location.
Preview of Material Resume Website Template
Download Template
You can download this material resume website template using the download button below. Upon downloading this template, you will find files for
Landing page (index.html)
Images (images)
CSS styles
JavaScript files
Logo and Favicon files
License
You can use this template for free in personal projects. In return, just credit https://templateflip.com for the website template on your site. You are not allowed to re-sell this template.
You may choose to pay a small fee to remove this attribution requirement, as well as to help the developers of this template. Learn More about premium license for this template.
Don't forget to share this freebie. Also check out these best job website templates and places to find remote job offers that can help you with your career move.