Neumorphism, or new skeumorphism, is a popular design style that utilizes soft, subtle shadows to make the UI elements stand out from the background. In this article, we will take a look at some inspiring Neumorphism UI design examples that embrace this modern and sleek visual style. Whether you are creating a website or a mobile app, you can use this design style to make your interface more appealing and engaging for your users.
From landing page designs and mobile app interfaces to UI components such as cards, buttons, and animations, this post explores many different Neumorphism inspired interface design examples. You can click on the button provided with each project to go to their respective pages. You can also follow the designers who have created these UI on Behance or Dribbble if you like their work.
1. Stripe Landing Page Redesign by Alexander Plyuto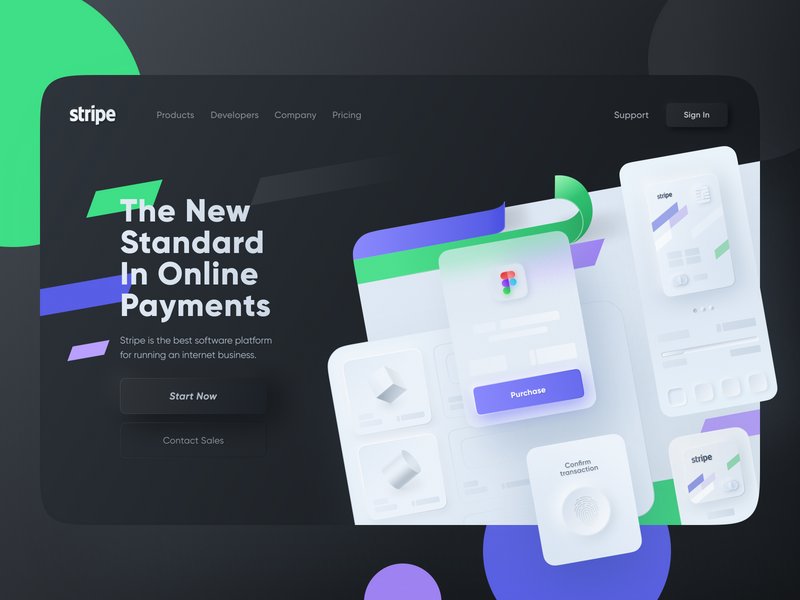 Stripe Landing Page redesign concept in Neomorphism style by Alexander Plyuto. The design uses light neumorphic elements to present the product overview while darker UI is kept for call to action buttons.
2. Radio Player App by Alexander Plyuto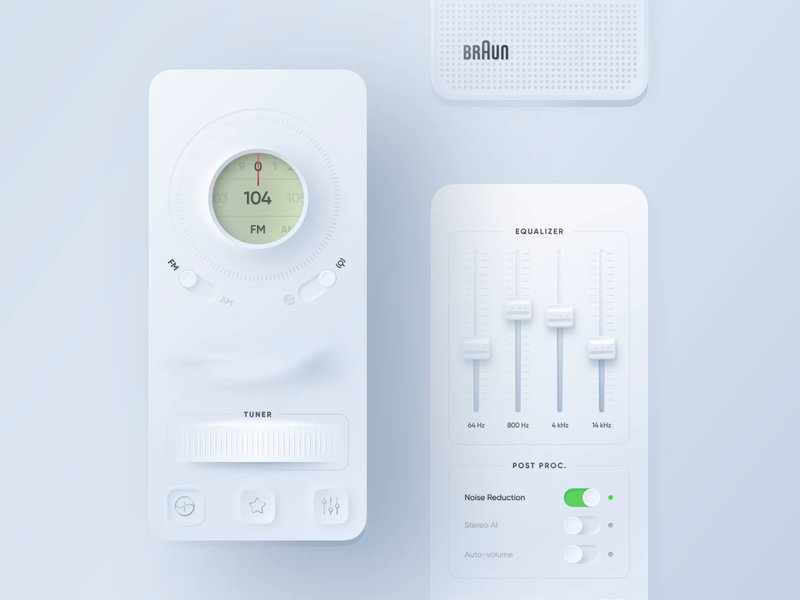 Light themed Radio Player App Neumorphic concept designed by Alexander Plyuto for heartbeat.
3. Tesla Smart App by Gavrisov Dmitri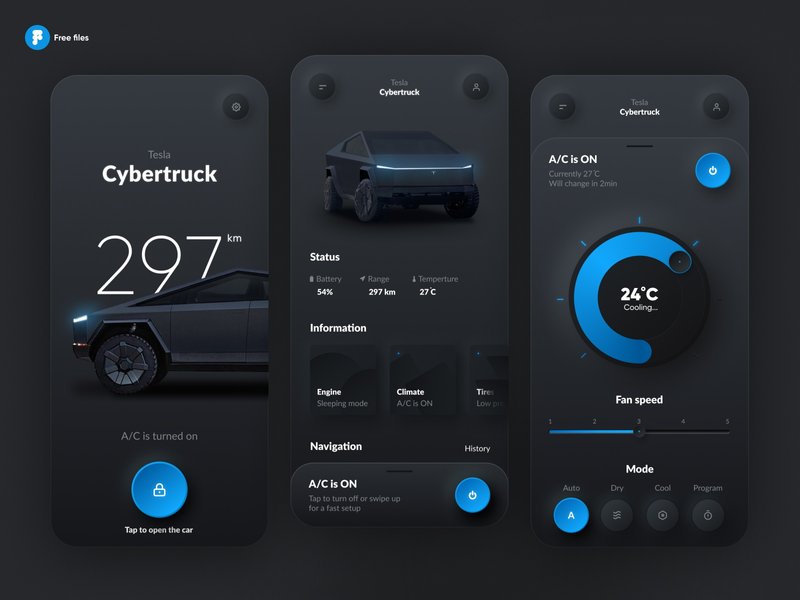 Product designer Gavrisov Dmitri has designed a dark themed UI example of Tesla Smart App that embraces Neumorphism in its interface elements such as navigation buttons, cards, slider controls with color utilized to display the state of a control.
4. Fitness App UI Concept by Mary Tokar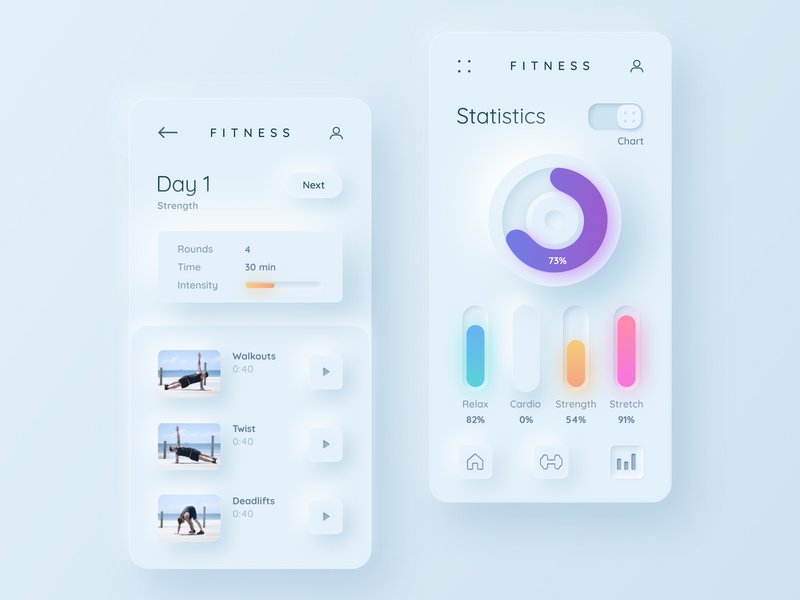 Neumorphism inspired mobile app screens with a soft color palette for Fitness app UI by Mary Tokar.
5. Smart Watch Music Player Design by Rohith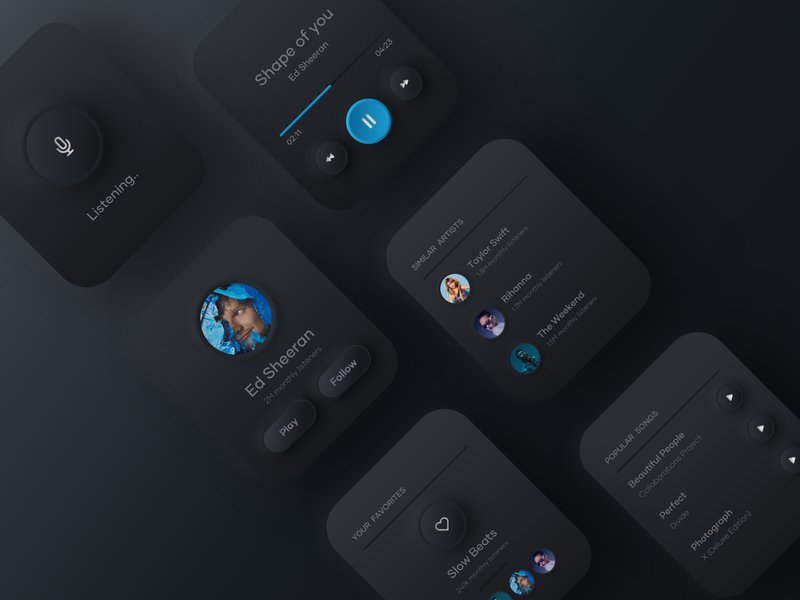 This is a UI design concept for a Music player app for WatchOS in dark theme designed by Rohith.
6. Neumorphism UI Elements by Filip Legierski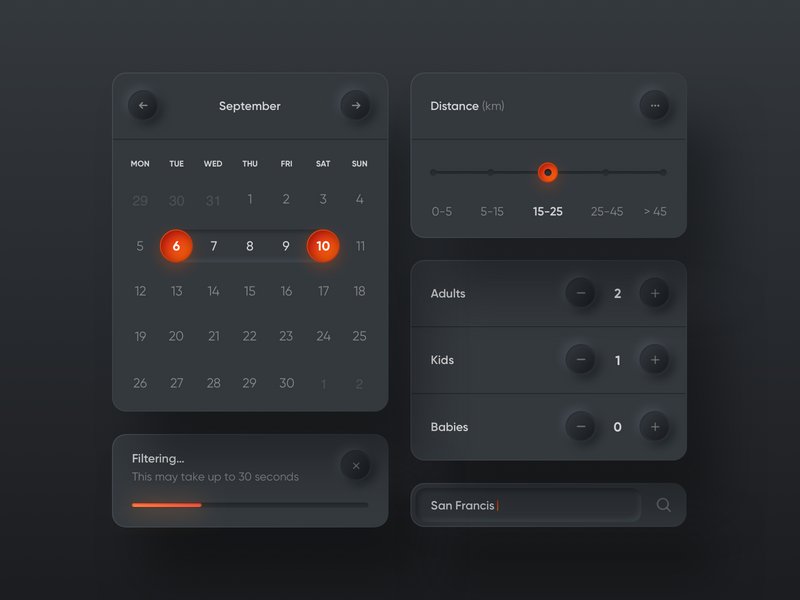 These are Neumorphic style UI elements such as linear Progress bar, Search bar, Calendar Control, designed by Filip Legierski for Riotters.
7. Medify Neumorphism Meditation App by Roman Golotovsky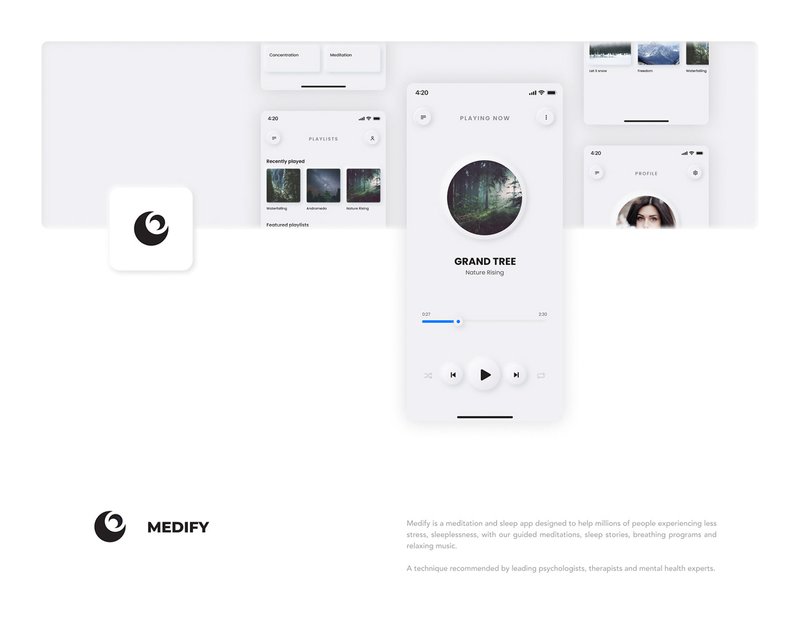 UI designer Roman Golotovsky utilizes neumorphism in this concept design for Medify, a meditation and sleep app. View full project to explore the style guide, login screen, music player interface and profile screens designed using Neumorphism.
8. Dark Neumorphic Website Design by Samson Vowles
This is an example dark Neumorphic website landing page design by Samson Vowles.
9. split. Neumorphism UI/UX Payment App by Selim Firat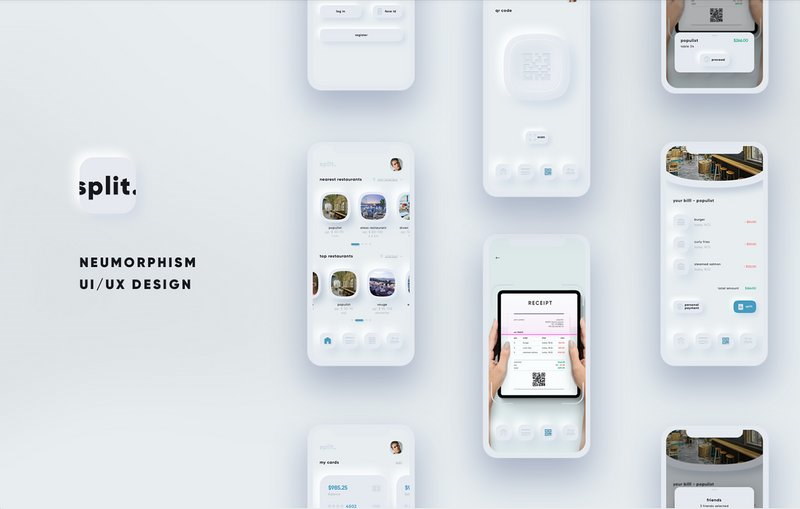 In this example UI for payment app split., Selim Firat has incorporated the Neumorphism design style right from branding and app logo to all the different app screens. Do click on the link below to view the full project on Behance that uses soft shadows in various UI components in the app UI.
10. Neumorphism Website Landing by Fredrik Aurdal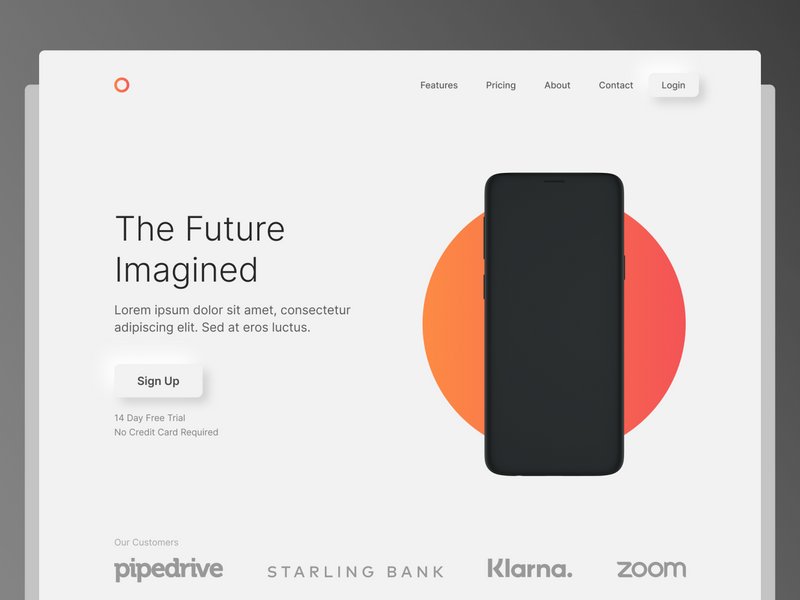 Fredrik Aurdal has used Neumorphic style CTA buttons for Signup and Login in this website design concept.
11. BeatLab Desktop Widget by Outcrowd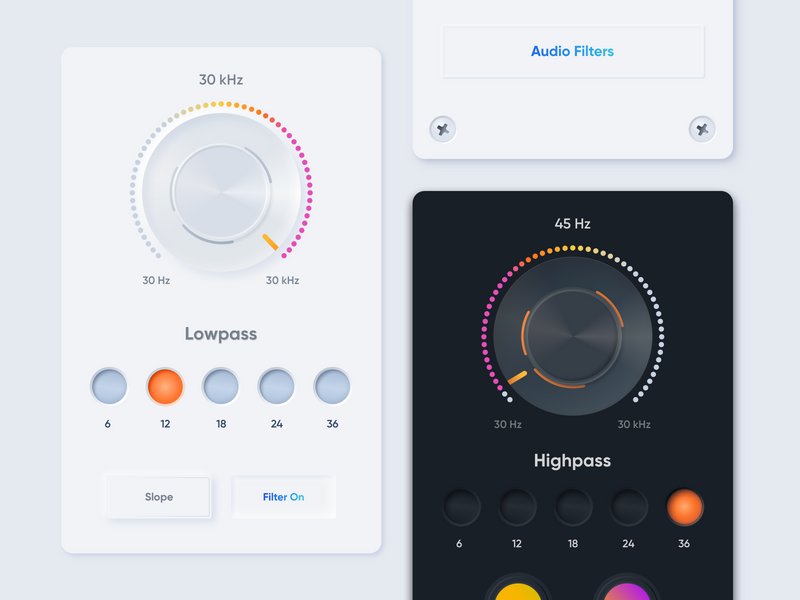 This is an example UI of a Desktop Widget for BeatLab designed by Outcrowd. The UI is presented in both light and dark themes.
12. Spotify Neumorphism UI Redesign by Sangeeta Baishya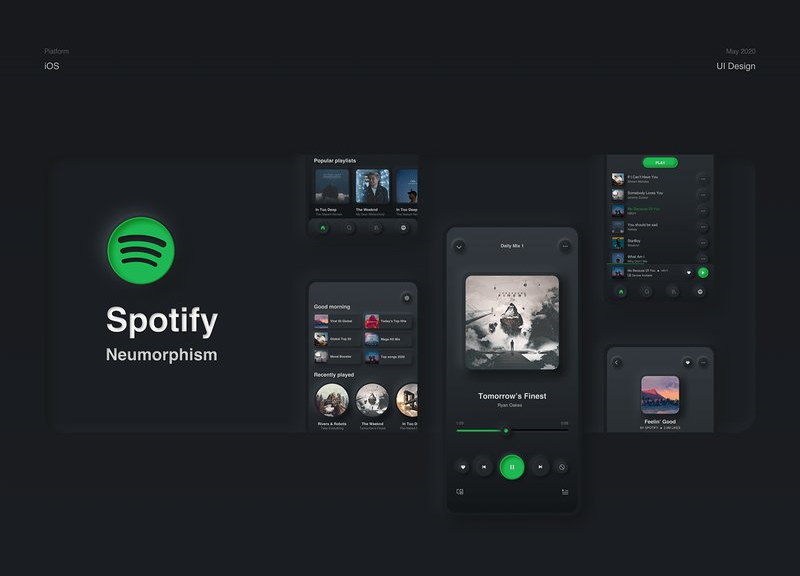 Spotify iOS app redesign concept with Neumorphism in Dark Mode by Sangeeta Baishya. Visit the full project on Behance to see how she has used neumorphic style iconography, splash and login screens, home page, music player UI and playlists and charts.
13. Smart Home Neumorphism App Concept by Igor Lutsenko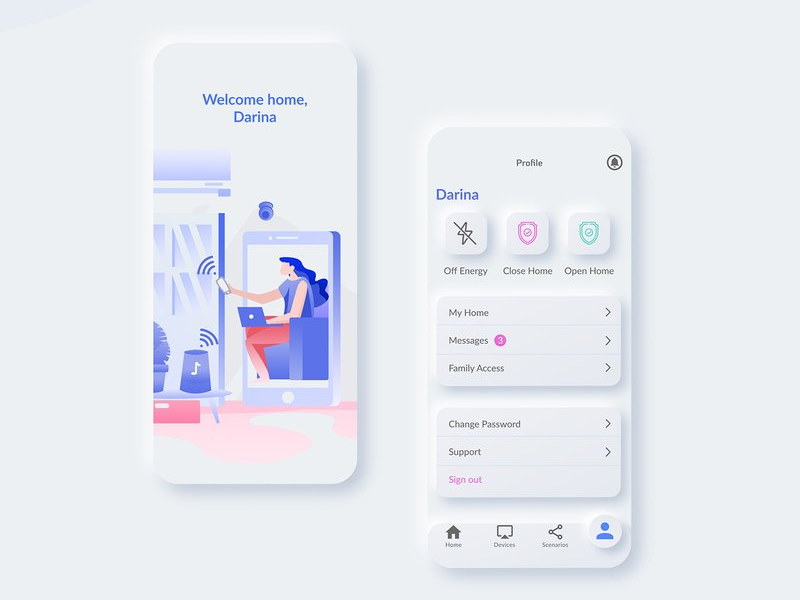 This is a smart home control app UI concept by Igor Lutsenko. Do visit their Behance project page to view the complete interface design done in Neumorphism style
14. Neumorphic Thermostat by Andrew Millen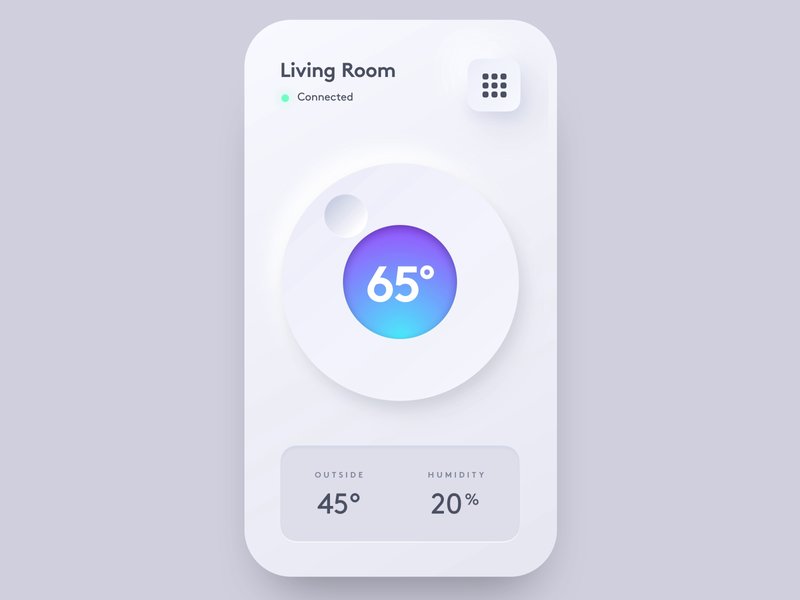 Neumorphic Thermostat with circular/radial slider control and animation designed by Andrew Millen.
15. Kettle App Concept by Vadim Demenko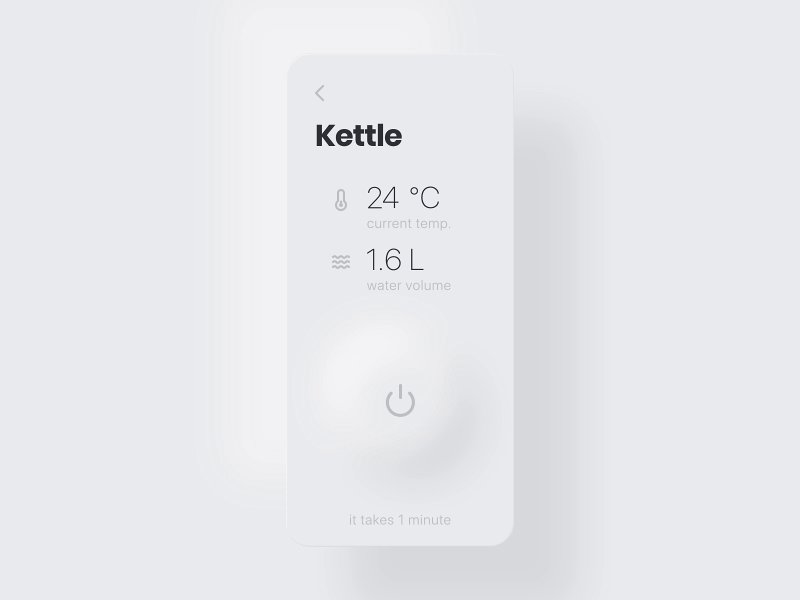 Kettle App Concept interaction design by Vadim Demenko with subtle transitions and button animation.
16. Online Store in Neumorphism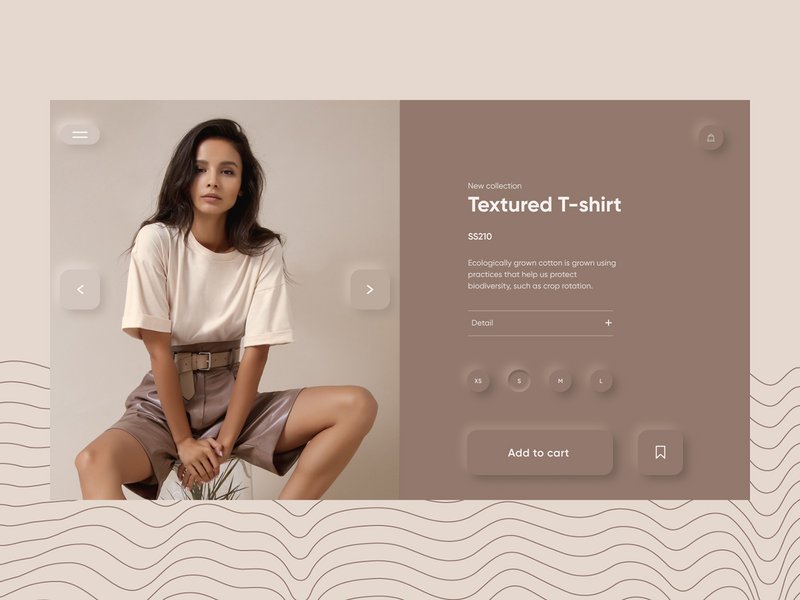 This is a redesign concept of the product page for an ecommerce website in neumorphic style by Polina Dot.
17. Neumorph Anicorn Watches App Concept by Dawid Tomczyk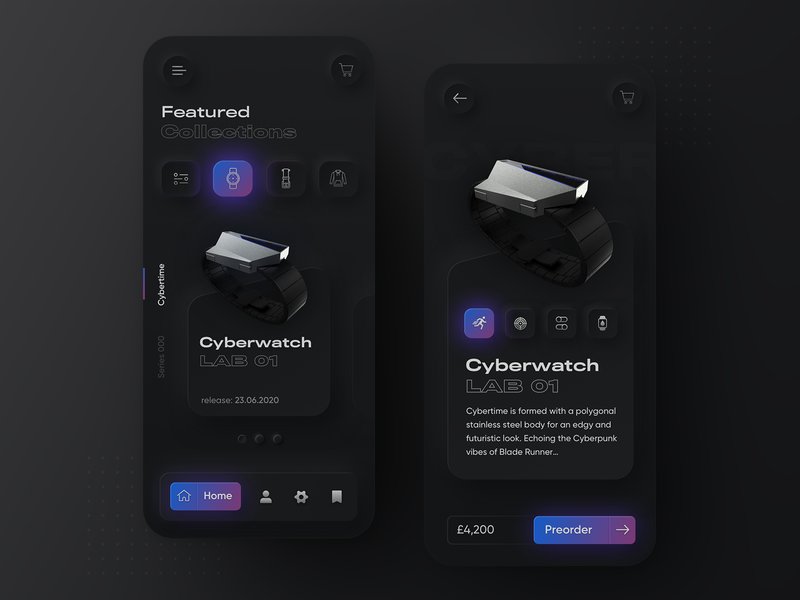 Neumorphic dark UI design concept for Anicorn Watches by Dawid Tomczyk.
18. Weather App Concept in Neumorphic Style by Yana Eremina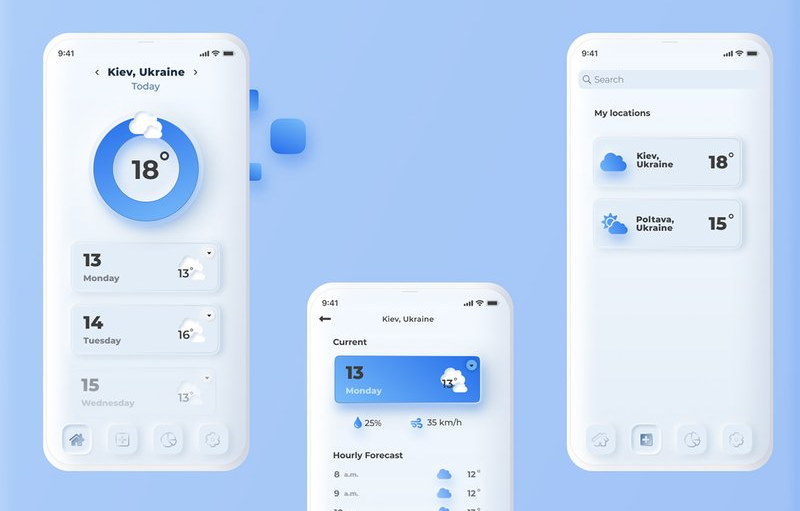 A Weather App UI/UX concept in neumorphic style by Yana Eremina
19. Traffic Police Ticketing App UI/UX by Eka Prayoga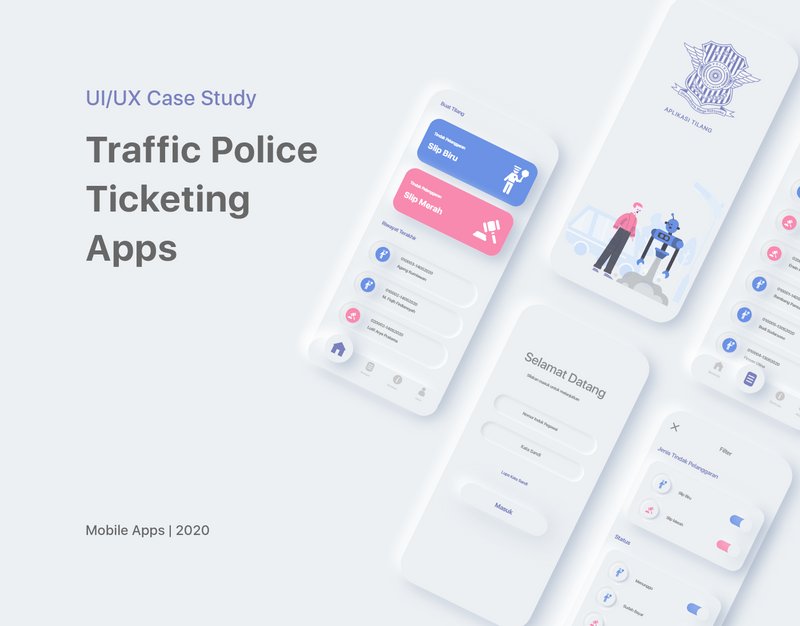 Neumorphism design style exploration for a light themed Traffic Police ticketing app UI by Eka Prayoga.
20. Neumorphic Action Menu Animation by Vadim Demenko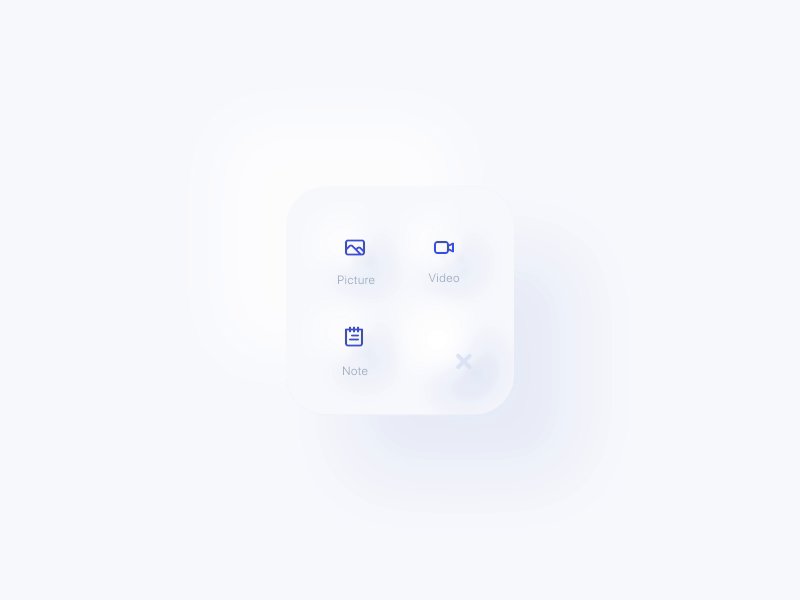 This is an example Action Menu navigation designed by Vadim Demenko. Make sure to visit the Dribbble project to see it in action.
21. Neumorphic Button Animation by Vadim Demenko Designed by Vadim Demenko, this is a Neumorphic style button click animation. Do check out the animation on Dribbble.
22. Simple Music Player by Filip Legierski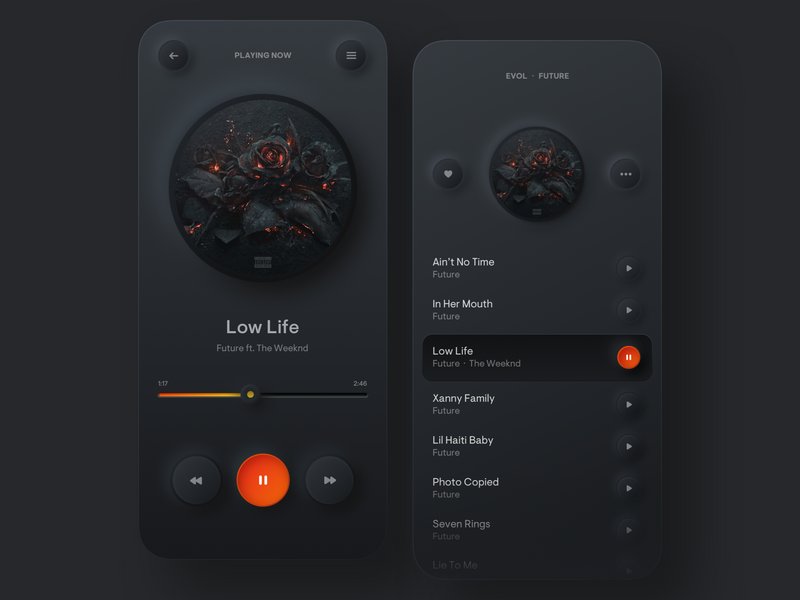 A dark themed UI concept for Simple Music Player app with Neumorphic buttons and controls designed by Filip Legierski for Riotters.
23. Nespresso Light by David Kovalev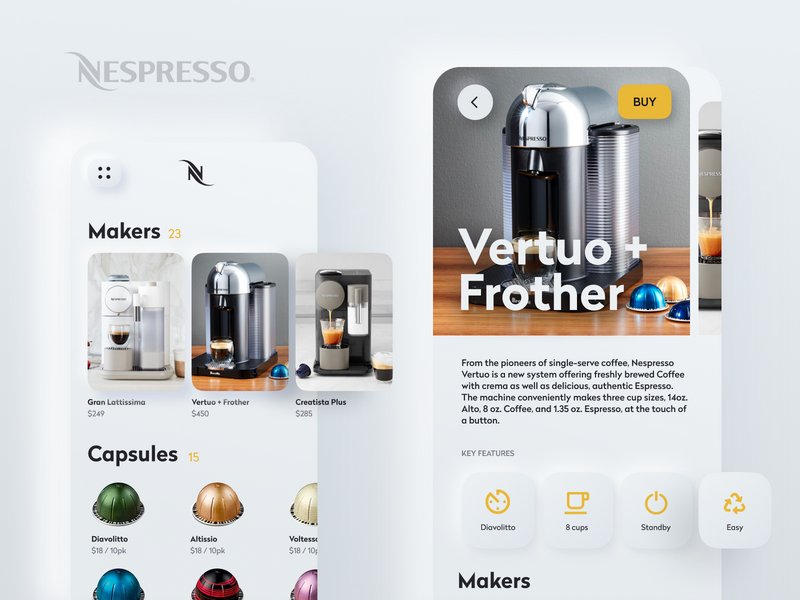 Nespresso Light app design concept by David Kovalev for unfold. A light themed Neumorphic app UI with feature cards, menu button and navigation buttons embracing the popular design trend.
24. Neumorphism Icon Set by Agente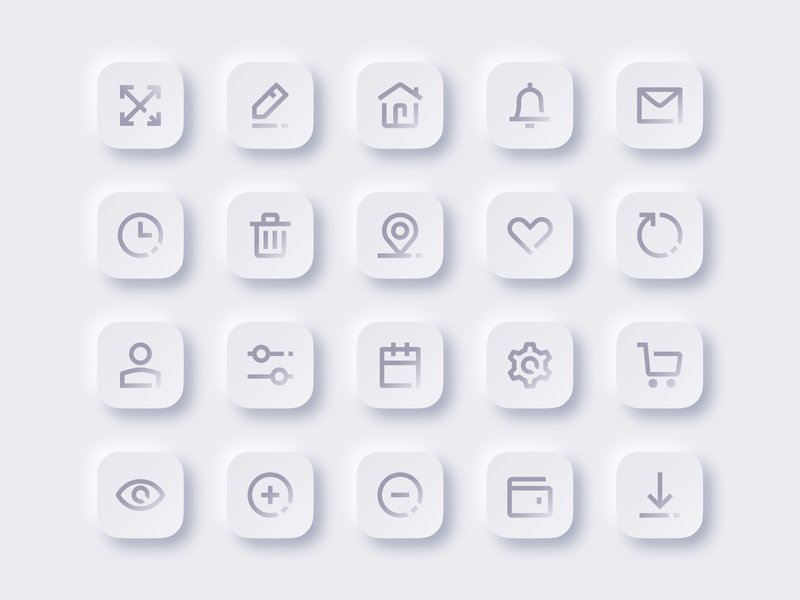 This is a set of Neumorphic ecommerce icon set designed in black and white by Agente. Available for free download.
25. Neumorphic Presentation Design by Oleksii Kolosov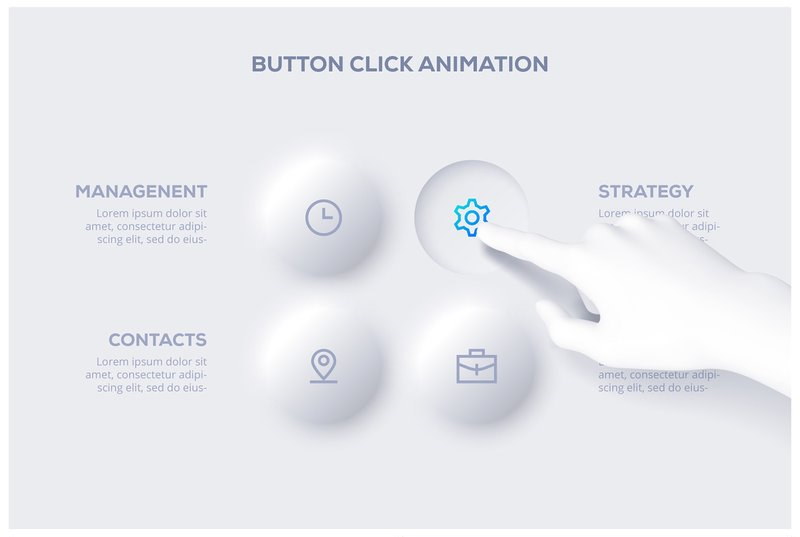 Animated Neumorphic presentation PowerPoint templates designed by Oleksii Kolosov in both light and dark themes.
We hope you liked our showcase of Neumorphism UI design inspiration. Do not forget to share it with your designer community. If you have created a similar UI design then do share your work with our readers in the comments below. You can also check out our articles showcasing examples for Glassmorphism UI Inspiration and Dark UI Design Inspiration.
Additional resources: