In this post, we bring another useful free resource to download for our readers – Seamless Denim Textures. Included in this pack are 5 different repeating patterns of blue denim fabric that will seamlessly tile horizontally and vertically and can be applied to a background of any size.
On downloading the freebie, you'll receive a Photoshop Pattern (.PAT) file as well as 1200×1200 px denim texture tiles in JPG format that can be used in any graphic design software. With a high resolution of 300 DPI, these patterns are suitable for all kinds of graphic design projects.
Preview
You can get a preview of all the denim patterns in the image below.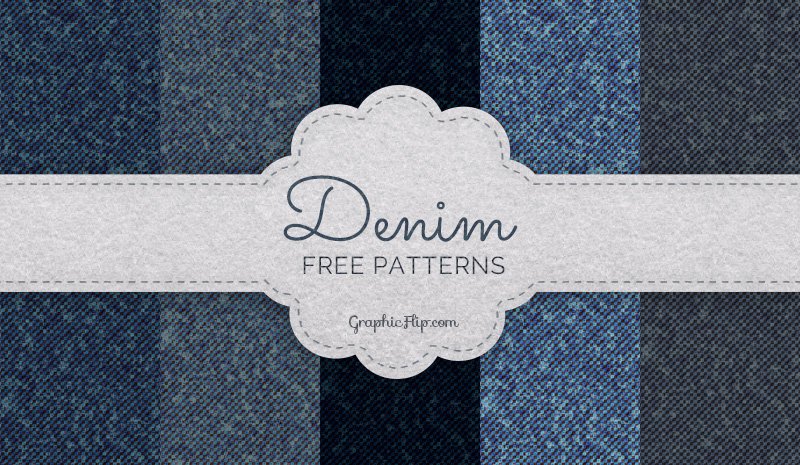 These realistic denim textures are created from scratch using advanced filters in Photoshop. Combining different filters and adjustments, you can produce custom textures for your designs. If you want to learn to create your own textures, you may also want to check out these texture Photoshop tutorials.
Features of Denim Patterns Pack
Format: PAT, JPG
Dimension: 1200×1200 px
Resolution: 300 DPI
5 Seamless Patterns
The PAT file includes all the five patterns, on loading it in Photoshop, you can access these patterns as seen in the image below: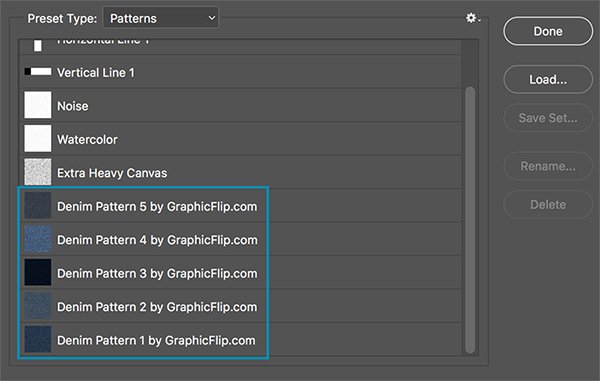 You can use these denim textures as pattern overlays in backgrounds or for creating denim text effects. Since denim is basically a kind of woven fabric, these textures work well with stitched effect that I've used in the image at the beginning of the post.
Download
Here is the link to download these denim fabric patterns. If you like this freebie, please do share this post with your friends and help spread the word :).
License
The patterns are free to use in personal project with attribution to https://templateflip.com. You are not allowed to re-sell this pattern pack.
If you want to use the graphic resource in your personal and commercial projects without attribution, you can purchase its premium license from TemplateFlip.
More Free Textures and Patterns
You might also want to download these free patterns and textures from our site: