While making When life gives you lemons quote poster, I created a seamless lemon pattern for its background. And in this post I am releasing the Photoshop pattern file as an exclusive freebie for our readers.
Different elements that make up this flat design pattern like the lemons, lemon slices, flowers and leaves, they all sport a hint of subtle texture to give some detail and depth to them. You can see these textured elements in the image below that I made using this pattern.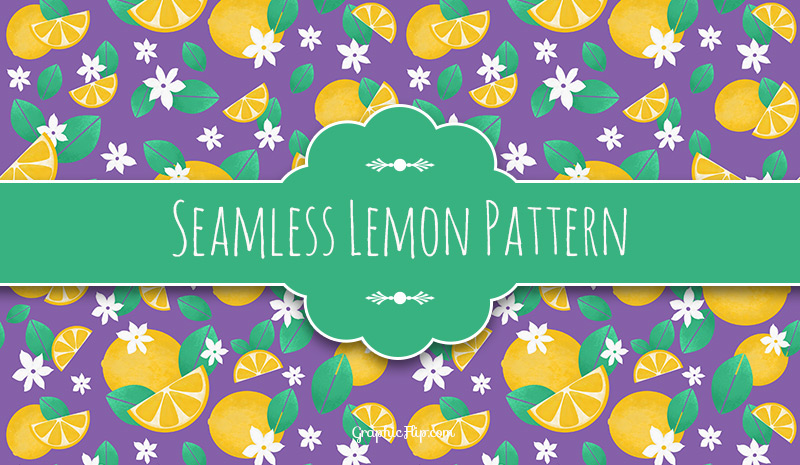 On downloading this freebie, you will get a 1024×1024 px Photoshop pattern (PAT) file with transparent background. You can use this repeating pattern to create a background the size you need. Ideal for designing posters, wallpapers, greeting cards, presentations, and more!
Since the pattern comes with transparency, you can adjust and play with the background color according to your requirement.
As an example, in above image, I've used background color: #8560a8. While I used color #605ca8 for creating the quote poster mentioned in the article beginning. Give your work a splash of color with this citrusy pattern!
Features of Seamless Lemon Pattern
Format: PAT
Dimension: 1024×1024 px
Flat design with subtle textured elements
Free for Commercial use (CC BY 2.0 license)
If you use it in your commercial design projects, please attribute the resource to superdevresources.com to help me keep making more free resources for you. You can also visit the license page for more details on the usage.
Download
Download this freebie using the link below. Remember to spread the love and share this freebie with your friends.
More Free Photoshop Resources
Before you go back to your work, you may want to check out these free Photoshop resources:
Do not forget to subscribe to our newsletter to get these freebie releases straight into your inbox!