Admin dashboards rely extensively on front end JavaScript and it is natural to seek admin templates with your favorite JavaScript framework. In this post, we have a collection of free and premium Vue.js admin templates which will be useful for building admin dashboards.
If you are a front-end developer then you would have already heard about Vue.js JavaScript framework. Vue.js is an open source JavaScript framework for building UI on the web. It is a strong competitor to React and Angular. Many front end developers prefer working with Vue.js instead of React, Angular or even jQuery. If you are new then these free Vue.js tutorials will help you quickly understand the concepts of this amazing framework and will enable you to work with and customize the Vue.js admin templates listed below.
Vue.js Admin Dashboard Templates
Find below admin dashboard templates which are based on the Vue.js JavaScript Framework. They may also include other popular front-end libraries such as Bootstrap and Bulma. The free templates are marked as such in their title.
Vue Paper Dashboard (Free)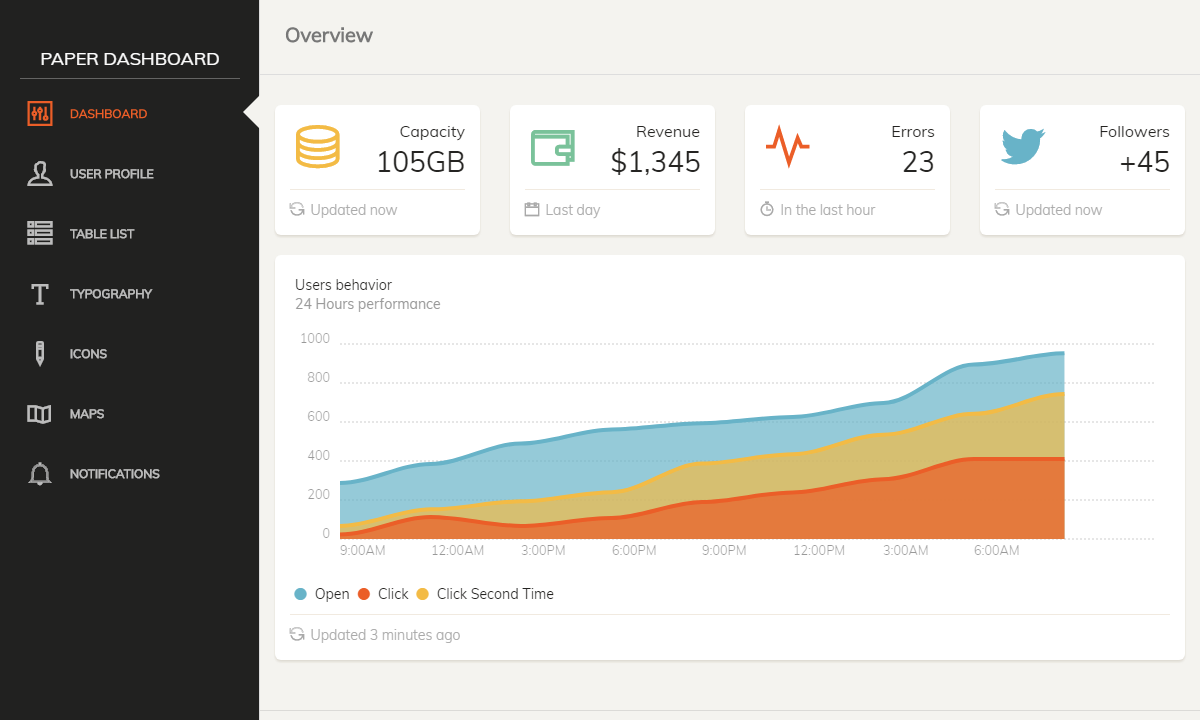 Vue Paper Dashboard is a beautiful admin dashboard built with Bootstrap and Vue.js. It is a Vue ported version of the original Paper Dashboard admin template by Creative Tim. Using this Vue.js dashboard is pretty simple and requires basic knowledge of Vue and Vue-Router. This free template offers 16 in-built components and 4 example pages. If you want more components, plugins and example pages with the template then check out the pro version below.
---
Vue Paper Dashboard PRO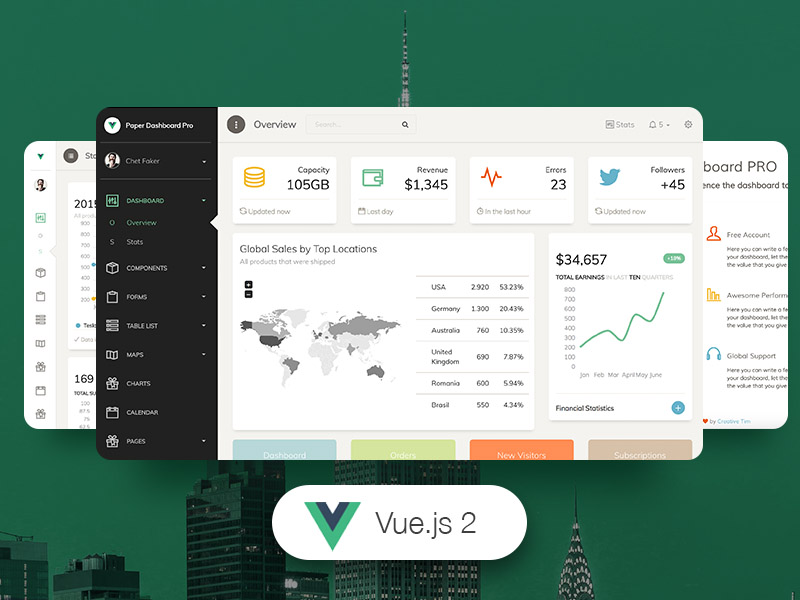 The PRO version of Vue Paper Dashboard has 160 handcrafted components suitable for admin dashboards such as accordion, vertical and horizontal tabs, alerts, notifications etc. You also get 25 example pages with the template which includes: user page, timeline page, login and registration page. You also get access to full documentation and source files with this PRO version.
Clear – VueJS Admin Template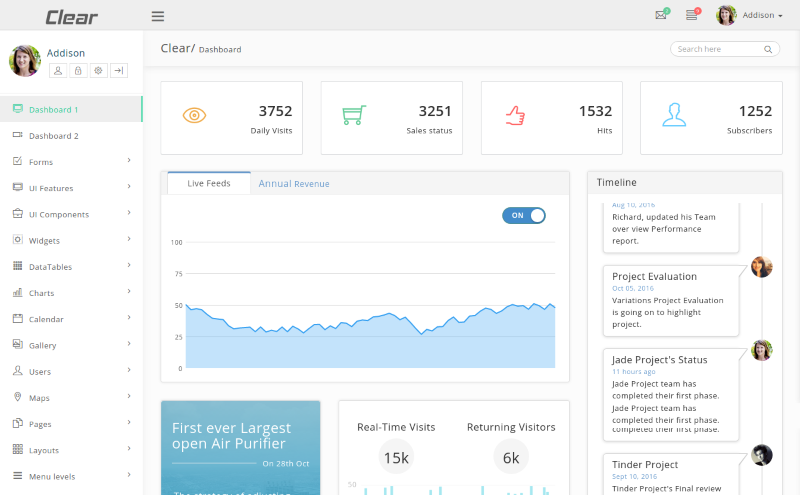 Clear admin template is a premium Bootstrap based admin template built with Vue.js & Laravel Spark. It includes over 100 components including drag & drop form builders, charts, sliders, data tables, image uploading & resizing and advanced modals. Other features such as login, registration, user management, and user groups are already included and ready to use with the template.
---
Vue Admin Panel Framework (Free)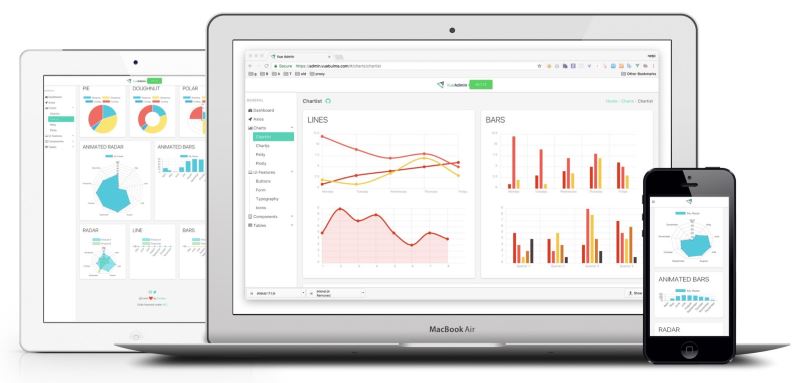 Vue Admin is an MIT licensed open source and free admin template framework built with VueJS 2.0 and Bulma. This admin panel framework offers responsive and flexible box layout, a variety of charts and multiple pre-built components such as progress bar, modal, date-picker, tabs, slider etc.
---
CoPilot – Responsive admin template with Vue.js (Free)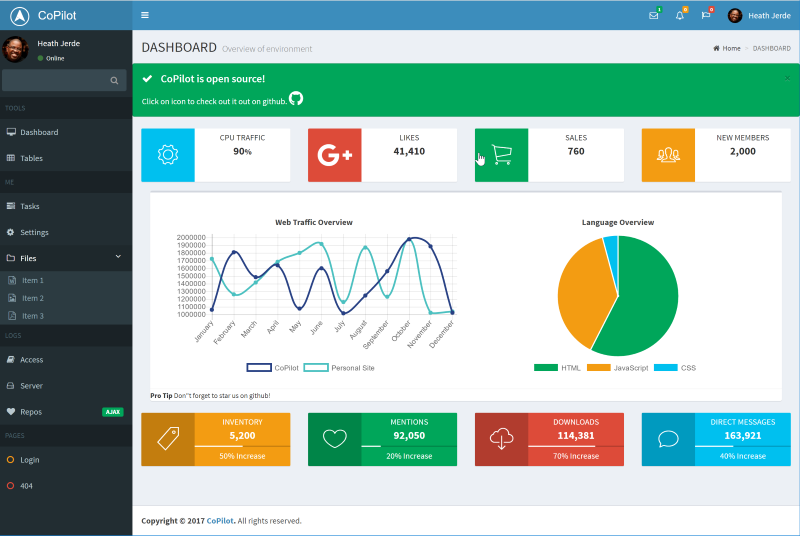 CoPilot is a fully responsive admin template built with Vue.js and Bootstrap 3. It is based on AdminLTE template and is highly customizable as well as easy to use. It fits many screen resolutions from small mobile devices to large desktops. CoPilot is an open source project licensed under MIT and is offered for free.
---
Laraspace – Laravel & VueJS Admin Template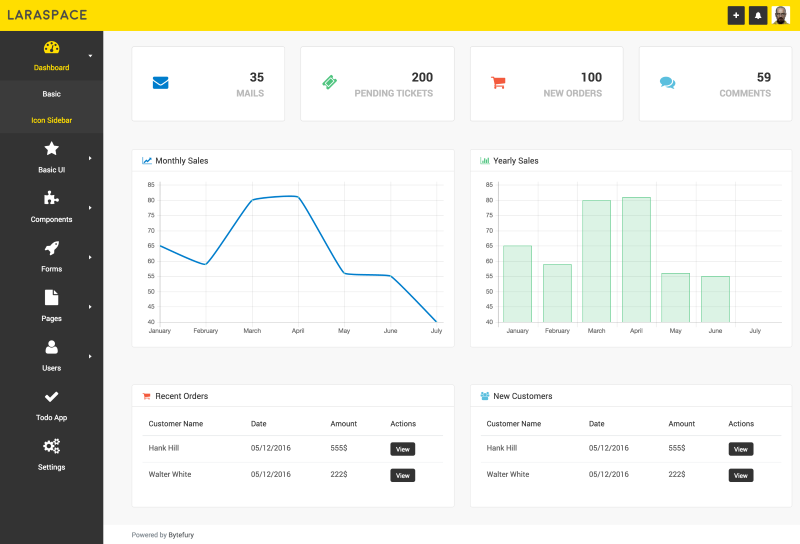 Laraspace is an admin starter template for Laravel PHP Framework and is built with Bootstrap 4 and VueJS. It includes all the necessary boilerplate for a dashboard web application. Laraspace includes multiple UI components and working admin auth, login and registration pages along with support for responsive layout, automatic error validations, Notifications API, Settings API and more.
---
CoreUI – Bootstrap Admin Template (Free)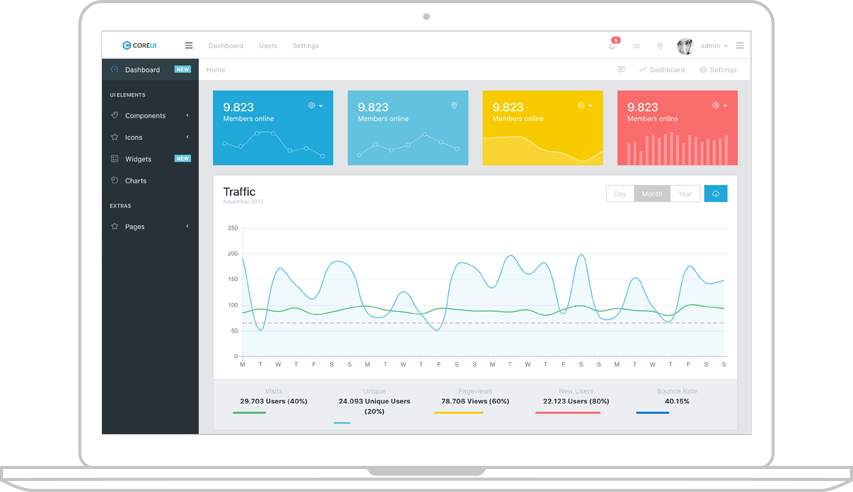 CoreUI is a free Bootstrap admin template which supports multiple JavaScript frameworks such as Angular2, AngularJS, React.js & Vue.js. It is an open source admin template with a bunch of unique features and includes over 1000 high-quality icons. CoreUI admin template is based on Bootstrap 4 and offers 6 versions: HTML5, AJAX, AngularJS, Angular 2, React.js & Vue.js.
---
Vuestic Admin Dashboard (Free)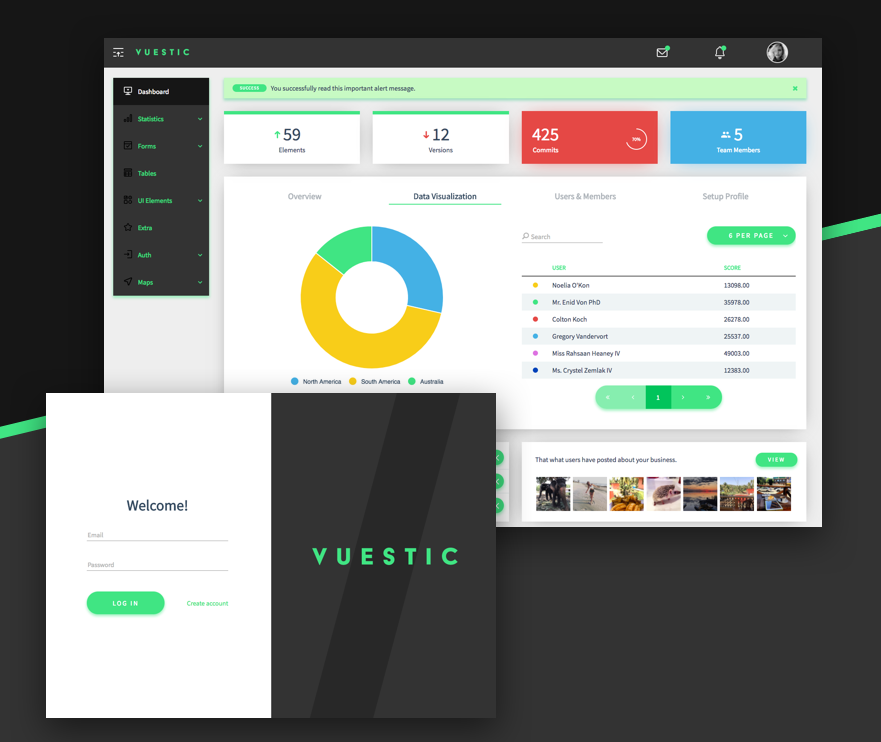 Vuestic admin dashboard is a responsive dashboard template built with Bootstrap 4 and Vue.js. This beautifully designed admin template offers custom elements such as maps, chat, profile card, charts, progress bar etc. and pre-built pages for login and signup. The template is MIT licensed and open source on GitHub.
---
Cover – Dashboard UI Kit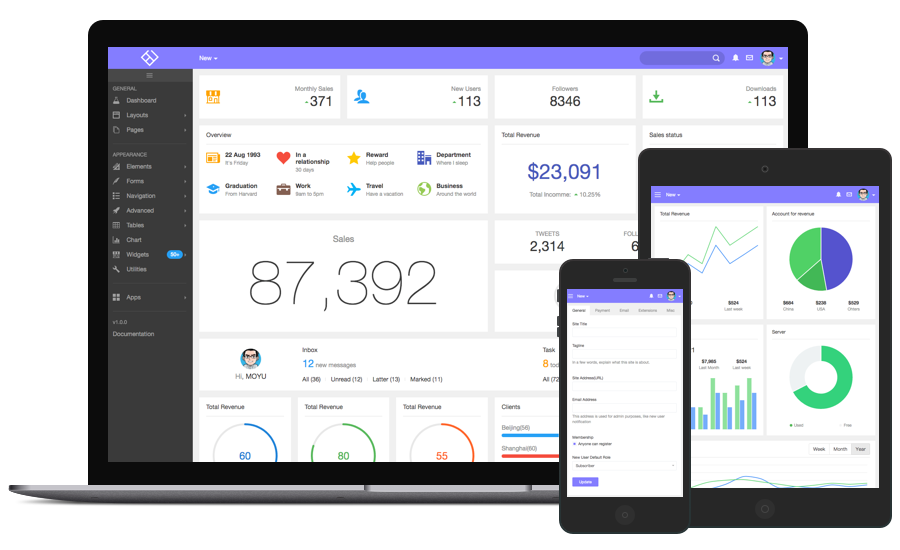 Cover is a premium admin dashboard UI kit based on Point.css and Vue.js. It offers over 200 UI components, 35+ widgets and 3 pre-built layouts for building modern web applications and web admin panels. With its minimal and responsive design, modular code and integration with Gulp and Webpack for the build process, it is a suitable fit for developers looking for quality and multi-purpose dashboard UI kits.
---
VueA – VueJS Laravel Admin Template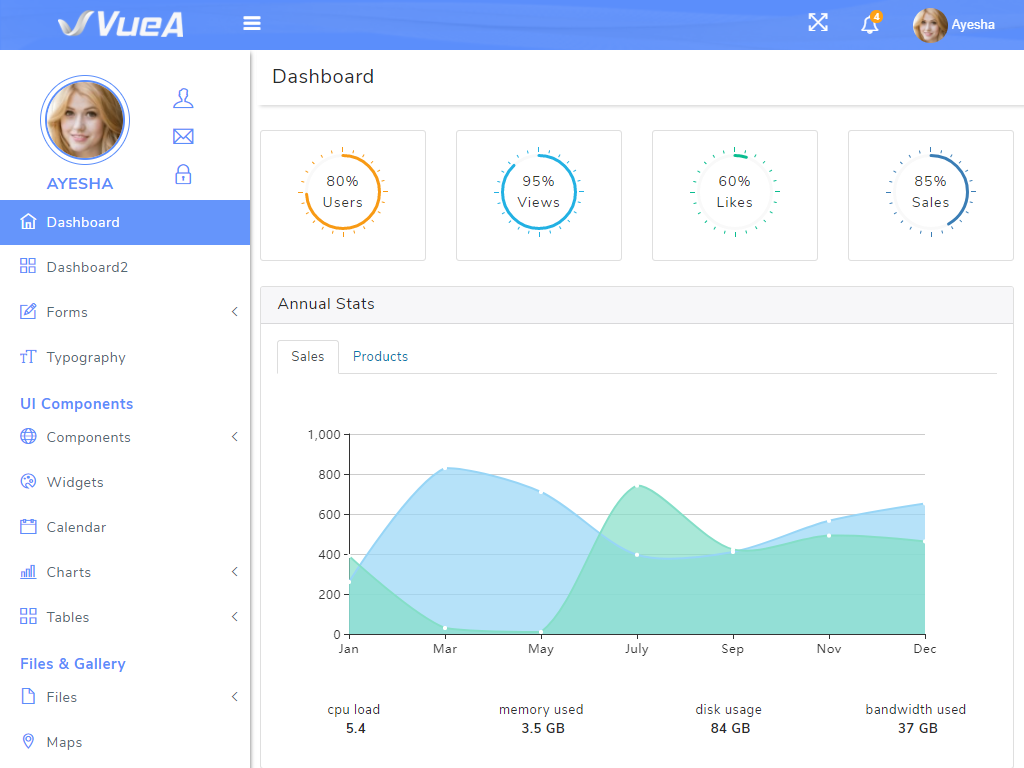 VueA is a Laravel based admin template which utilizes VueJS as the front-end JavaScript framework. The template is built with Vue.js 2, Laravel 5.4 and Bootstrap 4 and does not use jQuery for it's functionality. You can choose from 7 different layout options as well as multiple color schemes. All necessary components required to build a dashboard such as charts, tables, forms, maps etc. are included with the template.
More Admin Templates and Vue.js Resources
We also have collections of some of the best AngularJS admin templates as well as Bootstrap admin templates. You may also want to take a look at these Material Design admin templates if that suits your need.
While Vue.js is relatively new, there has been significant growth in its adoption. Numerous Vue.js based UI frameworks are available if you are building a web app or mobile app. Lastly, the awesome-vue repository of GitHub contains an extensive list of resources related to Vue.js including real world projects and development tools.