In this post we round-up some of the best display fonts that you can download and use to create eye-catching designs.
What are Display Fonts
Typefaces essentially are of two types – Text typefaces and Display typefaces. Text types are designed for better readability and legibility at smaller sizes. They are meant to be used in passages of body text such as in website content or books. On the other hand, display or decorative typefaces are designed to capture viewer's attention. Intended for use in headlines and titles at larger type sizes.
Display fonts have distinctive, strong personalities. Fancy, ornamental and stylish, they tend to set the tone of a design composition. They have a more expressive design when compared to simple text types and include a wide genre of font styles such as geometric, ultra bold, ultra light, CAPS-only, stencil, distressed, inline, outline, hand-made, and shadowed.
How to Use Display Fonts
You can use display fonts to communicate a particular emotion through your designs or to make a strong typographic statement or simply for text that stands out. They are perfect for creating posters, signages, branding and headers. An important factor to consider when working with a display type is deciding on a font pairing that helps accentuate its qualities. Depending on the display font you select, it can work well along with modern sans serifs, serifs and even script fonts.
Our showcase has both free to download and paid fonts that are put together in separate sections. These decorative font sets include fonts inspired by the vintage, retro, as well as modern aesthetics to give you plenty of choices. Please note that some of these links may contain our affiliate ids. Read on to get a preview of these fonts as well as the links to their download pages.
Free Display Fonts
Here you will find completely free to download display fonts. We have included some of the featured and widely appreciated display typefaces from online platforms such as Behance. All these fonts are free to use in personal and/or commercial purposes.
Big John & Slim Joe – Free Geometric Fonts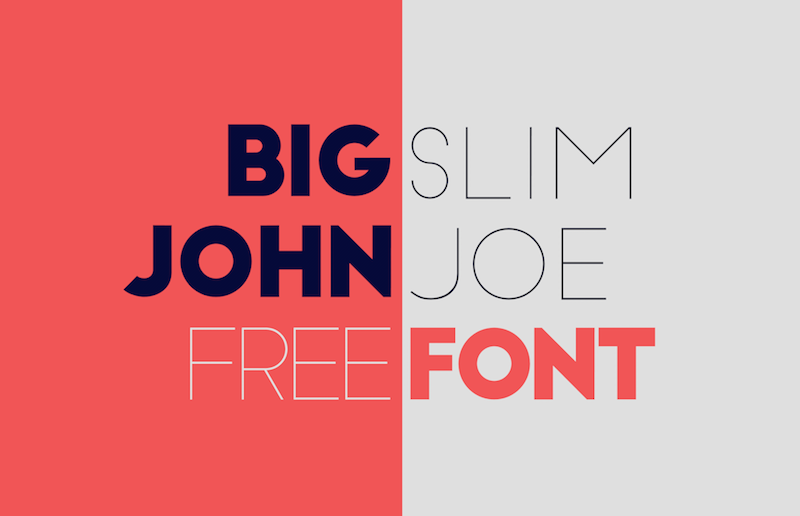 A duo of bold, geometric Big John and its complementary Slim Joe, an ultra thin modern typeface. When used together, the two types create the much needed contrast that you'd want to have in the titles and headlines of your designs such as posters.
These display sans serif fonts are available for free download in .OTF and .TTF formats. Fonts include all capital latin alphabets, numbers, and glyphs. Font designed by Ion Lucin.
Ansley Display – Free Slab Serif Font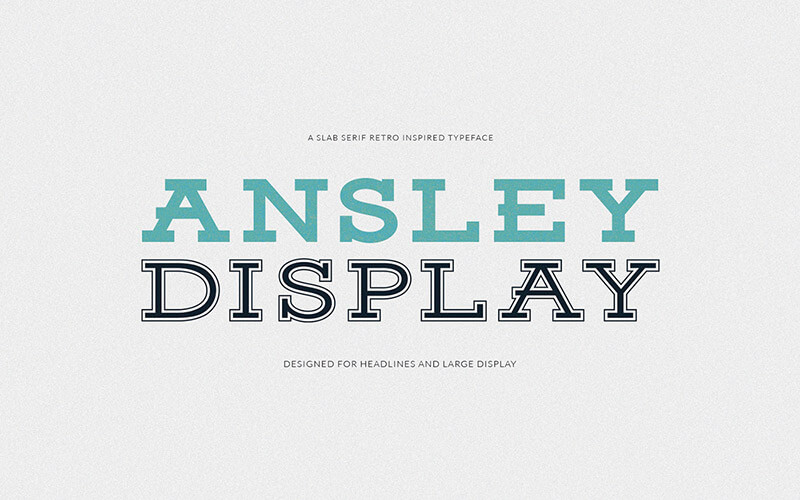 Ansley Display, a slab serif font, draws inspiration from past and modern retro typography. Designed for headlines and large display, the font comes in 6 different styles – Light, Regular, Bold, Black, Inline, and Outline. Font created by Kady Jesko and available in .ttf format.
Gorgeous – Free Display Sans Serif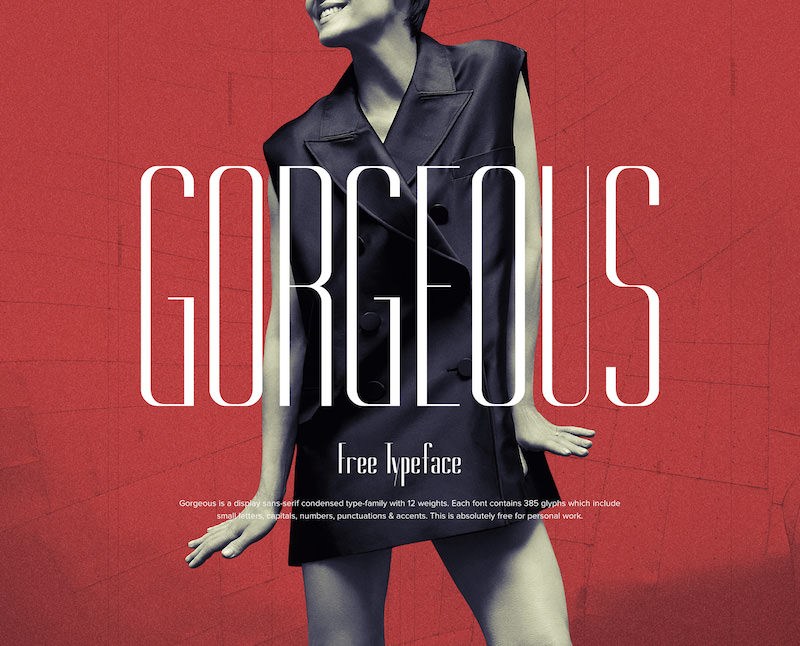 Gorgeous by Rajesh Rajput is a display sans serif font family with 12 weights, from ultra thin to extra bold. Each font includes small and capital alphabets, numbers, punctuations and accents.
Its condensed letterforms with high contrast between horizontal and vertical strokes give it a glamorous look and make it ideal for use in fashion magazines, banners and big titles. This fashion oriented type family is free for personal work and available for download in True Type (.ttf) format.
Ocean Six – Free Bold Brush Font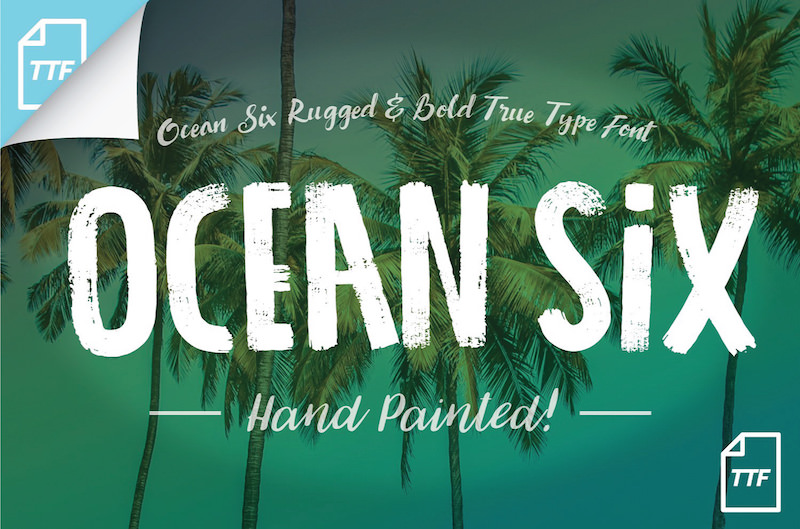 Inspired by the typography on vintage catalogs, Ocean Six is a bold display brush font. Hand painted using acrylic brush, it features detailed, rough strokes in its character forms. Designed by Drifter Studio, the font can be downloaded in TTF format.
Related: Best Free Brush Fonts
Fakedes – Free Rounded Serif Font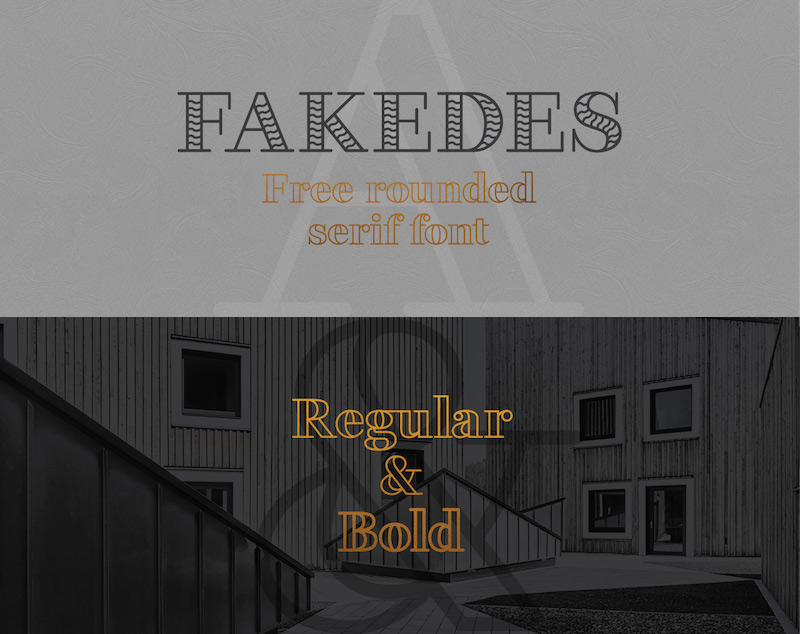 Fakedes by Cyril Mikhailov is a rounded serif font designed for display purpose. It features outline, hollow characters and comes in regular and bold weights. Font format: OTF.
Accent – Free Minimal Display Font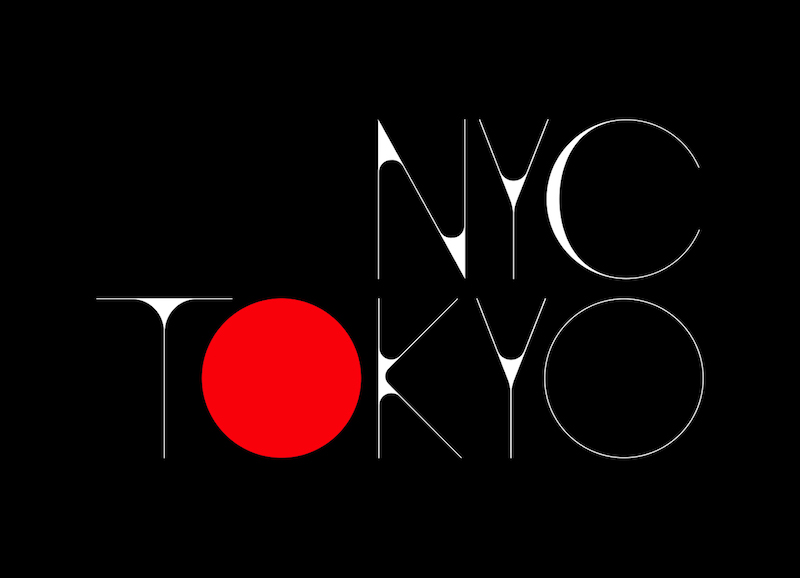 Ultra light and minimal, Accent is an experimental typeface by Nelson Balaban that combines thin lines and bold geometric shapes in its letterforms. This beautiful display type was designed for short words and titles. Accent is free for personal and commercial usage and available in TTF format.
Cheque – Free Display Font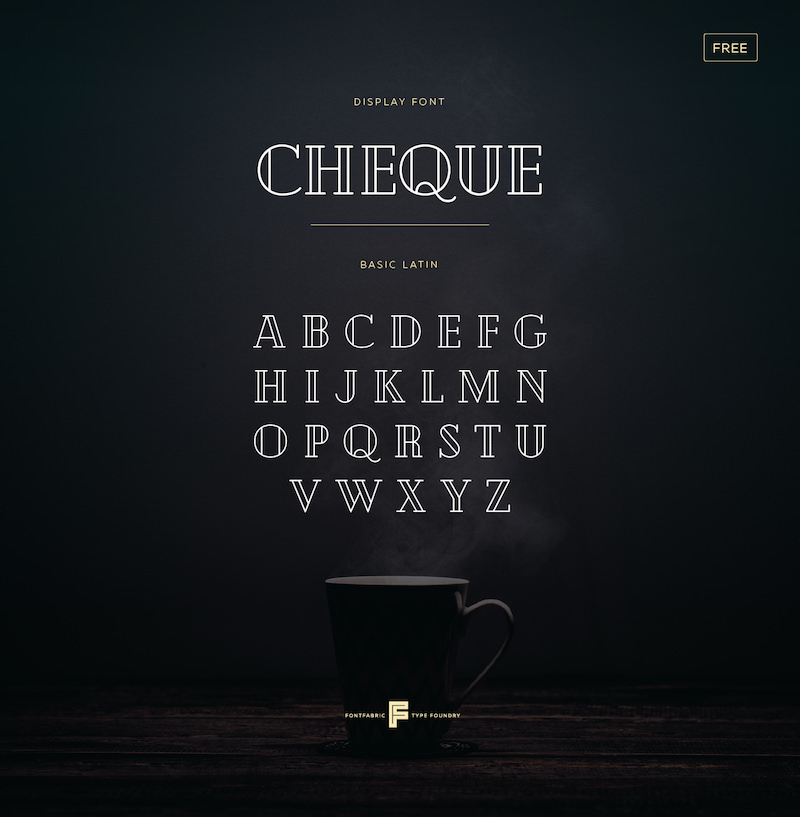 Cheque is a gorgeous free display font designed by Mirela Belova from Fontfabric. Based on geometric shapes, the font has a classy vintage feel.
It comes in two styles- Cheque Regular that is the outline style seen in above image and Cheque Black, its filled version. Font contains Latin as well as Cyrillic characters. You can download it in .otf format.
Glamor – Free Stylish Font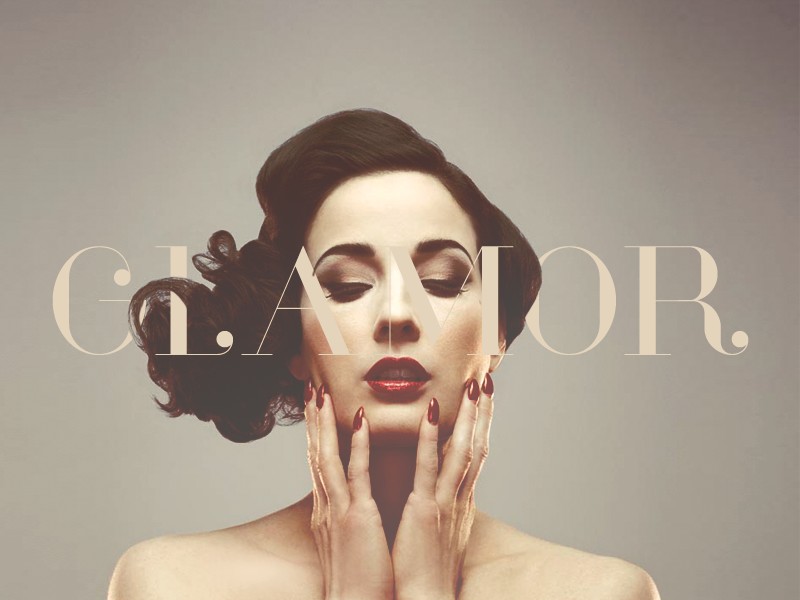 A stunningly stylish font, Glamor fits in perfectly for designing posters and promotional graphics for fashion events. The font features high contrast between strokes in its serif letterforms and ball terminals that give it a classy look.
Glamor is a family of 24 fonts from light to bold weights and completely free for commercial work. Designed by Henrick Ronaldez, it is available to download in both TTF and OTF formats.
Gossamer – Free Outline Serif Font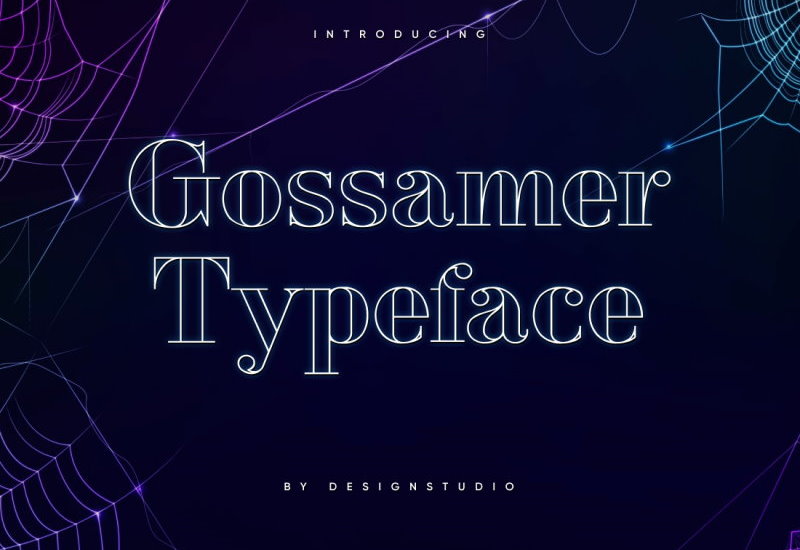 Designed for use at larger type sizes, Gossamer is a display font with geometric letterforms. This outline serif font paired with filled lettering, images and shapes will be a great choice for creating eye-catching banners, headlines, ads, business cards, book covers, web design as well as print design.
The font comes with uppercase and lowercase letters, numbers, and punctuations. It is available for download in OTF format and comes with free personal and commercial use license with attribution.
Higher – Free Blocky Display Typeface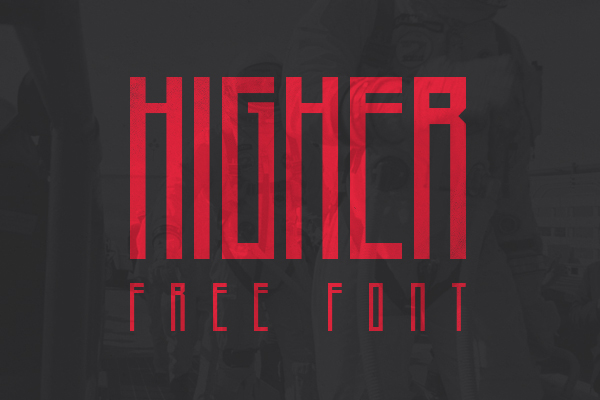 Higher, a student project by graphic designer Marisa Passos, is a narrow, tall typeface. It contains full set of uppercase characters (A-Z) and numbers (0-9).
The typeface has blocky characters that are made up of straight lines and have sharp corners. Higher is meant to be used at relatively large type sizes for making bold eye-catcing titles. Font Formats: TTF and OTF.
Metropolis – Free Art Deco Font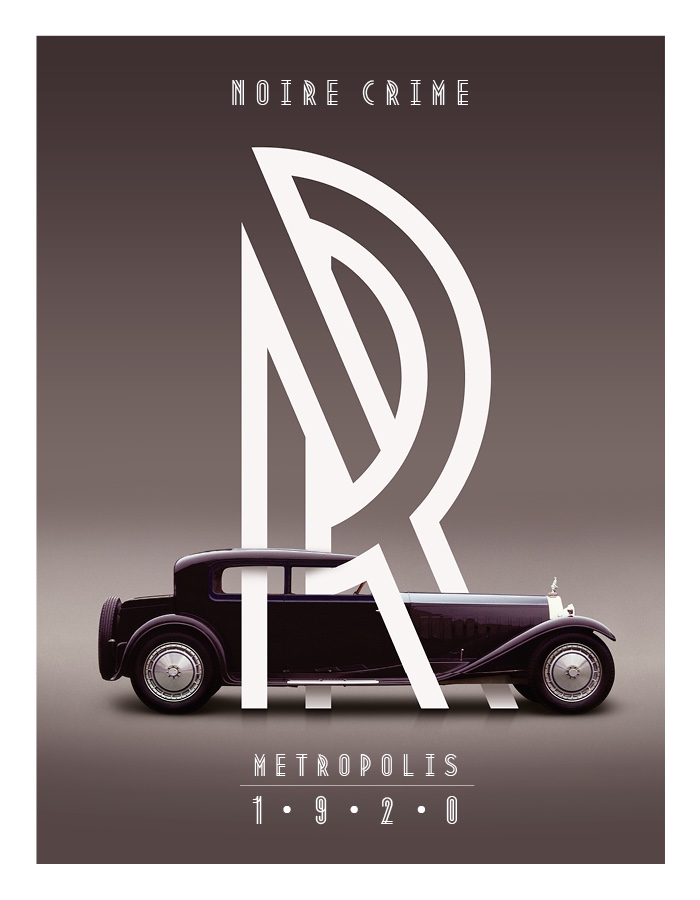 Metropolis by Josip Kelava is an Art Deco style font representing the era of industrial movement of the 1920's. Featuring double lines, Metropolis is a bold typeface perfect to give a retro feel to your work. Available for free download as OTF file.
Roska – Free Stencil Font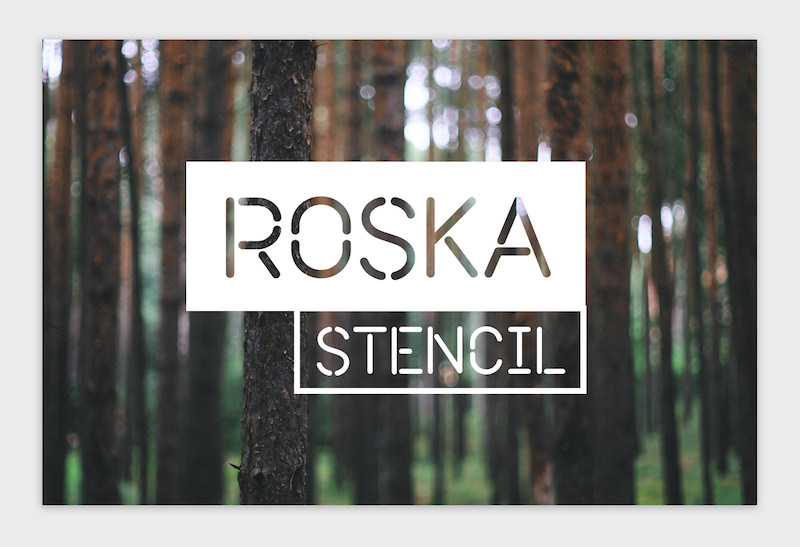 Roska is an all caps stencil font with round edges from Uppertype. A display sans, it includes numerals and punctuations and can be downloaded in TTF format.
Related: Best Stencil Fonts
Antre – Free Contemporary Script Typeface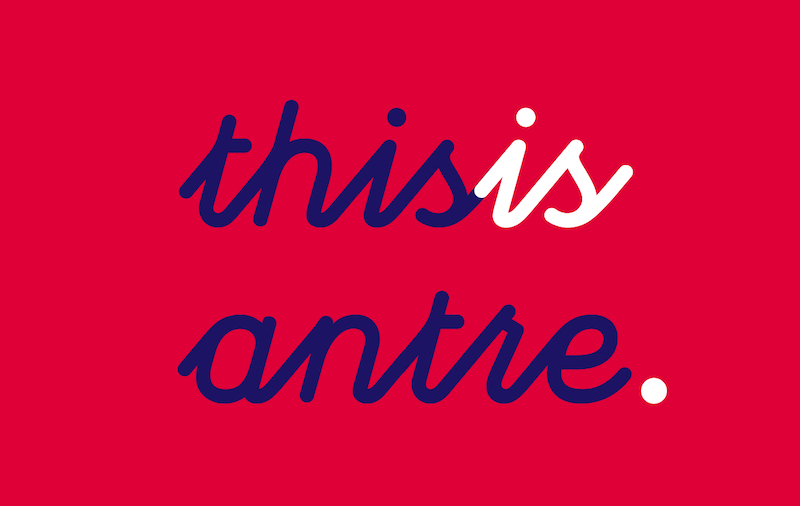 Antre is an all lower case display script typeface with a contemporary feel to it. It features flowing, connected characters with smooth contours and will look impressive on posters, magazines, and all display materials. Developed by by designer Taner Ardali, the font can be downloaded for free in OTF format.
Baron – Free Display Typeface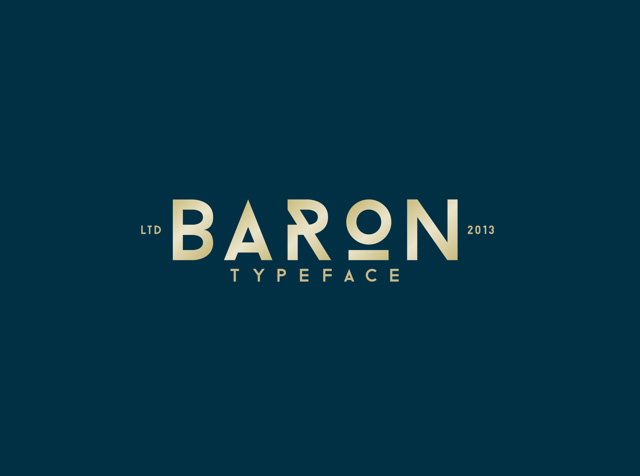 Baron is an uppercase display typeface by type designer Frank Hemmekam. Inspired by the classic sans serif font families, Baron comes in three weights – Regular, Bold and Black with accompanying italics.
It includes many stylish alternates and is perfect for designing posters, logotypes and headlines. Available for download in OTF format, Baron is free for personal use.
Polar Vertex – Free Decorative Font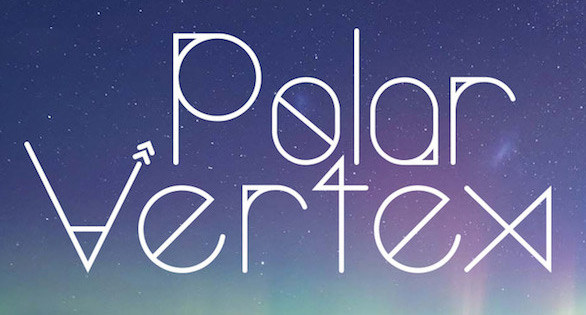 A decorative font with a whimsical feel, Polar Vertex has the elements of nautical, celestial, and geometric designs in its characters. Created by Katherine Howard, it'll lend a unique personality to band names, brand names and headlines in magazines (architectural, technological, art and design, etc.).
It comes with uppercase, lowercase letters, numbers, and basic symbols and punctuation marks. Font Format: OTF.
Berg – Free Layered Font Family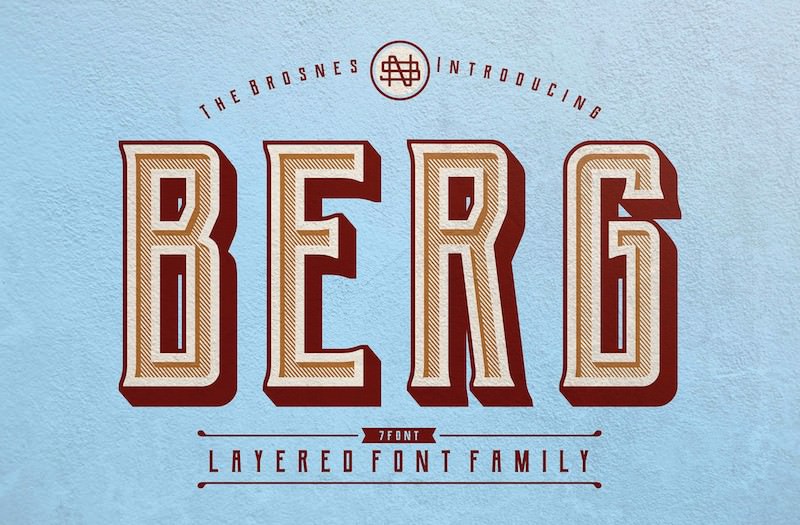 Inspired by vintage sign paintings, posters and labels, Berg is a family of 7 fonts – Regular, Extrude, Inline, Shadow, Ornament, Western and Rough (distressed, textured font) that can be used together to create attention grabbing text effects.
Designed by The Brosnes Design Co., this vintage display font family can be downloaded for free in TTF format.
Premium Display Typefaces
Below you will find the best selling display and decorative fonts from CreativeMarket. Many of these are not single typefaces rather font families with multiple weights and styles. Some of them come bundled with bonus items such as embellishments and even icons, which we think adds value to the premium fonts over free fonts. On purchasing these fonts, you also get free access to all their future updates.
Heartland – Handcrafted Vintage Font Family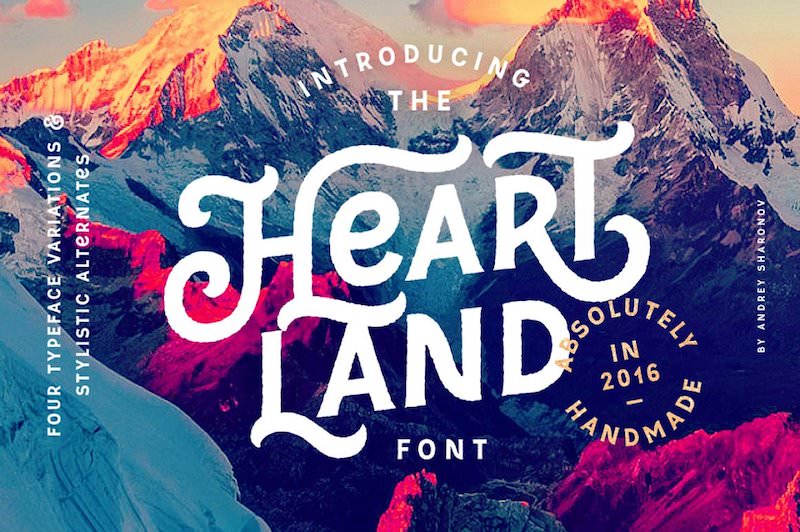 Heartland is a handcrafted font family that comes in 4 variations – Regular, Rough, Spurs and Spurs-Rough. It includes a bunch of stylistic alternates that you can use for creating decorative pieces in vintage American typography style.
Created by Andrey Sharonov, Heartland is perfect for creating logos, t-shirt lettering, packaging, brochures, and more. The font is available for purchase in TTF and OTF formats.
Drone Ranger – Geometric Display Font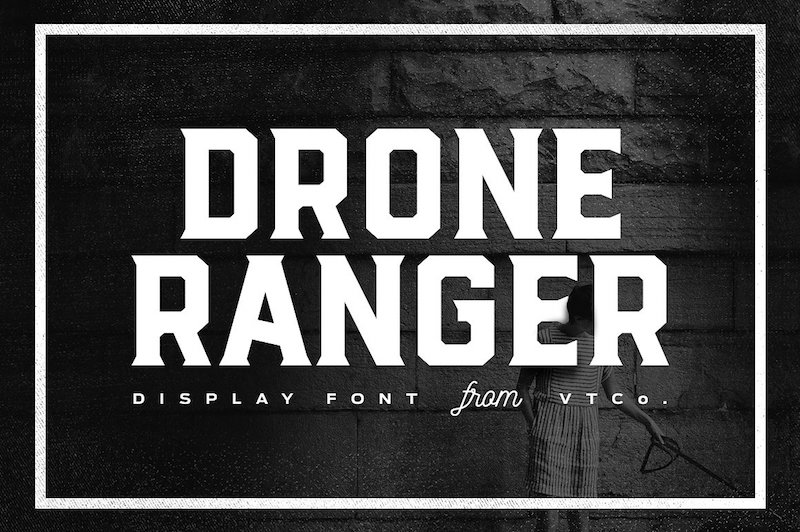 Drone Ranger is a geometric display family of 9 fonts in various styles. It includes a Sans version, a Serif version, and a decorative font, all with their own clean, oblique, and worn-out, distressed inked styles.
An all upper-case bold font, it has multilingual support. On purchasing, you'll get bonus nomad icon pack along with TTF font files. Font designed by Vintage Type Co.
Banthers – Monoline Vintage Display Typeface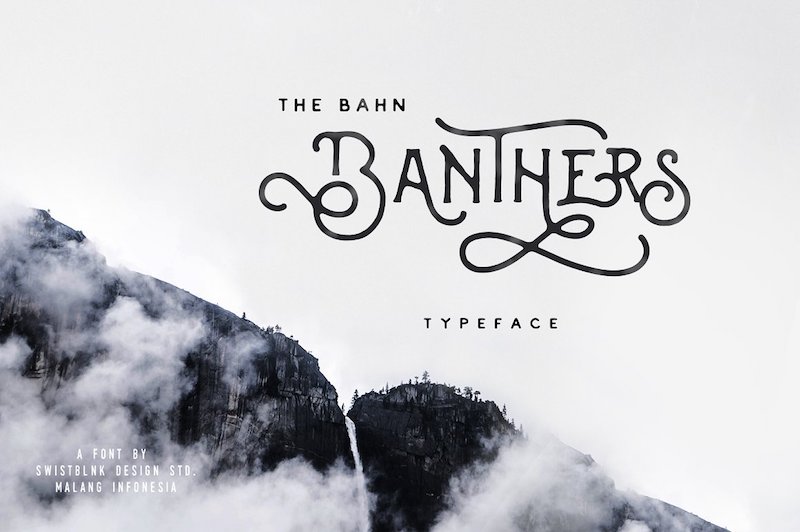 Banthers is a monoline vintage display font that combines the styles of classic typography and modern hand lettering in its design. It features uppercase, lowercase letters, numerals, punctuations, accents and includes stylistic sets, ligatures, and contextual alternates. Font developed by Swistblnk Design studio, you can download it in OTF format.
Quas – Stylish Serif Typeface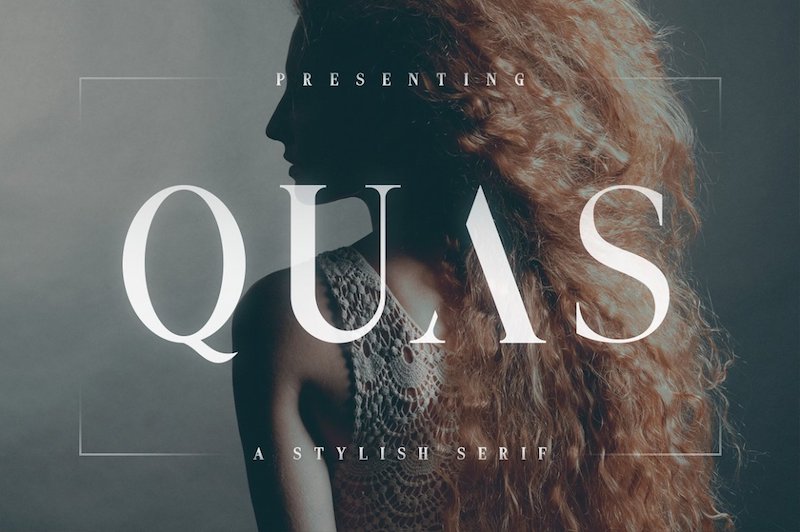 Quas is an elegant and stylish display serif typeface ideal for headlines and logo designs. It comes in 3 styles – Regular with accompanying Bold weight, minimal Stencil style and distressed Corroded style. An uppercase font, Quas can be purchased from Creative Market. Font is supplied in OTF format and is designed by Mehmet Reha Tugcu.
Blackhawk Brush Font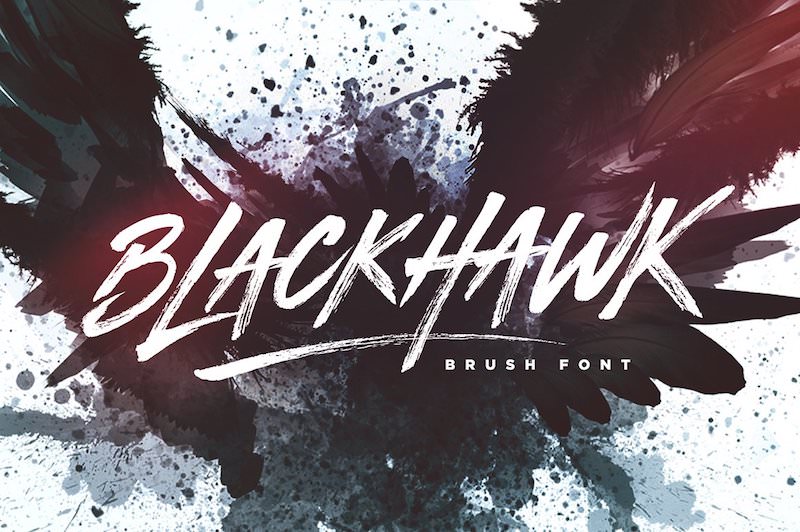 Blackhawk by Sam Parrett is a handmade, all-caps brush font with an urban feel. A slight slant and the gritty dry brush stroke texture in its letterforms make it ideal for delivering loud and fast paced messages though your typography designs for apparels, posters, packaging and logos.
The download package includes 3 font files – Blackhawk regular, Blackhawk italic and Blackhawk swashes in both TTF and OTF formats.
Quirk – Fun Display Font
Quirk is a fun display sans serif typeface. Its lowercase letters are variations of uppercase letters. The uppercase and lowercase variations can be stacked together to create interesting results. Designed by The Routine Creative, it can be downloaded in OTF format.
Java Heritages – Vintage Decorative Typeface
Inspired by vintage signages, Java Heritages is a multi-layered decorative type family. It comes with 4 font styles – Regular, Drop Shadow, Inner Shadow and Inline that can be layered together to produce different embellished text effects.
It includes full set of characters A-Z, numerals, punctuations and multilingual characters. On purchasing, you get a bonus ornaments set in AI, EPS, PNG formats along with OTF & TTF font files. Created by Heybing Supply Co., Java Heritages is perfect for logotype, poster, letterhead, dropcap, and titles.
Nectar – Thin Sans Serif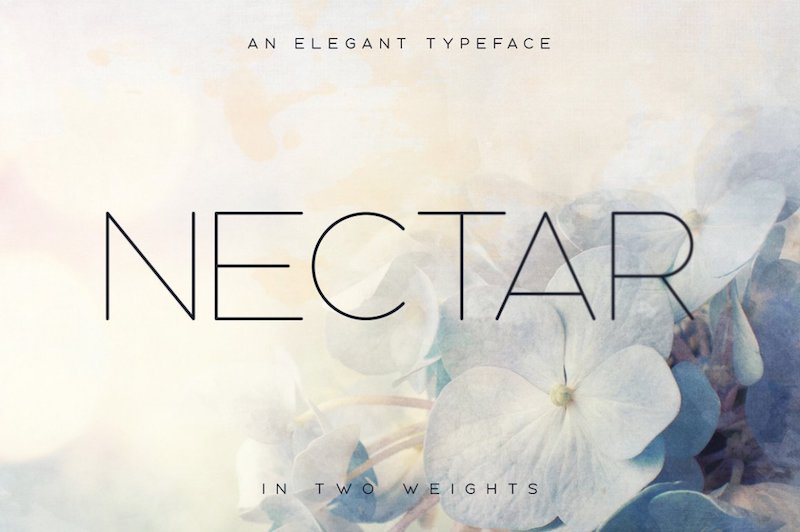 Nectar by Tugcu Design Co. is minimal and thin sans serif display font that comes in regular and bold weights. It's great for chic titles, elegant invitations and classy logos. Nectar is available for purchase in OTF format.
Sortdecai Display Font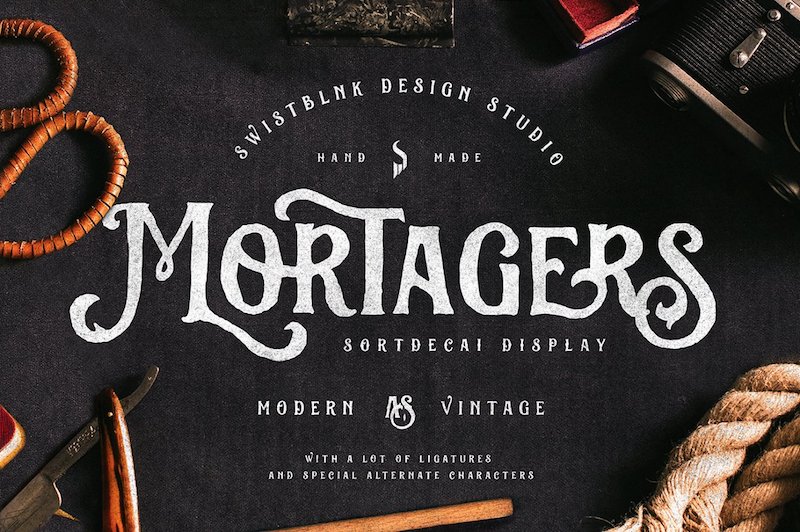 Sortdecai Display by Swistblnk Design Studio fuses together the essence of vintage and modern lettering in its design. More than 370 glyphs are there in the font including stylistic sets, ligatures, and contextual alternates. Download includes two fonts, Sortdecai Display and Sortdecai Display Handmade in OTF formats.
Old Spirits – Bold Display Font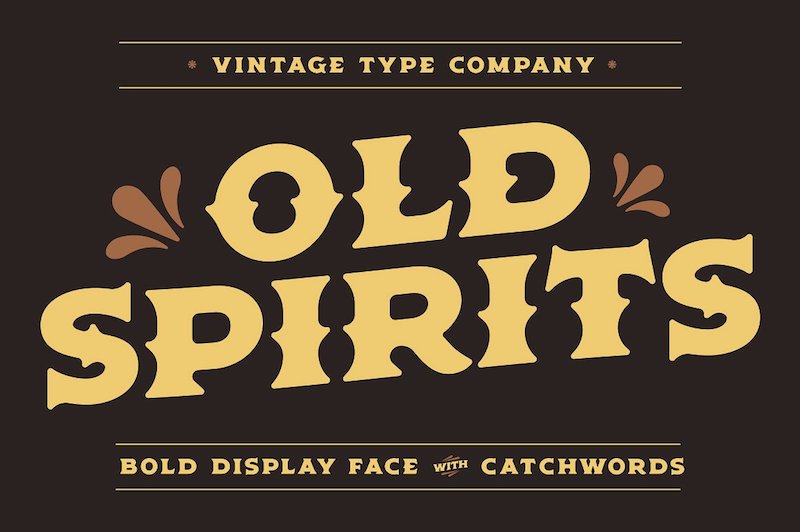 Old Spirits is a Americana-inspired bold display face by Vintage Type Company. It comes equipped with an all upper-case glyph set, that includes uppercase with spurs, and clean lowercase. Download also includes 2 bonus textured fonts with varying degrees of stamp effect for an authentic aged type aesthetic. Fonts are provided in Open Type format.
Display fonts are a must-have in the toolkit of professional designers. With their unorthodox designs, they are bound to pull readers into the text!
More Font Collections
If you liked this showcase of display fonts, you may also be interested in these:
Please do share this post on your social channels and help spread the word. Thank you!