Gold, named after the precious metal, is a color associated with prosperity and riches. It is the perfect color to use when you want to give your design a high-end, premium and luxurious look. With our selection of free gold textures, you can easily incorporate the richness of gold in your designs.
Included in this collection are a variety of textures for gold foil, shiny glitter, paint, seamless patterns, and metallic gold. You can use these warm yellow gold textures as overlay to accent your design elements such as text, shapes or patterns or even in the background to create stunning, eye catching graphics. These gold textures will find use in all kinds of projects such as luxury branding and logo design, invitations, social media banners, website design, digital artwork, and image compositions.
All these gold textures are available to download in high quality JPG or PNG formats that are widely supported in graphic design software like Photoshop as well as in online image editors. Read on to get a preview of these textures as well as the links to their download pages.
Free Gold Textures
To start with, we list below free to download gold textures. All these resources come with free personal and/or commercial license.
4 Free Gold Foil Textures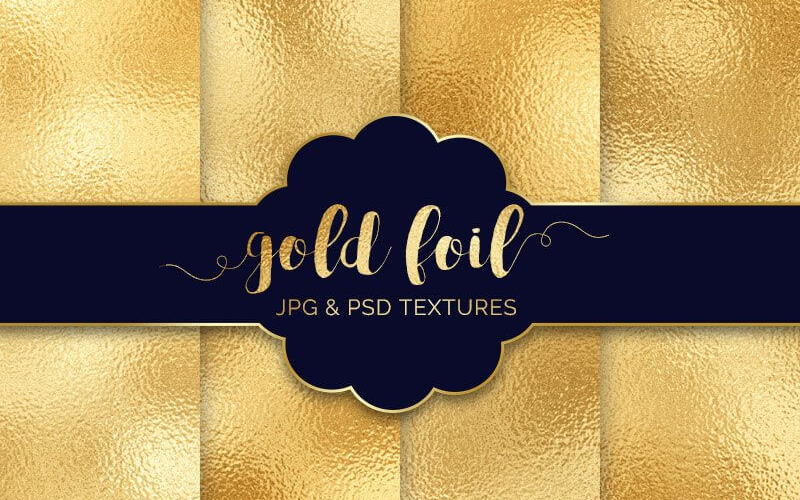 A set of 4 shiny gold foil textures available for free download on TemplateFlip as 1200×1200 px JPG files. You can clip them to text (as seen in above image) to easily create gold foil text effect in your designs. Source Photoshop file is also available on purchasing the premium license.
14 Free Foil and Paper Gold Textures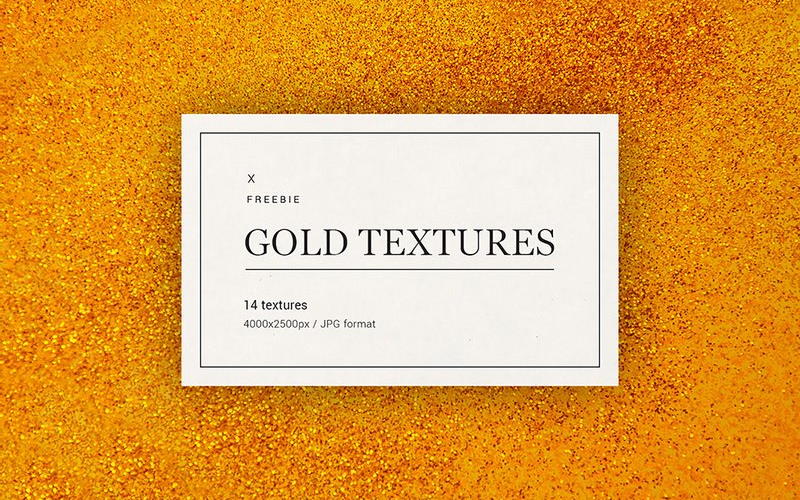 Give your designs an auric magnetism through these shiny gold textures. This freebie pack consists of 14 different gold foil and paper textures. On downloading, you will get textures as 4000×2500 px JPG files. Use them to add sparkles in your backgrounds, invitations, scrapbooking, collages, and logos.
15 Gold Textures Digital Paper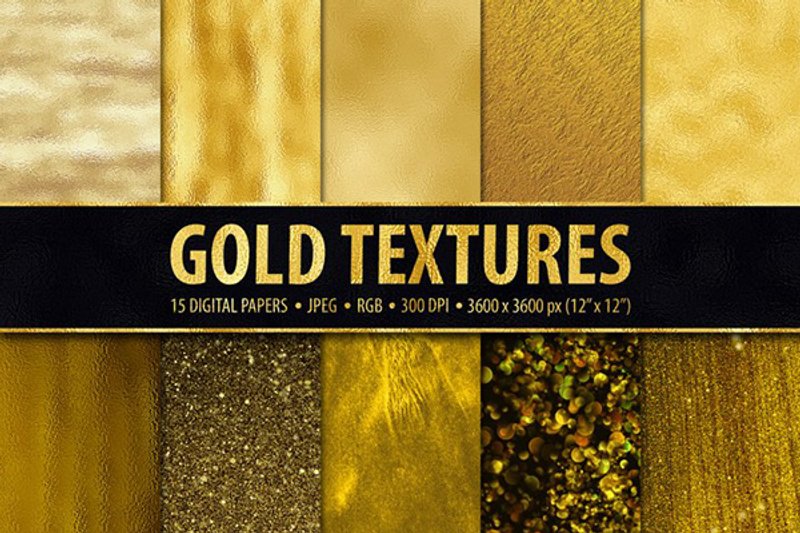 This collection features 15 luxurious gold textures in a variety of finishes, including foil, glitter and paint. These opulent digital papers will instantly add elegance and glam to your social media graphics, banners and buttons, web design, branding and packaging. Available in 300 DPI, 3600×3600 px (12″x12″) JPG format.
6 Free Golden Textures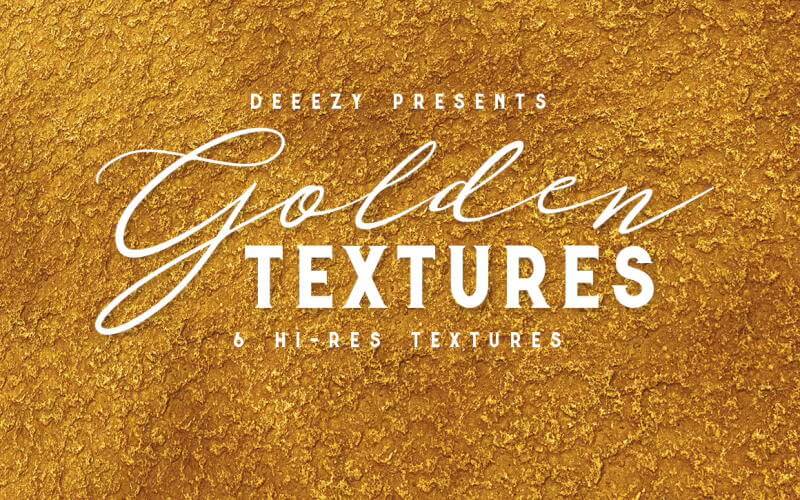 This freebie pack offers 6 golden textures, each with a different textured surface. The textures are provided as high resolution JPG images of 6000×4000 px.
15 Free Gold and Silver Watercolor Textures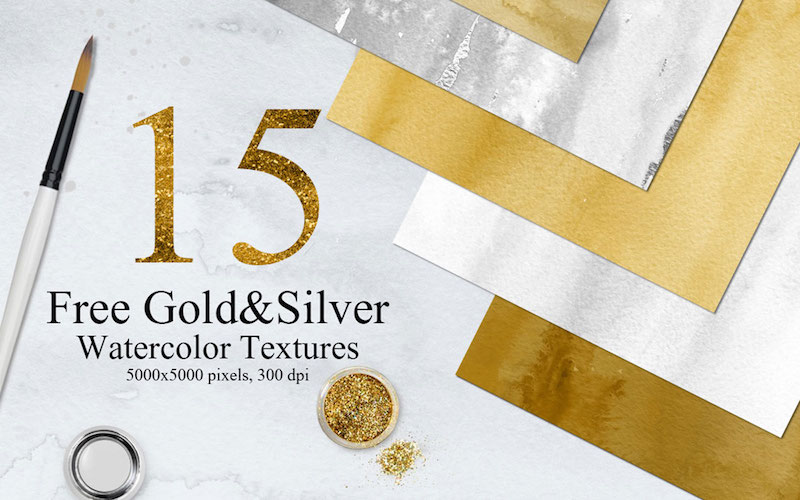 Rich gold and silver colors come together with subtle watercolor paint texture in this free resource. Perfect for adding a handcrafted feel to website, banner, stationery, posters, business cards, invitations, and packaging design. Free download includes 15 different high resolution JPG textures of 5000×5000 pixels at 300 DPI. Comes with free personal and commercial use license.
12 Free Liquid Gold Shapes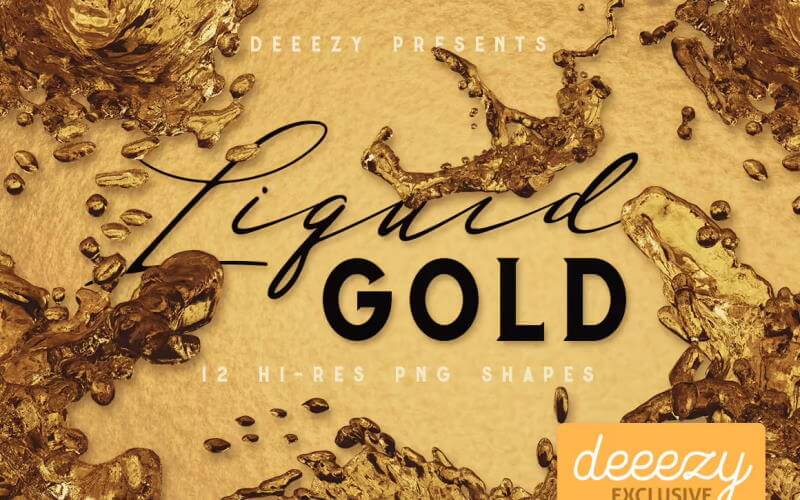 A set of 12 free 3D style liquid metallic gold texture shapes available in transparent PNG format.
Seamless Glitter Textures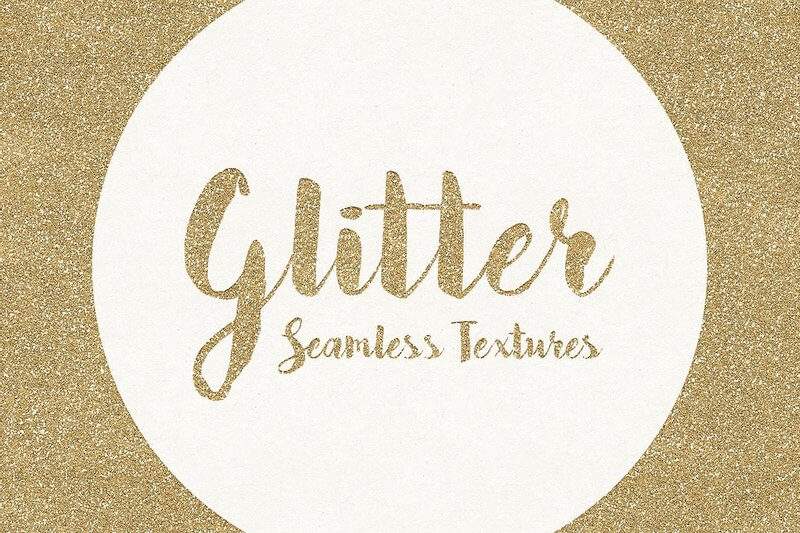 These seamless sparkly glitter textures are ideal for backgrounds and overlaying on text or shapes for an artsy, handcrafted feel. Included are 8 unique glitter textures, with 3 color variations each – gold, rose gold and silver. Textures are provided as 1024×1024 px JPG image tile as well as in Photoshop pattern (PAT) formats.
5 Gold Tile Textures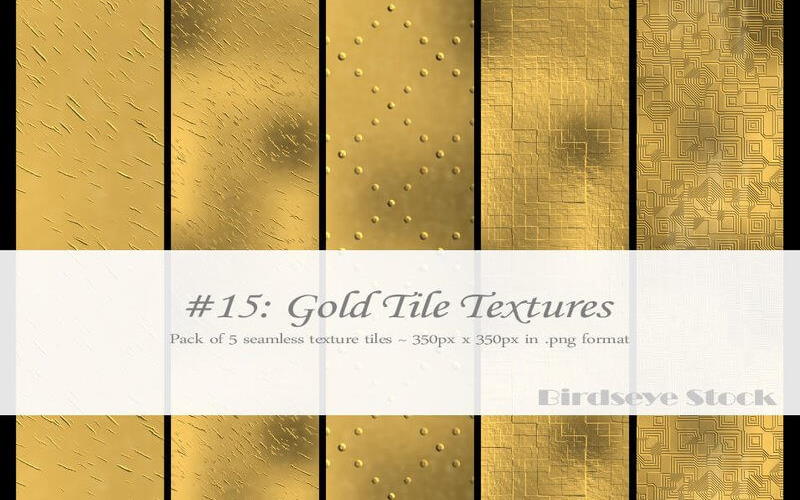 A pack of 5 free seamless gold texture tiles. Includes distinct repeatable patterns of gold circuitry, gold studs, scratched gold and square textured gold. Each texture is 350px x 350px in size and in high quality PNG format that can be seamlessly tiled to cover any image size or shape.
Gold Metallic Texture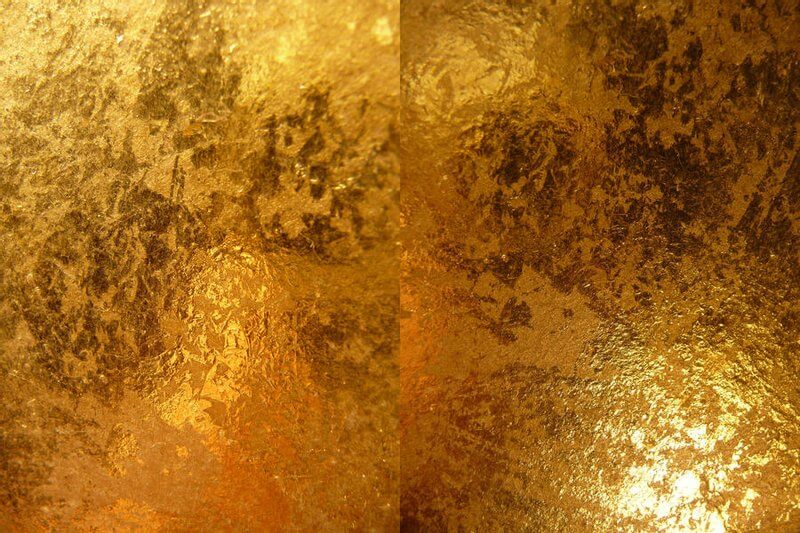 Free grungy metallic gold texture, you can use a portion of it or the whole texture for your vintage-style projects, download includes 5184x3456px JPG image.
Gold Paint on Canvas Texture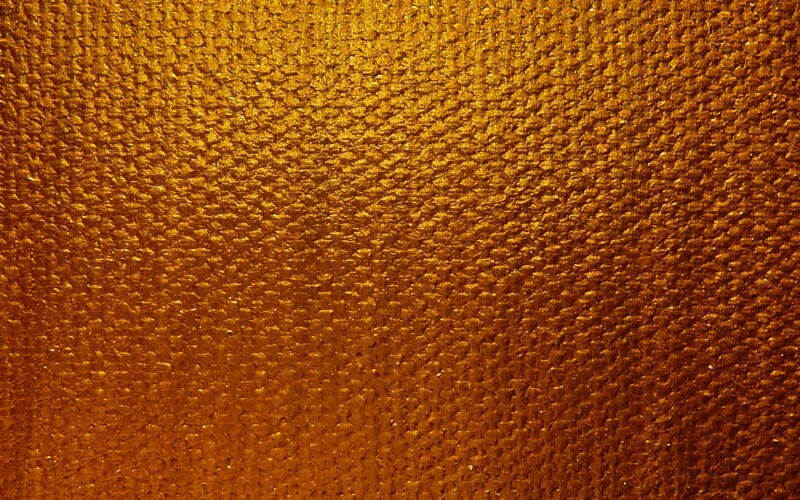 Combination of gold paint texture with that of woven canvas fabric creates a unique texture you can use in multiple creative projects. Free download includes a 2560x1920px JPG image.
Gold Leaf Texture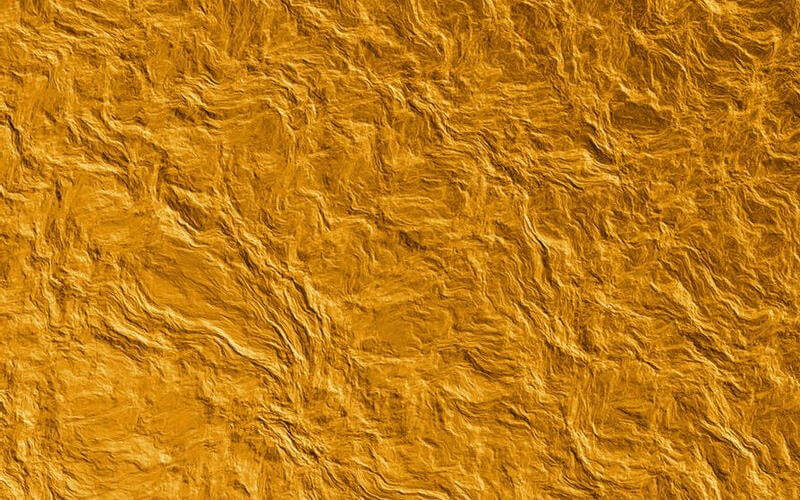 Give your designs a more tactile appearance with this free texture of metallic gold leaf. Suited to use both as a background to place your text and other graphics or to add textured elements in your design.
Golden Leather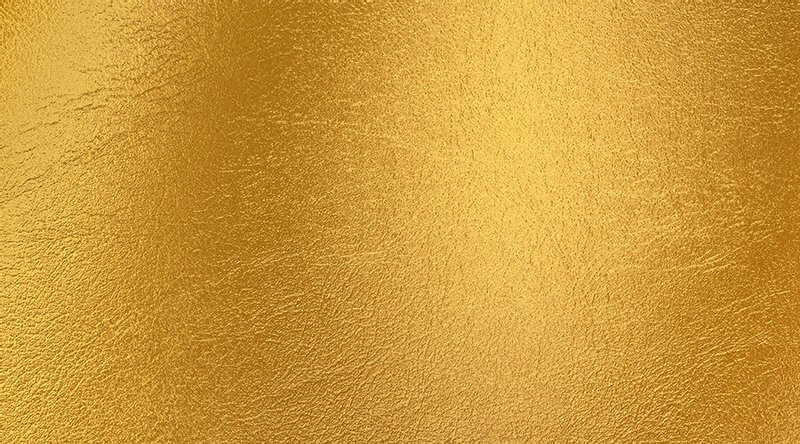 This lustrous texture with soft reflections of light mixes golden color with leather texture and gives out a feeling of luxury and refinement. Available for free download in 900x500px JPG format.
Brushed Gold Texture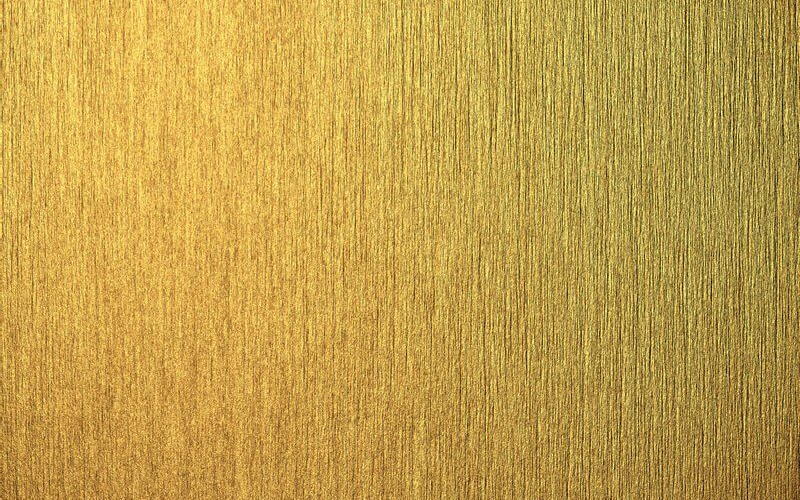 A free brushed gold metal texture that can be downloaded for free from DeviantArt in JPG format.
Related: Free Brushed Metal Textures
Acrylic Gold Paint Swirl Stock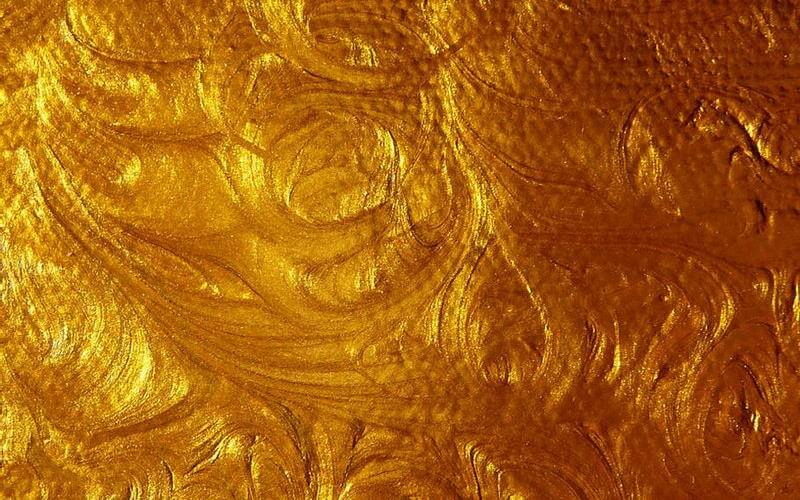 This is a free JPG stock image of acrylic gold paint texture that you can use to add extravagant feel to your digital art, photos, collages, on websites, e-stores and print projects.
Gold Metal Wrinkled Paper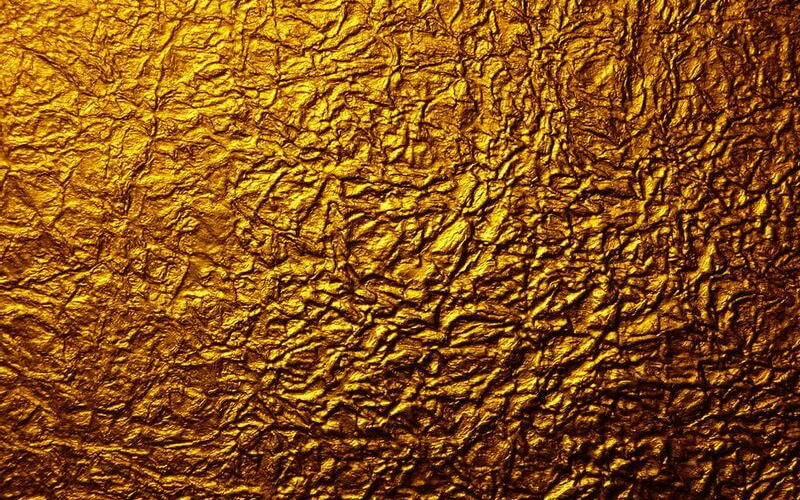 A free texture of metallic wrinkled gold paper in darker shade available as 2560x1920px JPG image.
Related: Free Paper Textures
Bonus: Premium Gold Textures & Backgrounds
We have also included as a bonus resource, some premium gold backgrounds and textures to give you more options and styles to choose from. Many a times, free resources come with restrictive usage license, in such cases it is good to explore premium items as well that offer commercial use license at an affordable pricing. Links to some of the items below are affiliate.
Gold Marble Texture Backgrounds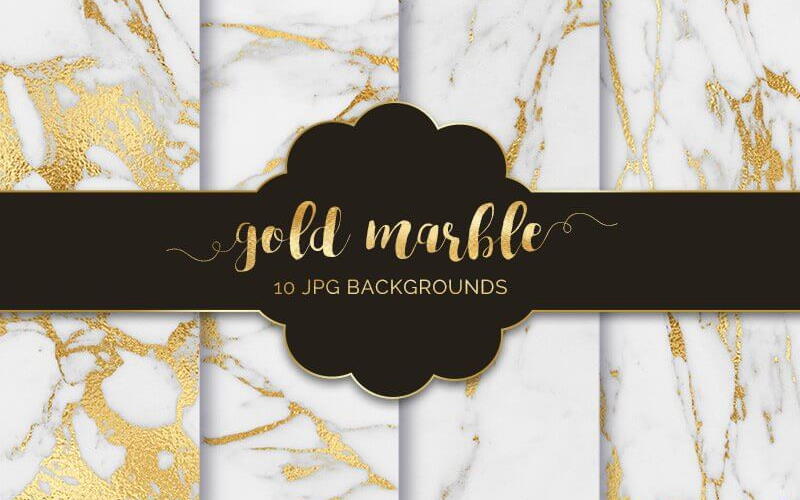 This set of 10 gold marble backgrounds combines the elegance of marble backgrounds with the glamorous, luxurious quotient of gold foil textures. These stunning backgrounds woven with gold veins and gold dusting will add a touch of class and style to your designs such as online store graphics, web design, and eBooks. File format: 3000×2000 px JPG.
Gold Glitter Watercolor Backgrounds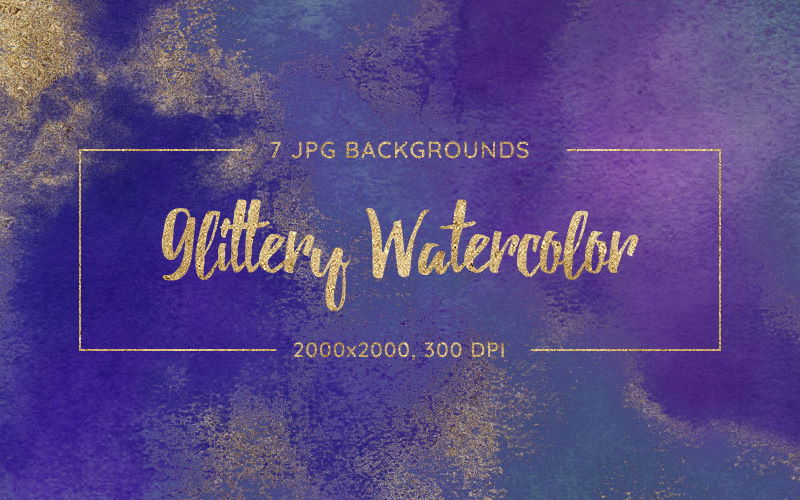 A set of 7 high quality vibrant watercolor backgrounds with sparkling gold glitter texture. Perfect to add a sophisticated, luxurious effect to your graphics. Available as JPG files at 2000×2000 px size at 300 PPI resolution.
Foil & Glitter Texture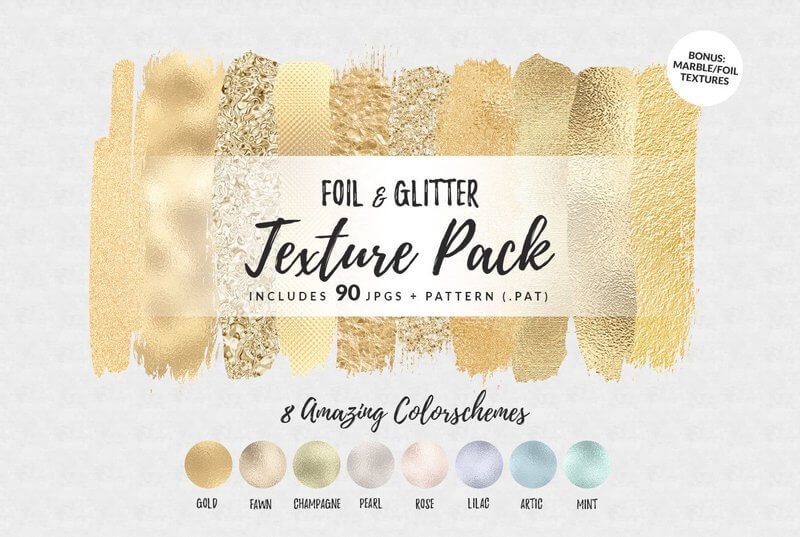 This is a bundle of 90 textures for foil and glitter available in 8 color schemes including gold and rose gold. Ready for print or web usage, these textures are ideal for fashion or lifestyle blog, scrap booking, stickers, planners, posters, logos and backgrounds. JPG and PAT files are included in the download.
Gold Foil Watercolor & Ink Textures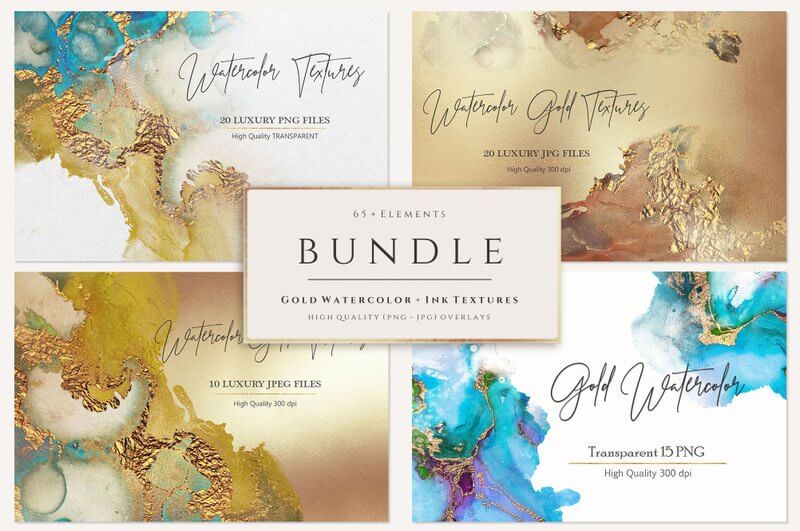 This premium texture set combines gold foil with watercolor & ink textures. Includes high quality 300 dpi JPG files and transparent PNG overlays.
Gold Foil and Glitter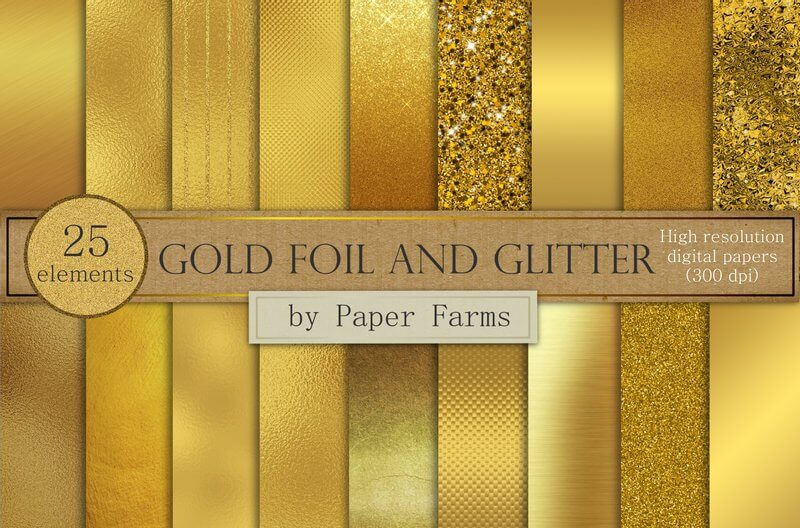 A collection of 25 gold textures including foil, glitter, brushed metal, and vintage gold. Available as high resolution (300 dpi) 12 x 12 inch jpegs.
Gold has an alluring magnetism to it, no wonder gold textures create unique atmosphere that conveys grandeur and luxury. These shiny textures are best used in moderation as embellishments and accents so as not to overpower your design. You can further go through the following article and inspirational showcase to further understand usage of gold color and textures in design.
More Texture & Pattern Resources
Textures and patters are a versatile design resource that find use across web design, graphic design as well as print design projects. Before you go, we leave you with more texture and pattern collections available on our site: