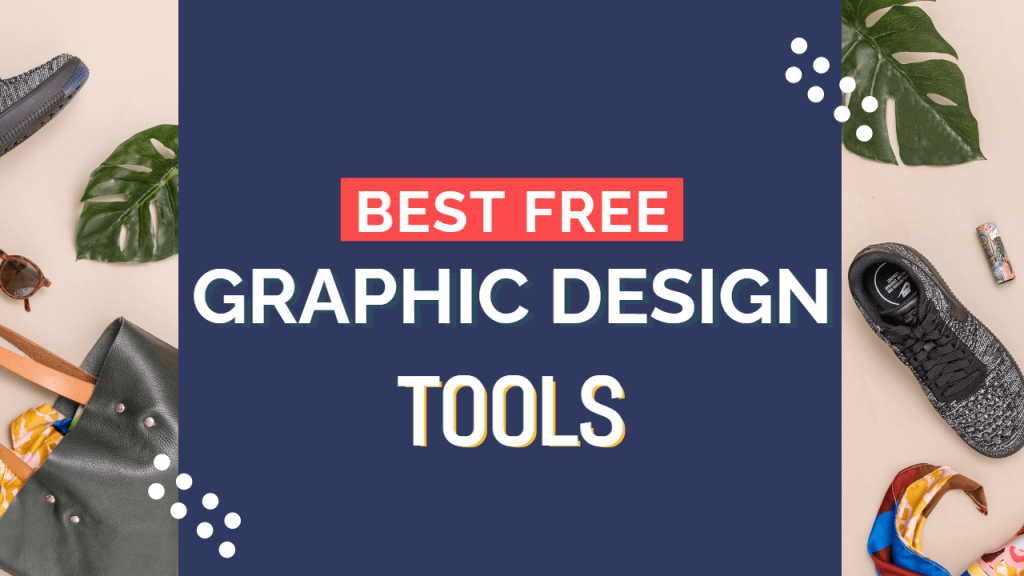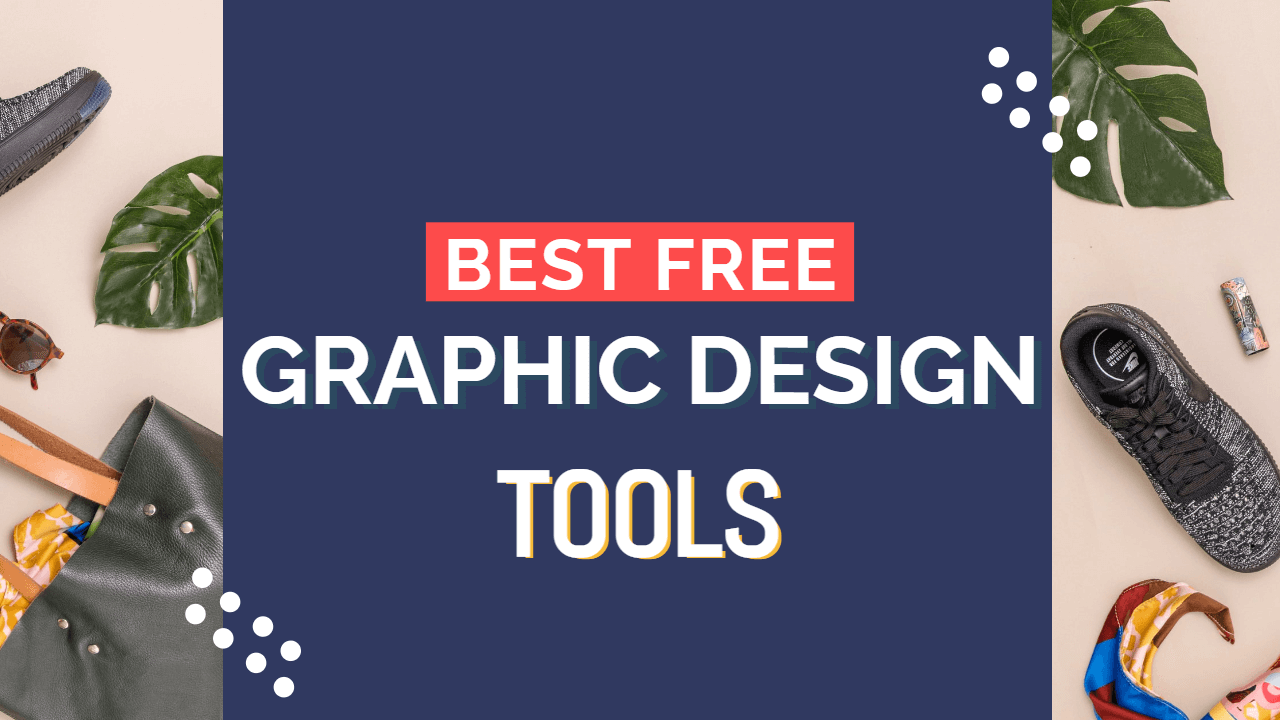 Graphic Design Software are infamous for being pricey and if you are just beginning your career as a Graphic Designer or are looking for casual graphic design tools for creating social media and marketing images then paying for a costly software may not be desirable. There are many free graphic design software and online tools available which offer professional quality graphic design capabilities with ready made templates and are beginner friendly. In this article we will take a look at these online design tools that have free plans available.
You may already be aware of the most popular graphic design software: Adobe Photoshop and Illustrator. However they are available at a monthly price and not free. While these tools are the choice of experts, you may not need them as you can easily generate stunning graphic design from pre-made design layouts and make edit or changes with free online tools.
In this post, we are sharing a list of best and free Graphic Design Software that are suitable for beginners as well free tools that can cater to advanced graphic editing needs. These software and online tools are capable of creating social media images, poster designs, Facebook cover, YouTube cover, Facebook stories, Instagram templates and a lot more. They offer simple and easy to use interface which can be learned in minutes. Many of them offer ready made design templates in appropriate dimensions which can be modified by simple drag and drop interface and easy change of text, colors and images.
If you are just looking for a free tool to edit and re-touch your photos then you may want to take a look at these free online photo editors. In this post, our list includes those online tools and software which are capable of creating graphic design items such as posters, mock-ups, flyers, logo, infographics, presentations, magazine cover, greeting cards etc. What's great is that all the products listed below are free to use. They may offer advanced templates or products at a price however all the basic features they offer are free.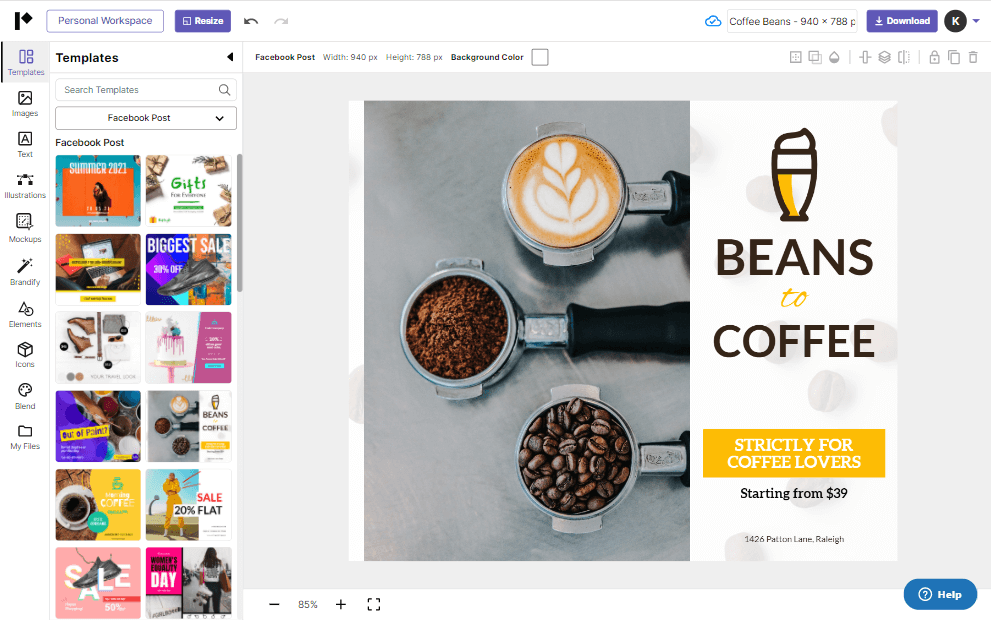 Pixelied is an easy-to-use design solution which allows users to create stunning ready-made designs from 25+ formats, access to millions of stock photos, icons and illustrations. It provides a full suite of design editing tools, like background remover and product mockups, for the most common uses, tailored for businesses.
With Pixelied, you can easily create graphic for Facebook post, Facebook page cover, Facebook story, Instagram post or stories, YouTube channel art or YouTube thumbnails, Twitter and LinkedIn post images, Twitch profile banner, blog featured image and many more social media graphics. There are tons of ready-made templates available which you can also customize.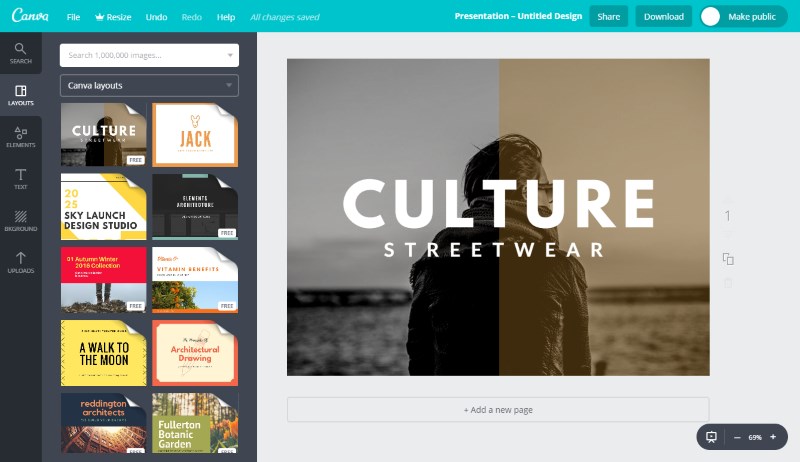 Canva offers creation of graphics using multiple pre-created layouts and templates with an easy to use web editor. You can easily create social media images, posters, flyers, book covers and a lot more graphic items using their editor. Text, font, colors and images can be changed easily and you are allowed to download and share your creation for free. Canva offers paid templates as well as paid images, however many templates and images in their collection are free. You can also upload your own images and then add text overlays.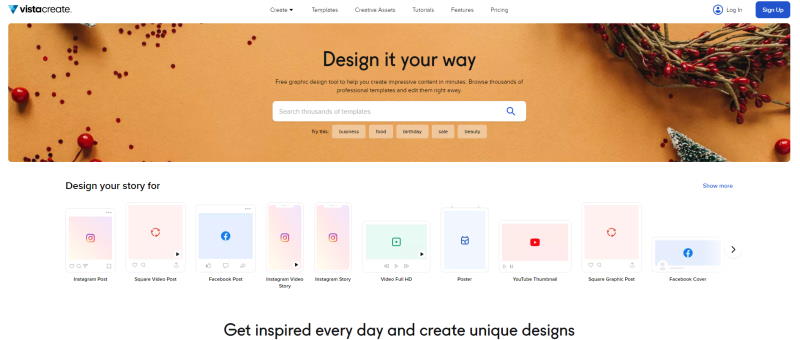 VistaCreate gets to the very heart of what it means to be simple in use. It's a no-brainer graphic design tool that can significantly simplify the marketer's daily routines with 50K+ design templates, 1M+ creative assets, animation effects, and an intuitive customization panel.
You can use VistaCreate for free on your desktop or download an app for Android and iOS platforms.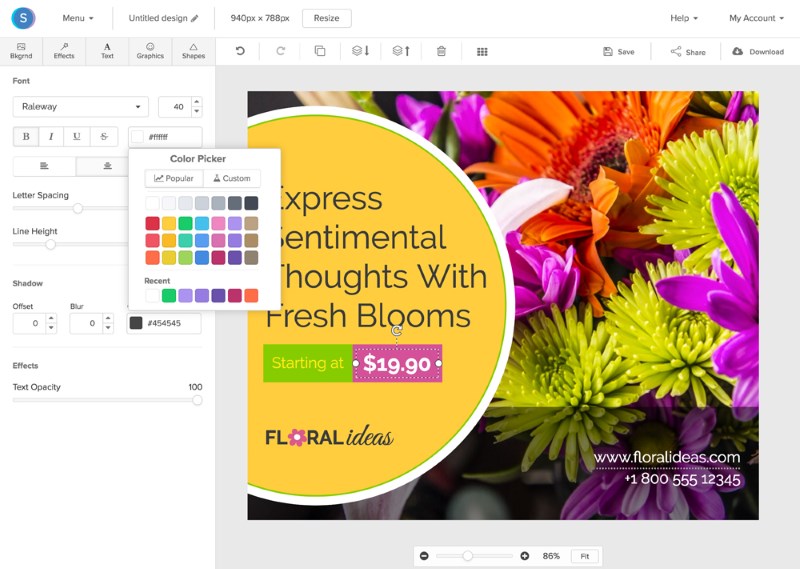 Snappa is another quick and easy graphic design software similar to Canva. It offers a free plan which includes 40,000+ free photos and upto 5 downloads per month. The free plan contains limited design templates to choose from and integration with 2 social accounts. You can upload your own graphics too in Snappa editor as well as import your custom fonts. Connecting your social media account allows you to share the graphic on the social platform right from the app.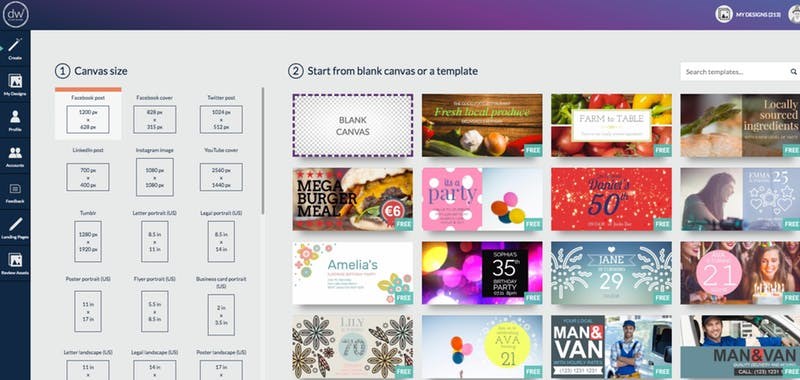 Design Wizard has thousands of templates and over a million images for you to choose from and create your own design for social media, business cards, invitation and greeting cards etc. The free plan offers a pay as you go option which includes buying premium templates starting from $1. You also get online storage of 15MB to store your design.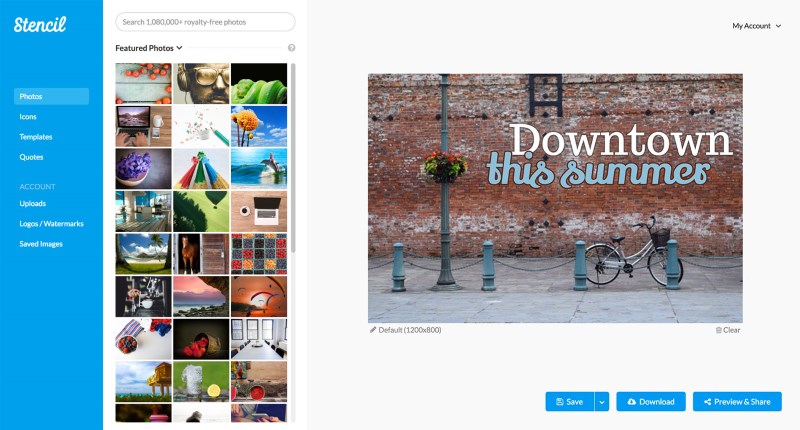 Similar to other easy to use graphic design tools, Stencil also provides you with 650+ pre-designed templates, over a million images and 800,000+ icons and graphic elements to help you create your graphics. Free and simple image creation tools like Stencil are best suited for social media marketers, bloggers and small businesses. With the free plan you can create upto 10 images per month.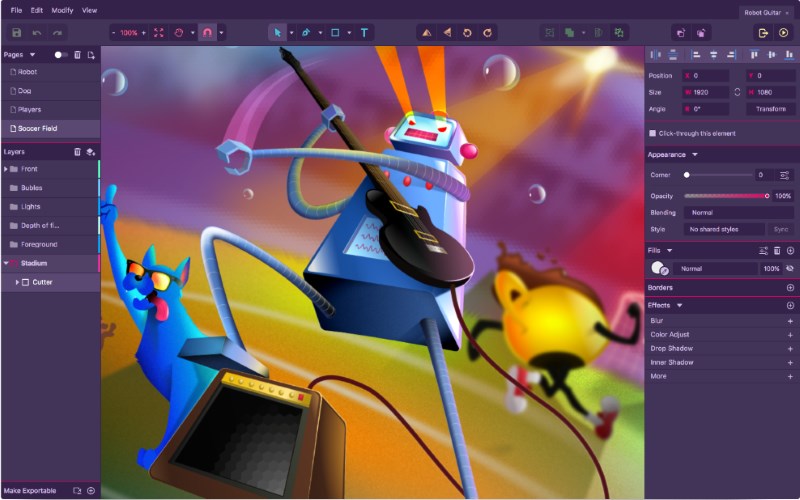 Although Gravit Designer is a new entrant, it has already gathered a lot of appreciation from graphic designers and is regarded as a viable free alternative to Adobe Illustrator and Sketch. Gravit Designer is a full featured vector design application which sits right inside your browser and doesn't require any installation or paid subscription. It presents clean, intuitive interface and can be used to design any kind of vector graphics. You can also download app for your favorite platform and use it offline.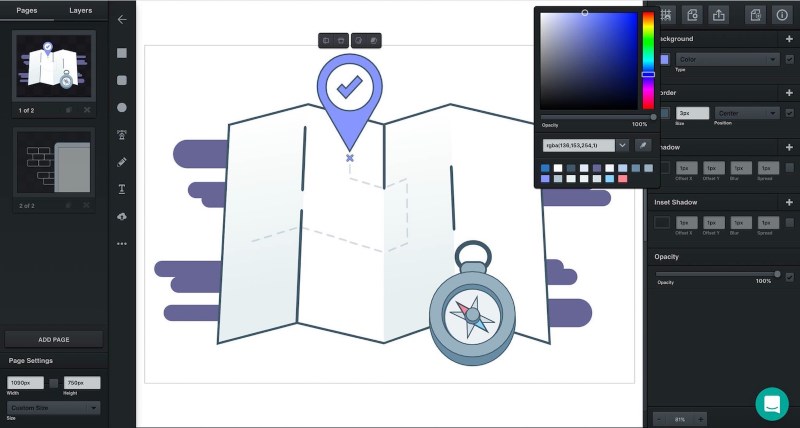 Vectr is a free vector graphic editor similar to Gravit Designer. You can download it to use on your desktop or use the web interface. Vectr is easy to learn and free tutorials and user guides are provided as well. You can send anyone a URL to your Vectr document for real-time collaboration, others can watch you create and edit designs live.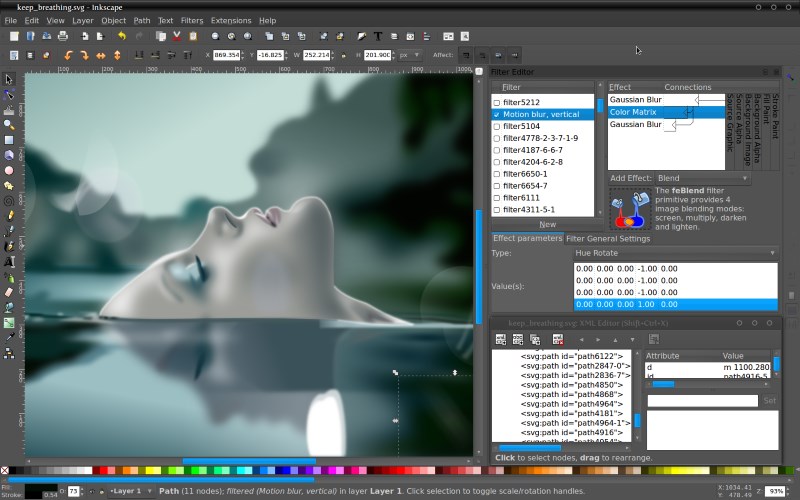 Inkscape is a professional vector graphics editor available for Windows, Mac OS X as well as Linux. It's open source software licensed under GPL. Inkscape is trusted by professional graphic designers and is one of the best free alternative to Adobe Illustrator. The learning curve may be a bit steeper compared to other graphic editors listed above, however with Inkscape, you would be able to create complex vector graphics which may not be possible to create in other free editors.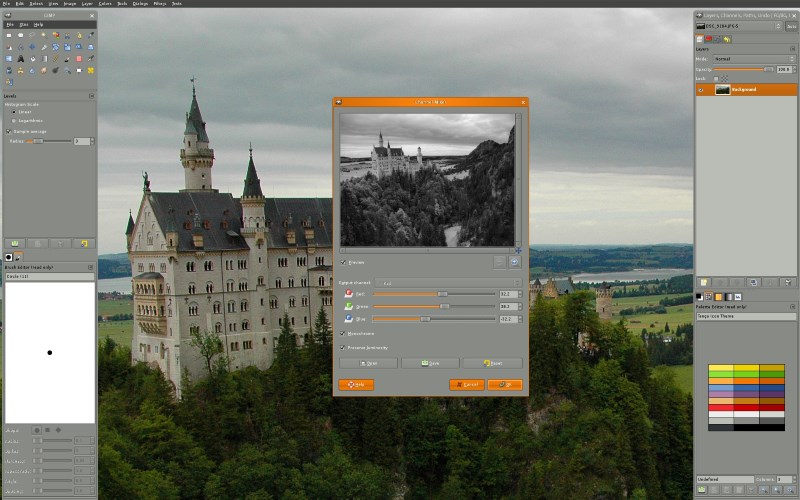 Talking about free alternatives, GIMP is long reigning king of free image editing software and is accepted as a powerful free alternative to Adobe Photoshop. You can refer to GIMP tutorials to get started with this amazing and free photo editor. GIMP is open source and available for GNU/Linux, OS X, Windows and more operating systems.
Do you use any of these free graphic design tools already? Were you looking for an alternative to Adobe Illustrator or Photoshop and found what you needed? Our team here at SDR uses many of the graphic editing tools listed above to create our blog graphics, logo, social media images etc. You can check the following collection of articles which will help you get better sense of graphic design if you are a beginner.
Don't forget to share this article in your social circle.