Are you building a product or going to launch your website/services soon? If you have secured the domain name already, don't leave it blank. Here is a free landing page you can use to create the buzz before the launch and let users know when they can expect the launch to happen.
This free launch page named Starting Soon has a countdown timer with a video behind. It is perfect to create a landing page for your product or event. It has been built with Bootstrap and is accompanied with Font Awesome icons which allow to edit or modify the template with ease. The template design fits in devices of all screen sizes and you can change the video or the timer as per your choice.
This is not all, we also have this list of coming soon templates that you can choose from. You will also find templates similar to this that may fit your use case perfectly.
Preview of Starting Soon Template
Find below a preview image of the starting soon template however we recommend checking out the live demo as the template includes video and animated timer.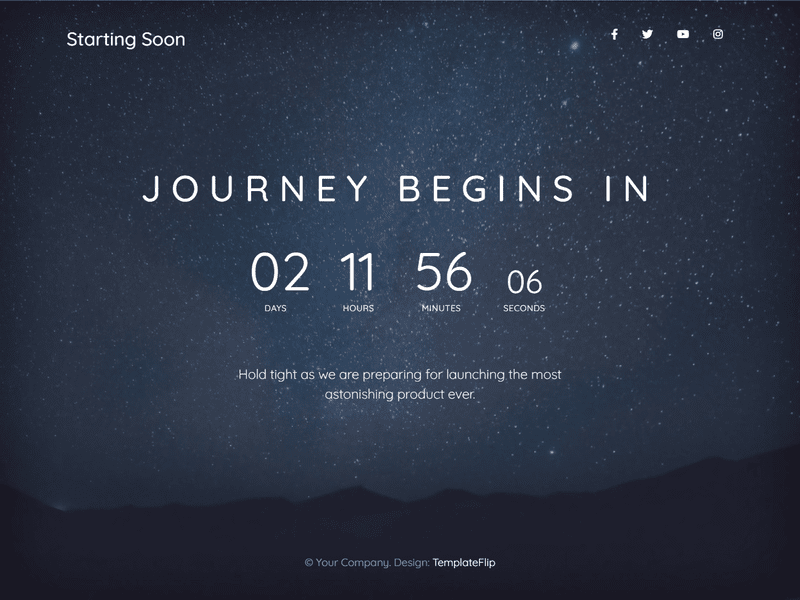 While using the template, the background video can be replaced by changing the ".mp4" file in the videos folder. You can find more videos on free stock videos sites.
The background image can also be easily replaced by changing the "cover.jpg" image inside 'img' folder. You can take screenshot of the video if you are unable to find a matching image. If needed, the background video can be removed and just the background image can be kept. Find here best free stock photo sites.
To edit the launch countdown time, simply edit the "main.js" file to add a value for "eventTime" similar to the example provided. Do make sure to add your GMT timezone too as given in the example to show correct time all over the world. Once you add your eventTime, the countdown timer will automatically start showing the time remaining.
Download Template
You can download this starting soon template using the download button below. Upon downloading this template, you will find files for
Landing page (index.html)
Background Image (img/cover.jpg)
Background Video (videos/*.mp4)
FontAwesome fonts
CSS styles
JavaScript file for countdown timer
License
You can use this template for free in personal projects. In return, just credit https://templateflip.com for the website template on your site. You are not allowed to re-sell this template.
You may choose to pay a small fee to remove this attribution requirement, as well as to help the developers of this template, Buy License.
Don't forget to share this free template and also check out our collection of coming soon HTML templates and these free Bootstrap templates.