Whether you are a social media influencer or a brand, Instagram Story Highlights can help you make a great first impression on your audience. Instagram Highlights appear on your profile page below your bio, where you can highlight some of your best stories to help people connect with you or your brand. Not only do these IG highlights add character to your profile, they can bring in more clicks for your Instagram Stories as well.
Which is why, in this article we have handpicked some of the best free Instagram Highlight Icons you can use to add beautiful covers to your highlights and make them more appealing. Below you will find icons in many different styles including floral, hand-drawn, watercolor and boho. All these icons are available for free download, you can choose the icon set that best fits your brand aesthetics.
In order to change your highlight cover, all you need to do is go to your Instagram profile and long press on the highlight whose cover you want to change. Then, click on Edit Highlight and select Edit Cover, now you can choose the icon you downloaded from your phone gallery to replace the default cover. You can check out the Instagram accounts of Brit + Co, Etsy and Travel + Leisure for inspiration. These brands creatively use icons that resonate with their brand for their highlights. And now you can too with our collection of free Instagram Highlight Icons.
Also See: Instagram Templates for Posts and Stories
Free Abstract Instagram Highlight Vector Icons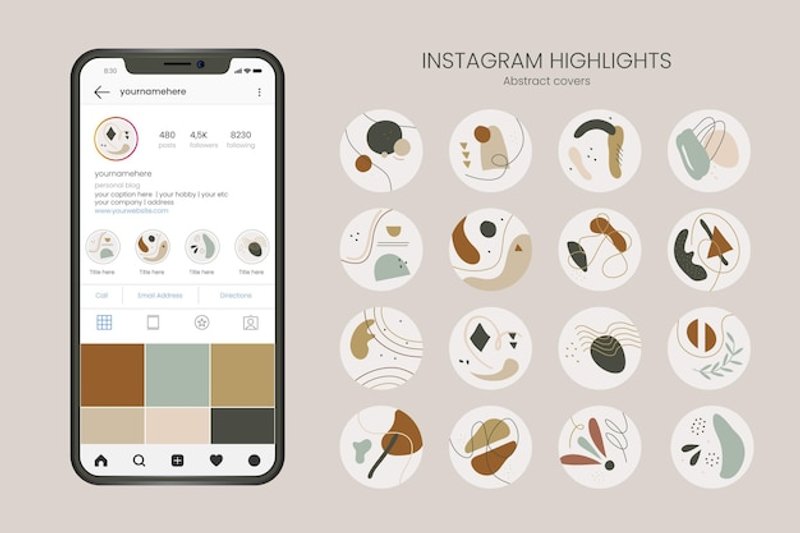 A set of free abstract hand-drawn Instagram highlight icons. There are 16 icons in this set featuring an earthy palette, organic shapes and squiggles. Free to download in AI and EPS vector formats, these icons are ideal for Instagram accounts focusing on fashion, lifestyle, beauty and organic products.
Free Floral Botanical Icons for Instagram Highlights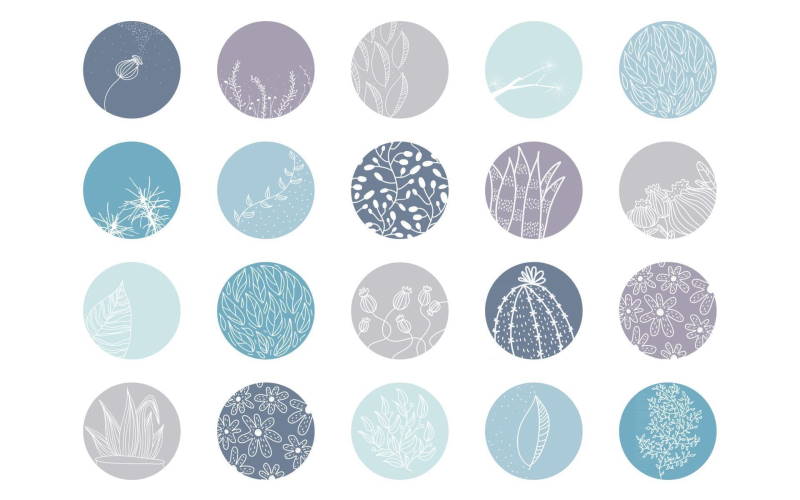 This is a pack of 20 free floral and botanical highlight icons with pastel color backgrounds. Inspired by different kinds of leaves and flowers, these line icons are suitable for promoting brand stories related to healthy lifestyle, organic products, cosmetics, beauty, fashion and yoga. Free download includes EPS vector file.
Free Line Art Instagram Highlight Cover Icons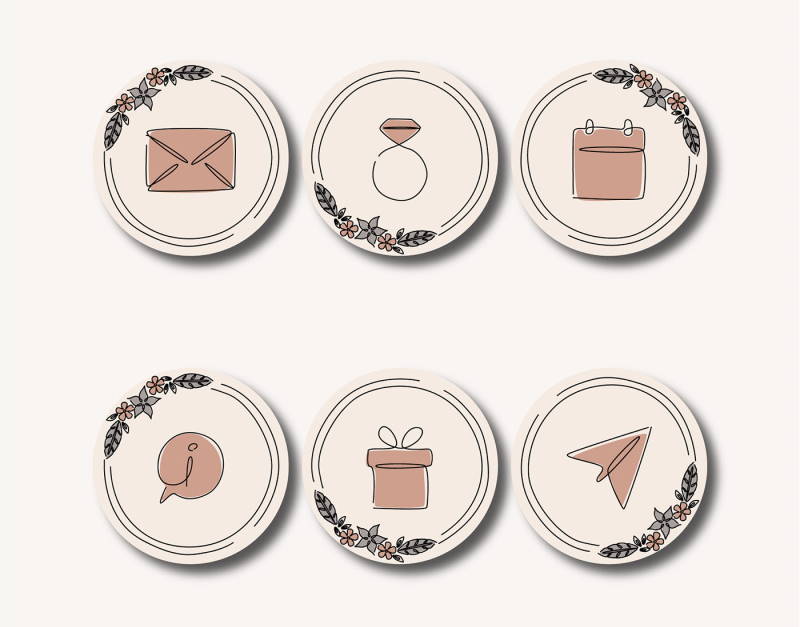 Another set of 15 beautiful and stylish line art icons for Instagram highlights. These creative icons are perfect for lifestyle and fashion related Instagram accounts. On downloading, you will get an EPS file with all the icons.
100 Cooking Instagram Story Highlight Icons Free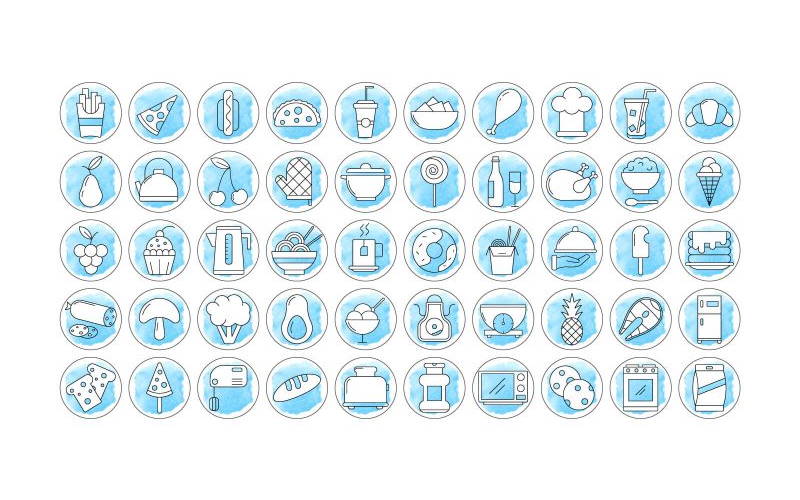 If you are a food blogger or manage an Instagram account related to food, then you will find this free cooking Instagram highlight icon set pretty useful. There are 100 icons in this set including icons of dishes, fruits, vegetables, drinks and more. The icons are provided in AI and PNG formats. Each icon comes with 5 color options (blue, orange, pink, red and violet) and 1 linear version.
Cute Boho Rainbows – Free Instagram Highlight Icons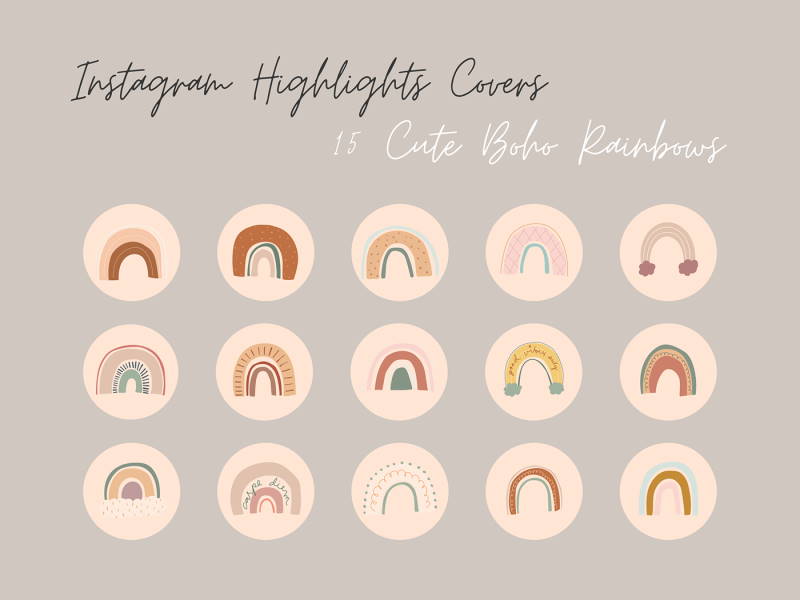 This is a set of trendy boho style rainbow icons in PNG format at 2000px x 2000px size designed for use as your Instagram highlight cover.
Free Watercolor Instagram Highlights Icons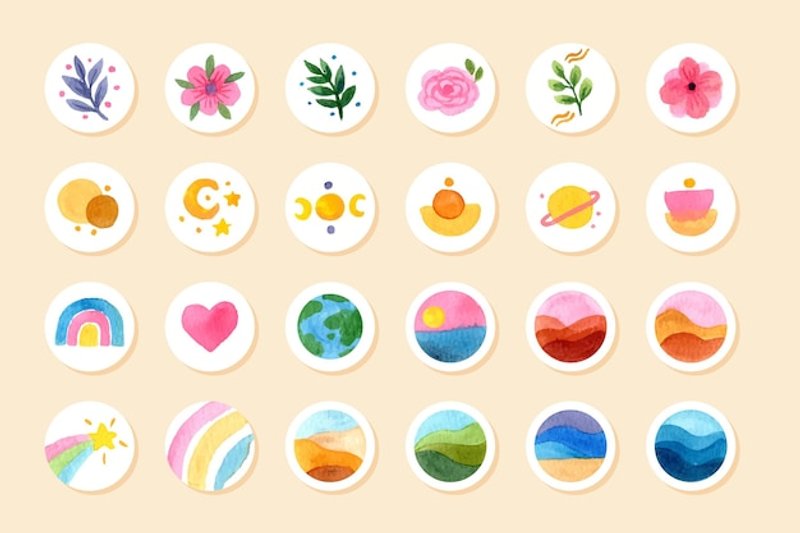 You can use these watercolor Instagram highlight icons to showcase story highlights on your Instagram profile in a creative way. The free icon pack comes with 24 colorful watercolor icons in AI and EPS formats.
Free Creative Instagram Highlight Vector Icons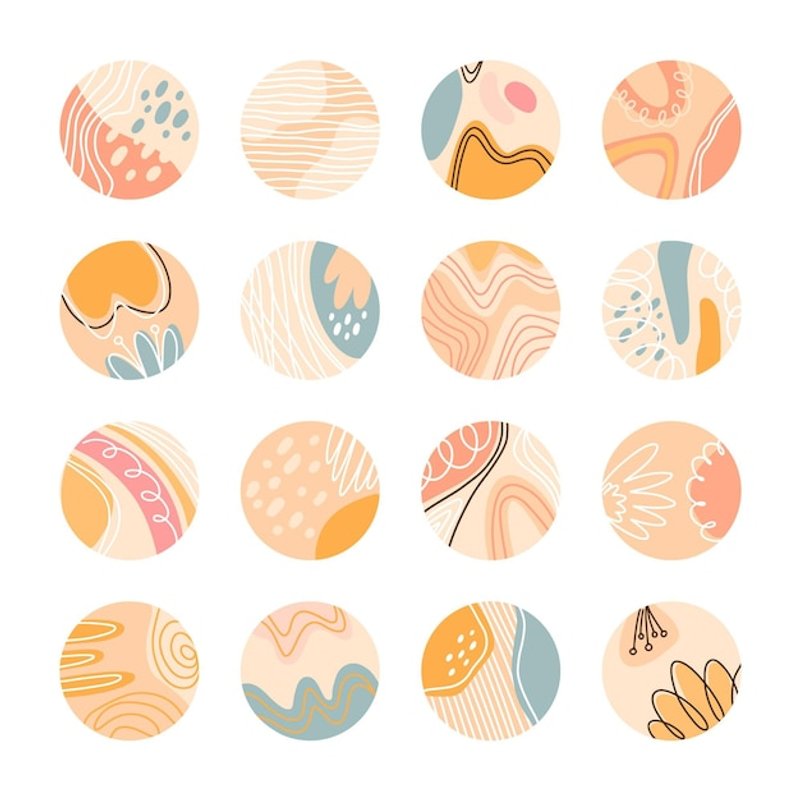 With this free Instagram highlights icon pack, you can create beautiful and attractive highlight covers. There are 16 unique icons with creative designs available for free download in EPS and AI format.
100 Free Beauty Instagram Story Highlight Icons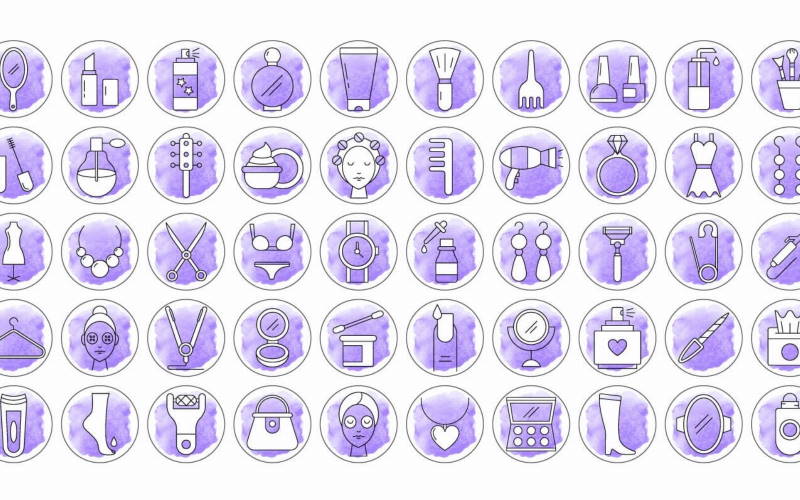 This collection of free Instagram highlight icons is perfect for beauty and fashion bloggers. It includes 100 different icons including icons for cosmetics, make-up, hair care products, accessories, and clothing. Available in AI and PNG formats. Each icon comes with 5 color options (blue, orange, pink, red and violet) and 1 linear version.
Hand Drawn Instagram Highlights Free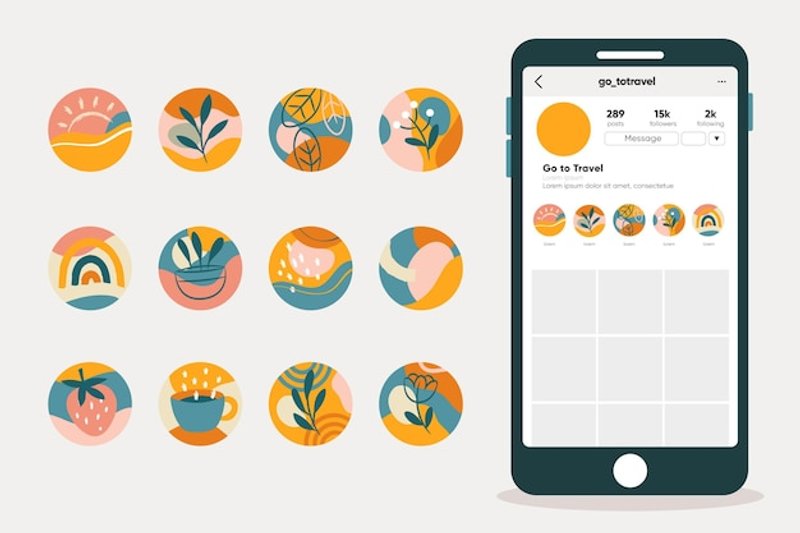 This free set of hand drawn Instagram Highlight icons can be used for highlighting stories related to travel and lifestyle on your profile. The icons are free to download in AI and EPS formats and you can customize them to your liking.
Travel and Vacation Instagram Highlight Icon Set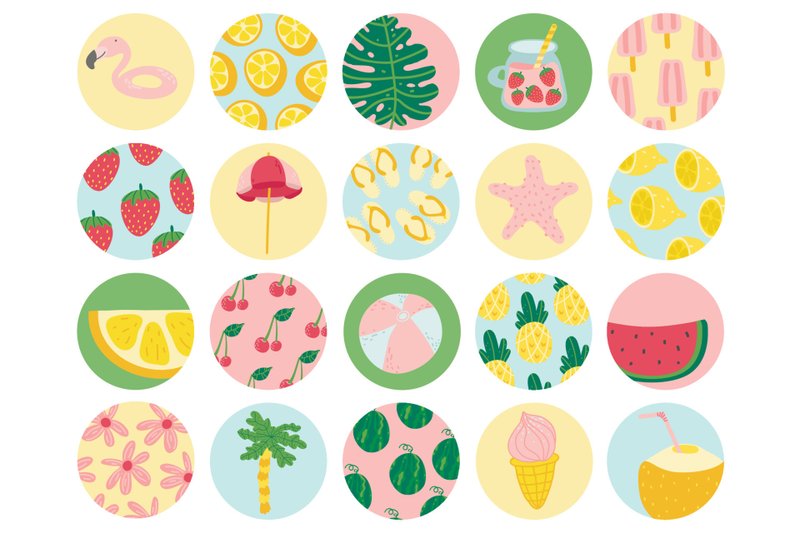 These colorful tropical icons are perfect for showcasing your travel and vacation stories on your Instagram profile. On downloading, you will get 20 icons for free in EPS format.
Boho Contemporary Instagram Cover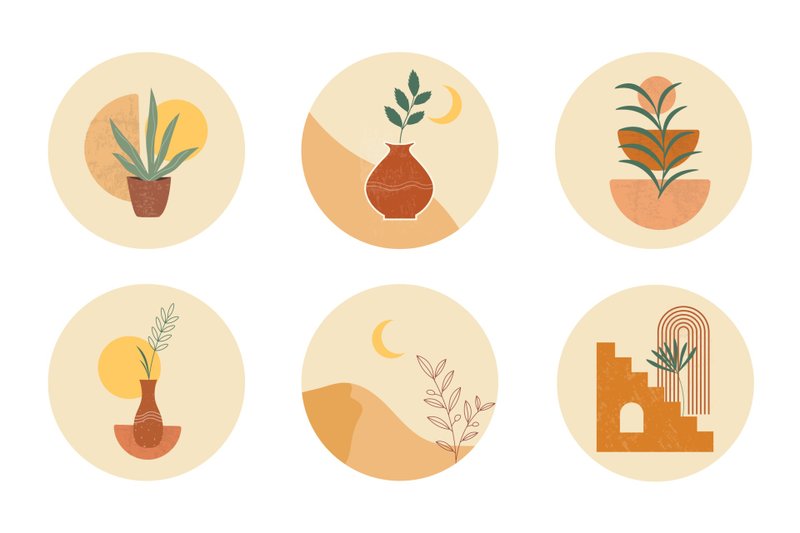 This free pack offers another boho inspired contemporary icons for Instagram highlights. Available for free download in EPS formats.
Autumn Collection – Free IG Story Highlight Covers Canva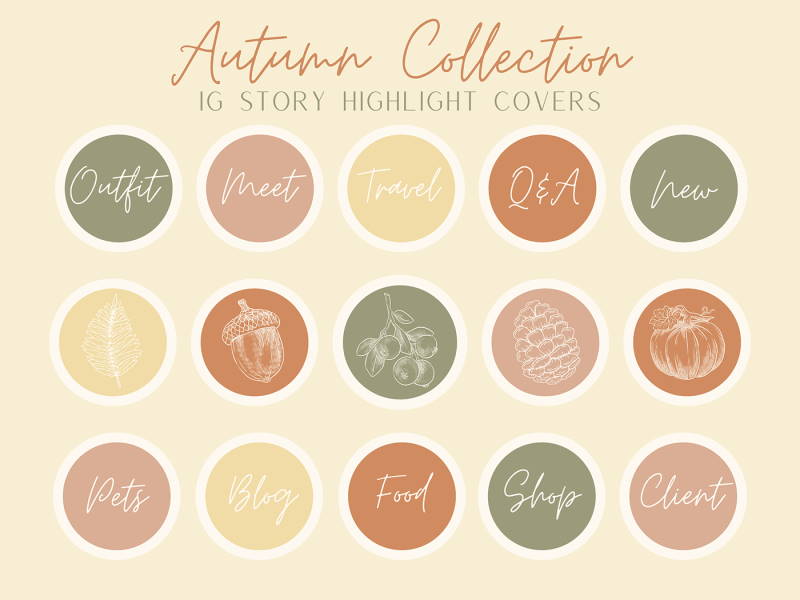 You can give your Instagram account a seasonal touch with this free set of Autumn Instagram Highlight cover icons. These cover templates are available for free to use in Canva.
Related: Thanksgiving Vector Graphics
Free Colorful Feminine Instagram Highlight Icons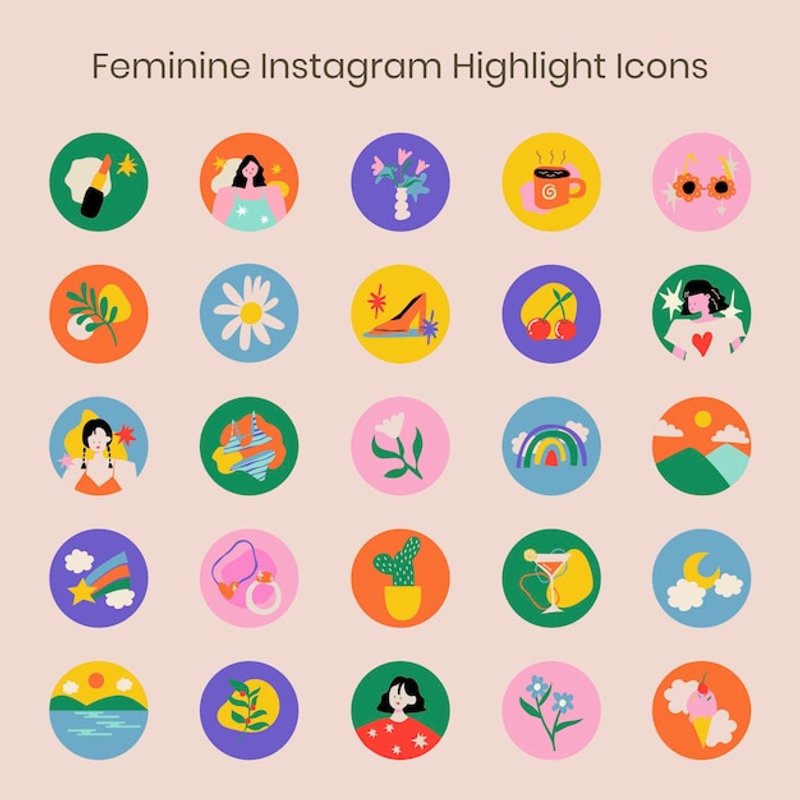 This free set of feminine Instagram highlight icons features a colorful retro design. It can be used by Instagram accounts related to fashion, beauty and lifestyle. Free to download in EPS format.
Most of the icons listed above are available in vector EPS or AI format and are fully editable, while some are provided in PNG formats as well. EPS and AI vector files can be edited in Adobe Illustrator, or you can use an online tool like Convertio to convert the files to SVG format that can be edited in a free vector editor like Figma.
If you liked this collection of free Instagram Highlight Icons, do share this post on social media, thank you! If you are looking for more icons for your work, then do check out these articles: