Give your poster designs a realistic life-like presentation with the Poster Mockup PSD templates presented in this post.
When presenting your poster design to your client, instead of sending across plain image files, you can use these mockups to depict your design in a real world scene and showcase it in an impressive way. It will help your client visualize how the poster will look when printed and displayed on the medium it is designed for. It will also provide better context to your viewers when you display mocked-up poster designs on your online portfolio.
These poster mockups are smart Photoshop files that you can easily edit and add your own design through smart objects. You just need to double click on the smart object layer and paste your design, it will get reflected automatically in the mockup scene. With these ready-made PSD mockups, you can create high quality mockups for your designs in no time.
You will find below poster PSD mockups in a variety of styles. You can use them to simulate your design being mounted on a wall, displayed outdoor on a billboard or printed and framed in an indoor scene.
We have included both free and premium poster mockups in this collection. All the free poster mockups listed below are free to use in personal and/or commercial projects. While you browse through them, we also recommend you to check out our collections of free poster design fonts and display fonts that you'll find useful for your next poster design work. Also check these 45 logo ideas collected by Logaster, if you need to create logo for your brand.
Poster Mockups Studio Scene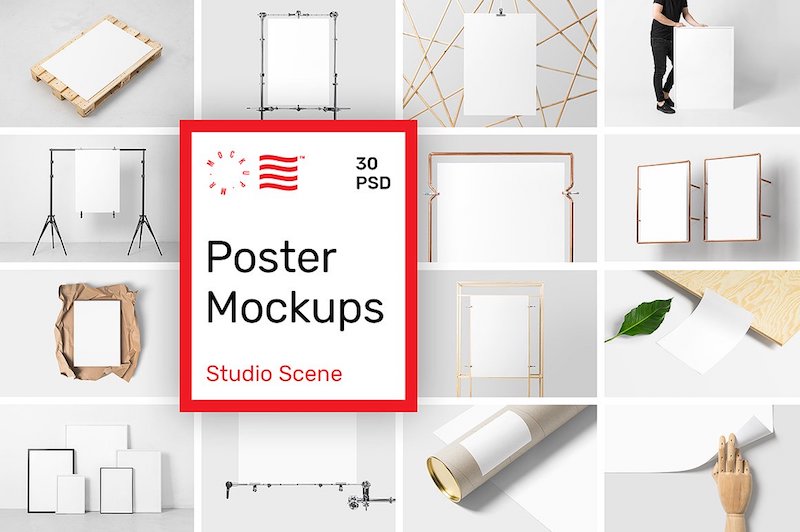 A premium bundle of high quality poster mockups with 30 different layouts and arrangements. Hanging poster mockups, framed posters, flat lying poster, you get them all in this pack. Created with professional photo shoots with great attention to detail, these mockups come at a high resolution of 6000×4000 px at 300 dpi that is perfect for close-ups and print.
Poster Mockup PSD – Portrait & Landscape (Free)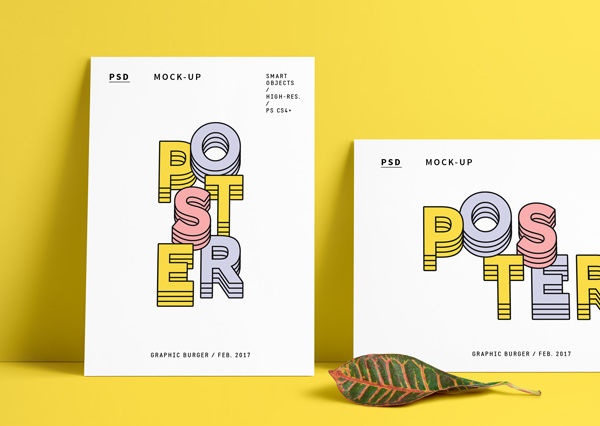 Free poster mockup in both portrait and landscape orientations. Download includes layered PSD file with separate object and shadow layers that can be edited to adjust colors and shadow details to create your own mockup.
Hanging Poster Mockup (Free)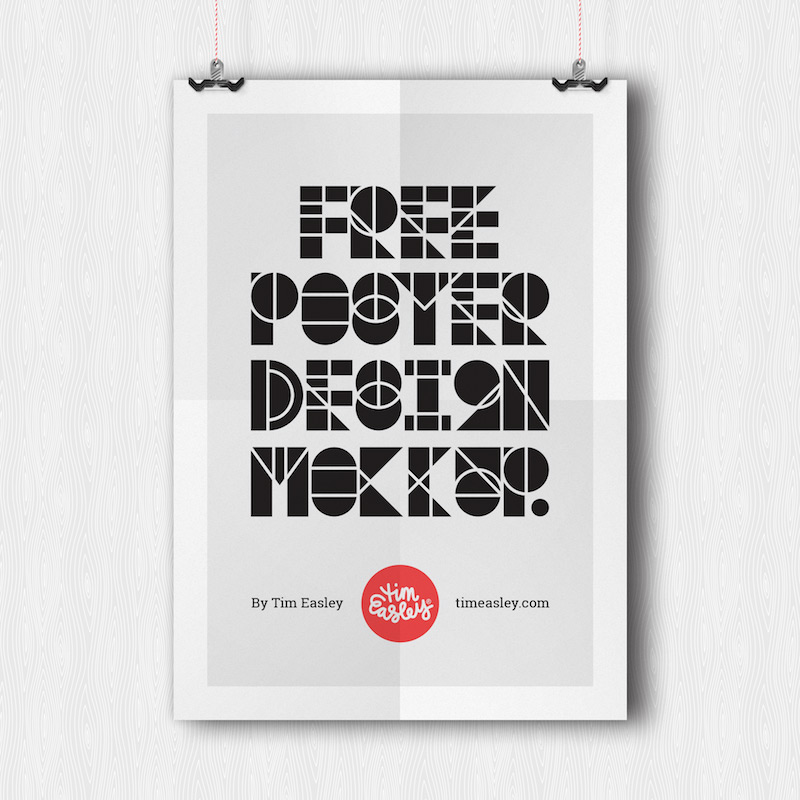 This free for commercial use PSD mockup comes with multitude of options to customize and create your own poster mockup scene. It works with portrait, landscape as well as square images.
Two Poster Mockups (Free)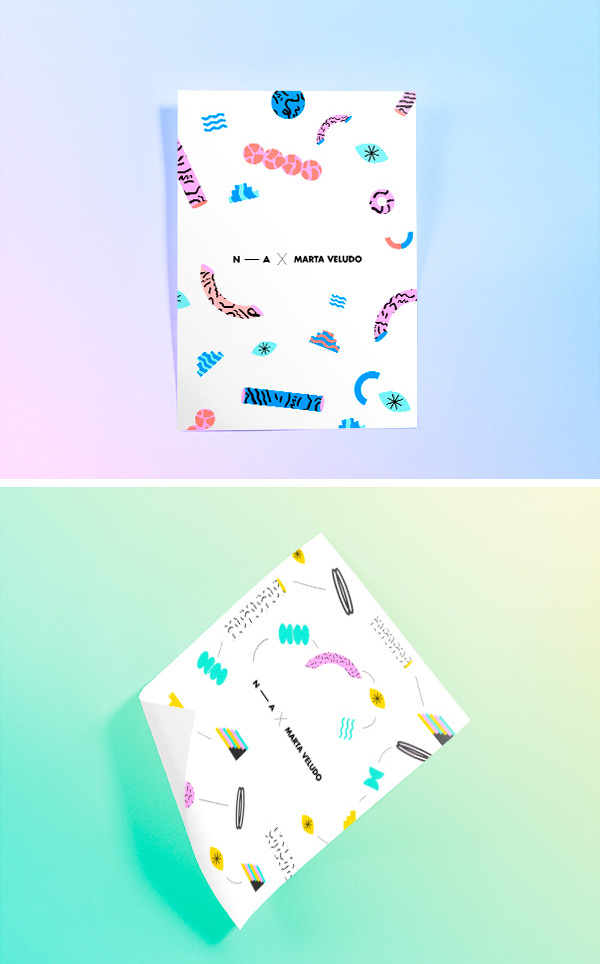 This is a set of 2 clean mock-ups with beautiful gradient backgrounds to showcase your poster designs, photos or artwork. You can choose to go with a poster held by binder clip or a gravity defying poster as seen in above image. Available for free download.
Poster Frame Mockup Bundle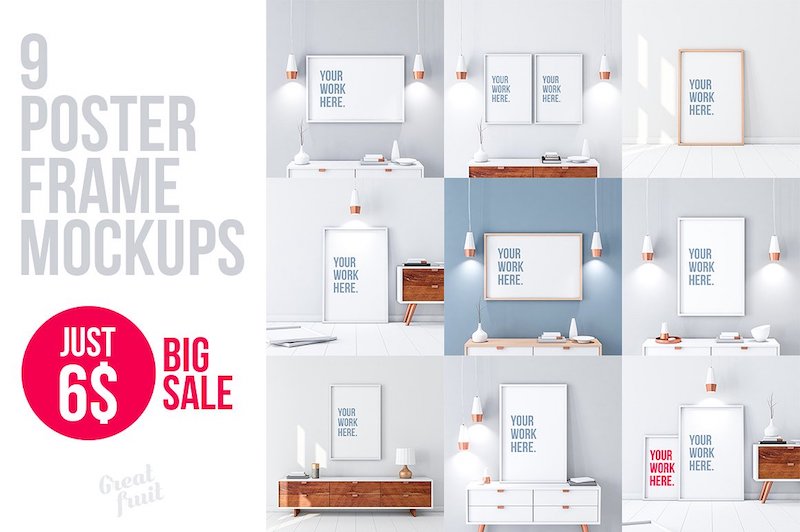 Collection of 9 poster frame mockups to present your designs framed and displayed in modern interior settings with soft lighting.
Stylish Poster Mockups
This premium mockup pack includes 11 stylish interior poster mockup scenes with photorealistic renders, reflections and refractions.
Flyer/Poster Perspective PSD Mockup (Free)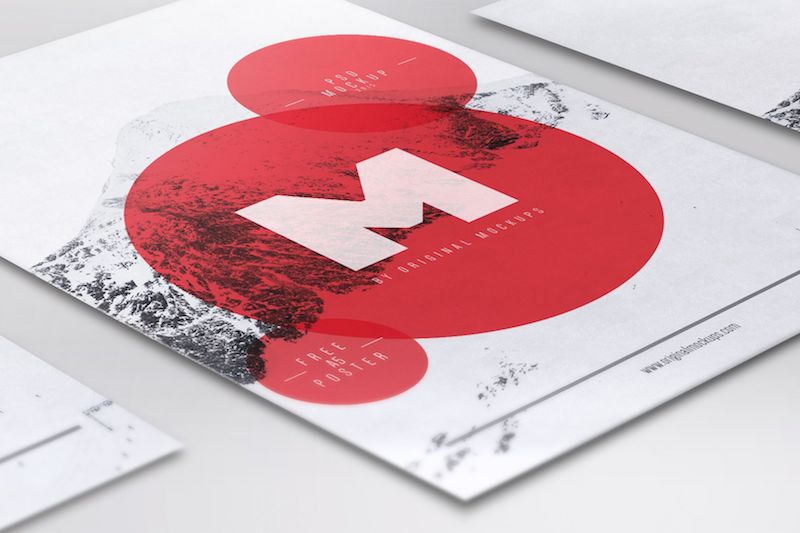 Free mockup to display your A5 size poster and flyer designs for an event in a realistic way.
Poster Frame Leaning Against Wall MockUp (Free)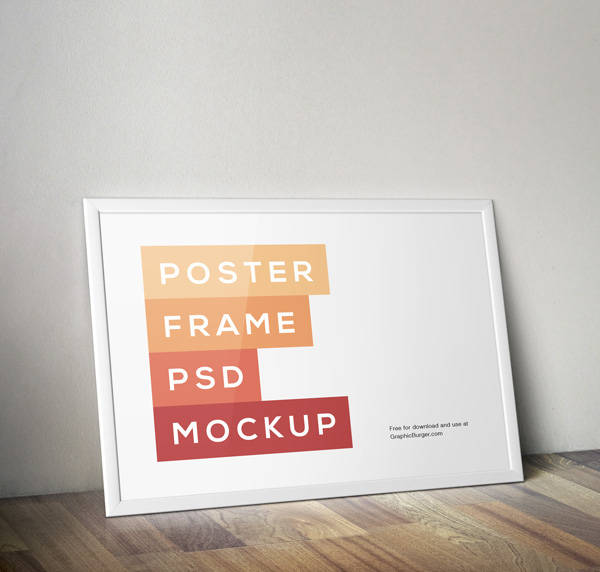 Photo-realistic mockup of a framed poster with both horizontal and vertical views. This free Photoshop template is smart object ready and you just need to drag and drop your design.
Square Poster Frame Mockup Set (Free)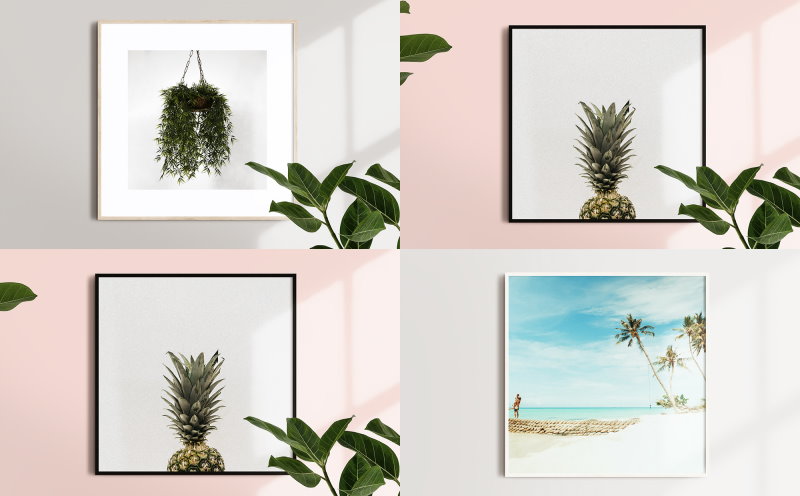 With this square poster frame mockup set, you can present your poster design in a unique way. It comes with 4 frame color options, foreground plant layers that can be toggled on/off and editable wall colors. I have used this square mockup template to create preview images of my Be You Quote Poster. Do check it out!
Man Holding Poster Mockup (Free)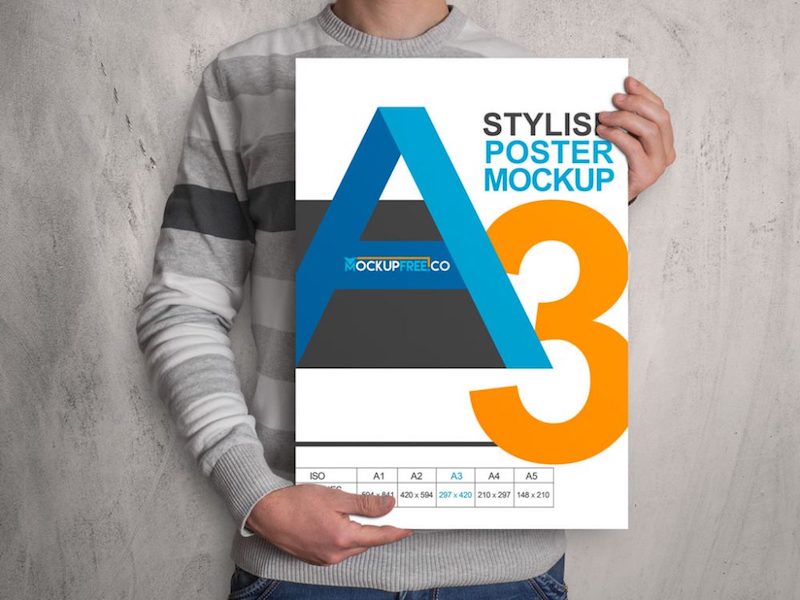 A high-resolution presentation mockup for a man holding an A3 size poster in his hands with textured wall in the background. Dimensions of this poster are 4000×3000 px at 300 DPI.
Posters in the Subway Mockup Set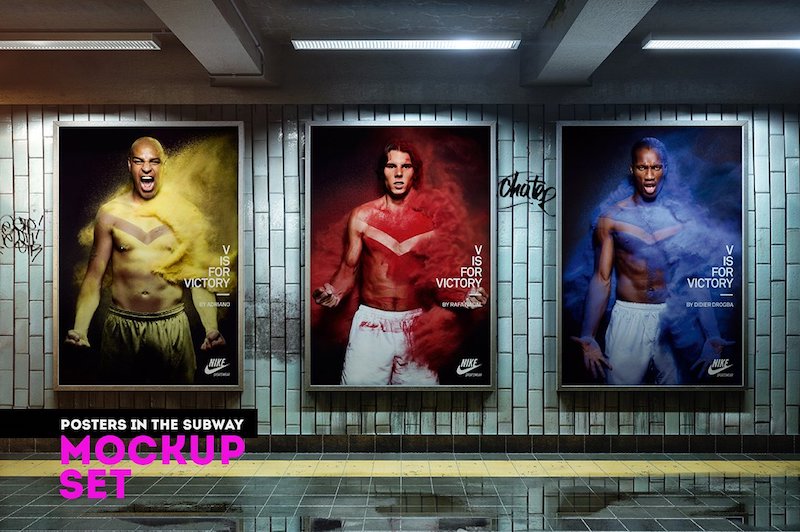 This set of 4 mockups is perfect for when you are designing advertorial posters to be displayed in underground subways and metro stations and you want to showcase your designs to your client in a real-world environment.
Vertical Indoor Advertising Poster Mockup (Free)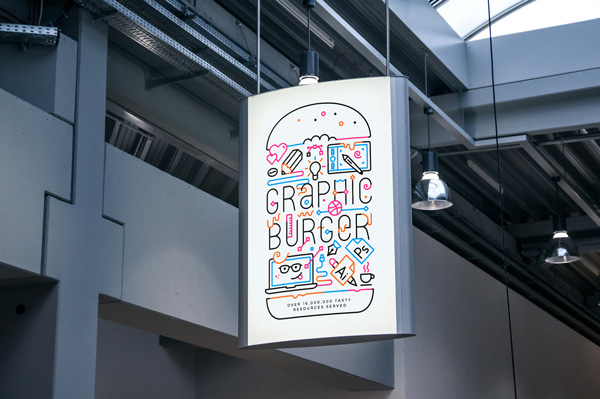 An indoor advertising poster mock-up to help you create a neat presentation for your next promotional poster design.
A3 PSD Poster Mockup (Free)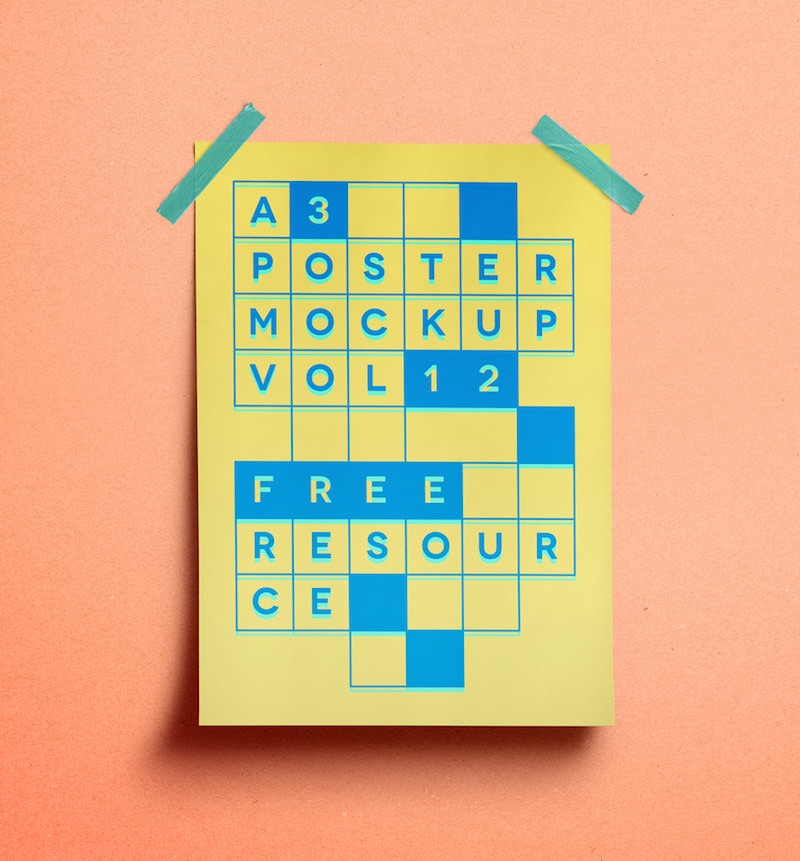 Presentation mockup for an A3 sized poster with sticky tape to showcase your designs in a fun, informal way.
Poster Retro Frame on Wall Mockup (Free)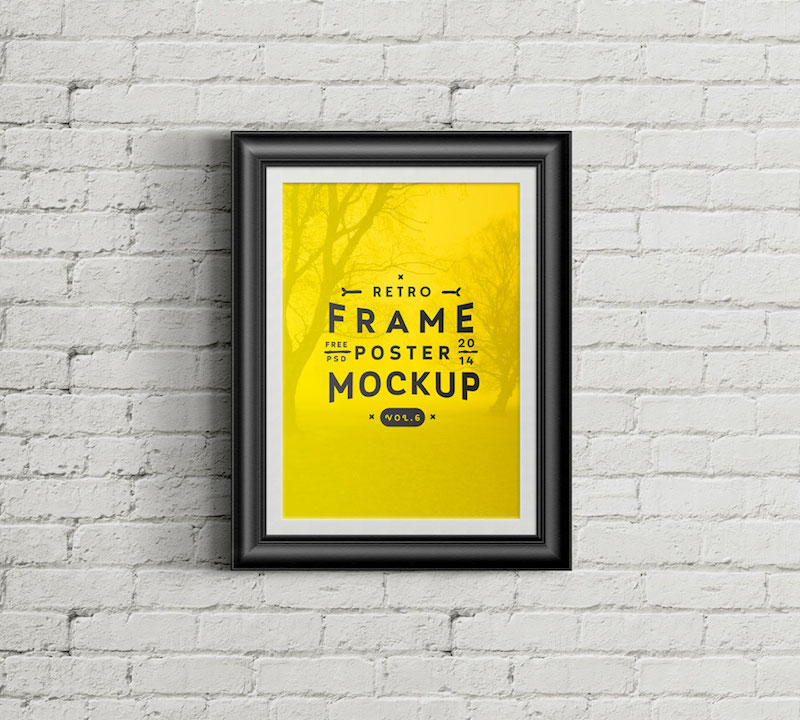 A free mockup of an old, retro frame against a brick wall background to see how your poster design will look framed on a wall. The brick background is also supplied with the download.
Mockup Poster Tabloid Size (11×17)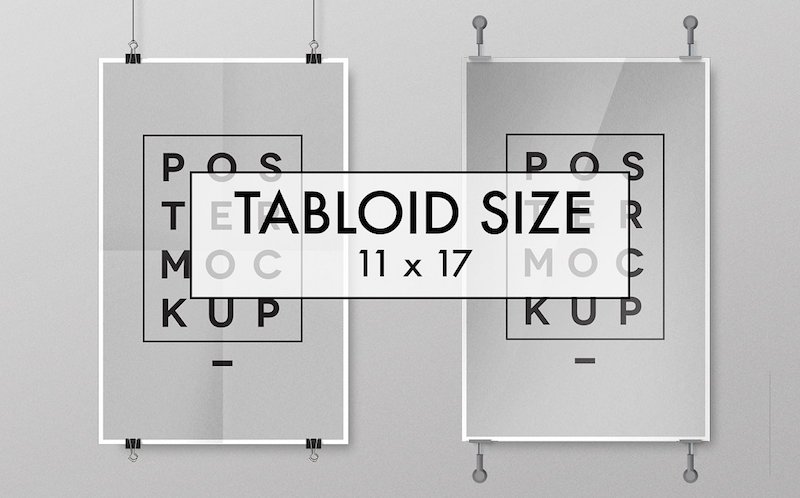 Tabloid poster mockup for showcasing 11×17″ size poster designs. Comes with multiple backgrounds, effects such as crinkle paper, folds, glass reflection and hanging options including steel cables, clips, strings, frame and glass.
Hanging Poster Mockup (Free)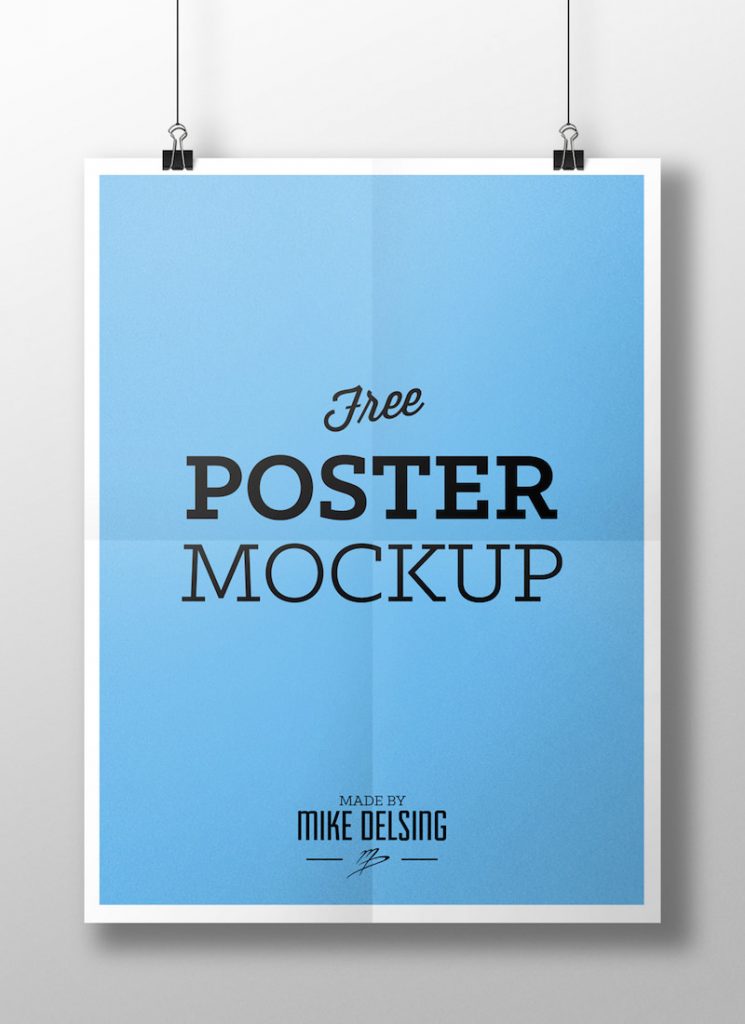 A free, minimal Photoshop mockup of a hanging poster with fold creases. Comes with different lighting options.
Modern Poster Presentation Mockup (Free)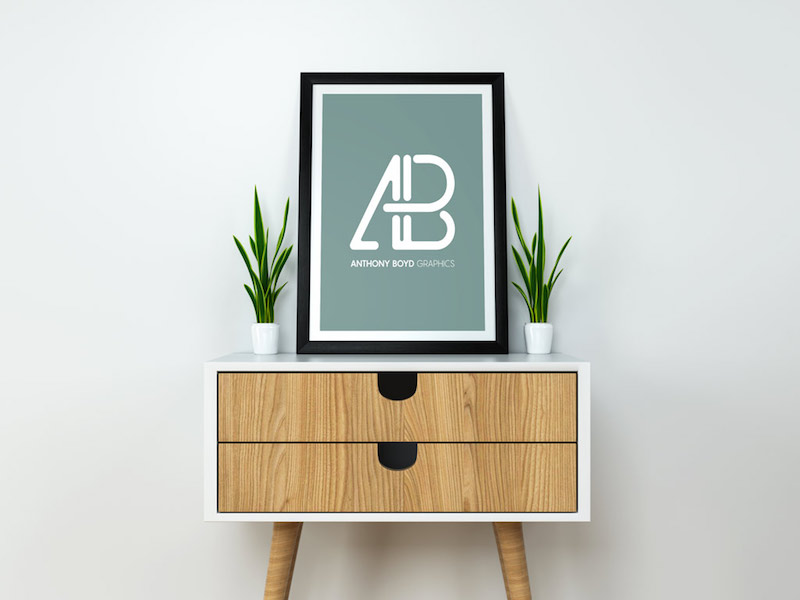 Present your designs and artworks in a modern, minimal indoor setting with this photo-realistically rendered and free PSD mockup of a framed poster on a table.
3 Urban Poster Mockups (Free)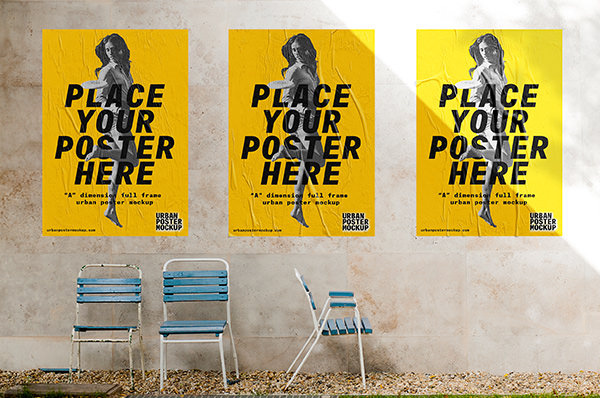 Realistic poster presentation mockups in 3 different outdoor urban settings. The PSD files are based on high resolution photos and you can easily place your own designs using smart objects. This mockup is completely free to download. You can also choose to buy the complete bundle of urban poster mockups that includes 379 psd mockups.
Square Poster Mock-up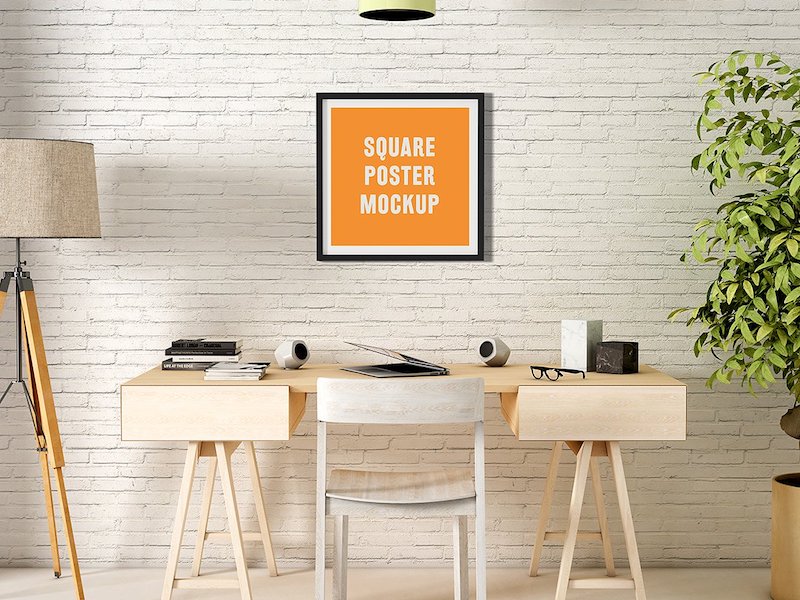 This premium mockup comes with 2 PSD files for showcasing your square posters hung on a wall. The frame color is changeable.
Large Poster PSD Mockup (Free)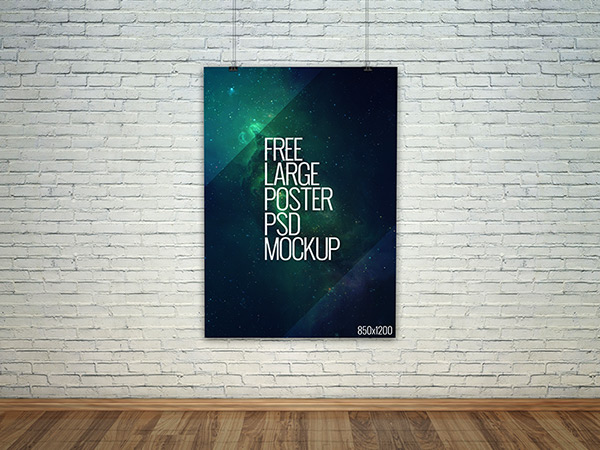 An eye-catching mockup for hanging poster with reflections to depict your design displayed in a gallery. Available for free download as layered PSD file with smart object to easily place in your artworks.
Triple Poster Mockup PSD (Free)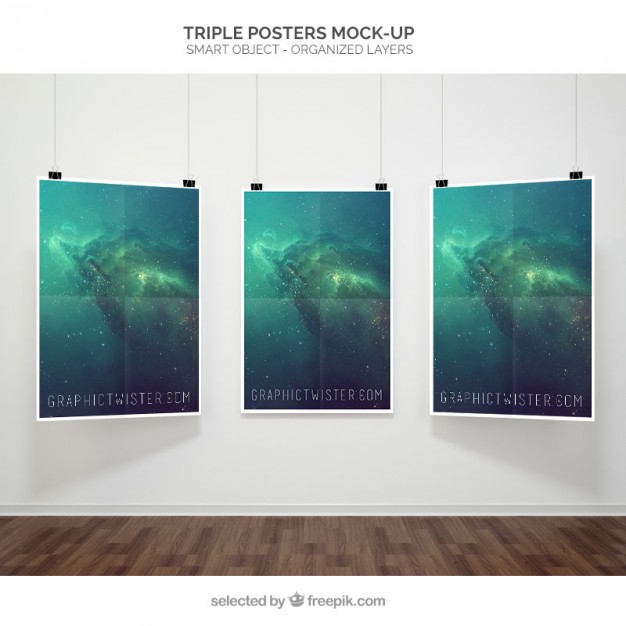 Free mockup of three vertical posters hung side by side inside a gallery.
Street Poster Mock Up Design (Free)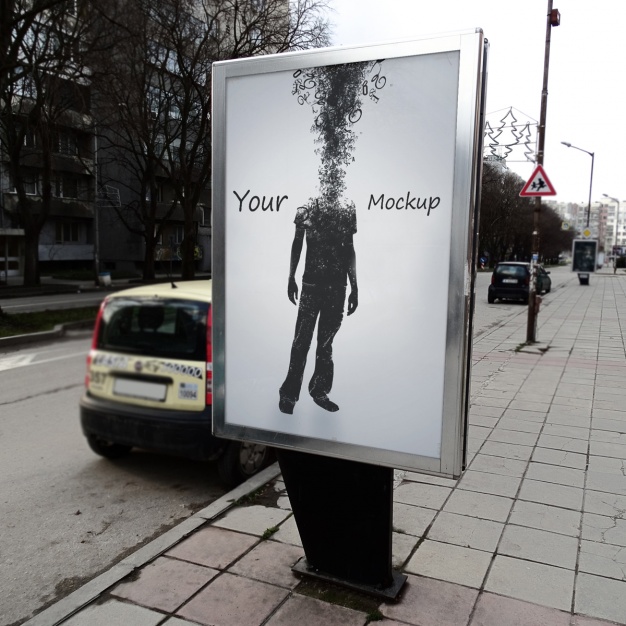 Present your design realistically in a real-world street scene with this free PSD template of a poster displayed on the street.
Hanging Wooden Poster Frame Mockup (Free)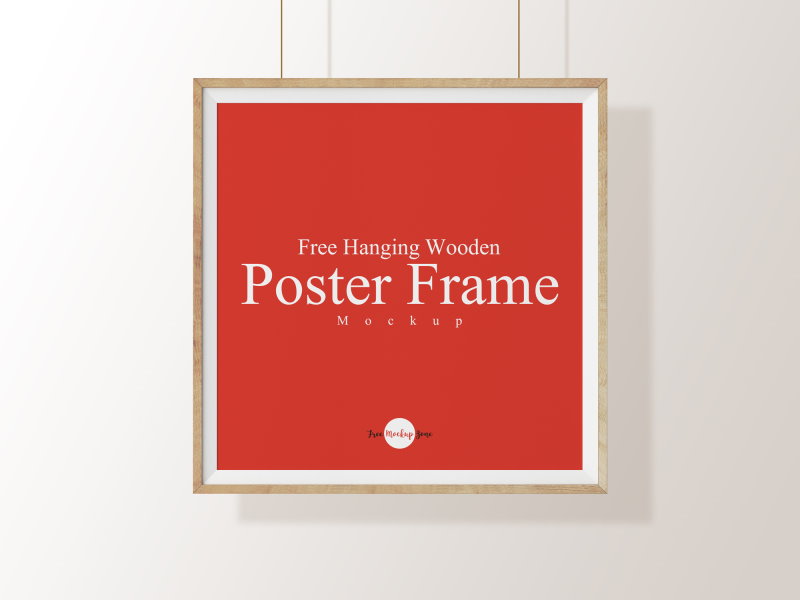 This is a free PSD mockup template for showcasing your square poster designs hanging inside a wooden poster frame. You can see this mockup used in the preview images of my Live Laugh Love Quote Poster.
Grunge Poster/Flyer Mockup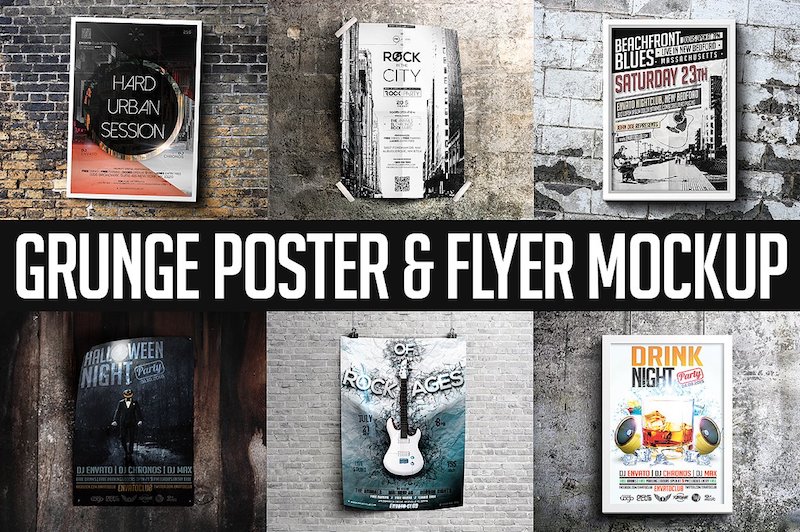 6 PSD files are included in this mockup bundle of posters displayed against grungy, weathered walls. Poster Dimension: A4.
Multipurpose A4 PSD Poster Mockup (Free)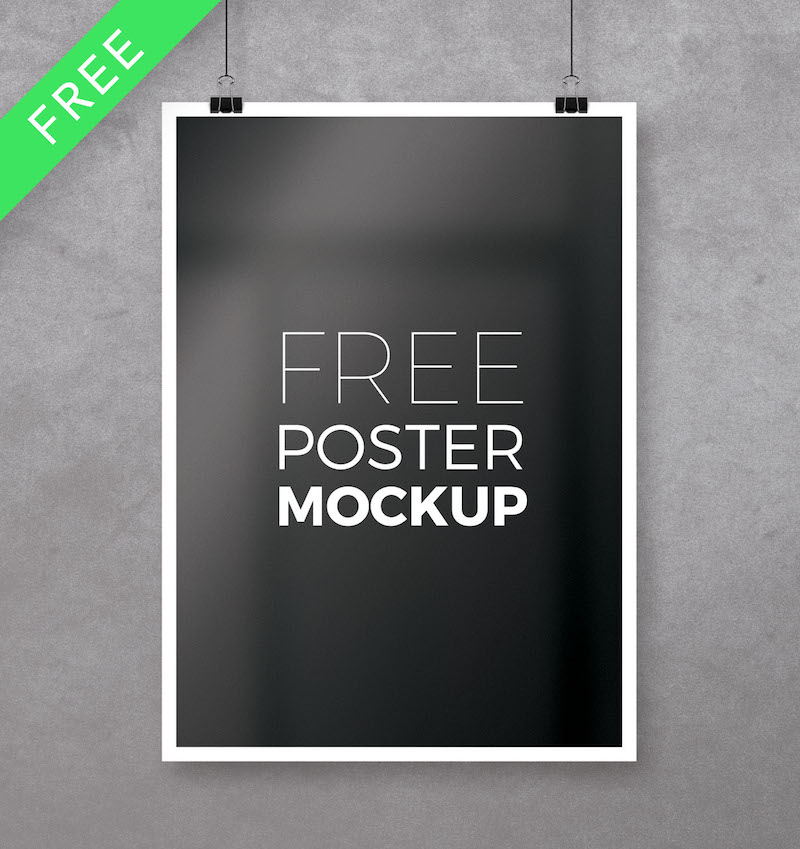 High-resolution PSD mockup for A4 size poster with real reflections and shadows. You have the option to choose between a hanging poster with/without frame or a framed poster fitted on a wall.
A3 Poster Mockup Bundle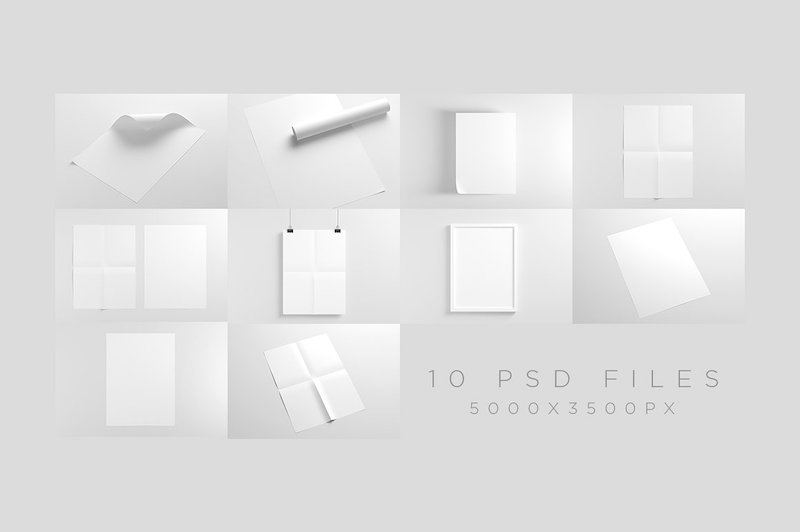 This A3 poster mockup bundle includes 10 PSD mockups with different layouts as seen in the above image.
PSD Wood Frame Mockup (Free)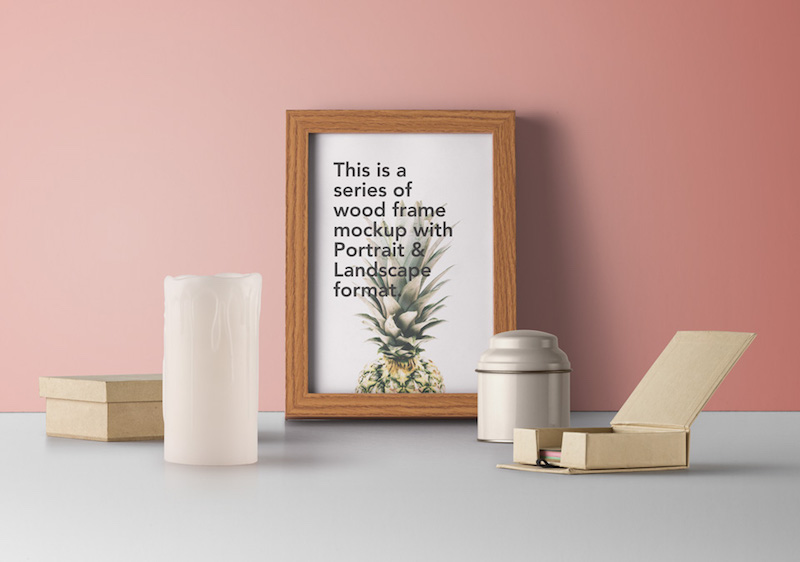 This is a set of two wooden frame mockups leaning on a wall in vertical and horizontal orientations. Additional accessories such as boxes are also included. Download and use it for free in your work.
Outdoor Framed Poster Mockup (Free)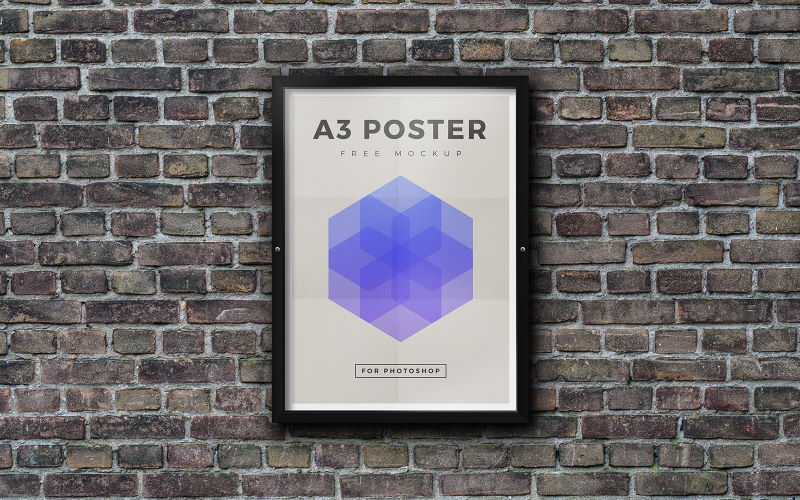 This free Photoshop mockup template features an A3 poster inside a metal frame with glass cover in an outdoor setting. 5 high quality brick and concrete texture backgrounds are also included in the download that you can use to customize the outdoor mockup scene.
Hanging A3 Poster PSD Mockup (Free)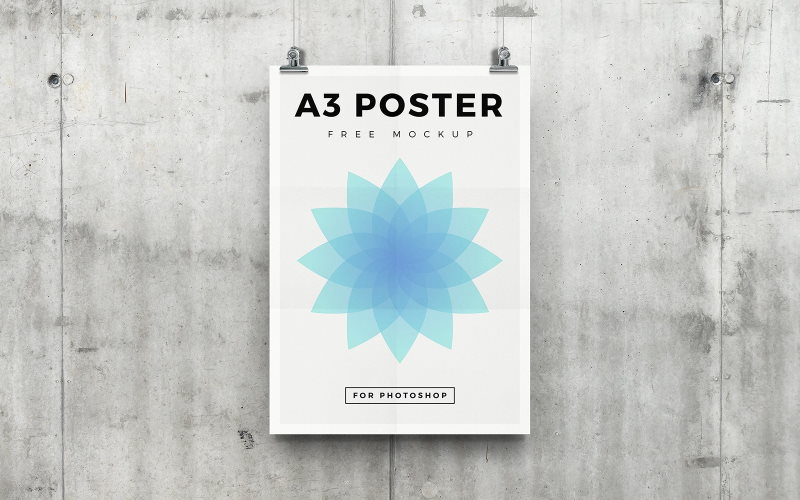 Showcase your design with this free high resolution poster mockup of an A3 size poster hanging from clips within a professional studio/art gallery setting.
Indoor & Outdoor Poster Mockups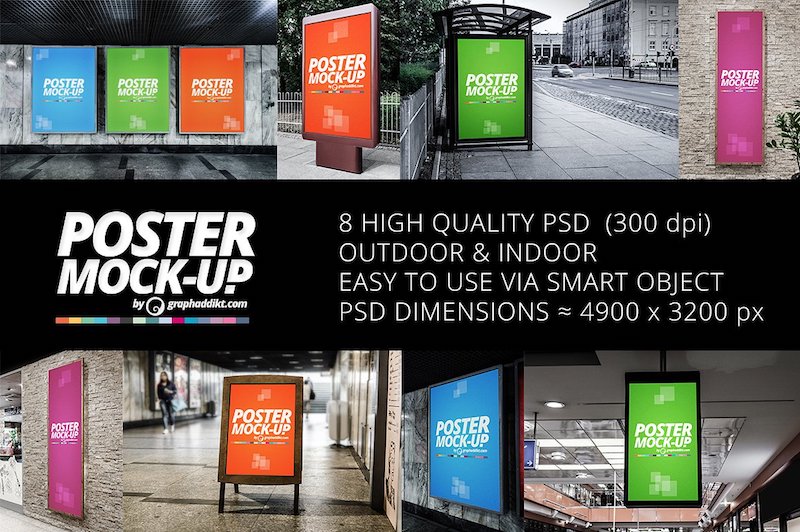 A set of 8 high quality indoor and outdoor PSD mockups available for purchase from Creative Market.
Bus Stop Billboard Poster MockUp (Free)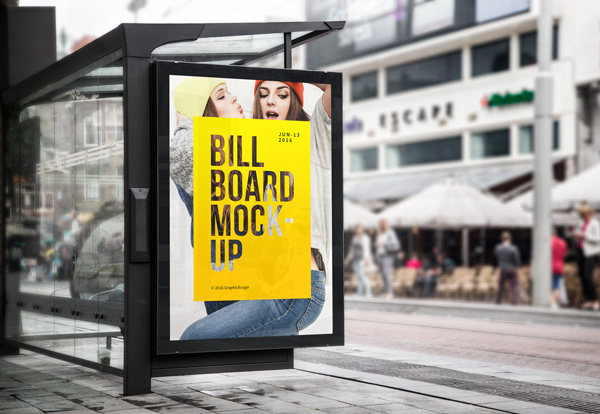 Outdoor bus stop billboard poster mock-up you can use to create a realistic presentation for your advertising campaign, posters or artworks.
Related: Free Billboard Mockups PSD
Dark Styled Poster Presentation Mockup (Free)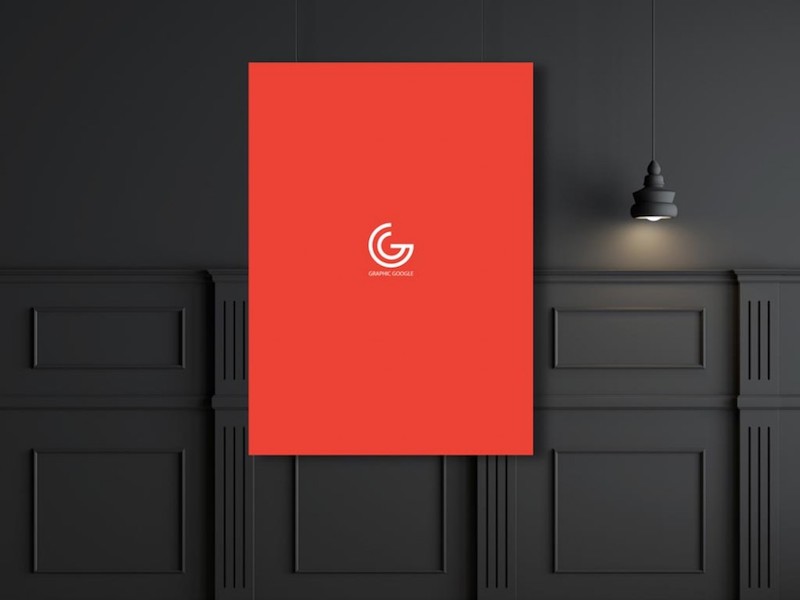 Free mock-up of a hanging poster with a dark background and lighting available for download as 300 DPI Photoshop file.
Whether you need to present your poster designs to your clients or display them on your portfolio, these PSD poster mockups will help you showcase your work in a realistic and professional way. If you like this collection of free mockups, do share it with your fellow designers and help spread the word. Thank you!
Related: