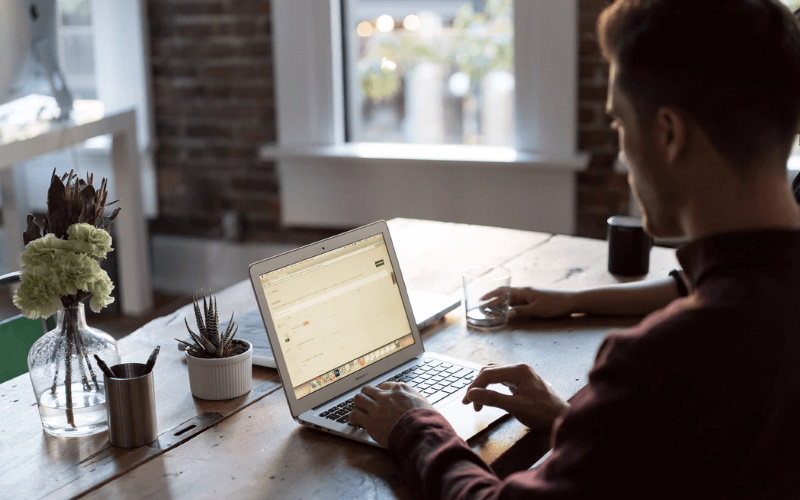 You can have a stunning ecommerce website and the best product in the world yet still get very little to no sales.
Considering how noisy the internet has become, that is to be expected.
Without a strategic way of spreading the word about your products, your ecommerce business is bound to be trampled upon by the tsunami of posts that are published daily. Recent statistics showed that 7.5 million blog posts are published daily. With that much noise, your audience will never reach your website and learn of your existence.
To grow your ecommerce business, you need to learn how to sell online and bring targeted people to your website.
The ecommerce marketing strategies we'll cover in this guide can help you with just that.
What is ecommerce marketing, anyway?
The things you do in ecommerce marketing have a massive overlap with other marketing methods.

They're similar for the most part. The difference is intent.
The primary purpose of ecommerce marketing is to sell.
If you're publishing blog posts, sharing them, and are finding ways to generate likes, shares, etc., but you have no intention of selling a product or service, then you aren't doing ecommerce marketing.
Whatever marketing tasks you do can be categorized under the ecommerce marketing umbrella if your intention is to sell.
Reliable strategies for ecommerce marketing
Now that you have a top-level view of what ecommerce marketing is about, it's time to discuss the strategies.
1. Use marketing automation tools
The common denominator that most effective marketing strategies have (aside from them generating great results) is they're time-consuming to pull off.
You need careful planning, research, content creation, tracking and optimizing results, etc. It requires time, effort, skill, and mindfulness to pull these off.
That is why it pays to use marketing automation tools.
Automation cuts down the hours and effort you exert to accomplish your marketing campaigns. After setting up your automation, it'll keep on executing the tasks even without your help.
Suppose you attended a recent virtual summit and you want to connect and nurture your relationship with the people you networked with on the online conference.

You can use automation to send them emails and a sequence of follow-ups so your chances of getting a reply from them drastically increase.
Also, when someone views products on your website, you can use that as a trigger to start sending a sequence of email messages or SMS, enticing them to view your product again or proceed with the purchase.
Omnisend is a classic automation tool that ecommerce store owners use. Among many things, the platform allows you to build an automation workflow to set triggers and automated responses. The sequence below shows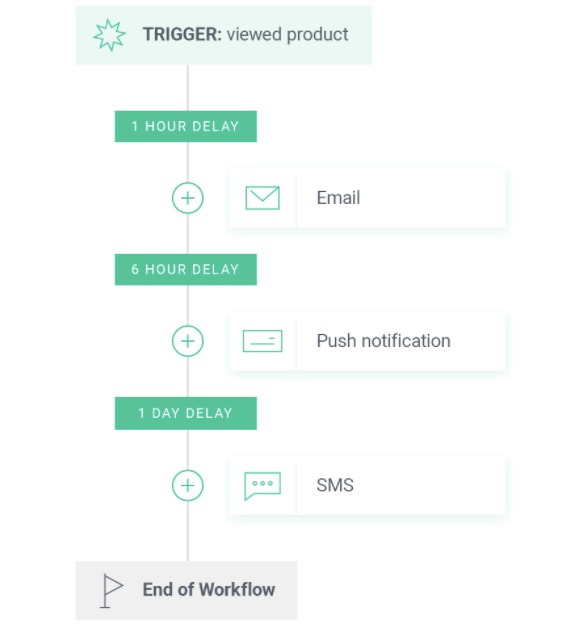 (Source: Omnisend)
After setting your workflow, you can forget about doing the tasks personally since it will be executed by the platform automatically.
This saves you the effort of having to do repetitive tasks so you can accomplish more.
2. Birthday marketing
The usual way of pulling off a birthday marketing campaign is to send your customers a birthday greeting together with a coupon or a special offer during their birthdays.
Birthday marketing strategies are great because it shows your customers that you are mindful of them.
That you remembered their special day and that you took the time to greet them.
Ultimately, you make them feel special by using this marketing method.
Making them feel special is a great way to build meaningful relationships with your customers. It takes your relationship from being a transactional one to one that is more personal — which causes them to trust your company.
The more they trust you, the easier it becomes for them to buy from you.
To create a professional-looking graphic design for your birthday greeting, use free software, such as Canva.
The platform has a lot of premade birthday greeting templates to choose from.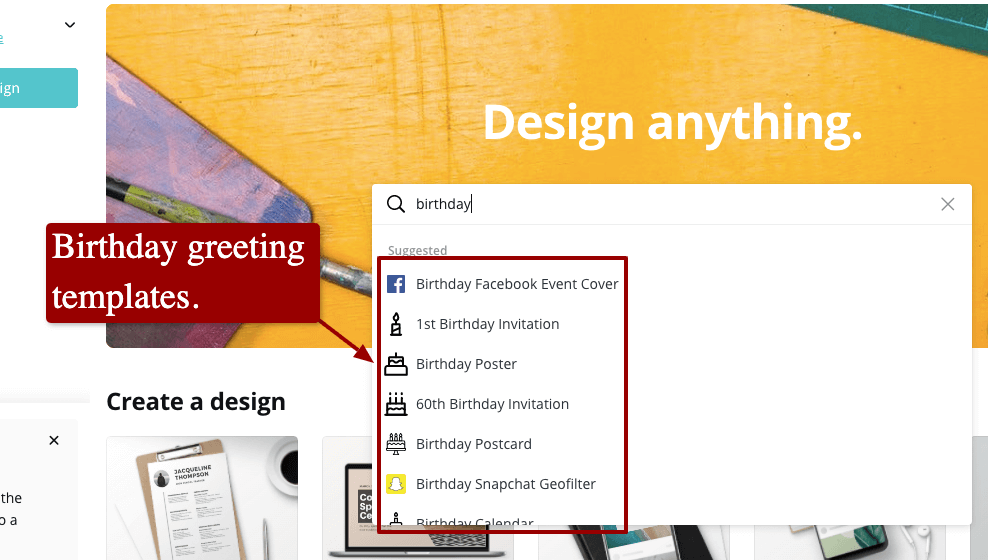 I chose "Birthday Poster," and Canva came back with over 100 templates.
Here's how their results page looks.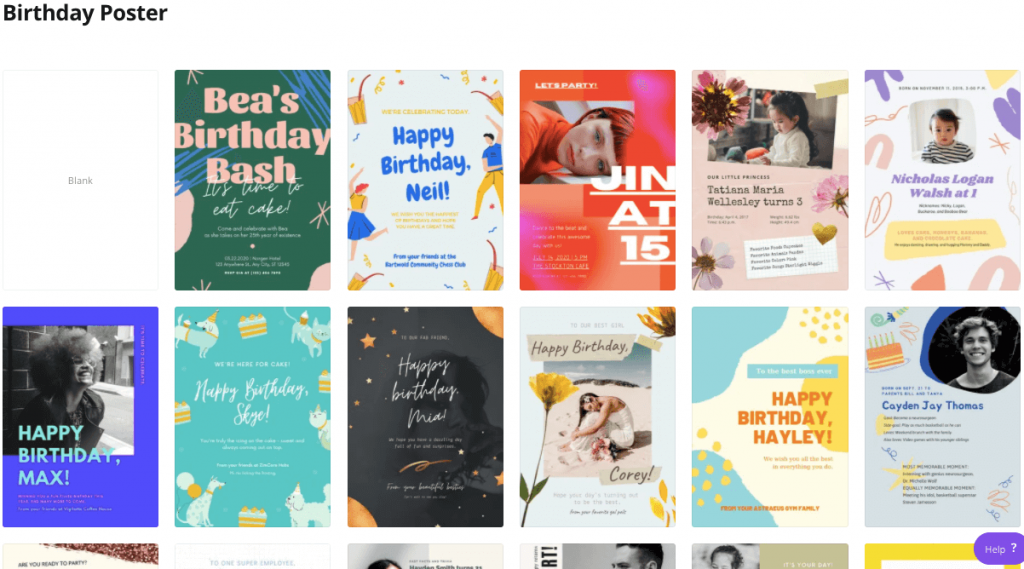 Pretty neat, huh?
If none of the birthday templates fit, use templates from other categories then simply change the texts then add "Happy Birthday!"
By taking the time to create stunning graphics, you'll get better engagements from your audience, which then increases your chance of converting them into paying customers.
To stay on top of your audiences' birthdays or special events, use a free task management software. Use the tool to set reminders or notifications for your customers' up-and-coming birthdays.

You can also diversify and improve this strategy by using the same approach on other events such as anniversaries, Mother/Father's day, etc.

When you're there to greet your customers on their special days, you become more "sticky" on their minds, ultimately improving your relationship with them and turning it into something more meaningful.
3. Add countdown timers
Countdown timers invoke the fear of missing out (FOMO).
By seeing the clock ticking, your web visitors are compelled to make the purchase immediately; otherwise, they'd miss the opportunity of either taking advantage of your special offer or buying your product altogether.
That bit is important because if your customers don't buy immediately, chances are, the purchase isn't going to happen.
(They are flooded with bazillions of content, after all.)
By adding a countdown timer, you are telling your visitors that they don't have the option to buy at a later time. This strategy has been doing wonders for ecommerce store owners who've been wanting to generate leads and grow their sales.
4. Guest post
You don't always need to pay for ads to bring traffic to your ecommerce store.
With the help of advanced content marketing strategies, such as publishing guest posts, you can generate long-lasting, unique, and relevant traffic by ranking your pages on the search engine results pages (SERPs).
To rank your product pages on the SERPs, you need a carefully executed and planned search engine optimization (SEO) campaign.
SEO can be categorized into two factors: on-page SEO and off-page SEO.
On-page SEO includes aspects such as optimizing your website for mobile-first indexing, adding proper metadata, improving your site's load speed, etc. It is the internal aspect of SEO that you have more control over since you'll deal with your website.
Off-page SEO, for the most part, is about building quality backlinks to your site. (That's not all there is about off-page SEO, by the way, but seasoned marketers believe that backlinks are still the most crucial aspect of off-page SEO.)
Guest posting is a great way of building backlinks to your site.
The strategy is straightforward:

Step 1: Look for authoritative sites relevant to your niche.
Step 2: Reach out to the webmasters and pitch a guest post.
Step 3: Write your article with a link back to your website.
Step 4: Send the article to the webmaster.
Step 5: Once the webmaster publishes, we're all happy campers.
To help you with step one, use advanced search queries so Google will come up with sites relevant to your industry that accept guest posts.

I used Buzzstream's Link Building Query Generator tool.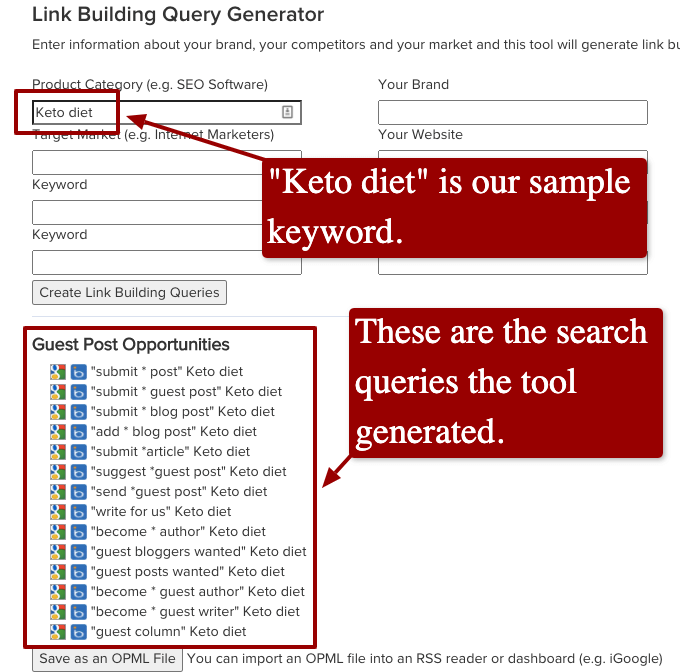 If you enter one of these search queries in Google's search box, it'll come up with sites that accept, or have already accepted, guest posts.
Here's how it looks.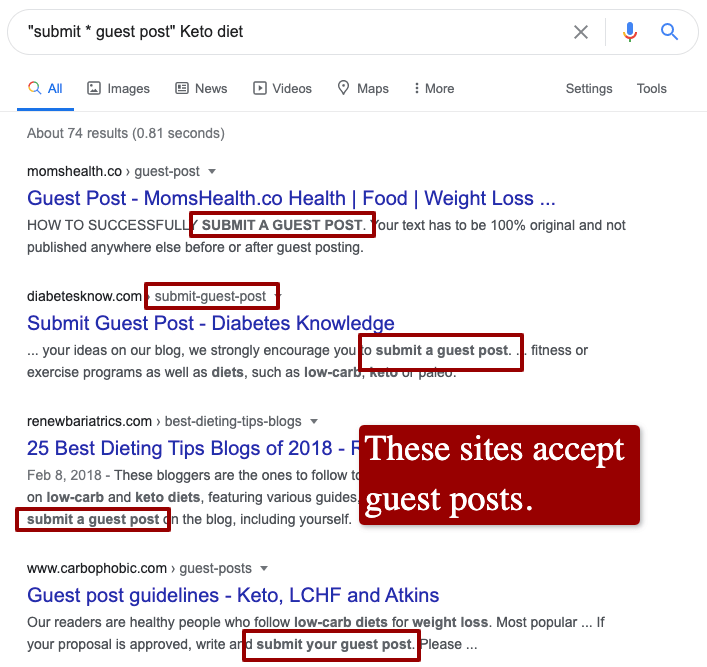 At this point, you just need to send your guest post pitch to your prospect sites so you can hear from their webmaster and obtain direction for the next steps.

Since these webmasters already published guest posts in the past, there's a good chance they'll accept your guest post pitch, too.
After optimizing your ecommerce website's pages for the search engines and aggressively building backlinks, use a website ranking checker to monitor the results of your SEO initiatives.
Look out for the keywords your website is already ranking for that are within the top 20 results. Invest in improving their rankings as opposed to looking for some new keywords that your site isn't already ranking for. This is a common and reliable SEO strategy used by established marketers.
Which strategies for ecommerce marketing would you like to use?
Now that you're equipped with several tried and tested ecommerce marketing strategies, it's time you take action.
The strategies for ecommerce marketing we shared in this guide can increase your online sales if you take the time to implement them.
Just remember to personalize them according to the dynamics of your business, track your results, test, and continue to improve and build upon your marketing strategies.