A throwback to the older times, retro design aesthetic has emerged as a popular visual design trend in recent times. To help you embrace the popular retro style in your own designs, we bring to you a collection of best retro Photoshop actions that you can use to give your graphics a stylish retro look with just a few clicks in Photoshop.
With these retro photo effect actions, you can create all kinds of realistic retro effects – neon effect, distorted glitch effect, retro futuristic cyberpunk style, 80's poster look, light leaks, and more. These effects are perfect for your retro style design projects such as social media posts, posters, flyers and banners. Speaking of retro, you might also want to check out our collection of retro style fonts and retro icons that will come handy in your designs.
Our collection has both free to download and premium Photoshop actions and we have put them in different sections for easy browsing. The download includes .ATN file (Photoshop action) that you can load in Photoshop by double clicking the action file. These actions work in a non-destructive way, the original image remains unchanged. The resulting effect is produced by a series of adjustments that you can tweak for fine tuning the final look. Be sure to check the details before downloading to make sure the action works with your version of Photoshop.
Free Retro Photoshop Actions
In this section, you will find completely free to download retro Photoshop actions. All these actions come with free personal and/or commercial use license. You will find the link to download them below the preview image and description.
Bad Print Effects Photoshop Action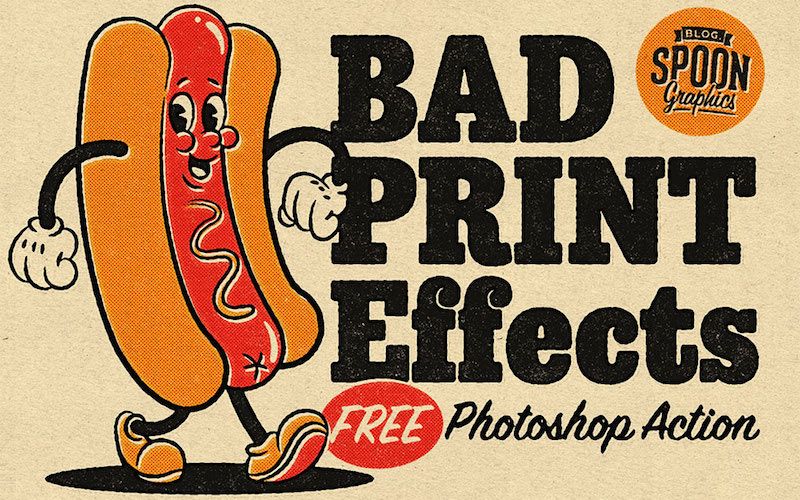 With Chris Spooner's free retro print effect Photoshop action, you can recreate the aesthetics of old magazine, comic and matchbook prints. The action applies a series of adjustments – ink bleeds, misregistration and texturing that replicate the effects of the low-cost printing methods.
Retro Engraving Photoshop Action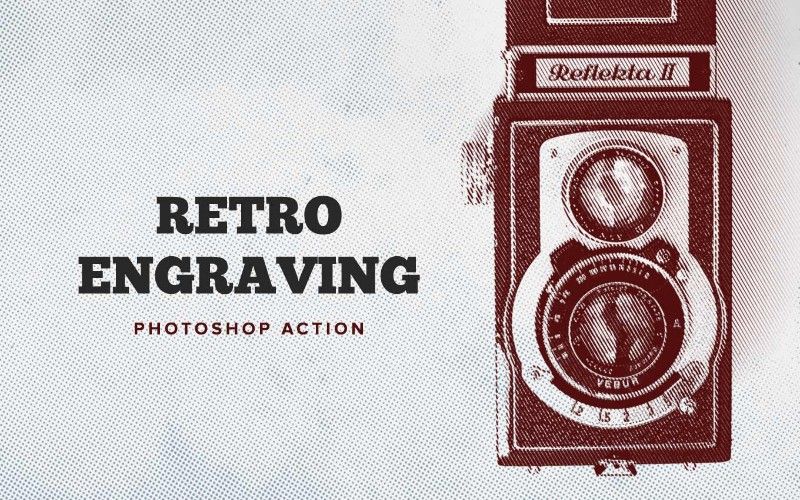 Give your photo a realistic engraved effect using this free Photoshop action. With six shapes – round, diamond, ellipse, line and cross, you can easily create engraving style vintage illustrations for your printout ideas, apparel designs, branding and visual identities, labels and more.
Anaglyph Photoshop Actions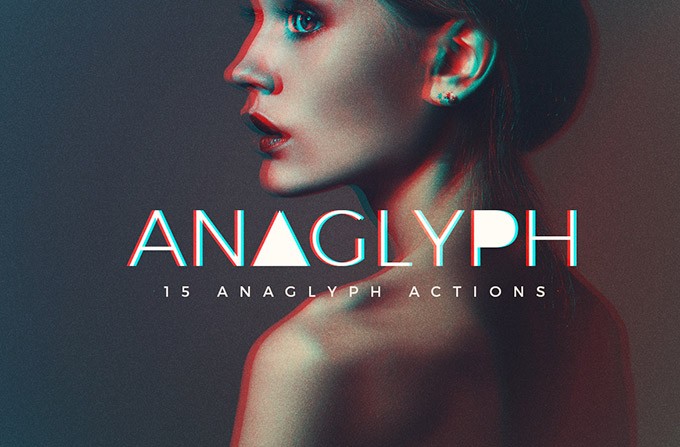 This free set of anaglyph Photoshop action from Pixelbuddha adds to your image the classic red and blue retro 3D effect that was seen in old 3D movies, comics and posters. Included are 15 anaglyph presets you can choose from to add professional visual effects to your image.
Prestalgia Retro Action Effects with Light Leaks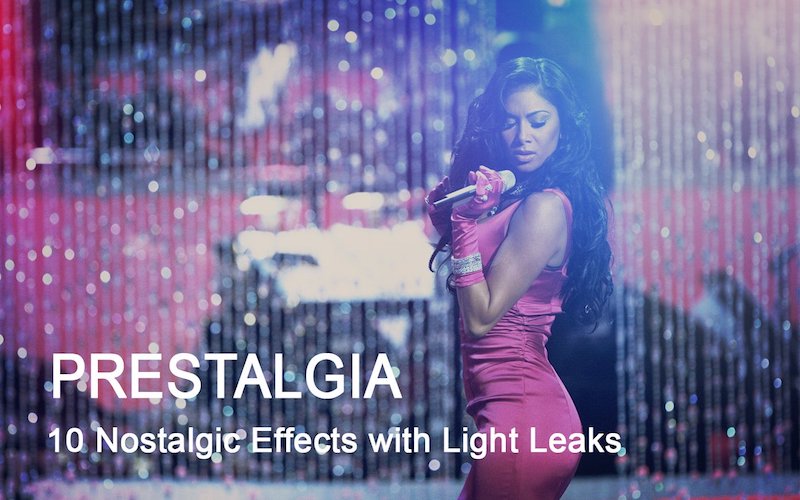 Prestalgia offers a set of 10 Photoshop retro action effects each with their own unique light leaks. With this Photoshop action, you can give your photos a retro look with light leaks seen in old film cameras.
Indie Camera Photoshop Actions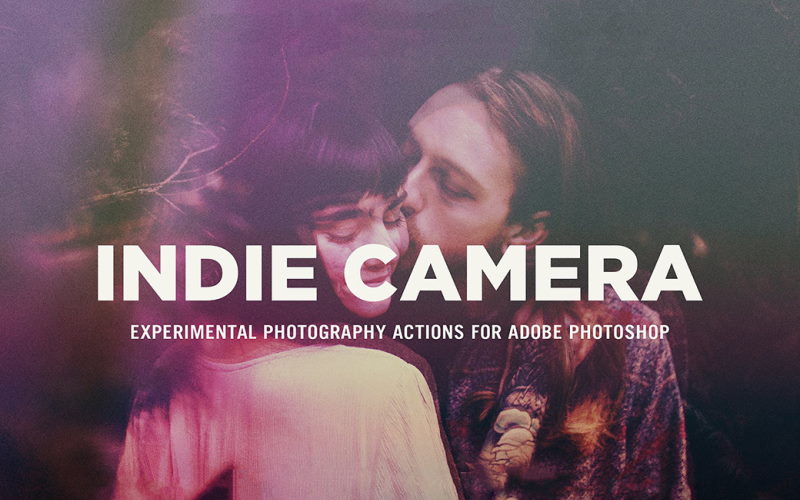 Re-discover the attractiveness of finely aged shots with this free action pack that draws inspiration from the cover photos of indie bands. A collection of 30 experimental Photoshop actions to add some strokes of glamor, grunge, retro and make something special out of your image. There is also a premium version available.
Retro Prime Photoshop Action
Bundled with 10 actions and 5 vintage textures, with this free retro Photoshop action, you can turn your photo into a piece of nostalgic retro film with a few clicks.
Glitch Effect PSD Photoshop Action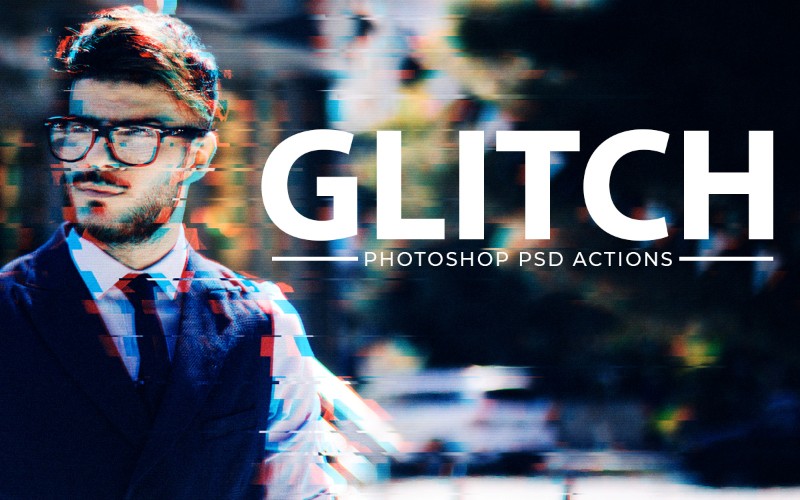 Give your image a corrupted grunge effect similar to the glitched look on old VHS tapes with this free Photoshop kit. On downloading, you'll get PSD file with smart object that you can replace with your own image. Perfect for creating distorted glitch effects, or post-apocalyptic digital interference effects.
Instant Hipster Photoshop Action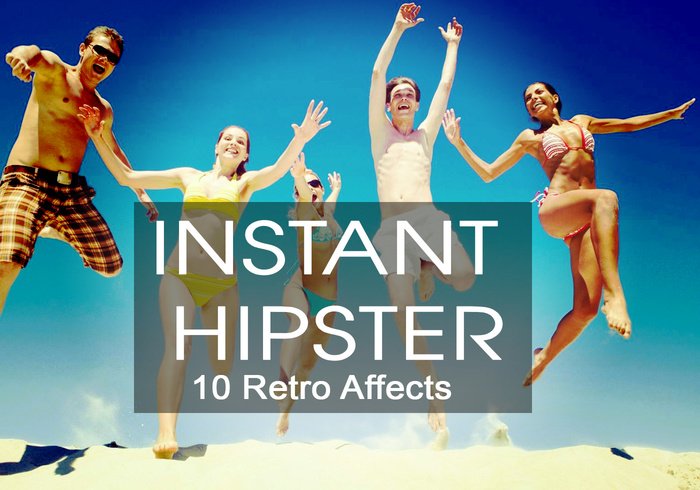 This is a set of 10 free Instagram inspired hipster Photoshop actions. You'll find actions for these retro effects – Amaro, Mayfair, Hudson, Valencia, X-Pro II, Willow, Sutro, Hefe, Nashville and 1977.
Premium Retro Photoshop Actions
Below you will find the best selling and popular retro Photoshop actions from GraphicRiver. These include actions inspired by the in demand 80s and 90s retro design, trendy cyberpunk style, retro comic look and more. Kindly note that the some of the links below are affiliate links.
Cyberpunk Photoshop Action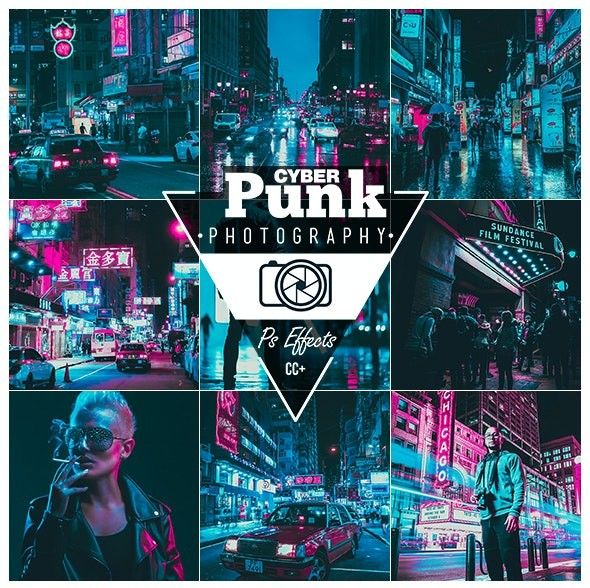 The Cyberpunk Photoshop action adds a super dramatic atmosphere to an image with vivid color grading and intense neon lightings. Ideal for creating cyberpunk style futuristic graphics, retro posters, and social media images with the vibe of the 1980s.
Pixel Artist – 8 Bit Retro Photoshop Action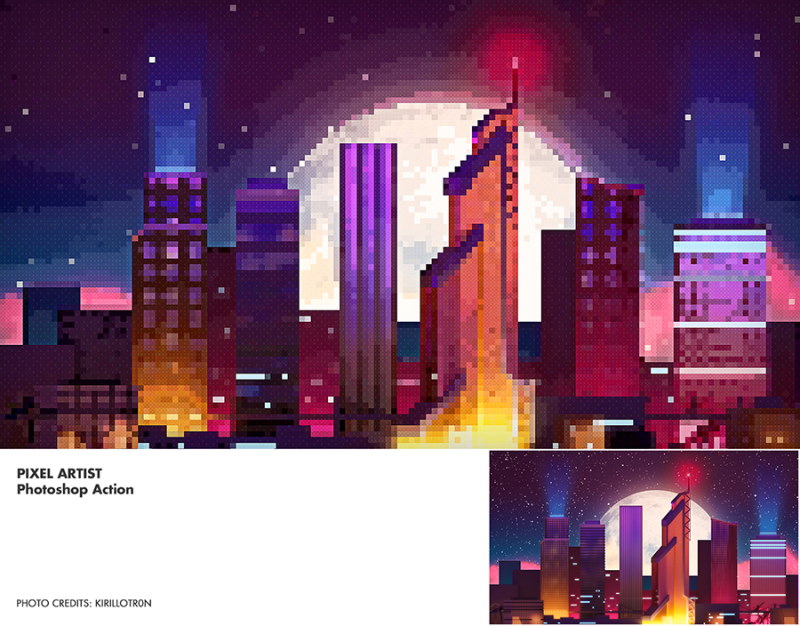 If you are a fan of retro pixel art or video games with pixelated look, this 8-bit retro effects action pack is for you. It gives you 25 different pixeled effects to choose from and works with any type of images or digital artworks.
Retro Illustrations Photoshop Action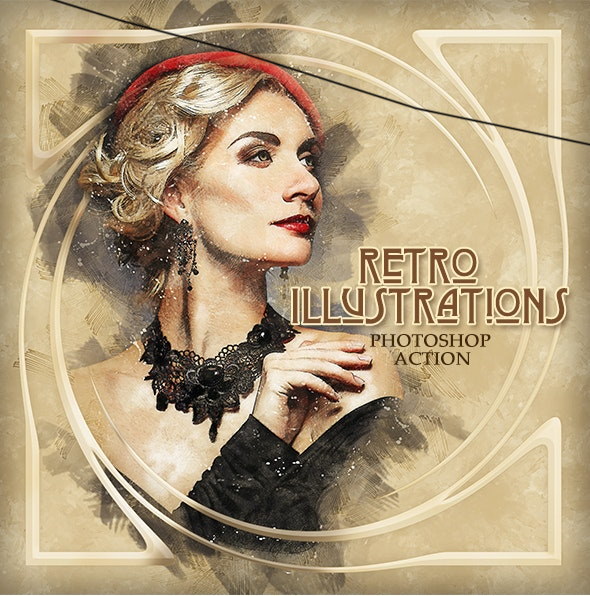 This Photoshop action can turn your photos into amazing retro illustrations in just a few minutes. The action combines pencil drawing, brush strokes, watercolor paints and the texture of old aged paper to produce the fine details of a retro illustration.
Retro Comic Book Photoshop Action Kit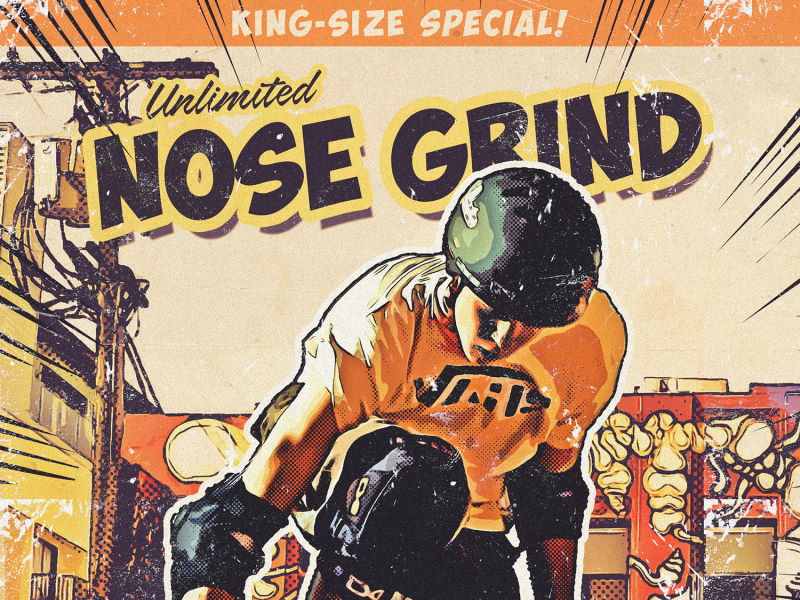 This is a premium Photoshop action kit that turns your images into realistic hand-drawn retro style comic book art in just a few clicks. The kit comes bundled with 50+ vector comic book elements including speech bubbles, sound effects and 10 color presets. You can easily tweak the different sketch and comic elements, giving you full control over the result.
We also recommend you to take a look at these Free Pop Art Elements offering 40+ comic elements including speech bubbles, splashes, explosions, patterns, half tone background and texts for different sound effects.
80's Retro Poster Photoshop Action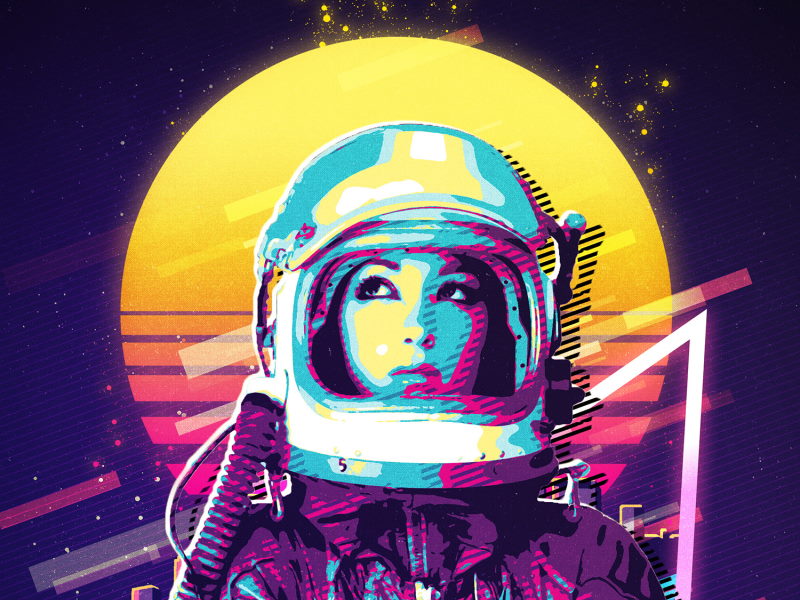 This retro action for Photoshop dramatically transforms your image into a trendy 80's style retro poster artwork. Comes with 20 color presets and various retro graphic elements that you can mix to create a unique composition.
Back to the 90s Photoshop Action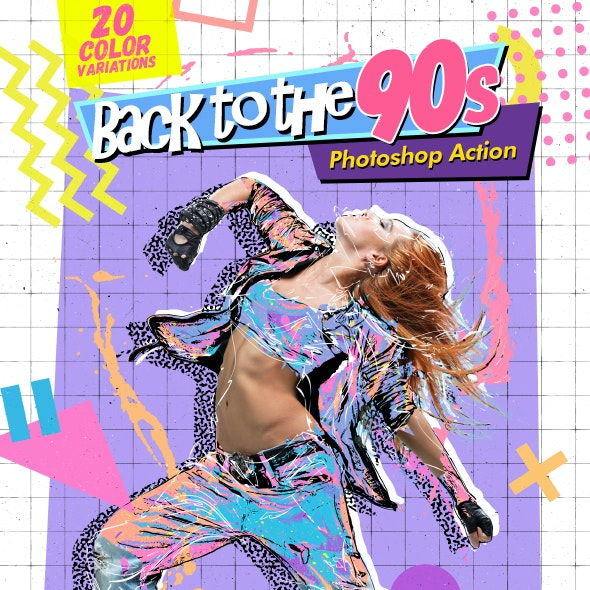 Create a cool 90s style colorful graphic complete with saturated colors, geometric shapes, and patterns using this Back to the 90s Photoshop action. You can choose from different elements, 20 color variations, and adjust background style to make your own composition.
Retrowave Photoshop Action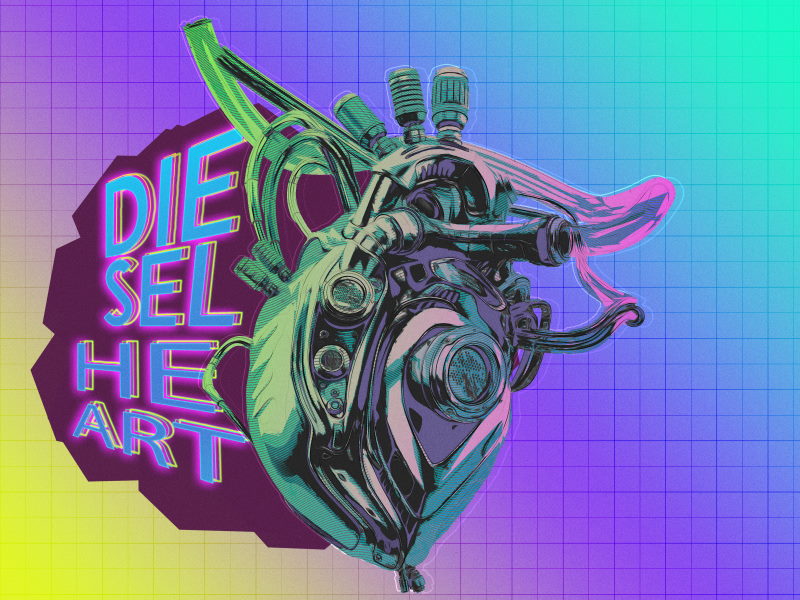 Retrowave Photoshop Action will turn your image into a futuristic poster inspired by the retro-futuristic style of the mid 2000s. After running the action, you get a well-organized and structured file with layers, folders and settings to improve the final result.
Analog Film Photoshop Action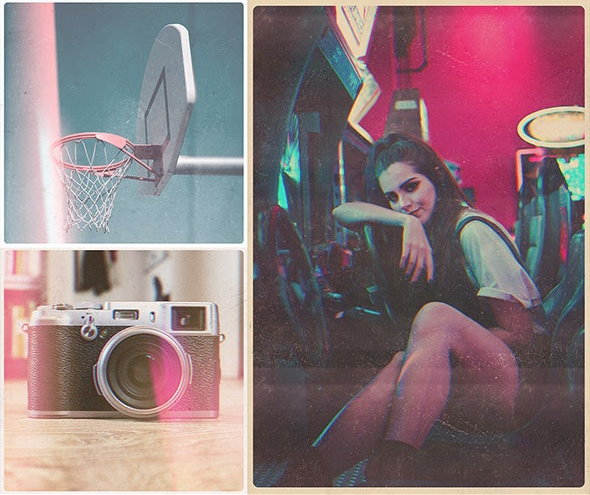 Dedicated for photographers and designers, the analog film effect action pack is designed to mimic the effect of vintage cameras and lenses. It includes 7 RGB/Glitch effects, 30 color effects, 16 light leaks and 10 dust & scratches textures to create an authentic vintage style film aesthetic.
Bring back the nostalgia of the old in modern day designs with these retro Photoshop actions. If you like this collection do not forget to share this post on your social channels.
More Photoshop Resources
To end with, we will leave you with more Photoshop freebies and resources including brushes and textures available on our blog.