Watercolor brushes for Photoshop are a versatile resource for your design toolkit. They can be utilized to add textures and depth to your designs or combined with paper textures to create watercolor backgrounds for your artwork.
In this post, we round-up some of the best Photoshop watercolor brushes that you can download and use to create realistic watercolor style effects. Our collection includes 25 sets of high quality watercolor brushes that collectively offer hundreds of ready to use Photoshop brush presets. These brushes emulate natural watercolor paint strokes, splatters, and textures, perfect for producing a hand-painted watercolor look digitally.
We have included both free and premium brushes, each of these brush pack is available to download as .ABR file (Photoshop brush) that you can install in Photoshop by double clicking the brush file. Read on!
Best Free Watercolor Brushes
In this section, you will find completely free to download watercolor brush packs that come with free personal and/or commercial use license.
100 Free 4K Watercolor Brushes for Photoshop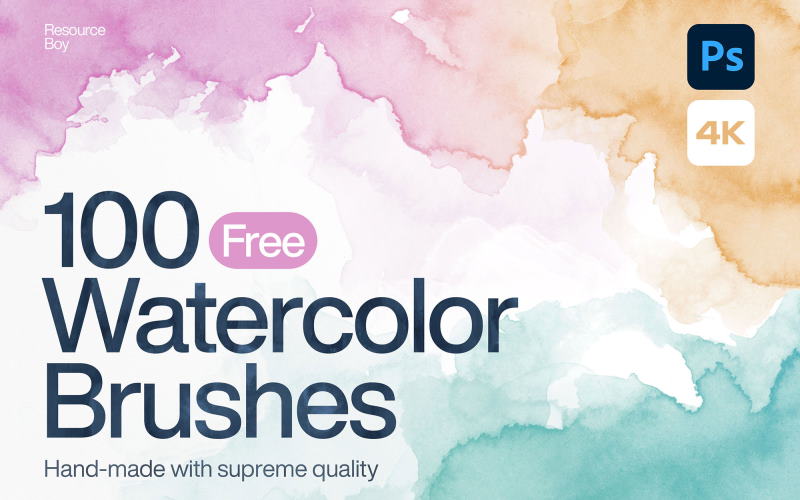 To start with, we have an awesome set of 100 free watercolor brushes from washes to drips, all handmade by the ResourceBoy team. Free to download in very high 4K resolution and royalty-free for use in both personal and commercial projects.
Watercolor Stamp Brushes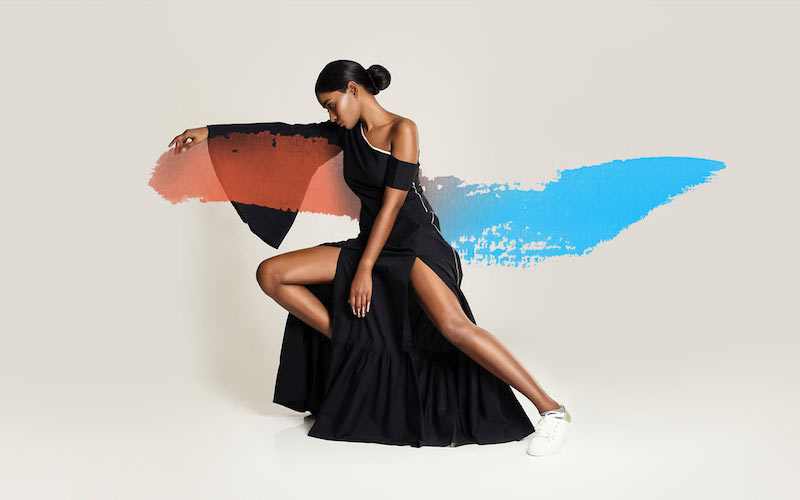 This freebie from Pixelbuddha brings 57 artistic watercolor stamp brushes for both Photoshop and Procreate. Perfect for adding eye catching accents and details to your designs. On downloading, you also get bonus gradient Photoshop styles (ASL) and PNG isolated stamps. There is also a premium version available with more brushes.
Free Watercolor Design Brushes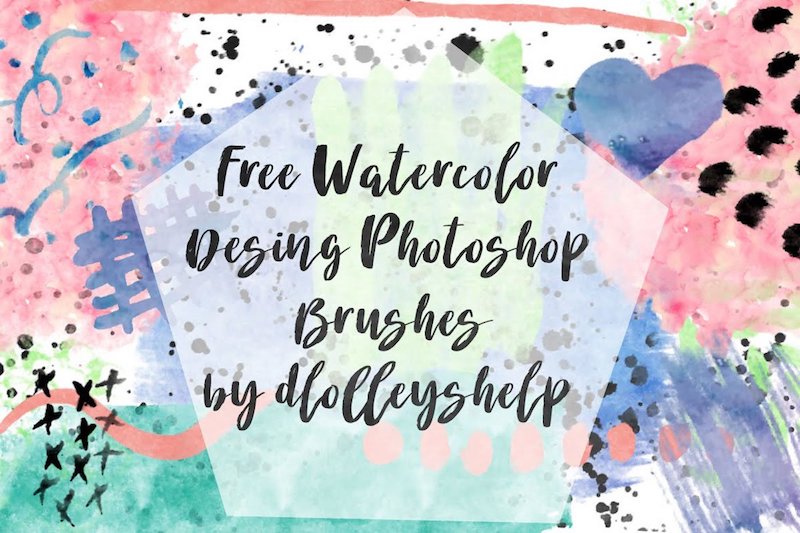 This free brush set includes over 100 high resolution watercolor brushes including splatters, shapes such as hearts, circles, brush strokes and patterns. Free for personal and commercial use.
40 Handpainted Watercolor Brushes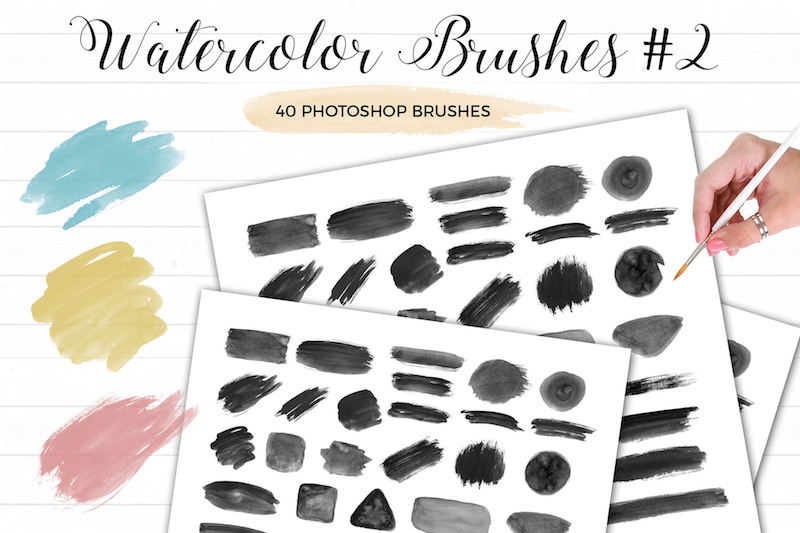 A free set of 40 handpainted watercolor shapes and strokes brushes for Adobe Photoshop. Handy add-on for creating social media banners, logos, web design elements, and much more.
28 High Resolution Free Watercolour Brushes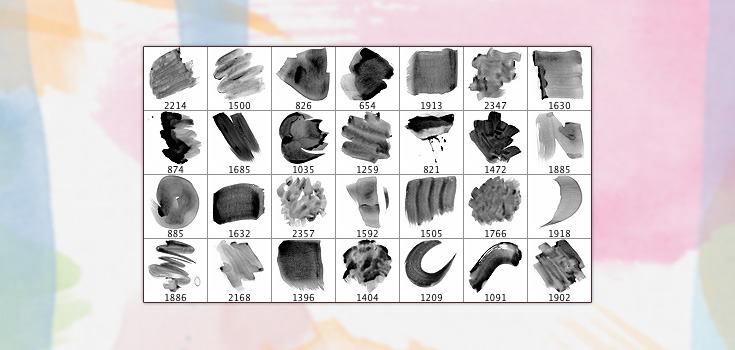 The free brush set contains a variety of washes, strokes and splats and look great when used with a soft pastel shade. The brushes range from 600px to 2200px.
Aurora Watercolor Brushes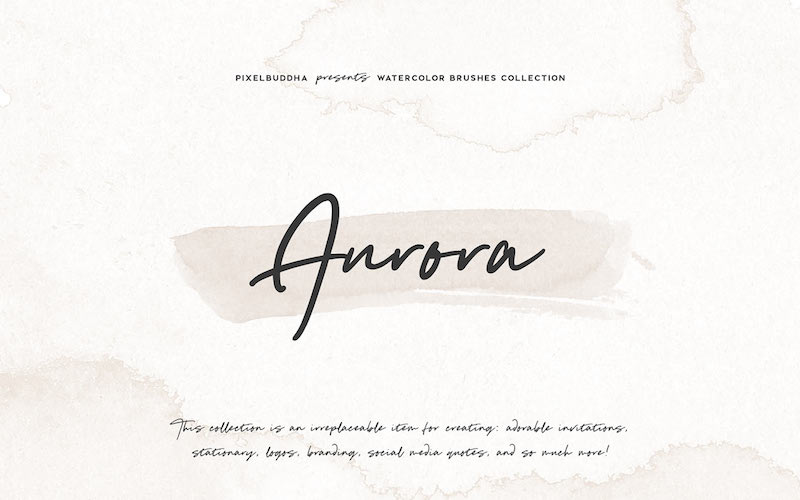 Another free Photoshop brush pack from Pixelbuddha with 20 2000px to 4000px size brushes. These brushes combine watercolor texture with airy swashes which gives them a delicate look. A great choice for creating sophisticated wedding invitations, branding, and social media posts. You can also get its premium version with 45 brushes on Creative Market.
Watercolour Faded Texture Photoshop Brush set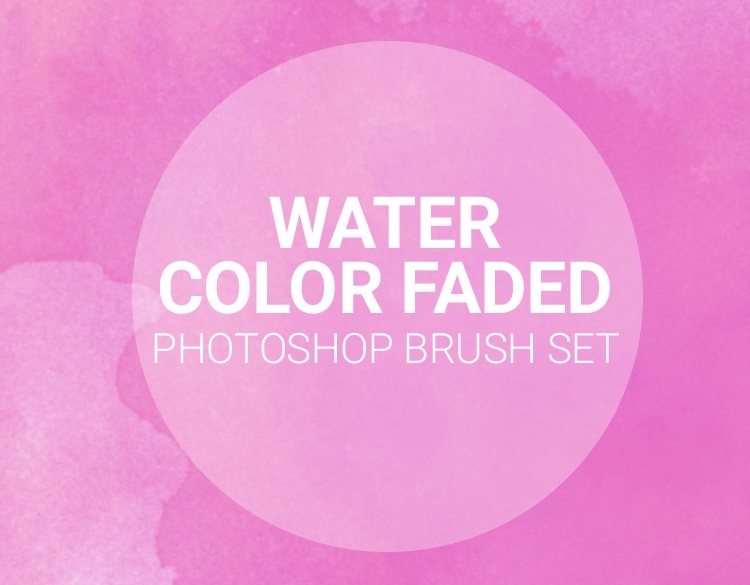 With these free faded watercolor textured brush set, you can quickly apply a watercolor effect to your designs or create watercolor textured backgrounds.
Watercolor and Ink Brushes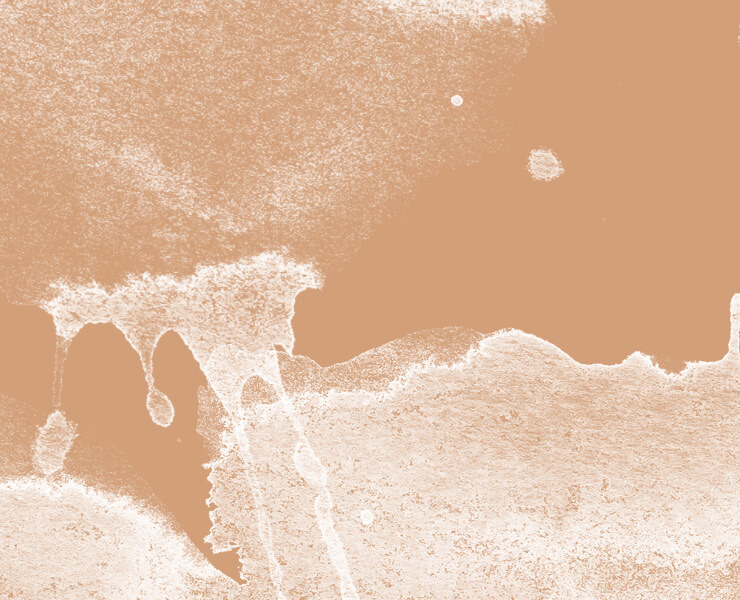 Created using watercolor paints and ink on card stock, these high detailed watercolor and ink brushes come with free commercial use license. Includes 3 Photoshop Brush (ABR) files with a total of 25 different brush presets. You can download these from Dribbble.
Free Watercolor Wash Brushes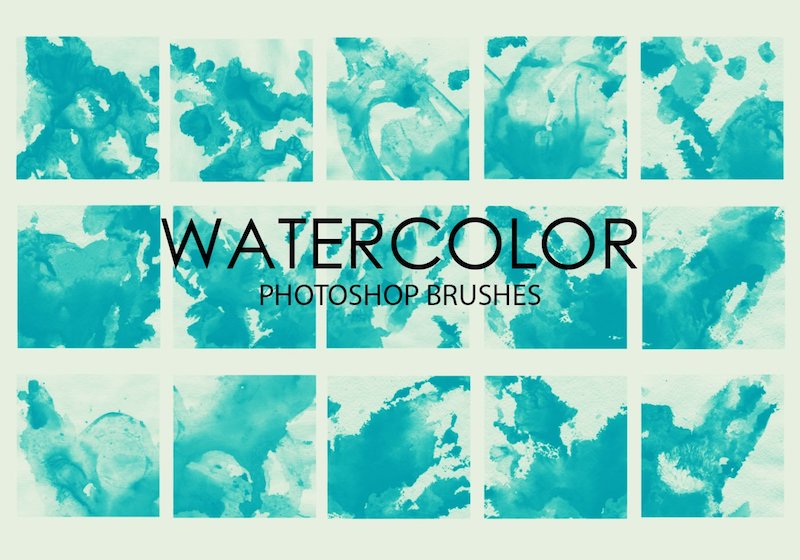 These hand painted watercolor wash Photoshop brushes are perfect for adding professional graphic effects to your design or as backgrounds for your artwork. Free download from Brusheezy includes 15 high quality brushes at 2500+ pixels size.
Free Watercolor Messy Photoshop Brush Pack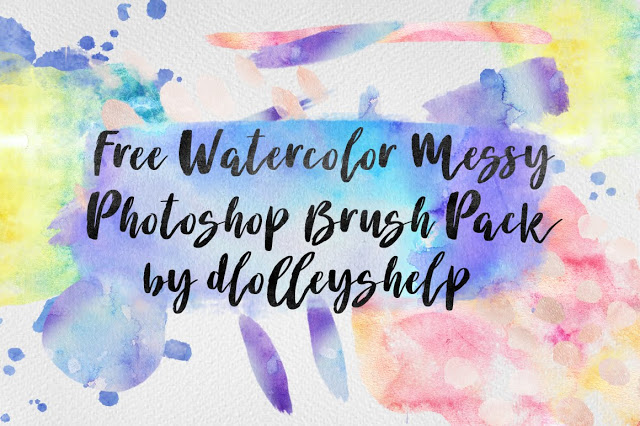 This free brush set from Danielle Lolley contains an assortment of messy watercolor strokes, blobs, patterns and splatters. Ideal for adding a messy watercolor texture to your work.
Grungy Watercolor Brushes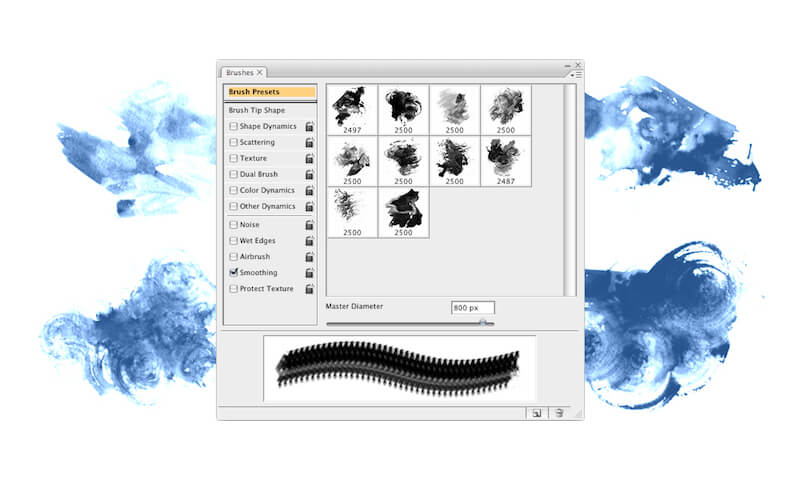 Add a grungy watercolor texture to your designs using this free set of Photoshop brushes from Bittbox. Transparent PNG images are also provided for non-Photoshop users.
Watercolor Paint Blobs Free Photoshop Brush Set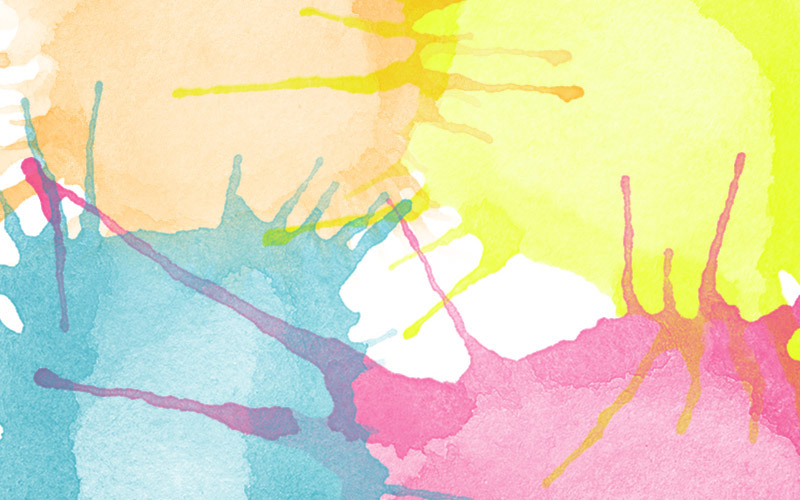 Bring an authentic watercolor effect into your designs with these watercolor blobs brushes. The brush set is free for use in commercial and personal design projects
24 Free Watercolor Circle Brushes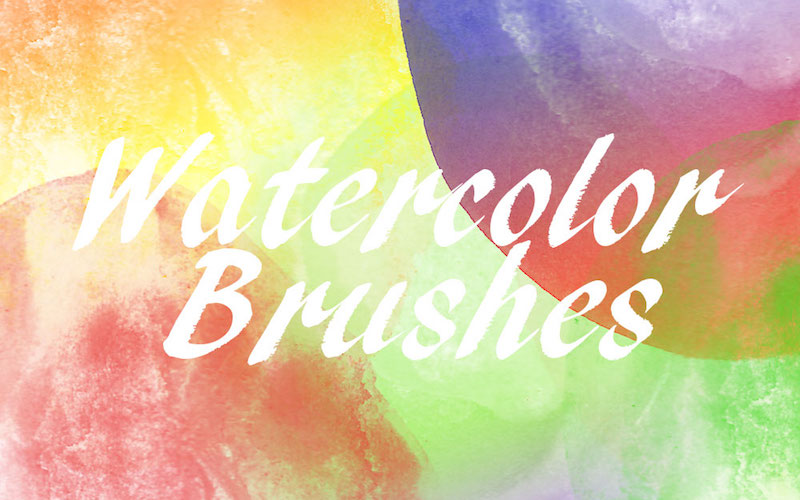 A pack of 24 free watercolor circle brushes that can be used in a variety of designs such as flyers, presentations, and backgrounds.
Free Watercolor Strokes Brushes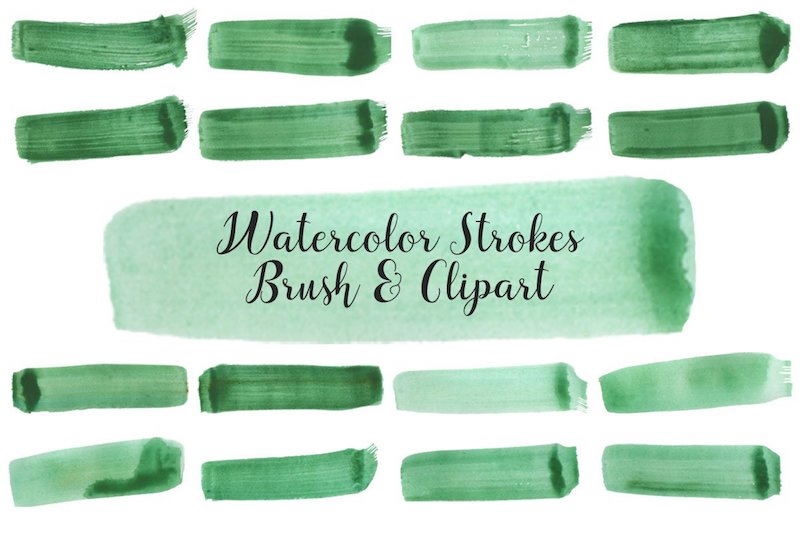 The watercolor stroke brushes from this free pack are perfect to use as backgrounds for creating feminine logo, business cards, website elements, blog images, and banners. On downloading you will get ABR file with 31 brush presets as well as transparent PNG texture images.
Free Hi-Res Watercolor Photoshop Brushes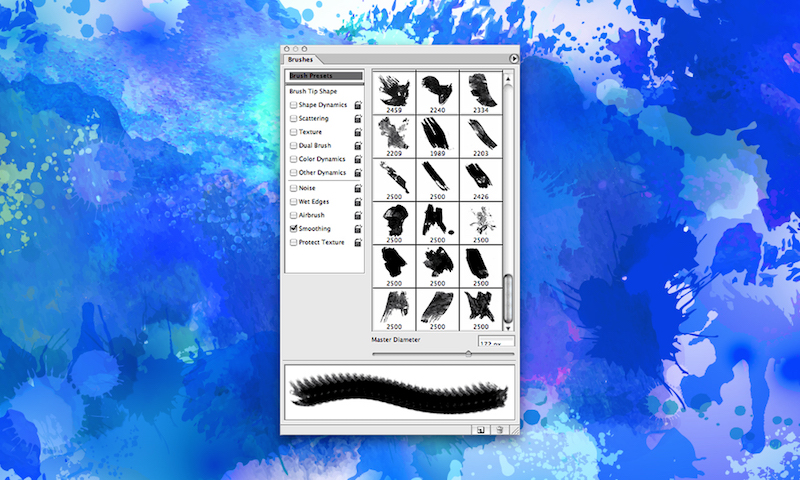 A free set of high resolution watercolor brushes by Bittbox. Includes 18 brushes with a minimum size of 1989 px.
Premium Watercolor Photoshop Brush Packs
In this section, we round up some of the best selling and versatile watercolor Photoshop brush packs from Creative Market and Envato marketplaces. These brushes can be purchased individually or through Envato Elements subscription that will give you access to thousands of design assets. On purchasing, you also get free support and updates for these resources. Please note that links to these brushes contain our affiliate id.
120 Watercolor PS Brushes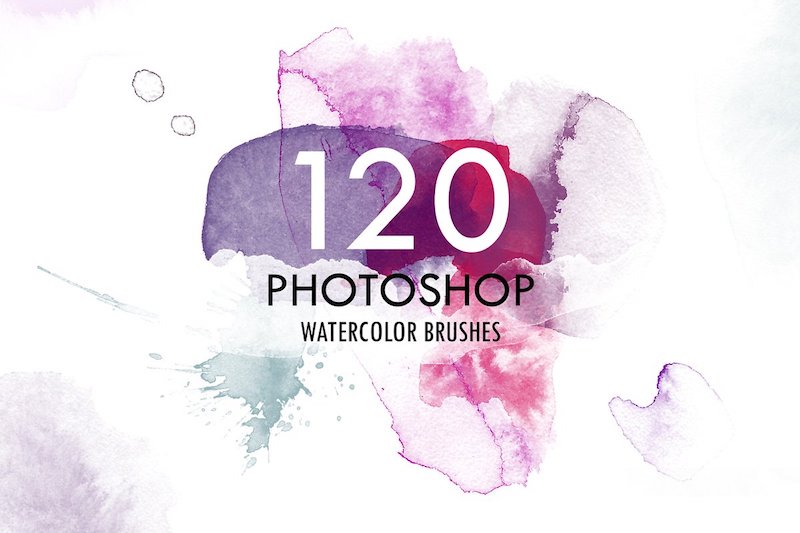 This is a premium set of 120 Photoshop brushes with watercolor texture. Designed for clothes prints, wedding invitations, cosmetic branding, fashion and advertising. With your purchase, you also get 15 Photoshop layer styles along with transparent watercolor stains as PNG files.
Abstract Watercolor Brushes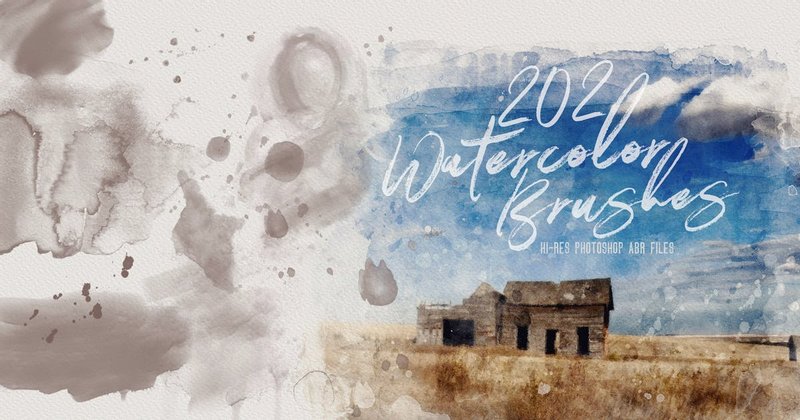 This is a set of over 200 abstract, decorative & floral watercolor brushes for Adobe Photoshop. With these brushes, you can easily create various artistic backgrounds, digital artworks and paintings. Available to download with Envato Elements subscription.
Tropical Watercolor Brushes for Photoshop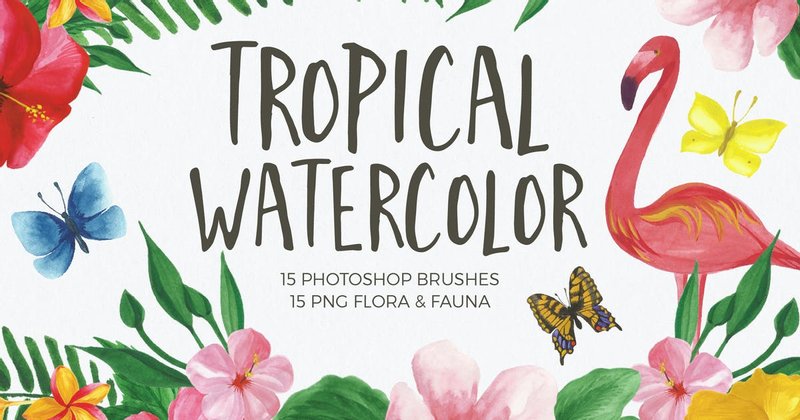 These watercolor brushes are a must-have add-on for your tropical and summer themed designs. It includes 15 brushes for tropical flora and fauna including butterflies, hibiscus and flamingoes. PNG images are also provided for use in other graphic design tools.
Watercolor Ink Photoshop Brushes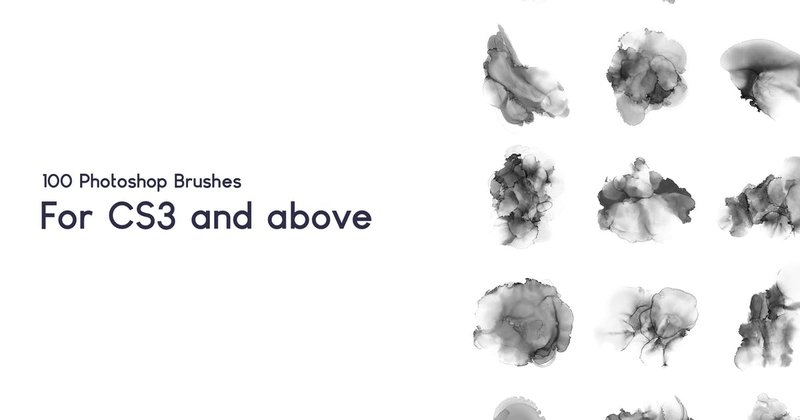 These gorgeous watercolor ink texture brushes by sevenstyles are made for artistic designs. Included are 100 high-resolution brushes for Photoshop CS3 and above. The brushes are created at the max resolution for Photoshop CS3 to CS5 (2500px) and 5000px for CS6 and above.
21 Abstract Watercolor Splash Brushes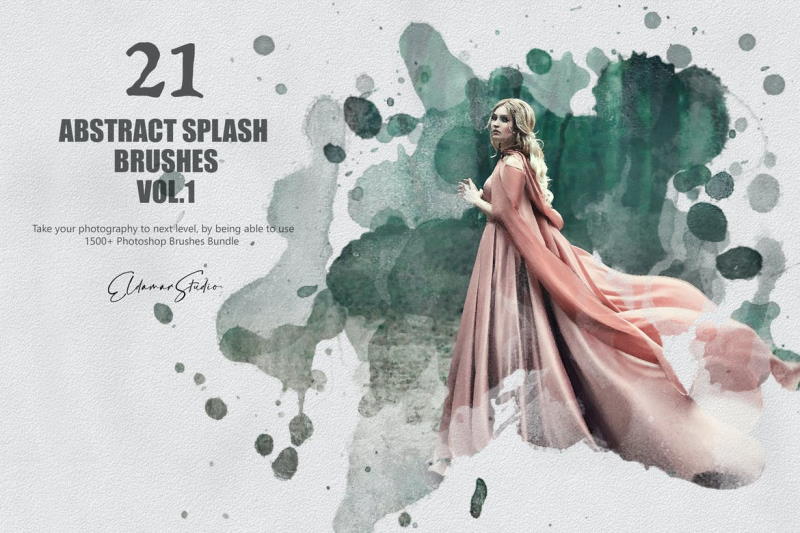 A set of creative watercolor splash texture brushes for Photoshop. The brush file (.ABR) comes with 21 realistic brush presets, perfect for creating posters, branding and packaging, social media design, greetings cards, pattern design and more.
Watercolor Photoshop Brush Set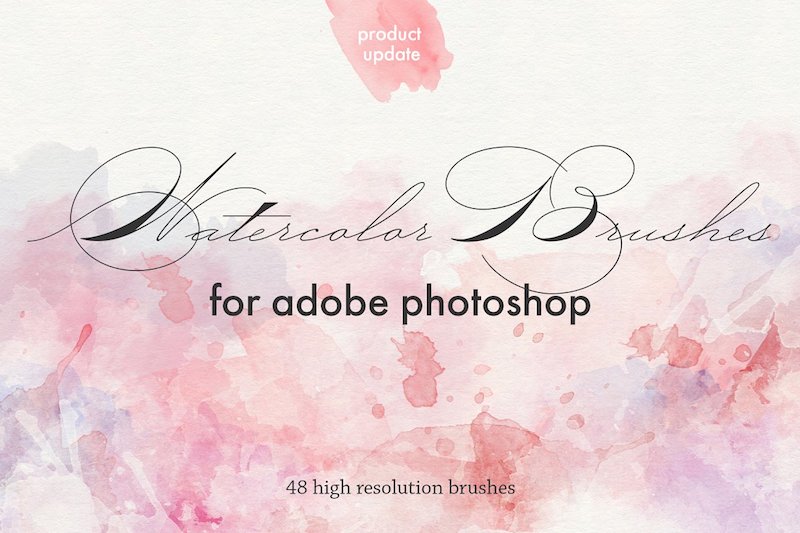 This brush pack features a range of naturalistic watercolor textures strokes that will help you to create background for your stationery, branding, or posters easily. On purchasing, you'll get 35 moving and 13 stamp Photoshop brushes.
Elixir Watercolor Photoshop Brushes
Elixir watercolor brush set offers 10 Photoshop drawing brushes, 30 stamp brushes and 3 4500×3000 px paper texture canvases to help you bring your digital watercolor illustrations to life.
Photoshop Brush Watercolor Butterflies ABR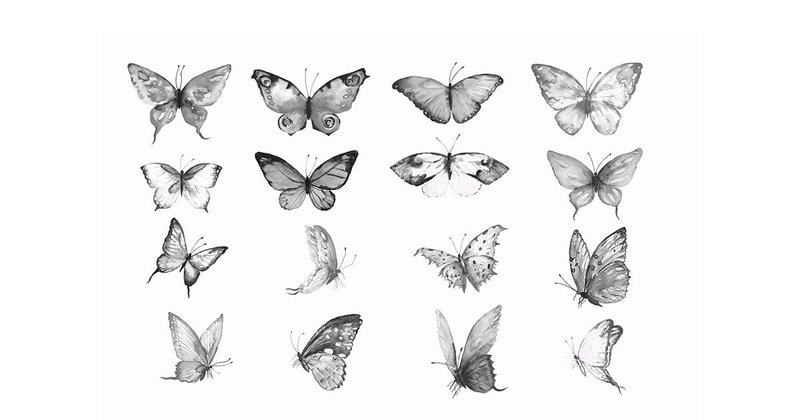 With this brush set, you can easily create beautiful watercolor butterfly illustrations in your designs. It comes with 16 high resolution butterflies brush presets made from the original watercolor paintings of the designer. Download them with Envato Elements subscription.
Watercolor Stamp Photoshop Brushes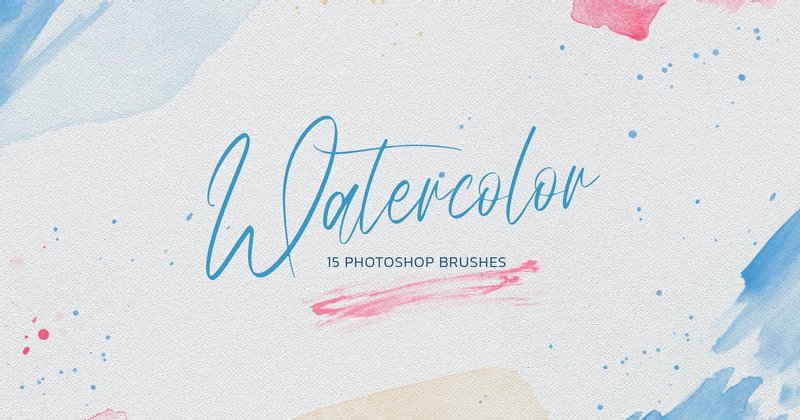 This is a set of 15 watercolor stamp and splashes brushes perfect for creating professional sketches and paintings.
Realistic Watercolor Brushes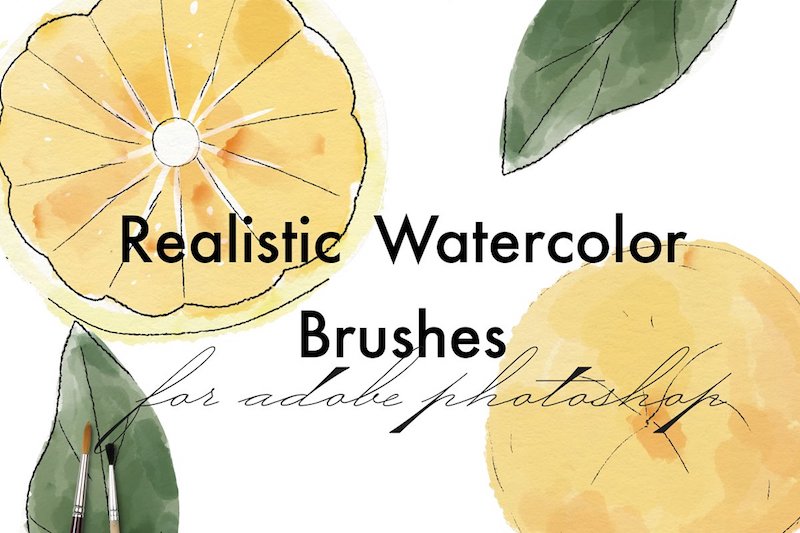 A set of 20 brushes in high resolution, play with colors and pen pressure to create beautiful watercolor illustrations, patterns and digital paintings.
Watercolor Circle Brushes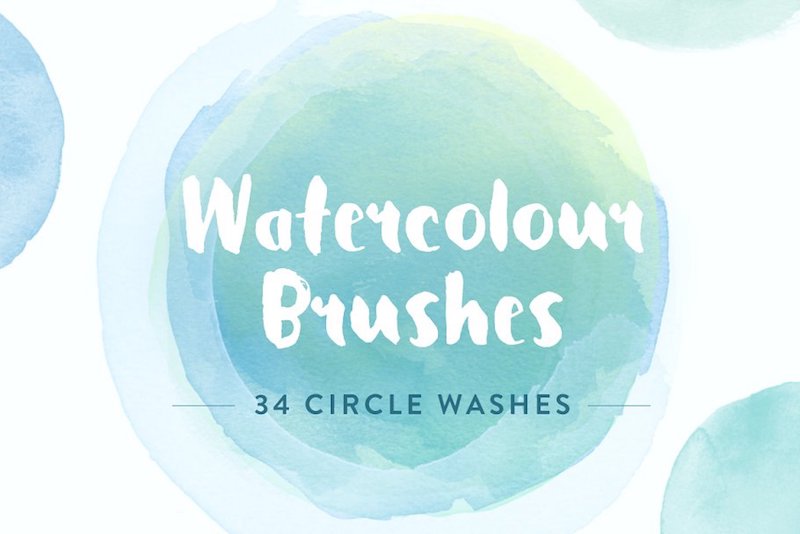 These circle shaped watercolor brushes are perfect for logos and creating quotes. At high resolution (300 dpi), they are suitable for both web and print projects. On downloading, you also get transparent PNG images.
You can combine brushes from these sets, mix colors, and use different blending modes in Photoshop to create stunning designs. You might as well be interested in our collection of script fonts and handwriting fonts that pair well with watercolor themed designs.
More Free Brushes
We also recommend you to check out these free Photoshop & Procreate brushes from our site.