Hey there, font lovers! Are you tired of using the same old boring fonts in your designs? Do you want to add some personality and style to your projects? Well, you're in luck because we've rounded up the best free aesthetic fonts that are sure to elevate your designs and make them stand out from the crowd.
Choosing the right font is crucial in creating a unique and eye-catching design. Aesthetic fonts are a popular choice among designers because they are more than just letters on a page – they are a reflection of a brand's personality and style. With a vast array of aesthetic fonts available, it can be overwhelming to choose the right one for your project. But don't worry, we've got you covered with our top picks of the best aesthetic fonts. And the best part is that all these fonts are completely free to download!
Whether you're designing a website, creating a logo, video, or working on an Instagram post, these aesthetic fonts are sure to add a touch of sophistication and creativity to your designs. So, without further ado, let's dive into our list of free aesthetic fonts that are perfect for any project!
Best Free Aesthetic Fonts
Below you will find our selection of some stunning aesthetic fonts that are available for free download. From stylish serifs to elegant sans serifs, flowy scripts and even retro aesthetic fonts, you have them all, enjoy!
Coral Lovers – Free Creative Ligature Serif Font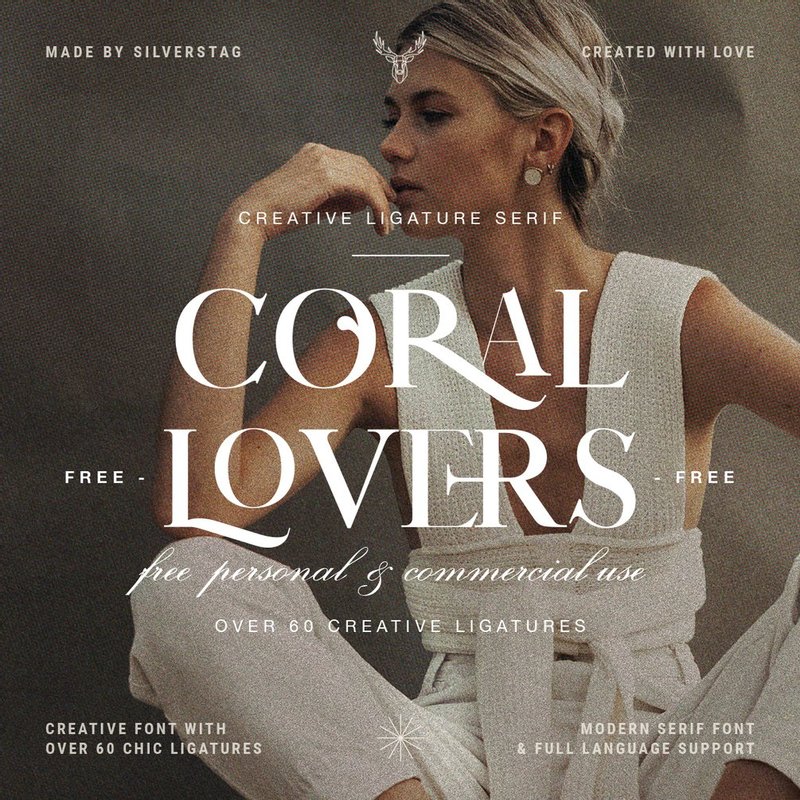 Coral Lovers is a beautiful aesthetic serif font designed by SilverStag that features elegant curves and intricate ligatures and alternates. Not many fonts offer ligatures and alternates in free version, that you get with this one. This font is perfect to bring an an air of class and refinement to any design project, and is particularly well-suited for branding, invitations, and editorial layouts. Free for personal and commercial use, font format: OTF.
Nugia – Free Vintage Aesthetic Font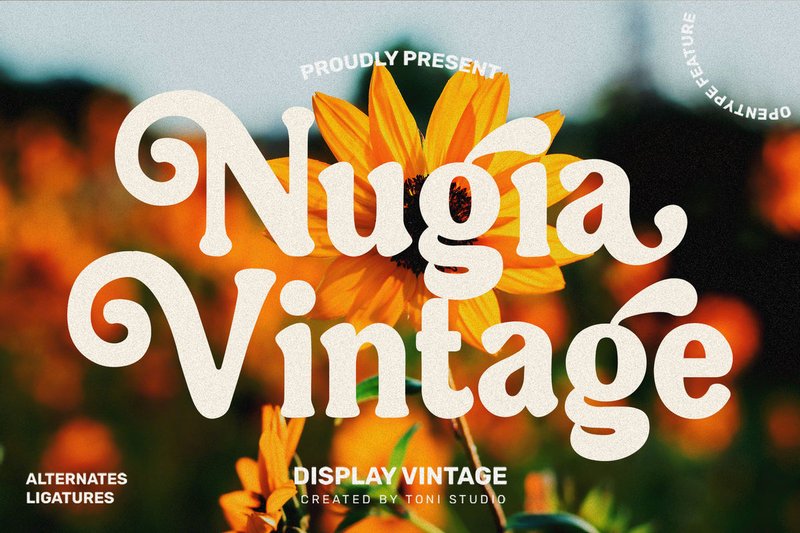 Nugia Vintage by Toni Studio, is a free display font that exudes a sense of nostalgia and old-school charm. Its bold, rounded letterforms give off a groovy '70s vibe, making it an excellent choice for designs with a retro aesthetic . Whether you're working on a vintage-themed poster, a quirky logo, or a playful packaging design, Nugia Vintage is sure to add a touch of whimsy and character to your project. Free to download in OTF & TTF formats.
Glamor – Chic & Modern Free Type Family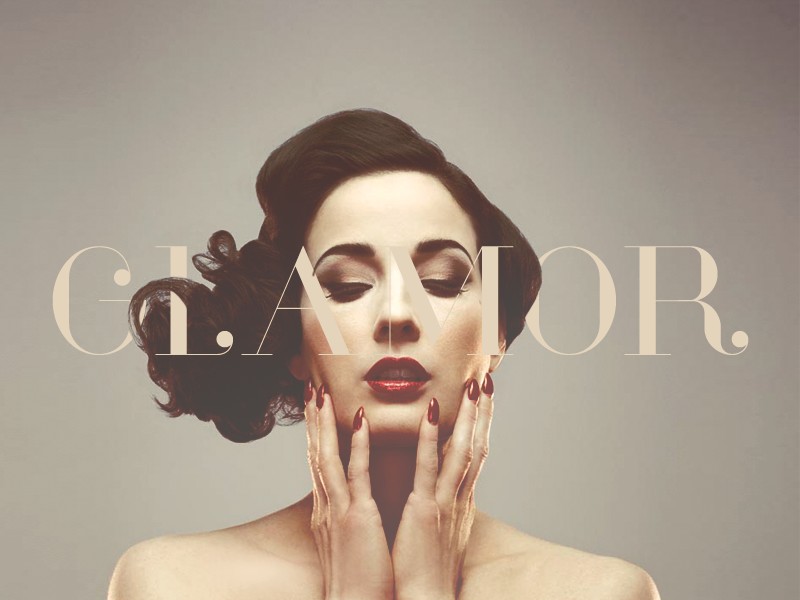 Glamor is a stylish type family that combines classic elegance with contemporary aesthetics. The font features a sleek design with high contrast strokes and ball terminals that make it perfect for high-end branding, editorial designs, upscale social media graphics and website layouts.
Glamor is a family of 24 fonts from light to bold weights and is completely free for commercial work. Designed by Henrick Ronaldez, it is available to download in both TTF and OTF formats.
Audrey – Aesthetic Free Sans Serif Typeface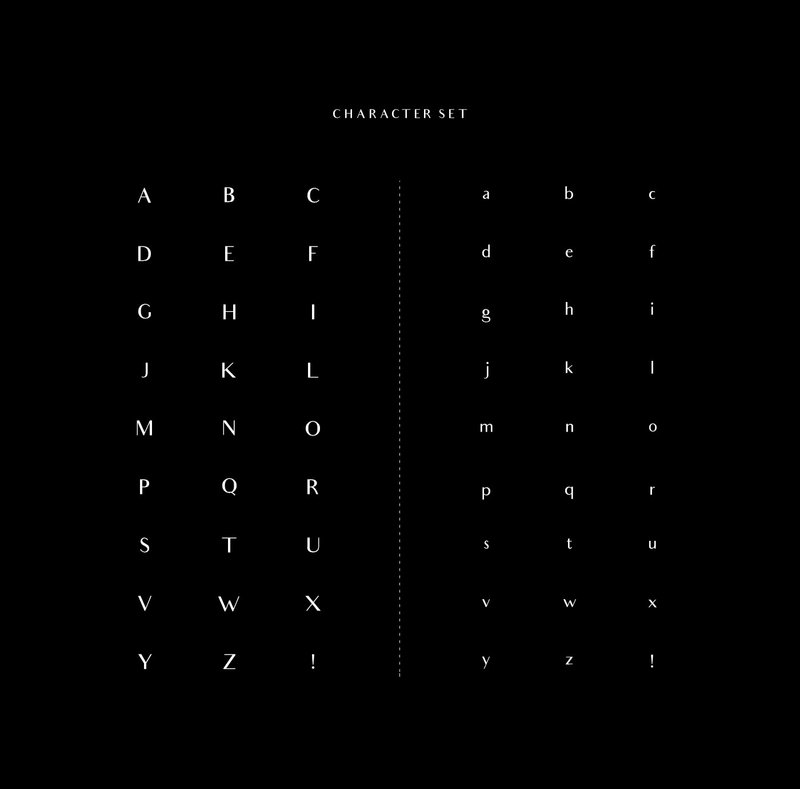 A free aesthetic sans serif font, Audrey features curvy geometry and straight lines creating contrasty and beautiful letters. Designed to work well in titles, paragraphs as well as typographic compositions. This font is perfect for adding a touch of retro glamour to any design project, from branding, presentations and magazine layouts to posters and invitations.
This free font by Cristina Pagnotta, it comes in three weights: regular, medium, bold along with their oblique versions. Font format: OTF.
Roxie Rossa – Free Modern Aesthetic Font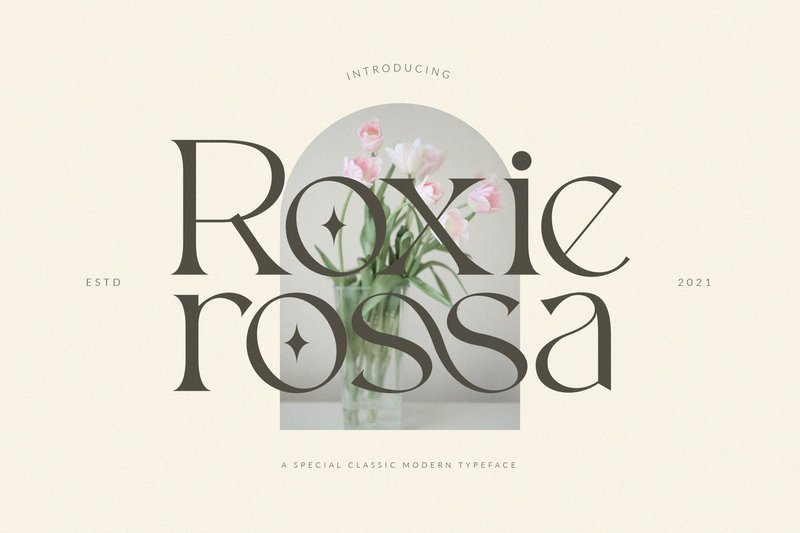 Roxie Rossa, a free classic modern serif font from Toni Studio, has the elegance that's perfect for logos, editorial designs, social media content, product packaging, branding, invitations & much more. Built with OpenType features, it includes stylish ligatures and alternates, and is suited to any project where you need aesthetically pleasing visuals. Available for free download in both OTF and TTF formats.
Roses Bolero – Free Elegant Sans Serif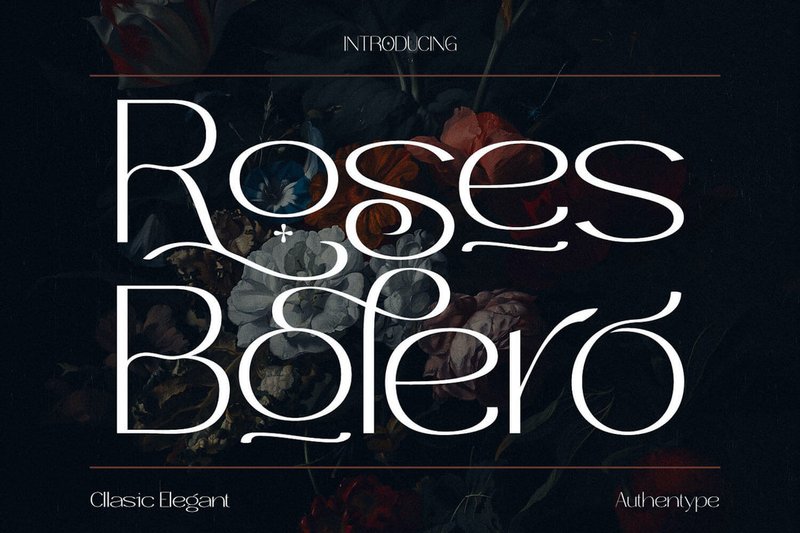 Roses Bolero is a free elegant sans-serif font that combines clean lines with delicate flourishes. Its graceful curves and subtle details make it an excellent choice for poster design, magazines and branding. Created by AuthenType, it comes with free personal use license and can be downloaded in OTF and TTF formats.
Restora – Free Old Style Aesthetic Font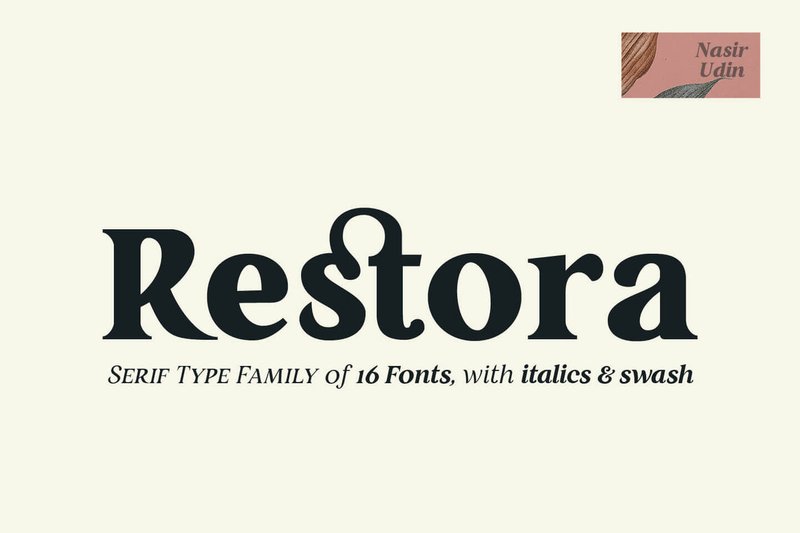 Restora is a an old-style serif font that exudes a sense of vintage charm and elegance. Its classic letterforms and traditional design make it ideal for retro aesthetic graphics, from vintage-inspired posters and book covers to antique-style branding and packaging. A type family of 16 fonts, its extra light and thin italic styles are available for free download in OTF format. Designed by Nasir Udin.
Beckan – Free Modern Retro Aesthetic Font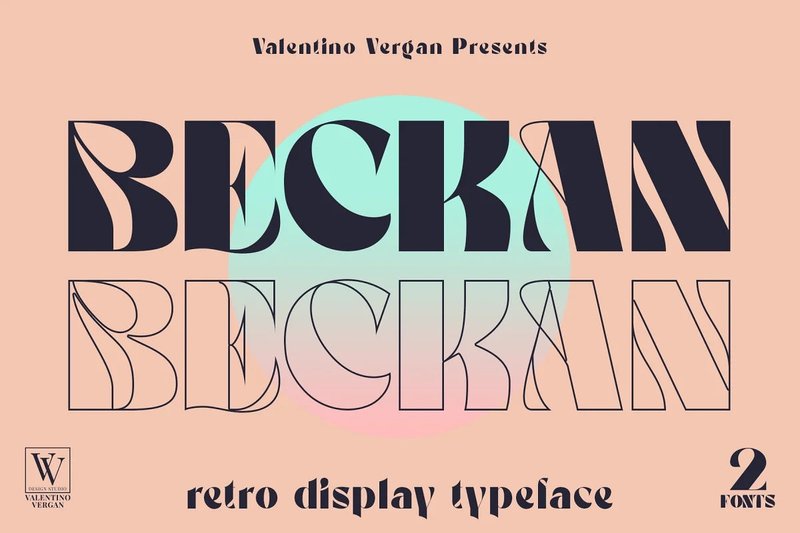 Beckan, by Valentino Verganis, is an Art Nouveau inspired bold retro typeface. With its high contrast yet strong construct, Beckan display font commands attention. Whether you're looking to create a sleek and contemporary visual identity or a powerful advertising campaign, Beckan is a versatile font that will help you make a bold statement. Font format: OTF.
NewYork – Free Aesthetic Serif Font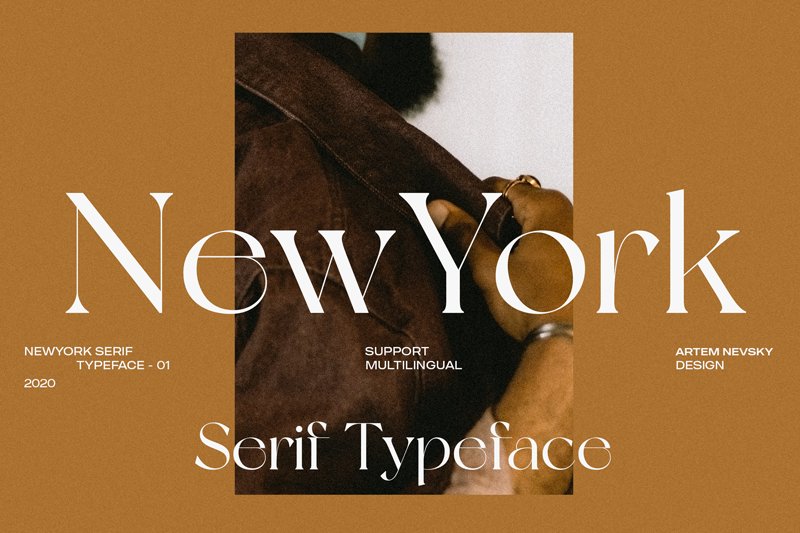 NewYork by Artem Nevsky is a beautiful timeless serif font that is perfect for your next luxury design project. Featuring letterforms with high contrast and triangular serifs, the font is available for free download in OTF format. Its timeless appeal and flexibility make it a go-to choice for designers looking to create designs that are both classic and contemporary, reflecting the city that never sleeps.
Cervanttis – Free Aesthetic Signature Font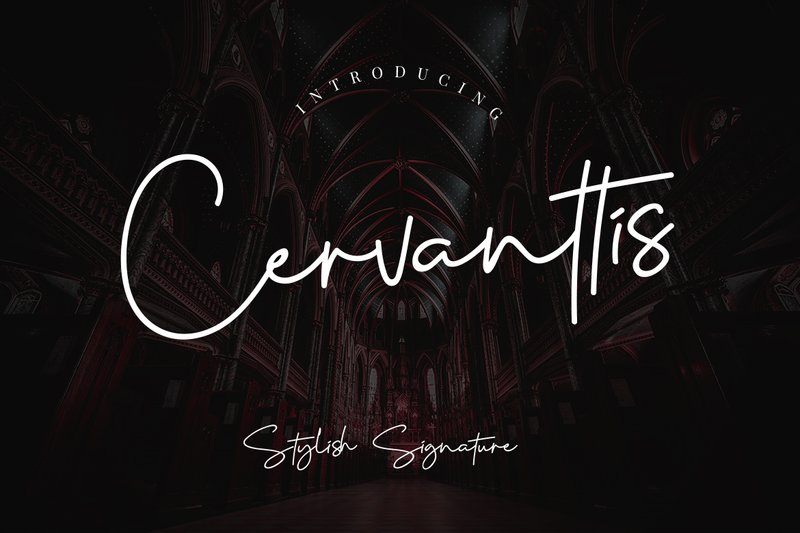 Cervanttis Signature Script is a free aesthetic handwritten font that exudes a sense of elegance and personal touch. Its flowing, cursive letterforms mimic the natural movement of handwriting, making it an excellent choice for creating designs that feel organic and authentic, such as invitations, greeting cards, personalized branding materials, and product packaging. Font Designer: Creatype Studio. Font format: TTF.
Cotta – Free Aesthetic Font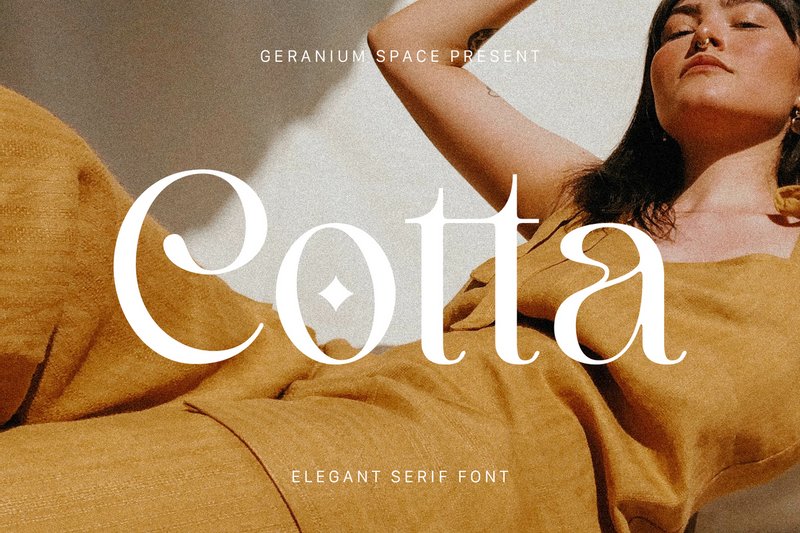 Cotta is a free aesthetic serif font that combines a classic design with modern sensibilities. Its elegance and refined design makes it a go-to choice for creating sophisticated and elegant designs, from high-end branding to editorial layouts, magazines, invitations, web design, and more. Designed by Megi Satyo Widodo, it is available for free download in OTF format.
Gracheva – Free Beautiful Font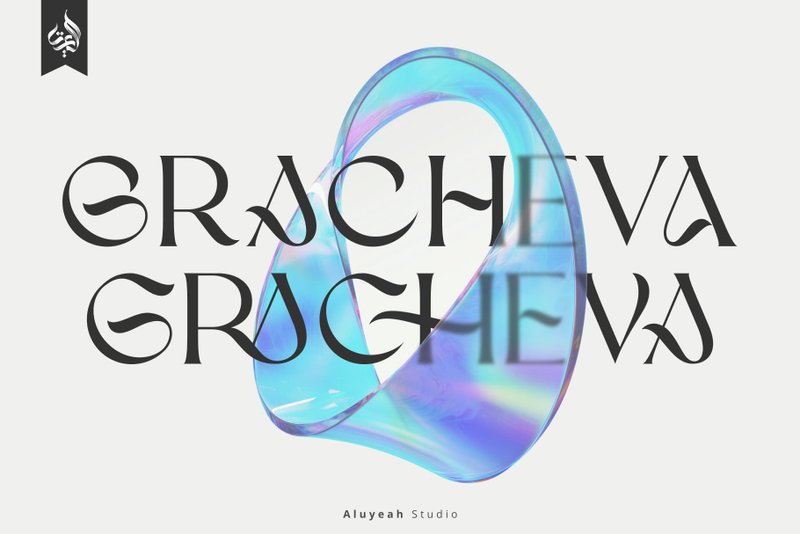 Gracheva, from Aluyeah Studio, is a unique and eye-catching font that features beautiful wavy characters. Its strong lines and distinctive shapes make it an excellent choice for creating designs that need to stand out, such as logos, headlines, and posters. The font's modern and edgy style also makes it well-suited for creating designs that need to feel fresh and contemporary. Free to download in OTF font format.
Brittany – Free Stylish Signature Script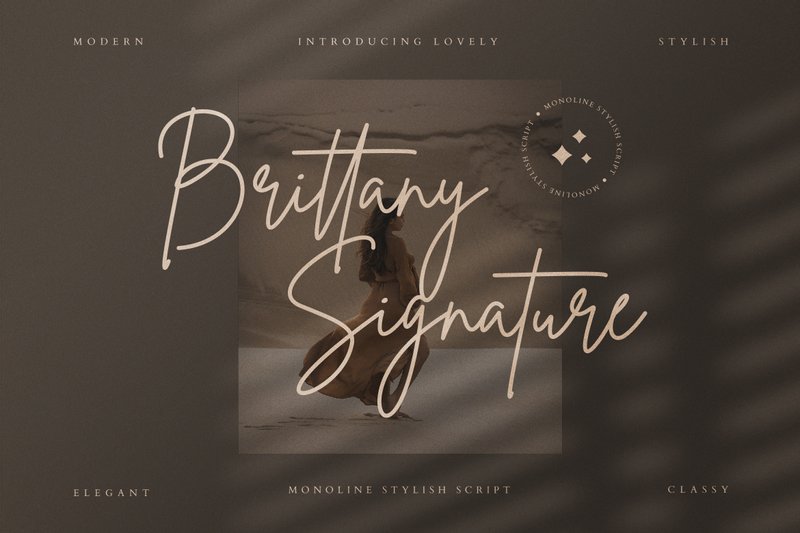 Brittany is another aesthetic signature script font with a stylish yet elegant design. With its unique blend of casual and refined elements, Brittany Signature Script is a versatile font that can add a touch of character and charm to a wide range of design projects including branding, logo, wedding designs, social media posts, advertisements, product packaging, and much more. Created by Creatype Studio and available for free download in TTF format.
New Boho – Free Aesthetic Display Font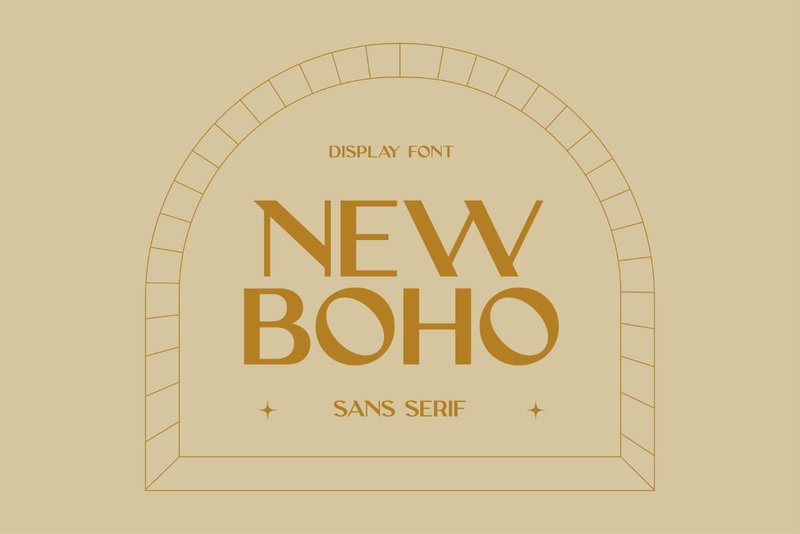 New Boho is a stylish free sans-serif font that combines modern design with a touch of bohemian flair. Its clean and simple lines are balanced by unique details and playful shapes, that will lend well to branding & logo design, web headers & hero overlays, content creation, & much more. With its distinctive look and bohemian charm, New Boho will provide your design a whimsical element. Free to download in OTF format and designed by Surplus Type Co.
The Aesthetic Essential – Free Classy Font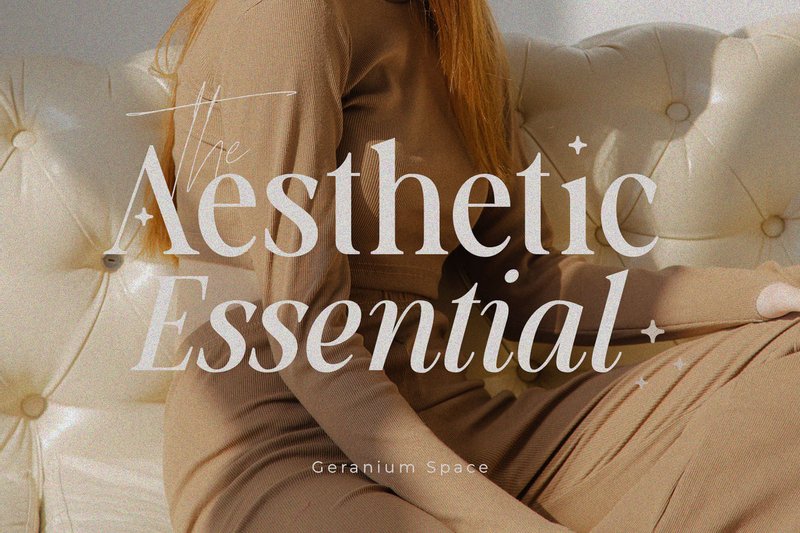 The Aesthetic by Megi Satyo Widodo is a modern serif font is perfect for projects that require a simple yet classy aesthetics. Its classic design with contemporary sensibilities make it perfect for creating designs that need to feel both timeless and fresh, such as branding materials, editorial layouts, and packaging. Available for free download in OTF format.
Kate – Free Aesthetic Luxury Typeface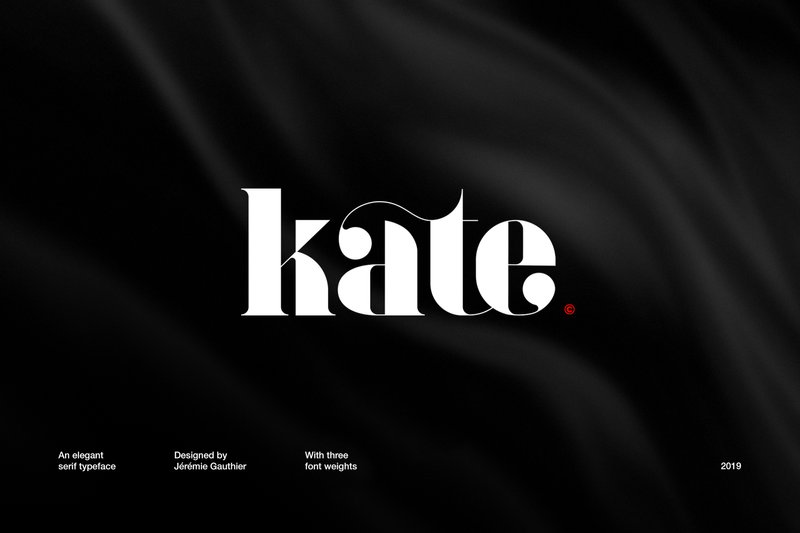 Kate is an elegant serif typeface inspired by the world of luxury. It comes with a free demo version of the font in 3 weights – Display, Medium and Black that you can download from Gumroad in OTF format. Font designer: Jérémie Gauthier.
Note: Before you use any of the fonts listed above, please make sure to check the license type and read the license agreement. We have tried to include fonts which are allowed to be used for personal and/or commercial design, however the license of these fonts may have changed from the time of writing this article.
Classic, elegant, modern and stylish, these aesthetic fonts will add personality to your design and capture your audience's attention. Whether you need aesthetic fonts for Instagram, stylish fonts for your videos, website headers or posters we hope our collection of free aesthetic fonts has something that meets your requirements. If you know of more such free fonts that we can add to this list, do leave a comment below with a link to the font download page, thank you!
More Free Fonts